Want to know the best road trips from Melbourne you can do in a weekend and others that take you across Australia?
This is the post for you! You'll discover places close to Melbourne such as Bendigo and Phillip Island you can check out in a weekend.
While, there are places to visit near Melbourne by car that take longer but are worth visiting such as Adelaide, Sydney and even Perth, if you have a lot of time on your hands.
Below you'll find lots of Melbourne road trips that will suit how far you can travel and what you want to do when you get to your destination.
Keep scrolling if you want to find out all the great places you can see from the amazing city of Melbourne!
Disclosure: This article may contain affiliate/compensated links. For full information, please see our full disclosure policy.
Best Road Trips From Melbourne
There's a wide range of road trips listed below that vary from trips you can do as part of a day trip, or ones that take a week or two weeks taking you across vast expanses of the country.
I've broken down the road trips below into four sections so you can get an idea of what's possible in regard to the time they take and the distance involved. The trips are listed in order of shortest to longest.
Day trips: Trips that can be easily completed in a day by driving to and from the destination. Some of these include the Dandenong Ranges, Phillip Island and Bendigo.
Weekend trip: Trips that require longer than a day that you can do over a weekend. Yarra Ranges National Park, Mount Buller and Gippsland Lakes are examples of these.
Long weekend trips: You can do these trips in a weekend, but they are better if you have three or more days. They include Wilson's Promontory, Warrnambool and Adelaide.
Long road trips: These are the hardcore road trips that take you across large parts of the country. Driving to Uluru, Perth and Darwin will all take you a good week or two.
Dandenong Ranges, VIC

Time: 54 minutes

Distance: 47.8 km
The Dandenong Ranges are the shortest Melbourne road trip on this list. It takes around 55 minutes to get there from the city centre.
This makes it a perfect place to visit for the day or even half the day. There's a lot to do here, so if you do have a full day free, you can make the most of it.
The high point of the ranges is Mount Dandenong, shown in the image above, at 633 m. If you like hiking, then this is a good hike to the top that's not too difficult and will give you some great views of the surrounding area from one of the most interesting Victoria landmarks.
You can also check out the Dandenong Ranges Botanic Garden, which is better than the one in Melbourne. There are also several small villages you can visit such as Olinda and Belgrave that have a variety of shops and galleries and some nice places to eat too.
Geelong, VIC

Time: 1 hour

Distance: 74 km
Geelong is the nearest big city to Melbourne and its close proximity at just over an hour away makes it an ideal place to visit for a day.
Geelong is a nice city and there is a lot to do there. One of the best things is to relax at the waterfront, which makes it a great place to visit during the summer.
There are also lots of cultural sights such as the Geelong Gallery and the interesting National Wool Museum. It's often you see a museum dedicated to wool, so it's worth checking out for that reason alone!
There's also a museum in the old Geelong Gaol, an Aboriginal Cultural Centre and the Little Creatures Brewer to check out. If you want to spend a weekend here, you won't have any trouble filling it with stuff to do.
Mornington Peninsula, VIC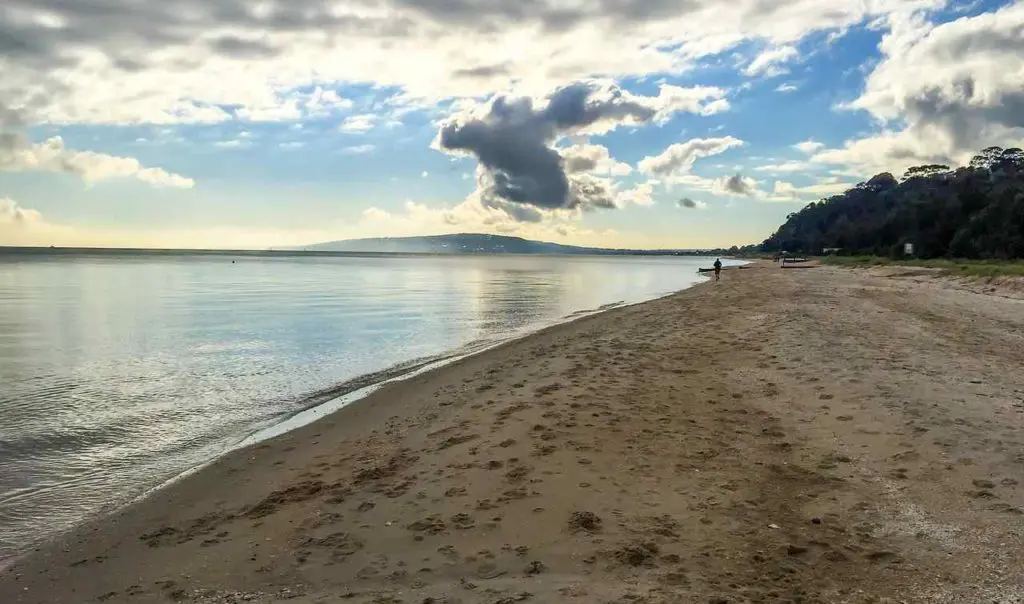 Time: 1 hour

Distance: 75.3 km
The Mornington Peninsula is not only one of the nicest parts of Victoria it's also easy to reach from Melbourne.
It takes just over an hour to reach and you'll find lots of interesting to see and do once you're there. This makes it an ideal place to go for the day.
The beaches on the Mornington Peninsula are beautiful and you have plenty to choose from. There's Sorrento at the bottom of the peninsula and the interestingly named Safety Beach!
You can also hike along the peninsula, which I recommend as the views are stunning. There's even a 100 km track, should you feel like walking the whole length of the peninsula!
Ballarat, VIC

Time: 1 hour, 31 minutes

Distance: 123 km
A trip to Ballarat sees you drive inland, visiting one of the towns responsible for the 19th-century gold rush that swept Victoria.
One of the best places to see in the town is Sovereign Hill, an open-air museum, where you'll get to experience what life was like in the town back in the day. There are live demonstrations of gold panning, blacksmithing, and traditional crafts, and you can try your luck and prospect for gold.
You can also visit the Art Gallery of Ballarat, Australia's largest and oldest regional art gallery. A visit to the picturesque Lake Wendouree, which is nearby, is another activity you shouldn't miss out on.
Visiting Ballarat is one of the best day trips from Melbourne you can do due to the short distance and what you can see there. If you can visit, you shouldn't pass it up!
Phillip Island, VIC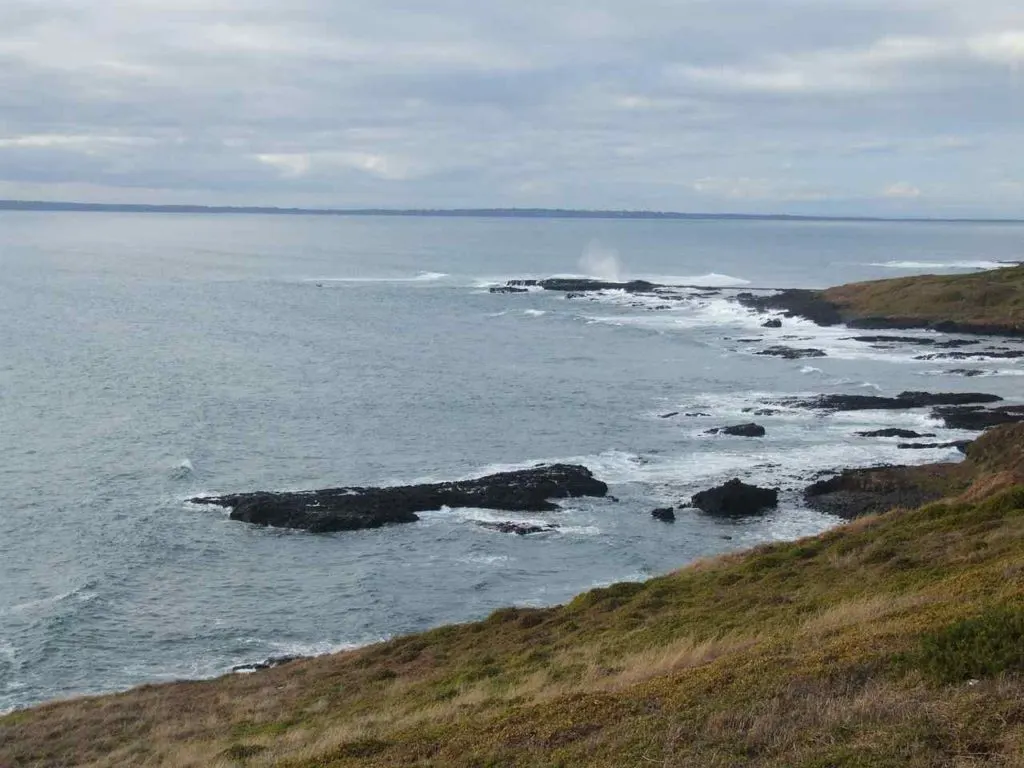 Time: 1 hour, 47 minutes

Distance: 142 km
If you're looking for things to do in Melbourne that involves getting out of the city, then a drive to Phillip Island is something you should consider.
It's a short drive at around 1 hour and 45 minutes, which makes it ideal to visit for the day. You can set off early in the morning to make the most of your time there and drive back in the evening if you wanted.
One of the main attractions on Phillip Island is the Penguin Parade. This is when penguins return from the sea and waddle across the beach t return to their nesting grounds. It's an amazing sight and takes place most evenings.
You could plan a trip to coincide with the Australian MotoGP Grand Prix, which is held every year around October/November if you're a petrolhead!
Bendigo, VIC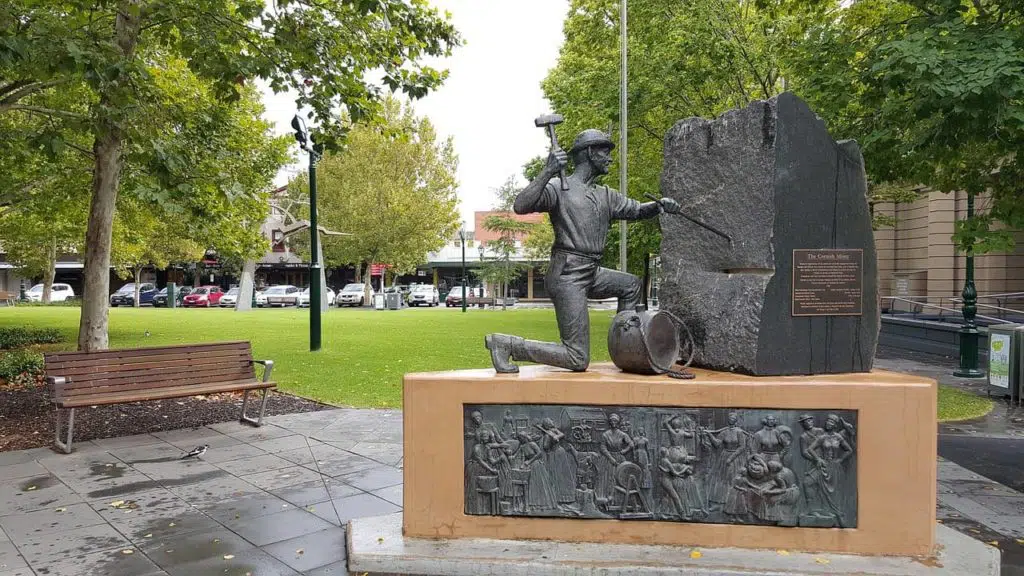 Time: 1 hour, 48 minutes

Distance: 152 km
Similar to Ballarat, Bendigo is a former gold rush town that's home to the Central Deborah Gold Mine.
You can still visit the mone today, and while you're unlikely to find any gold, exploring the tunnels and learning about the history of the industry is fascinating.
Another interesting thing about Bendigo is that it's a UNESCO City of Gastronomy. You won't have any difficulty finding some amazing places to eat. It's almost worth visiting to try the food alone!
You can also visit the Golden Dragon Museum, which celebrates the history of the large Chinese community in Australia. It's an interesting place to visit and has lots of exhibits on the shared culture between the two countries.
Yarra Ranges National Park, VIC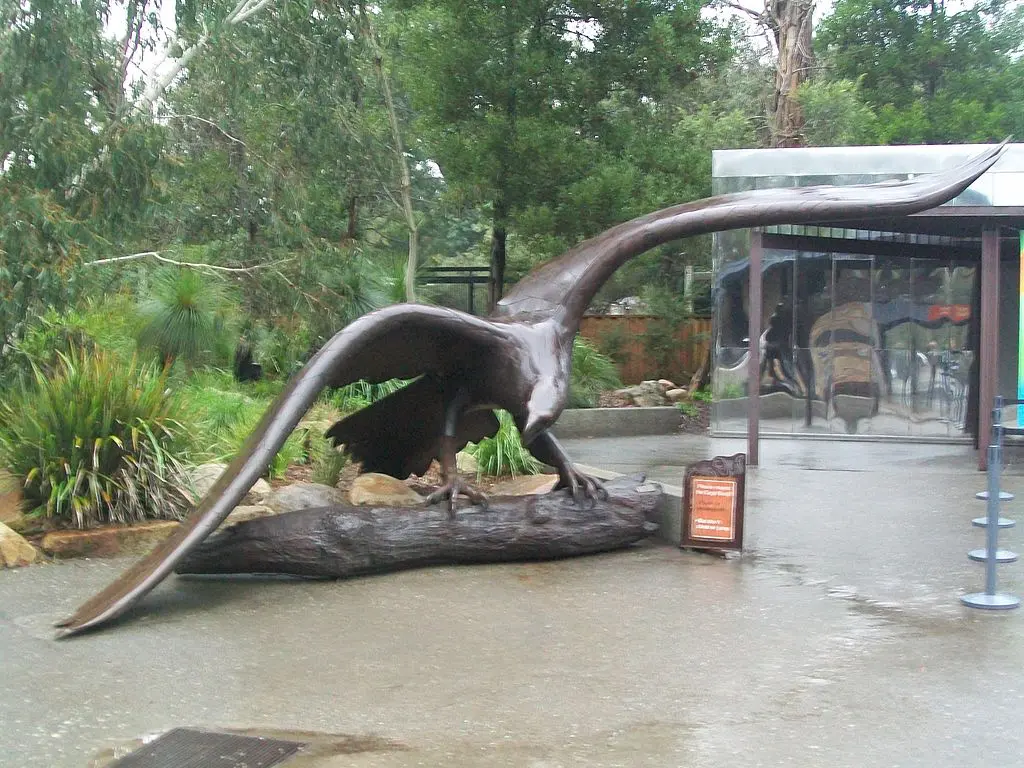 Time: 2 hours

Distance: 119 km
Driving to the Yarra Ranges is one of the most underrated road trips on this list.
It's not somewhere that a lot of people think of visiting from Melbourne, but that's a shame, as the drive and the destination are incredible.
You'll pass through Healesville Sanctuary on the way, which is worth stopping at and checking out. You'll also drive along the scenic Black Spur Drive and its beautiful forest hills.
Once you're in Yarra Ranges, there's a lot to do, which is why it's a good idea to make this trip a weekend or long weekend break. You can take your pick of rainforest hikes, and get a fantastic of the surrounding area from the top of Mount Donna Buang.
If you like being outdoors, then this is a trip you can't turn down!
Wilson's Promontory, VIC

Time: 2 hours, 40 minutes

Distance: 210 km
Wilson's Promontory is one of the best places to visit in Victoria and the southernmost point in mainland Australia.
I visited Wilson's Promontory after driving from Adelaide to Melbourne. I didn't know anything about the place, but I was blown away. It's one of the most beautiful spots in the country.
The drive takes just under three hours and is the perfect place to go if you want a weekend away from Melbourne. The beaches here are incredible. The amazing Whiskey Bay is one of the best beaches in Australia.
Squeaky Beach is, as the name suggests, a beach that emits a squeaking noise whenever you step on the sand! It's a fun place to visit and a good reason to do the drive by itself!
There aren't many places to stay in Wilson's Prom, so unless you plan on camping, you'll need to pre-book accommodation or book somewhere in one of the towns along the way such as Leongatha.
Read more about Wilson's Promontory.
Warrnambool, VIC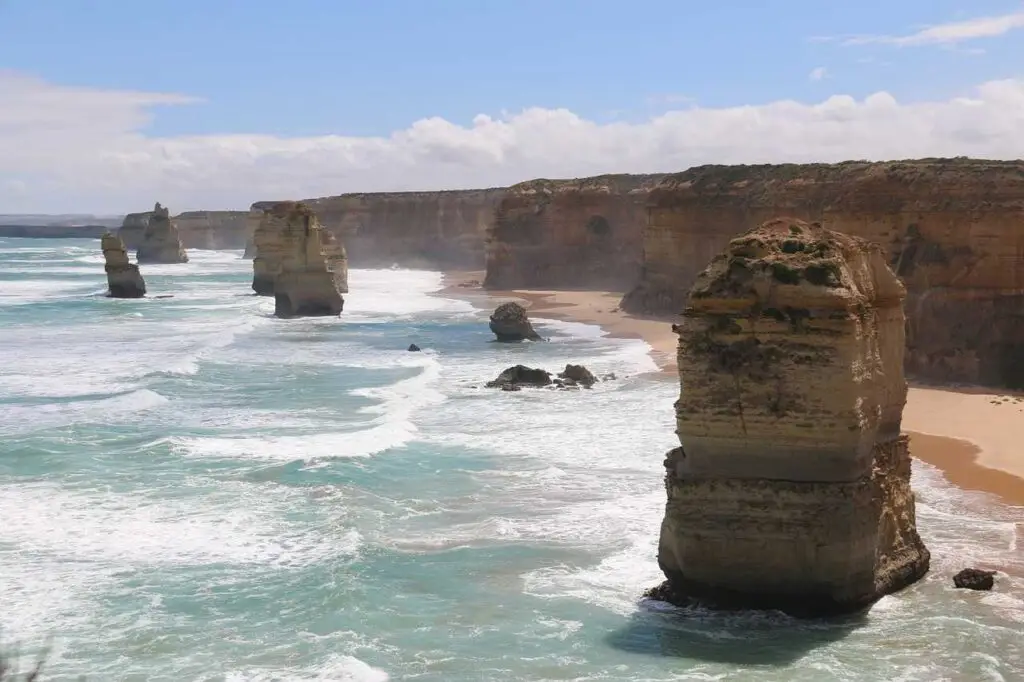 Time: 3 hours (via inland route); 6 hours (coastal route)

Distance: 256 km (inland route); 354 km (coastal route)
You have two options when it comes to driving to Warrnambool. You can either take the inland route – which is quicker – or take the coastal route via the Great Ocean Road.
If you haven't been to the Great Ocean Road yet, I recommend taking the coastal route. It will take longer, quite a bit longer as there are a lot of places to stop. It's around 6 hours, which is double the time of the inland route, but it's worth it.
Sights such as London Bridge, The Grotto and the Twelve Apostles are amazing and among some of the best places in Victoria and some of the best I have seen in Australia.
You can visit the world-famous surfing beach, Bell's Beach in Torquay and visit the Great Otway National Park along the way too.
This is one of the most scenic drives in Australia and I'd only go via the inland route if you're in a rush to get to Warrnambool. Otherwise, the coastal route is the way to go.
The Grampians, VIC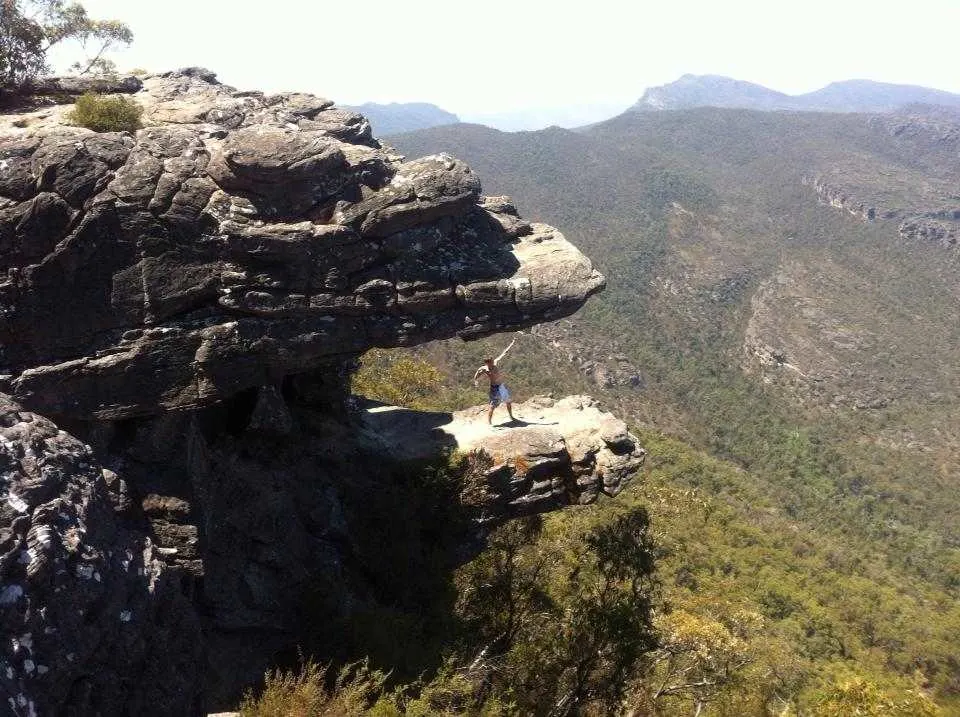 Time: 3 hours

Distance: 257 km
The Grampians is a national park is a three hour drive from Melbourne. It's a perfect place to visit if you're looking for a weekend away.
The drive is a straightforward one along the National Highway M8 most of the way. Once you get there, you'll see one of the most underrated national parks in Australia.
My advice is to stay in Halls Gap. This is the main town in the Grampians and is home to numerous campsites and accommodation. It's also home to lots and lots of animals, mainly kangaroos and wallabies. They're everywhere!
Sights in the Grampians include the scenic rock formation, The Balconies as shown above. Numerous waterfalls, and some incredible views from a multitude of lookout points.
Mount Buller, VIC

Time: 3 hours, 6 minutes

Distance: 235 km
You might not think you could ski in Australia, but you'd be wrong. If you visit Mount Buller during the winter, you'll find some of the best slopes in Australia.
It takes just over 3 hours to get to Mount Buller from Melbourne. Unless you leave early in the morning, this is a trip that's better done as part of a weekend away.
Skiing is the main attraction but you can also go snowboarding and tobogganing during the winter months. You can go on a sled dog tour, which is a lot of fun.
You might think there's not much to do during the summer, but you'd be wrong. While there won't be much snow, it's a lot cooler here than in Melbourne, and you can go mountain biking instead, which is a lot of fun.
Gippsland Lakes, VIC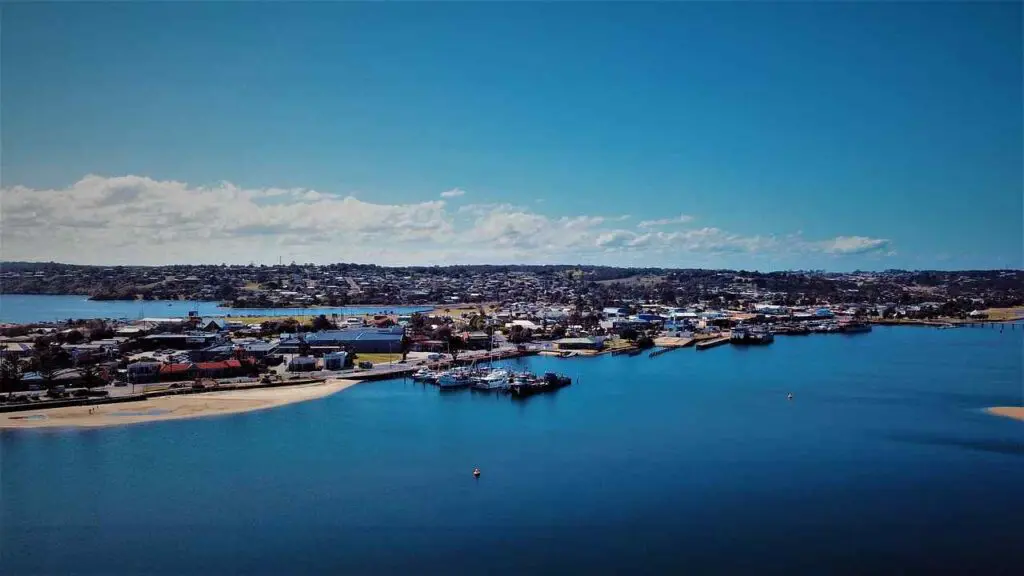 Time: 3 hours, 17 minutes

Distance: 276 km
Gippsland Lakes is another destination that's often forgotten about when people think of getting away from Melbourne for the weekend.
It shouldn't be because it's a beautiful part of Victoria and there are plenty of things to see and do here. One of the challenges is the just over 3 hours it takes to get there.
Unless you have a weekend free, it's not feasible to visit for a day. One of the best reasons to visit is to check out Ninety Miles Beach, which, as the name suggests, is a 90-mile stretch of glorious golden sand.
There are also plenty of lakes to discover such as Lake Victoria and Lake Reeve, while you can also check out Raymond Island. It's only accessible by boat, but it's worth visiting because it's home to the largest population of koalas in Victoria!
Canberra, ACT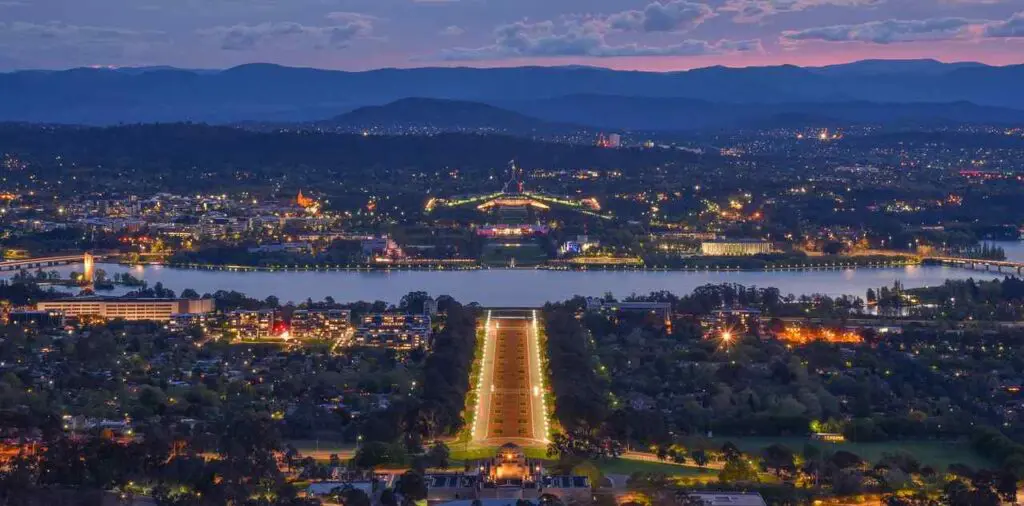 Time: 7 hours

Distance: 662 km
A visit to the capital of Australia, Canberra is one of the easier Melbourne road trips if you're looking to go somewhere for a long weekend away.
At just over 7 hours, it's not the longest drive but will take you a half day or evening to get there. There's not an awful lot to see along the way as you pass through small towns such as Benalla and Wangaratta.
It's probably better to just head straight to Canberra rather than make any prolonged stops along the way.
Once you're in Canberra, you'll find plenty of museums and art galleries to discover. This being the capital, you can also take a look around the parliament and some official-looking buildings too!
Adelaide, SA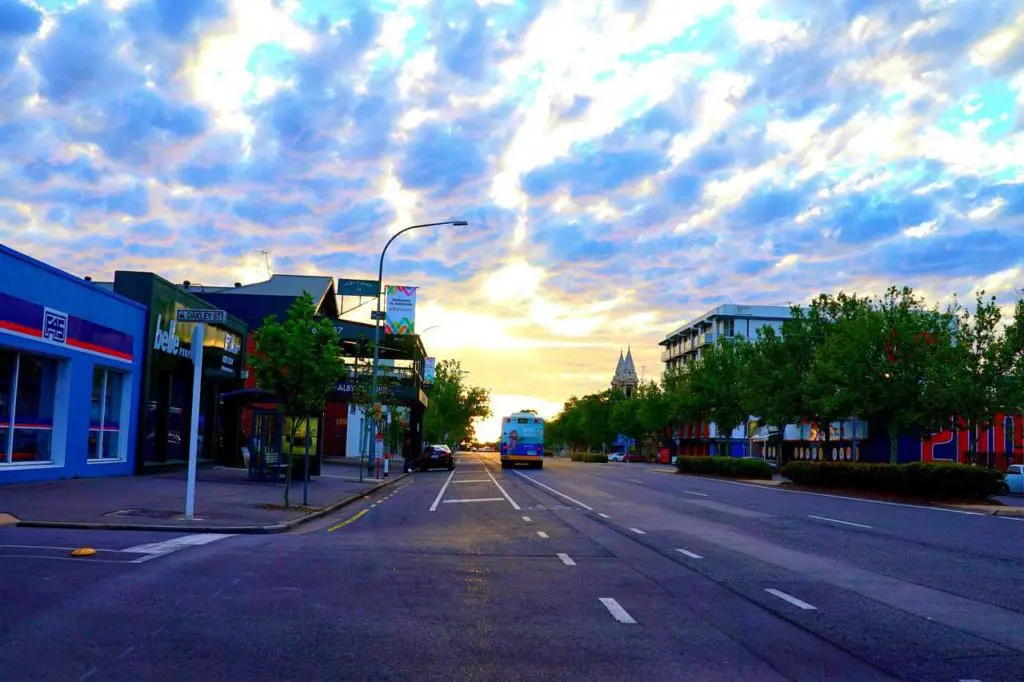 Time: 8 hours, 3 minutes

Distance: 726 km
Adelaide is one of the most underrated cities in Australia, and despite being viewed as a backwater, the city is much more interesting than people give it credit for.
There are plenty of things to do in Adelaide such as check out the amazing beaches at Glenelg or Henley, see pandas at Adelaide Zoo and stroll around the best botanic gardens in Australia.
You have two options when it comes to driving to Adelaide from Melbourne. The inland route, which is quicker but less scenic, or the longer but more interesting coastal route.
I did this road trip in the opposite direction, and I recommend taking the coastal route if you have time. You can visit amazing sights on the Great Ocean Road, such as the Twelve Apostles and nice coastal towns like Port Fairy.
Read more about a Melbourne to Adelaide road trip.
Sydney, NSW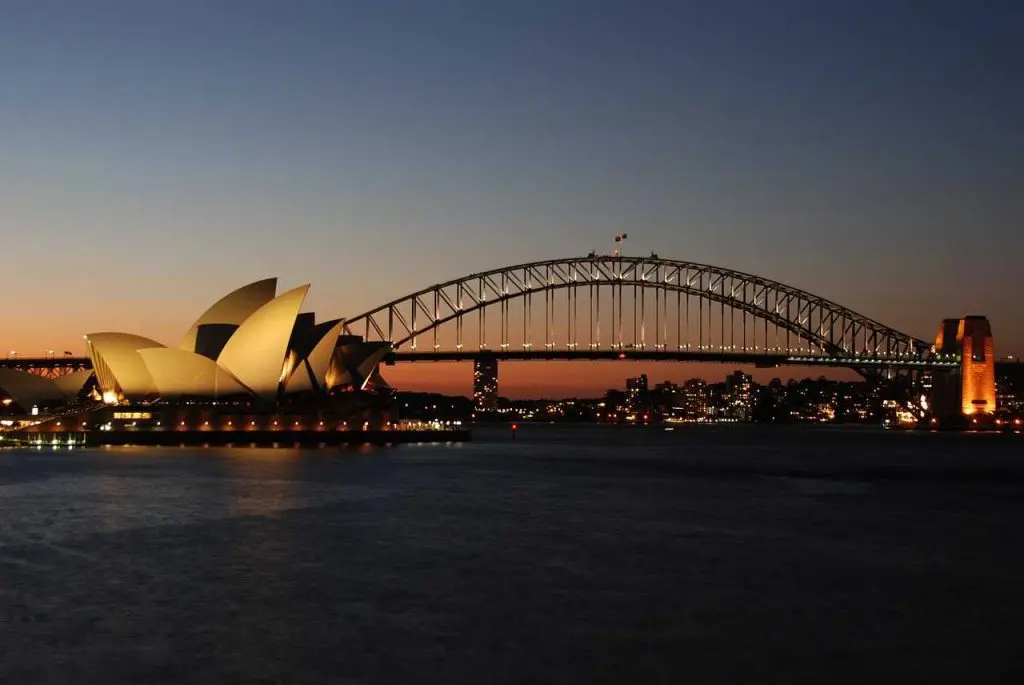 Time: 8 hours, 53 minutes

Distance: 878 km
Driving between the two biggest cities in Australia isn't too difficult. At just under 9 hours, you could complete the trip in one day.
It's better to do it over a few days or a week though, so you can see some of the interesting places along the way. What you can see depends on whether you take the inland or coastal route.
By going inland you can visit Australia's highest point, Mount Kosciuszko and the capital Canberra. The coastal route will take you through the beautiful Gippsland Lakes National Park and the numerous amazing beaches along the New South Wales coast.
Once you get to Sydney, you can check out the famous sights such as the Sydney Harbour Bridge, Opera House and Bondi Beach. You can also venture out of the city to the Blue Mountains National Park if you have time too!
Read more about a Melbourne to Sydney road trip.
Brisbane, QLD

Time: 18 hours, 4 minutes

Distance: 1,775 km
The drive to Brisbane will take you just over 18 hours if you were to do it in one go, which is not a good idea.
You have two options for this drive. You can drive the whole way via places such as Dubbo and Goondiwindi, which will allow you to see what life is like in some of the smaller towns in Australia.
Or you can drive inland towards Sydney and then follow the coast all the way up to Brisbane. If you have a lot of time, this is the best option, as the drive up the coast to Brisbane is scenic.
You'll get to see some glorious beachside towns like Port Macquarie, Coffs Harbour and Byron Bay, all of which are worth stopping at along the way.
Uluru, NT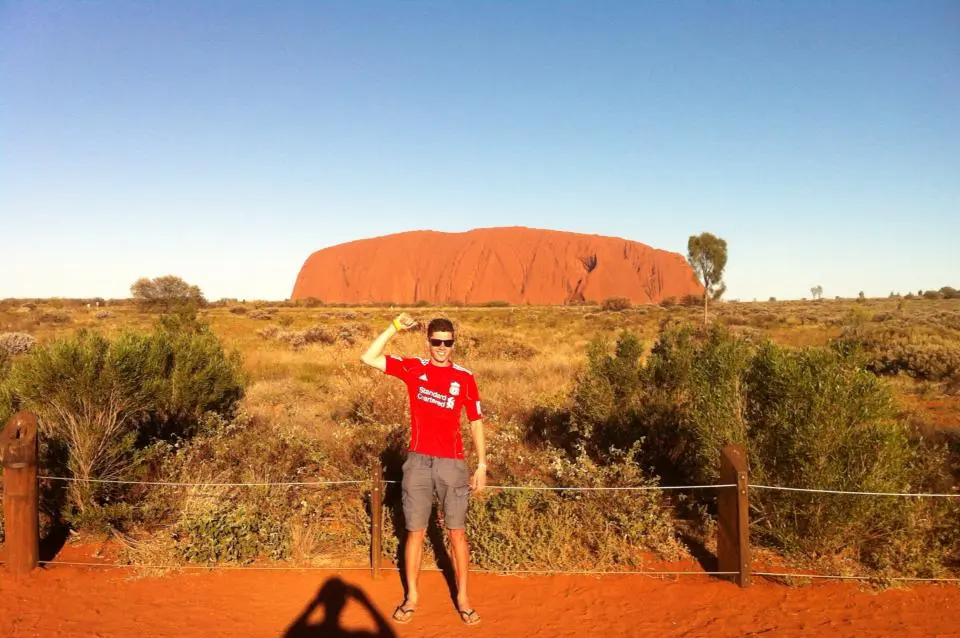 Time: 25 hours

Distance: 2,326 km
If you want to see the real Australia and venture into the outback, driving to Uluru from Melbourne is a must.
This is no easy drive. At over 25 hours and 2,300km, it's a long drive that takes you through vast expanses of land with nothing to see for miles.
I've done the route of this road trip in full but on two separate trips. Doing it in one will be a challenge. The first up to Adelaide isn't too bad, but it's once you get past Port Augusta and the mind-numbingly long drive to Coober Pedy that your resolve will be tested.
There is next to nothing between the towns and it can feel like you're in a Mad Max film at times. Once you're past Coober Pedy, the rest of the drive isn't as difficult.
You'll be rewarded with the sight of the most iconic image of Australia, which is a fantastic sight.
Perth, WA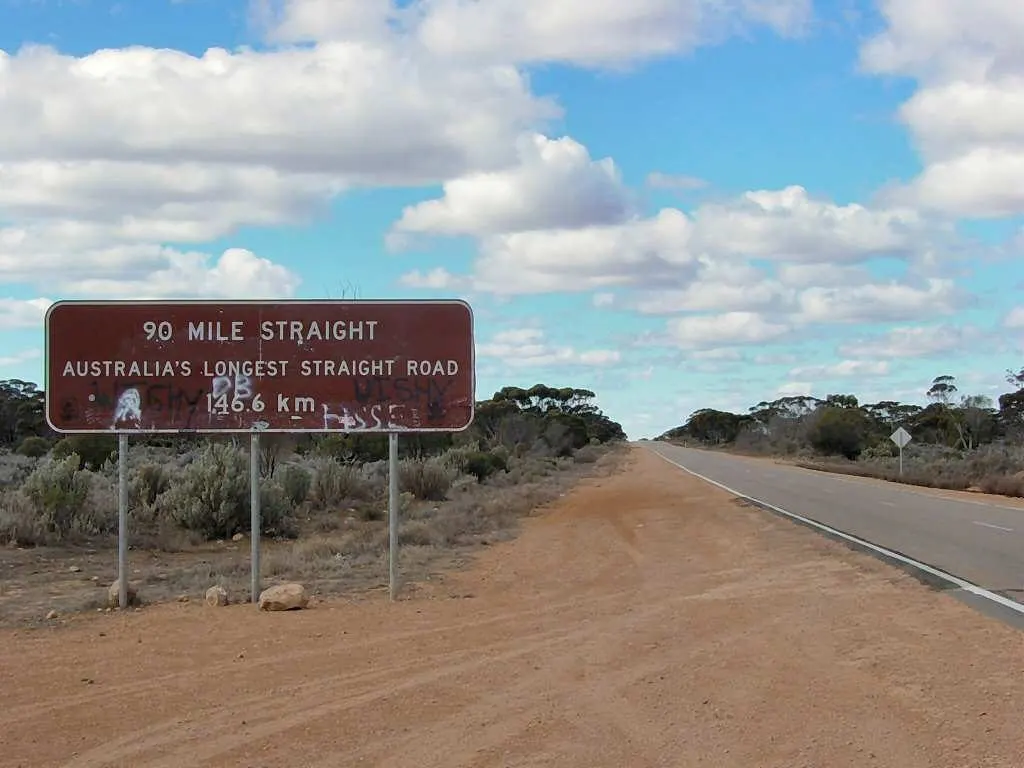 Time: 37 hours

Distance: 3,419 km
The drive to Perth from Melbourne takes you from one side of the country to the other, from Victoria to Western Australia.
It's a long drive and takes 37 hours to cover a distance of over 3,400 km. You'll drive through the Great Ocean Road and Adelaide, which isn't even the halfway point!
They're worth visiting if you haven't visited either before. Then, it's into the outback as you drive through the Nullarbor Plain and the straightest road in Australia.
You can extend this trip a little by taking the coastal route along WA up to Perth. You'll get to visit some amazing beaches at Albany and Esperance, but I'd only do this if you have a lot of time to spare.
This is a long drive and it might not be the best idea to extend it unnecessarily. There aren't too many interesting places on the inland route, but you can swing by Kalgoorie and check out the huge gold mines there.
Darwin, NT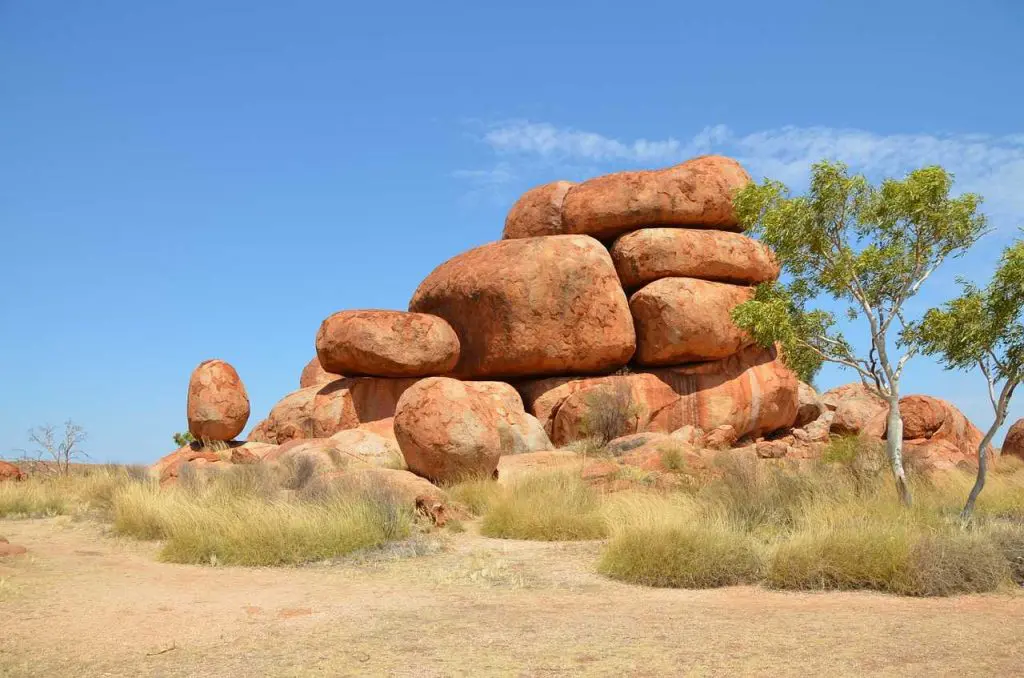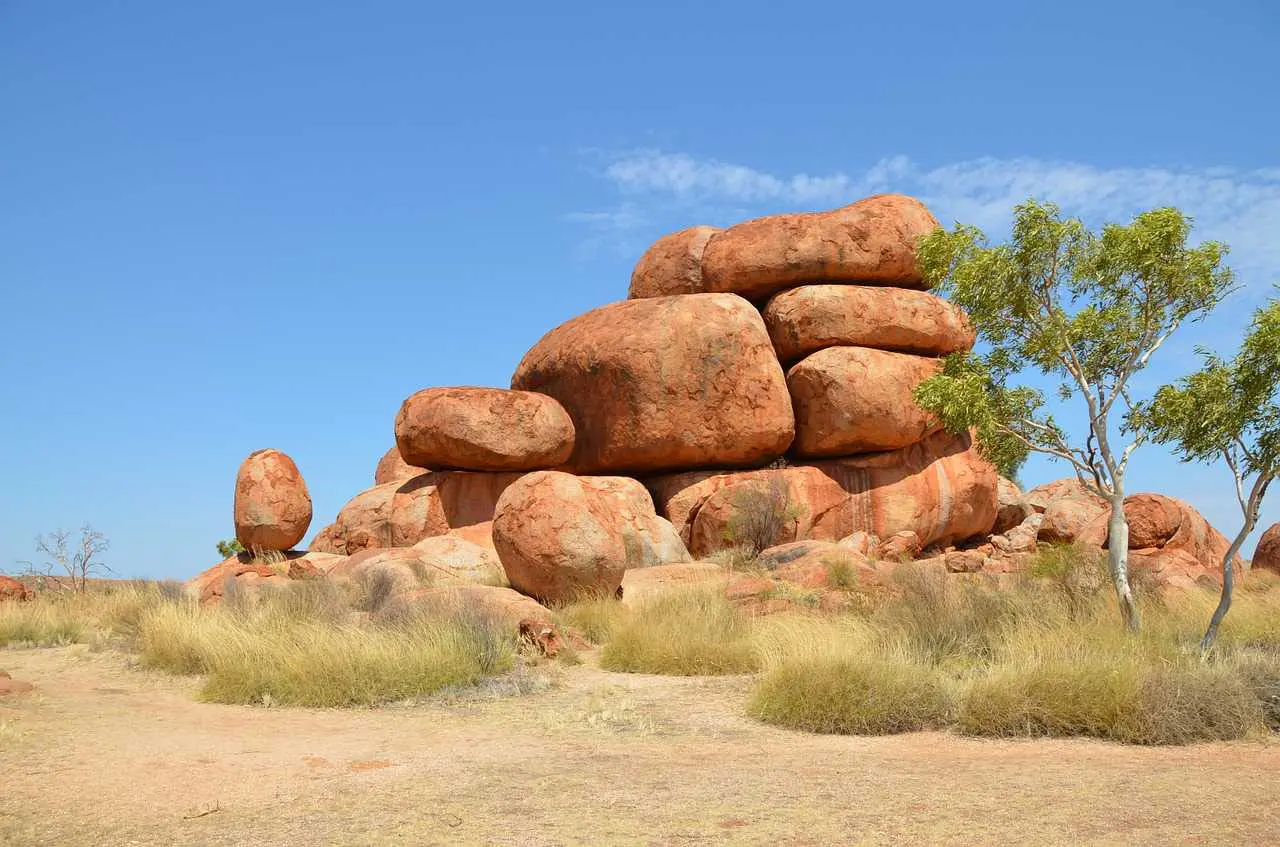 Time: 39 hours

Distance: 3,754 km
The drive to Darwin is the longest road trip from Melbourne you can do on this list. It covers a distance of over 3,700 km and takes 39 hours!
The route is similar to the drive to Uluru, except instead of jumping off the Stuart Highway to visit Uluru, you can on north towards Alice Springs and beyond.
You can visit Uuru if you want. I recommend you do this if you haven't visited before because it's one of the most special places in the country. But this will add time to your trip, so ensure you have enough time to spare.
After Alice Springs, the drive follows the Stuart Highway up to the Top End and Darwin. There's a lot to see along the way such as the Devil's Marbles, Mataranka Thermal Pools and Nitmulik National Park.
You can also visit Litchfield and Kakadu National Parks before you reach your end destination, where you'll find lots of amazing waterfalls and, in the case of Kakadu, some crocs too!
Looking For More Travel Guides?
Road Trips From Adelaide – If you're heading to Adelaide and wondering where you can visit by car once you're there, this article will give you some ideas.
Things To Do In Melbourne – Want to know what to do in Melbourne before you leave? This post will tell you all the great things you can do in the city.
3 Days in Melbourne – If you've only got a few days in Melbourne, this itinerary will show you what you can do in that time.
Road Trip Food Ideas – Learn more about what you should be eating on the road and some of the best snacks to take with you!
Tom is a travel addict who first left England to spend a year Down Under. Not satisfied with this, he then went to New Zealand, about as far away from home as he could get. He is now planning his next adventures in Europe and Canada while maintaining this blog. Check out the about me page to learn more!