Narrowing down the best road trips from Adelaide is no easy task because there are so many places you can visit starting from this underrated city.
In this post, you'll find a range of short road trips from Adelaide such as driving to Hahndorf and Port Elliot, along with much longer trips to Perth and Darwin that will take you across large parts of Australia.
Adelaide is a brilliant place to start a road trip from in Australia due to its relatively central place. This means that although the distances might be long in some cases, it's almost always shorter to get somewhere from Adelaide than it would be from other destinations.
These Adelaide road trips are some of the best you can do in the country and you'll see many interesting sights along the way!
Keep scrolling to discover all the great places you can visit when driving from Adelaide!
Disclosure: This article may contain affiliate/compensated links. For more information, please see our full disclosure policy.
Best Road Trips From Adelaide
The variety of road trips listed below is very different. Some of them are short trips that you can do as part of a day trip, while others are week or two-week-long trips that take you across vast expanses of land.
I've broken down the different types so you can get an idea of what you can do based on the time they take and the distance required to drive. The trips are listed in order of shortest to longest.
Day trips: Trips that can be easily completed in a day by driving to and from the destination. Some of these include Hahndorf, Port Elliot and Clare Valley
Weekend trip: Trips that require longer than a day that you can do over a weekend. Flinders Ranges, Innes National Park and Kangaroo Island are examples of these
Long weekend trips: You can do these trips in a weekend, but they are better if you have three or more days. They include Port Lincoln, Coober Pedy and Melbourne
Long road trips: These are the hardcore road trips that take you across large parts of the country. Driving to Uluru, Perth and Darwin will all take you a good week or two.
Hahndorf, SA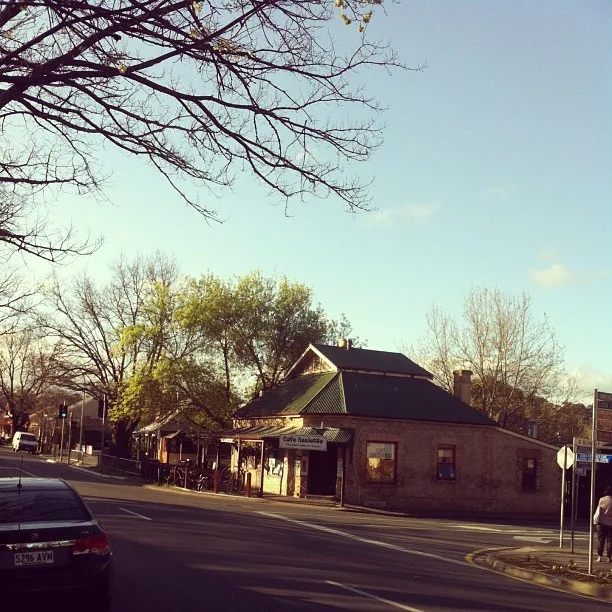 Time: 26 minutes

Distance: 25.8 km
A short drive from the city centre, Hahndorf is one of the easier places to reach from Adelaide.
It's a quirky place and one of the most unusual places to visit in Australia. The clue is in the name, which indicates a German past. The town was founded by German settlers and the influence is still evident today.
It's not the biggest place but there's a surprising amount to do here. You can visit the local museum to learn more about Hahndorf, get some food and drink in one of the numerous German-themed restaurants, and even play mini golf!
At such a short distance from the centre of the city, it's an ideal place to visit if you're spending 3 days in Adelaide.
Port Elliot, SA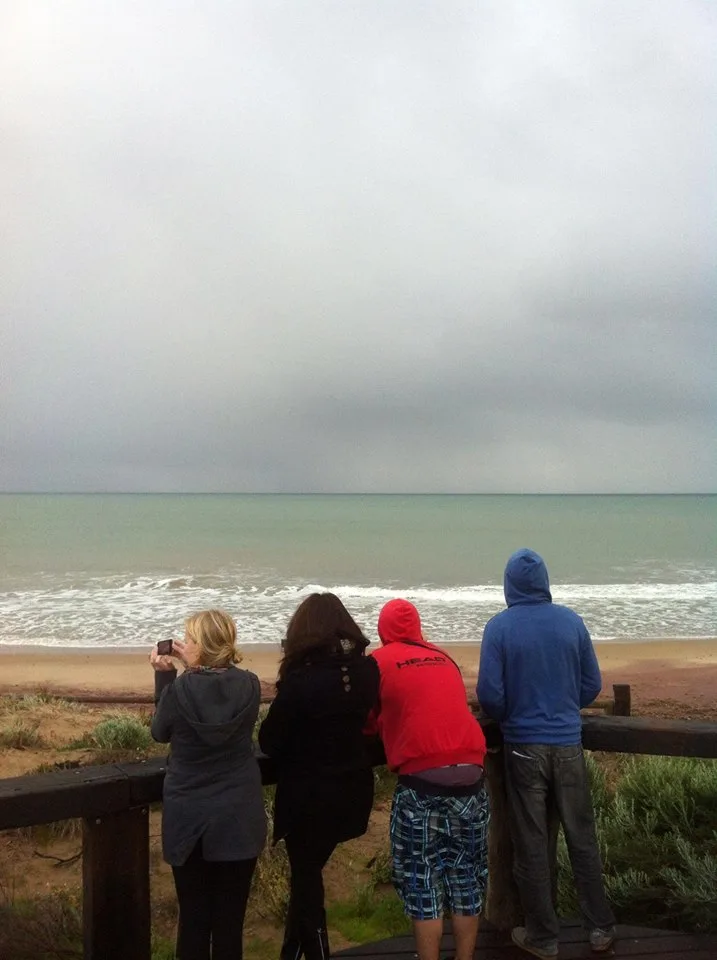 Time: 1 hour, 9 minutes

Distance: 81 km
Port Elliot is a bit further away from Adelaide at just over an hour's drive, but that shouldn't discourage you.
The town is small but what it lacks in size it more than makes up for in beauty. The beachside town is stunning and is one of the nicest places in South Australia.
I visited during winter and even though it was cold, the views were still incredible, as was the beach, which would be a brilliant place to visit in the summer.
One of the advantages of visiting in winter is that you'll be able to go whale watching, which is an incredible experience. You'll also more or less have the town to yourself which is another advantage!
Clare Valley, SA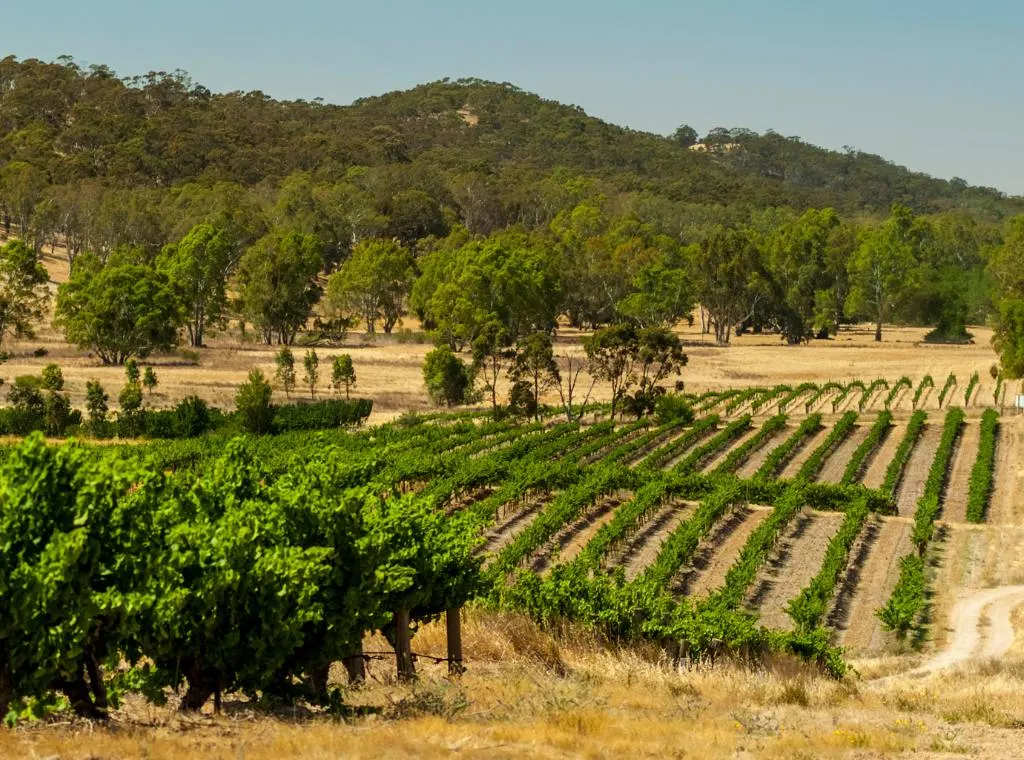 Time: 1 hour, 45 minutes

Distance: 147 km
The Clare Valley is wine country, so if you're a wine lover this is a fantastic excursion you can do from Adelaide.
There are over 20 wineries in the area, all of which are open to tour. The hardest part of this trip will be deciding which ones to visit and which to not!
Wine tasting is a must, just make sure you don't overdo it if you're driving!
If you're looking for some alcohol-free activities, you can visit Mintaro Maze and try to find your way out! You can also visit the historic mining town of Burra, and learn more about the region's past.
Innes National Park, SA

Time: 3 hours 10 minutes

Distance: 290 km
Innes National Park, also known as Dilba-Guaranda Innes National Park, is one of the underrated road trips from Adelaide on this list.
It's located on the Yorke Peninsula and has some of the best scenery in South Australia. From rugged coastlines to beautiful beaches, there are a lot of reasons to visit.
One is to check out one of the best beaches in South Australia, Ethel Wreck Beach. This features the wreck of a ship you can see above. You can also check out Cape Spencer Lighthouse, where you'll get some amazing views out into the sea.
You'll have to buy a pass to gain entry to the park if you're in a car, but it's worth the price. The sights you see will more than compensate for any fee to enter the park!
Kangaroo Island, SA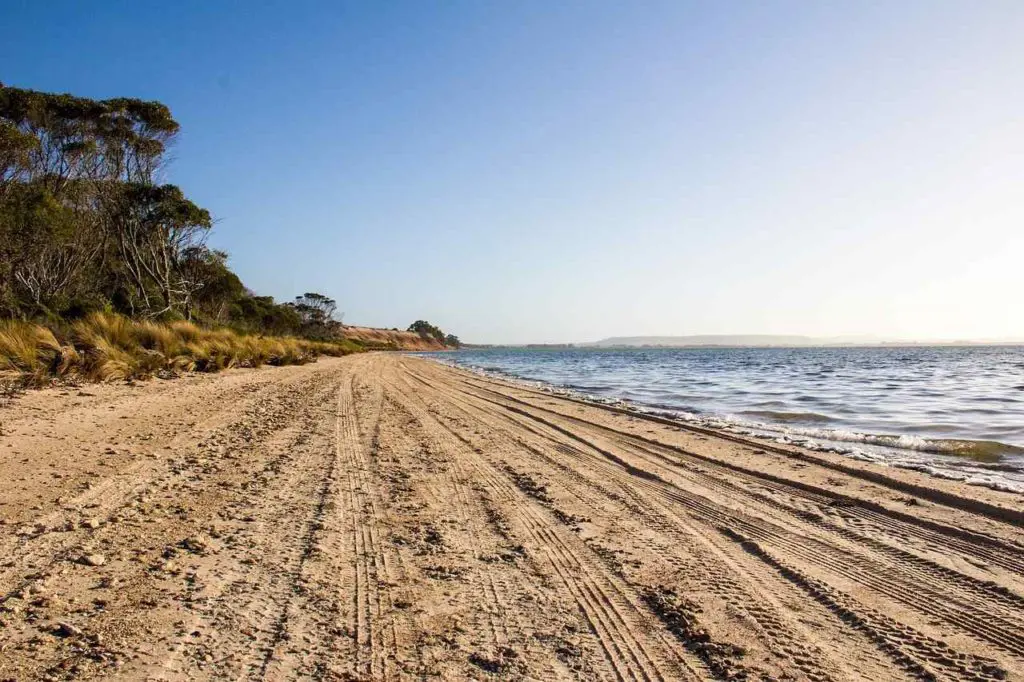 Time: 3 hours, 42 minutes

Distance: 210 km
Driving from Adelaide to Kangaroo Island is a great idea if you have a weekend free and want to visit somewhere interesting.
It takes around three hours to reach Kangaroo Island from Adelaide, with a ferry crossing from Cape Jervis required to complete the last part.
You can drive straight there from Adelaide, or you can stop in a few places along the way such as Port Elliot and Mount Compass.
Once you get to Kangaroo Island, there's a lot to see and do, but one place you have to check out is the Remarkables. This is a stunning rock formation that as the name suggests, is remarkable. They also look amazing under the setting sun too.
Flinders Ranges, SA


Time: 4 hours, 51 minutes

Distance: 428 km
Venturing about a bit further from Adelaide is this drive to the Flinders Ranges. It takes just under 5 hours to get to one of the most interesting landmarks in South Australia.
The Flinders Ranges are a lesser-known spot but there is a lot to do once you're there. You can visit the Blinman Mine Tour, which will explain the history of the people who worked in the copper mines there in the 19th century.
The Razorback Lookout is a must if you want a stunning view of the surrounding area. Try getting there for sunrise or sunset to have your breath taken away.
Finally, you can also see a collection of aboriginal rock art that's thousands of years old at Arkaroo Rock. It's a fascinating monument that will blow your mind!
Port Lincoln, SA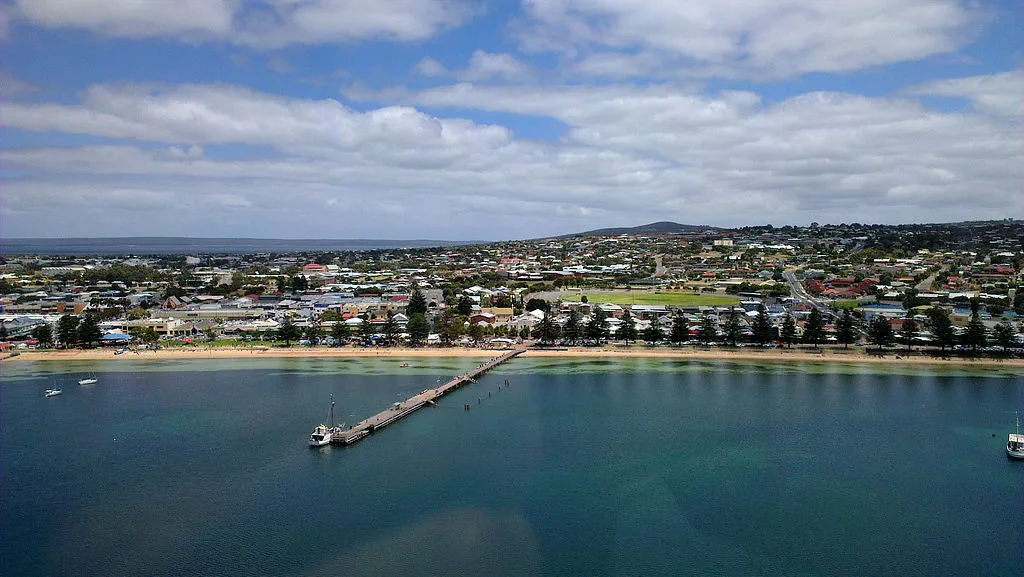 Time: 7 hours, 10 minutes

Distance: 650 km
Despite being in South Australia, a road trip from Adelaide to Port Lincoln is a lengthy one at over 7 hours. This is due to the location of Port Lincoln on the Eyre Peninsula.
You have to drive up the coast and then back down to get there, which makes the drive a long one. It's worth it though, because Port Lincoln is an interesting place to visit.
One of the main reasons is that it's one of the few places in Australia where you can go shark cage diving. Yes, if you're mad enough, you can stick yourself in a cage and watch great white sharks swim around you!
It's a long way to drive to do such a thing, but an experience you'll never forget that's for sure!
Melbourne, VIC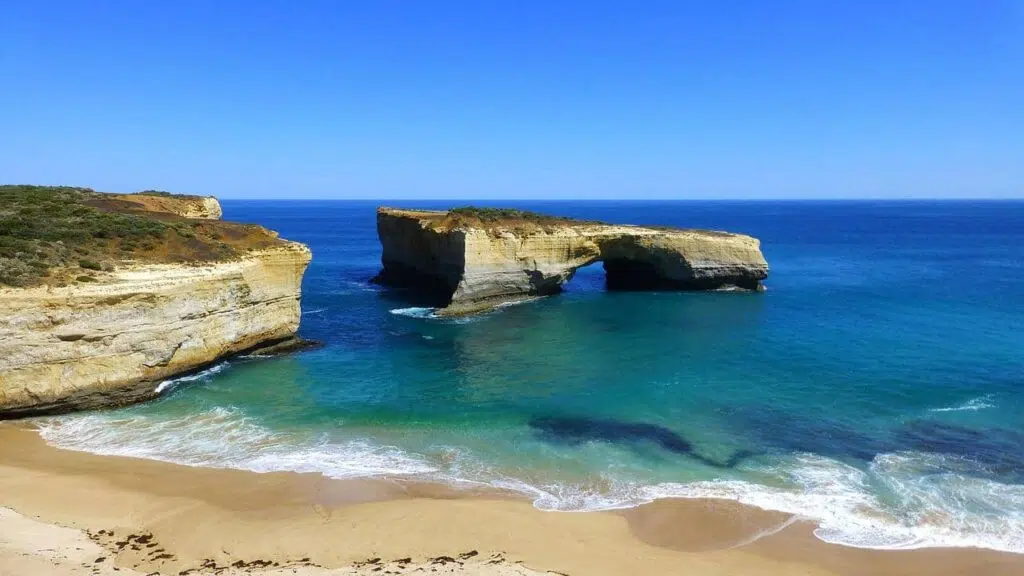 Time: 8 hours, 5 minutes

Distance: 727 km
If you were to drive from Adelaide to Melbourne in one go, it would take you over 8 hours. You can do it in one go, but it's not a good idea and you won't see much either.
I did this road trip over seven days and it was one of the best trips I did while I was backpacking in Australia. There's so much to see it's well worth taking your time.
You can visit the Grampians National Park, which has many amazing sights such as The Balconies, an interesting rock formation, and numerous waterfalls.
Perhaps the best part of the trip is the Great Ocean Road, which is not far from Melbourne. Here, you'll see more incredible rock formations, such as London Bridge in the image above, the Twelve Apostles, and the amazing Grotto.
If you have a week or two, then is one of the best road trips from Adelaide you can do due to how much there is to see and do.
For more info on this trip, check out my article on an Adelaide to Melbourne road trip.
Coober Pedy, SA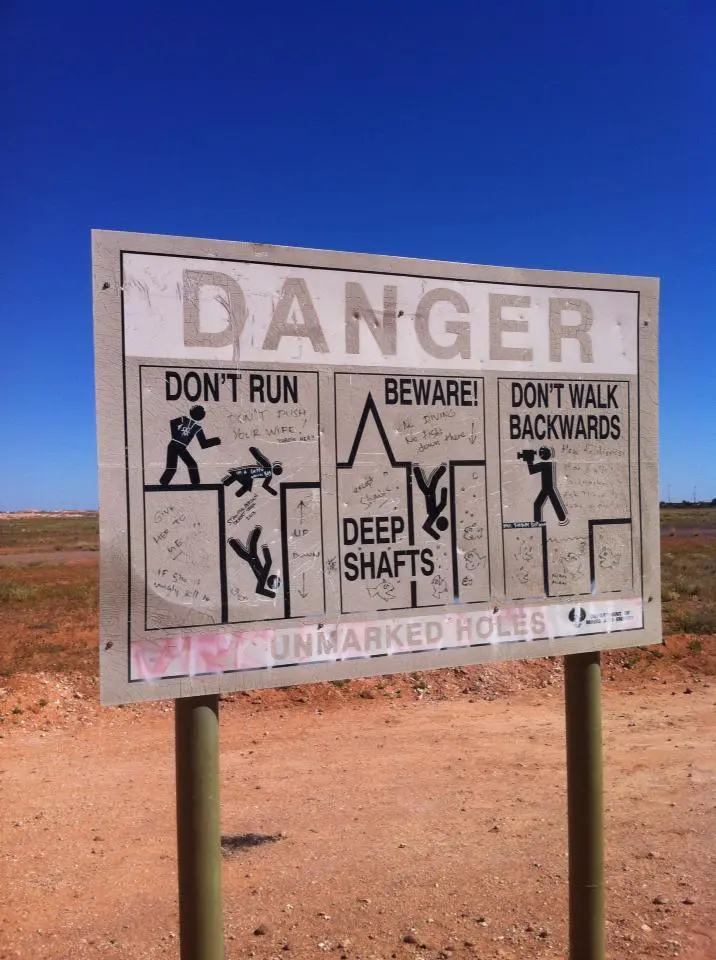 Time: 9 hours, 3 minutes

Distance: 848 km
Coober Pedy is one of the weirdest places I visited in Australia, and possibly the strangest place I've ever been.
It's a long drive from Adelaide at over 9 hours through the outback, with almost nothing in between once you're past Port Augusta. But, if you're willing to drive this far, it will be worth it, as you'll find a place almost unlike any other on Earth.
The reason is that Coober Pedy sits atop a lot of opals, which is worth a lot of money. The mining of opal is why the town exists. The quirky part of Coober Pedy is that due to the extreme heat, almost all of the homes are built underground.
There are also underground homes and an underground hotel, one of which I stayed in. Oddly, an 18-hole golf course can be found in the town too, which just adds to the bizarre feel of the place!
Canberra, ACT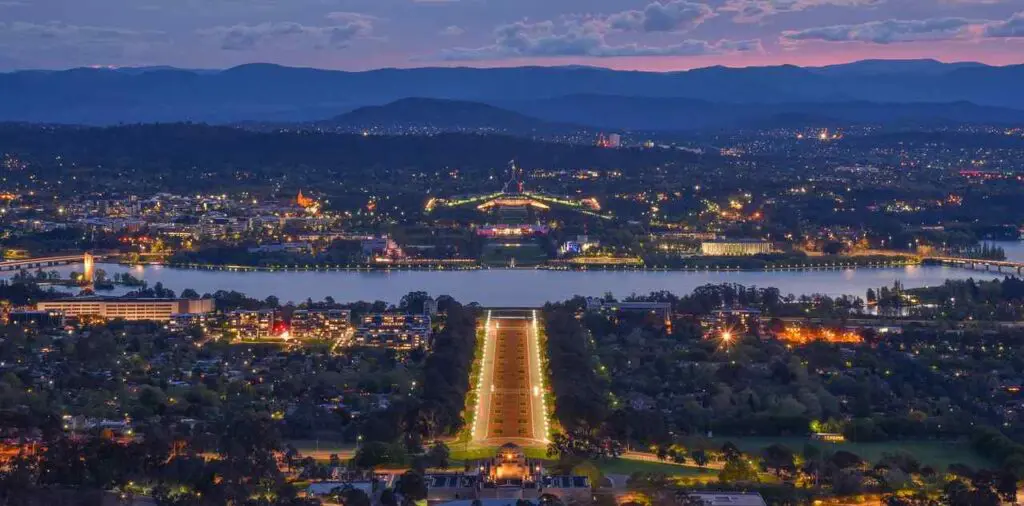 Time: 12 hours, 25 minutes

Distance: 1,159 km
Driving from Adelaide to Canberra is one of the lengthier trips on this list. It takes around 12 hours and a half to get there.
This is an inland route that takes you through parts of the South Australia and New South Wales outback. You'll visit places such as Swan Hill and Wagga Wagga that represent life in small-town Australia.
It's not the most exciting drive but there are plenty of things to do once you reach the Australian capital.
Visit the Australian Parliament, the numerous museums and art galleries are just some of the stuff you can do while there. If you're a culture vulture, you'll love Canberra, as these are the main activities you can do in the city.
Sydney, NSW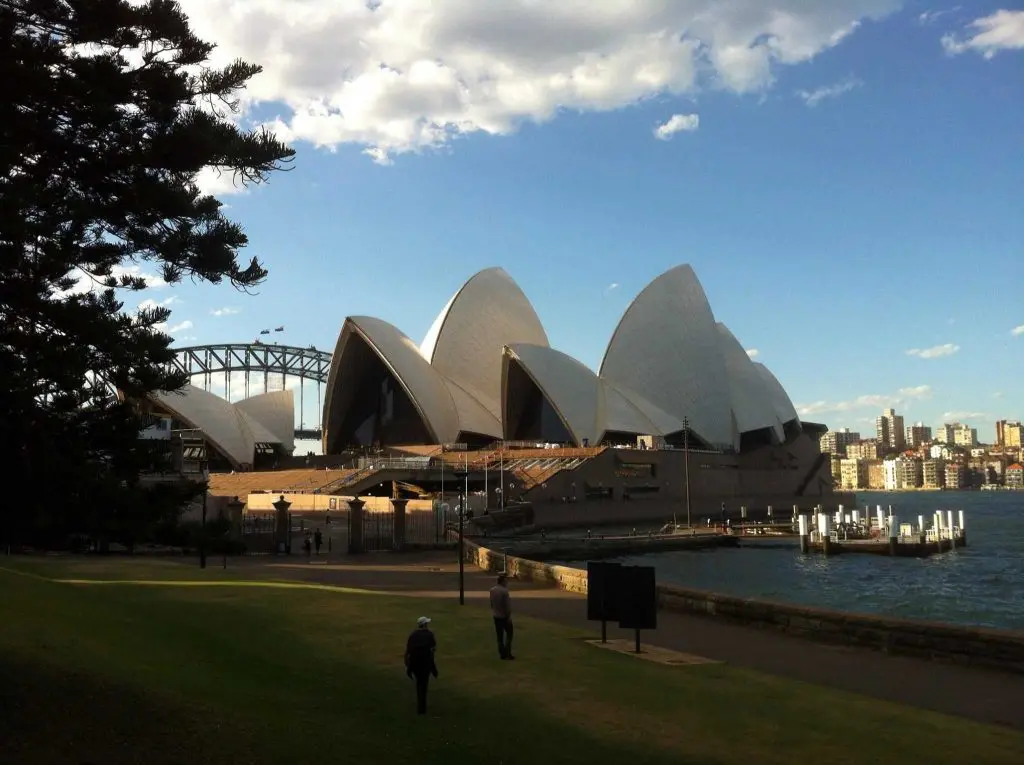 Time: 14 hours, 25 minutes

Distance: 1,375 km
Driving from Adelaide to Sydney is a lengthy affair that will see you trek over 1300 km distance to the biggest city in Australia. It's a long drive and would take over 16 hours to complete in one go.
You could take the coastal route and go via Melbourne, but this is a lot longer, so I'd only recommend doing this if you have a lot of time and you want to see Melbourne too.
The drive takes you through the outback to imaginatively named places such as Swan Hill and Wagga Wagga. You'll see a different side to Australia, as you make your way through the numerous small towns along the way.
Once you arrive at your destination, I suggest spending 3 days in Sydney or longer. There's a lot to do in the city such as visiting Bondi Beach and seeing the Sydney Harbour Bridge and Opera House. Any less time and you won't be able to see everything the city has to offer.
Uluru, NT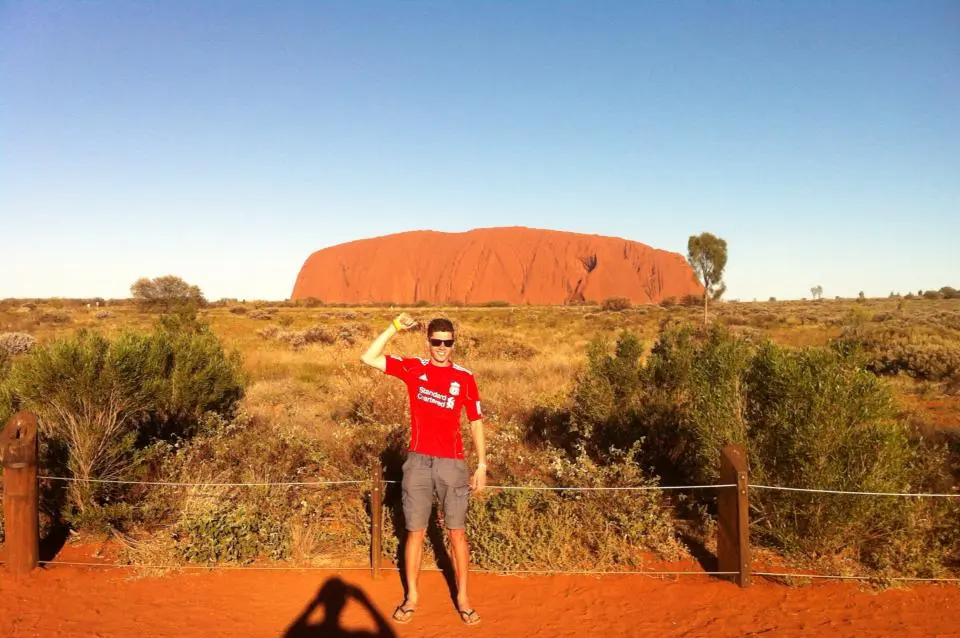 Time: 16 hours, 41 minutes

Distance: 1,602 km
If you want to see one of the most iconic places in Australia, driving to Uluru is something you have to do. It's a long trip at over 16 hours but more than worth it to see such an amazing place.
I was lucky enough to visit Uluru while I was in Australia and despite the lengthy drive to get there, it was incredible. The rock is an astonishing sight, so astonishing I wasn't sure it was real at first! It looked too impressive to be true.
You can't climb Uluru anymore but you can walk around the base, which will give you an idea of the scale of Uluru. The good thing about this drive is that there's more to see than just Uluru.
There's Kata-Tjuta nearby, which is just as impressive as Uluru. You have to do the Valley of the Winds walk when you're there. Plus, you can also check out King's Canyon, which is another incredible geographical formation not to be missed!
Brisbane, QLD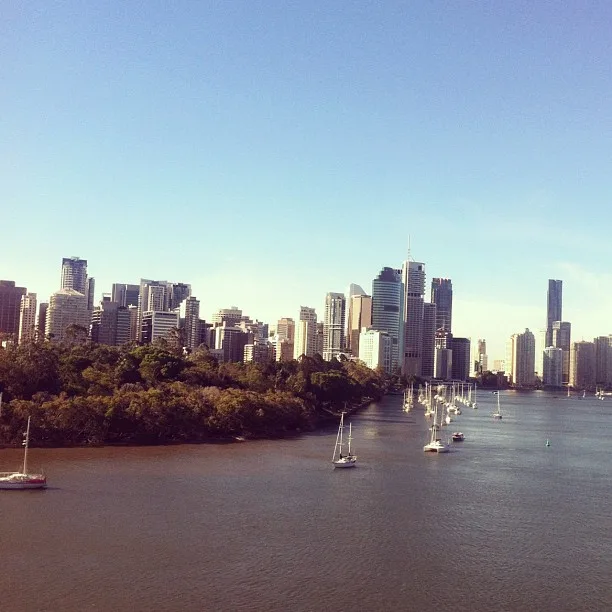 Time: 22 hours

Distance: 2,006 km
Adelaide to Brisbane is a long drive, 22 hours plus to be exact. That's if you take the inland route, if you were to go the coastal route, it would take much longer.
This is a beast of a drive and will take you around a week to complete. During that time, you'll see a different side of Australia as you pass through the outback in four different states.
You have the option of taking two routes, the Ouyen route or the Nyngan route. There's not much difference between the two routes in terms of time, with the Nyngan route not leaving South Australia and New South Wales, while the Ouyen route takes you through parts of rural Victoria.
Just some of the interesting places you can see are Broken Hill, a mining town in the New South Wales Outback, the giant gold mines at Cobar, and a beautiful waterfall at Hickey Falls before reaching the bustling city of Brisbane!
Perth, WA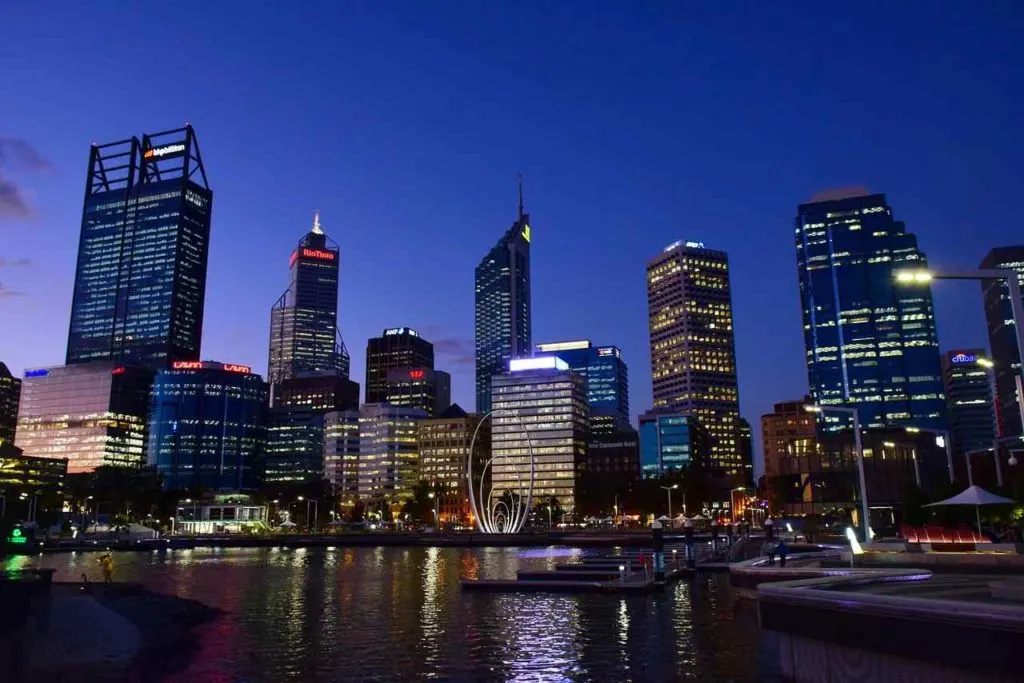 Time: 28 hours

Distance: 2,695 km
Driving from Adelaide to Perth is the second-longest road trip on this list at just over 30 hours if you were to attempt it in one go.
This is one of the toughest road trips in Australia as you'll have to trek across vast areas with nothing for miles in between.
The Nullarbor Plain is a case in point. It's a vast area that is almost uninhabited and is home to the straightest road in Australia, which is a quirky reason to do the trip.
Once you get to Western Australia, you have to decide whether to go inland or take the coastal route. Taking the inland route is bigger, but there is less to see, while the coastal route allows you to visit some beautiful towns such as Albany and Esperance that have amazing beaches!
Read more about an Adelaide to Perth road trip.
Darwin, NT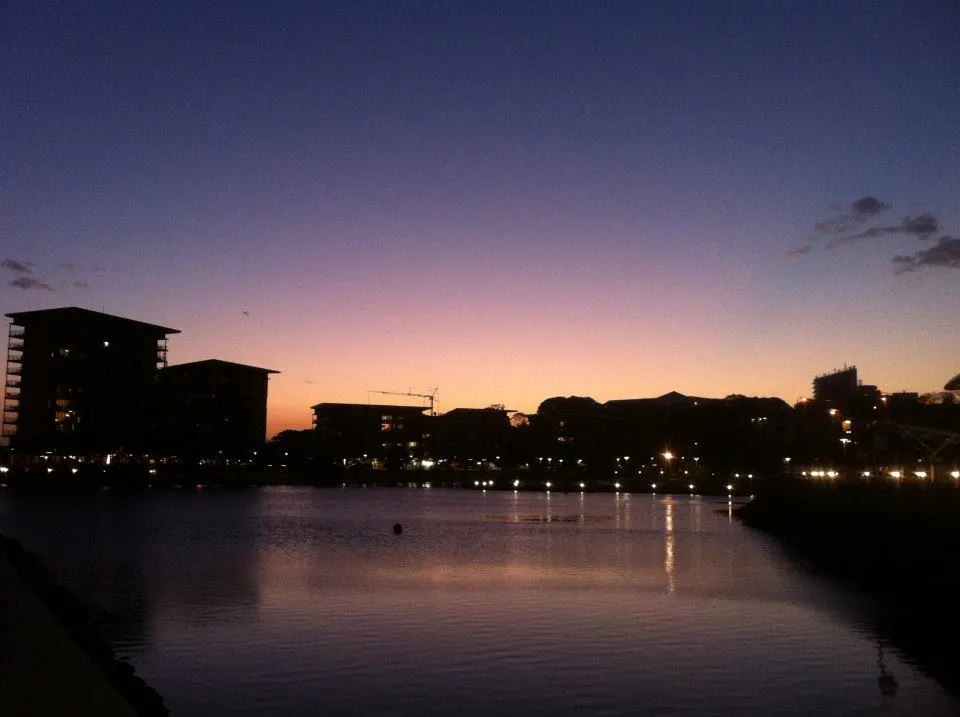 Time: 31 hours

Distance: 3,030 km
The drive from Adelaide to Darwin is one of the most incredible in Australia. I did this road trip over two weeks and it was amazing. Driving from the bottom of Australia to the top is an experience I'll never forget.
You'll pass through a lot of intriguing places as you make your way up the Stuart Highway. You can also take a detour to visit Uluru and see one of the most iconic sights in Australia.
One of the most remarkable things about this road trip is how much the scenery changes along the way. You go from barren outback in South Australia, to slightly more vegetation once you reach the Northern Territory.
Then you see more and more huge termite mounds as you make your way to the tropical Top End and the final destination of Darwin. This is an epic drive and one I cannot recommend doing enough. It's a long one but with so much to see along the way it's worth doing.
Learn more about an Adelaide to Darwin road trip.
Looking For More Travel Guides?
Road Trips From Melbourne – If you drive to Melbourne and are wondering where else you can visit from there, this post has you covered!
Things To Do In Adelaide – Discover all the great things you can do in Adelaide before you leave!
3 Days in Adelaide – If you've only got a few days in Adelaide, this itinerary will show you what you can do in that time.
Road Trip Food Ideas – Discover what foods you need with you and the ones you don't when you're on the road.
Tom is a travel addict who first left England to spend a year Down Under. Not satisfied with this, he then went to New Zealand, about as far away from home as he could get. He is now planning his next adventures in Europe and Canada while maintaining this blog. Check out the about me page to learn more!