An Adelaide to Perth road trip is one of the most interesting drives you can do in Australia.
Driving this route takes you from South Australia, across the barren Nullarbor Plain and into Western Australia, finishing at Perth.
This is one of the longest road trips in Australia you can do and certainly not one for the faint-hearted! A road trip from Adelaide to Perth is a big task and will showcase just how large Australia is!
While it may be a long drive, it is scenic and will allow you to see excellent spots in South and Western Australia such as Lucky Bay, the Eyre Peninsula and Esperance.
My Adelaide to Perth drive itinerary will take you to some of Australia's lesser-known, but most beautiful spots!
Let's get into it!
Disclosure: This article may contain affiliate/compensated links. For more information, please see our full disclosure policy.
Adelaide to Perth Road Trip
Quick Adelaide to Perth Drive Itinerary
Distance – 3,149.km (1,956.6 miles)
Time – 8 days
Day 1 – Adelaide to Port Lincoln: 653km (405 miles)
Day 2 – Port Lincoln to Ceduna: 405 km (251 miles)
Day 3 – Ceduna to Mundrabilla: 604 km (375 miles)
Day 4 – Mundrabilla to Salmon Gums: 709 km (440 miles)
Day 5 – Salmon Gums to Esperance: 107 km (66 miles)
Day 6 – Esperance to Albany: 483 km (300 miles)
Day 7 – Albany to Busselton: 332 km (206 miles)
Day 8 – Busselton to Perth: 224 km (139 miles)
The distance between Adelaide and Perth is 2,693.3 km (1,673.5 miles). It's a huge distance and one of the longest road trips in Australia you can do as it would take you 28 hours if you tried to do it in one go!
That is the shortest route between the two cities, but not the one I would advise taking. Instead of taking the inland route, you should take the coastal route, which is more scenic.
This route is 3,149.km (1,956.6 miles) long and would take 33 hours to complete in one go!
However, it will offer you more sights, things to do and take you through some of the best spots in Western Australia!
Driving from Adelaide to Perth is not a short trip! You will need to be prepared for some long drives along the way!
Before setting off
Before you do any Australian road trip it is important to have everything in order. The first thing you need to get is a vehicle. Without one, there simply won't be a road trip! Depending on your numbers and where you plan on sleeping, you have two options.
Depending on how many of you there are, you can either rent a car or a campervan. If you're planning on staying in hostels, I would go by car. Otherwise, a campervan would be a good idea, particularly if there are 4 to 6 of you.
Important info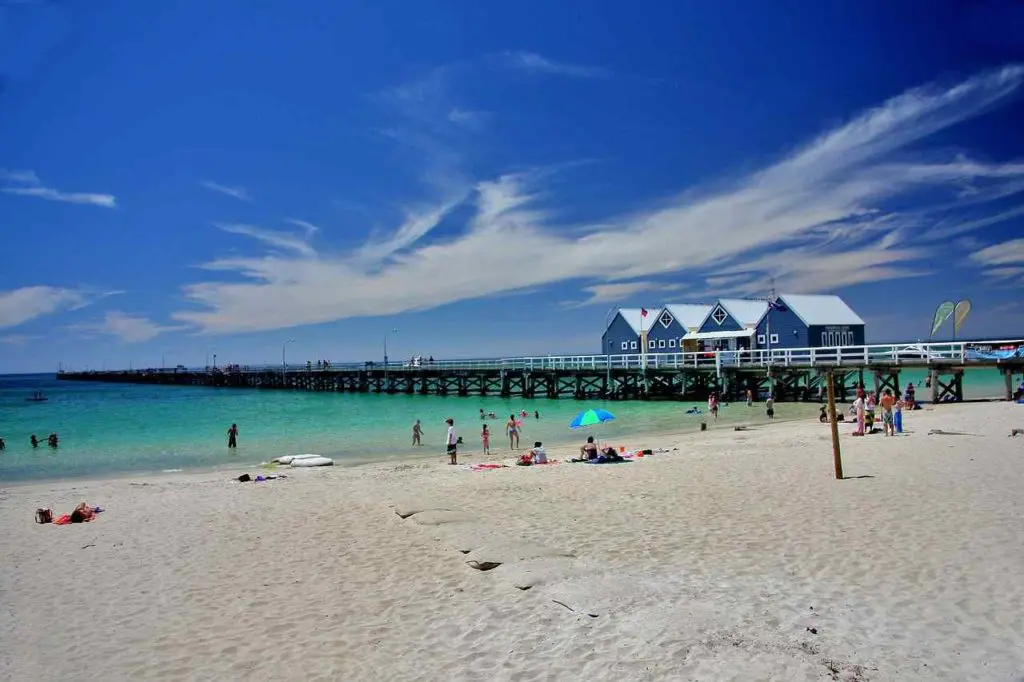 Driving across Australia is not the easiest task due to the size of the country. This is exacerbated when the journeys involve covering large areas where there's little in the way of civilisation. The main concern is running out of fuel in the middle of nowhere.
If your tank is nearly half-full, you should stop at the next petrol station. You never know how far the next one will be. The last thing you want to do is run out of fuel!
Nowhere is this truer when driving in Australia. The distances between places are so large, you need to make sure you have all the tools and safety equipment you need in case of an emergency.
If you break down in the wrong place, you could be there for a while waiting for assistance!
One tip that I picked up during the Australian road trips I did was to take note of signs. When you are in the outback and unpopulated areas, there are little green signs every 5km to let you know how far you are from the next town.
It's important to look out for these signs. They will help you to gauge how far the next town is and when you can stop to eat and refuel.
If you feel tired while driving, take a break. Driving in Australia involves long distances no matter where you go. Obviously, you want to get to wherever you're going quickly, but this shouldn't come at the expense of safety.
Try and stop every 4 hours for a short break! Obviously, doing a road trip in Australia you should be stopping a lot anyway to check out the great scenery!
Also, make sure you consult my road trip packing list before you set off so you have all the items you need for a comfortable trip.
Before doing any drive in Australia, ensure that you have proper travel insurance! I use SafetyWing to keep me safe on the road, it's designed for backpackers and adventurous travellers.
You never know what can happen on the road. Keep yourself protected against all eventualities! Click here to get a quote!
Is It Worth Driving From Adelaide to Perth?
The best reason to do a road trip from Adelaide to Perth is that you will see parts of Australia that most travellers don't see. This route isn't as popular as the East Coast and is often neglected by this backpacking around Australia.
This is a shame because the trip takes you through some of the most beautiful places to visit in Australia!
Due to the substantial difference in tourists visiting the East Coast of Australia, the West Coast almost has an untouched feel about it.
You won't see large hordes of travellers while doing this route. If you stop at some of the beaches along the way, you will notice they are peaceful and undisturbed.
This is in stark contrast to what you can find on the East Coast, where there is an abundance of tourists.
Driving from Adelaide to Perth is a serious undertaking and the drive will feel never-ending at times.
However, you will more than be rewarded by the incredible views and scenery you will see along the way! There's a reason so many Australia quotes refer to the beauty of the country!
For this reason, it is one of the best road trips in Australia and one you can't miss out on while you're there!
Where to Stay Between Adelaide and Perth
Despite cutting across large swathes of the outback, you'll be relieved to know there are a number of places to stay between Adelaide and Perth.
Even if you stop in the outback, which you will have to do at some point, there are places to stay in the small towns you encounter.
Once you get past the Nullarbor Plain, you will find there are a lot more places to stay, and you have more choices.
If you're doing the trip in a campervan, you don't need to worry about this. You can just park up wherever you want and sleep for the night. If you're doing it in a car, I've listed some hostels below which are ideal places to stay on this trip!
Places to Visit on an Adelaide to Perth Road Trip
Albany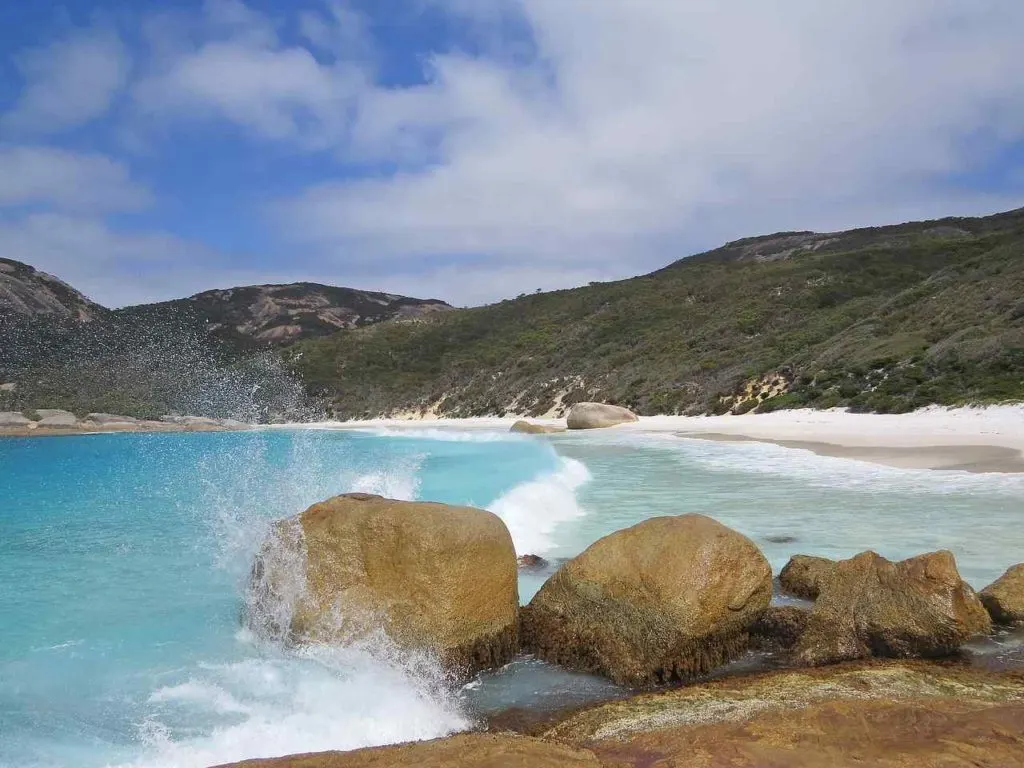 Albany is a city at the southern tip of Western Australia and is somewhere you should definitely stop while driving from Adelaide to Perth.
There are a lot of things to do in the area. You can visit Torndirrup National Park, which has numerous walking trails along the beautiful coast, while there are plenty of beaches you can check out too!
There is also King George Sound, which is a 42-square-mile inlet, which offers amazing sights. It's a spectacular sight and is a great addition to visiting the nearby national park.
Albany is home to some of Western Australia's best beaches, so you can't pass by without checking some of them out!
Denmark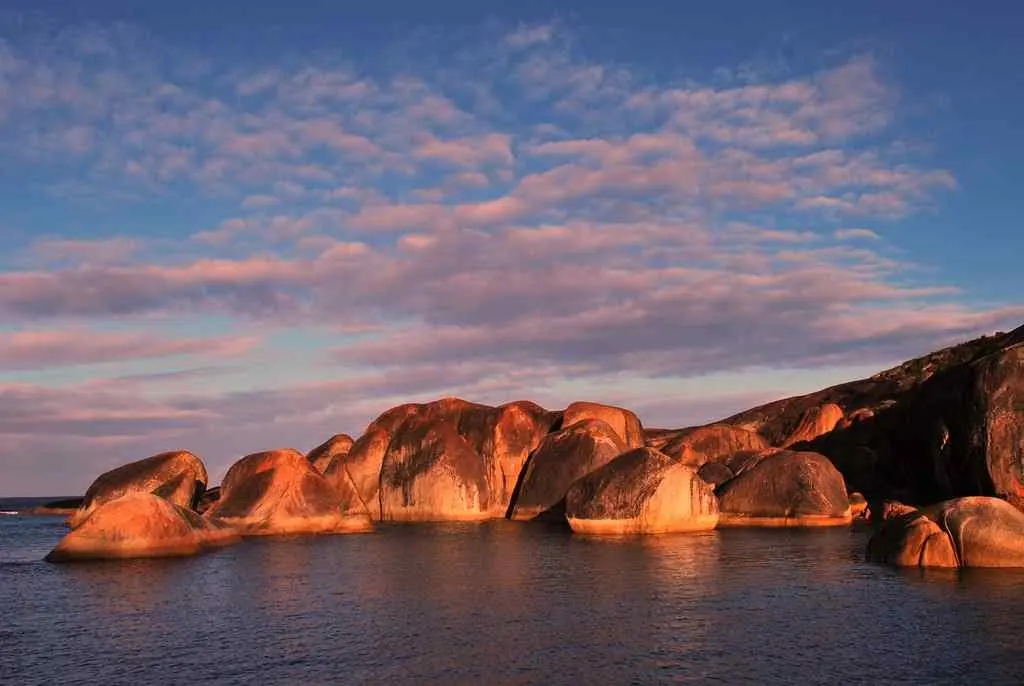 I know what you're thinking! Yes, there is a place in Australia called Denmark! As for it being similar to the country, the only similarity is the name. This Denmark is very different in nature.
It is a small coastal town over 400 km from Perth on the eastern side of WA, with amazing beaches close by. This part of Australia is renowned for its natural beauty and Denmark is no different!
One place you should check out while you're in the area is Greens Pool. Massive granite boulders pop up from the ocean's surface, which makes for an incredible sight and a great place to explore!
There are many small towns you can stop at during your Adelaide to Perth drive, but Denmark is one you have to check out!
Lucky Bay
Lucky Bay is one of the best places you can visit in Australia, never mind driving from Perth to Adelaide or vice versa!
It's located in Cape Le Grand National Park, not far from Esperance. One of the best reasons to include it on your itinerary is that the bay is home to a significant number of kangaroos!
If you haven't seen one yet, while you've been travelling around Australia, Lucky Bay is one of the best places in the country to see them. You can get up close and personal with them, and they are much tamer than other roos you may encounter in the wild!
As well as the kangaroos, the beach here is beautiful with white sand and turquoise waters. It is a picturesque place you can't afford to miss!
Nullarbor Plain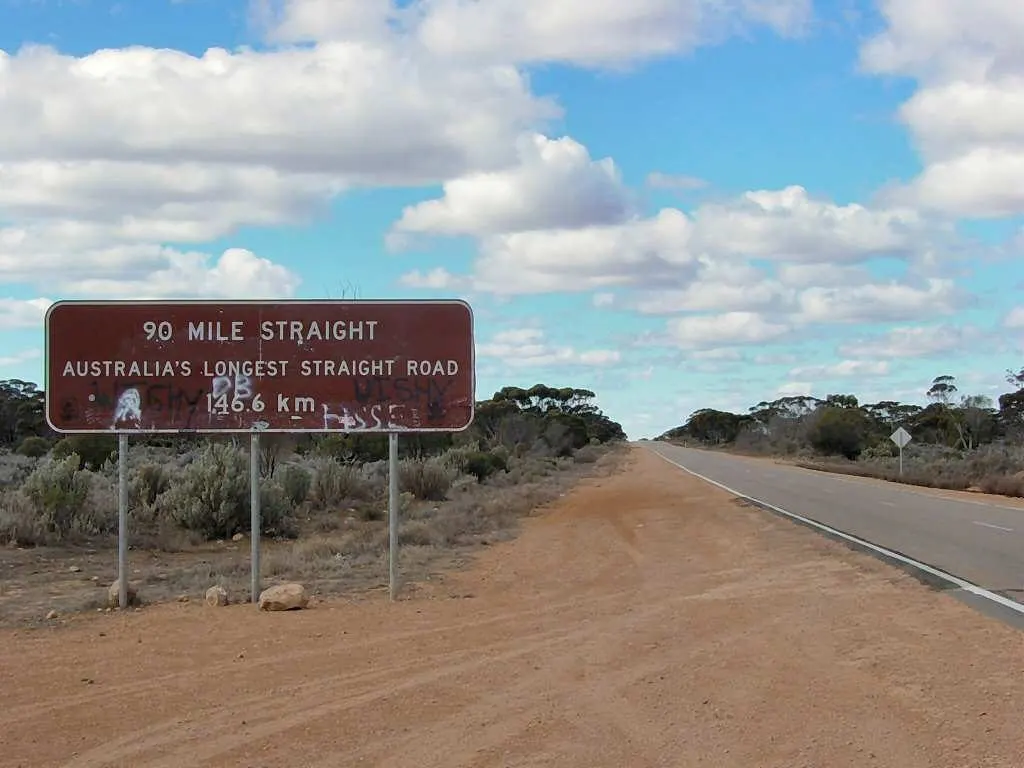 You don't have any choice about visiting the Nullarbor Plain as you have straight through no matter which direction you are going.
Despite this and the barrenness of the area, it is still an interesting place. The longest stretch of straight road in Australia passes through the plain. You will be travelling on this road for 90 miles (146.6 km) before it deviates in any way!
Apart from this, you will be able to see whales along the way as the route goes by the world's longest line of sea cliffs near the Great Australian Bight.
You can also visit places such as Eucla and see the shifting sand dunes which are slowly claiming the old telegraph station that was once the busiest in Australia!
Nullarbor means 'no trees' in Latin, but despite its reputation as a barren part of Australia, there is a lot to see as you drive through!
Perth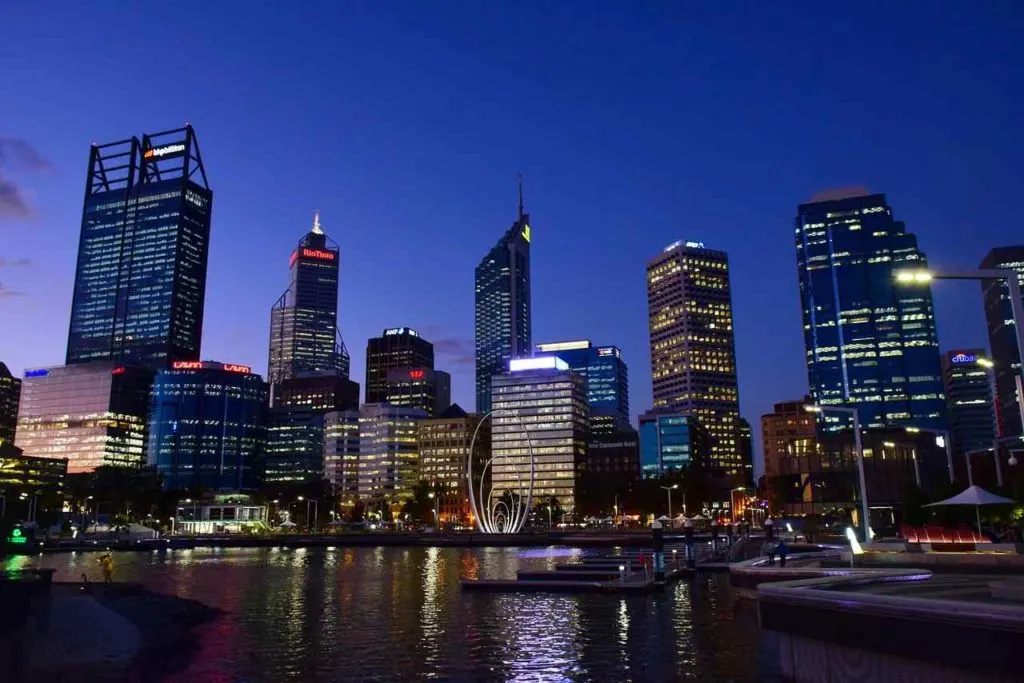 Perth may be isolated from the majority of Australia, but that doesn't make it any less of a great city!
There are plenty of things to do in Perth and the city has some of the best weather in Australia!
One of the best things about Perth is the number of amazing beaches that are on its doorstep, as well as the beautiful Kings Park.
After you have completed one of the longest road trips in Australia, you can relax on the beach and take in your beautiful surroundings in Western Australia!
Things to do on an Adelaide to Perth Road Trip
Visit Rottnest Island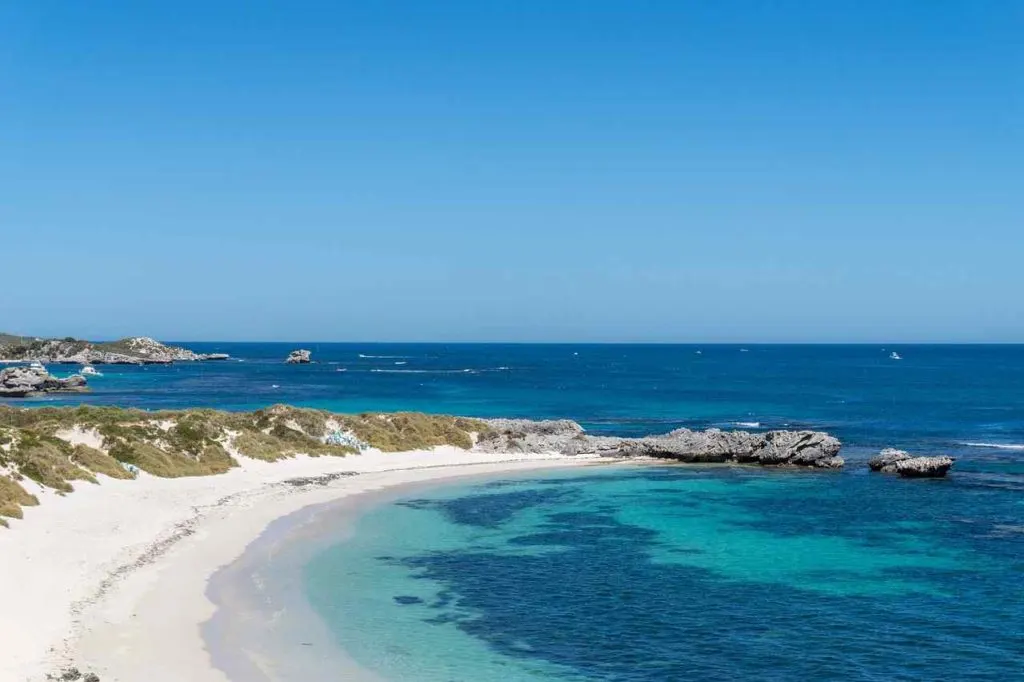 One place you should try and check out before the end, or start, of this trip, is Rottnest Island. It's located off the coast of mainland Australia near Perth.
It is a picturesque island that is home to cute little creatures called quokka, a small wallaby like a marsupial. The island is a protected nature reserve, which means the scenery here is incredible!
As well as the cute critters, there are numerous white beaches and secluded coves for you to explore. You can even go surfing near Strickland Bay if you wish.
To get to Rottnest Island you will need to book a ferry and island admission ticket, which costs about $73 altogether. I would book these in advance to make sure that you'll get the chance to visit this beautiful island!
Whale Watching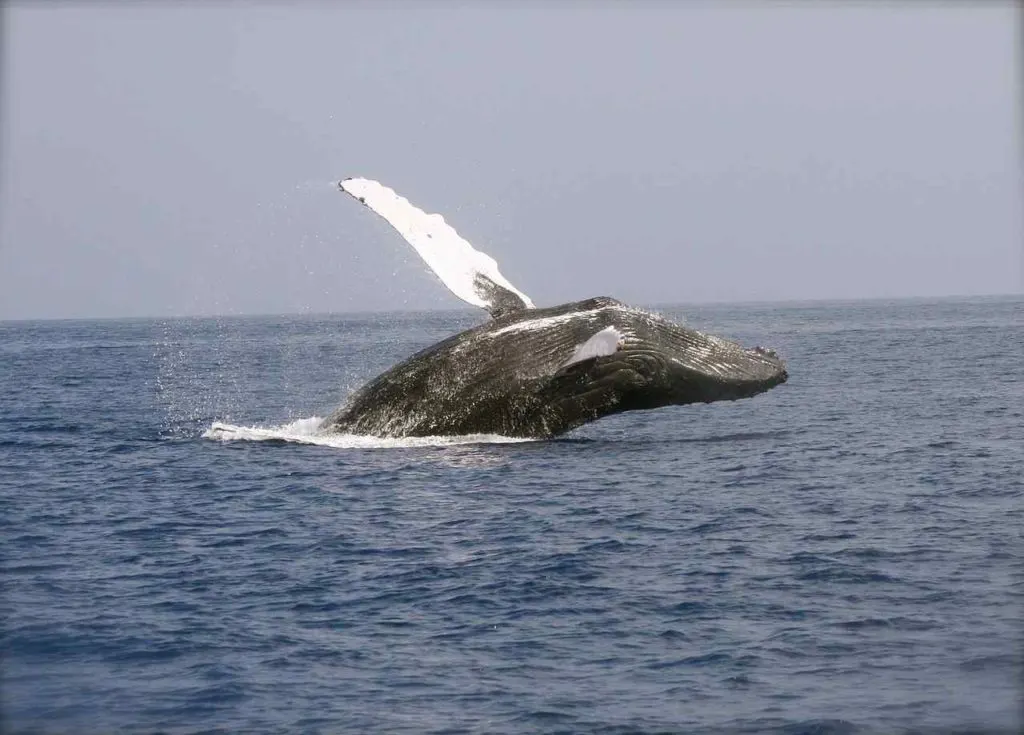 One of the more interesting things you can do while driving from Adelaide to Perth is to go whale watching. I did this while I was in South Australia and it was an amazing experience, and I only watched the whales from the shore!
My recommendation would be to book a boat tour, so you can get up close and personal with these incredible creatures. That way, you will be able to take in the sheer size and scale of the whales!
There are southern right whales in Western Australia almost all year round, with various species of whales migrating at different times of the year. Here is a handy guide, so you which whales are in the area during the year.
Augusta, Busselton, Dunsborough and Perth are just a couple of the places you need to include on your drive if you want to do some whale watching!
It's an experience you won't forget in a hurry!
Shark Cage Diving
Australia is renowned for the range of animals you can find on the continent, one of the most feared is the Great White Shark.
A lot of them can be found in the Eyre Peninsula in South Australia. A few enterprising souls have decided that the plethora of sharks in the area represents a good business idea.
They are offering you the opportunity to dive into the depths of the Spencer Gulf in a cage and come face-to-face with these beasts of the sea!
This is not something I would consider doing, but I know a lot of people are bigger risk-takers than me. If you want to get in the cage it's not cheap. Prices start at around $540. I would only pay this if you're determined to do it.
There isn't a lot to do in Port Lincoln, where the dives are based, so if you're passing through, it's something to consider. If you don't want to put your life in danger, then you can carry on your merry way!
Example Adelaide to Perth Road Trip Itinerary
This is an example itinerary and by no means the only route you should take. This is one of the best road trips from Adelaide, but it's important to state this itinerary is just a recommendation.
If you want to skip some places or take a quicker route, by all means, do so!
This itinerary will take you past some of the best places to stop on an Adelaide to Perth road trip such as Lucky Bay. It primarily hugs the coastline, but if you wish, you can take the inland route.
The sights may not be as spectacular, but you can still visit weird and wonderful places such as the Kalgoorlie pit and Wave Rock!
Day 1 – Adelaide to Port Lincoln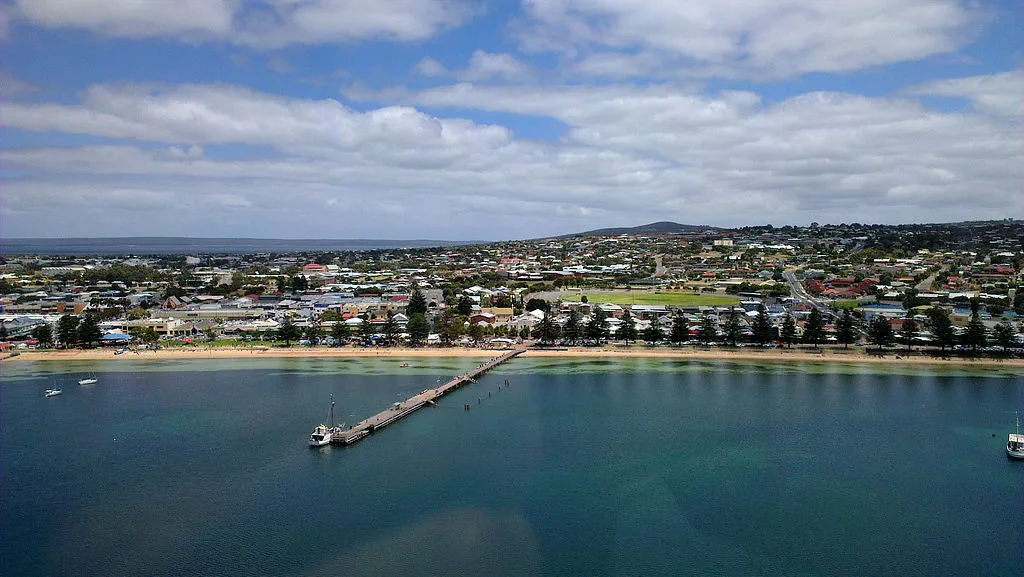 Distance
653 km (405 miles)

Time without stops
6 hours 56 minutes
Before you start this trip, I would recommend spending 3 days in Adelaide so you can see the city. It's a great city and it would be a shame to leave without seeing it properly.
The first part of this Adelaide to Perth itinerary does not represent the quickest route to take. That would be to just head west to Port Augusta and continue inland.
Instead, I am recommending you head down the Eyre Peninsula to Port Lincoln. It's one of the most famous landmarks in South Australia because you can go shark diving if you're brave enough.
The drive takes in places such as Coffin Bay National Park, which is a lot more scenic than driving inland, so even though it will add a bit of time to your trip, I recommend heading there. You can go for a short walk down by the coast and eat some great seafood at the numerous restaurants by the shore.
It takes around 6 hours and 56 minutes to get here from Adelaide. It's not a short drive, so it's best to set off early in the morning!
Day 2 – Port Lincoln to Ceduna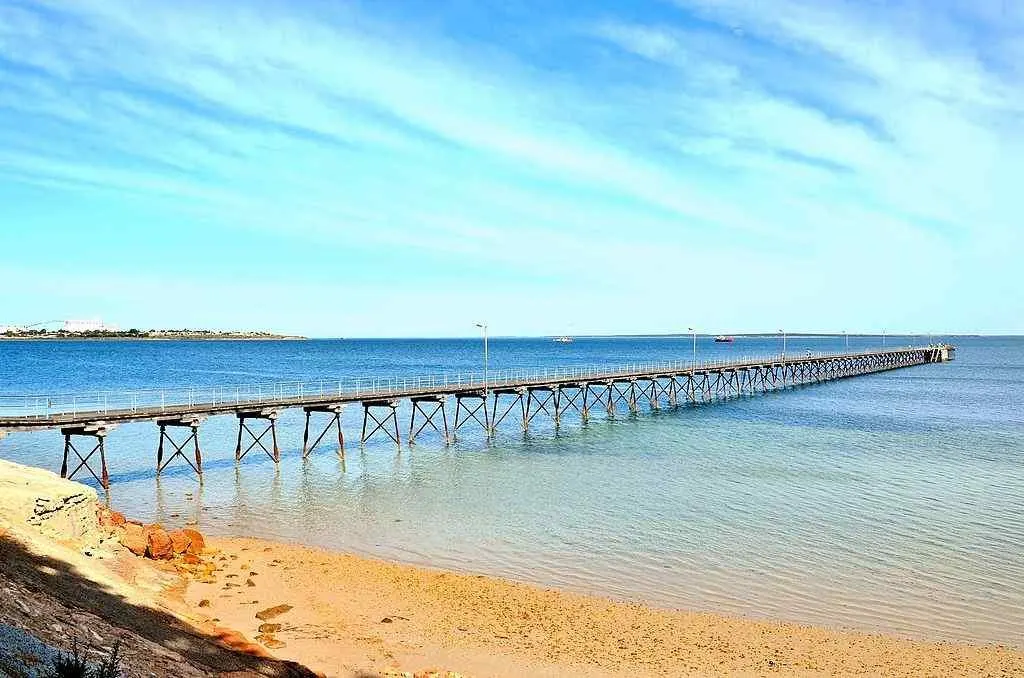 Distance
405 km (251 miles)

Time without stops
4 hours 17 minutes
Driving from Port Lincoln to Ceduna isn't that much of a drive compared to the previous day. It's still a long drive at 4 hours and 17 minutes, after the first drive it will feel a lot shorter!
There are two ways you can do the drive. You can either take the inland route, which is a bit boring, or you can take the coastal route on the Eyre Highway. My preference would be for the coastal route. It's a lot more scenic, and it offers better places to stop along the way such as Venus Bay.
The Eyre Peninsula is a beautiful part of Australia and one that isn't often visited by travellers. You can stop off at places such as Baird Bay, with its pristine coastline. You can also go swimming with sea lions too!
You should also stop at Murphy's Haystacks. They are an outcrop of pink granite boulders that were formed many thousands of years ago due to erosion.
The boulders are 40 km southeast of Streaky Bay, where you'll also find the whistling rocks and Streaky Bay historic walk, as you make your way to Ceduna.
Day 3 – Ceduna to Mundrabilla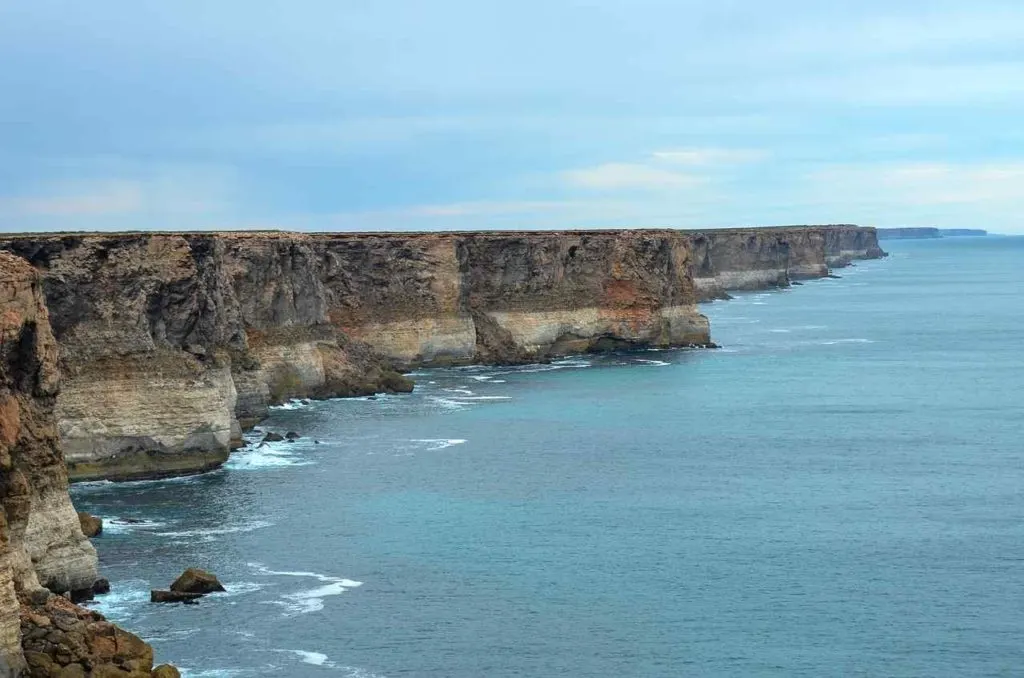 Distance
604 km (375 miles)

Time without stops
6 hours 30 minutes
The next part of this epic road trip will take you into the Nullarbor National Park. No matter where you are heading it's a long drive. Mundrabilla is 6 hours and 30 minutes from Ceduna, but you can go further if you wish.
Bear in mind, that you don't want to be driving for too long unless there are a number of you in the car. Distances in-between places in the outback are far, and if you have an accident in the middle of nowhere you could be in trouble.
The drive takes you along the Eyre Highway, which is the main route connecting Adelaide with Perth. One place you should stop is Yalata.
You can venture off the highway to go to the Head of the Great Australian Bight to do some whale watching if you're travelling from May to October. You will need a permit to do so and you can get one from the White Well Ranger Station as you make your way to the Bight.
The Bunda Cliffs are also on this leg of the route. The 90 metres (300 feet) high sheer cliffs are an impressive sight! Do be careful when exploring the cliffs, as the limestone clifftops can be unstable!
There are five signposted lookouts along the route. These are the places you should stop at to appreciate the cliffs!
Day 4 – Mundrabilla to Salmon Gums

Distance
709 km (440 miles)

Time without stops
7 hours 30 minutes
This leg of the trip is the longest. It takes 7 hours and 30 minutes from Mundrabilla to reach the wonderfully named Salmon Gums!
This is a long drive, and you are still not back to the coast. You can drive the rest of the way to Esperance if you wish, but it will add another hour to your journey at least.
8 hours is a lot of driving to do in one day. My recommendation would be to spend the night in Salmon Gums, and get up early in the morning and spend the following day in Esperance.
This part of the drive includes the famous 90-mile straight road, so make sure you stop by the sign to get a photo! There's also the Nuytsland Nature Reserve along the way too.
You will also pass through the Madura Pass, which has a number of elevation changes and the Fraser Range Station, which is a good place to stop and refuel.
A bit of a surprise, when you're expecting the outback to be as flat as a pancake!
This isn't the most interesting part of the journey. Although it is always intriguing driving through the outback, as the scenery slowly changes.
It's more of a get there and get it done kind of drive instead!
Day 5 – Salmon Gums to Esperance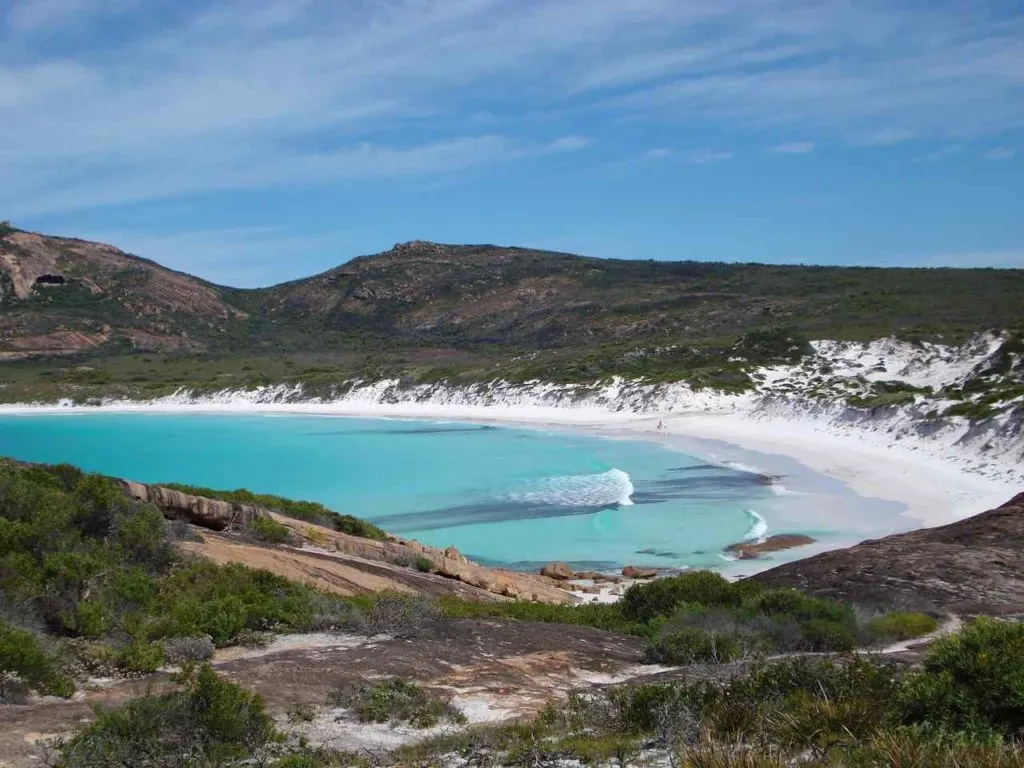 Distance
107 km (66 miles)

Time without stops
1 hour 10 minutes
From the longest drive to the shortest. If you didn't decide to drive to Esperance straight from Mundrabilla, you will have to complete the short drive from Salmon Gums instead.
There isn't a lot to see on this drive owing to its short nature. However, once you get to Esperance, there are plenty of things you can do.
One thing you have to do is visit Lucky Bay in Cape Le Grand National Park. It's a short drive to one of the best national parks in the country and one that is well worth it!
Lucky Bay is one of the best beaches in Australia and I would definitely spend a few hours there taking in the scenery and admiring the roos!
Esperance has its share of great beaches too, with Twilight Beach being one of the best! My recommendation would be to set off for Esperance early in the morning so you can make the most of it.
As it's a short drive, it's a good place to recharge your batteries and spend a day relaxing, before you head off again the following day.
Day 6 – Esperance to Albany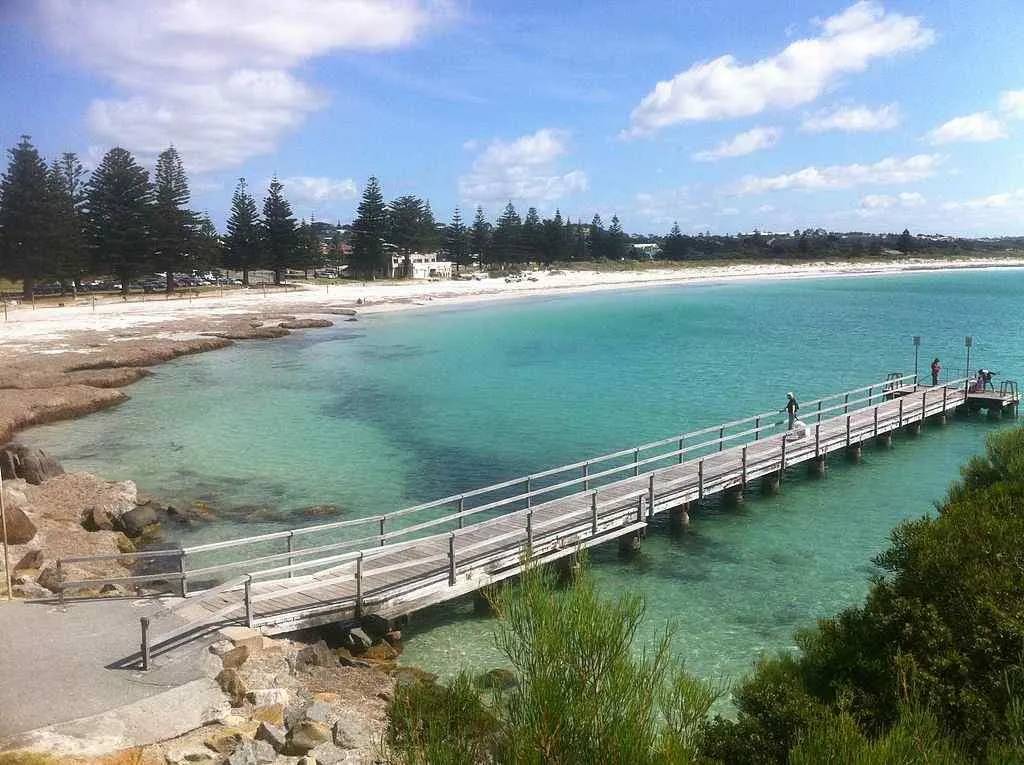 Distance
483 km (300 miles)

Time without stops
5 hours 6 minutes
After a short drive yesterday, it's back to the lengthy drives. This is one of the downsides of driving in Australia, as it does take a long time to drive between places!
However, the drive from Esperance to Albany isn't too difficult and the endpoint is one of the nicest places you can visit in Western Australia.
The route takes you inland along National Highway 1, where you can see some of the most interesting and unusual places in Australia. One of which is Pink Lake, which is a short drive from Esperance.
If you set off early, you could head to Stirling National Park and hike up Bluff Knoll. It is the highest point in Western Australia at 1099 metres, with the hike taking 3 hours to complete in total.
This will add a lot of time to your day, so I would only do it if time or getting to Albany isn't an issue. Otherwise, you could head to the Porongurups, which is a mountain range of smooth granite boulders.
It's an intriguing place to visit. To get there you will have to take a slight detour from the highway, but it's worth it to break up the drive and see some interesting scenery!
Before you arrive in Albany, you can also visit Two People's Bay, which is a nature reserve with beautiful scenery. The colour of the water in the bay is amazing, as are the granite boulders.
There's also a hidden waterfall to find if you walk over some of the boulders!
Day 7 – Albany to Busselton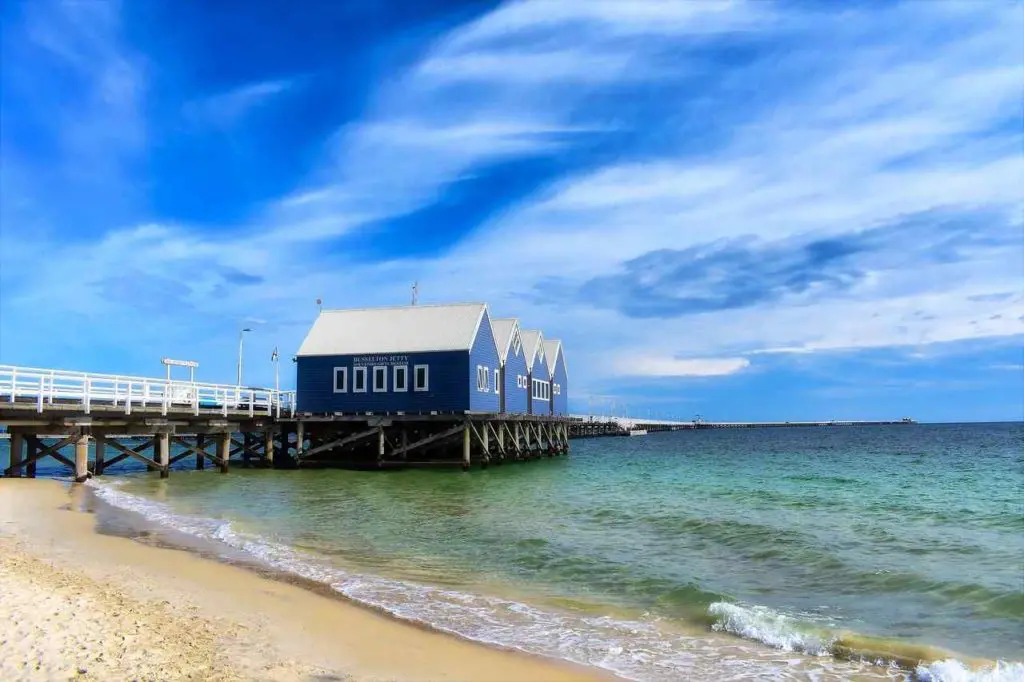 Distance
332 km (206 miles)

Time without stops
4 hours 11 minutes
The drive from Albany to Busselton is a medium-length one. It takes around 4 hours and 11 minutes to get to Busselton.
There is a slightly quicker route inland, but I think it's better to snake along the coast for a bit before turning inland after you've gone past Peaceful Bay.
You have a few places to stop along the bay. Denmark is one of those places. As I mentioned above, the beaches here are incredible. So it's well worth stopping here for a bit as you make your way to Busselton.
Once you reach Nannup you have a decision to make, You can either continue on towards Busselton or you can head to the coast and check out places such as Augusta and Margaret River.
Margaret River has some incredible beaches and if you want to do some whale watching, this is the place to go to see southern right whales. There are also a number of wineries close by if you want to check them out and do some wine tasting!
From here the drive to Busselton isn't long. You will once again be presented with picturesque beaches and gorgeous scenery. Plus, at 1841 metres long, you will be able to check out the longest jetty in Australia!
Day 8 – Busselton to Perth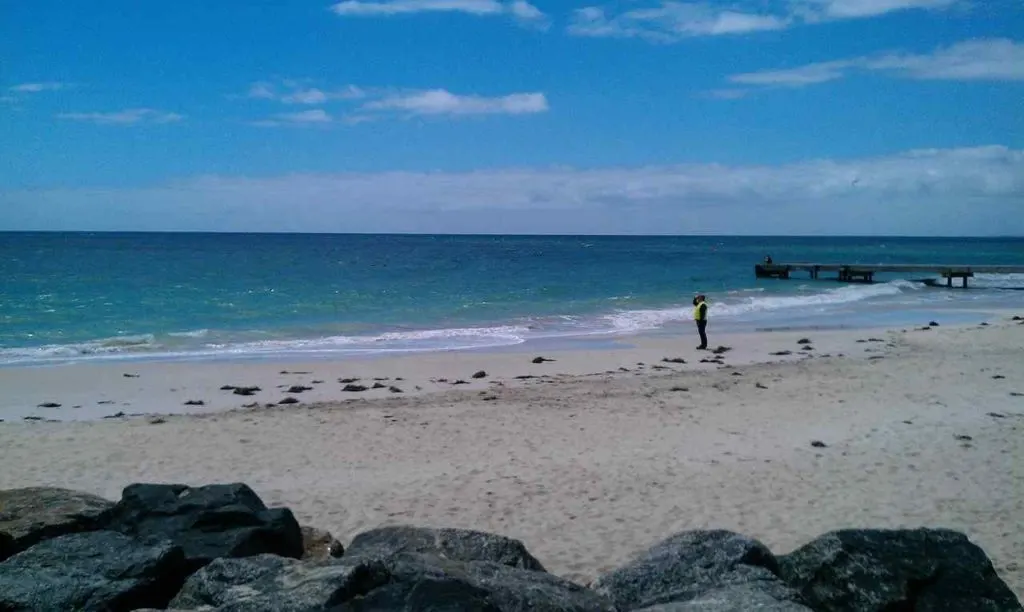 Distance
224 km (139 miles)

Time without stops
2 hours 25 minutes
The final stretch of this drive takes you all the way to Perth, the capital of Western Australia. The drive from Busselton isn't too long and will only take 2 hours and 25 minutes to complete if you don't stop.
However, that is something you shouldn't do, as there are plenty of great places to stop along the way!
You can stop off at Bunbury, which, surprise surprise, has some amazing beaches. Bunbury is where a number of bottlenose dolphins swim close to the beach at Koombana Bay. You can also visit the Dolphin Discovery Centre to learn more about these intriguing creatures!
Another stop you can make is Freemantle, which is a city not far from Perth. It's known as a maritime city and it was also a former penal colony. There are plenty of places to visit relating to both of these in the city.
Once you get to Perth, you can either explore the city, or you can visit Rottnest Island. The island is stunning and it's worth visiting just to see the Quokkas that populate the island.
I would advise staying in Perth for a few days after you've finished the drive, so you can see all the city has to offer and check out the surrounding area too!
How Much Does an Adelaide to Perth Road Trip Cost?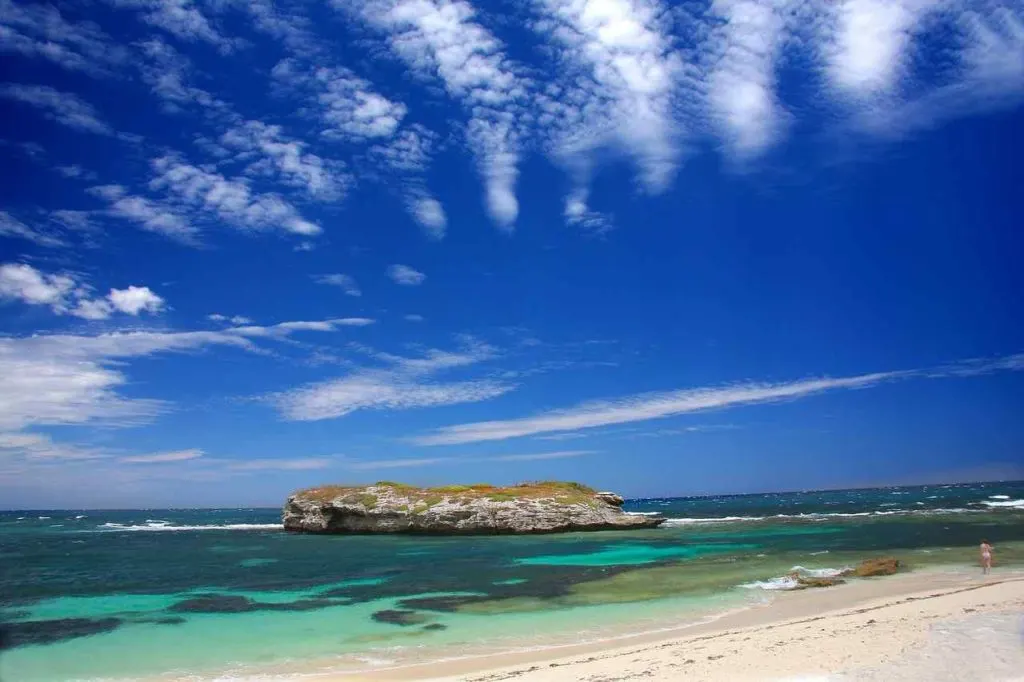 Due to the length of this trip, it will cost more money than other trips in Australia would.
Of course, the more of you there is, the cheaper the cost between you all. I would recommend doing this trip in a group if you can to save money.
While doing a road trip there are a few unavoidable costs. You will have to pay for petrol no matter what, as well as food and drink.
If you're doing the trip in a car, you'll have to pay for accommodation, unless you sleep in a tent! However, if you're doing this drive in a campervan, you won't need to worry about accommodation.
Here's a link to a fuel cost calculator, which should come in handy for your trip. Using the fuel price data from a Google search for "petrol prices Australia", input the figure into the calculator and you're set.
I got a quote of $1.44 per litre, driving the distance with a campervan led to a quote of $542.96. If there are four of you in the car, that will come to $135.74, which isn't too bad considering the distance.
However, if there are only two or three of you, the costs will be a lot more expensive. Factor in the cost of renting a campervan per day, which comes to around $49, food and drink and any tours you decide to do on the way and the trip could easily come to over $500 each even if there are four of you.
If you want to keep the costs down, it is better to do the trip in a big group. It will cost a lot if you do it in a smaller group, but you will still have an amazing time!
In the end, it comes down to how much you're willing to spend to have an experience of a lifetime. The trip will be expensive, but if you're doing a working holiday in Australia or simply travelling around, it will be expensive regardless of what you do!
Looking For More Road Trips?
Adelaide to Melbourne Road Trip – Another trip you can do from Adelaide that takes you along the amazing Great Ocean Road!
Adelaide to Darwin Road Trip – Drive through the heart of Australia, past Uluru and up to the top of the country!
Melbourne to Sydney Road Trip – Try a trip between the two biggest cities in Australia and see the amazing sights in between!
Perth to Darwin Road Trip – If you fancy a drive just as arduous as this one once you're in Perth, try this road trip!
Perth to Broome Road Trip – You can head up the beautiful West Coast after you've spent some time in Perth!
Pin For Later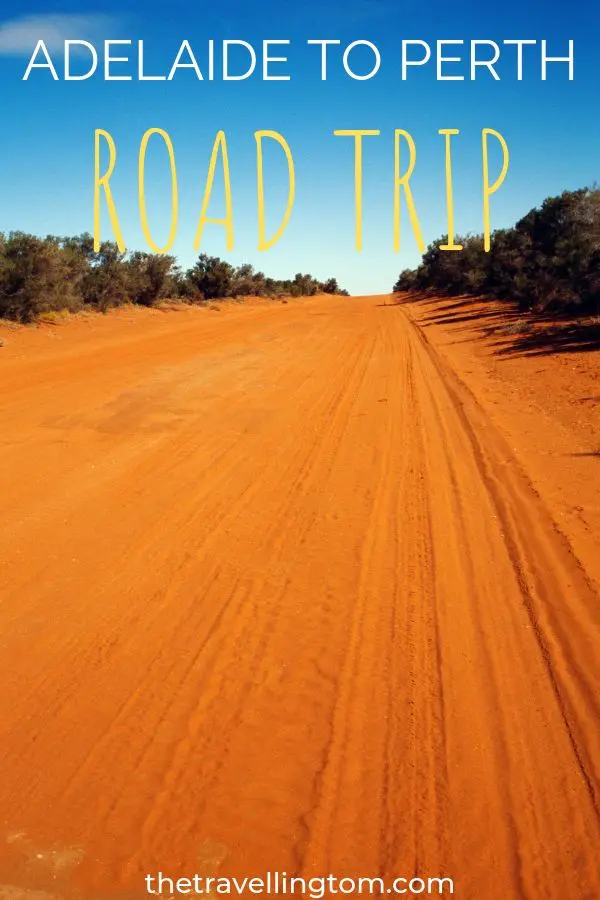 Tom is a travel addict who first left England to spend a year Down Under. Not satisfied with this, he then went to New Zealand, about as far away from home as he could get. He is now planning his next adventures in Europe and Canada while maintaining this blog. Check out the about me page to learn more!