3 days in Adelaide gives you enough time to explore one of the most underrated cities in Australia.
I spent four months living in the city during my working holiday in Australia and loved every second. Adelaide has a reputation as a provincial backwater but this is a mischaracterization.
It might not have the sights of Sydney or the culture of Melbourne, but it has its own unique charm and there are lots of things to do in Adelaide.
You can relax at beautiful Glenelg Beach, a tram ride from the city centre. Shop till you drop in Rundle Mall and check out some great scenery at the best botanical garden in Australia.
This Adelaide itinerary will tell you all the best places to see, where to stay and a whole range of other tips I learned living in the city, such as the best road trips from Adelaide. Whether you spend a weekend in Adelaide or longer, I guarantee you'll enjoy every second!
If you're keen to plan your trip to Adelaide today, keep scrolling to learn more about this amazing city!
Disclosure: This article may contain affiliate/compensated links. For more information, please see our full disclosure policy.
3 Days in Adelaide Itinerary
Quick 3 Days in Adelaide Itinerary
Day 1 – Walking Tour, Museums, Glenelg Beach
Day 2 – Adelaide Botanic Garde, Adelaide Zoo, Hahndorf
Day 3 – Cleland Wildlife Park, Mount Lofty, Henley Beach

Check out this wine tour to learn more about the famous wines made in the region!
Discover some of the amazing food in Adelaide Market on this breakfast tour!
My Experience in Adelaide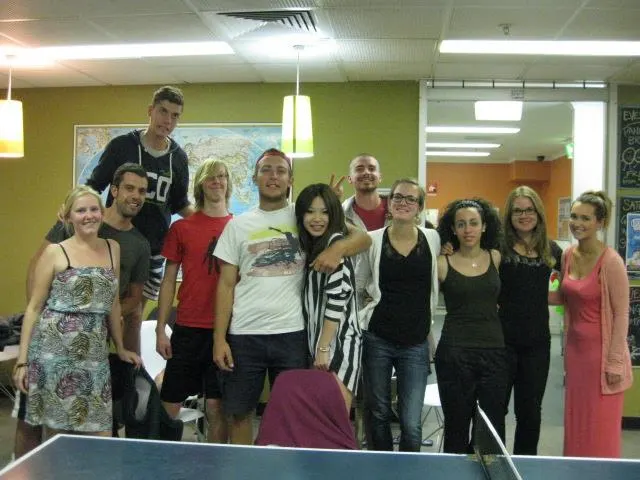 I spent four months in Adelaide when I was backpacking in Australia. That four months were made up of three different periods as I left and came back. The main reason was that I had a lot of friends still in the city.
But there was something about Adelaide that compelled me to come back too. The city doesn't have the reputation of Melbourne or Sydney. I feel it's unfairly characterised as a 'backwater.'
What I found was a fun city that has a lot going for it. Adelaide is a beautiful city and a lot more chill than the two biggest cities in the country.
I loved it here which is probably why I kept coming back.
The great thing about Adelaide is that it's so easy to get around. You can walk around the city centre with ease and see all of the sights. Want to go to the beach? Hop on the tram and get off at the last stop in Glenelg.
It's one of the best cities in Australia for convenience and there are plenty of things to do here too. Not just in the city but in the surrounding area. This is why you should visit Adelaide. There's a lot more to the city than meets the eye.
Here are a few things I enjoyed during my time in Adelaide and some things I didn't:
Good
The beaches here are fantastic and easily some of the best in the country. The tram to Glenelg and cycle to Henley make them easy to reach too.
Adelaide is livelier than you might think. Nights out here are a lot of fun and the city is far from the backwater it's often portrayed as.
There's a lot to do in Adelaide. I stayed there for four months in total and was still finding things to do even at the end of my time in the city.
Bad
Even though I said the city is livelier than portrayed, it can still be quiet. I remember walking around a few times and wondering why the city was so quiet. Although this was often on a Sunday.
It can be confusing finding you're way around at first due to the grid system layout of the city. It took me a day or two to get my bearings.
Apart from the Adelaide Festival, there aren't a lot of cultural events in the city. This isn't much of an issue if you're only here for three days, but if you stay longer it does make it a bit less interesting than being in Melbourne for example.
Some of the Best Places To See in Adelaide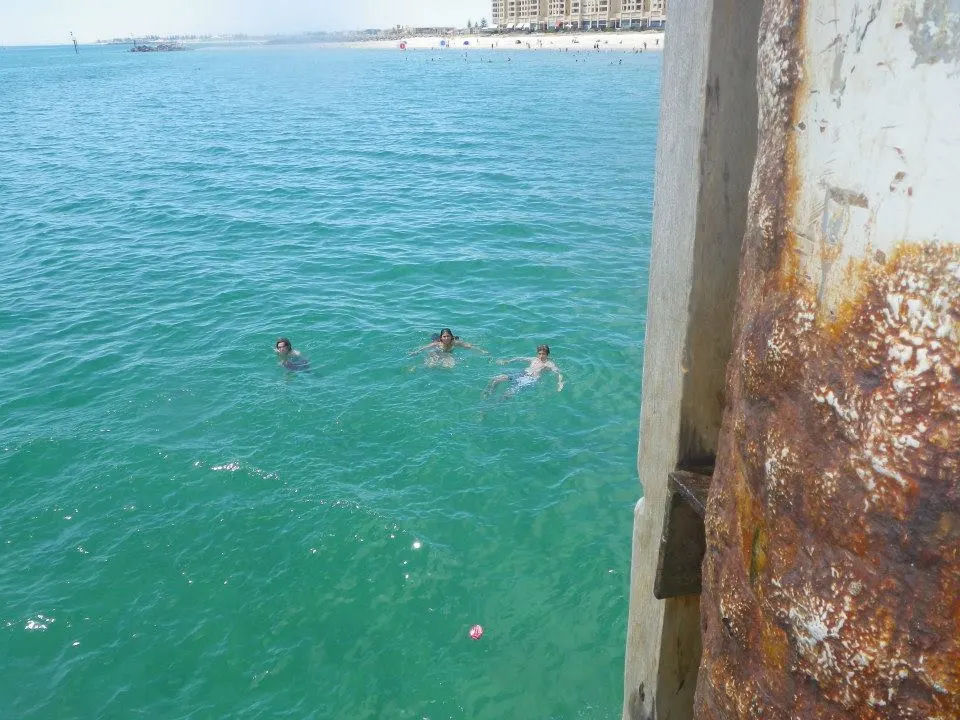 As the biggest city in South Australia, there is no shortage of things to see and do in Adelaide. You won't have trouble filling your three days with stuff to do. Even if you only have a weekend in Adelaide, you'll still find lots to do!
There are plenty of cultural sights to see in the city centre, while you can also venture out to places such as Hahndorf, Cleland Wildlife Park and Henley Beach too.
You won't be able to do all of this in three days, but you can still see a lot in that time. I've listed some of the top things you should do during your time in the city below:
Adelaide Botanic Garden – I think the botanic garden in Adelaide is the best in Australia. It's a great place to wander around and relax for an hour or two.
Adelaide Zoo – The zoo is the only place in Australia you can see pandas which is a good reason to visit. There are a lot of cool animals too but the pandas are the top attraction.
Glenelg Beach – A tram ride away from the city centre is one of the best beaches in South Australia. A great place to visit on a warm day!
Hahndorf – A quirky German town in the hills above Adelaide. It's a fun place to visit for the novelty and the great food!
Cleland Wildlife Park – If you want to see some of Australia's most famous animals like kangaroos and koalas, this is the place to go. You can up close to the animals too!
Adelaide Itinerary – Day 1
Walking Tour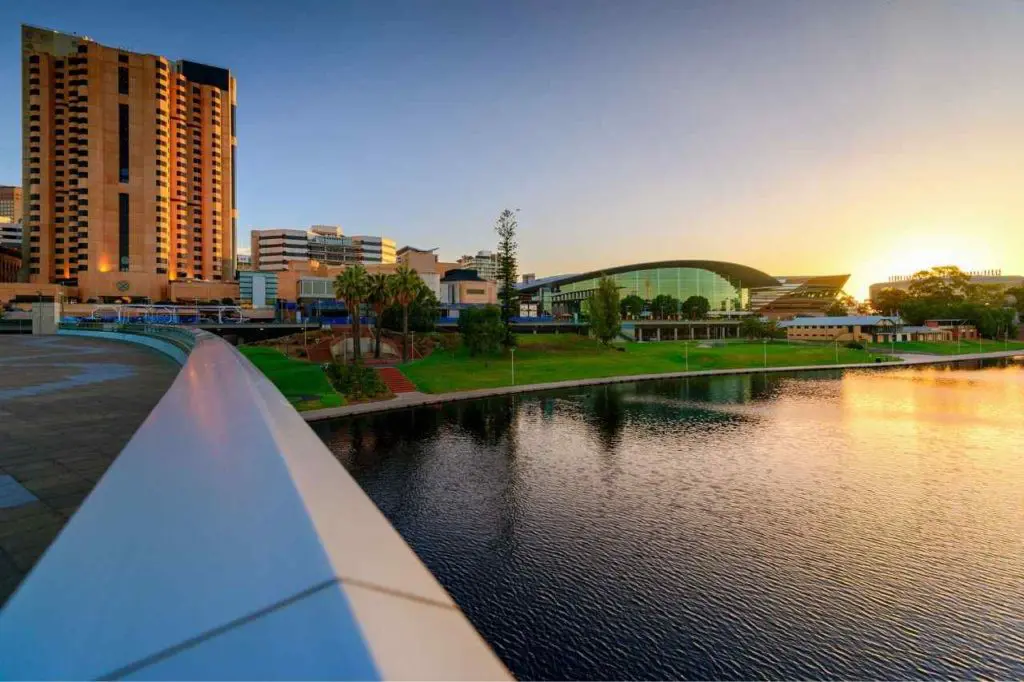 One of the first things I do, whenever I get to a new city, is to check into my accommodation, drop off my belongings and head out to explore.
I never have a set route in mind and just see where I end. I like wandering around and seeing what I find. I realise this isn't to everyone's tastes. If you want something more structured, I suggest booking a walking tour.
If you're staying in a hostel you might be able to find a free one they've organised. Otherwise, there are plenty you can book that will take you on a quick tour around the city.
Walking tours are a good way to learn about a city and get your bearings. It can be difficult to navigate around Adelaide at first, so going on a walking tour will give you an idea of where everything is.
Museums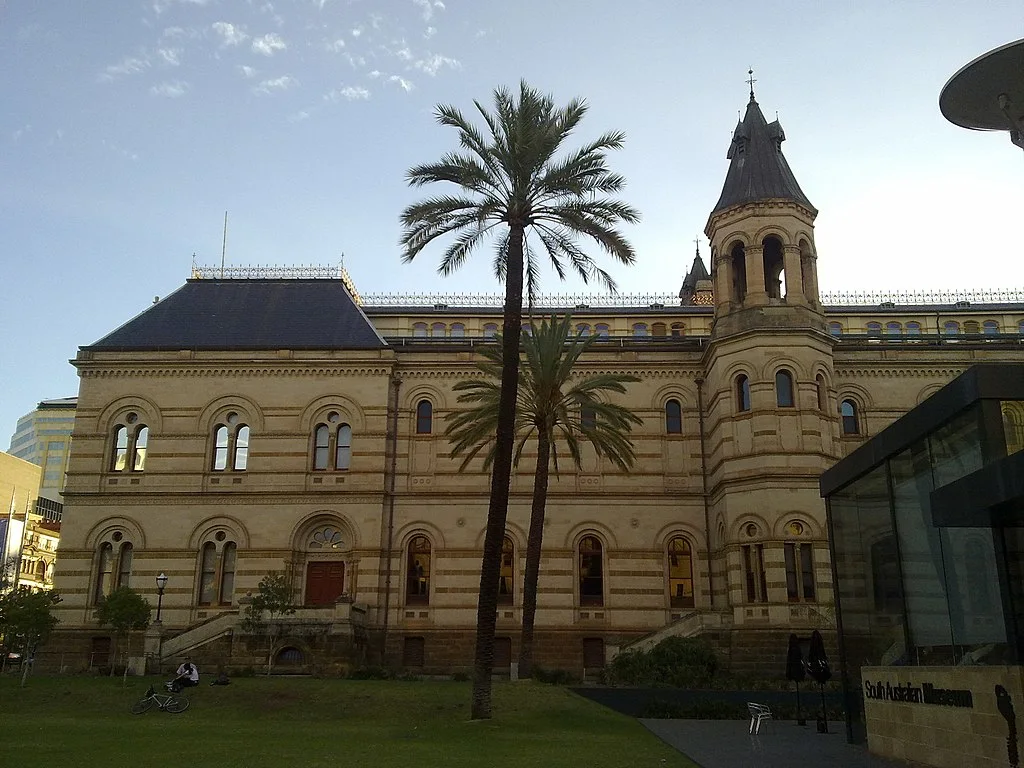 Once you've finished your walking tour, you should head to North Terrace where there are several to visit.
The South Australian Museum, Art Gallery of South Australia, Museum of Classical Archaeology and the State Library of South Australia can all be found next to each other.
They're all free to enter and you'll find a lot of interesting things inside. The South Australian Museum, in particular, has some fascinating collections including an 11-metre-long Giant squid, which is an incredible sight.
The Art Gallery is interesting too, and I enjoyed the Museum of Classical Archaeology as a history buff. You don't have to visit all the museums, I'd visit the ones that interest you the most.
You can also spend some time wandering Rundle Mall and up into North Adelaide once you've finished as they are nearby.
Glenelg Beach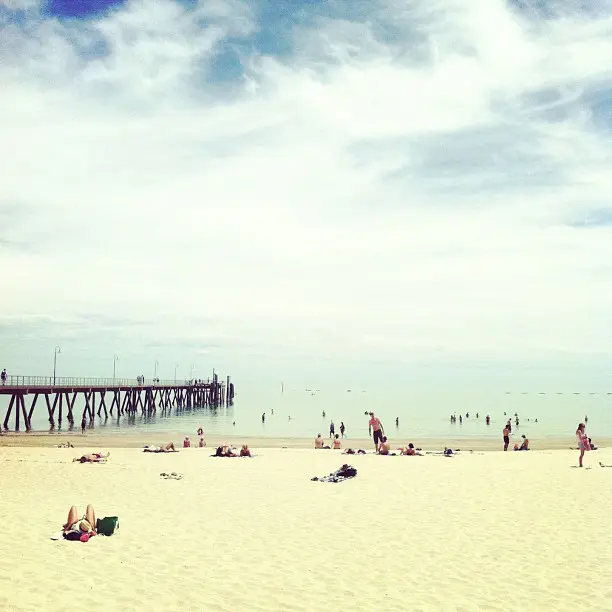 Glenelg Beach is the last stop on the first day of this Adelaide itinerary. As it's so easy to reach from the city centre via the tram, you can just wait at a stop in the city centre and ride it out until the last stop in Mossley Square.
One thing to consider before you visit is the weather. If it's a lovely day, spending the majority of the day at the beach will be tempting. You can do that if you wish. The beach is brilliant and there are lots of things to do there.
Strolling along the esplanade and admiring the views. Relaxing on the sand and soaking up the sun, you can play volleyball during the summer and jumping off the pier is popular too.
The good thing about visiting late in the day is that you can eat at one of the numerous restaurants by the beach. There are plenty to choose from, and if it's not too late you can catch the sun setting before heading back to the centre.
Adelaide Itinerary – Day 2
Adelaide Botanic Garden
The first item on day two of this itinerary is a visit to the Adelaide Botanic Garden, which I believe is the best in the country.
The garden is huge and you can easily spend a couple of hours wandering around and seeing everything. If it's a nice day, it's a great place to relax for a bit too.
One of the best things about the garden is the variety of plants you'll see there. The rainforest section in the spectacular conservatory was amazing. As was the Palm House, which was home to numerous plants from Madagascar.
The beauty and tranquillity of the Adelaide Botanic Garden are what make the city one of the best places to visit in South Australia. It's great that you can have such a beautiful spot right in the heart of a big city!
Adelaide Zoo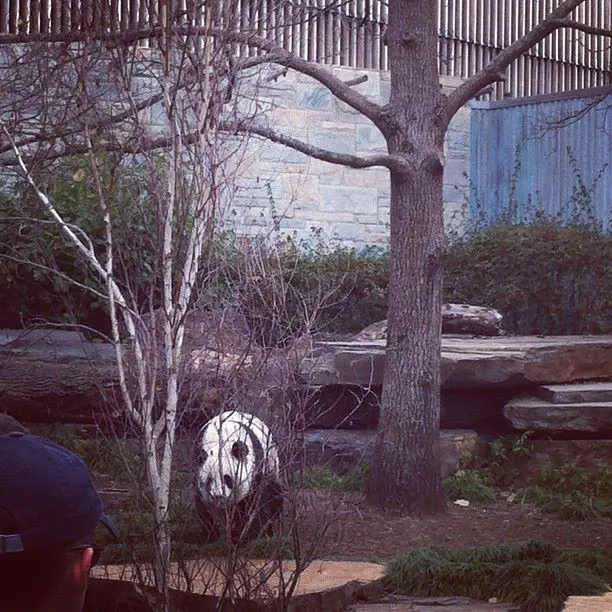 After you've finished in the Botanic Garden you only have to walk a short distance to Adelaide Zoo for the next item on the itinerary.
The zoo is right next to the garden and is an ideal place to visit afterwards. The main attraction is the pandas, which is why I visited because I'd never seen one before.
One downside is that it's expensive to visit the zoo. Adult tickets cost $42.50, while it costs $22.50 for children from 4 to 14. Children 3 and under get in for free.
That's a lot of money, so if you're on a tight budget it might be best to skip the zoo.
If you can visit, however, you should. It's a fun experience and seeing the pandas was worth it for me. If you're travelling with kids, they'll love the zoo. So the extra expense might be worth it in that case!
Hahndorf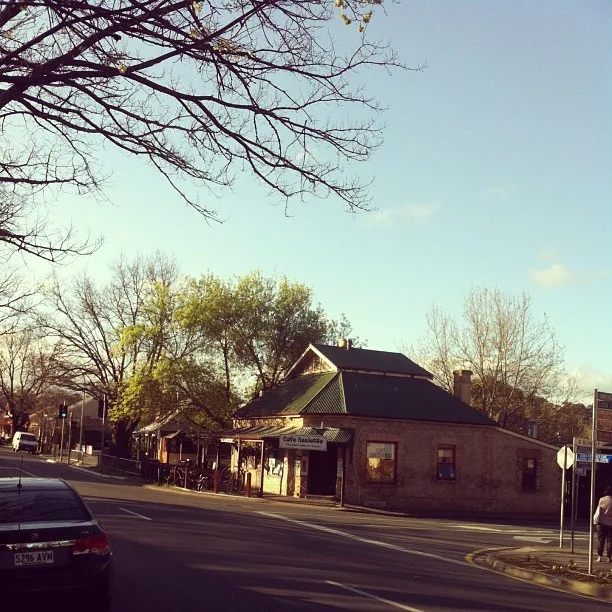 To get to Hahndorf, you'll need to use public transport. In this case, the 864 bus, which can jump on at Currie Street in the city centre.
Once you're there, you'll find one of the most unusual places in Australia. This is because Hahndorf was originally settled by migrants from Prussia and still retains its German character today.
The German influence is clear to see wherever you go, with many restaurants serving German-style food and even an old-style pub called the German Arms Hotel. The food is great here, so it's a good place to go and eat after a long day.
You can also play mini-golf, visit a distillery and visit the Hahndorf Academy which is home to a museum and art gallery. If Adelaide Zoo is too expensive, then spending the remainder of the day in Hahndorf is a good alternative.
Adelaide Itinerary – Day 3
Cleland Wildlife Park
To start off your third and final day in Adelaide, a trip to Cleland Wildlife Park is the destination.
To get there from the city centre, you'll need to get the 864 bus from Currie Street in the centre, switch buses at Stop 24A onto the 823 and then get off at Stop 27.
Once you're at the park, you'll find an abundance of wildlife and many of the most famous animals in Australia such as koalas and kangaroos. The animals are tame, so you can right up close to them and they won't flinch.
There are a lot of animals roaming about, so it can be fun to see them all scurrying around in front of you. There are even dingoes in an enclosure, so you can see one of the most enigmatic creatures in Australia too!
Mount Lofty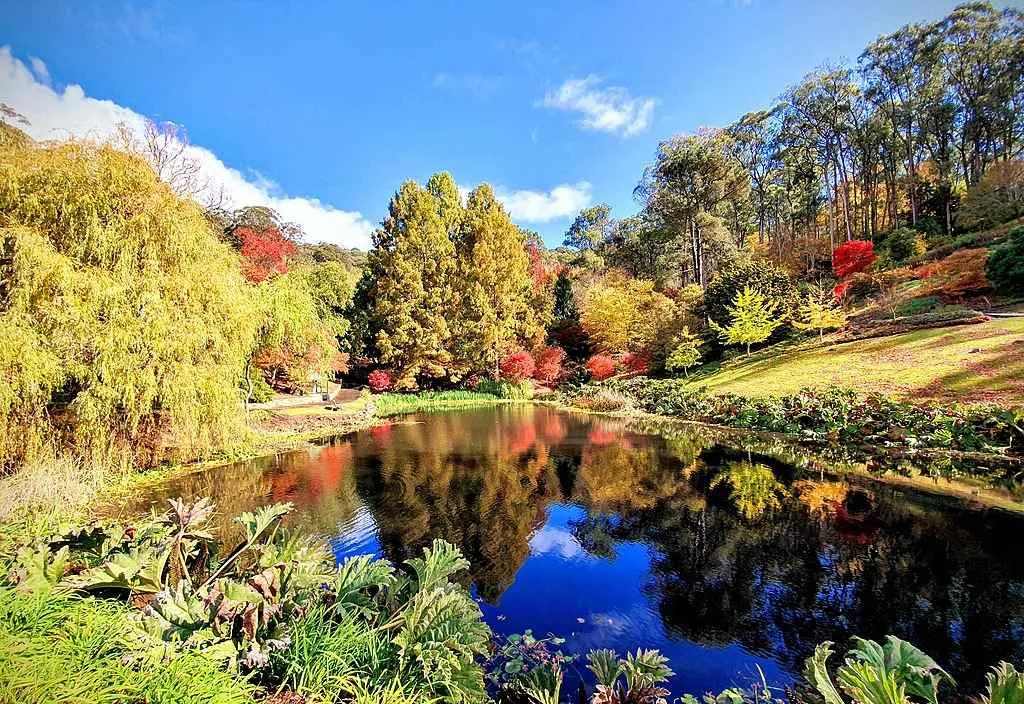 Once you're done at Cleland, you can head to nearby Mount Lofty which is a 30-minute walk away via the Gurra track.
Mount Lofty is a beautiful part of Adelaide and it's worth exploring in its entirety. The Botanic Garden here is stunning and one of the most famous landmarks in South Australia. It can be explored by taking the Lakeside Trail.
The Nature Trail is a bit longer and takes you through the wild flora that dominated the area before it was settled by Europeans.
You can also walk right to the top of the Mount which is worth it for the views over Adelaide which are incredible.
Henley Beach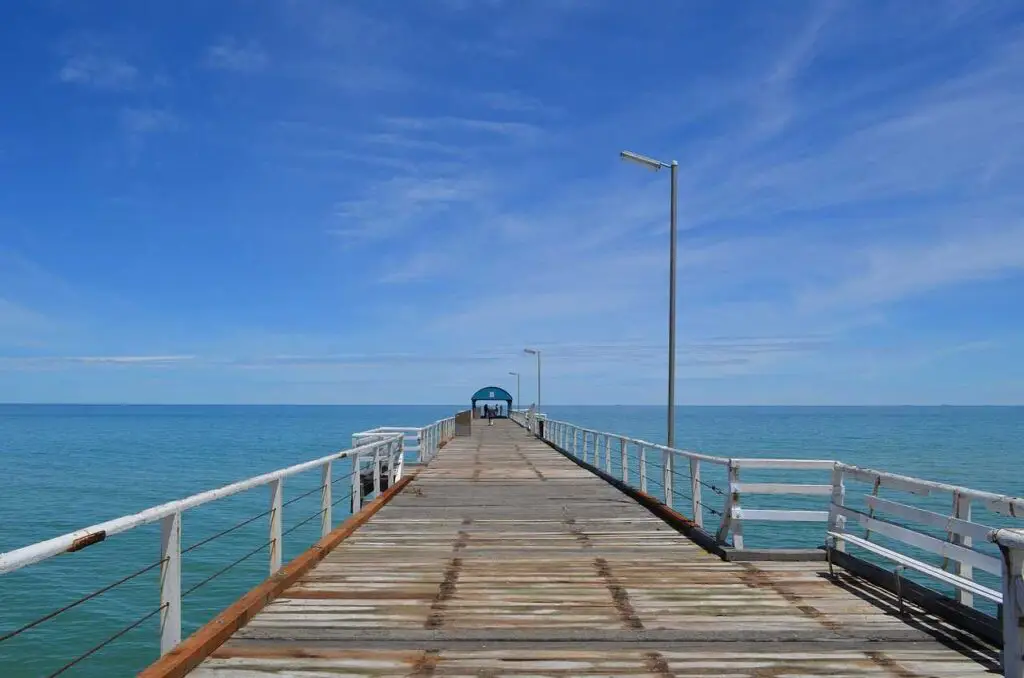 The last item in my 3 days in Adelaide itinerary is a trip to Henley Beach. Again, you can make a full day of this if you wish, instead of visiting the other two places.
That's not a bad idea on a sunny day, as the bike ride to get there is scenic and a joy in the sunshine. It takes about 30 minutes to cycle there, or if you want to get the H30 bus from Currie Street and get off at Stop 29A.
The beach is huge and you won't have any trouble finding space. It's not as busy as Glenelg, and won't be in the evening s it makes a quieter alternative for you to visit.
There are plenty of spots o eat and drink too, which you can do while watching the sunset in the evening, or stroll along the jetty and enjoy the scenery!
Other Places To Visit in Adelaide
Adelaide Travel Tips
Where to Stay in Adelaide
You won't have any difficulty finding somewhere to stay in Adelaide, as there are plenty of places to choose from.
Adelaide is a big city and whether you want to stay in a hotel, hostel or rent an apartment, you'll be able to all of them.
One thing to consider is whether you want to stay in the city centre or a bit further out in the suburbs such as Glenelg. I stayed at Adelaide Central YHA in the heart of the city and loved it. I think it's the best hostel in Australia and I'd recommend it to anyone.
As Adelaide isn't the most expensive city in Australia, there's not much difference between staying in the city centre or outside of it. If you do want to stay outside the city centre, then the tram that runs from Glenelg to the centre makes it easier to get to and from the city.
I've listed a few places below that you consider staying at during your trip to Adelaide.
Cost of Travel in Adelaide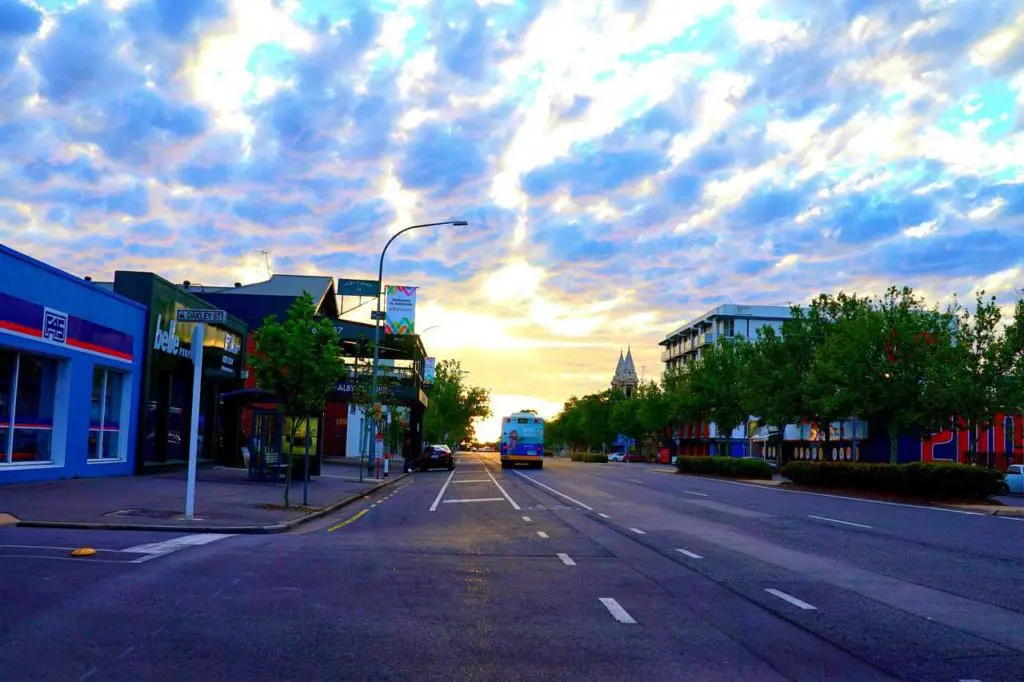 3 days in Adelaide might not be the longest time to spend in the city but you can still run up a big bill if you're not careful.
While Adelaide isn't as expensive as Melbourne or Sydney, you're still in Australia and prices can be expensive even in a smaller city like this one.
How expensive your trip is will depend on what you do. If you decide to tours, such as a wine tour, for example, that's going to add to your bill and is something to consider when budgeting.
Still, you can have a great time in Adelaide on a modest budget and as there are lots of things to do for free, it's easy enough to have a great time and not break the bank!
Below is a rough guide to prices for accommodation, eating out and transport in Adelaide.
They don't include prices for extras such as nights out at a bar/pub, club entry fees, souvenirs/clothing purchases, tours. etc. You will have to budget extra for these purchases as they are 'non-essential!'

Accommodation
Hostel: Dorm – $20-25; Private – $50-75
Hotels: $80-150
Rental Apartment: $100-130

Food and Drink
Breakfast: Free-$6
Dinner: $10-20
Takeaway meal: $6-12+
Pint of beer: $5-8

Transport
City Metro / Bus: $5.60
Day card: $10.60
Bike rental: $25 for the day
Best Time To Visit Adelaide
After spending a lot of time in Adelaide at various times of the year during my working holiday in Australia, I have good insights into when the best time to visit Adelaide is.
I was in the city from January to February, then from July to the end of August and then from September until the middle of November. When I first arrived in January, it was the middle of summer and very hot.
So hot one day, the temperature reached 41ºC!
It was much cooler from July to August during winter and felt more like being back in England. It was never freezing, but the temperature rarely crept over 15ºC and there was more rain.
From September to November, the weather resembled when I first arrived in the city. Hot, sunshine almost every day and barely any rain.
What time is best for you to visit will depend on what you want to do, and whether you like warm weather or not. If colder weather doesn't bother you, then winter is a good time to visit but you won't be able to relax on the beach during this time.
I've got a brief guide to the weather during the different seasons in Adelaide below, which will help you decide when to visit the city.
Adelaide in Spring
Springtime is probably the best time to visit Adelaide. It's nowhere near as hot as the summer with temperatures much more manageable, although there can be a bit more rain.
Average temperatures from low to high: 9.9°C – 25.4° C / 49.8°F – 77.7° F
Adelaide in Summer
Summer in Adelaide can get very hot. I experienced multiple days over 40ºC, which was intense. When it's that's hot you can do anything during the day except for early on and later in the day. While it's not always this hot, it's almost always over 30ºC, so bear this in mind before planning a summer trip.
Average temperatures from low to high: 15.8°C – 30° C / 60.4°F – 86° F
Adelaide in Autumn
Autumn is another good time to visit as temperatures start to recede from their summer peak. They start to come down more after March and it will be noticeably colder in May. One thing t o consider is that while you'll still be able to go to the beach in March, it will be touch and go in April and not possible in May.
Average temperatures from low to high: 10.2°C – 26.6° C / 50.4°F – 79.9° F
Adelaide in Winter
This is a good time to visit if you're not bothered about visiting the beach because it will be too cold to visit during the winter. Temperatures get into single digits, but it was never freezing cold like winter in England. Expect more rain, less sunshine and fewer tourists during the winter months.
Average temperatures from low to high: 7.7°C – 16.7° C / 45.9°F – 62.1° F
How To Get Around Adelaide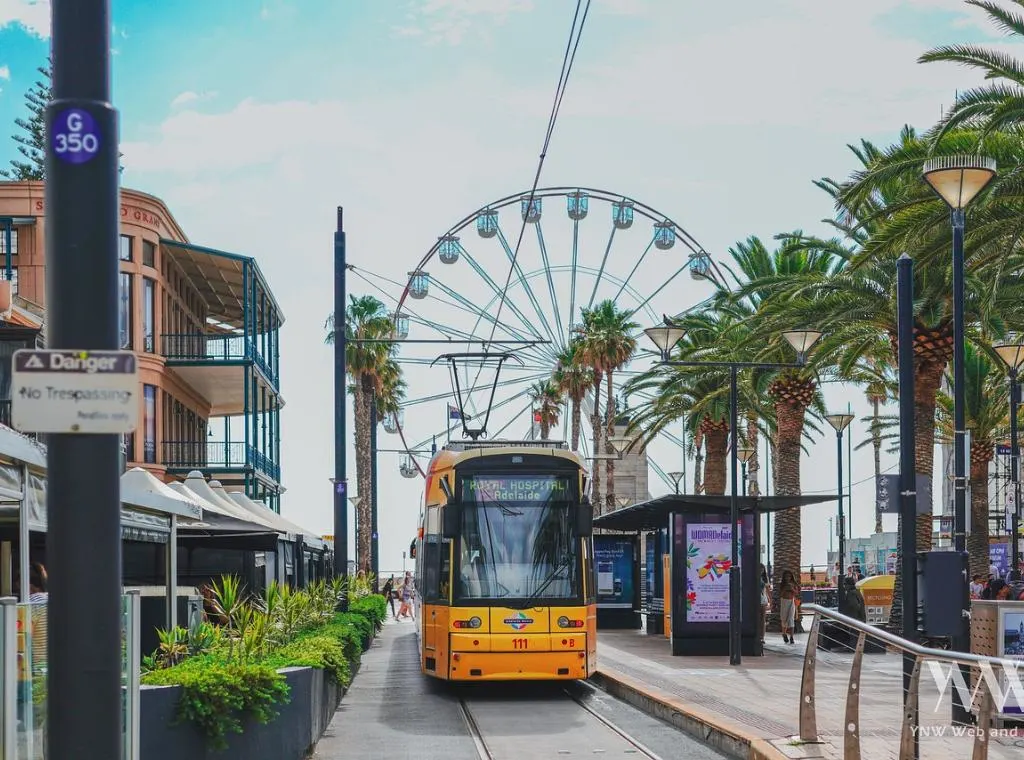 The good thing about Adelaide is that it's easy to get around the city. Whether on foot or by tram, Adelaide is an easy city to navigate.
You can walk to most places in the city centre without much difficulty. The grid system does make it a bit difficult to get your bearings at first, at least it did for me anyway. But once you're used to it, you can walk around your way without any difficulty.
It can take a while to walk from one end of the city centre to the other, so hopping on the tram that runs from the entertainment centre to Glenelg Beach is a good idea if you need to go a long way.
The tram is great and the easiest way to get around the city. If you do want to go further to somewhere like Hahndorf or Port Adelaide, you'll need to either get a bus or a train.
The good thing is that the Metrocard can be used on trams, buses and trains in Adelaide. So buying a ticket means you can travel however you want.
A single ticket costs $5.90, while an all-day ticket is $11.20, which is better value for money if you're going to be on the move.
You can also rent a bike for the day, which is a good way of getting to Henley Beach. I did this ride a few times and it takes around 30 minutes from the centre along some nice bike lanes with beautiful scenery. You could also cycle to Glenelg but as the tram goes straight there, it's better to get that.
Check out the Adelaide Metro website for more information on getting around the city.
You can also rent a car in Adelaide, which will make things easier if you want to travel in and out of the city. Adelaide is a good place to start a road trip such as driving from Adelaide to Melbourne.
In this case, you can hire it beforehand and explore places before you leave.
Frequently Asked Questions
Is 3 days in Adelaide enough?
3 days in Adelaide is enough time to see most of what the city has to offer. Adelaide isn't the biggest city, so you can see a lot in three days. ne or two days for exploring the centre and then another day to check one of the beaches at Glenelg or Henley.
Is Adelaide worth going to?
Yes, Adelaide is an underrated city and you should visit if you get the chance. There are so many great things to do there, such as visiting all the interesting museums, seeing pandas at Adelaide Zoo, relaxing in the beautiful Botanic Gardens and heading to the beach at Glenelg or Henley.
Far from being a boring city, Adelaide is a fun and enjoyable place to visit.
How many days in Adelaide is enough?
3 to 4 days should allow you to see the majority of what Adelaide has to offer. You can see all of the city centre and visit either one or both of the two beaches at Henley or Glenelg.
You can see more if you stay for a week by venturing outside the city centre. A trip to nearby Hanhdorf, Cleland Wildlife Park and Mt Lofty are just a few of the things you can do if you stay longer.
Looking For More Travel Guides
3 Days in Sydney – Find out what you can do in 3 days in Australia's biggest city!
3 Days in Melbourne – If you fancy visiting Melbourne after your stay in Adelaide, then this itinerary will show you what you can do in the city!
Adelaide to Perth Drive – Fancy a road trip? This drive into Western Australia is a good one that will take you to some amazing places
Adelaide to Darwin Road Trip – If you want to venture into the outback and drive from the bottom of Australia to the top, this is the trip for you!
Tom is a travel addict who first left England to spend a year Down Under. Not satisfied with this, he then went to New Zealand, about as far away from home as he could get. He is now planning his next adventures in Europe and Canada while maintaining this blog. Check out the about me page to learn more!