There are so many places to visit in New South Wales, it can be difficult to put together an itinerary when you're in the state.
Sydney is likely the first destination that comes to mind, but there are many other great places in NSW too. Byron Bay, Coffs Harbour, Blue Mountains National Park and Kangaroo Valley are just a few of the other spots you have to check out while you're in the state.
These NSW holiday destinations present you with multiple things to do. You can take in cultural sights in Sydney, Canberra and Newcastle.
The beaches that line the New South Wales coast, such as Manly Beach and Hyamd Beach are perfect for relaxing during the warm summer months.
If you're wondering where to go in NSW during your visit, then my guide will give you an idea of the places you can visit during your trip to this fascinating state.
Places to Visit in New South Wales
Sydney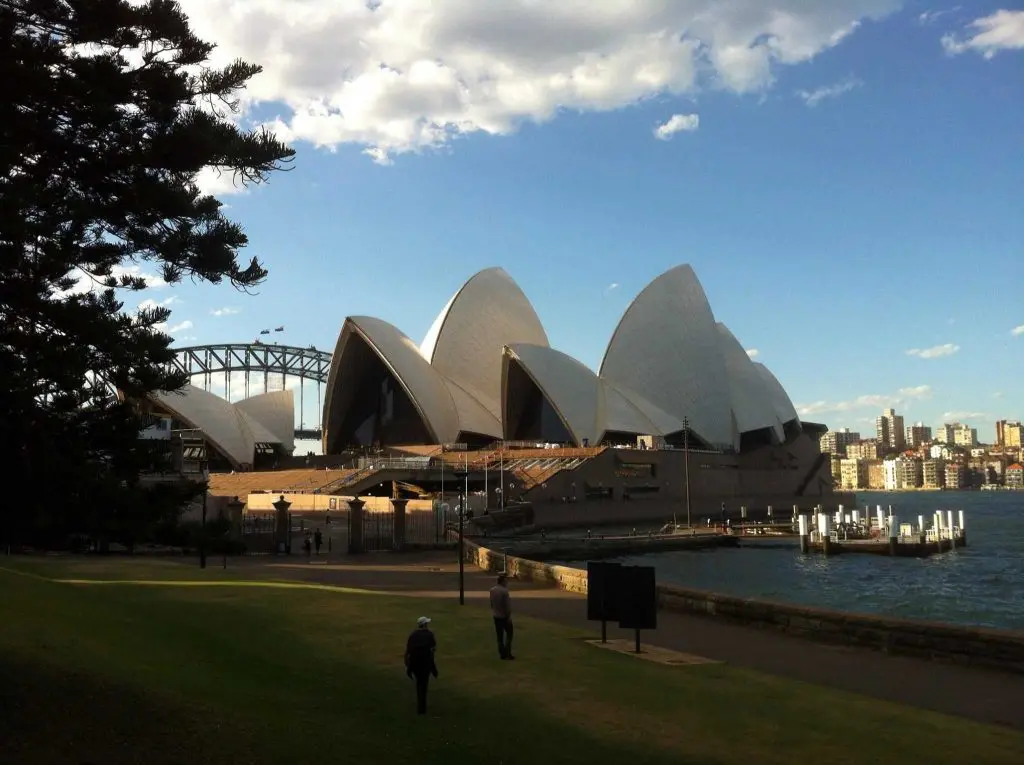 Sydney is the biggest city in Australia and the inevitable starting point for your trip to New South Wales.
The main attractions are world-famous: the Sydney Opera House and Sydney Harbour Bridge. They're the inevitable starting point in the city and they don't disappoint.
The Sydney Harbour Bridge is incredible. When you first get sight of it, peaking through the buildings, you'll gasp at its size.
Walking along the bridge gives you a sense of its scale and size as well as providing an excellent view of the iconic Sydney Opera House.
Doing a bridge climb is well worth it if you want to get an even better perspective of the city.
As well as these two sights, there are plenty of other things to do in Sydney. You can relax in the Royal Botanic Gardens, check out the numerous museums or visit the several beaches in the suburbs such as Manly and Coogee and the famous Bondi Beach.
Whether you spend 3 days in Sydney or longer, you'll have an incredible and be blown away by the city!
Blue Mountains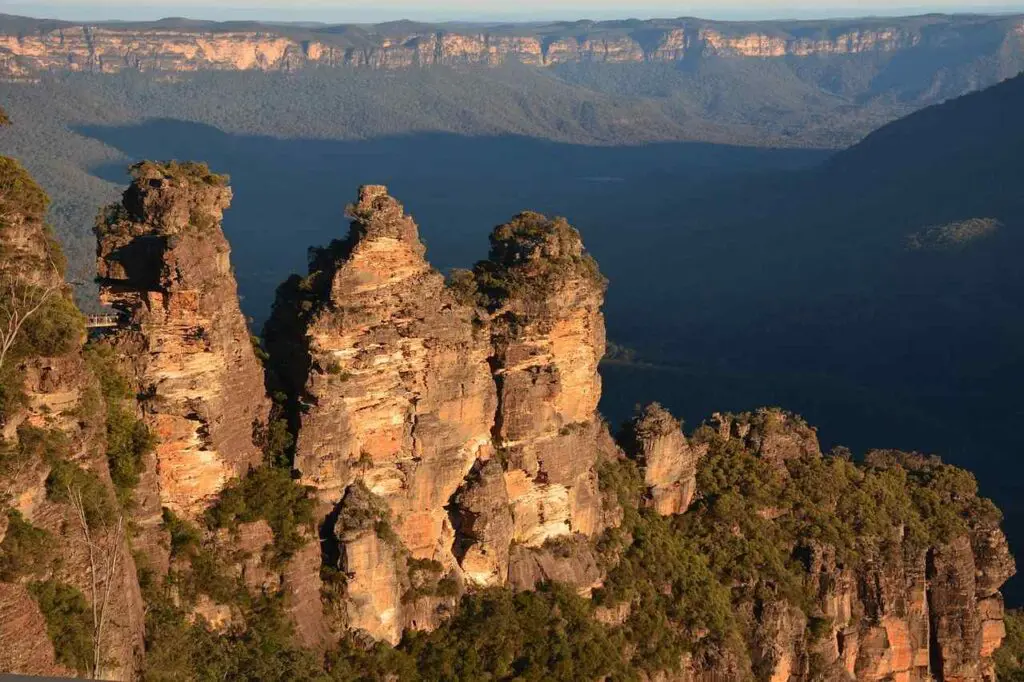 If you want to see one of the most stunning places to go in NSW, then the Blue Mountains is the place to go.
There are many amazing national parks in Australia, but the Blue Mountains is one of the best. The views here are stunning, especially of the amazing Wentworth Falls, and it makes a perfect day trip from Sydney.
You can go hiking, climbing, mountain biking or just walk around and enjoy the scenery. But the highlight of the Blue Mountains National Park is the Three Sisters rock formation, which is incredible.
It's the best-known attraction in the park and one you won't forget in a hurry.
If you're still looking for things to do, then you can visit the Blue Mountains Botanic Garden Mount Tomah, or check out the Jenolan Caves, the world's oldest known open cave system.
Newcastle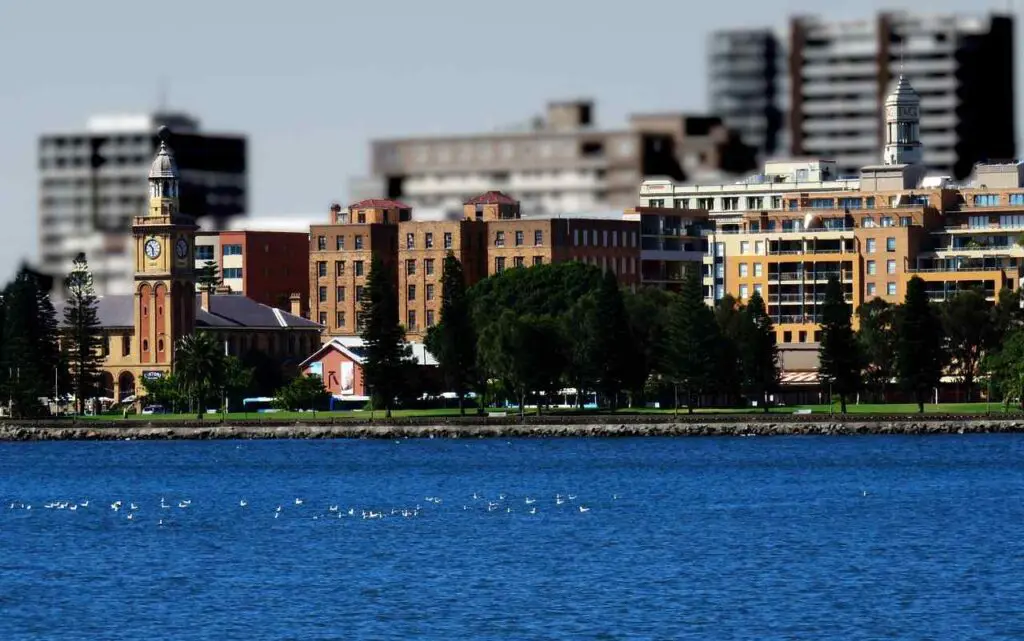 Newcastle is the second most populated city in New South Wales after Sydney and an interesting place you should check out.
It might not have the attractions that Sydney does, not many places do, but there's still a lot to see and do here.
One of the best things to do is the ANZAC Walk, which takes you along the coastline and provides some stunning views of the coastline.
You can also venture out to Nobby's Head at the other end of Newcastle near the Hunter River or head south of Newcastle to relax at the beautiful Caves Beach and Murrays Beach.
There's also Newcastle Art Gallery to check out if you want some cultural sights.
As well as this, Newcastle has a reputation as a culinary hub. So it's worth checking out some of the cafes and restaurants in the city while you're there.
You can also visit Myall Lakes National Park, which is about an hour north of Newcastle if you want to get away for a weekend and see some beautiful nature!
---
You might also like:
---
Bondi Beach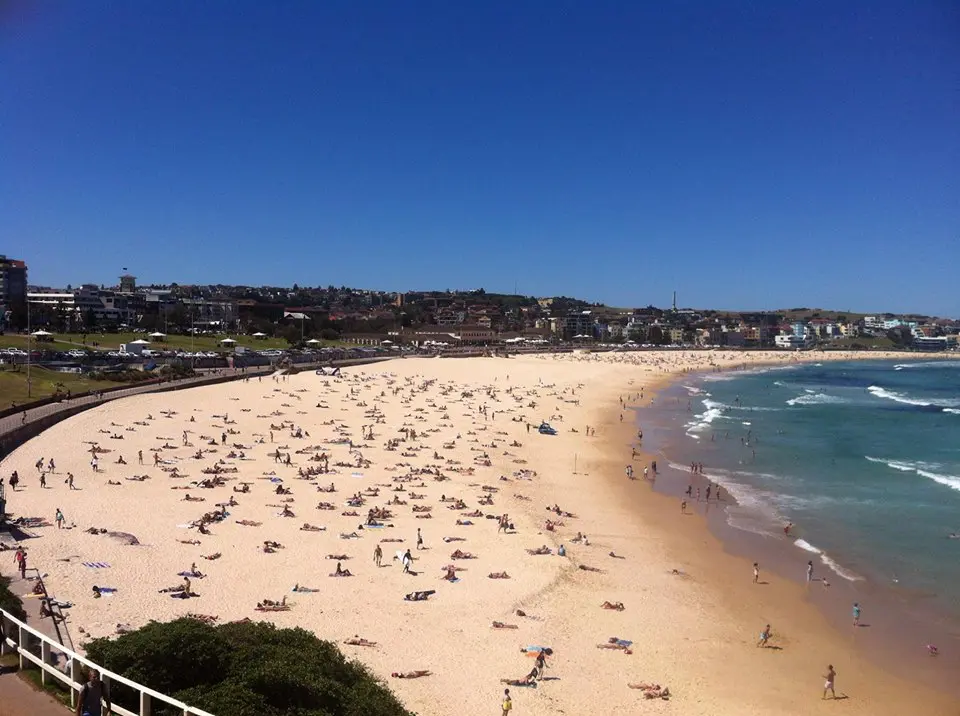 I know Bondi Beach is in Sydney, but as it's one of the most famous landmarks in New South Wales I had to include it on this list by itself.
You might wonder what all the fuss is about with Bondi, but once you make your way to the beach, you'll understand why it's one of the most popular destinations in New South Wales. It's a huge beach, that really is an incredible spot.
Just look at the above picture!
Bondi can get busy, but if you visit during the week, you should get to see it when it's quieter as I did when I visited. Then, you can relax and enjoy the Aussie sun, or brave the waves.
The great thing about Bondi is that there are other beautiful beaches within walking distance too. You can do the Bondi to Bronte coastal walk which provides you with some fantastic views of the Sydney coastline.
You'll also find Tamarama and Bronte beaches on this walk, which are both quieter than Bondi but just as stunning! If you're a beach lover, Bondi and the surrounding area are a must when visiting NSW.
Byron Bay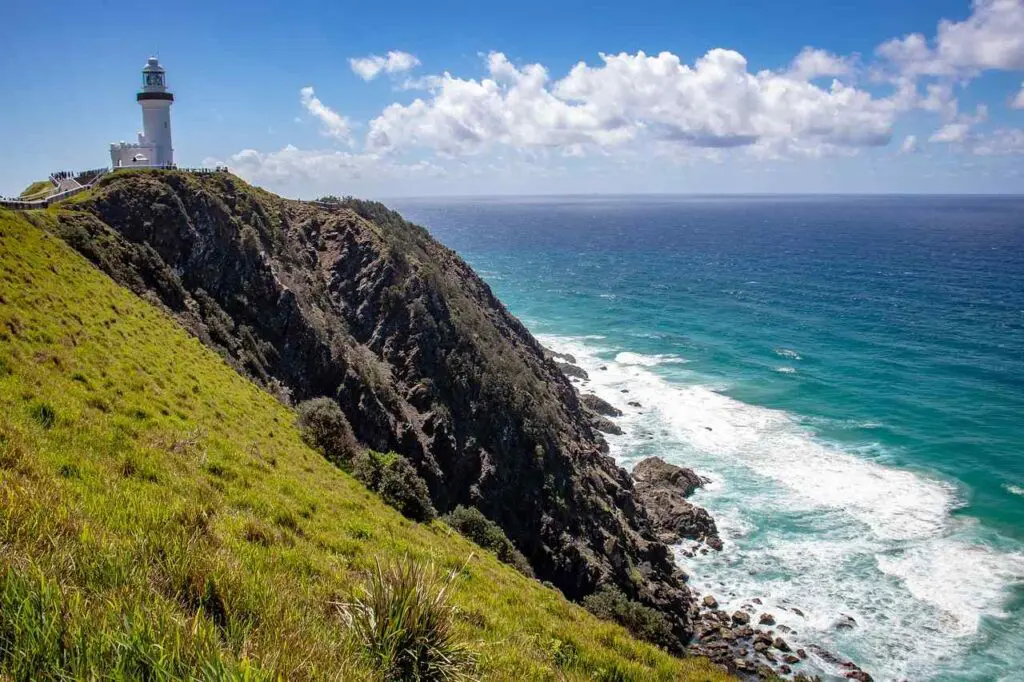 Byron Bay is without a doubt one of the best places to visit in NSW.
The beachside town is located in northern NSW close to the Gold Coast over the border in Queensland. It's become a haven for backpackers, surfers and hippies, making it a fun place to check out.
One of the best things to do here is to tackle the Cape Byron track. This will take you along the coastline and to the easternmost point of Australia, where Byron Bay lighthouse looks out towards the ocean.
If you really want to experience Byron, then taking a trip to the nearby town of Nimbin is a must. It's even more of a hippie spot than Byron and is a lot of fun.
Otherwise, you can explore the impressive waterfalls of Wollumbin National Park, an extinct volcano at Mount Warning National Park or visit Byron's lively markets.
Coffs Harbour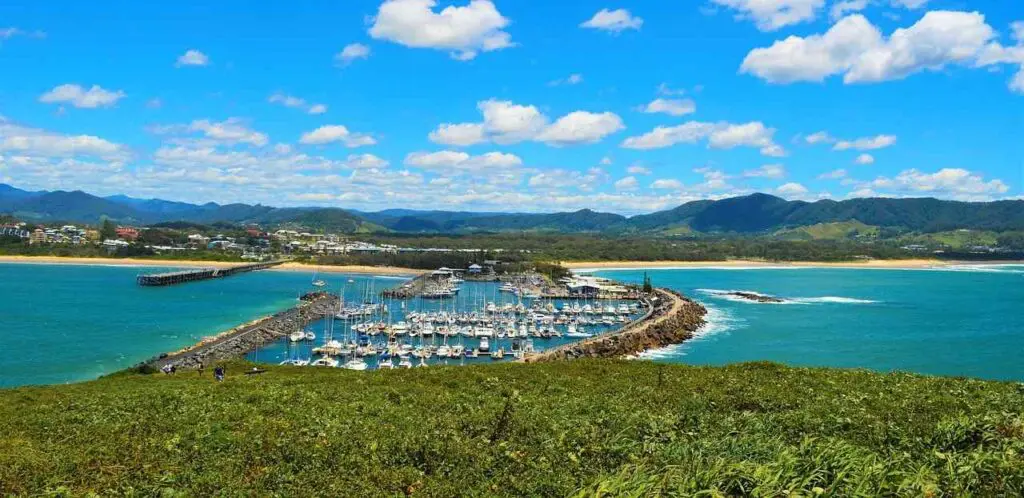 Coffs Harbour is one of the most underrated destinations in New South Wales, and a great place to visit family if you're travelling with your family.
There are so many activities you can do here that you can all enjoy, such as kayaking, cycling, surfing and much more.
One of the sights you might notice when you visit Coffs Harbour is the big banana, which is one of the numerous big things in Australia and pays tribute to the local banana-growing industry.
Visiting the Muttonbird Island Nature Reserve is a must when you're in Coffs Harbour and will showcase some of the best natural beauty the town has to offer.
You can also visit Dorrigo National Park, which is an hour north and home to rainforest, impressive waterfalls and numerous walking trails.
Kangaroo Valley
The brilliantly named Kangaroo Valley is easily one of the best places to visit in New South Wales.
It's a country town surrounded by amazing green landscapes and steep escarpments that give Kangaroo Valley a dramatic look.
One of the most interesting points of interest in Kangaroo Valley is Hampden Bridge, which spans the Kangaroo River and is the only remaining wooden suspension bridge in Australia.
If you want to get into the outdoors, then Kangaroo Valley is the place to go. You can go hiking, cycling and horseback riding.
If you want to get away from Sydney and discover somewhere different in New South Wales, Kangaroo Valley is a good place to go.
Port Macquarie
Port Macquarie is a great place to visit in New South Wales and one of the most underrated in the state.
If you're looking for somewhere to relax at the beach, you won't find many better places than Port Macquarie. Lighthouse Beach, pictured above, is a spectacular beach and the primary spot in the town to relax and enjoy the sun.
You can also visit Sea Acres National Park while you're in Port Macquarie. Here, you'll find a 1km (0.8 mi) long boardwalk that takes you through the remnants of a seaside rainforest and is also home to an array of colourful wildlife.
If that's not enough, then you can visit Port Macquarie's Koala Hospital and meet the furry critters up close. It's open every day apart from Christmas.
Hunter Valley
The Hunter Valley is one of the hidden gems of New South Wales, but there are plenty of good reasons to visit.
One of the most prominent is the numerous wineries in the valley. This is one of the main wine regions in New South Wales producing varieties such as Semillon and Shiraz.
You can do a wine tour to learn more about the wineries, how they make the wine and the history of the industry, or just to sample the wine! Whatever floats your boat!
As well as the vino, you can take a trip in a hot air balloon and get an appreciation for the beauty of Hunter Valley from above. Or go hiking on one of the trails at Barrington Tops National Park.
Yamba
Yamba is a small coastal town that's roughly halfway between Coffs Harbour and Byron Bay in New South Wales.
It's included as a stop on my Sydney to Brisbane road trip itinerary, and as you can see from the picture above, it's a beautiful place.
As with almost all the towns along the coast of New South Wales, there are some quiet beaches at Yamba. They're ideal to visit on a warm day so you can relax and enjoy the sun on some of the whitest sand in New South Wales.
One of the best things to do in Yamba is to visit the lighthouse. It's a decent hike to get there, but you'll be rewarded with some stunning views of the NSW coast.
Jervis Bay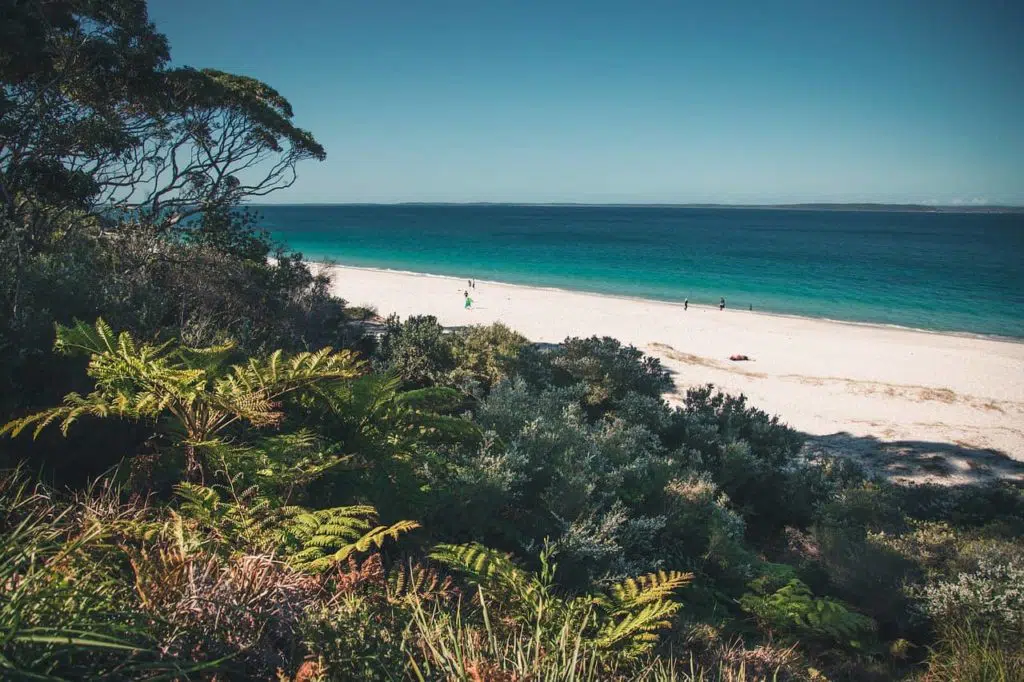 Jervis Bay is one of the numerous beach towns dotted along the coast of New South Wales. If you're on a Melbourne to Sydney road trip, then it's an ideal place to stop along the way.
Rather than being one single town, Jervis Bay is a collection of towns centred around the aforementioned bay.
You'll find plenty of picturesque beaches around the bay, such as Hyams Beach which are great for relaxing, swimming or snorkelling in the water.
There are also opportunities for surfing, walking around the bay and taking in the beautiful surroundings. The town is quiet which makes the scenery all the more enjoyable.
Jervis Bay is also home to a proud Aboriginal history, which dates back over 20,000 years!
Once you visit, you'll understand why they stuck around for so long!
Lord Howe Island
If you're looking for somewhere to visit in New South Wales that's off the beaten track, then Lord Howe Islan fits that bill in more ways than one.
Firstly, it's 660 kilometres off the coast of the state. Secondly, only 40 guests are allowed on the island at any one time.
This means it's not the easiest place to visit, but if you're lucky enough to go there, you'll find an incredible destination.
You'll find white beaches, rugged cliffs and Lord Howe Island Marine Park where you can go snorkelling and scuba diving to see some of the amazing coral reefs.
It takes two hours to reach Lord Howe Island from either Sydney or Brisbane. If you want to visit, it's best to plan in advance. But if you do visit, you won't be disappointed!
Canberra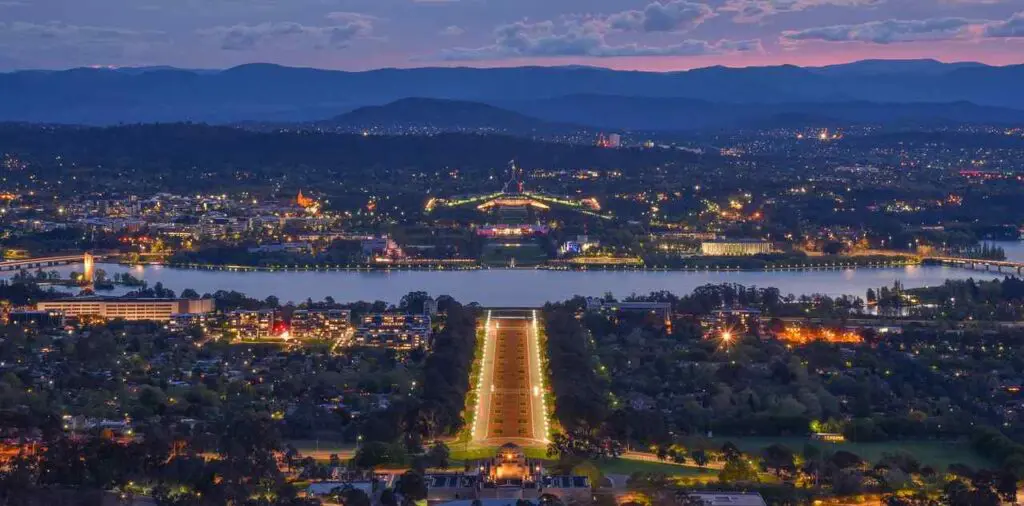 Ok, so Canberra may not be strictly in New South Wales but as the Australian Capital Territory is inside the state, I've included it anyway.
Australia's capital is often forgotten about when it comes to backpacking in Australia. I heard it was boring, small and not worth visiting while I was there.
Instead, it's an interesting city with lots to do and see. As the home of Australia's parliament, you can visit and check out the incredible building and take a look around.
Canberra is also home to several museums, such as the National Museum of Australia, the National Library of Australia, and my personal favourite, the National Dinosaur Museum!
If you're unsure of whether to visit Canberra or not, you should give it a try. You'll be surprised by what you find and have more fun than you might imagine!
Outback NSW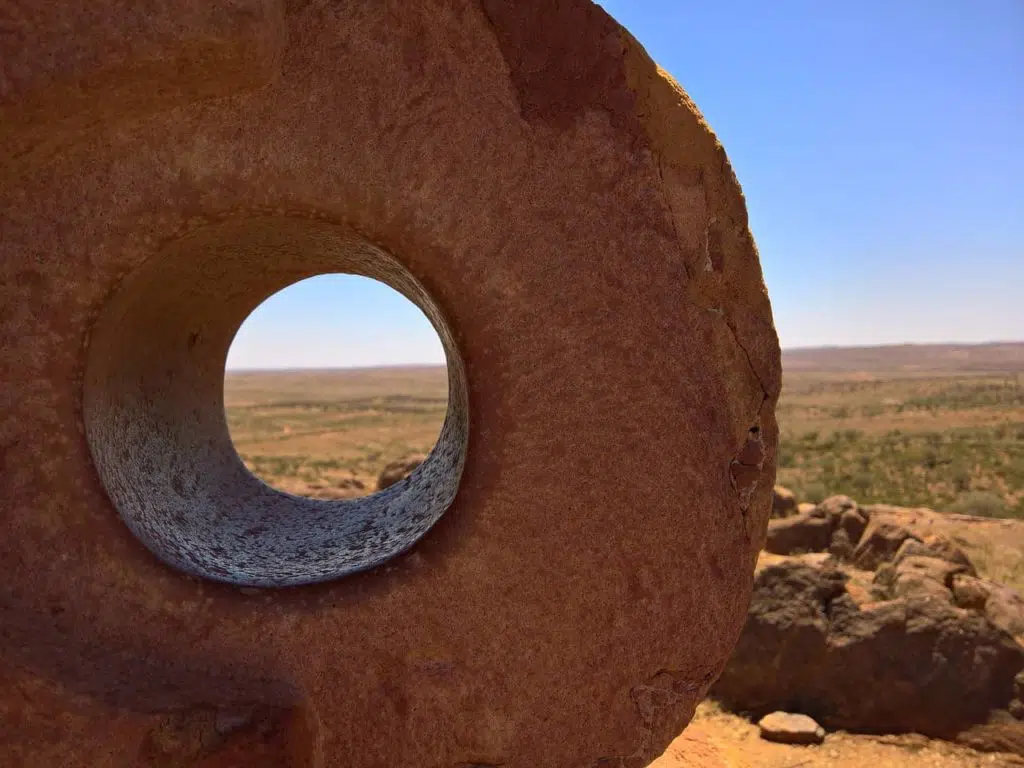 Most people think of Sydney, or the coastal towns of Byron Bay and Coffs Harbour when it comes to travelling around New South Wales.
Yet, a large part of New South Wales is part of the Outback. If you want to get a sense of the interior of Australia and what life is like out in the sticks, then a trip into the Outback is a must.
One place you should try and visit in the Outback is Mungo National Park, which has some stunning landscapes. It's also home to some of the oldest archaeological remains in Australia, dating from 40,000 years ago.
Other places you can visit in the NSW Outback are Broken Hill, where you'll find living desert sculptures, the mining town of White Cliffs and Lightning Ridge and the stunning Aboriginal rock art sites at Gundabooka National Park.
Kosciuszko National Park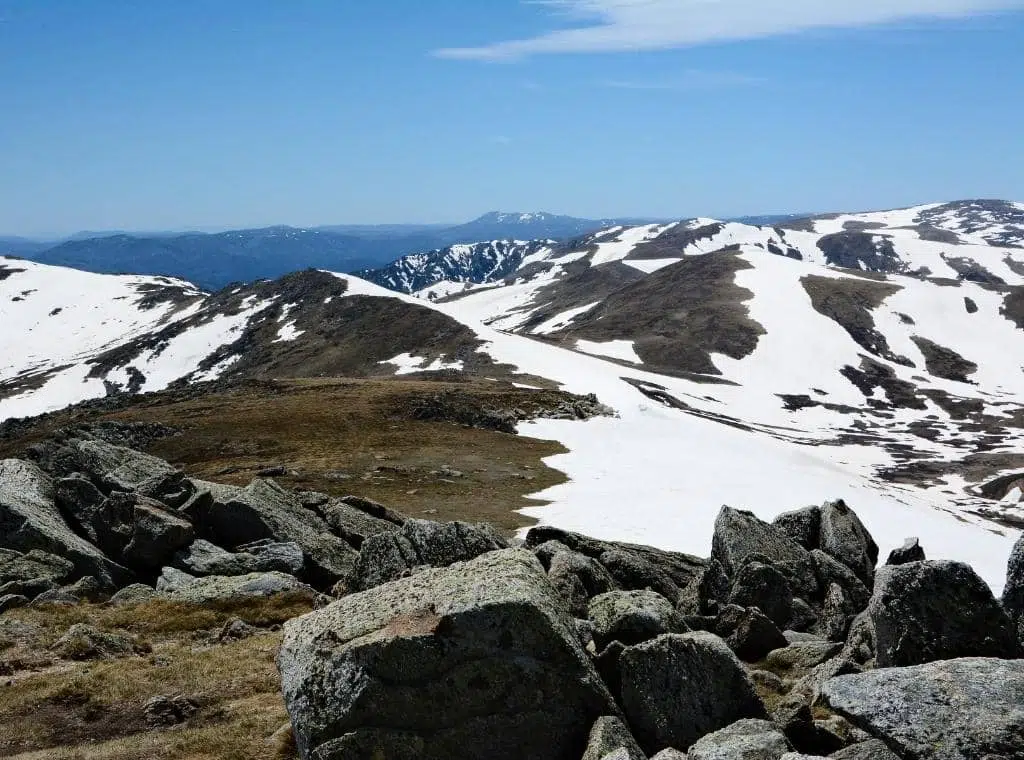 Kosciuszko National Park is home to Australia's highest peak, Mount Kosciuszko and is the perfect place to visit if you like hiking.
The mountain tops out at 2,228 metres (7,310 ft), making it the highest point in the southern hemisphere. There are a few hiking trails to the top and they're not too difficult during the summer.
However, the mountain is covered in snow during the winter which makes it tougher. The plus side is this means you can go skiing in the park, which makes it great for a road trip from Sydney for the weekend.
The national park is home to the Snowy Mountains, so there are multiple peaks you can attempt not just Mount Kosciuszko.
Royal National Park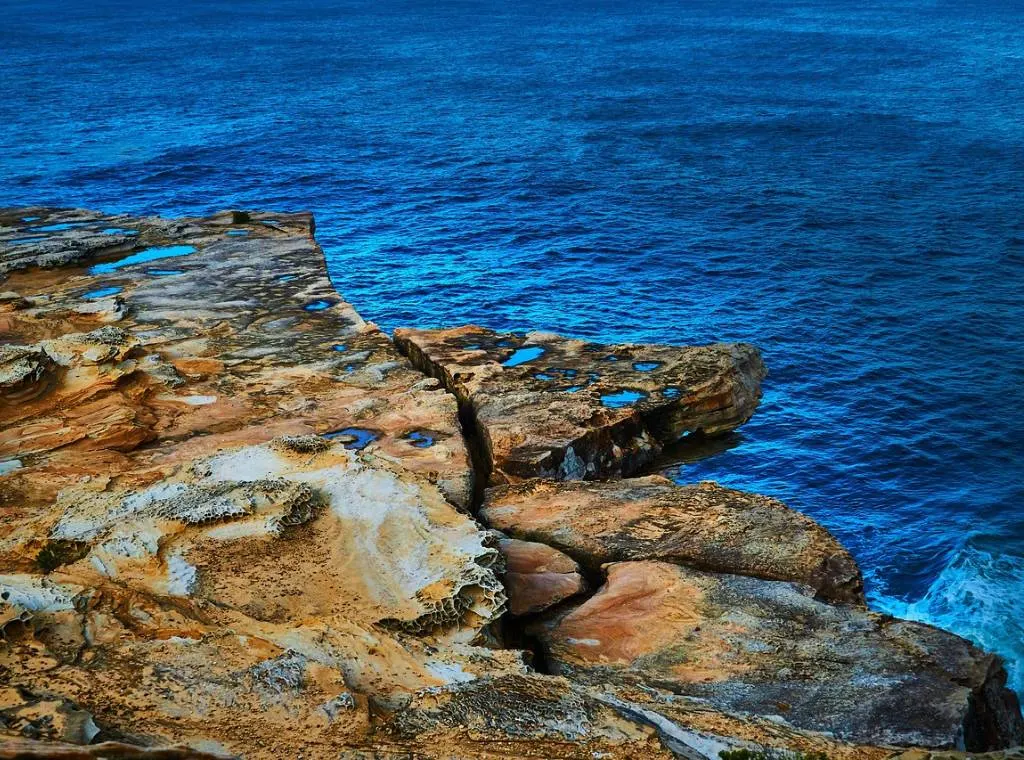 Royal National Park is located on the south coast of Sydney and is one of the most underrated places to visit in New South Wales.
There's a lot to do at Royal National Park, and much of it involves the numerous walking trails in the park.
There are several tracks such as the Forest Path, Bundeena Drive to Marley Walk and Karloo walking track that you can do.
You'll be able to see lots of wildlife such as possums and wallabies, as well as lots of diverse fauna.
If you're an outdoors person and love a walking trail, a trip to Royal National Park is a must!
Port Stephens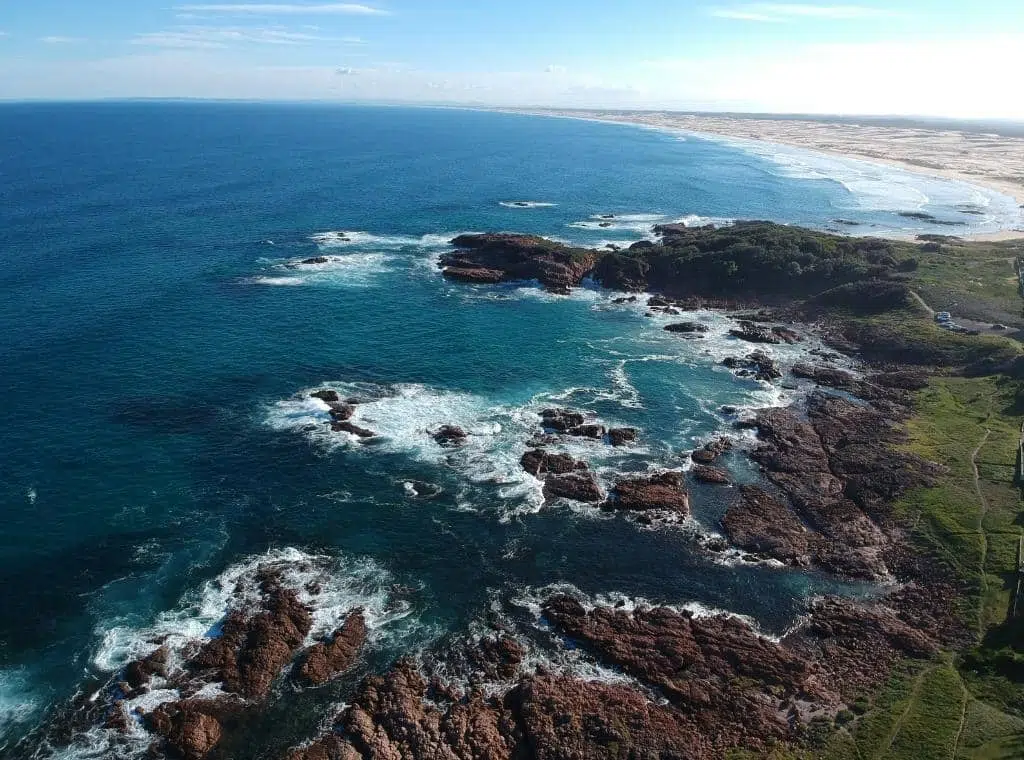 Port Stephens is located on the north coast of New South Wales, two hours from Sydney.
It's a hidden gem of sorts in the state and is a nice place to go for a weekend away from the hustle and bustle of life in Sydney.
One of the main attractions In Port Stephens is Stockton sand dunes. The giant sand dunes stretch for 32 km (20 miles) from Stockton to Birubi Beach. They're an imposing sight and one place you have to check out.
As well as Stockton, there are 26 beaches in Port Stephens. So, you have your pick of where to relax, go for a surf, or walk along the coastline.
Need Travel Insurance?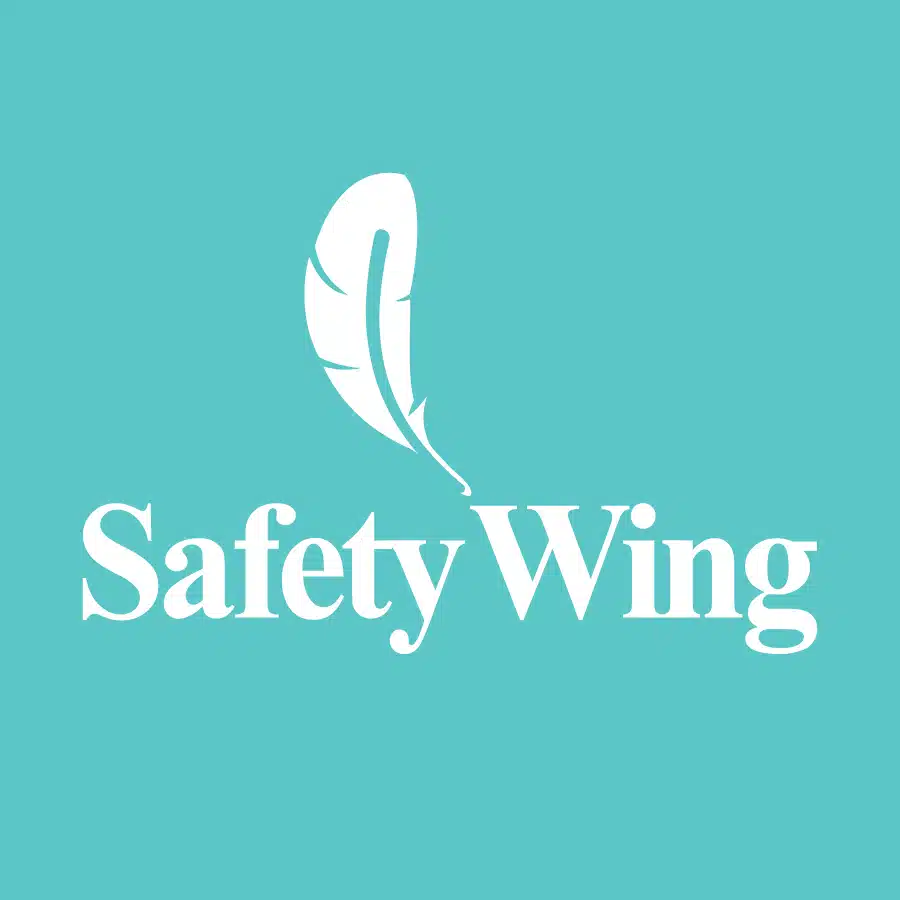 SafetyWing offers coverage that will give you peace of mind while you're on the road. If you want to protect yourself while you're on the road, then click the image to take a look at the options available to you.
Tom is a travel addict who first left England to spend a year Down Under. Not satisfied with this, he then went to New Zealand, about as far away from home as he could get. He is now planning his next adventures in Europe and Canada while maintaining this blog. Check out the about me page to learn more!