3 days in Sydney is not enough to see all of this beautiful Australian city.
I should know!
I spent the last few days of my time backpacking in Australia in Sydney. Although I got to see everything I wanted to see, I would have liked a few more days to explore the city and see all it had to offer.
However, if you're going to Sydney on a short itinerary, you can still see a lot in a short space of time.
I have devised a 3-day Sydney itinerary, which will allow you to see all the sights, such as the Harbour Bridge and Opera House, as well as some lesser-known places!
Without further ado, let's get into it!
Disclosure: This article may contain affiliate/compensated links. For more information, please see our full disclosure policy.
Table of Contents
How to Spend 3 Days in Sydney
Quick 3 Days in Sydney Itinerary
Day 1 – Walking Tour, Darling Harbour, Sydney Harbour Boat Tour
Day 2 – Museum of Sydney, Garigal National Park
Day 3 – Bondi Beach, Sydney Botanic Gardens, The Rocks
Some of The Best Things To Do in Sydney
If you're wondering how to spend 3 days in Sydney, then I have some sympathy for you. I was in the same boat when I visited. I wasn't sure what I could see, and whether I would see everything I wanted to in such a short space of time.
If you want to save money and time checking out Sydney's attractions, I recommend getting the Sydney Flexi Pass. This allows you to get free entry to several attractions and get discounts of up to 50% on Sydney museums!
The pass lasts for 3 months, which gives you ample time to see everything in the city if you're staying for a while. It's a useful pass that will save you a lot of time and money in the long run!
If you're wondering how many days should you spend in Sydney? My answer would be five. This gives you lots of time to see everything and enjoy the city.
However, you can still do a lot if you're spending 3 days in Sydney! If you're strapped for time, 3 days is a good amount of time to spend in the city. Below are a few things to do in Sydney, you absolutely must do during your time in the city!
Sydney Beaches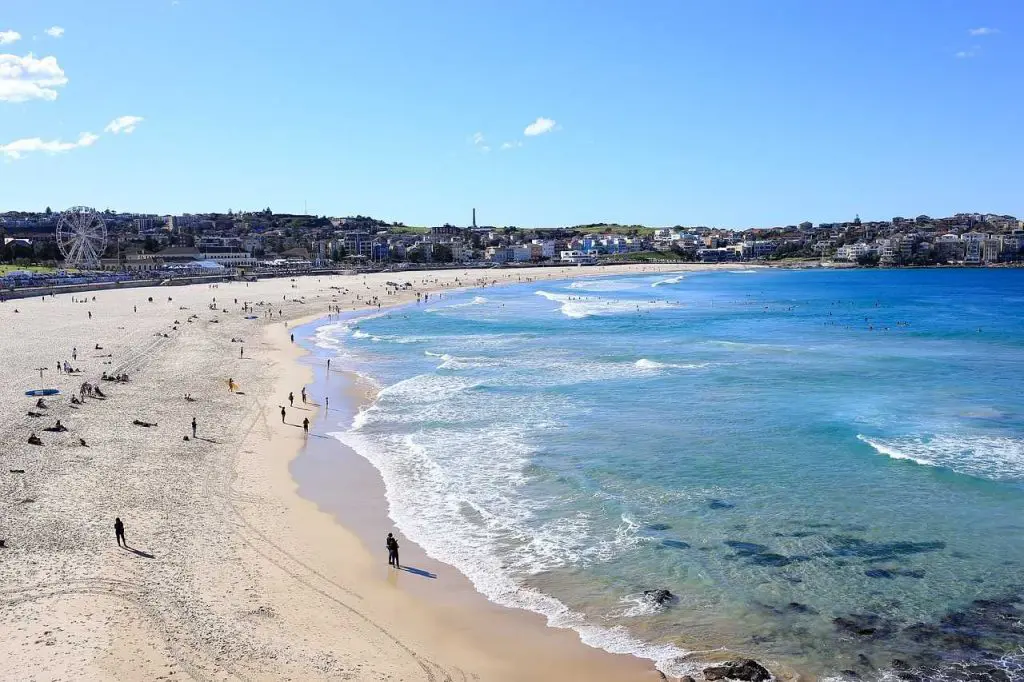 Sydney is world-famous for its beaches! They're the subject of some of the best quotes about Australia! It's not just Bondi either, there are plenty of other fantastic beaches close to the city too!
Bronte, Coogee, Manly and Tamarama are close to the centre of Sydney and worth checking out. You will not find many other cities with the range of beaches that Sydney has!
Sydney is blessed with some of the best beaches in the world for surfing, it would be a crime not to visit them during your time in the city!
Sydney Harbour Bridge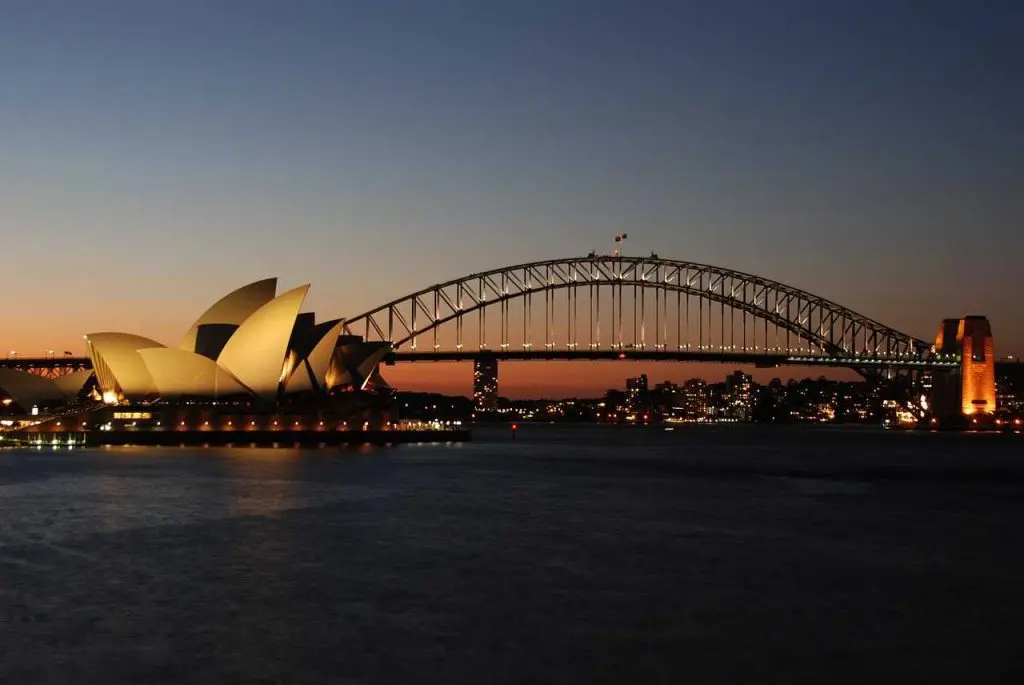 Arguably the most iconic sight in the whole of Australia, you simply have to check out the Harbour Bridge while you're in Sydney! It's an icon of Australia and a big reason why it's one of the best places to visit in Australia.
Glimpsing your first sight of the bridge is strange. You'll notice part of the bridge poking through the skyline of the city, as you make your way to the harbour.
Once you see it fully for the first time, it's an incredible sight! I highly recommend walking across the bridge to gain a perspective of how long and big it truly is. Plus, you get an excellent view of the Opera House across the harbour!
An interesting fact about the Sydney Harbour Bridge is that it's named 'the coathanger' due to its shape! It does look like one that's for sure!
Sydney Opera House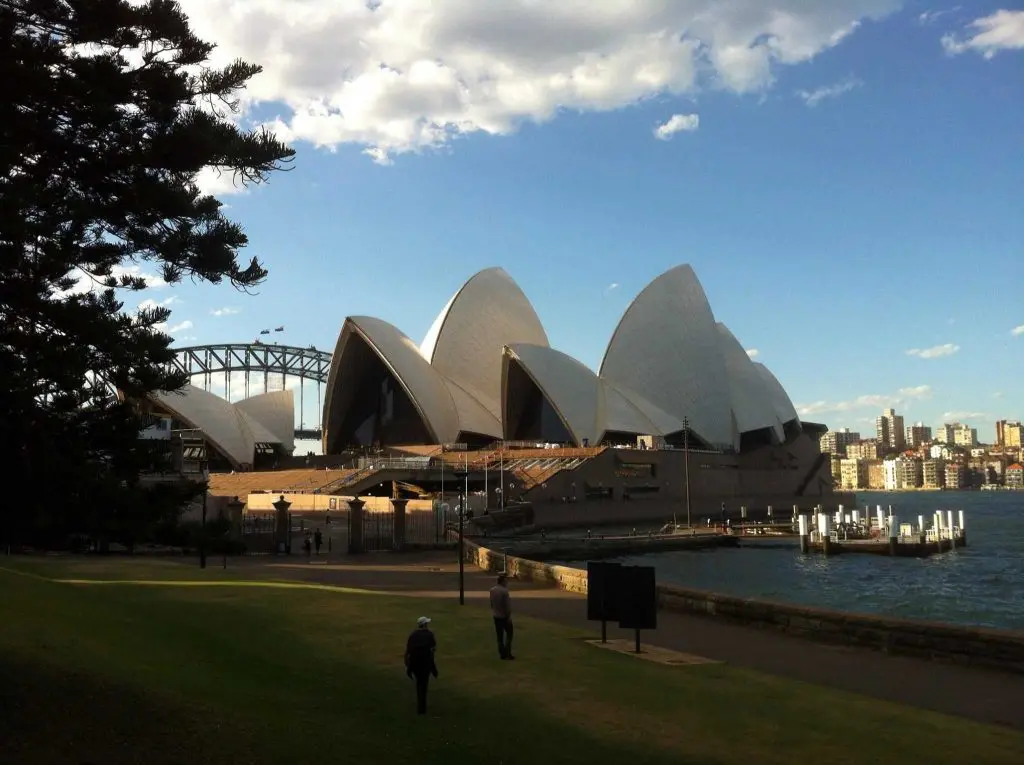 The other iconic image of Sydney is the Opera House. It's a curious building, but beautiful nonetheless. It's no surprise so many Sydney quotes reference it.
Up close, the tiles that make up the building, look a tad peculiar, but from a distance, it all comes together to create an incredibly visually appealing building!
The architecture of the Opera House is astounding, and has to be admired up close!
If you wish, you can do a tour of the Opera House to learn more about its history and the building itself!
Sydney Itinerary – Day 1
Walking Tour
One of the first things I like to do when I arrive in a new city is to go walking!
I never have a plan, I just leave my hostel, choose one direction and see where it takes me. This works for me, but it might not work for everyone. However, I do feel walking around on your first day in a new place is a good way to gain your bearings.
There are several walking tours you can do in Sydney. I would recommend doing one of these to get a feel for Sydney. The guides are highly informative, and you will learn a lot about the city and its history in the process!
If you're a Harry Potter fan, once you're finished with your tour, you can head to Sydney University. This is where you will find Sydney's very own Hogwarts. The architecture is remarkably similar to the real Hogwarts, and it makes it an interesting place to visit!
Darling Harbour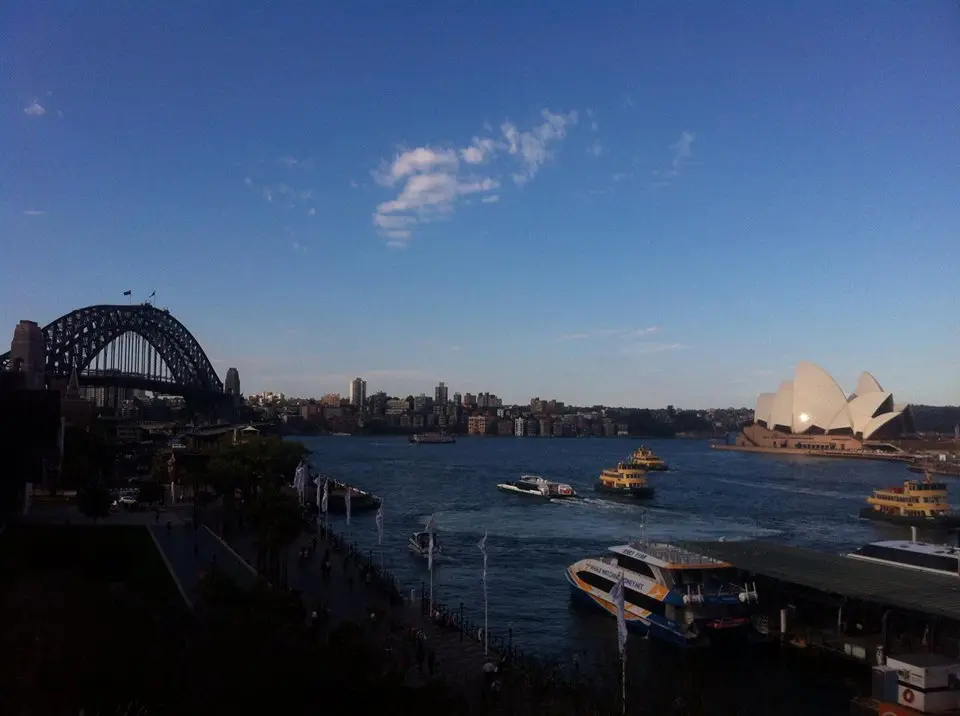 This is the place that everybody wants to visit! At some point during your 3 days in Sydney, you're going to go here, so why not head there on your first day!?
The main attractions in the Harbour are, of course, the Bridge and the Opera House. However, there is a lot more to see and do in the Harbour besides these two attractions.
There are numerous cafes and shops around to explore, plus interesting museums and exhibits which are worth exploring!
Climb the Harbour Bridge is a fantastic way to spend the remainder of your day and presents you with a beautiful view across the harbour and of Sydney itself!
Sydney Harbour Boat Tour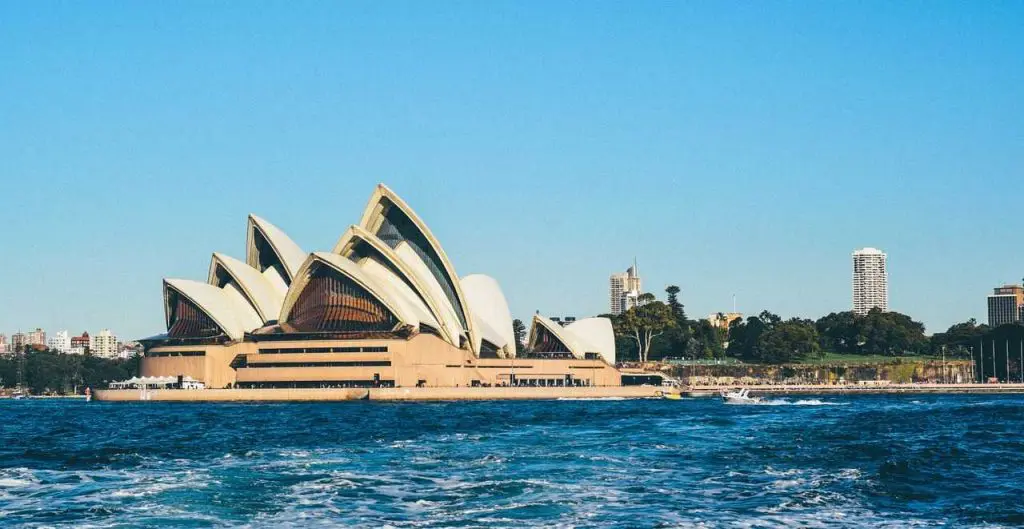 If you've had your fill of walking around Darling Harbour and Circular Quay, a nice way to finish off your day is to do a boat tour of Sydney Harbour!
The tour is a fantastic way to learn more about the area and its history. The guides are highly informative and packed full of juicy knowledge!
It's also a great chance to see Sydney from a different perspective, which will help you understand why it's one of the best places to visit in New South Wales! You'll get up close and personal with the Harbour Bridge and Opera House, allowing you to get some great views and shots of these iconic landmarks!
Sydney Itinerary – Day 2
Museum of Sydney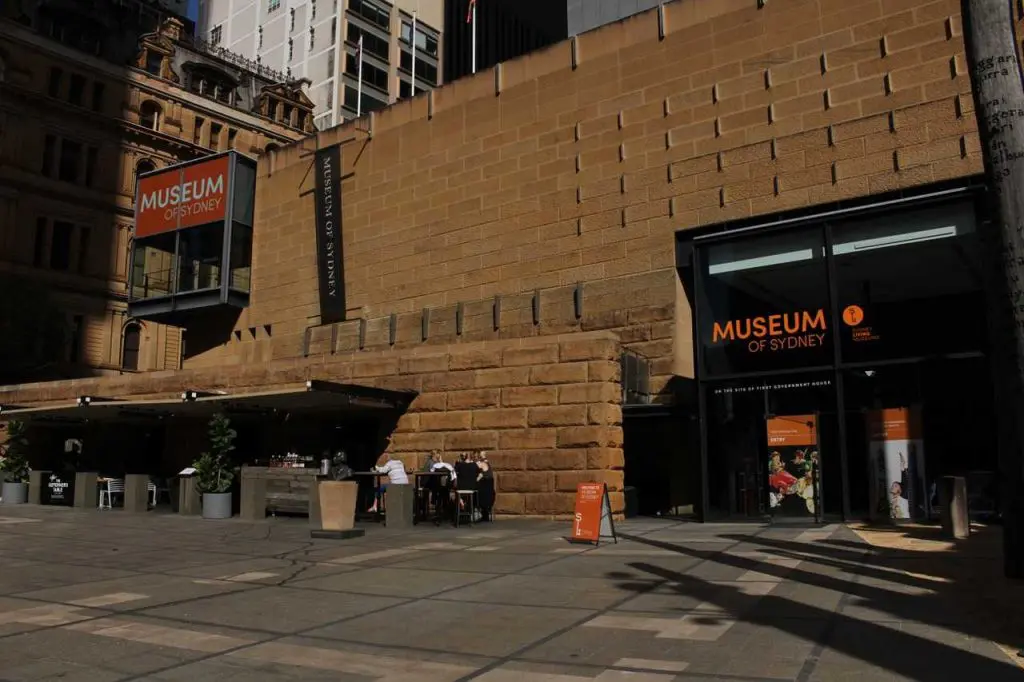 The Museum of Sydney was built on the ruins of the house of New South Wales' first governor, Arthur Phillip. It was also Australia's first government house way back in 1788.
The museum itself has a lot of history and it houses a lot too! The exhibits feature items from colonial and contemporary Sydney, providing useful insight into how Sydney developed into the city it is today!
The convict era is explored in great detail with showcases of various items that were uncovered on more than 25 archaeological digs!
If you want to learn more about the history of Sydney, this museum is the place to go!
Garigal National Park
Getting outside of the city, a visit to Garigal National Park is one of the more intriguing things during your 3 days in Sydney.
It's located 12km from Sydney CBD and is a great place to visit if you're a nature lover! There are many things to do here such as hiking, kayaking and relaxing in the beautiful surroundings!
Garigal National Park has a rich Aboriginal heritage with numerous art sites dotted around the park. It's also an excellent place to spot wildlife. The park is teeming with creatures great and small!
Sydney Itinerary – Day 3
Bondi Beach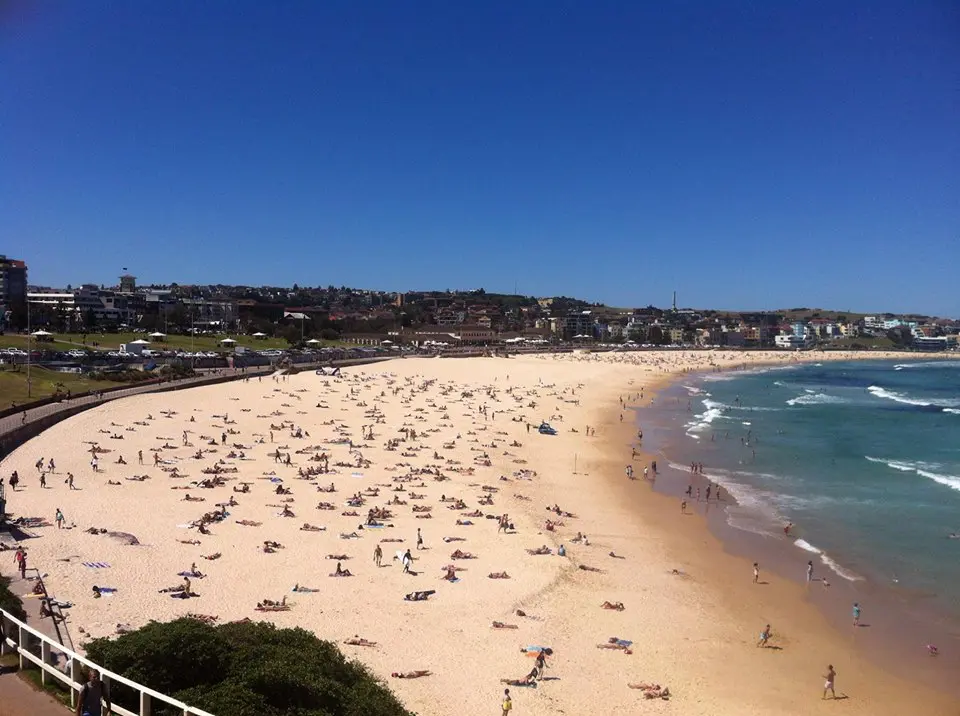 You simply can't visit Sydney without going to Bondi Beach. It's perhaps the most iconic beach in Australia!
The beach itself is large, and often full of people, especially on the weekend. It's worth visiting for a few hours, to soak in the atmosphere.
However, I would recommend doing the Bondi to Bronte coastal walk and relaxing at either Tamarama or Bronte Beach instead.
They are quieter, and arguably more scenic. Plus, the walk itself is incredible and certainly worth doing.
You can also learn to surf at Bondi, which is a great spot to pick up this exhilarating sport!
Sydney Botanic Gardens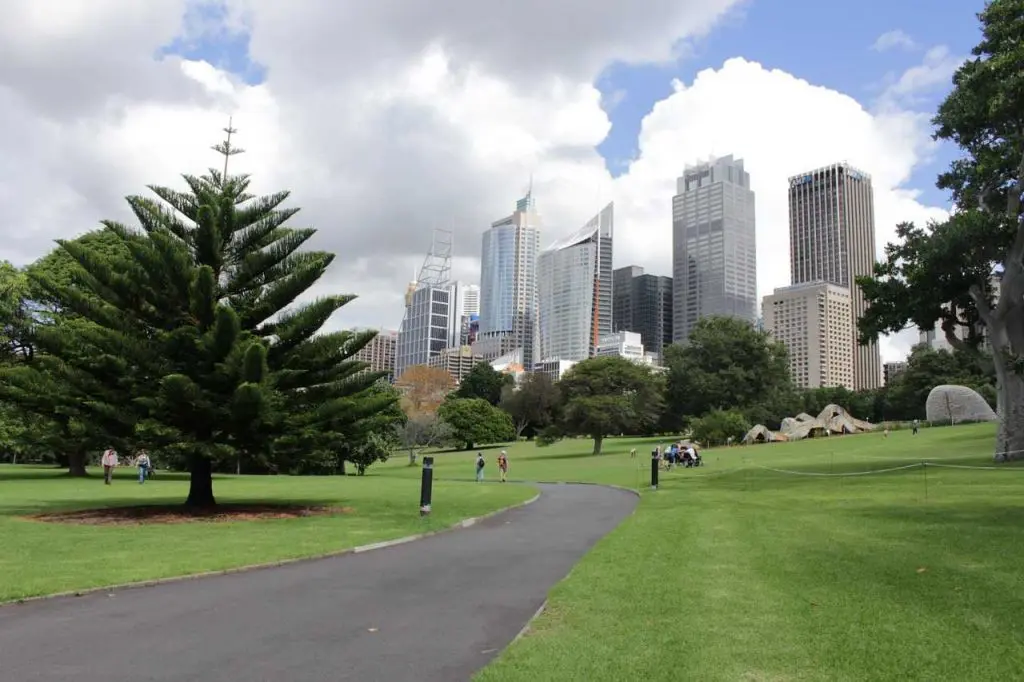 The botanic gardens in Sydney are one of the best in Australia! The range and diversity of plant life are breathtaking. It's a great place to spend a few hours wandering around and relaxing in the beautiful surroundings!
There's always a lot going on in the gardens. You can do yoga classes in the garden, and there is an open-air cinema during the warmer months too!
There is an Aboriginal Heritage Tour three days a week too, where you can learn more about the Aboriginals and their history.
A good spot to visit while in the Botanic Gardens is Mrs Macquarie's Chair. From here, you get an excellent view of the Harbour Bridge and Opera House! The perfect spot for an Instagram shot!
The Rocks
The Rocks are the first site of European settlement in Australia. If you enjoy history, this is one of the best places you can visit during your 3 days in Sydney!
It's right next to Darling Harbour and has excellent views of the Harbour Bridge! There are many dining options in the area and a few art galleries. The area has been transformed from its working-class roots!
It's also home to Cadman's cottage, which is the oldest residential home in Australia. A visit to the rocks is the perfect way to end your 3-day itinerary of Sydney, as you enjoy the views of the Harbour before you leave!
Other Places to Visit in Sydney
If you're still about what to do in Sydney for 3 days, or if you're there for a bit longer, here are a few more options for you to do during your trip!
Blue Mountains – Technically not in Sydney, but visiting the Blue Mountains is a great day trip from Sydney if you're in the city for a bit longer! Click here to book your day tour now!
Cockatoo Island – An Island located in the middle of Sydney Harbour, Cockatoo is an old convict precinct. It's been inscribed on the UNESCO world heritage list, as one of 11 sites that form the Australian Convict Sites World Heritage Property. It's an interesting place to visit if you want to learn more about the early European settlement of Australia!
Manly Beach – This is one of Northern Sydney's best beaches. There are several beaches in the vicinity, each as spectacular as the last! A visit to Manly Beach is a good way to get out of the hustle and bustle of central Sydney for a few hours!
Sydney Cricket Ground (SCG) – If you're a sports fan, you'll want to check out the SCG! It's a historic ground that has played host to numerous AFL, cricket and Rugby matches over the years. Even if you don't like sports, it's an interesting place to visit, especially if there is a match on!
Sydney Observatory – If you love space as much as I do, a visit to the Sydney Observatory is a great idea. You'll learn more about the universe and be treated to some incredible views of Sydney in the process!
Click the link below to discover more activities and tours you can do in Sydney during your trip:
Sydney Travel Tips
Where to Stay in Sydney
There are plenty of places to stay in Sydney. As the biggest city in Australia, the choices are endless when it comes to accommodation in the city.
I stayed at a few hostels in Sydney, during my time in the city. I particularly liked the YHAs near the Harbour and Central Station. They were clean, comfortable and the staff was fantastic.
If you want to get out of the centre, there are a lot of hostels located by the beaches at Bondi, Coogee and Manly.
If hostels aren't your thing, and you would prefer to stay in a hotel, you have a wealth of choices! I've listed some of the best hotels in Sydney to stay in below!
Cost of Travel In Sydney
Sydney is the most expensive city in Australia. No matter what you do, prices will be more than what you find anywhere else in Australia, even in Melbourne.
It's important to set a budget during your three days in Sydney, otherwise, you could easily find a significant hole in your wallet!
There are a lot of attractions in Sydney, and they will eat into your budget. I recommend purchasing the Sydney Flexi Pass, as I mentioned above, to have a clear idea of which ones you want to visit.
That way, you can budget for them, and if you have any spare money, you can do more without breaking the bank!
Below are the average prices for the essential services you will use while you are in Sydney for three days.
They take into account what you need to visit the city comfortably and don't include take extras such as tours, nights out, souvenirs/clothing. They are deemed as 'non-essential' extras!
Prices are in AUS dollars. Check out XE.com for the latest exchange rates.

Accommodation
Hostel: Dorm – $25-50; Private – $80-120
Hotels: $45-145
Rental Apartment: $60-150

Food and Drink
Breakfast: Free-$9
Dinner: $9-15
Takeaway meal: $3-7
Pint of beer: $5-10

Transport
Single Metro/Bus ticket: $2.00
Unlimited Day Pass: $15.40
Bus from airport to city centre: $11.50
Best Time to Visit Sydney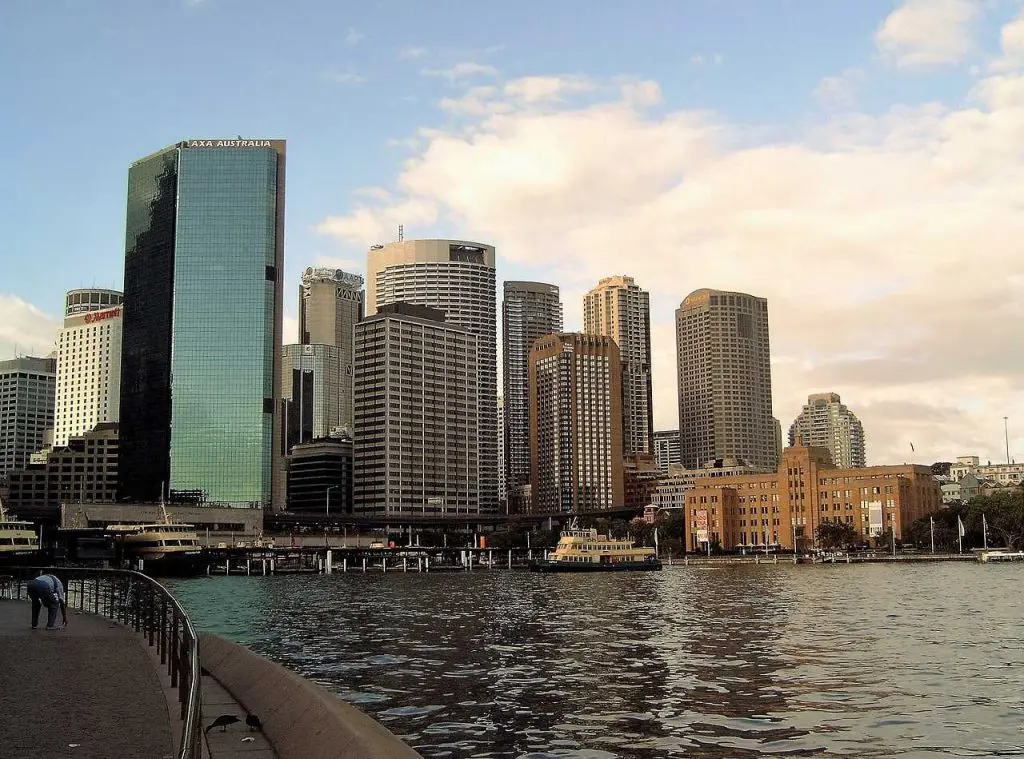 Undoubtedly, the best time to travel to Sydney is during the summer. From November to February, the temperatures are consistently above 30 degrees.
It can be hotter than this at times, but it's rare for temperatures to creep over 40 degrees. If you're looking for cooler temperatures, it may be best to visit Sydney during the shoulder seasons of September to October and March to April.
The temperature will be in the 20 to 30 range, while there will be fewer tourists than during the summer too.
Winter is still a good time to travel to Sydney. However, you won't be able to make the most of the beaches, and sights in the city. I'd recommend visiting from September to April, to get the most out of your trip to Sydney!
The best time to travel to Australia does depend on what you want to do. However, if you want to get the most out of your trip, going when the weather is at its best, is the best time to go!
How To Get Around Sydney
Getting around Sydney isn't a daunting prospect. It is a big city, but you can walk between places and there isn't much need for public transport if you plan on staying in the centre.
Where public transportation in Sydney becomes necessary is when you want to venture further afield into the suburbs.
You have several options available to you.
You can use the city circle trains which connect the city with its suburbs. Another option is the buses, there are many routes, so it can be confusing at times. It's best to ask at a hostel or consult the route maps before jumping on one.
Another option is to take a ferry from Circular Quay. From here you can go to Manly, Watson's Bay and many other places. The jetties are clearly marked as to where the ferries dock and where they are headed.
To get around the city you can purchase an Opal card, which allows you to ride on all public transportation in Sydney. It may not be worth getting one if you're only in Sydney for three days, but if you plan on staying for longer, or returning, it's a worthwhile investment!
If you're arriving in the city or starting a road trip from Sydney to Brisbane, driving can be difficult and traffic is common. Unless you're doing a road trip, I would advise against driving in Sydney. There are better ways to get around if you're staying in the city long-term.
Is 3 Days in Sydney Enough?
3 days in Sydney is not enough to enjoy everything the city has to offer. However, if you're strapped for time, you can certainly get a lot out of those three days!
I hope my three-day Sydney itinerary has provided you with some ideas on how to get the most out of your trip.
Have you been to Sydney? Do you agree or disagree with my itinerary? Is there anything I should have included in the itinerary that's not there?
Let me know in the comments below!
Need Travel Insurance?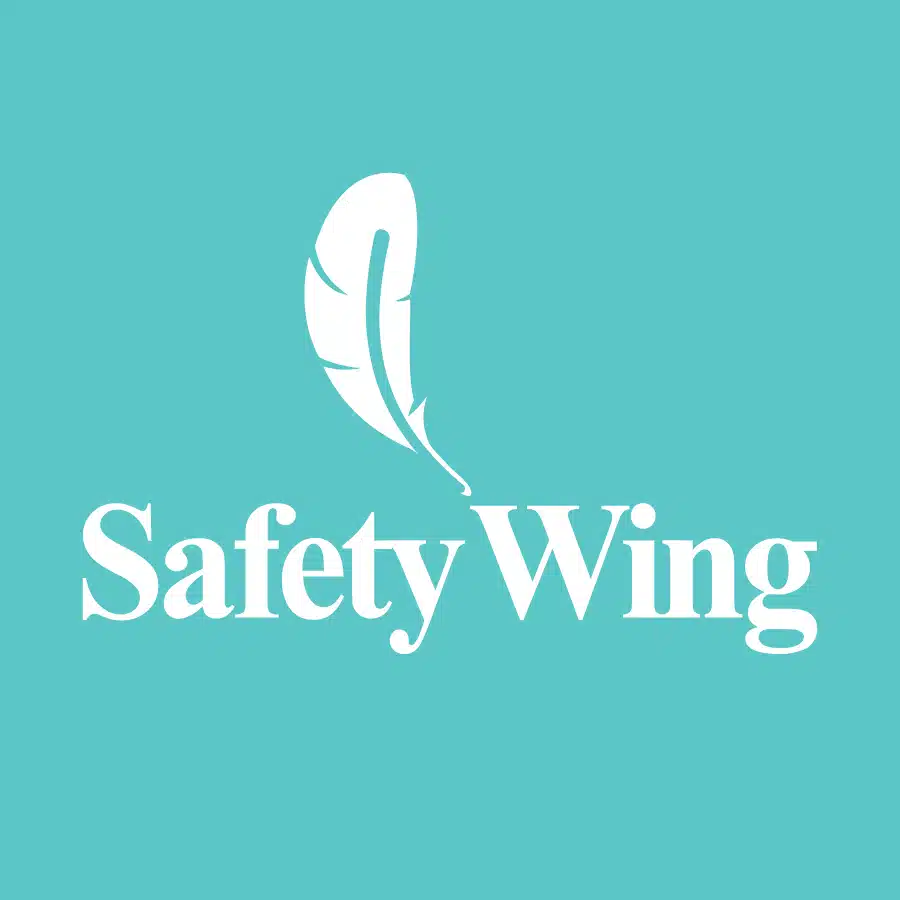 SafetyWing offers coverage that will give you peace of mind while you're on the road. If you want to protect yourself while you're on the road, then click the image to take a look at the options available to you.
Looking For More Travel Guides?
Famous Landmarks in New South Wales – Check out some more of the amazing places to visit near and in the same state as Sydney!
3 Days in Melbourne – Why not check out the second-biggest city in Australia after you've visited Sydney?
Melbourne to Sydney Road Trip – If you fancy driving between these two cities, here's an itinerary for you to follow!
Pin For Later
Tom is a travel addict who first left England to spend a year Down Under. Not satisfied with this, he then went to New Zealand, about as far away from home as he could get. He is now planning his next adventures in Europe and Canada while maintaining this blog. Check out the about me page to learn more!