3 days in Edinburgh is a good amount of time to see the Scottish capital and one of the best cities in the UK.
Edinburgh is an incredible city and there is so much to do there. It's rich in history which is emphasised when you visit Edinburgh Castle which dominates the skyline and the multiple museums, underground vaults and even a royal palace that make up the city.
You can also get some fantastic views from the top of Arthur's Seat, an extinct volcano. While neighbourhoods such as Leith, and beachside Portobello are full of life.
My Edinburgh itinerary will take you to the best places to visit in the city, tell you where you should stay and advise you on the best time of the year to enjoy the Scottish capital.
Disclosure: This article may contain affiliate/compensated links. For full information, please see our full disclosure policy.
3 Days in Edinburgh Itinerary
Quick 3 Days in Edinburgh Itinerary
Day 1 – Walk around Edinburgh, Edinburgh Castle, Holyrood Palace
Day 2 – Royal Yacht Britannia, Leith, Arthur's Seat
Day 3 – Underground Vaults, National Museum of Scotland, Grassmarket
My Experience in Edinburgh
Edinburgh is an incredible place to visit and if you're backpacking in the UK, then it's somewhere you have to visit when you're there.
Scotland is an amazing place and Edinburgh is probably the best city in the country, and that extends to the UK as a whole too. There's just so much to see and do here that you're never going to get bored.
I had a great time in Edinburgh and the city was much better than I thought it would be. I didn't realise how big it is and just how much there is to do. I think you could stay for a week and still not run out of stuff to do.
The only downside to Edinburgh is that the weather's unpredictable. I visited during June and I had to wear my rainjacket every day as it was cool and there were frequent rain showers.
Being English, I'm used to this, but if you're not, then you'll need to prepare yourself as the weather can be volatile.
If you want to explore more of Scotland, say a road trip in the Isle of Skye, then Edinburgh is a good starting point and place to fly into.
It's a beautiful city and with so much to do, it's worth exploring before you head off into the rest of Scotland!
Here are a few things I liked during my trip to Edinburgh and a few things I didn't:
Good
Edinburgh might just be the most beautiful city in the UK. It's an amazing place with beautiful architecture and is even more amazing at night.
You won't run out of things to do in three days. I didn't get to do everything I wanted to during my time there. There are plenty of sights, museums and parks to explore in the city.
Bad
The weather. Being English, I was prepared for this. But even during June when I visited the weather was poo. Make sure you bring waterproofs with you no matter what time of the year you visit. You'll more than likely need them!
There are a lot of tourists in Edinburgh. It can spoil the experience somewhat. I don't know if this was because I visited during the summer or whether it's always like this. But be prepared for crowds, especially in the tourist hotspots like Edinburgh Castle.
I've included a map below to help you navigate the city and get an idea of where everything is.
What To Do in Edinburgh in 3 Days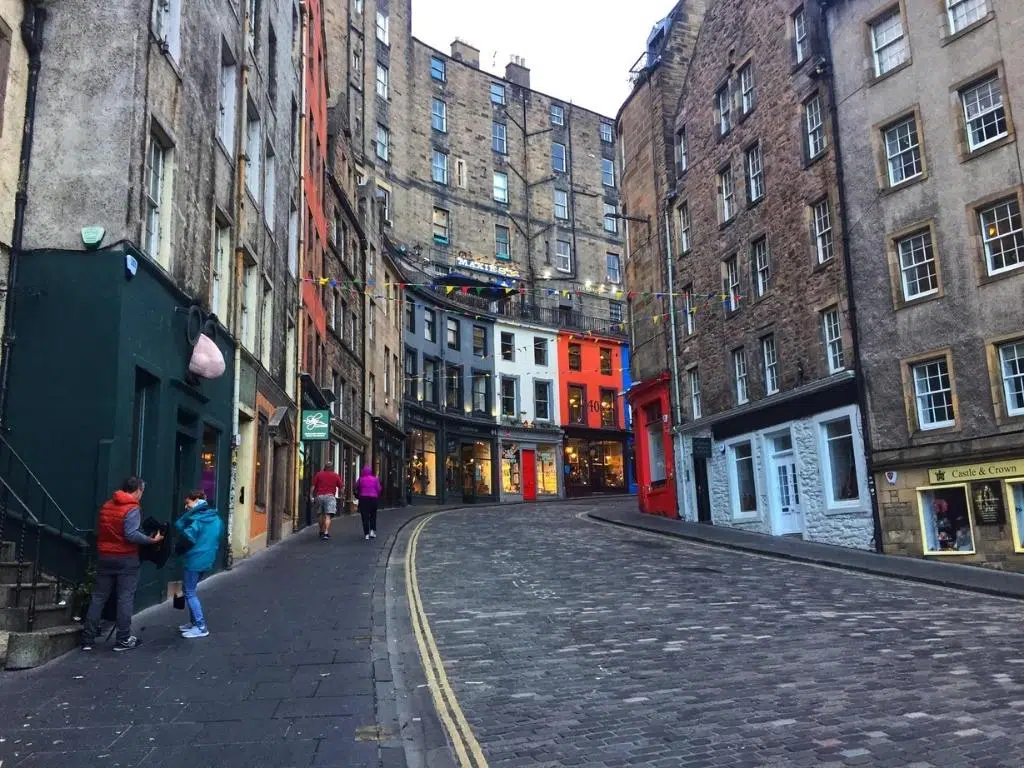 3 days in Edinburgh should give you enough time to almost everything in the city and maybe a few places beyond too. It's a tight schedule, so if you're wondering how many days in Edinburgh you'll need, three is the absolute minimum.
One thing you should do before you go is to purchase an Edinburgh City Pass. This pass gives you a discount on numerous activities in the city and you'll also get money off at select restaurants, entertainment venues, and shops.
It's a useful thing to have with you, and will allow you to save an extra bit of money on your trip!
Below are some of the best things to see if you visit Edinburgh in 3 days.
Edinburgh Castle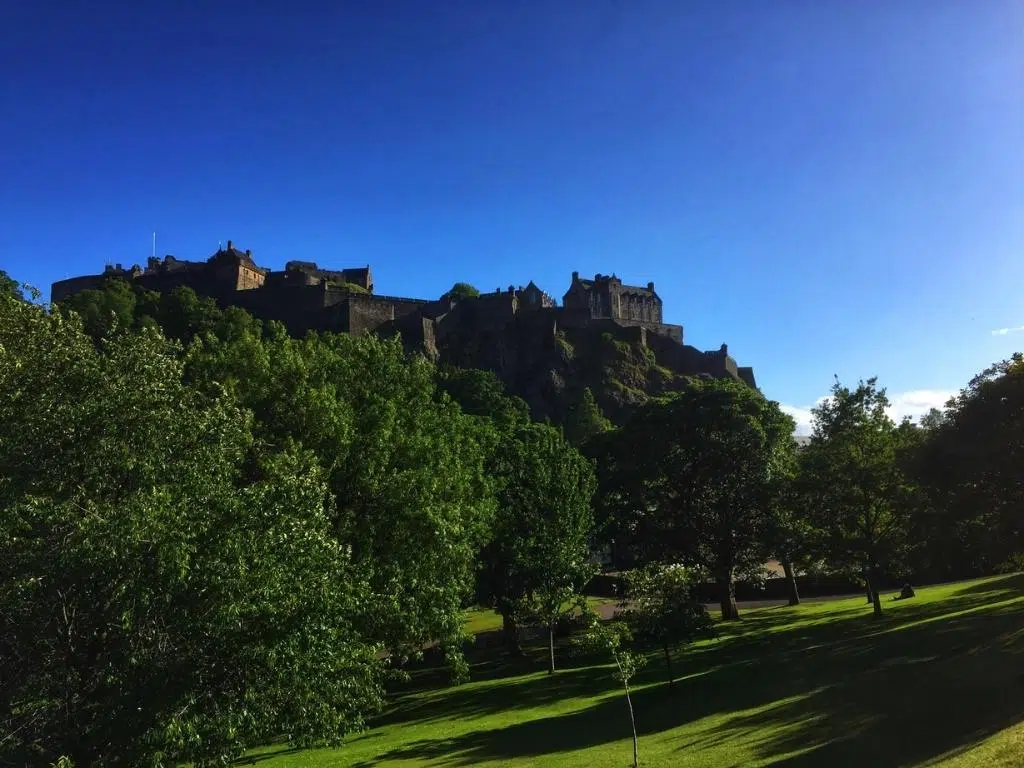 Edinburgh Castle is the best attraction in the city as far as I'm concerned. I was excited to visit but wasn't expecting it to be as good as it was.
The Castle is an impressive sight and overlooks the city from high atop an ancient volcano. Once you get there you'll find a huge complex with a deep and complex history, which will help you understand why there are so many great Scotland quotations.
My advice is to spend as much time here as possible. There's a lot to see and it will take a few hours to see everything as it can get busy.
You'll also need to book tickets in advance as they sell out fast. Something I discovered when I arrived on my first day to find all the tickets had sold out.
Royal Mile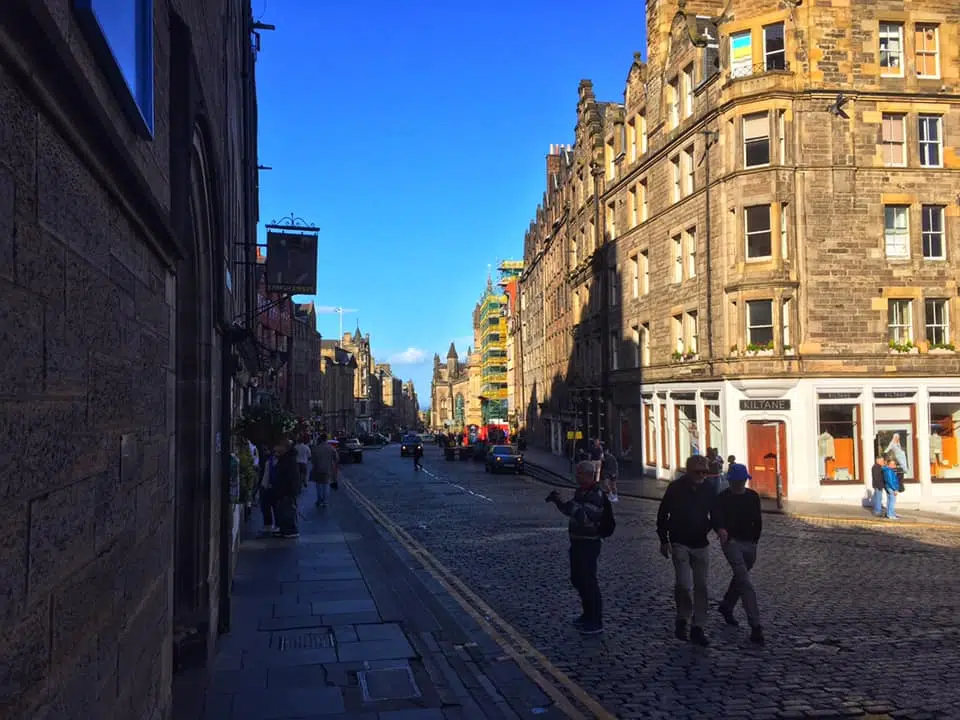 The Royal Mile is the main street in the city centre and starts from the Castle and ends at the bottom of the hill at Holyrood Palace and the Scottish Parliament. When you walk around you'll get an idea why it's inspired so many quotes about Edinburgh.
The architecture is stunning and it's hard to know where to look as a result!
As the main street, there are multiple things to do here. You can go to one of the numerous pubs and experience that well-known Scottish hospitality.
You'll also find plenty of shops offering souvenirs and gifts, while there's almost someone playing the bagpipes too.
Underground Vaults
The underground vaults are one of the most fascinating parts of Edinburgh. They're underground passageways that date back hundreds of years and played a critical role in the history of the city.
You can't just walk into them though, you'll need to book a tour, but it's well worth it.
One company, Mercat Tours, operates tours of the vaults and they have two options to choose from. You can either do the historical tour or go on the ghost tour.
I did the ghost tour, and although I didn't see any ghosts, it was interesting to hear all about the history of the vaults and what went on down there.
Edinburgh Itinerary – Day 1
Walking tour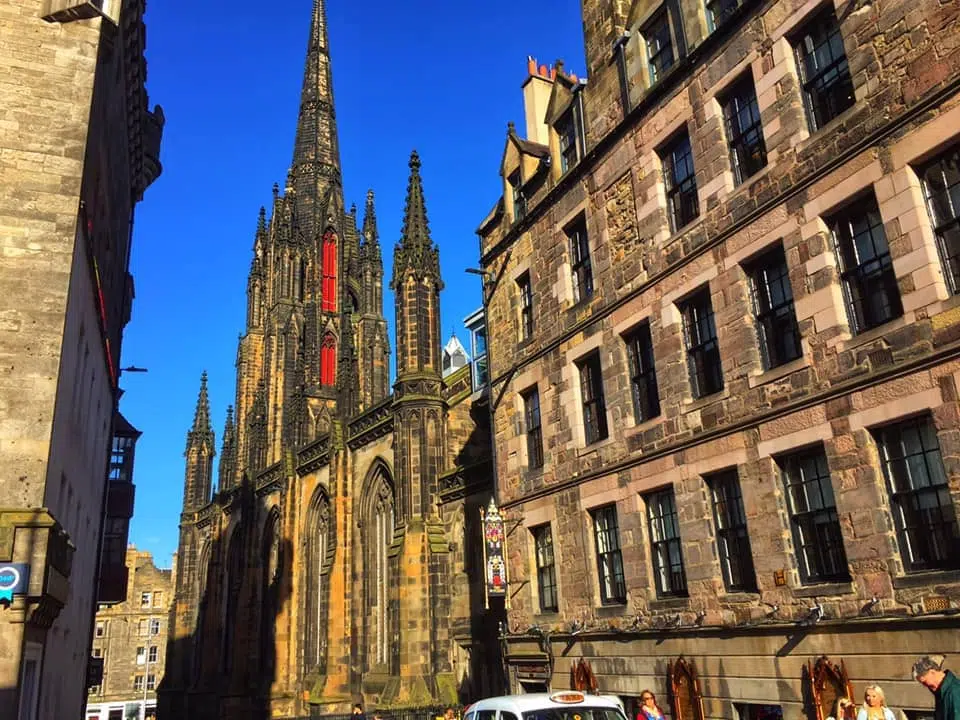 One of my favourite things to do when I get to a new town or city is to drop my bags off at my accommodation and go for a wander.
I never have a plan and just see where I end up. I realise this isn't everyone's cup of tea so a good alternative to this is to go on a free walking tour.
A lot of hostels offer free walking tours, and they're a good way to get to grips with the city. Edinburgh is a fairly simple city to get around but a walking tour will help you understand it better.
You'll also get to learn about the history of the city as well, which is fascinating. If you can't find a free tour, there are walking tours you can pay for too.
One place you should check out in Edinburgh is George Street, which was once home to the famous Scottish writer Sir Walter Scott among others.
You should also check out the childhood home of Robert Louis Stevenson on Heriot Row if you have time too!
Edinburgh Castle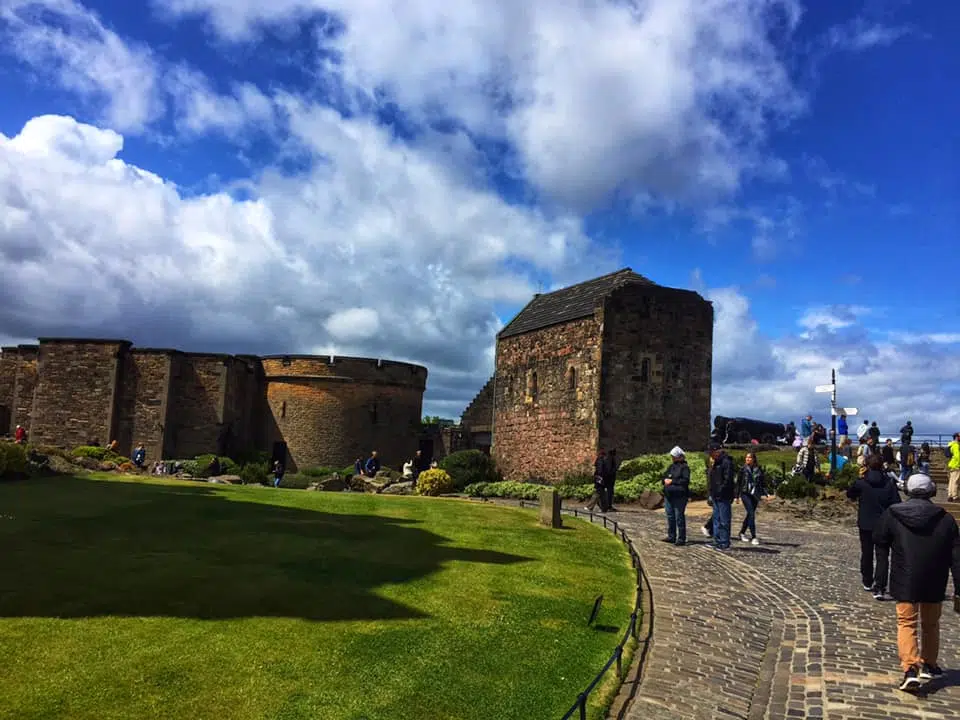 Edinburgh Castle is the best place to visit in the city as far as I'm concerned and it's where you should after your tour is finished or when you're done wandering around.
You'll need to book in advance or get up early to avoid missing out, but it's well worth it. The Castle Rock complex is huge and was the birthplace of Mary Queen of Scots.
My favourite part was seeing the Scottish Crown Jewels and the Stone of Destiny, which is used to knight the British monarch. I didn't realise either was there so it was a thrill to see them up close.
You'll also get some fantastic views of the city from the top of the castle which are perfect for Instagram shots and highlight just how beautiful Scotland is.
Holyrood Palace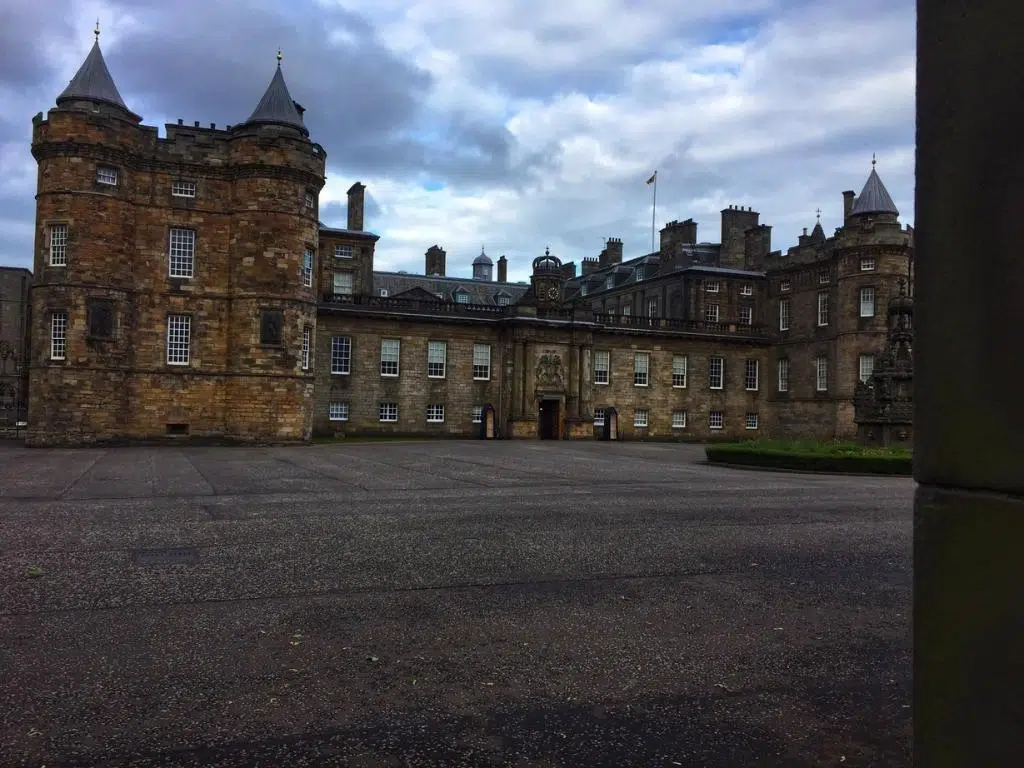 Once you're finished at Edinburgh Castle you can make your way down the Royal Mile to Holyrood Palace. It's a beautiful building that is the official royal residence in Scotland.
You can go inside and take a look around, which is well worth doing as the Palace has a lot of history. It was once home to Mary Queen of Scots and James V and is now the official Scottish residence of the monarch.
The remains of the 12th-century Holyrood Abbey can also be found on the palace grounds and you can take a look into the Royal Vaults which contain the remains of James V.
Exploring the gardens on the grounds is a must too as they are beautiful.
Once you're done at the Palace, you can walk the short distance to the Scottish Parliament building, the seat of the Scottish government and take a look around there and Holyrood Park if you have enough time too!
Edinburgh Itinerary – Day 2
Royal Yacht Britannia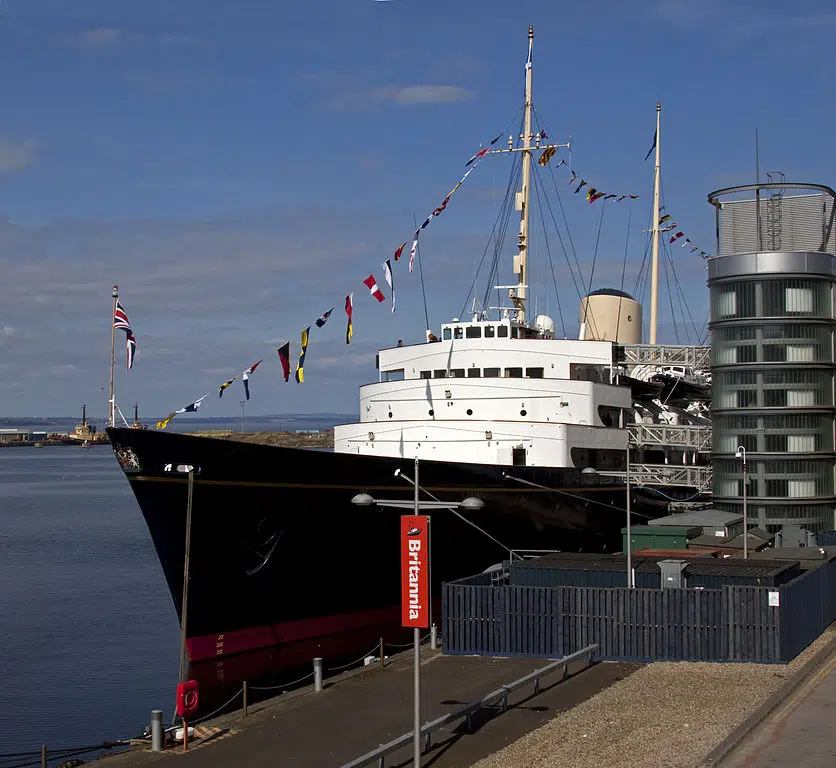 The last Royal Yacht, Britannia, can be found in Edinburgh at the Ocean Terminus in Leith. Even though I'd like to abolish the monarchy, I was interested in looking around the yacht.
I was intrigued to see how big it was and what it was like onboard. Well, it's huge and as grand as you might expect!
There's a lot to see on the yacht and if you love the Royal Family, then you will have a great time. I thought it was good but towards the end, I was itching to go.
The yacht is worth visiting as you'll learn a lot about the Royal Family and understand the role they play in British diplomacy. But it also highlights just how much privilege they have and the extravagance bestowed on them simply because of the luck of being born into the right family.
Leith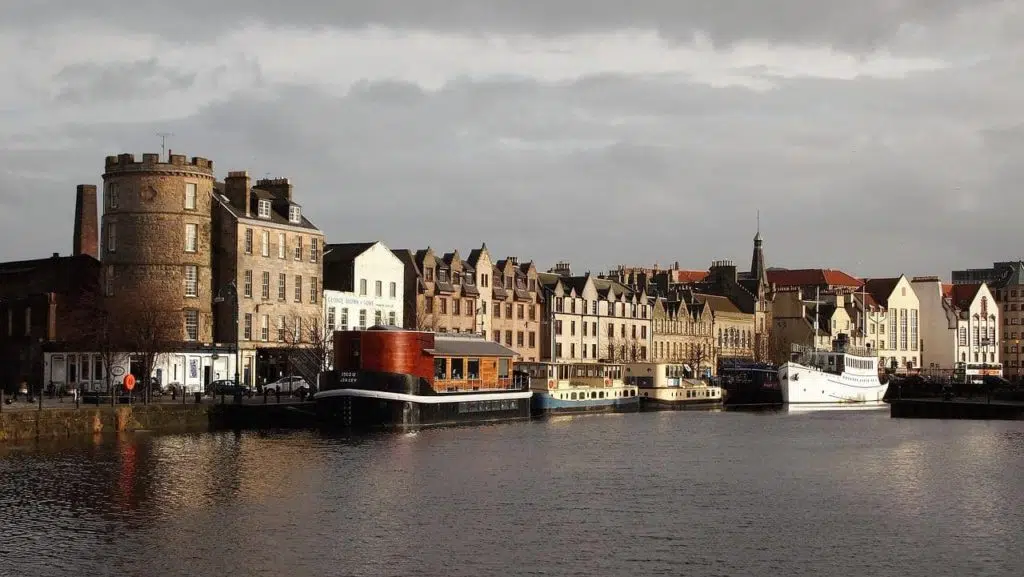 As the Royal Yacht is located in Leith, this means you can explore the rest of the neighbourhood once you're finished. The area is featured in the famous film Trainspotting, but conditions have improved a lot since then.
You'll find lots of interesting cafes, restaurants and boutique shops, while you can still see the industrial grit that once characterised the neighbourhood too.
I stayed in Leith and was a bit wary at first, but once you get past the gritty nature of the place, you realise it's a charming place.
One thing you have to do while you're there is to take the Leith Walk into the city centre. It's a nice straight walk that gives you a feel for the place and has plenty of places to stop along the way too.
Arthur's Seat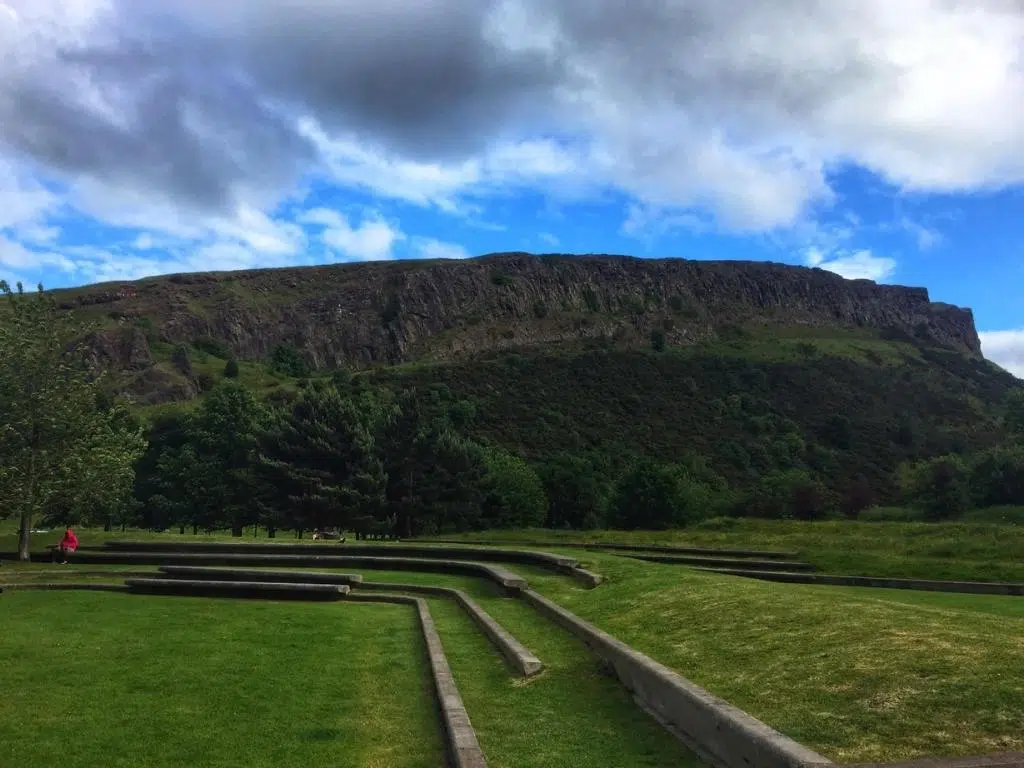 Once you're done in Leith, you can head back towards the lower end of the Royal Mile and the base of Arthur's Seat.
This is an extinct volcano that towers into the sky and overlooks the city. It also offers some fantastic views of the city from the summit.
While it's not the most challenging hike at 250.5 m (822 ft), it will take you around 30 to 60 minutes to get to the top. Depending on what you're up to, it might be a better idea to do it first thing in the morning or later in the evening.
Provided you don't have bad weather, the climb is enjoyable and the views spectacular. If you get up early or hike up late, then you'll be treated to some spectacular sunrises and sunsets!
Edinburgh Itinerary – Day 3
Underground Vaults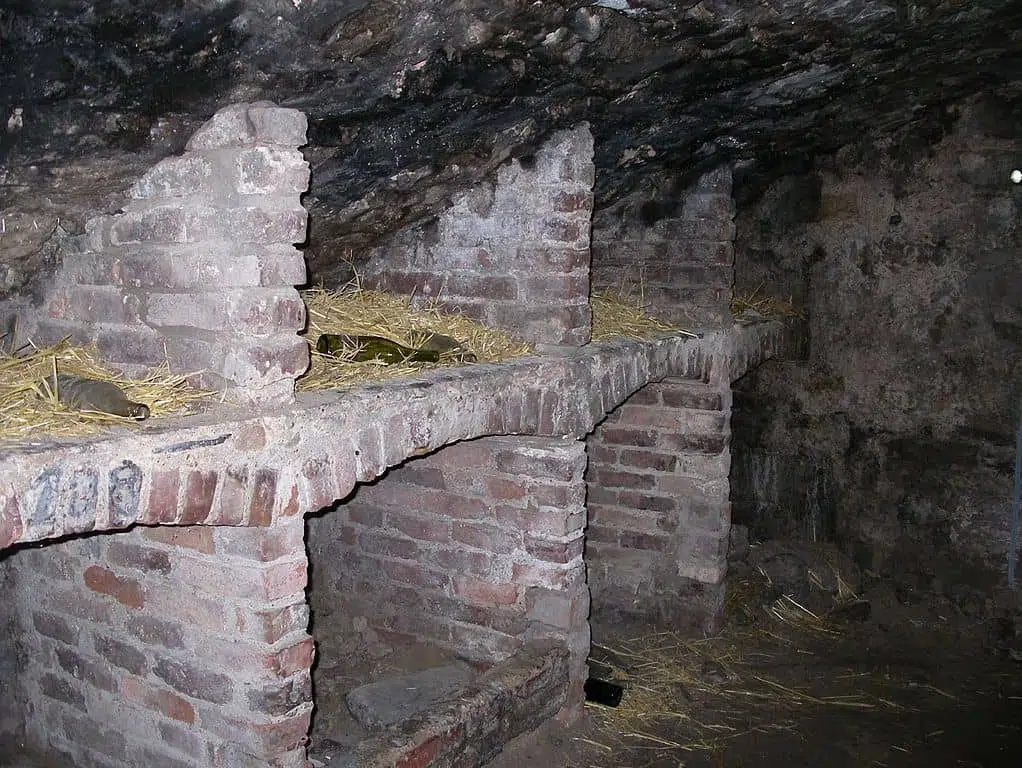 The underground vaults are a great way to start your final day in Edinburgh. They're one of the most interesting aspects of the city and reveal a darker side to its past.
Contained beneath the streets near the Royal Mile in the UNESCO World Heritage Site old town, they're a network of preserved vaults that used to be part of the old town and home to a wide variety of people until they were lost to time.
Going to the underground city is fun, exhilarating and a little bit spooky. You need to book a tour to access the vaults, but it's well worth it. You'll learn a lot about Edinburgh's past and the reason why the vaults exist in the first place.
Ghost tours are popular in the vaults, which is the tour I did. I didn't see any when I was down there, but the guide was adamant many people have reported strange goings-on.
So who knows, you might spot a ghost down there too!
National Museum of Scotland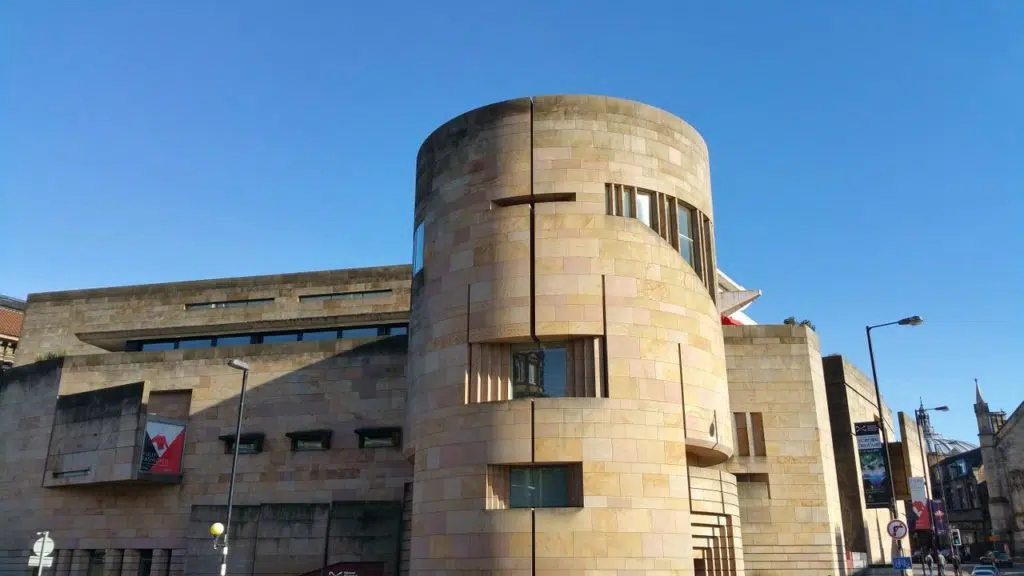 After the underground vaults, you can head to the National Museum of Scotland for a further lesson. Admission is free, so it's a great place to visit whether you're on a budget or not.
It's also good to visit as the museum has a wide collection of artefacts that encompass a wide variety of areas such as archaeology and geology.
You'll find exhibits from ancient Egypt and the Scottish maiden, which is an early version of the guillotine. But perhaps the most intriguing exhibit of all is the stuffed body of Dolly the sheep, the first mammal to be successfully cloned.
The museum is brilliant and you can spend a good few hours wandering around. It's also an ideal place to visit if the weather is bad, which is often the case in Edinburgh!
You can also visit the National Portrait Gallery afterwards which is just a short walk away.
Grassmarket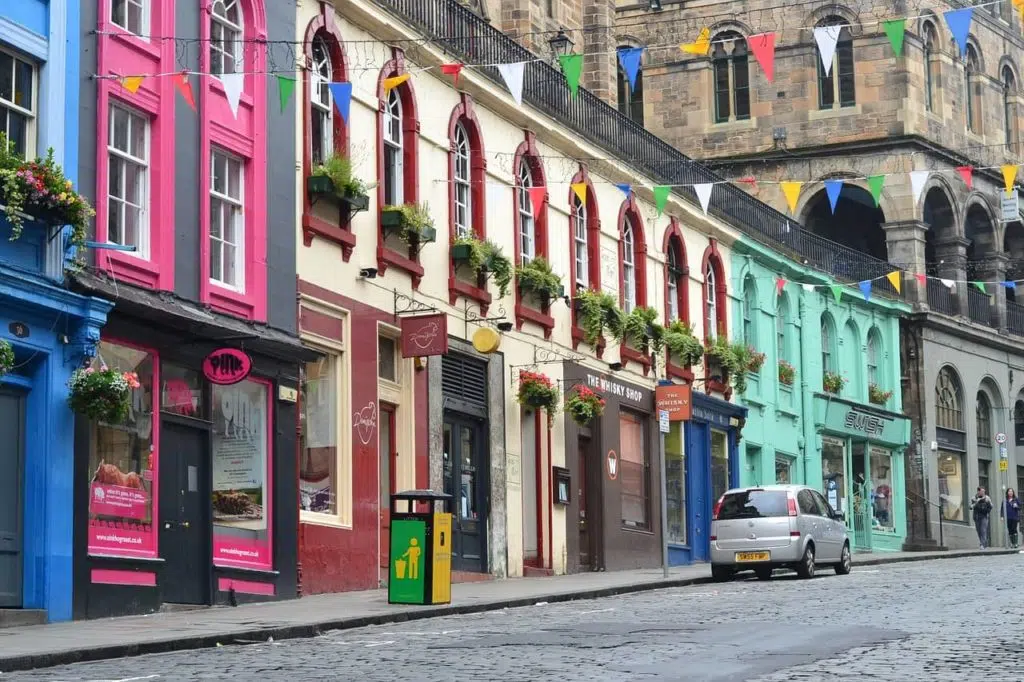 A great way to round off your 3 days in Edinburgh is to visit Grassmarket. It's a lively part of the Old Town that also has a fascinating history.
The interesting name derives from the area's past as a market which catered to cows, sheep and pigs. It was also the site of public hangings, and it wasn't uncommon for large crowds to form in the area to witness such an event.
One pub, Maggie Dickson's, reflects a famous hanging, where the woman was hanged, survived and went on to live a fruitful life! A memorial now marks the site where the hangings once took place.
Grassmarket is a great place to eat and drink. I recommend Mariachi for some Mexican food and any of the bars that line the area, especially Maggie Dickson's for the backstory behind the name!
Other Places to Visit in Edinburgh
Day trip to Loch Ness – Go on the hunt for Nessie with this day trip that takes you to Loch Ness and into the highlands. You may or may not see the famous monster, but you'll see lots of incredible scenery along the way!
Scotch Whiskey Experience – Scotland is home to whisky and if you want to learn more about the history and art of making the drink, this tour is perfect for you!
Firth of Forth sightseeing – Edinburgh is blessed with amazing scenery and this is true from the water too. On this tour, you'll be able to see three spectacular bridges, as well as a range of wildlife from the boat and the incredible Edinburgh skyline!
St Giles Cathedral – The cathedral is one of the most prominent sights in the city and is worth checking out and having a wander around.
Calton Hill National Monument – This is a memorial to the soldiers and sailors who lost their lives during the Napoleonic Wars. It's an impressive monument and there are some great views of the city from here.
Nelson Monument – Also on Calton Hill is a monument to Admiral Nelson celebrating his victory at the battle of Trafalgar in 1805.
Check out more activities you can do during your trip to Edinburgh below.
Edinburgh Travel Tips
If you haven't visited Edinburgh before, this section will give you an idea of where you can stay, the best time to visit, what you can expect to pay and how to get around the city.
Where to Stay in Edinburgh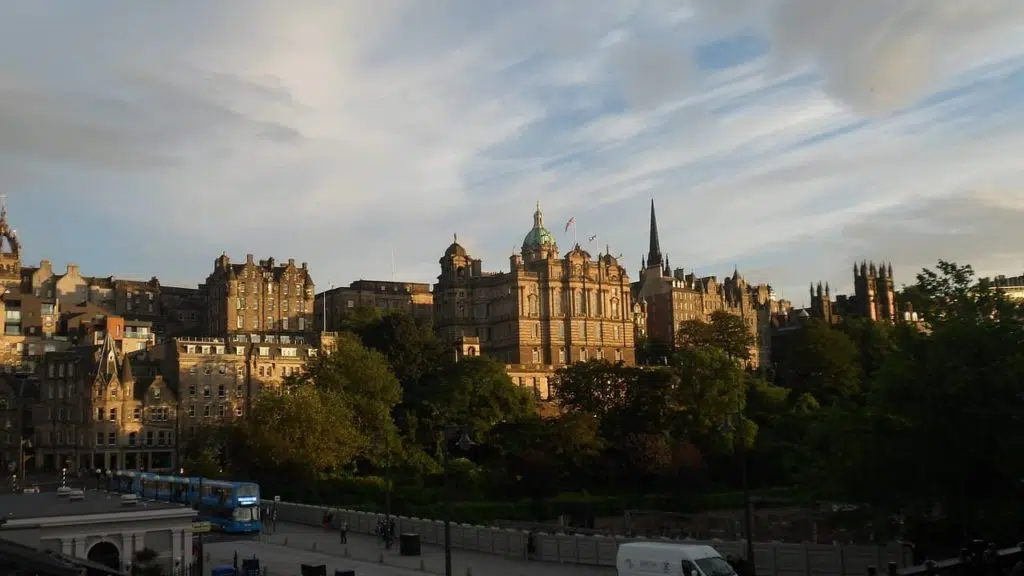 As one of the most popular places to visit in the UK, there are plenty of options when it comes to accommodation in Edinburgh.
You can opt for hostels, budget hotels or go all out and stay in glamourous hotels. Which option you choose will come down to your budget.
Another decision you'll have to make is whether you stay in the centre or a bit further out. Prices in neighbourhoods such as Leith are cheaper than those in the centre so that's something to consider.
While you could stay even further out of the city centre to reduce costs even more. Although this will mean you'll either need a car or use public transport to get around.
I've included several hostels and hotels you should consider staying at during your trip to Edinburgh in the table below.
Cost of Travel in Edinburgh
Edinburgh isn't the most expensive city in the UK, but it's up there. The longer you stay, the more you'll need to budget to ensure you don't end up spending too much.
Accommodation is one of the biggest expenditures you'll find. As the city is so popular, prices can be quite high. So if you can book your accommodation in advance, you should be able to get a better price.
Tours are another part of the picture, although you can factor this in by looking up the cost or booking your tours in advance. Don't forget to factor in any travel gifts you buy for loved ones too.
Then, you have eating out. If you stay in an apartment, then you can keep the cost down by cooking some meals yourself.
Otherwise, it might be best to look around and see if you can get some good deals on food. There are plenty of cheap places to eat in Edinburgh so this shouldn't be too difficult.
The following prices are for the average travel budget. That is someone who is not going to splurge, but someone who will not be travelling on an ultra-frugal budget either.
They don't include prices for extras such as nights out at a bar/pub, club entry fees, souvenirs/clothing purchases, or tours. You will have to budget extra for these purchases as they are 'non-essential!'
Here's a rough breakdown of essential travel costs in Edinburgh:

Accommodation
Hostel: Dorm – £15-25; Private – £40-75
Hotels: £80-150
Rental Apartment: £65-130+

Food and Drink
Breakfast: Free-£10
Lunch: £3-10
Takeaway meal: £5-7
Pint of beer: £3.50

Transport
Single Bus Ticket: £1.50
Day ticket: £4
One-week ticket: £17
Taxi from airport to city centre: £20-30
Best Time to Visit Edinburgh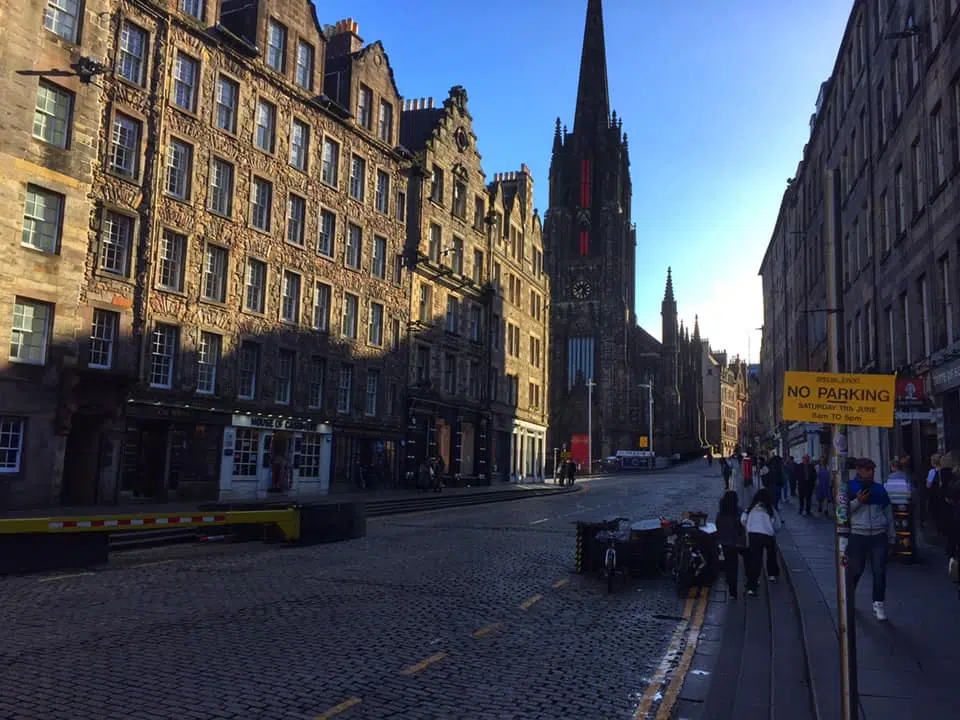 The best time to go to Edinburgh is from May to August. This is when you're going to get the warmest temperature and are more likely to avoid the cold and rain.
Although with this being Scotland, there are zero guarantees you will!
Spring and Autumn are also good times to visit, but you're more likely to get bad weather if you do, especially in autumn.
The weather is a lottery in the UK and you can get lucky with the timing of your trip or experience bad weather for the majority of it.
If you can stand the cold weather and the potential for rain, the winter months are a good time to visit. Especially as there will be fewer tourists to contend with. But you will need to consult a UK packing list before you do!
Edinburgh in Spring
Spring is a good time to visit Edinburgh. Yes, you may experience rain, wind and cold but the city is beautiful at this time of the year and is a bit quieter too!
Average temperatures from low to high: 2.9° – 14.9° C / 37.2° – 58.8° F
Edinburgh in Summer
I visited Edinburgh during the summer and needed to wear a rain jacket all the time. It didn't rain as much as I thought it would, but it wasn't warm either and there was a strong wind too. Summer in the UK is hit and miss, especially in Scotland, so be prepared for rain and mild temperatures.
Average temperatures from low to high: 9.9° – 19.1° C / 49.8° – 66.4° F
Edinburgh in Autumn
Temperatures start to decline from September onwards and the likelihood of bad weather increases. It's not a bad time to go and is a good option if you want to avoid the hordes of tourists you'll find in summer.
Average temperatures from low to high: 3.8° – 16.9° C / 38.8° – 62.4° F
Edinburgh in Winter
As you might expect, the weather is much colder in Edinburgh during the winter with rain common and a good chance of snow too. The city will be quieter too, and Edinburgh has lots of charm at this time of the year. If you can brave the weather, it's still a good time to visit.
Average temperatures from low to high: 1.6° – 8° C / 34.9° – 46.4° F
How to Get Around Edinburgh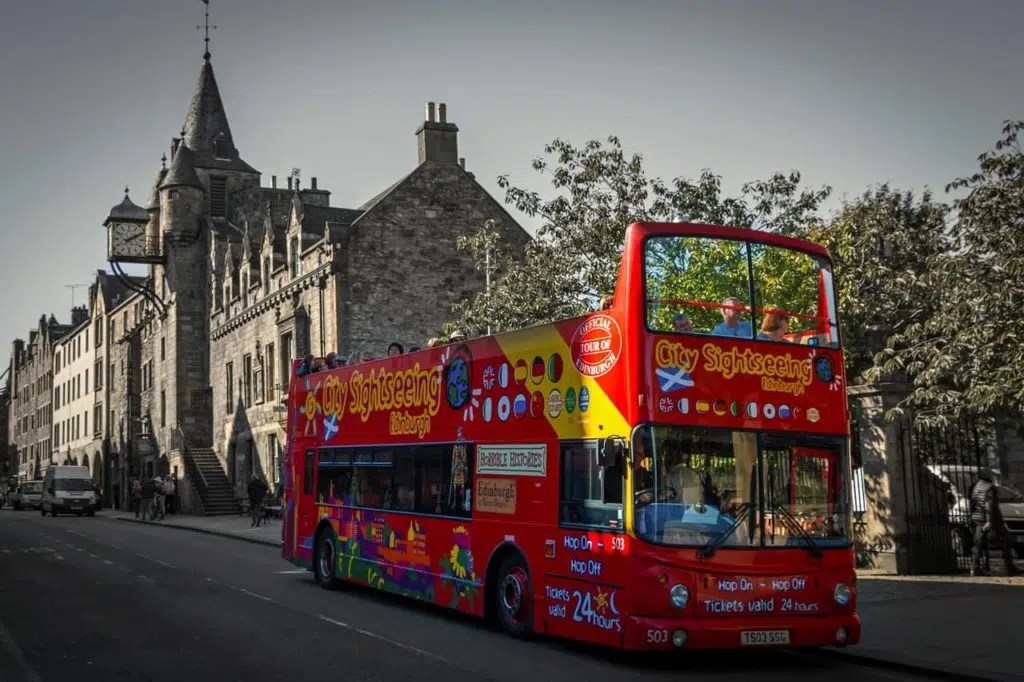 One of the great things about central Edinburgh is that most places are within easy walking distance of one another. You can easily get around the city centre on foot, while neighbourhoods such as Leith aren't that far from the centre either.
If walking isn't your thing then there's an extensive public transport system in Edinburgh. There are multiple buses operated by Lothian buses and you can use them to get around the city centre and beyond with little trouble.
This is a good idea if you need to get from Ocean Terminus in Leith to the city centre for example, as it's a long walk. You can also use the bus to get to Portobello and a few other spots outside the city limits or you can head to Edinburgh Waverley Station and get the train instead.
Edinburgh also has a tram system you can use to get around. This is another good option and an alternative to the bus. When I was in the city in June 2022, it was undergoing renovation so was only working in certain areas, but once it's all up and running it will be a great way to get around!
My advice is to walk as much as you can because Edinburgh is such a beautiful city. You get to appreciate just how incredible it is when you walk around.
If you need to cover a large distance then using the bus or tram is the best option.
Frequently Asked Questions
Is 3 Days enough for Edinburgh?
Three days in Edinburgh is just about enough time to see everything here. If you can spend longer, say a week, then that's great as you'll be able to see much more as well as a few places beyond the capital.
How Many Days Do You Need in Edinburgh?
You'll need a minimum of three days in Edinburgh. There's so much to see, such as Princes Street Gardens and the Scottish National Gallery, you can't fit everything into two days unless you rush around trying to see everything.
Need Travel Insurance?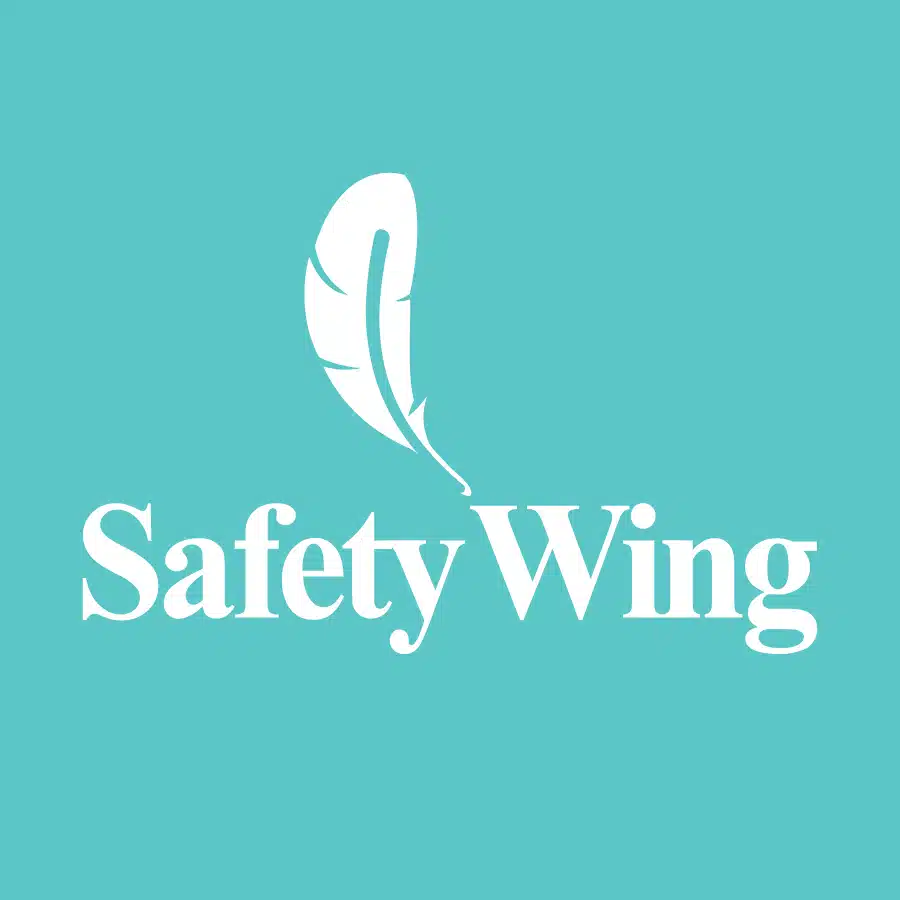 SafetyWing offers coverage that will give you peace of mind while you're on the road. If you want to protect yourself while you're on the road, then click the image to take a look at the options available to you.
Tom is a travel addict who first left England to spend a year Down Under. Not satisfied with this, he then went to New Zealand, about as far away from home as he could get. He is now planning his next adventures in Europe and Canada while maintaining this blog. Check out the about me page to learn more!