An Isle of Skye road trip is the best way to see this beautiful Scottish island. Skye is full of beautiful scenery and amazing walks, to see them all, you need to have a car.
The Isle of Skye is not the first place most think of visiting when they go to Scotland, but in my opinion, it is much better than places such as Edinburgh and Loch Ness.
Driving around the Isle of Skye is an experience you won't forget in a hurry! The scenery is like something you would expect to find in a fantasy novel. Places such as the Old Man of Storr, the Fairy Pools and Neist Point are breathtaking examples of scenery on display in the country.
2 to 3 days is enough to see everything Skye has to offer, and if you have longer, combining this trip with a visit to the Highlands makes for a week-long vacation!
Without further ado, let's get into my Skye road trip guide!
Disclosure: This article may contain affiliate/compensated links. For full information, please see our full disclosure policy.
Isle of Skye Road Trip
Quick Isle of Skye Road Trip Itinerary
Time – 2 to 3 days
Day 1 – Loch Coriusk, Fairy Pools, Talisker Distillery, and Neist Point
Day 2 – Old Man of Storr, Dunvegan Castle, Kilt Rock, and The Quiraing
The Isle of Skye is located off the east coast of Scotland in the Highland region. If you're wondering whether you can drive onto the Isle of Skye? The answer is, you can! You simply drive across the Skye bridge from the mainland and you're there!
What is Skye famous for? The Isle of Skye is famous for its rugged landscape and scenery. Numerous locations across the island will take your breath away and make it an ideal place for a road trip.
Before setting off
Before you do any road trip, you must have everything in order. The most obvious thing you need to do is get a car. If you're from the UK, you have the option of driving up to the Isle of Skye or renting a car.
Without a car, there won't be a road trip, so this needs to be sorted out as soon as possible! I would advise against renting a campervan due to Skye's size. It makes more sense to rent a car and stay in the hotels or hostels on the island.
Important info
One of the most important things to know before driving around the Isle of Skye is that you drive on the left in Scotland. If you're coming from a country where you drive on the opposite side of the road, this is vital information to know!
Another vital thing to consider is that there are large distances involved in driving around Scotland. Even going around the Isle of Skye can take a while despite its small size. If you're driving from Edinburgh or Glasgow, it will be a long trip.
Make sure you take breaks if you feel tired and don't drive too fast. A lot of the roads are single-lane and windy. If you're speeding around corners, there is the potential for accidents to occur.
If feel like you need travel insurance while you're on the road, you can check out either World Nomads or SafetyWing, which provide insurance for travellers.
Is an Isle of Skye Road Trip Worth the Drive?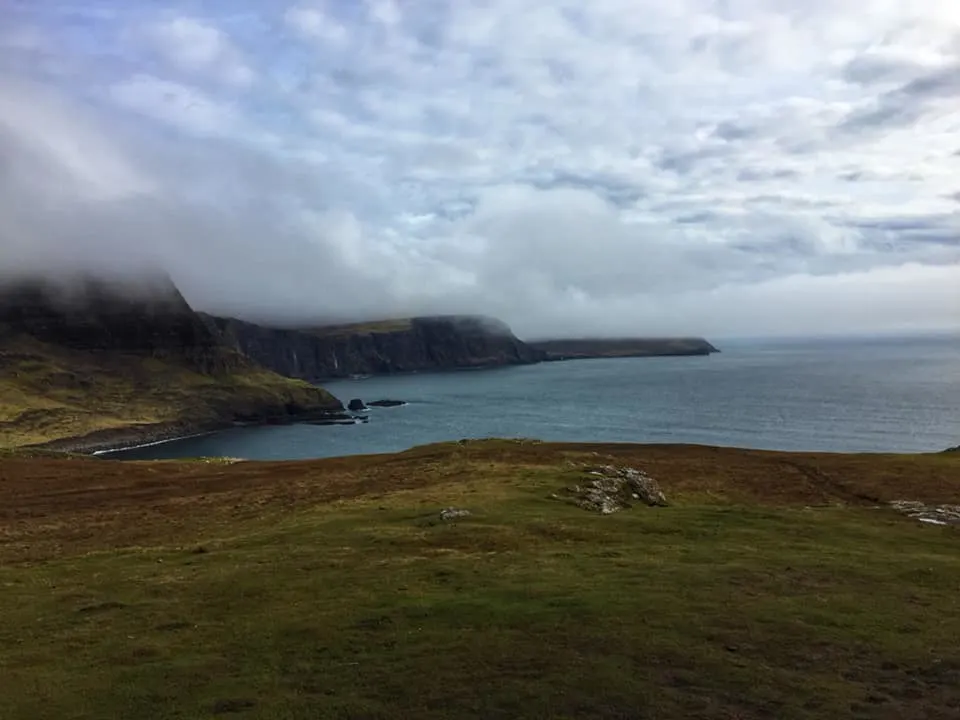 The Isle of Skye is the second most popular destination in Scotland after Edinburgh and the scenery you'll see is the main reason it's worth visiting!
If you plan on backpacking in the UK, or you are from the UK and looking for somewhere different to visit, the Isle of Skye is the place to go.
I had no idea how beautiful and dramatic the landscape was until I visited. The Isle of Skye has an otherworldly feel to it. From towering mountains and barren hills, the scenery is always dramatic and interesting. The scenery here is the reason so many quotes about Scotland feature Skye.
One of the best things about the Isle of Skye is its small size. If you're wondering how long it takes to drive around the Isle of Skye, the answer is not very long. You could drive around the whole island in about 3 to 5 hours if you didn't stop, but that defeats the purpose of visiting.
The island is full of amazing places to visit, which is remarkable given its size. You have the Old Man of Storr, with its dramatic rock formations. The Fairy Pools are a collection of lovely pools and waterfalls at the base of imposing mountains.
You also have Neist Point looking out towards the sea and the majestic Dunvegan Castle to visit too. Add the charming town of Portree to the mix, and you have an island that is jampacked with places to go and see.
If you didn't visit the Isle of Skye, you would be missing out big time. It's one of the most beautiful and interesting places I've visited, and I'm ashamed it took me so long to get there! If you've spent 3 days in Edinburgh and are looking to get into the highlands, a road trip to Skye is a great idea!
Places to Visit on The Isle of Skye
Despite only being 50 miles long from north to south and around 25 miles from east to west at its widest, there are a lot of places to see on the Isle of Skye, which is what makes it one of the best road trips in Europe!
The island has some of the most dramatic scenery I have ever seen. So much so that several sites such as the Old Man of Storr, have been used in Hollywood films such as Prometheus!
No matter how long you spend here, you will be blown away by the places and scenery across the island!
Old Man of Storr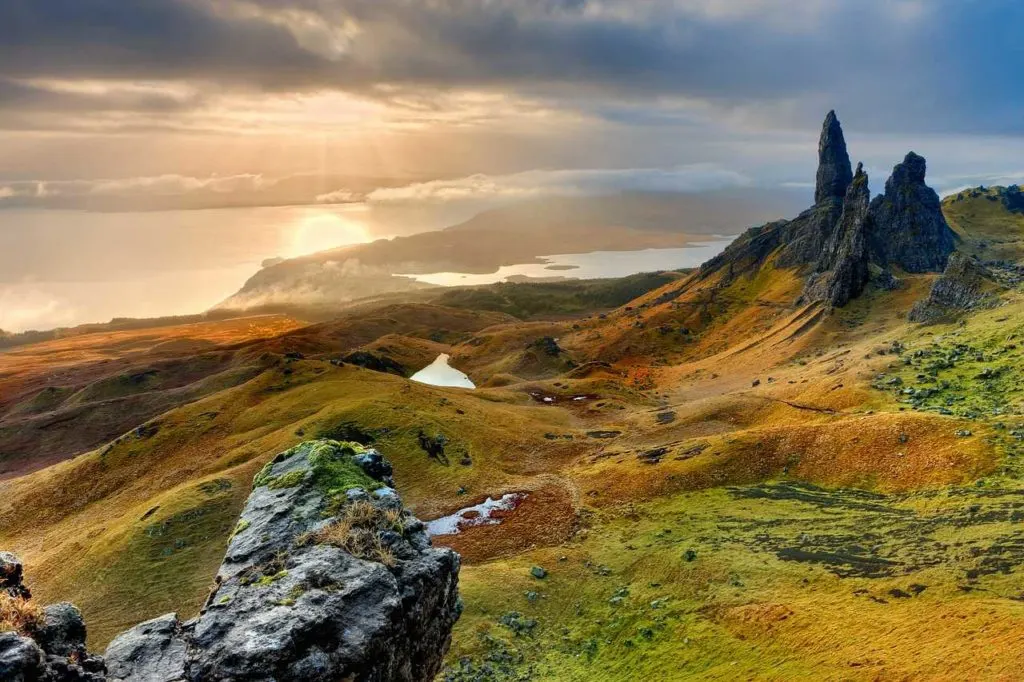 Hiking the Old Man of Storr takes you to one of the most, if not the most, scenic spots in the Isle of Skye.
The structures tower above you and make for an imposing presence. They certainly make for an impressive sight. Like most places on Skye, it's out of the way, but it's certainly worth the drive.
We visited on a particularly bad day. It was foggy and once we got to the top we got pelted with heavy rain and strong winds. Unfortunately, we didn't get to see as much of the rock formation as we would have liked, but it was still an interesting hike!
If you visit on a clear day, you will be presented with a rock formation that looks otherworldly. It's no surprise Ridley Scott decided to film the opening scene of Prometheus here, it's an eerie, but beautiful place!
Fairy Pools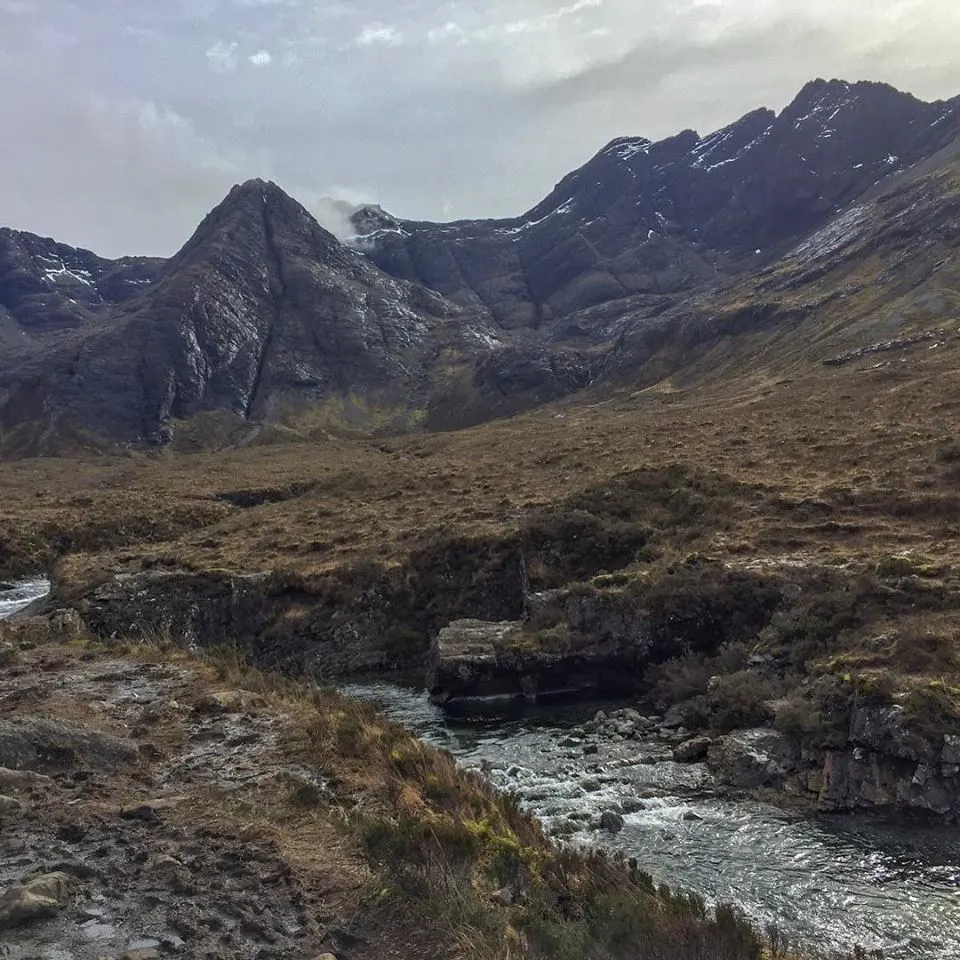 The Fairy Pools are another beautiful place to visit on the Isle of Skye. Again, it's a bit of a drive to get there, but it's well worth it.
You have to pay £5 at the car park, but this is money worth paying for the hike and the views you will see along the way. The landscape here is dramatic, with peaks towering into the distance and intriguing pools at the forefront.
The hike brings you alongside the pools as they make their way down from the mountains above. It's a nice walk that goes on for a while if you're willing to follow the trail towards the mountains.
I'm not sure whether you can take a dip in the pools. I have no idea whether the water is safe to bathe in or not, or whether you're not supposed to. It was too cold for that when we were there anyway. However, if it was warmer, I would be tempted to jump in there for a wee while!
Neist Point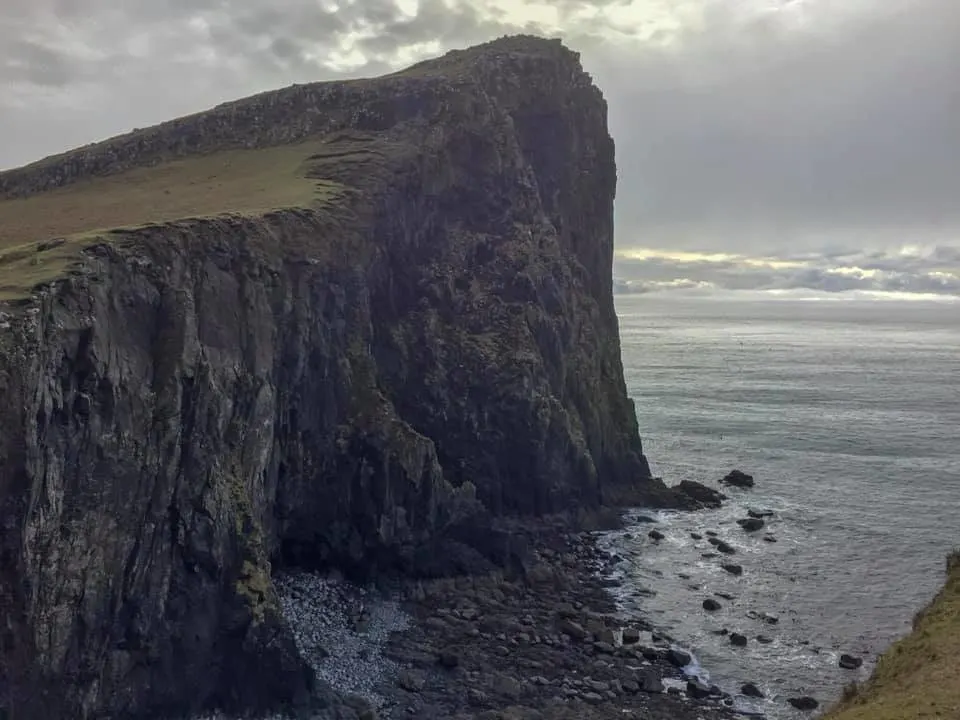 Out of all the things to do on the Isle of Skye, getting to Neist Point is the trickiest. It's a long drive through some winding roads, but, again, you will be rewarded for the drive with some incredible views!
Before you even get to Neist Point and its lighthouse, you are presented with a breathtaking view of a cliff jutting out into the sea. It's one of the best destinations on the Isle of Skye for photography, and the views from the top are exquisite!
The lighthouse itself isn't that impressive, but the area where it stands certainly is. There are sheer cliffs are far as the eye can see, and you can walk out to the water's edge on eroded stone blocks.
The beautiful scenery and stark landscape make Neist Point a must-visit on your Isle of Skye itinerary.
Fairyglen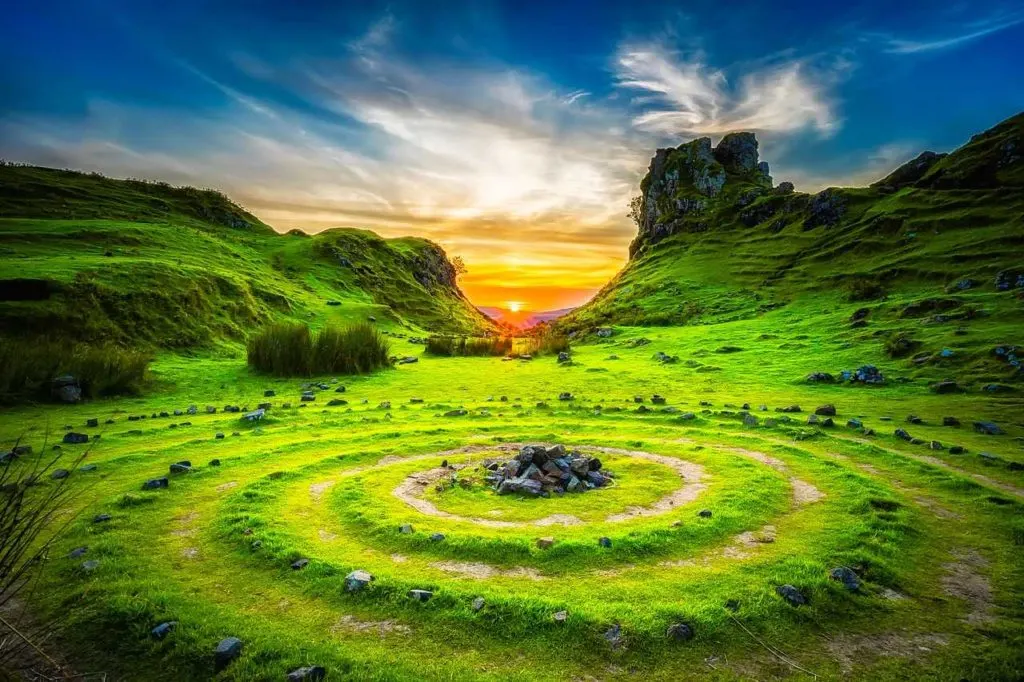 The Fairyglen is another area of Skye that offers beautiful landscapes and scenery. The road winds around the small round-topped grassy hills, which have plenty of ponds in between.
There are numerous hills to explore, and some that you can climb, which offer beautiful views of the surrounding area.
The Glen is located on the Trotternish Peninsula. This means you can combine a visit to Fairyflen with The Quiraing, Kilt Rock, and the Old Man of Storr.
It's not the most well-known location in Skye, but it's worth visiting nonetheless. The scenery and the lack of tourists make it a beautiful place to explore on your Isle of Skye trip.
Dunvegan Castle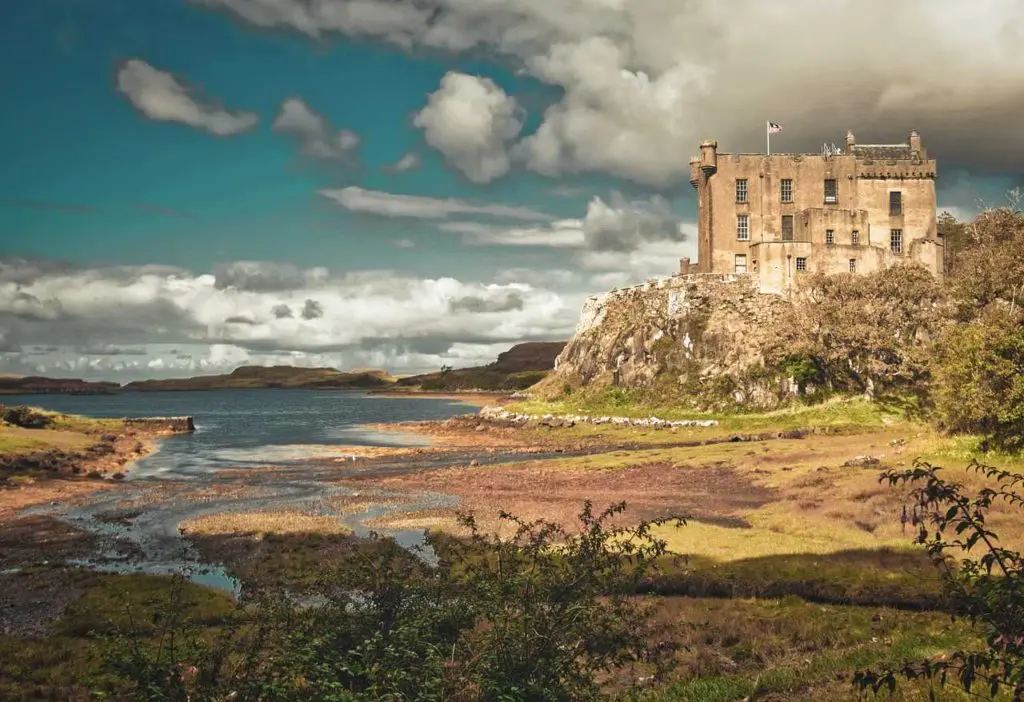 Dunvegan Castle is the oldest continuously inhabited castle in Scotland. It is built on a rock overlooking a loch and has been the ancestral home of the Chiefs of Clan MacLeod for 800 years.
It's a beautiful castle and worth looking around if you get the chance. One thing to bear in mind is that the Castle is closed to visitors from October to April. If you're visiting during the winter, you won't be able to visit, unfortunately.
If you really want to see the castle, it's worth timing your Isle of Skye road trip to coincide with the months the castle is open.
Example Isle of Skye Road Trip Route
If you're wondering how long it takes to drive around the Isle of Skye, the answer is not very long. You could drive around the island in a day, but you will not see much if you did.
A better option is to spread your trip out over 2 to 3 days. This gives you plenty of time to drive around the island and see everything it has to offer.
I have divided my itinerary into a few days below. This is by no means a definitive itinerary and is meant as a guide to aid your trip. If you feel like skipping or changing your route, you can!
Day 1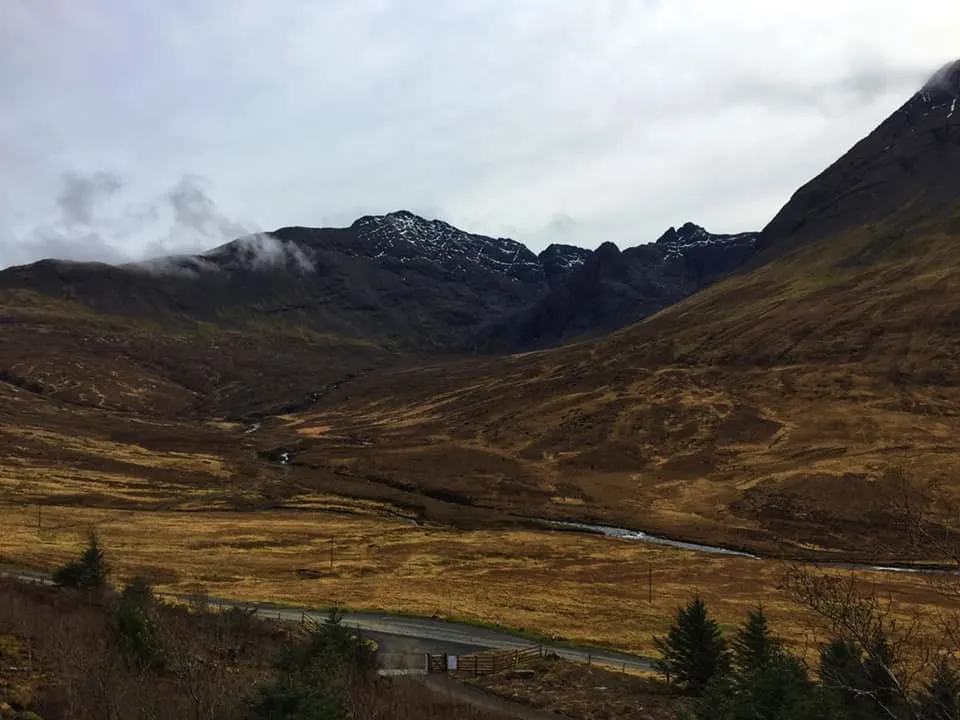 For the first day of your Isle of Skye road trip, it is worth visiting the southern part of the island. There are several attractions close by which makes it an easy route to follow around for the day.
My advice would be to drive to Loch Coruisk or the Fairy Pools and start from there. The hike through the Fairy Pools will take up an hour or two of your time and is where I advise spending the majority of your day due to the beautiful scenery.
Loch Coruisk is beautiful too and worth spending some time at soak in your surroundings. There is also the Talisker Distillery to check out too if you're a whiskey lover.
Once you have checked out these places, I would set off in the direction of Neist Point. If you're visiting during the summer months, you can check out Dunvegan Castle, however, if you go during the winter it will be shut.
Neist Point is almost an hour's drive from the Fairy Pools, but it's worth it. The views from the point are impressive and the walk down to the lighthouse offers some stunning views.
The road to Neist Point is a country lane, which means you will need to pull over for oncoming traffic at some point. If you're visiting during the summer, there will be a lot of traffic on the road, so it may be worth getting up early and doing this first to avoid the inevitable fleet of cars!
Day 2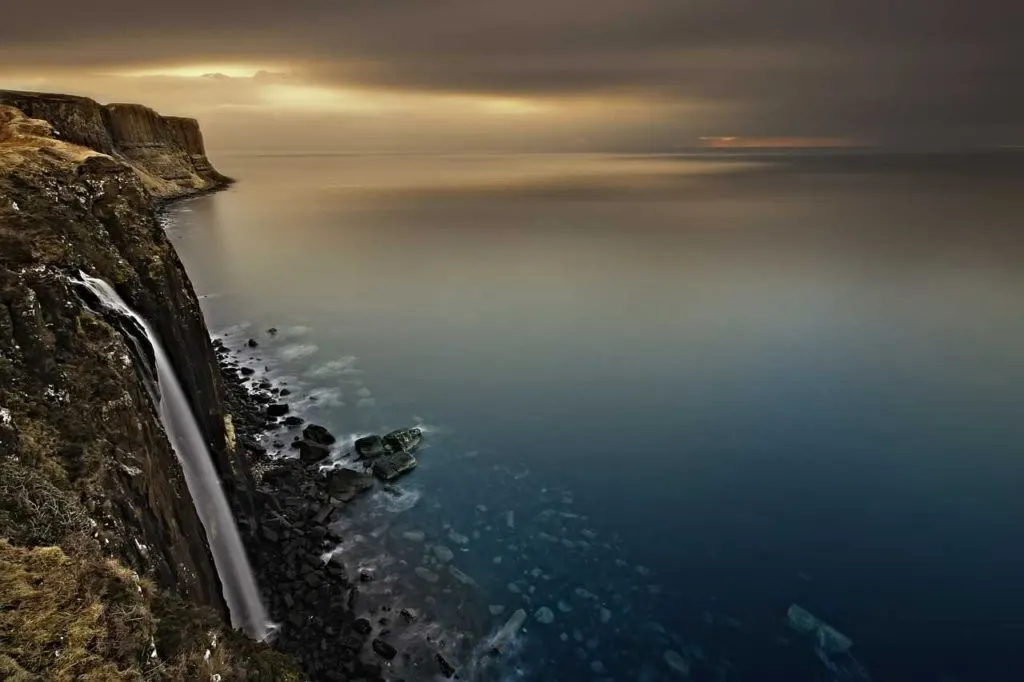 This day involves exploring the northern part of Skye on the Trotternish Peninsula. If you didn't get the chance to explore everything yesterday, then I recommend you do so at the start of the day.
The good thing about this part of the Skye road trip is that everything is close by. It shouldn't take too long to drive in-between places.
A hike to the Old Man of Storr is the best way to start the day. The hike up doesn't take too long, although it will if the weather is poor. You will be offered some amazing views if you have clear weather, and you'll be able to explore the area. I would spend at least 1 to 2 hours checking it out.
From here you go to Kilt Rock and Mealt Falls Waterfall. The sights are spectacular and I would take your time to soak in your surroundings while getting some amazing photos.
The next stop is The Quiraing, which has a similar landscape to the Old Man of Storr and is worth checking out as well. The landscape on Skye is barren and otherworldly, spending as much time as you can in it is a must!
The last stop is the Fairy Glen, which is not far from the town of Uig. The Fairyglen is a lesser-visited part of the island, which means there should be fewer tourists. Despite this, it's a beautiful spot and offers some breathtaking views of Skye!
Where to Stay on the Isle of Skye
Despite being a small island, there are no shortages of places to stay on the Isle of Skye. Whether you're looking for hostels or hotels, you will be able to find somewhere to suit your needs.
One place I highly recommend regardless of whether you want to stay in a hostel or not is The Cowshed It was easily one of the best hostels I have ever stayed in. The facilities there are incredible, with top-of-the-range cookers, a spacious common area, and comfortable rooms.
It's a bit out of the way in the town of Uig, but it's well worth staying at! The Cowshed also has free parking, which is important to consider if you're driving in your own car or renting one! If you want more options, check out the table below.
| Accommodation | Description | Link |
| --- | --- | --- |
| The Cowshed | Excellent hostel in Uist that has comfortable rooms and a large common area with free parking too. | Book Now |
| Flora Macdonald Hostel | Comfortable hostel on the Sleat Peninsula that has some stunning views and free parking. | Book Now |
| Syke Basecamp | Great hostel in the Broadford area that has nice rooms and social areas as well as free parking. | Book Now |
How Much Does an Isle of Skye Road Trip Cost?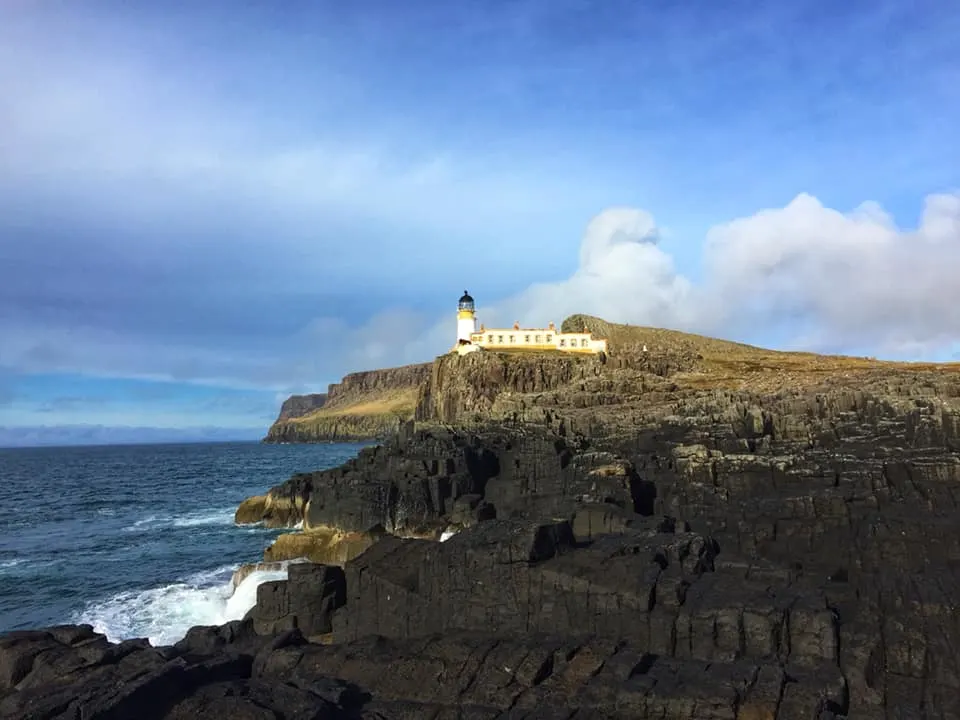 One of the good things about doing a road trip on the Isle of Skye is that it won't cost you a lot. The island is small and driving around won't use up too much petrol.
You could spend a few days there and barely use half a tank of fuel! However, it will cost you more money if you have to drive from a big city such as Edinburgh or Glasgow.
Accommodation and food will be your biggest expense during this road trip. That said, a night in a hostel costs around £20, and if you're cooking food the cost will come down even further.
What will push the price of your trip to the Isle of Skye is eating out. Depending on where you go, you can expect to pay £10 or more for food and drink. It's much better to stay in a hostel and cook food!
If you're unsure of what you should be eating on this drive, check out my list of road trip food ideas to give you an idea!
There aren't a lot of organised tours on Skye, so this will keep your costs down. The majority of the major attractions on the island are free to visit, bar paying for parking. The exception is Dunvegan Castle, which costs £14 to enter. Apart from this, travelling to the Isle of Skye can be cheap if you're savvy!
Best Time to Visit The Isle of Skye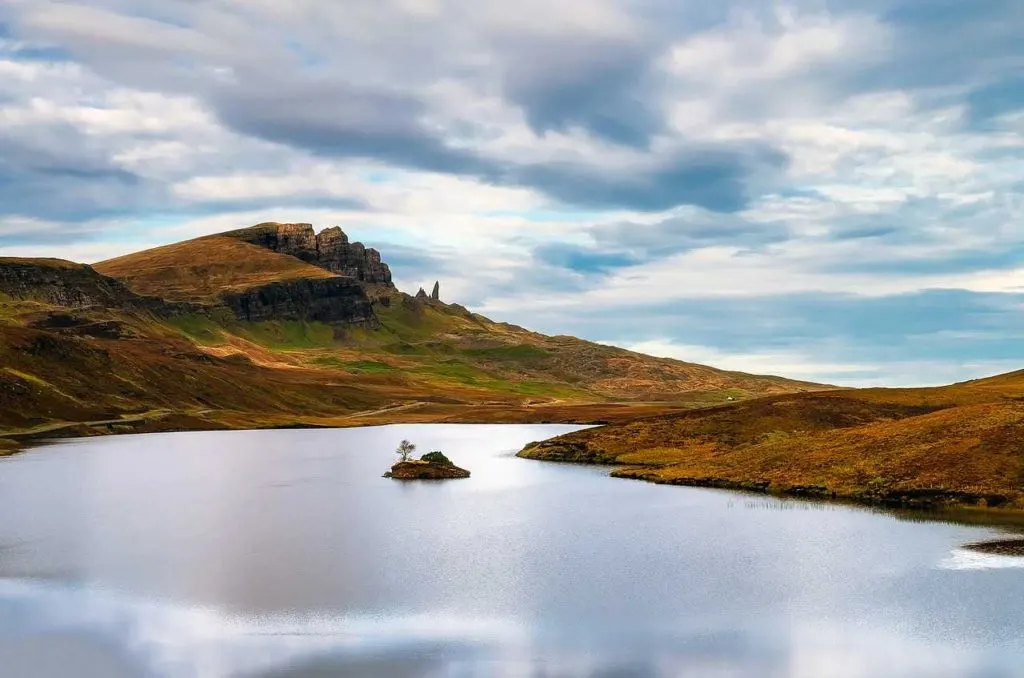 Undoubtedly, the best time to visit the Isle of Skye from a weather perspective is during the summer. You will be guaranteed more sunny days, although this is itself not a given!
One downside of visiting Skye during the summer is that there will be a lot more tourists. This will make visiting places more difficult due to the number of people travelling to various attractions. It also means you will have to book your accommodation in advance or risk not having anywhere to stay.
A benefit of doing a road trip around the Isle of Skye during the winter is that there will fewer tourists. This will make getting around easier, but it does come at a cost. The weather during winter and early spring will be volatile.
We visited towards the end of February and there were periods when the weather was brilliant and times when it was downright horrible. This is the tradeoff you have to consider when it comes to visiting Skye.
What Should I Pack for The Isle of Skye?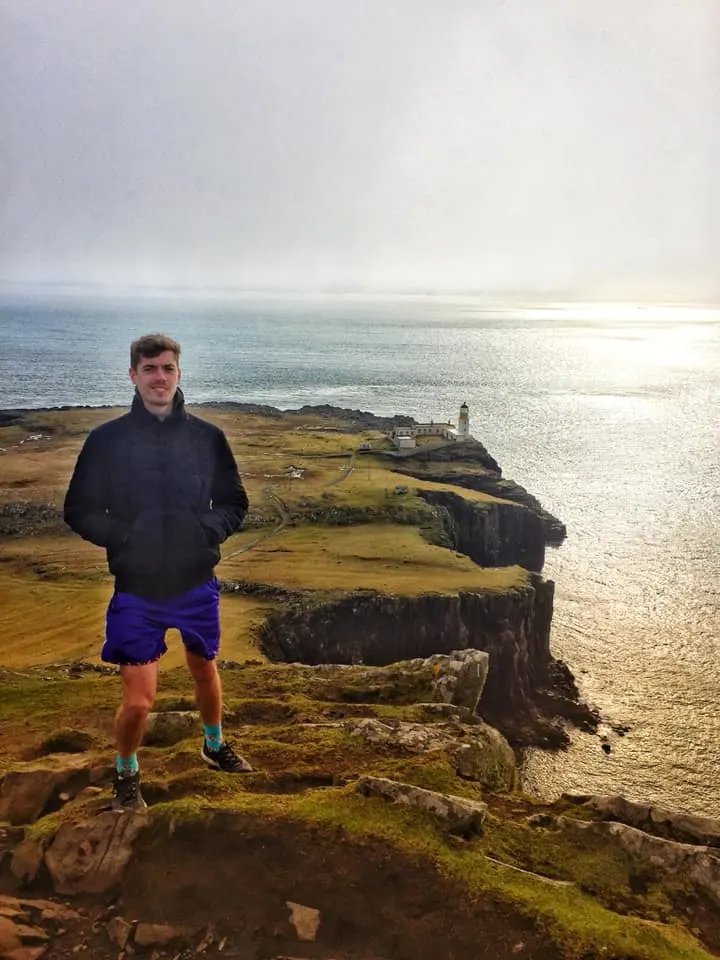 One thing I can say for certain is that the weather on the Isle of Skye can be atrocious. We visited towards the end of March and although there were periods when it was lovely, a lot of the time it was very windy and there was frequent heavy rainfall.
You will certainly need a waterproof jacket and a warm one too, otherwise, you will be freezing cold and dripping wet. A good pair of hiking shoes is essential if you plan on exploring the island. A pair of trainers won't have the necessary grip to be able to get up and down the numerous hikes across the island.
A lot of the items you will need can be found in my packing list for the UK, but I've listed several items you will need below too!
Isle of Skye Travel Tips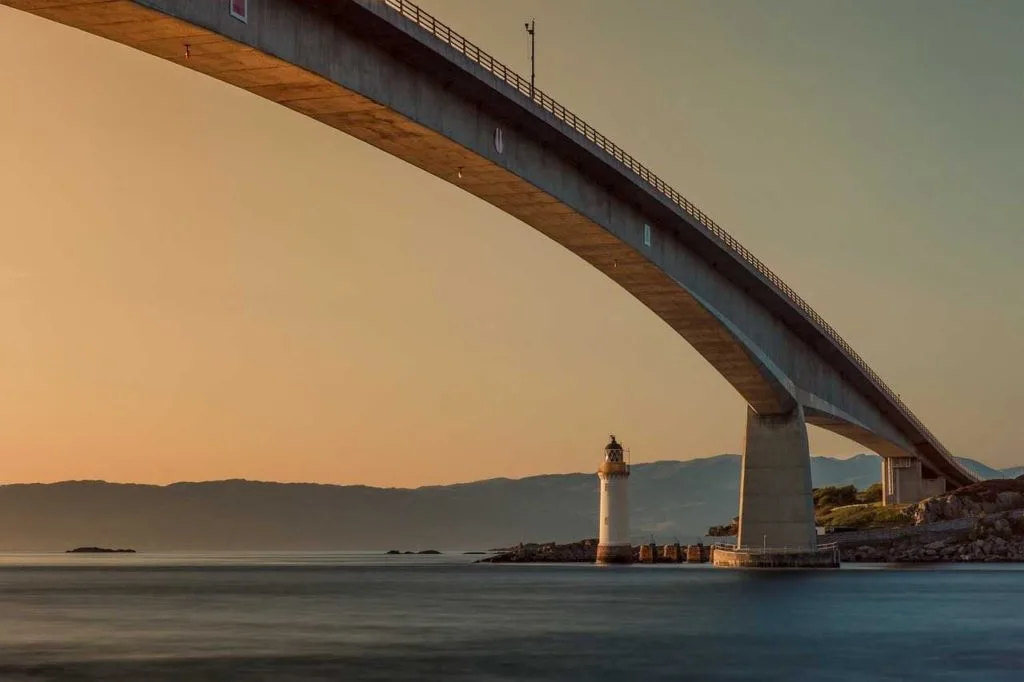 The weather on the Isle of Skye can change in an instant. We experienced this when going up the Old Man of Storr. Just because it is clear at the bottom does not mean it will be clear at the top and remain so for the rest of the day!
Due to ever-changing weather, it's important to pack waterproof travel gear whenever you're outdoors. You never know when the weather may take a turn for the worst!
The Isle of Skye isn't the biggest island, so if you're planning on visiting during the summer, book in advance. This isn't so much of an issue during the rest of the year, but due to the limited accommodation on the island, I would still book in advance to be sure!
The roads in the Isle of Skye are small and narrow. There are normally passing points every 400 metres or so. Bear in mind that most country lanes are single lanes such as the one to Neist Point. It can take longer to get to places because of this, especially during the summer months.
This also means that Google's timing recommendations may not always be accurate, especially if you're stopping to take in your surroundings!
Concluding Thoughts
A road trip on the Isle of Skye should be high on your priorities when visiting Scotland. It's arguably the most beautiful part of the country and it would be a shame to miss out.
You can easily see all Skye has to offer in two or three days, which makes it an ideal place to go if you're looking for a long weekend away!
Have you been to the Isle of Skye? Did you do anything different to what I recommended? Let me know in the comments below, I'd love to hear your thoughts!
Pin For Later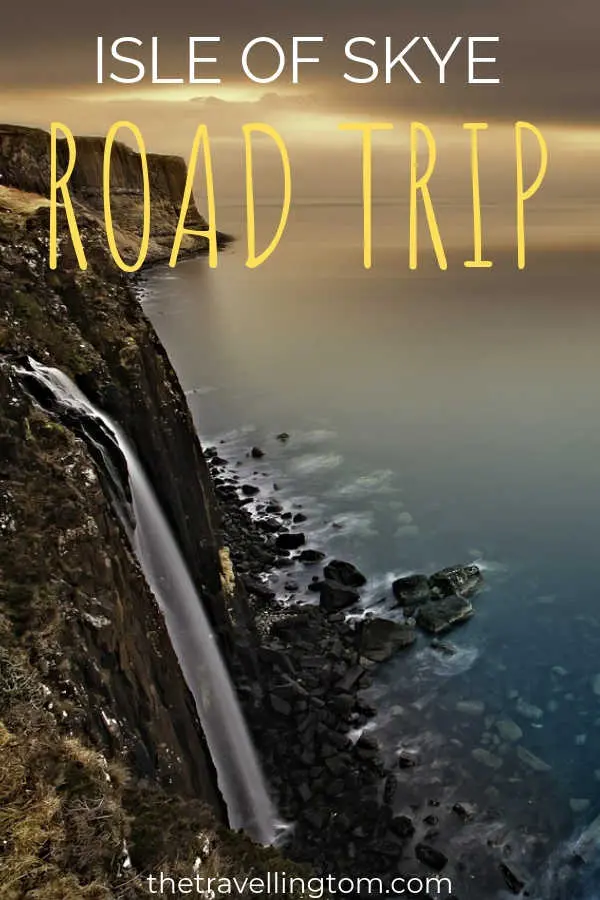 Tom is a travel addict who first left England to spend a year Down Under. Not satisfied with this, he then went to New Zealand, about as far away from home as he could get. He is now planning his next adventures in Europe and Canada while maintaining this blog. Check out the about me page to learn more!