3 days in Lisbon is a good length of time to see the fascinating capital of Portugal.
Lisbon was a fun city to visit, even if the Portuguese capital was bigger and a bit more hectic than I thought it would be. There's a lot to do here and you won't be short of places to visit while you're there.
Among the many things to do in Lisbon are visiting the famous neighbourhood of Bairro Alto, Lisbon Cathedral, Castelo de Sao Jorge, the district of Belém and taking a day trip to either Sintra or Cascais.
This Lisbon itinerary will show all the places to see in the city, where to stay, the best time to visit, a rough guide on how much things cost in Lisbon and much more!
Keep scrolling to discover all the fun you can have in Lisbon in 3 days!
Disclosure: This article may contain affiliate/compensated links. For full information, please see our full disclosure policy.
3 Days in Lisbon Itinerary
Quick 3 Days in Lisbon Itinerary
Day 1 – Walking Tour, Baixa District, Estádio da Luz, Alfama District
Day 2 – Parque Eduardo VII, Jerónimos Monastery, Torre Belém, Barrio Alto
Day 3 – Lisbon Cathedral, Sintra, Cascais

Top Tip – Skip the lines and get free public transportation with the Lisbon Card
Check out some of the best places to eat in Lisbon with this food tour
Book a cheap shuttle bus to/from Lisbon Airport to Lisbon City Centre
My Experience in Lisbon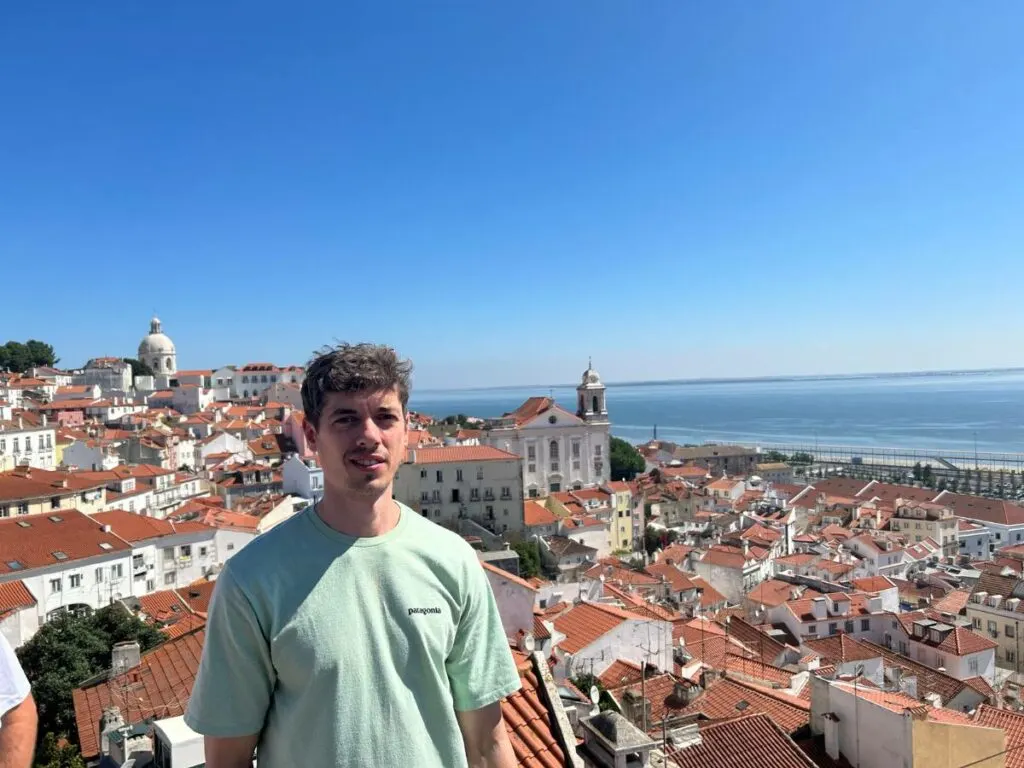 I was surprised by Lisbon in more ways than one. The city was much bigger than I thought and there's a lot to see in the city too.
After spending 3 days in Porto, I took the 2-hour journey south to check out Lisbon. The two cities are very different and you do get the feeling you're in a big city walking around Lisbon.
It's a massive place and easy to get lost if you don't know where you're going, which happened a few times.
I loved Lisbon and there's no doubt it's a beautiful place.
The tiled buildings and huge squares give it an imposing feel and the views from the neighbourhoods overlooking the city and the Tagus River are spectacular.
One of the best things about Lisbon for me was how much there is to do in the surrounding area. You could almost spend the entire three days outside of the city there's so much to do.
I'm not going to lie, it was a challenge trying to fit everything into my 3 days in Lisbon. Another day or two would have helped.
You can see everything in the city in 3 days, but if you want to places like Cascais and Sintra nearby, you'll need more days.
Lisbon is a fantastic city for a city break, but if you can find 5 days to take off, it's the perfect destination to visit in Europe at almost any time of the year!
Here are a few things I liked about Lisbon and a few things I didn't:
Good
You're not going to get bored in Lisbon, as there's so much to do. My three days here were jam-packed with activities and I still felt like there was more to see. I'd bear this in mind when visiting as the flipside is it's hard to fit everything in.
The city is stunning. You appreciate this when you're walking around the various neighbourhoods and taking in the architecture. Then, when you get to the views from places such as Bairro Alto, you'll be blown away by what you can see.
Bad
Like Porto, Lisbon is a hilly city and this can be a challenge to get around, especially when it's hot, which is most of the time. You can use the metro but there are some places you have no choice but to walk up a hill.
The weather is great in Lisbon but it can get very hot during the summer. Even when I was there in September, there were days when I felt it was too hot. You're almost guaranteed to get sun when you're in Lisbon, but if it's over 30 degrees don't overdo it!
What to do in Lisbon in 3 Days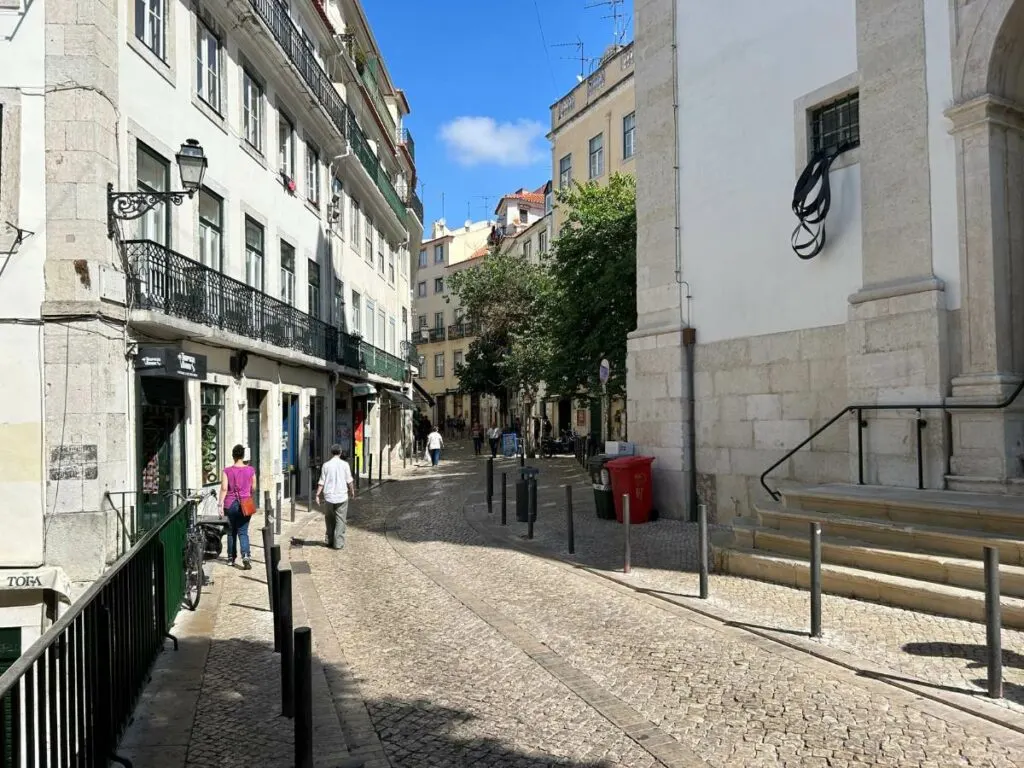 With Lisbon being the capital city, there are plenty of things to do here. Filling your 3 days in Lisbon itinerary will not be a problem.
Quite the opposite.
The problem will be fitting everything in, especially if you want to go to places such as Cascais and Sintra.
If you don't know what there is to do in Lisbon, I've listed a few places below and included some tours I recommend you check out while you're staying in the city too.
Before you go, I recommend getting a Lisbon Card. This is a pass for either 34, 48 or 72 hours that gives you free admission to attractions and unlimited free access to public transport in the city.
They're perfect if you're on a budget, as you'll save money on public transport alone, which can cost €10 per day if you buy the 24-hour metro and train ticket.
Bairro Alto – This is one of the most interesting neighbourhoods in Lisbon and comes alive at night when there are plenty of bars to wander in and out of. You can ride the famous tram 28 here, and you'll get some amazing views of almost the entire city too!
Belém – The famous Torre Belém (Belem Tower) is the main attraction in this part of the city, which is just outside of the centre. It's a beautiful place and well worth spending half a day to explore.
Cascais – Cascais is a seaside town down the Lisbon coast. You'll need to take a train to get there, but it's worth it as the town is beautiful and the beach is magnificent. A great place to visit on a sunny day.
Baixa – This is the downtown part of Lisbon where you'll find beautiful squares, one with the stunning Rua Augusta Arch, and lots of shops to browse. There are lots of old and interesting buildings here, especially as this part of the city was badly hit by the 1755 earthquake.
Jerónimos Monastery – Jerónimos Monastery is a UNESCO World Heritage Site and one of the most beautiful buildings in Lisbon. It's a stunning church and is one you should take your time wandering around to take in its beauty.
Lisbon Itinerary – Day 1
Here's the first part of this 3 day Lisbon itinerary that will get you acquainted with the seven hills and other spots in the city.
Walking Tour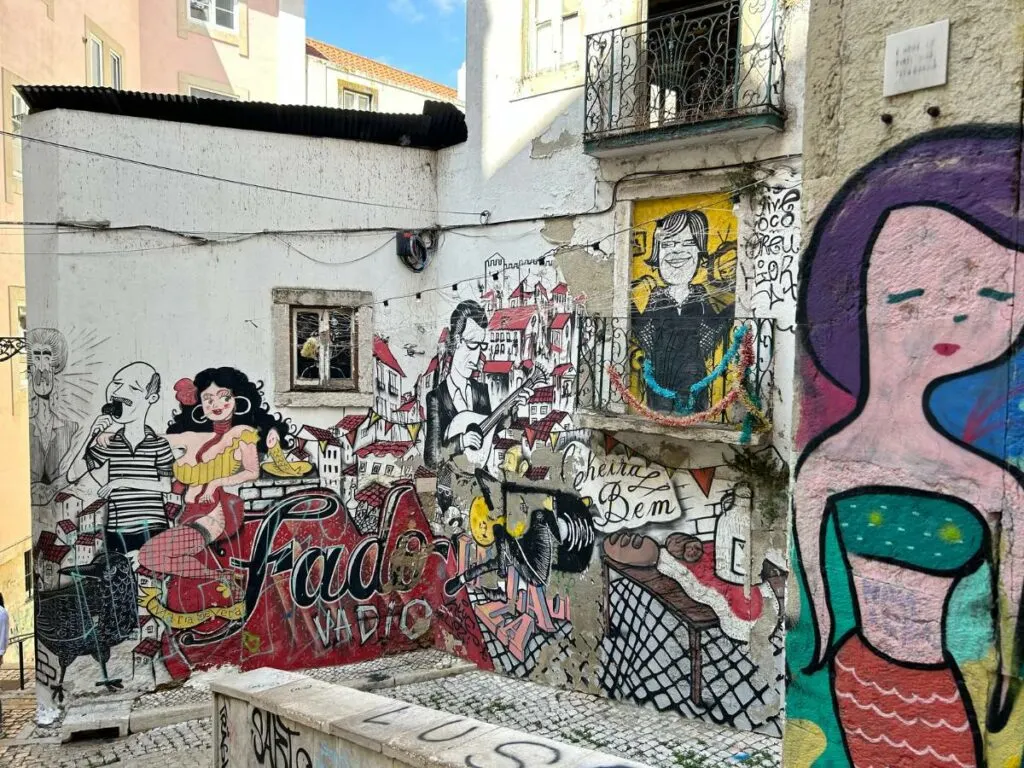 One of the first things I like to do whenever I get to a new city is to go for a wander once I'm checked into my accommodation.
This isn't for everyone and a better option is often to go on a walking tour.
Well during my Lisbon trip, I did both!
I had a wander when I first got there and then did a walking tour the next day.
The tour was informative and took us around the old town in the steep hills above Lisbon, which had some great street art as you can see above.
You learn a lot about the history of the city and get a feel for where everything is.
Most hostels offer a free walking tour, so it's best to check when you get there if they do. If they don't, you can book a tour instead and learn more about the history of this fascinating city!
Baixa District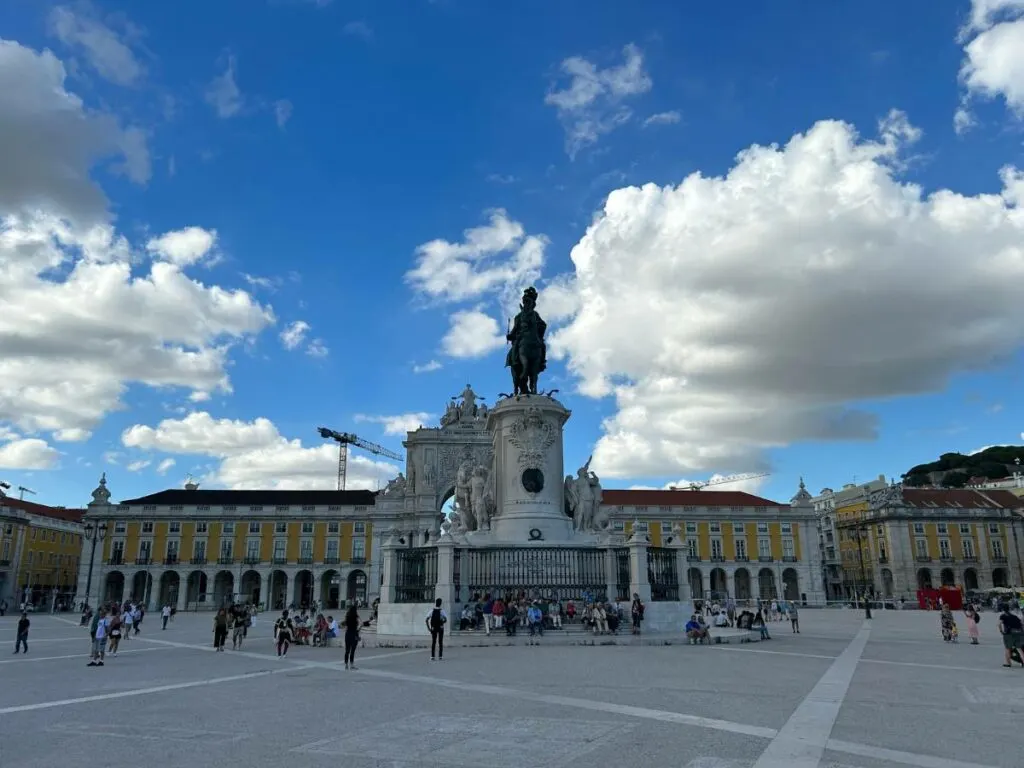 The Baixa district is the main spot in downtown Lisbon and somewhere you'll gravitate to if you're staying near Avenida da Liberdade during your 3 days in Lisbon itinerary.
There are multiple huge squares, Commerce and Rossio, that have statues in the middle of them. commerce also has the Arco da Rua Augusta in it, which is a stunning piece of architecture.
They're surrounded by neoclassical buildings and lots of restaurants and shops.
This part of the city was hit badly by the earthquake in 1755, which is reflected by the wave tiles in one of the squares.
If you head over to Carmo Convent, you'll see the haunting remains of the former church that was badly damaged during the earthquake.
You'll also find the Santa Justa lift (elevador de Santa Justa) in Baixa, which is one of the quirkier Lisbon attractions and offers some great views of the city from the top.
Lisbon's famous pink street is also here, which is near Cais do Sodre, and is particularly lively at night!
Estádio da Luz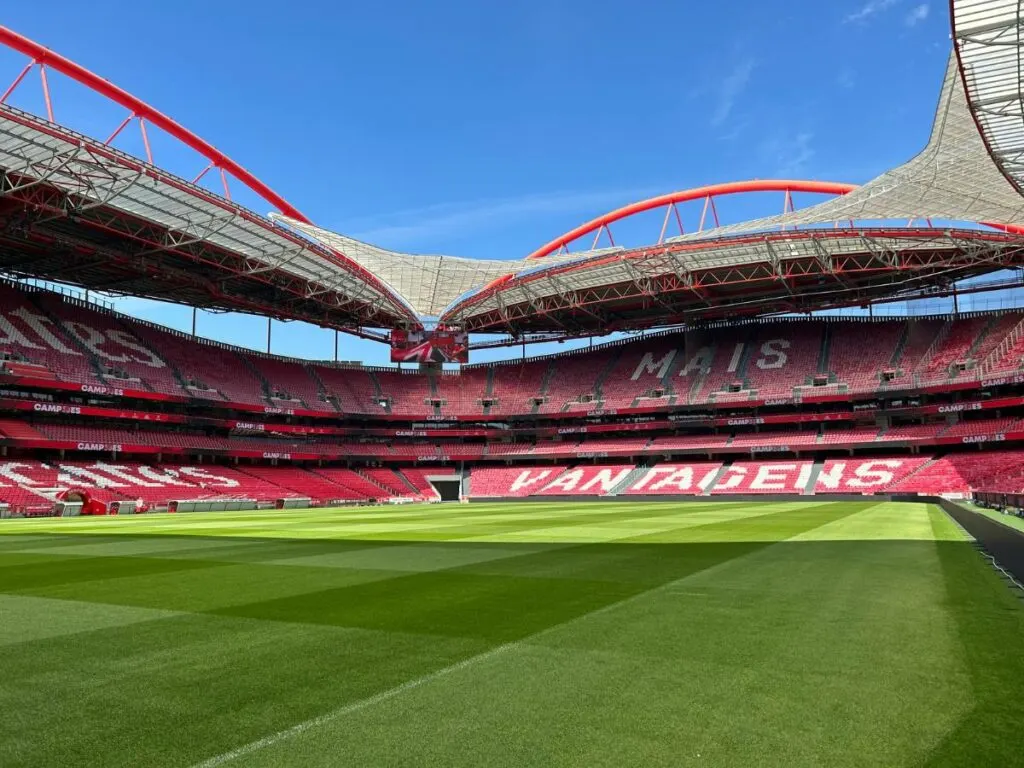 If you're not a football fan, you can skip this on and do something else.
But as I'm a big football fan, I had to include it here. The Estádio da Luz is the home of Benfica, one of the biggest clubs in Portugal.
You'll need to take the metro to get there and get off at the Luz stop, but it's not too far from the centre.
The tour is interesting and lets you see inside the stadium and then visit the museum. The highlight for me was seeing three eagles pitchside at the end of the tour.
The eagles are the mascots of Benfica and it was almost worth booking the tour just to see them!
Alfama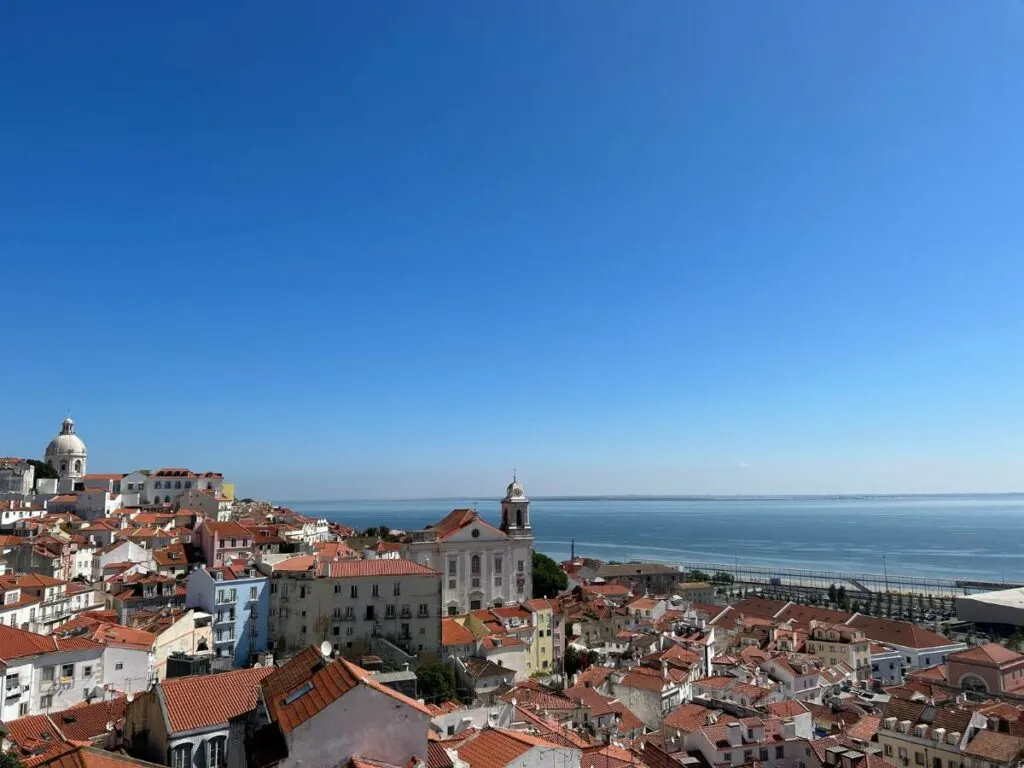 The Alfama district is one of the oldest neighbourhoods in Lisbon and a good place to spend the evening wandering around and catching the sunset.
The neighbourhood was one of the few lucky spots in the city to survive the earthquake of 1755, and it does feel different from the rest of the city.
Some of Lisbon's steepest hills are in Alfama, which can make it a challenge to walk around.
This isn't helped by it being hard to navigate when you first get there, but I enjoyed walking around the narrow cobblestone streets and seeing what I found.
The Alfama district is also a good place to get the iconic Pastel de Nata, a famous Portuguese delicacy.
There are also numerous viewpoints or Miradouros to check out, such as Miradouro de Santa Luzia above, which offers some fantastic views of the Tagus River and Lisbon.
Plus, there's São Jorge Castle, also known as Castelo de São Jorge in the Alfama district to check out as well!
Lisbon Itinerary – Day 2
During your second day in the city you check out one of the Lisbon neighborhoods, Belem, that's famous for its beauty.
Parque Eduardo VII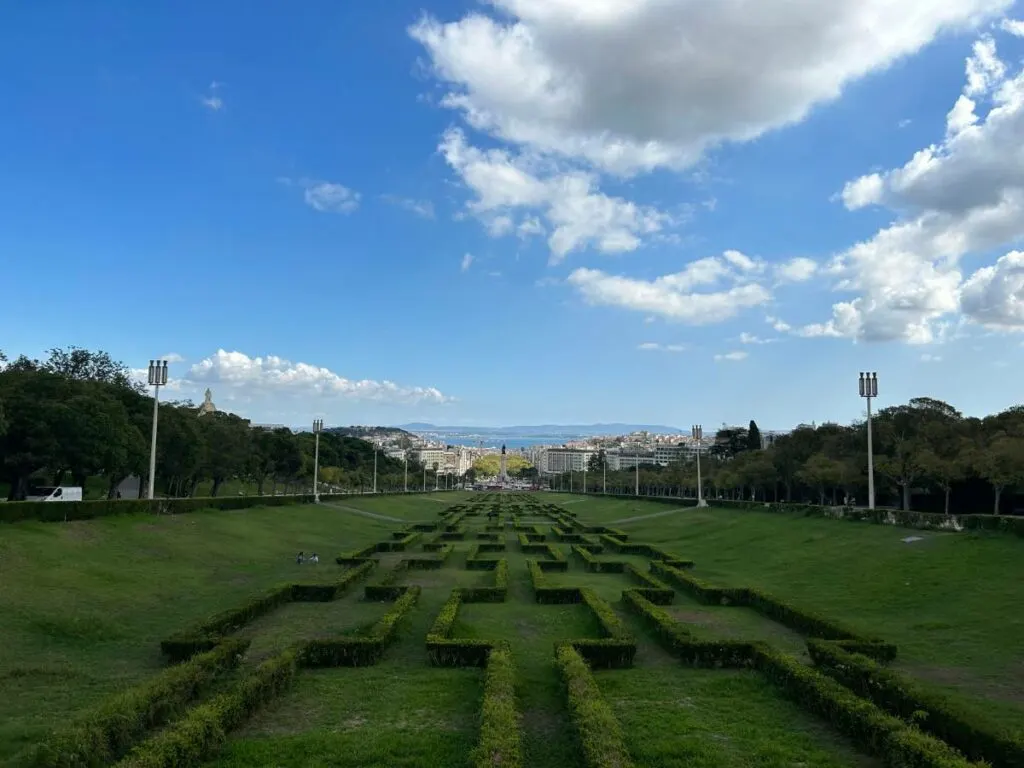 Before you head to Belém Tower and the other attractions in that part of the city, Parque Eduardo VII is worth checking out.
It's located near Avenida da Liberdade and Marques de Pombal Square and is one of the best spots in the city for a great view of downtown Lisbon.
It's a little walk to the top point but it's worth it for the view. The park itself is also nice and a good place to chill out on a warm day.
The short distance to the metro makes it an ideal place to start the second of your 3 days in Lisbon.
Jerónimos Monastery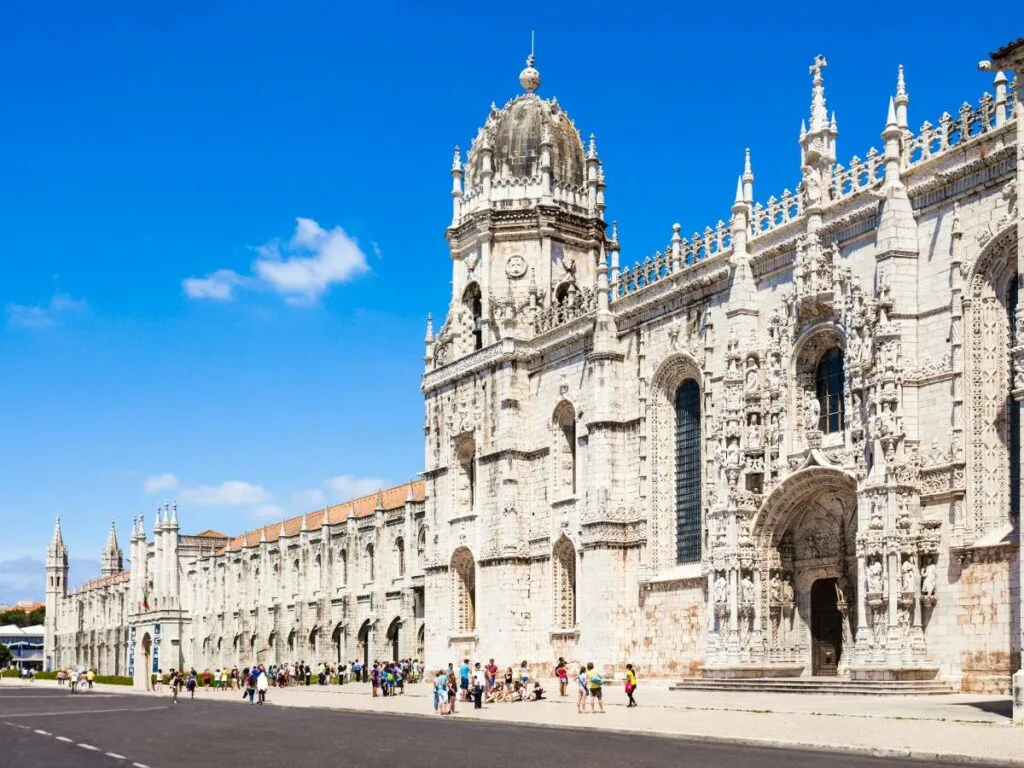 Jerónimos Monastery, also known as Hieronymites Monastery, is one of the most recognisable and beautiful buildings in Lisbon.
It's located in the Belem district and is a striking Portuguese Gothic building that's also a UNESCO World Heritage Site.
The building was spared during the 1755 earthquake, as was most of Belém. Booking a ticket beforehand is a good idea as it's one of the most popular tourist attractions in the city.
Queues can be very long, so try and arrive as early as you can so you'll be able to get inside and see the beauty of the monastery, including its famous cloisters!
Torre de Belém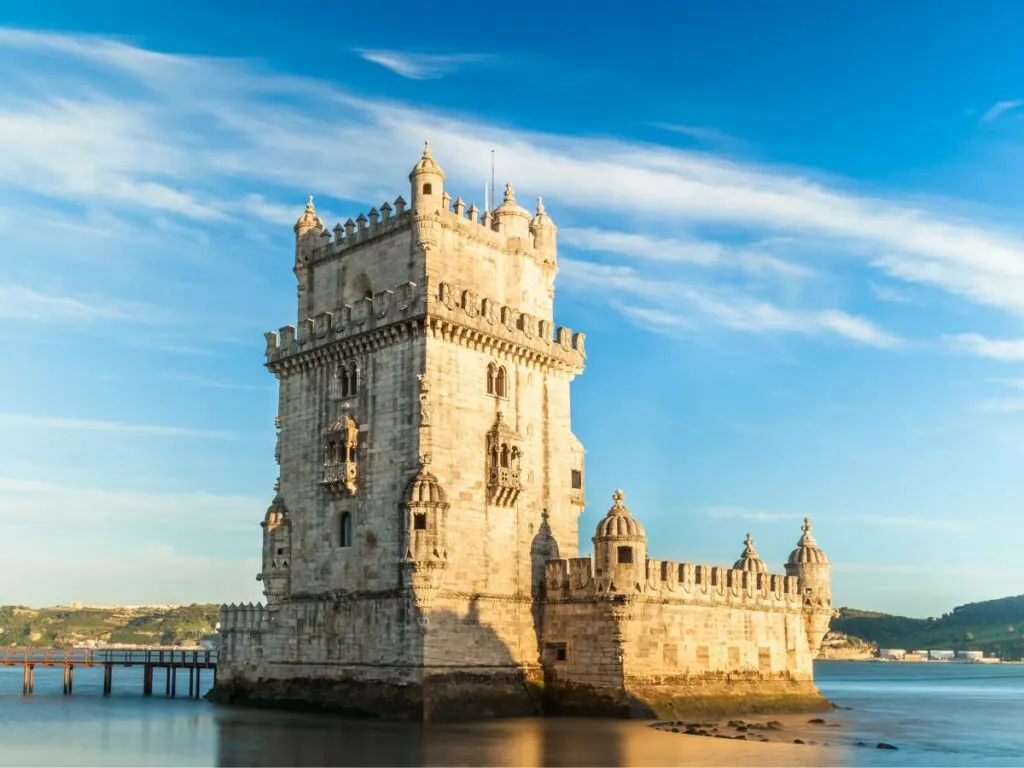 Along with Jerónimos Monastery, Torre de Belém is one of the most famous landmarks in Lisbon.
The 500-year-old fortification is a stunning building built in the Manueline style. It's not far from the other monuments in Belém and is set on the banks of the Tagus River.
You can go inside Belém Tower and get a decent view from the top, but there are a lot of steps and you'll want to book a ticket beforehand as there are almost queues at the tower.
Visiting Belém is a must to see more than just the tower and monastery.
You can also see the Monument of Discoveries monument and the beautiful Church of Santa Maria de Belém, which are within walking distance of the tower.
Bairro Alto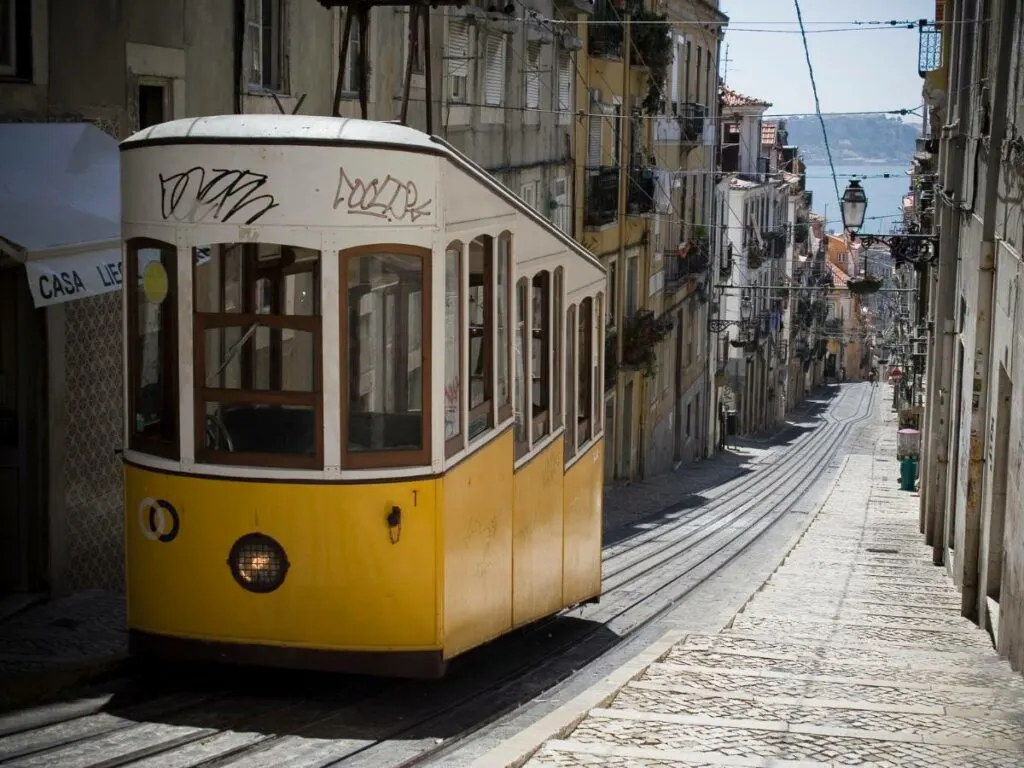 Bairro Alto is one of the most famous neighbourhoods in Lisbon and a good place to check out after you've spent part of the day in Belém.
One option is to walk to Restaudores Square once you're back in Lisbon and head there. onfoot, or you could take one of the famous trams instead.
These trams are very popular and get crowded inside, so this isn't ideal if it's a warm day.
The walk isn't too strenuous and you can check out the nearby neighbourhoods of Chiado and Principe Real, while you're there too.
It's a less touristy part of the city and felt more grittier to me, which I liked.
It's fun to visit in the evening and at night when the bars open as it's very lively and vibrant, and a lot of fun wandering between the bars!
Lisbon Itinerary – Day 3
On your third day in Lisbon, I recommend spending part of the morning seeing one or two things in the city before heading on a day trip out of the city.
Sintra and Cascais are two places I've listed below but there are others should you wish to go somewhere else.
Lisbon Cathedral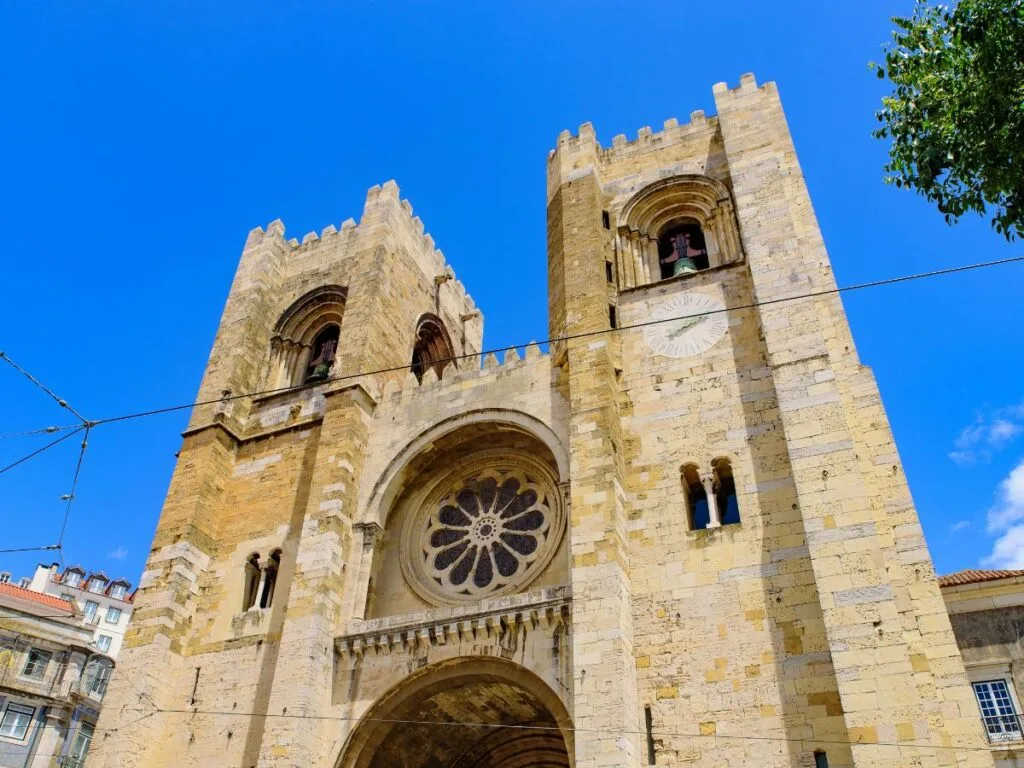 Lisbon Cathedral (Sé de Lisboa) is the oldest church in the city and one of the most beautiful buildings in the city.
The cathedral dates back to the 12th century and was built in the Romanesque style. One of the main attractions inside is the fountain in which Saint Anthony, the patron saint of the city, was baptised.
You'll also find a cloister inside the cathedral that has evidence of its Moorish and medieval past.
You need to pay a small fee to enter Lisbon Cathedral, but it's worth it to check out one of the most important buildings in the city.
Sintra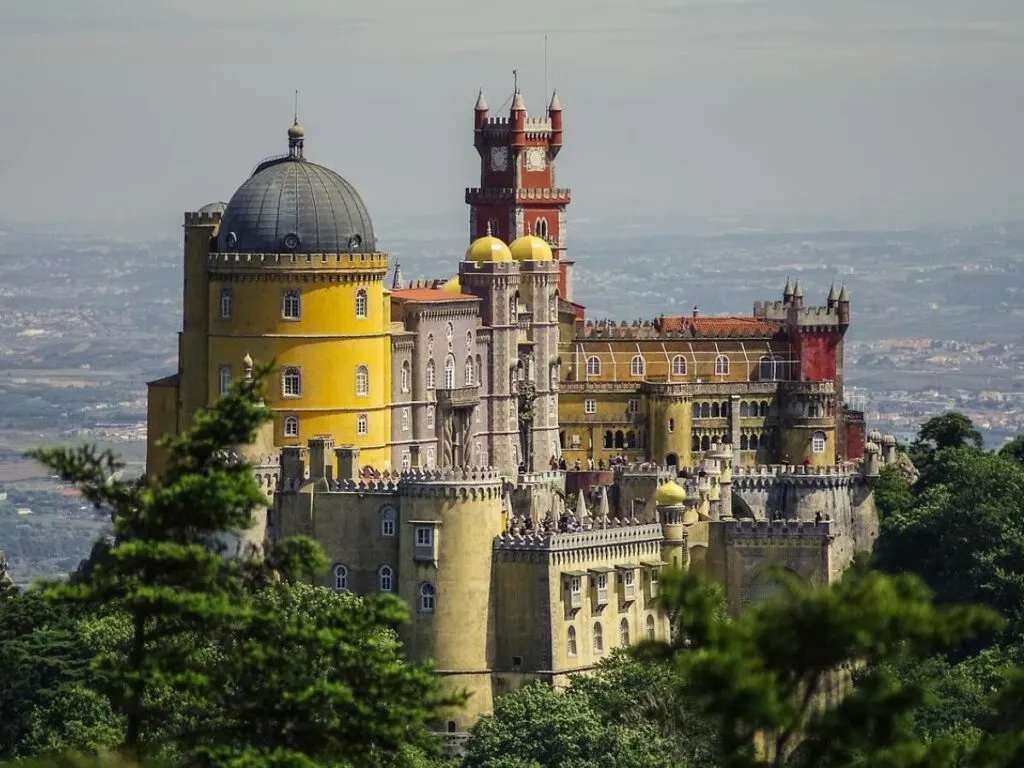 Sintra is one of the most interesting places to visit in Portugal and it's an ideal place for a day trip from Lisbon.
You'll need to take the train to get there, which takes around an hour to reach Sintra. Once you're there, you'll find plenty to do, which includes checking out the incredible Pena Palace.
The palace is located in the Sintra hills and is a UNESCO World Heritage Site.
The multicoloured buildings are a sight to behold and it's worth visiting Sintra to check out the palace alone.
You can also check out Castelo dos Mouros and Quinta de Regaleira while you're in Sintra.
Cascais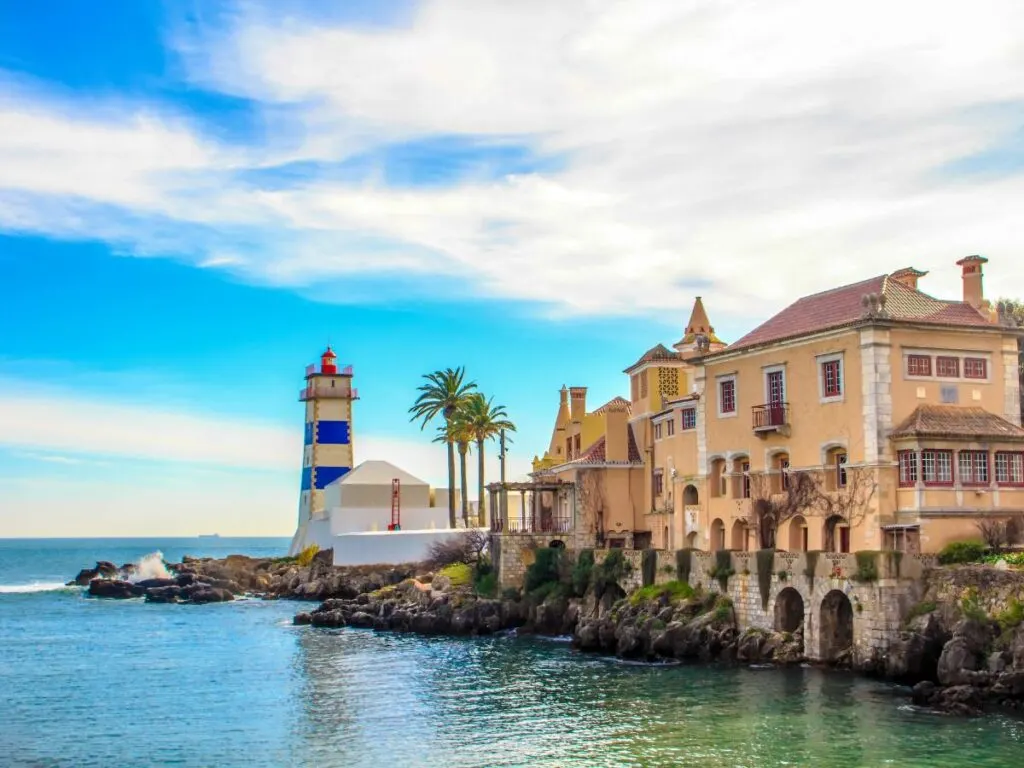 Cascais is a beachside town down the coast from Lisbon. It's a perfect place for a day trip if you want to spend the day at the beach.
Again, you'll need to get the train to reach Cascais. Head to Cais do Sodré and jump on the Linha de Cascais, and you get off at the last stop.
There are plenty of other stops along the way that include beaches such as Carcavelos, which is another nice beach.
Aside from relaxing at the beach, you can visit the Condes de Castro museum, check out the stunning Boca de Inferno cliffs and Casa de Santa Maria and the nearby lighthouse.
This is as well as strolling around the old town too!
Other Places to Visit in Lisbon
Pastel de Nata cooking class – Learn how to make this famous Portuguese delicacy with this fun cooking class. Pastel de Nata is delicious, so not only do you get to sample some, but you get to learn how to make it at home too! Click here to book your cooking class!
Parque das Nações – This is a redeveloped area that lies on the Tagus River and has a lot of green spaces. There's also the Centro Vasco da Gama, where you'll find shops and a cinema.
National Coach Museum (Museu Nacional dos Coches) – A quirky museum you can check out in the Belem district that looks at the history of cars and carriages, with plenty of historical examples.
National Tile Museum – Another quirky museum that details one of the more interesting aspects of Portuguese history, that of the famous tiles that decorate many of the buildings. This is the place to learn more about them.
Fado – Fado is a famous type of Portuguese music that is a type of rustic with haunting ballads. It's worth booking a show if you want to see it live as it's quite the experience! Click here to book your ticket!
Find out what else you can when exploring Lisbon in 3 days below:
Lisbon Travel Tips
This section will provide you with practical information to help you while you're visiting Lisbon.
You'll find information on where to stay, the rough costs in Lisbon, the best time to visit and much more!
Where to stay in Lisbon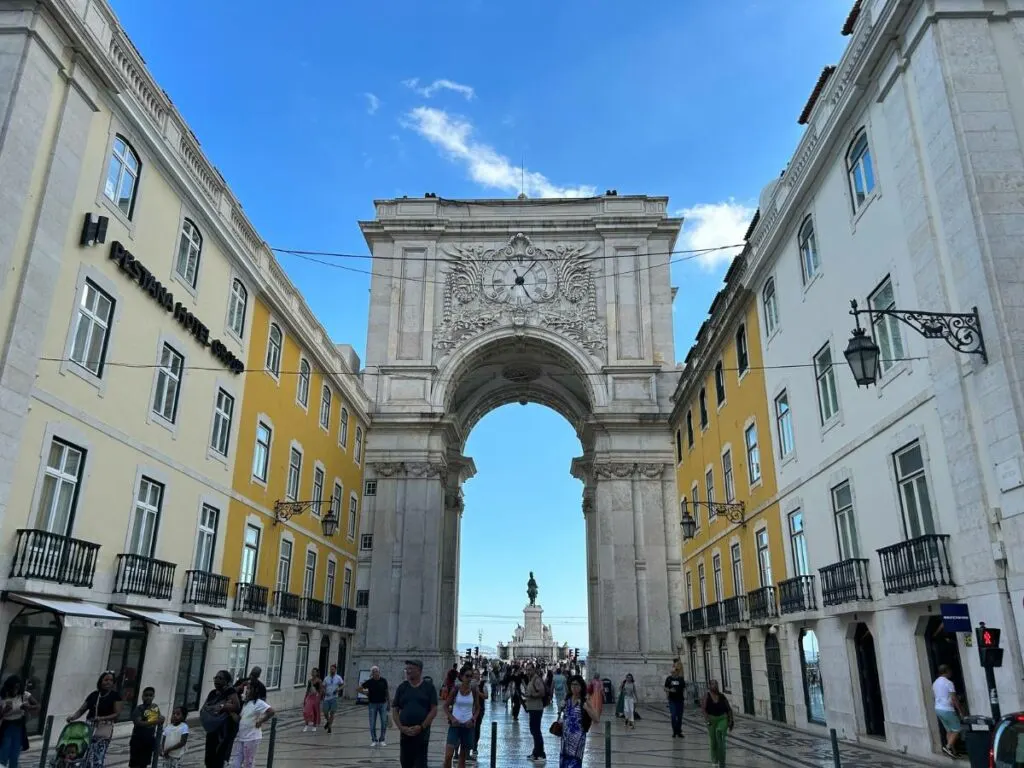 One thing you don't need to worry about in Lisbon is finding somewhere to stay. There are plenty of options regardless of your budget.
Hostels, hotels and rental apartments are all available to rent and even during peak season, you shouldn't have too much difficulty booking a spot.
Due to how big the city is, it can make a difference where you stay. Staying near Avenida da Liberdade is helpful as it's central and a straight walk into the Baixa district.
I would avoid staying in Bairro Alto, for example, because carrying your luggage up those steep hills isn't worth it.
You'll want to stay close to central Lisbon and near a metro station if possible. This was the case with me when I stayed at Lisboa Central Hostel, which was a decent place to stay.
Any further out and you'll be relying on the metro all the time or have to walk a long way to get into the city center.
I've included a few places to stay below for you to consider during your 3 days in Lisbon:
| Accommodation | Description | Link |
| --- | --- | --- |
| Lisboa Central Hostel | Great hostel close to the centre that's a good place to meet other travellers and has spacious rooms. | Book Now |
| Lisbon Lounge Hostel | Another great place for solo travellers, this hostel is in the historic quarter and offers a nightly meal for guests | Book Now |
| Lost Inn Lisbon | Located in the Chiado area of Lisbon, this hostel has spacious rooms and some great social areas. | Book Now |
Cost of Travel in Lisbon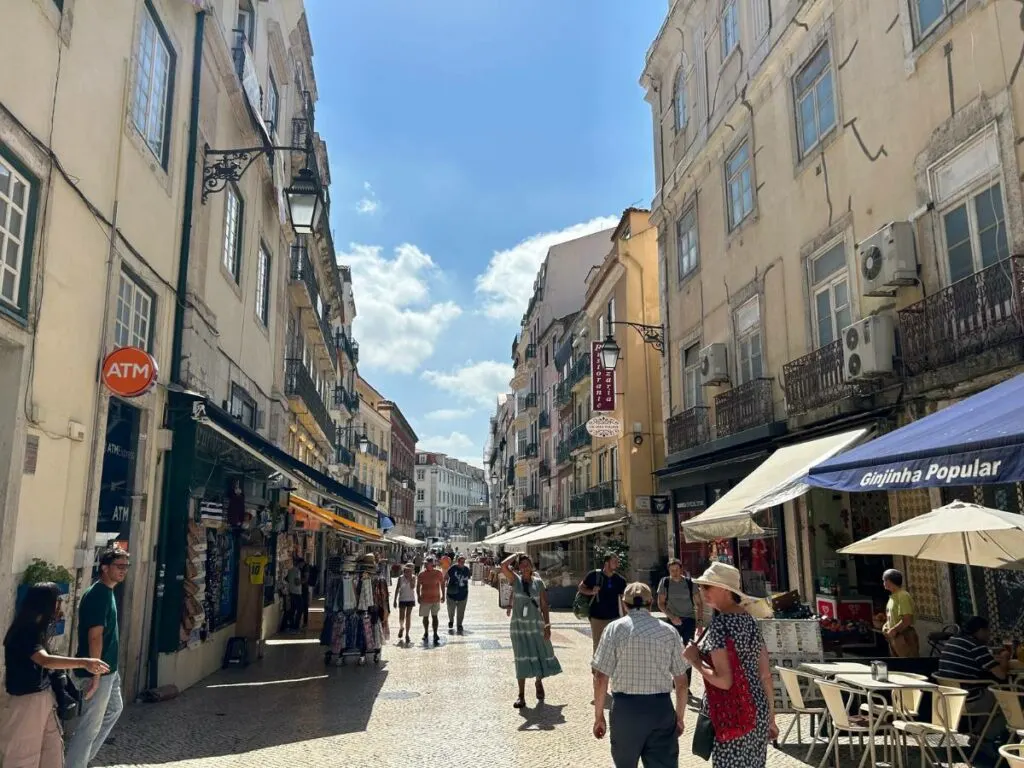 Lisbon is one of the cheaper capital cities in Europe, especially Western Europe, so you're not going to break your bank balance with a stay here.
It's the most expensive city in Portugal but it's much cheaper than visiting France or Italy for example.
The biggest expense will probably be accommodation, which I was surprised to find was more expensive than I thought.
There are lots of tours you can do in Lisbon, which will eat into your budget. But you can also visit places like Belem, Cascais and Sintra yourself on the train, so there's an easy way to mitigate this.
Food isn't too expensive, but it's better to stay at a hostel with a kitchen if you're on a budget, as this is a great way to save money.
Getting around is cheap as well, you can get a 24-hour ticket for the bus/metro/train for €10, which is a good value if you're visiting somewhere like Cascias.
The only other big expense would be purchasing travel gifts for friends and family, which can be pricey depending on what you get.
I've included a rough guide to prices for accommodation, eating out and transport in Lisbon below
You won't find prices for extras such as nights out at a bar/pub, club entry fees, souvenirs/clothing purchases, tours. etc.
You'll have to budget extra for these purchases as they are 'non-essential!'

Accommodation
Hostel: Dorm – €20-45; Private – €65-125
Hotels: €55-130
Rental Apartment: €85-110

Food and Drink
Breakfast: Free-€3
Dinner: €6-10
Takeaway meal: €5-8+
Pint of beer: €3-3

Transport
Metro single ticket: €1.40
Day card: $6
Bike rental: €14 for the day
Best Time to Visit Lisbon
Lisbon is one of the sunniest cities in Europe with an average of 321 hours of sun a month. This makes it a great place to visit all year round.
The city is one of the best European winter destinations because it's relatively mild during winter compared to elsewhere in Europe.
So if you decide to visit during winter, it shouldn't be too cold.
I visited during September and found the weather to be great. It was sunny almost the whole time and the temperatures were in the high 20s, which was more than enough.
The only time it rained was the day I was leaving when it bucketed down!
Lisbon was busy during this time, so I can assume it will be much busier during the peak tourist season in summer.
If you want to avoid the crowds, it might be best to visit during shoulder seasons.
This also has the advantage of potentially getting cheaper prices on accommodation, while missing the blazing heat of the summer months.
Below is a quick overview of what to expect during each of the four seasons in Lisbon:
Lisbon in Spring
Spring is a great time to visit Lisbon. The weather isn't as hot as it will be in summer, and you should find the city quieter too, especially during March and April.
Average temperatures from low to high: 11°C – 22.1° C / 51.8°F – 71.8° F
Lisbon in Summer
You're almost guaranteed to get a lot of sun during summer, the only problem is that it will be hot. Temperatures in the 30s will be a regular occurrence and the city will be heaving with tourists too!
Average temperatures from low to high: 16.6°C – 28.3° C / 61.9°F – 82.9° F
Lisbon in Autumn
The temperature and crowds start to decline during autumn. I visited in September and it was still hot and the city was full of tourists, but if you visit during October and November things will be calmer and cooler.
Average temperatures from low to high: 11.8°C – 26.5° C / 53.2°F – 79.7° F
Lisbon in Winter
This is the coolest part of the year in Lisbon, but compared to other European cities, the weather is decent during winter. It's not a bad time to visit Lisbon if you don't mind it being cooler, as you'll have fewer tourists to contend with.
Average temperatures from low to high: 8.3°C – 16.2° C / 46.9°F – 61.2° F
How to Get Around Lisbon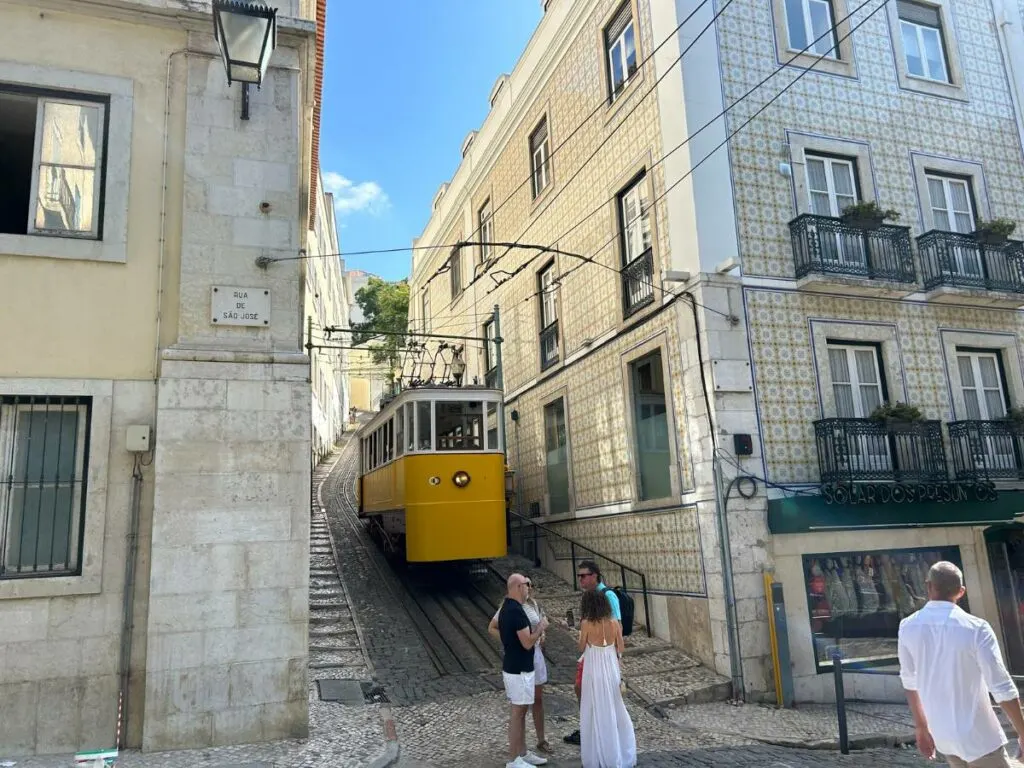 Lisbon is a big city. I didn't realise how big it was until I got there.
You can walk around Lisbon but if you head towards the old town, you'll find plenty of hills. This can be challenging even if you're in good shape, especially on a hot day.
Luckily, Lisbon has an extensive public transportation system that makes it easy to get around the city. You can use the metro, trams, trains, and buses to move around the city.
There are multiple lines on the metro and they take you to most of the main spots around the city.
If you want to go further afield to Belem or Cascais, you'll need to use the train, but this is easy to use with you able to connect to the train at certain metro stations.
The main bus station in Lisbon is Oriente which is connected to the metro system. This is probably the most chaotic bus station I've ever been to.
There's no screen detailing departures and if you're leaving by bus to go somewhere else it can be confusing to know which stand you're leaving from.
Try and find a member of staff to ask to be certain.
The metro system is also connected to Lisbon airport, so getting to and from the airport from the city centre isn't too difficult.
Frequently Asked Questions
Is 3 Days Enough To See Lisbon?
3 days in Lisbon is just about enough time to see the city. While you can see almost everything in the centre, you might not be able to go on day trips to places like Sintra and Cascais.
3 days is the minimum you need in Lisbon, but if you can fit an extra day or two into your trip, that's more than enough.
How Many Days Do I Need To See Lisbon?
You'll need a minimum of three days to see Lisbon, with four or five being the ideal number if you want to visit the surrounding area as well.
Is Lisbon a Walkable City?
Yes and no. While you can walk around the city center without too much difficulty, if you go further afield you'll need to use the metro. Lisbon is also very hilly, so it can be a struggle walking around the narrow streets in the seven hills, especially if it's hot.
My advice is to stick to walking in the centre and downtown area and use public transport for everything else.
Looking For More Travel Guides?
3 Days in Madrid – Madrid isn't too far from Lisbon, and it's a good place to visit next if you're doing a longer trip.
3 Days in Seville – Seville is over the border from Lisbon in Spain and is worth visiting next if you're travelling around the Iberian peninsula.
3 Days in Malaga – Another city in the south of Spain that's worth checking out. Has some great cultural sights and a nice beach.
Portugal Quotes – Discover some of the best quotes about this beautiful country before you visit!
Tom is a travel addict who first left England to spend a year Down Under. Not satisfied with this, he then went to New Zealand, about as far away from home as he could get. He is now planning his next adventures in Europe and Canada while maintaining this blog. Check out the about me page to learn more!