3 days in Copenhagen is an ideal amount of time to see this fascinating city. The Danish capital has a lot to see and these three days will not be short of things to do!
Copenhagen is a popular destination in Europe and for good reason. With so much to see and do in the city, it attracts travellers from far and wide.
The colourful houses in Nyhavn, the bohemian commune of Christiania and the Tivoli Gardens are all sights you have to check out when you visit Copenhagen.
Copenhagen is an excellent place to go if you're looking for a short break in Europe. It's one of my favourite cities on the continent!
This Copenhagen itinerary will let you know the places you should visit and where to stay, during a visit to the city.
So without further ado, let's get into it!
Disclosure: This article may contain affiliate/compensated links. For more information, please see our full disclosure policy.
Table of Contents
How to Spend 3 Days in Copenhagen
Quick 3 Days in Copenhagen
Day 1 – Walk around Copenhagen, Christiania, Nyhavn
Day 2 – Tivoli Gardens, Little Mermaid statue, Christianborg Palace
Day 3 – National Museum of Denmark, Strøget, Reffen
My Thoughts on Copenhagen
I'd wanted to visit Copenhagen for several years, so when we visited towards the end of our European road trip, I was elated! The city lived up to my expectations and more.
You might think that there isn't much to do here, but the truth is that there is more than enough stuff to do during three days in Copenhagen.
The city is full of fascinating sights and the fact that you can walk around the city without too much difficulty makes it even better. You'll do more walking than you would if you spent 3 days in Helsinki, but everything is within walking distance.
What I liked about Copenhagen is the variety of things you can do. You can check out a 19th-century amusement park, head to the beach, and even take a day trip to a different country if you want!
The only downside is that things can be expensive, but if you're only in the city for three days that shouldn't be a huge issue. Instead, you should enjoy visiting one of the nicest and most interesting cities in Europe!
Some of The Best Things To Do in Copenhagen
If you're wondering what to see in Copenhagen in 3 days, this section will give you some ideas of what to check out in this beautiful city. Copenhagen isn't a huge city, so you won't have much trouble seeing everything.
One thing you should get before you visit is a Copenhagen card.
The card gives you free or discounted entry to over 80 museums and attractions. Plus, you can use it to get discounts at participating restaurants and cafes as well as free use of the public transportation system in Copenhagen.
I recommend getting the card as it makes things easier and it will save you a lot of money during your trip. Getting it for the free use of public transport alone is worth it!
Below are some of the best places to see in Copenhagen you have to check out during your time in the city.
Christiania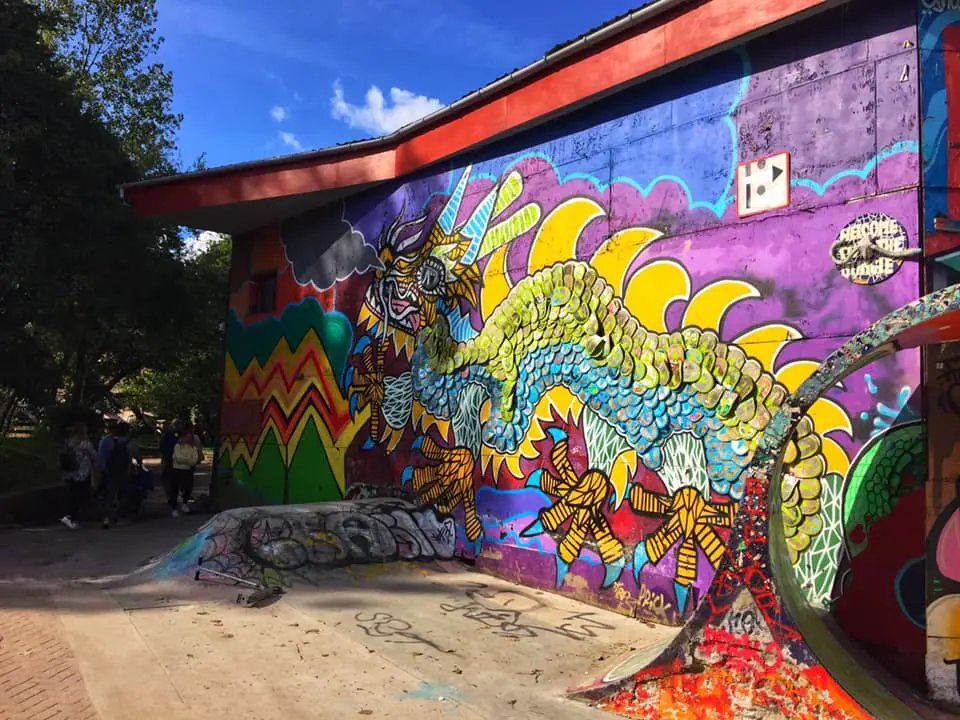 The Freetown of Christiania is one of the more unusual places that I've visited on my travels. It's a commune that is situated on an old army barracks in the southeast of Copenhagen.
The commune is perhaps best known for its cannabis and hash trade, which has earned the area the nickname, the 'Green Light District. You'll see a lot of people selling and smoking cannabis, but it's important to remember it's illegal in Denmark. If you choose to buy some, you do so at your own peril.
I enjoyed walking around the commune and taking everything in. I hadn't visited anywhere like it before and it was interesting to see the place up close. There is a lot of organic food, live music and beer to enjoy.
If you want to learn more about the history of Christiania, this private tour is a good place to start.
Tivoli Gardens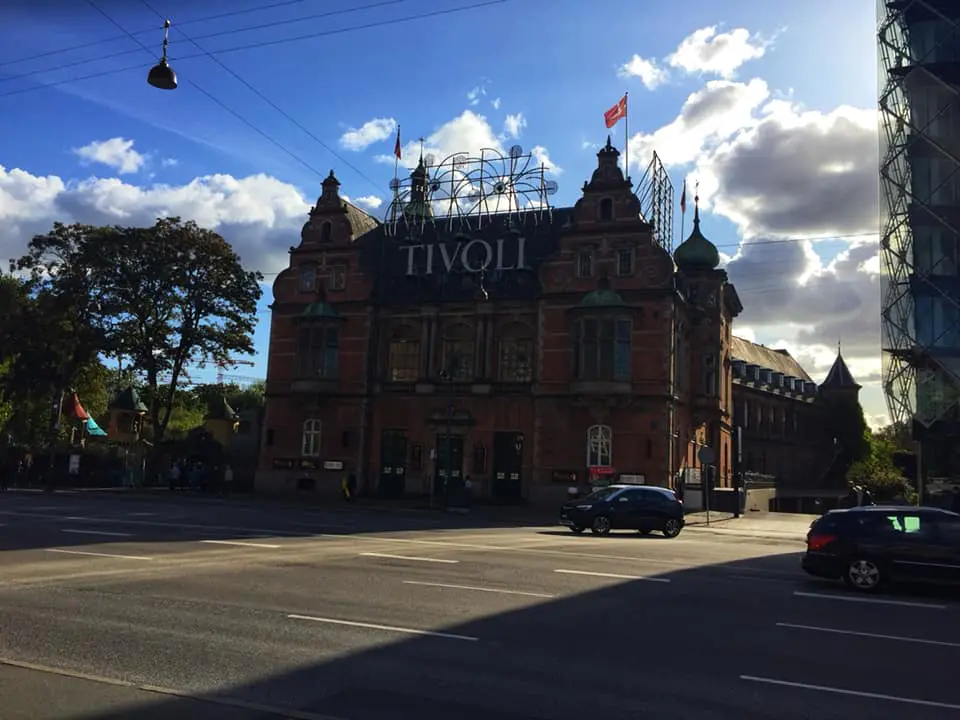 Tivoli Gardens is one of the most iconic places to visit in Copenhagen. The amusement park was created in 1843 and its location in the centre of the city means you'll naturally gravitate towards it.
One of the main attractions of the Gardens is that it has something for everyone. You'll find beautiful gardens, stunning architecture and lots of historic buildings.
If you're visiting Copenhagen with kids, it's a brilliant place to visit. They'll love all the various rides and attractions. Everyone will enjoy it too, especially on a warm summer's day. It's the ideal place to go to relax or enjoy the rides.
If you visit in the evening, you'll be treated to a dazzling light display. Thousands of lights adorn the various rides at night creating a sight that is fairytale-like!
Nyhavn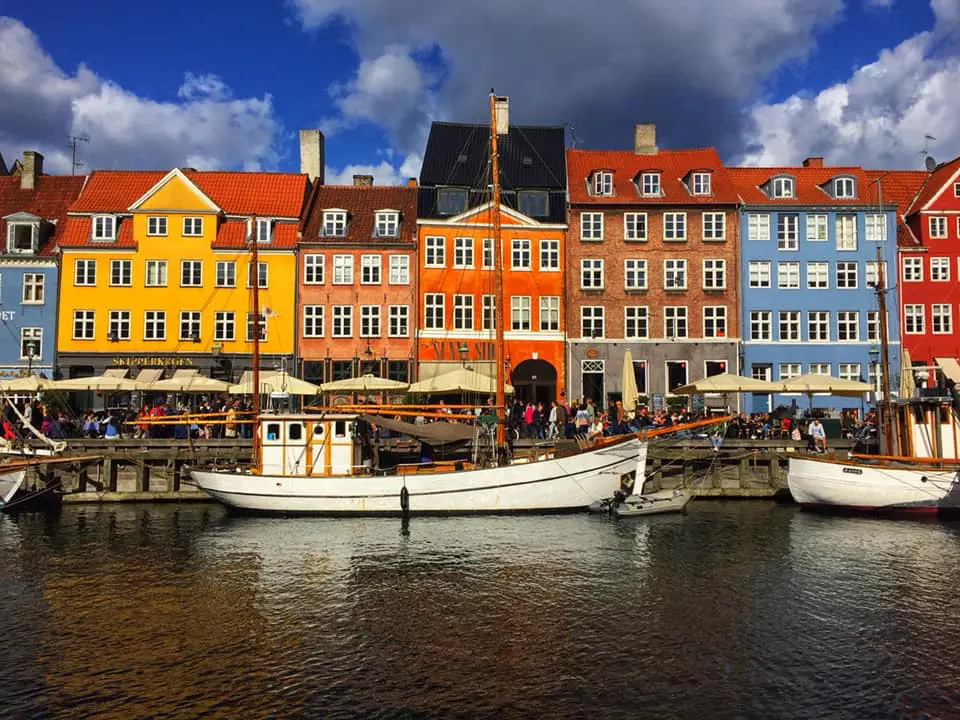 Nyhavn is a waterfront canal that is also part of Copenhagen's entertainment district. If you're visiting the city it's a place you're going to gravitate towards one way or the other.
One of the most striking things about Nyhavn is the row of coloured buildings that line the waterfront. They are an amazing sight and give the area a vibrant feel.
You'll find a plethora of restaurants and bars in Nyhavn, which make it an ideal place to get a bite to eat or order a drink and relax for an hour or two.
An interesting fact about Nyhavn is that the fairytale writer Hans Christian Andersen used to live in some of the houses that dot the waterfront. He lived in no. 20, where he wrote The Tinderbox, he spent twenty years in no.67 and two in no. 18.
You can also do a canal cruise from Nyhavn, which will allow you to see the area from the water and teach you about its past.
Copenhagen Itinerary – Day 1
How This Itinerary Was Made
This itinerary is the result of my own experiences during a trip to Copenhagen. I visited all of the places listed below, as well as a few others, and considering what I saw, I crafted this Copenhagen itinerary below as one I'd follow if I'd never visited the city before or were to revisit in the future.
This itinerary is a rough example of what you can see in the city. It's not meant to serve as an exact day-to-day plan of what you should do, but if you wish to base your 3 days in Copenhagen on it, it's a good place to start.
Free Walking Tour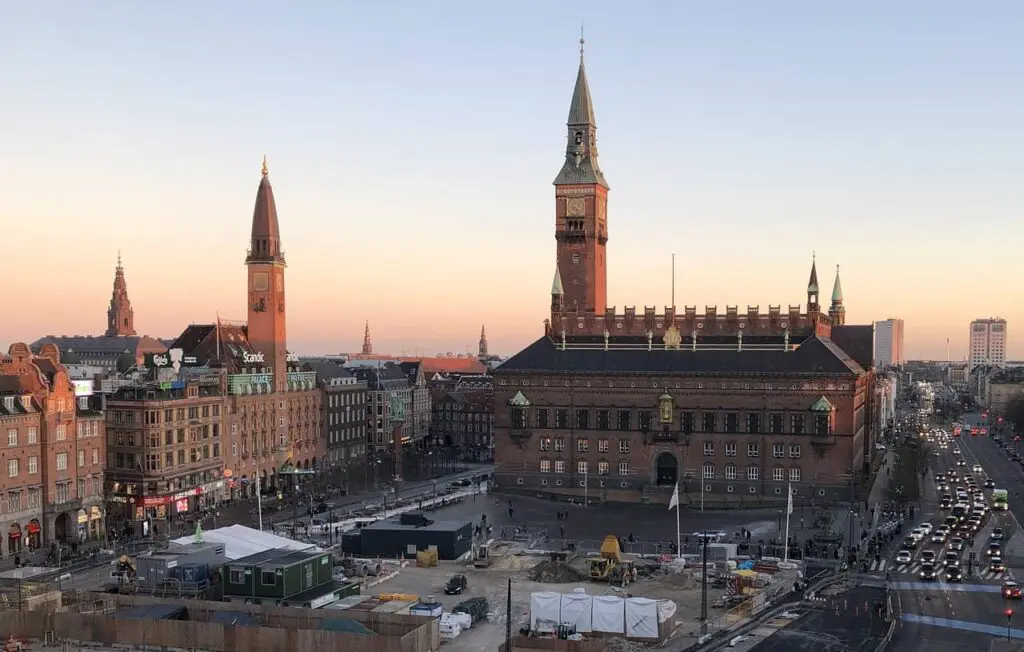 One of the first things I like to do when I visit anywhere new is to check into my accommodation, drop off my bags and go for a walk. This way I get a feel for the city and get my bearings.
I understand this method of travelling isn't for everyone. I enjoy the ad hoc nature of wandering around, other people prefer their trips to be more structured.
If this is you, then I recommend you go on a walking tour when you arrive in the city. This way you'll be to get a feel for the city, see most of the main sights and learn about their history.
Most hostels offer a free tour when you stay with them. If you can book a tour instead, which offers the same service but more in-depth for a small fee.
Christiania
After you've finished your walking tour, I suggest you head to the bohemian commune of Christiania. there aren't too many places in the world like it, so it should be high on your list of places to visit in Copenhagen.
Christiania is an old army barracks that has been turned into a bohemian commune. It's not far from the centre of the city and is an intriguing place to visit as it offers a different side of the city.
One of the first things you'll notice is that there is a lot of marijuana in the commune. Whether you buy some is up to you, but remember that it's illegal in Denmark. You'll also find numerous bars where you can get a drink and some food while listening to some music.
You'll find a lot of nice sights here too. There is a beautiful lake behind the back of some of the bars, and there is a lot of street art that's worth checking out too!
Nyhavn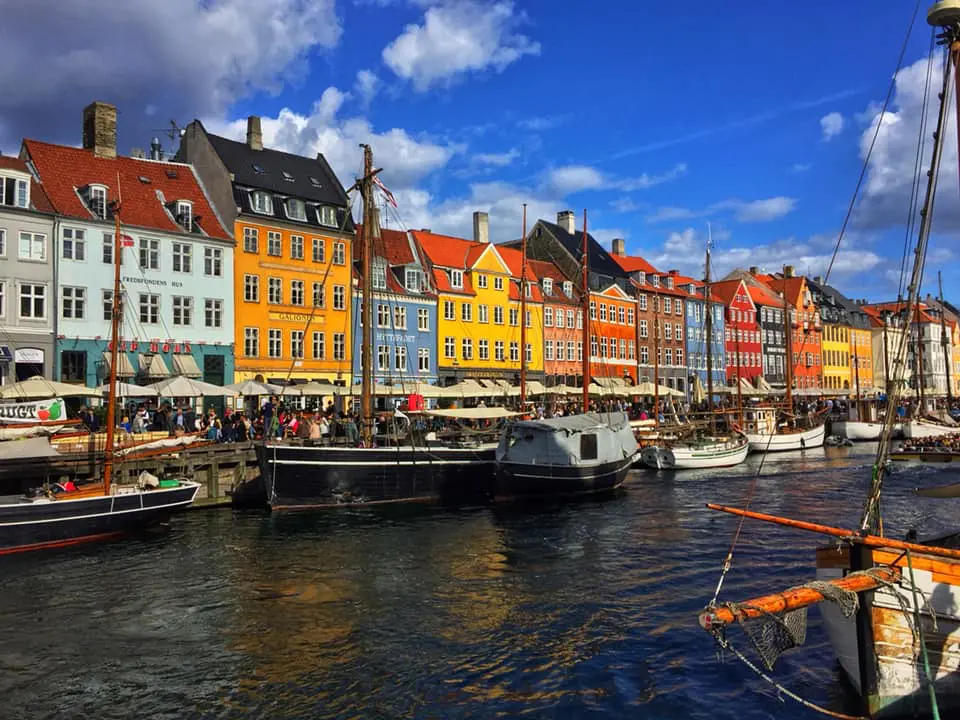 Ending the first of your 3 days in Copenhagen by the waterfront in Nyhavn is a good idea. The main reason is it's one of the liveliest parts of the city.
You'll find plenty of bars and restaurants. You're split for choice on where to go! While I don't have any particular favourite places, going to a restaurant or pub close to the water is a good idea.
Another thing that you should do in Nyhavn if you have the time, is to check out the house that Hans Christian Andersen lived in.
You can do this as part of a tour, or by yourself, but it's worth having a look. The buildings are beautiful in this part of the city and it would be a shame to miss out on an activity that is easy to do.
Copenhagen Itinerary – Day 2
Tivoli Gardens
A great way to start your second day in Copenhagen is to go and check out Tivoli Gardens. It's an amusement park located in the centre of the city and is a lot of fun.
As I mentioned above, if you're travelling with kids it's a brilliant place to visit. There's a lot to keep them interested and you can relax in the gardens too if you or the kids want a break from all the excitement.
If you're visiting Copenhagen during the warmer months, then Tivoli Gardens is an excellent place to visit. You could spend the whole day there if you wanted to, as there is so much to do.
It's not as good during winter, but you can still walk around the gardens and enjoy the scenery and stunning buildings!
Little Mermaid statue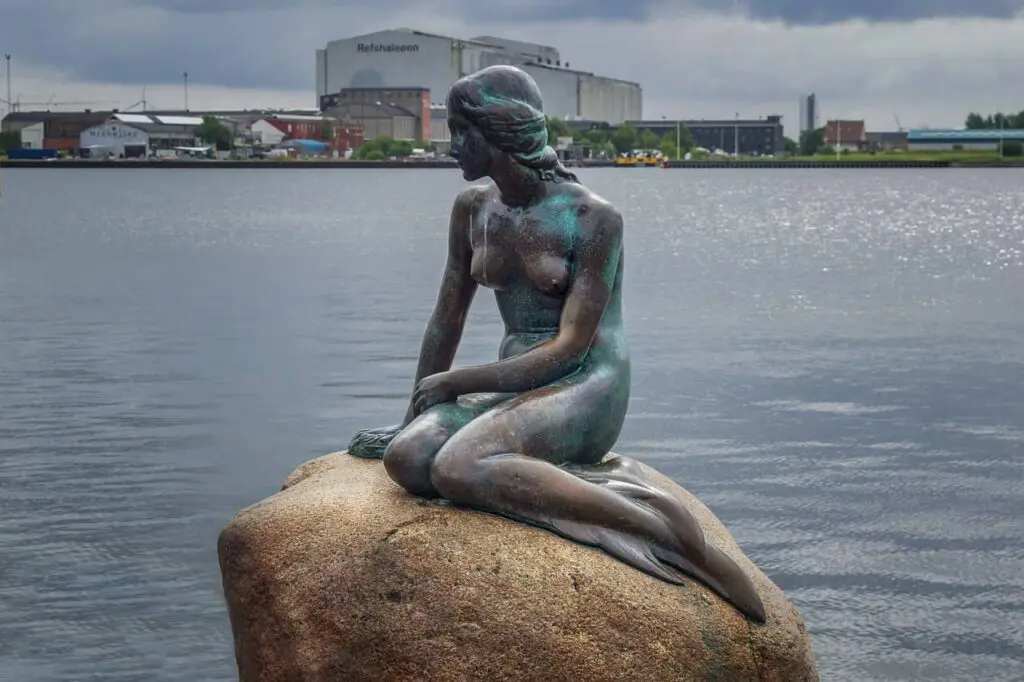 Arguably the biggest attraction in Copenhagen is the statue of the little mermaid. You can't visit Copenhagen without checking it out.
The statue depicts a mermaid becoming human, which reflects one of Hans Christian Andersen's most famous stories. The statue was built in 1913 and can be found on the Langeline promenade.
Amazingly, the statue has been the subject of multiple vandalism throughout its life. The head has been sawed off, as well as the arm and paint has been poured over it numerous times.
I think this is because the statue is symbolic of Denmark rather than anything to do with the story of Andersen himself. Due to its importance in Danish culture, the statue is something you need to visit during your 3 days in Copenhagen.
Christiansborg Palace
Christianborg Palace is one of the most impressive buildings I've seen anywhere, never mind in Copenhagen. It's a short walk from Tivoli Gardens near the end of Strøget.
A series of successive castles and palaces have existed at the site since 1167. It was the principal residence of Danish kings until 1794 and became the seat of the Danish parliament afterwards.
The palace is unique in that it's the only building in the world that houses all three branches of a country's government. The executive, legislature, and judiciary are all housed inside the palace.
You can enter the palace for a small fee, but it may be worth booking a tour so you get to see the palace in more detail. Due to its size, it's hard to walk around by yourself and appreciate everything that you see. A tour will allow you to understand the history behind the building as well as marvel at its beauty.
Copenhagen Itinerary – Day 3
The National Museum of Denmark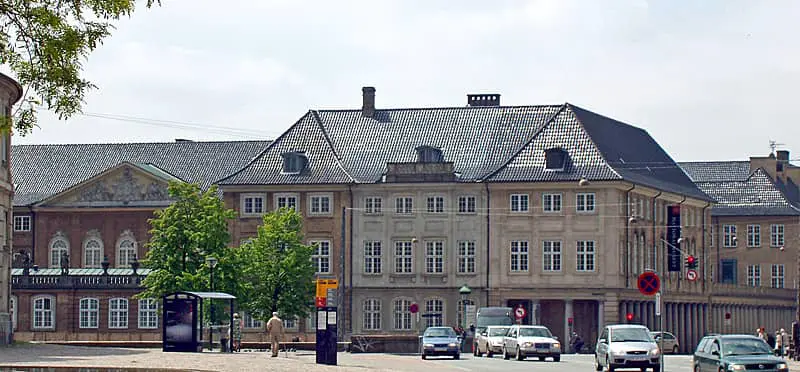 The best place to start your third day in Copenhagen is to visit the National Museum of Denmark. It's the best place to visit if you want to learn more about the history of Denmark.
The museum is close to Strøget, the main shopping street in Copenhagen. You'll find a lot of exhibitions that go through the history of Denmark from prehistory up to the present day.
There is a lot of stuff on the Vikings which is interesting and will help you understand what life was like when they ruled the country. You'll also find the golden horns of Gallehus, the Trundholm Sun Chariot and Egyptian mummies in the museum too.
It costs 100 DKK to enter and the museum is open from 10 till 5 pm Tuesday to Sunday and 10 till 8 on Thursdays.
Strøget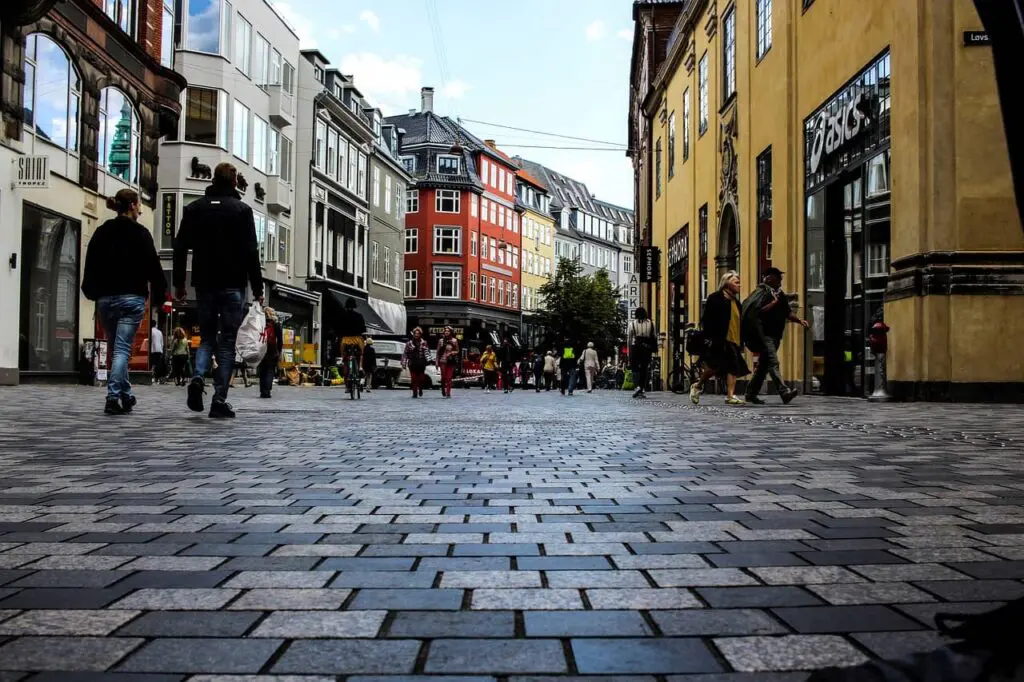 Strøget is one of the largest shopping streets in the world. It's hard to describe how long it is until you walk down it yourself. At times, it feels like it will never end.
The street is 1.1 km (0.6 miles) long and contains a variety of shops, cafes and restaurants. Plus, you'll find a few museums down here too.
Strøget is the beating heart of the city and if you visit during the day you'll find thousands of people mingling about coming in and out of shops. It's a fantastic place to shop for souvenirs or a few items for yourself before you head back home.
It's also close to many other attractions such as Tivoli Gardens and the National Museum, which make it a handy spot to explore more of the city.
Reffen
The final stop during your 3 days in Copenhagen should be the former industrial complex of Reffen. Nowadays, it does consist of some shipping containers but they are full of street food vendors and artist's workshops.
I discovered this place by accident as I was walking around the city. It's not the easiest place to find and is slightly away from the centre of the city, but it's worth visiting for the food alone.
You'll find a whole range of food options here from Mexican, to pasta and BBQ. Half the fun is deciding what you want to eat. If you're lucky, there might be a concert while you're visiting too.
Reffen is located on the industrial island of Refshaløen and isn't too far from the city centre or the bohemian enclave of Christiania.
Other Places to Visit in Copenhagen
Rosenborg Castle – This castle is outside of the city centre, so you'll need a car to get there, but it's worth it. It's an impressive building and there is a lot to see on the castle grounds too. Plus, you can go inside and see the crown jewels, coronation chair and much more!
Cross the Øresund Bridge – The Øresund Bridge connects Copenhagen to Malmo in Sweden. If you have a car, or if you rent one, you drive over the bridge and spend a day in the Swedish city. The bridge itself is an incredible piece of architecture. As someone that has driven over it, it's well worth the trip just to experience the drive across the bridge!
Amager Strandpark – One thing I didn't realise until I visited Copenhagen was that it had a beach. Well, if you're there during the summer, it's an ideal place to go! You can relax, or head to the lagoon area where you can do a variety of watersports. There's also a large promenade which is perfect if you want to go for a run, skate or cycle!
Check out some more of the activities and tours you can do in Copenhagen during your trip to the city by clicking the link below:
Copenhagen Travel Tips
Where to Stay in Copenhagen
As the biggest city in Denmark, there are no shortages of places to stay in Copenhagen. Whether you want to stay in a hostel, hotel, or apartment, you'll be able to find somewhere to suit your needs.
One thing you have to consider when you visit Copenhagen is the cost. Denmark is an expensive country and accommodation is no exception. If you plan on staying in the centre of Copenhagen, you will pay more than if you stay outside of the centre.
If you're travelling on a budget, staying outside of the centre isn't a bad idea. Due to the excellent metro system, you can reach the city centre with ease and the money saved will come in handy during the rest of your trip.
I've included it and several hostels you should consider staying at during your trip to Copenhagen in the table below.
Cost of Travel in Copenhagen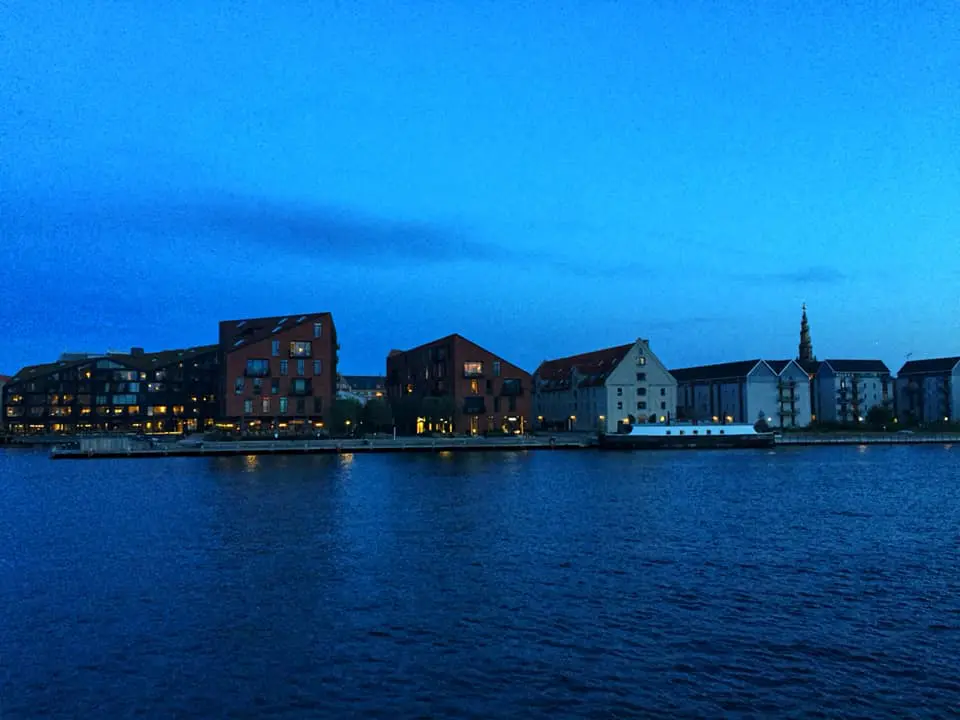 The good thing about visiting Copenhagen is that it will be cheaper than if you decided to visit Oslo for example. Denmark is a cheaper country than Norway, but it's still more expensive than most of Europe.
Due to this, it's important to budget for your trip. As the basics cost more than the rest of the continent, if you want to do activities or visit the Christiansborg Palace, for example, you'll need to factor that in before you go.
My advice is to consider what you want to see beforehand and budget accordingly. Once you're there, you can then use any spare money to see or do whatever you, please!
The following prices are for the traveller who has an average budget. That is someone who is not going to splurge, but someone who will not be travelling on an ultra-frugal budget either.
They don't include prices for extras such as nights out at a bar/pub, club entry fees, souvenirs/clothing purchases, tours. etc. You will have to budget extra for these purchases as they are 'non-essential!'
Here's a rough breakdown of essential travel costs in Copenhagen:
Denmark uses the Danish Krone (DKK), as a result, I've included the prices in Euro (€) as it can be hard to convert and offers a comparison with the rest of Europe.

Accommodation
Hostel: Dorm – €29.60-42.30; Private – €59-143
Hotels: €84-169
Rental Apartment: €76-169+

Food and Drink
Breakfast: Free-€8.50
Dinner: €11-17
Takeaway meal: €2.50-4.20
Pint of beer: €6-7.60

Transport
City Metro / Bus: €3.20
Day ticket: €10.20
72-hour ticket: €26
Taxi from Copenhagen airport to city centre: €32
Best Time to Visit Copenhagen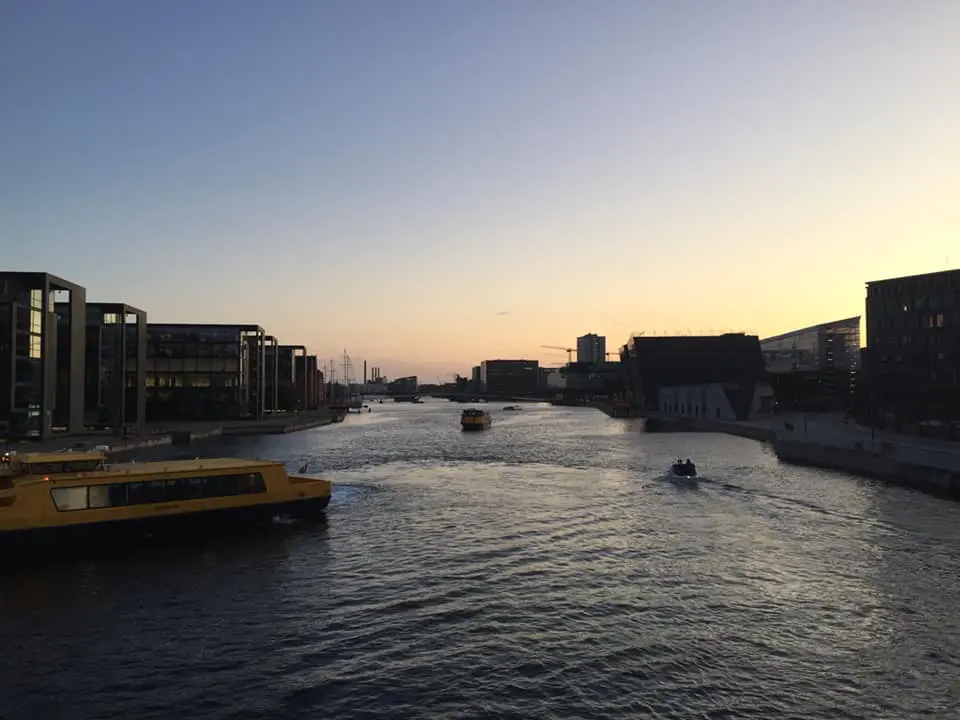 Before you visit Copenhagen, it's important the time of year that you will visit. Due to its position in northern Europe, Denmark experiences distinct seasons.
It will much be colder during winter, while it will be warm, but nothing like a trip to Seville during the summer! While the remainder of the year will fluctuate between good and wet weather.
The advantage of visiting in the summer is that it's more likely to be warm, which allows you to spend more time outside exploring the city.
While it will be colder during winter, there will also be fewer tourists in the city. This should mean that prices will be slightly lower and you won't have to deal with queues at popular tourist spots.
In the end, it comes down to what you want to do during your 3 days in Copenhagen. If you're not bothered about the weather, then any time of the year is a good time to visit.
Perhaps the best time might be during the shoulder season. In March and April and September to October, you'll get the best of both worlds. Decent weather and not so many tourists!
How to Get Around Copenhagen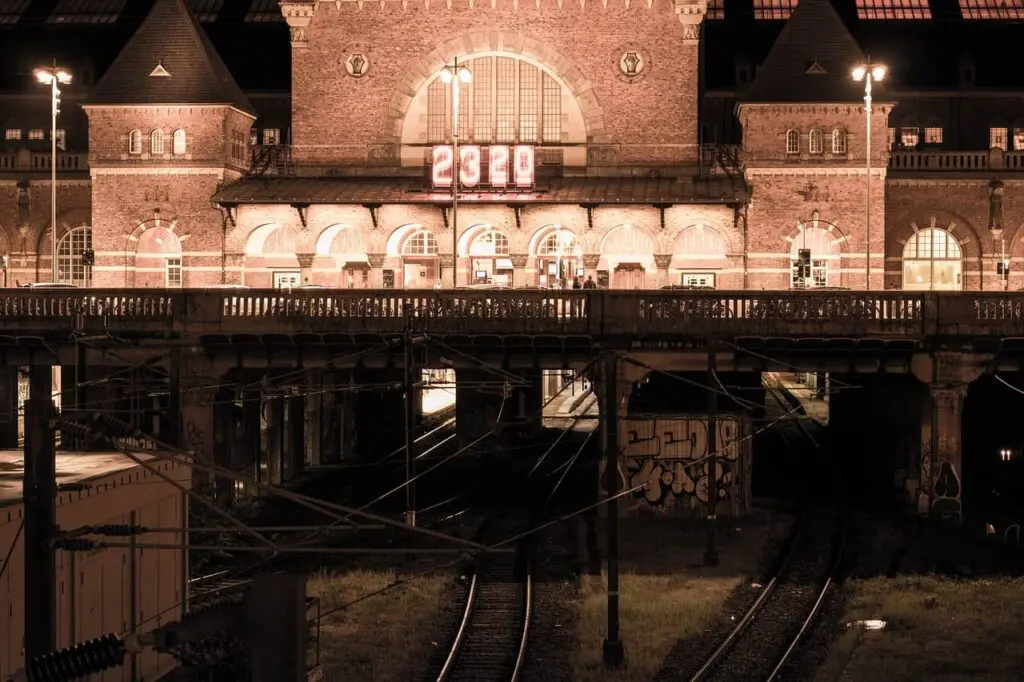 Copenhagen is a big city but it's one that's easy to get around either by foot or using the excellent public transportation system. Most of the sights in the city centre are within walking distance of each other.
This means that you can walk around and see everything without the need to hop on the metro. That said, if you prefer to use the metro, if you buy a Copenhagen Card you get free public transport for the duration of your stay, it's easy to get around.
The system is highly efficient and is handy if you decided to stay outside of the city centre. You can also use the metro to get to and from Copenhagen airport.
Another option to get around the city is to rent a bike. Copenhagen is a cycling-friendly city and using a bike is a good alternative to walking everywhere. This means you'll be able to see more as you can get around quicker.
Frequently Asked Questions
Is 3 Days Enough in Copenhagen?
3 days in Copenhagen is a good amount of time to explore one of the best cities in Europe. I spent that number of days in the Danish capital and felt I got a good feel for the city while I was there.
The best thing about Copenhagen is that there is so much to do you'll never get bored or run out of places to visit! While you want to get to know the city on an intimate level in three days, it's the perfect number of days for a city break.
Is Copenhagen Expensive?
Yes, is the quick answer. Copenhagen is an expensive city, but you can still enjoy it if you're on a budget. There are a lot of attractions that are free, such as Christiania and Nyhavn.
An easy way to make Copenhagen less expensive is to get a Copenhagen card. This gives you discounted or free entry to over 80 museums and attractions, while it allows you to use the public transport network for free too.
Need Travel Insurance?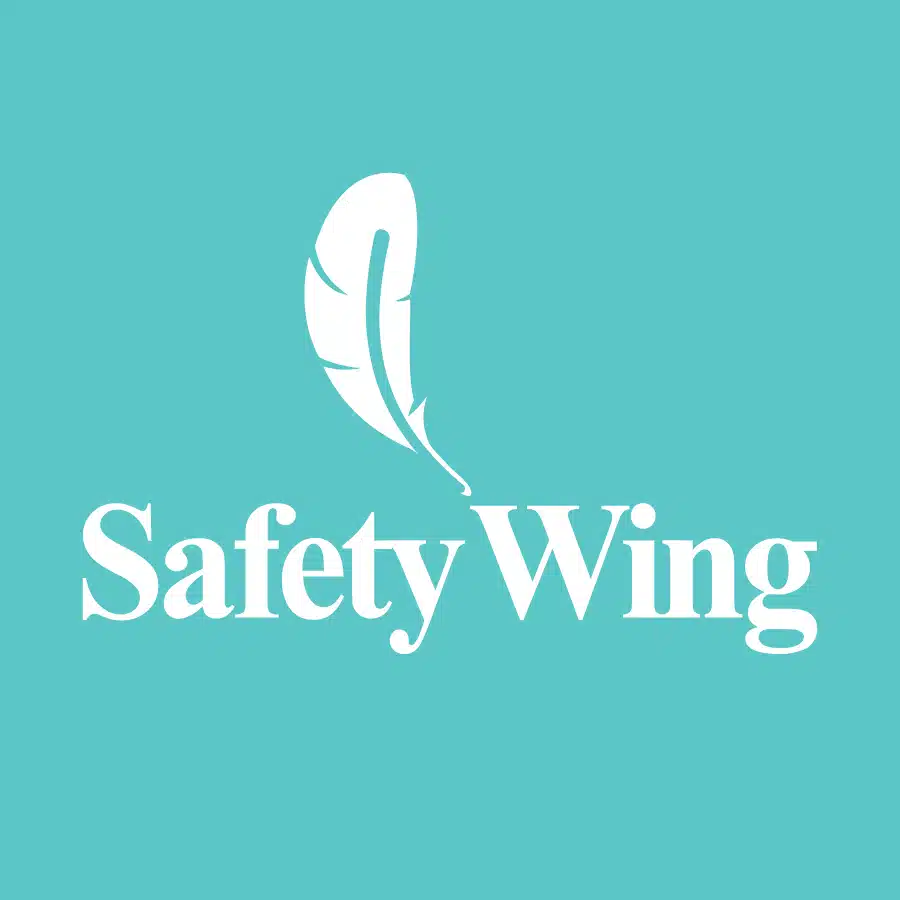 SafetyWing offers coverage that will give you peace of mind while you're on the road. If you want to protect yourself while you're on the road, then click the image to take a look at the options available to you.
Pin For Later
Tom is a travel addict who first left England to spend a year Down Under. Not satisfied with this, he then went to New Zealand, about as far away from home as he could get. He is now planning his next adventures in Europe and Canada while maintaining this blog. Check out the about me page to learn more!