3 Days in Madrid is a good number of days to explore Spain's capital city.
Madrid is a great city to visit and there's no chance you'll run out of stuff to do. The city has a typically Spanish feel that's somewhat hectic but also chilled with the numerous parks.
There are a lot of things to do in Madrid, such as checking out Plaza Mayor, the Royal Palace, tapas bars and famous art museums.
This 3 day Madrid itinerary will show you all the best places to visit, where to stay, a rough estimate on costs and much more!
Keep scrolling to discover what you can do in Madrid in 3 days.
Disclosure: This article may contain affiliate/compensated links. For full information, please see our full disclosure policy.
3 Days in Madrid Itinerary
Quick 3 Days in Madrid Itinerary
Day 1 – Walking Tour, Museo Reina Sofia, Museo Prado, Plaza Mayor
Day 2 – Estadio Santiago Bernabeu, Royal Palace, Retiro Park, Puerta del Sol
Day 3 – Temple of Debod, Chocolateria San Ginés, Plaza de Cibeles, Toledo

Top Tip – Skip the lines and get free public transportation with the Madrid pass
Check out some of the best places to eat in Madrid with this food tour
Book a cheap shuttle bus to/from Madrid Airport to/from Madrid City Centre
My Experience in Madrid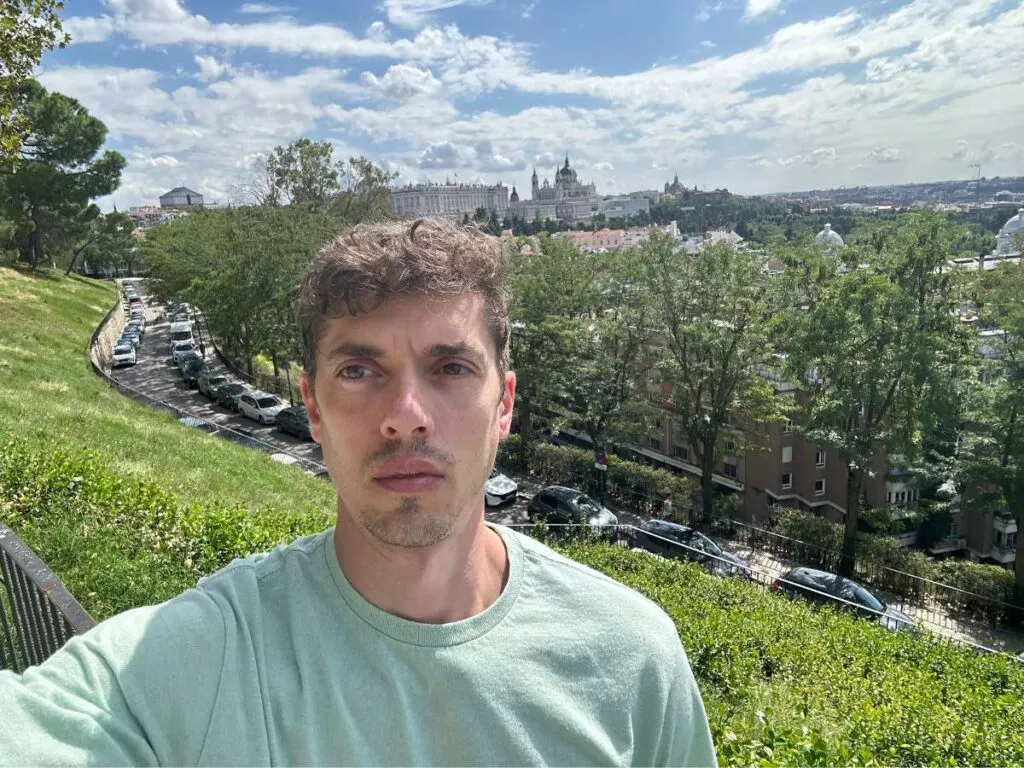 After spending 3 days in Lisbon, I took a long bus journey to get to Madrid, which despite living in Spain for two years, I'd never visited before.
I'd heard a lot of good things about Madrid and was eager to see it for myself. Overall, I was impressed! Madrid is a beautiful city and there is a lot to do here.
You could easily spend five days to week exploring the city and places such as Segovia and Toledo that you can visit on a day trip.
Madrid has a different vibe to Barcelona. A little less cosmopolitan I thought, but it feels a lot more Spanish than Barca with some stunning architecture.
One thing I liked was just how things there are to do here. It was tough squeezing everything in and if you want to see the surrounding area, you'll probably need at least one more day.
The world-class museums such as Museo Reina Sofia and Prado were the highlights of my trip as was seeing a Real Madrid match at the Santiago Bernabeu, even if I don't like the club that much.
Madrid is one of the best places in Spain and a brilliant city break in Europe that almost everyone will enjoy no matter what you like to do when you travel!
Here are a few things I liked about the city and a few things I didn't:
Good
The museums in Madrid are fantastic. From a personal perspective, seeing Guernica by Pablo Picasso in Museo Reina Sofia was worth the trip alone for me. If you're a culture vulture, the city is perfect for you!
Madrid has plenty of great parks too, such as Retiro. This is ideal during the summer, as they are great places to go and cool off from the heat. They're also nice to walk around as you forget you're in the middle of a big city at times!
Bad
I could not get to grips with the metro system to save my life while I was in Madrid. Even if I did live there for two years, the one in Barcelona is much easier to navigate. The direction the metro is travelling in isn't easily labelled, and I had to jump off and change platforms a few times.
Madrid being where it is in Spain isn't necessarily a bad thing, but it does contribute to the changing weather during the year. If you're used to visiting places in Spain by the sea, it will feel different from what you're used to. This isn't bad, just a different change of pace.
What to do in Madrid in 3 Days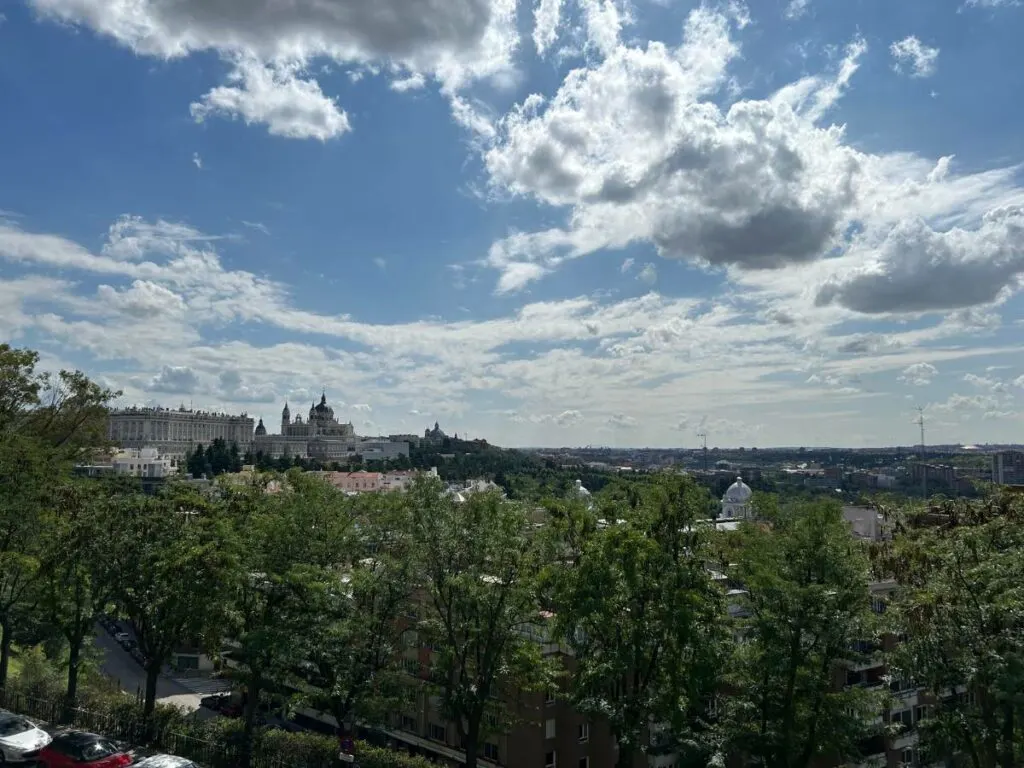 You won't be short of things to do in Madrid. The city is huge and there are more than enough places to see to fill three days here.
You might have the opposite problem instead, fitting everything in.
This will be the case if you want to visit Segovia and Toledo, which are day trips out of the city.
If you're not sure about what to do in Madrid, I've listed a few places below you have to check out while you're in the city, as well as some tours I recommend doing too!
I'd recommend getting a Madrid pass before you go, as this is a great way to save some money. While the pass doesn't entitle you to use Madrid's public transportation, it does give you entry to over 15 attractions.
You can get into Museo Prado and tour the Royal Palace through this card, as well as see a flamenco show!
Museo Reina Sofia – The museum houses Picasso's Guernica, which is arguably his most famous work. That was reason enough to visit for me, but there are also plenty of other great works of art there, including plenty by Salvador Dali.
Estadio Santiago Bernabeu – The home of Real Madrid, one of the biggest football clubs in the world. Either doing a stadium tour or watching a match is a must. You can visit the Metropolitano Stadium, home of Atlético de Madrid, the other team in the city too.
Museo Prado – If you like classical art, this is the place for you. You'll find plenty of masterpieces inside one of the best museums in Madrid's Golden Triangle of Art.
Retiro Park – Retiro is a big park in Madrid city center. It's a great place to wander around and relax for a couple of hours. Even more so, if it's a warm day.
Royal Palace – Home to the Spanish Royal Family, the palace is right in the heart of Madrid and is similar to Buckingham Palace in some sense. A cool place to explore and there's a park behind it too!
Madrid Itinerary – Day 1
The first of your 3 days in Madrid involves a walking tour to get familiar with the city and a visit to two of the best museums in the city!
Walking Tour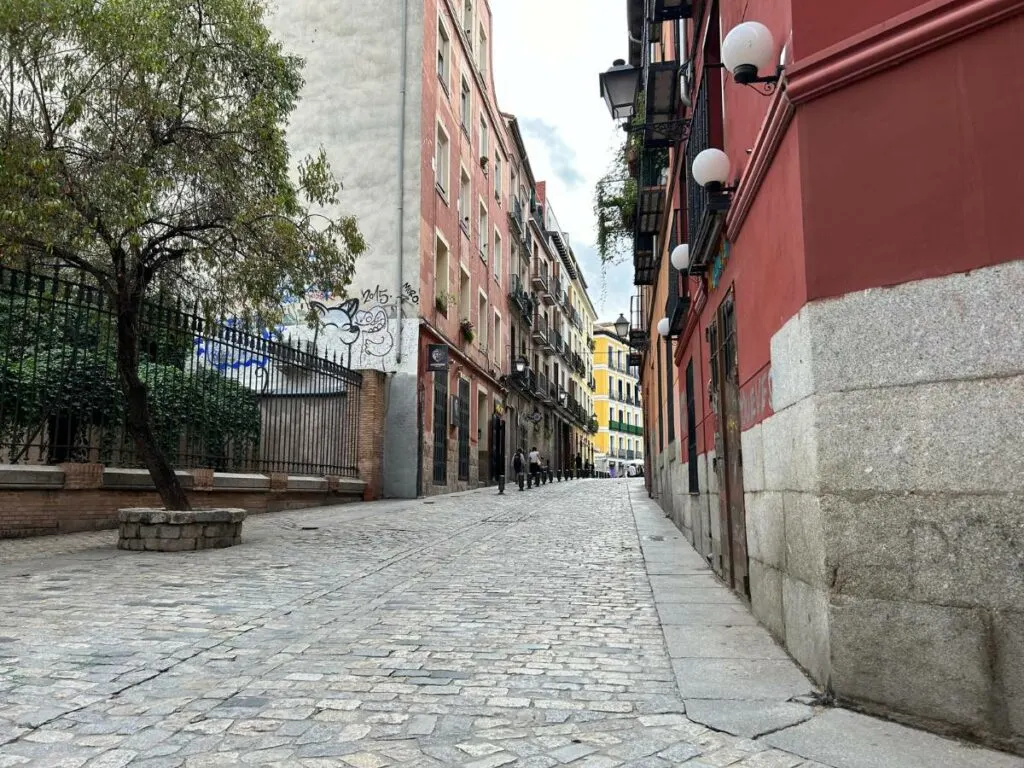 I always like to go for a wander when I first arrive in a new city. After I've checked in, I head out and walk in one direction and see where I end up.
For me, this is a good way to explore a new city and try and get to grips with it. However, I recognise this isn't everyone's idea of fun.
An alternative is to go on a walking tour.
A lot of hostels offer walking tours, or they partner with a company that provides one. Some are free and you'll have to pay a small fee to join other ones.
They're a good way to see a city, find out where everything is and learn about the history of the place too. Booking a walking tour is a good idea if you've not been to Madrid before.
Museo Reina Sofia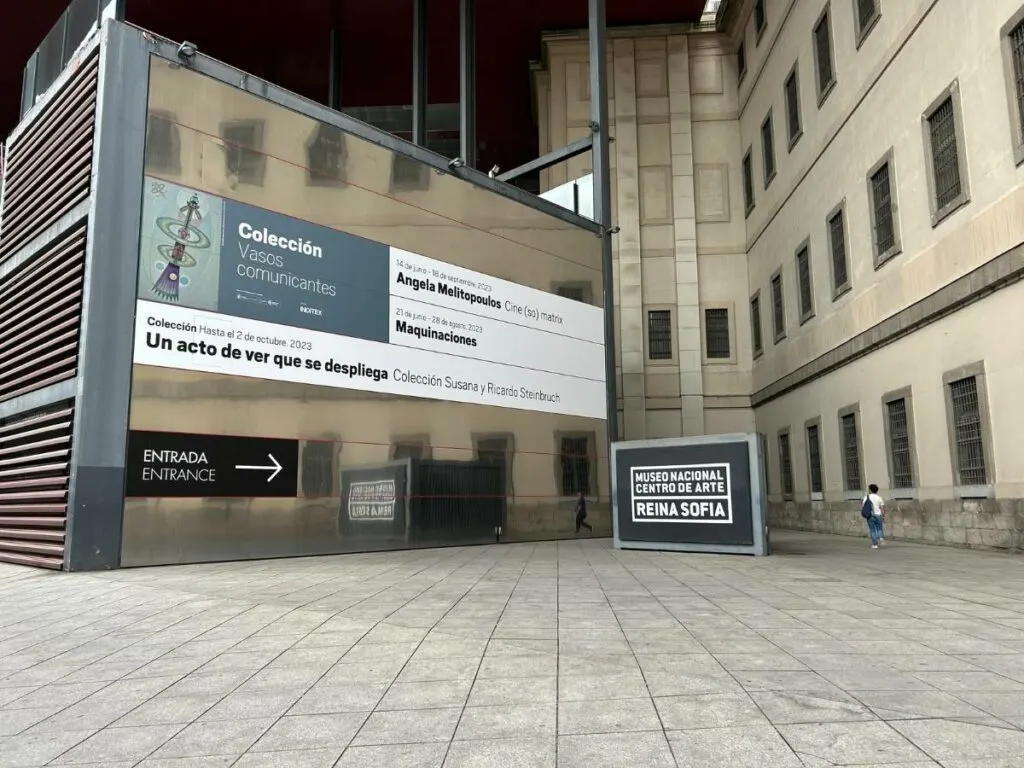 Museo Reina Sofia (Reina Sofia Museum) was the one place I wanted to visit before I visited Madrid. That's because it's home to Picasso's famous painting Guernica.
It's worth visiting the museum just to see it because it's even more amazing in the flesh than I imagined. You don't realise just how big it is!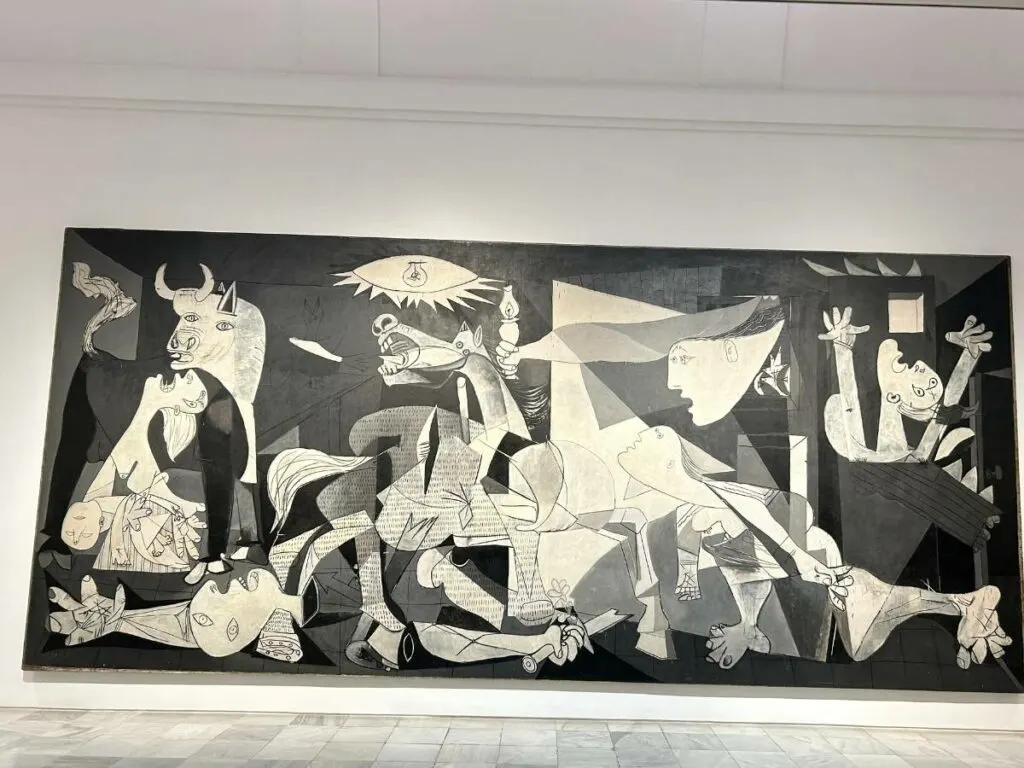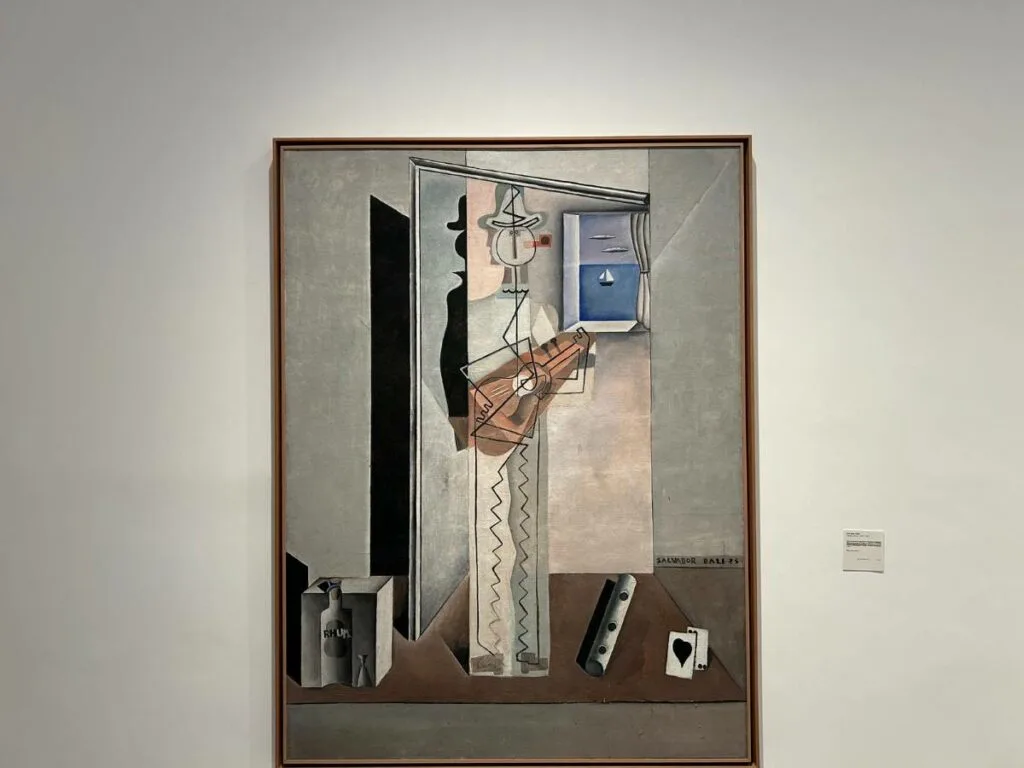 There's a lot to see in the museum besides this. There are more works by Picasso, as well as plenty of 20th century art by the likes of Salvador Dali and Joan Miro, some of which I've highlighted above.
I spent a couple of hours walking around, taking my time to see the various works of art and enjoyed every minute.
It costs €12 to enter, which is worth it even if you're a fan of the arts because the paintings here are some of the best you'll see anywhere!
You can also book a guided tour to find out the stories behind the artwork.
Museo Nacional del Prado
After visiting the Reina Sofia, it's time to head to another one of the city's art museums, the Museo Nacional del Prado.
If you're not sure you can manage another museum, you can always swap this activity with something from the next day instead.
The Prado contains numerous masterpieces by a variety of artists, such as famous Spanish artists Goya, Ribera and Angelico.
The difference between Prado and Reina Sofia is that the former has many more classical pieces while the latter is more focused on surreal and abstract art.
I recommend visiting both if you're an art lover, as they're both brilliant museums. You'll see lots of incredible European art and it only costs €15.
You can get your ticket in advance too, which saves you queuing as the museum is one of the most popular attractions in Madrid.
You can also book a guided tour if you want more information on the paintings housed there too.
Plaza Mayor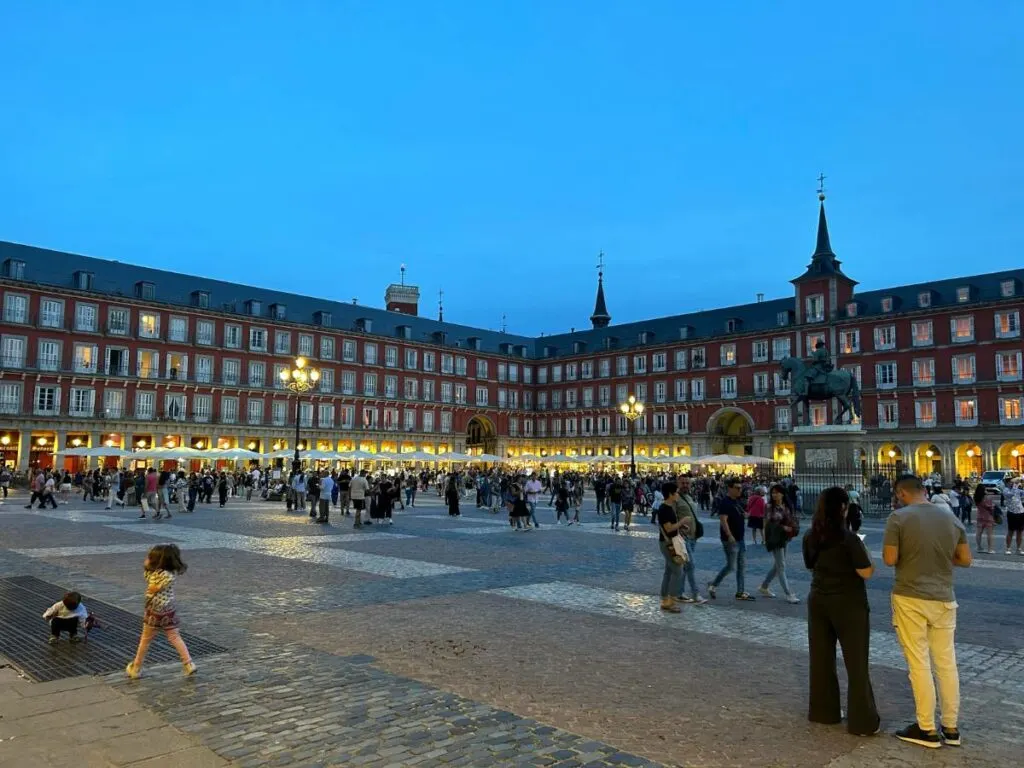 Plaza Mayor is the main square in Madrid and was once the centre of the old city.
The square isn't too far from Puerta del Sol, another famous square in Madrid and is home to a variety of shops, restaurants, and tapas bars.
A bronze statue of King Philip III sits in the centre of the square, which was originally in Casa del Campo park before it was moved by Queen Isabel in 1848.
Plaza Mayor is one of the best places in Madrid to get something to eat. It might be a bit more expensive than elsewhere, but eating a meal in the square is an experience!
Madrid Itinerary – Day 2
The second of this 3 day Madrid itinerary takes you to one of the most famous football stadiums in the world, a royal palace and a huge park in the centre of the city.
Estadio Santiago Bernabeu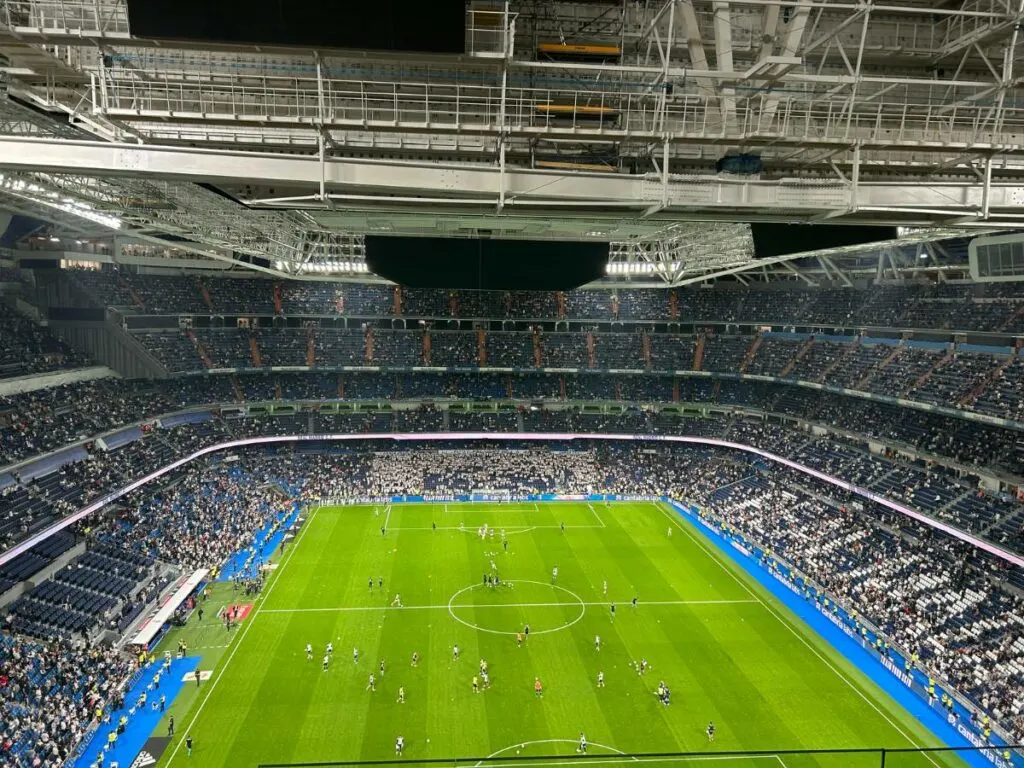 The Santiago Bernabéu is the home of Real Madrid, arguably the biggest football club in the world, which pains me to say as a Liverpool fan!
If you like football, this is one of Madrid's must-visit spots. I was lucky enough to visit when Real was playing at home, so I got to see a match, which was a great experience.
I'd recommend booking your trip to coincide with a match, if not, booking a stadium tour is a must.
The Bernabeu is huge and you don't realise how big it is until you're inside. Be sure to check out all the trophies in the museum too.
You can also book a tour of the Metropolitano Stadium, where Real's rivals Atlético play. This is probably best reserved for hardcore football fans, as visiting two stadiums in one day is a lot!
Royal Palace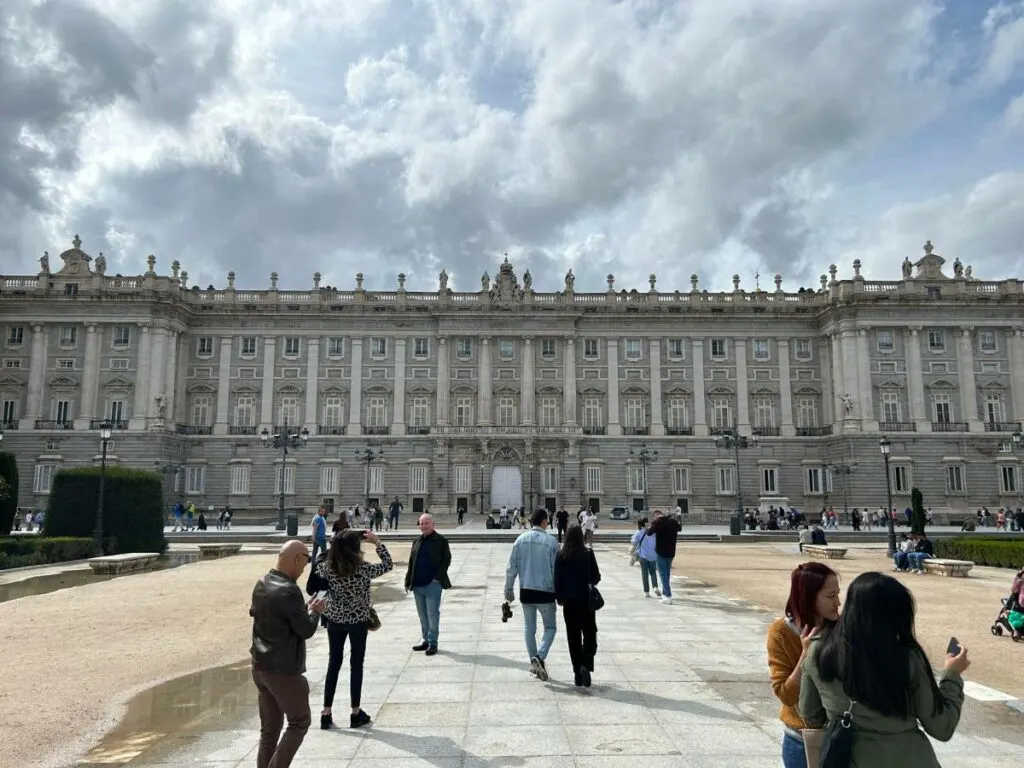 The Royal Palace in Madrid is an incredible building and worth visiting even if it's not where Spain's royal family lives.
It's the largest royal palace in Western Europe and right in the centre of the city. The palace takes up over 135,000 square metres and has 3,418 rooms!
The great thing about the palace is that you can go inside if you wish. Walking around the exterior is great, but to get an idea of how big and grand it is, you need to go inside.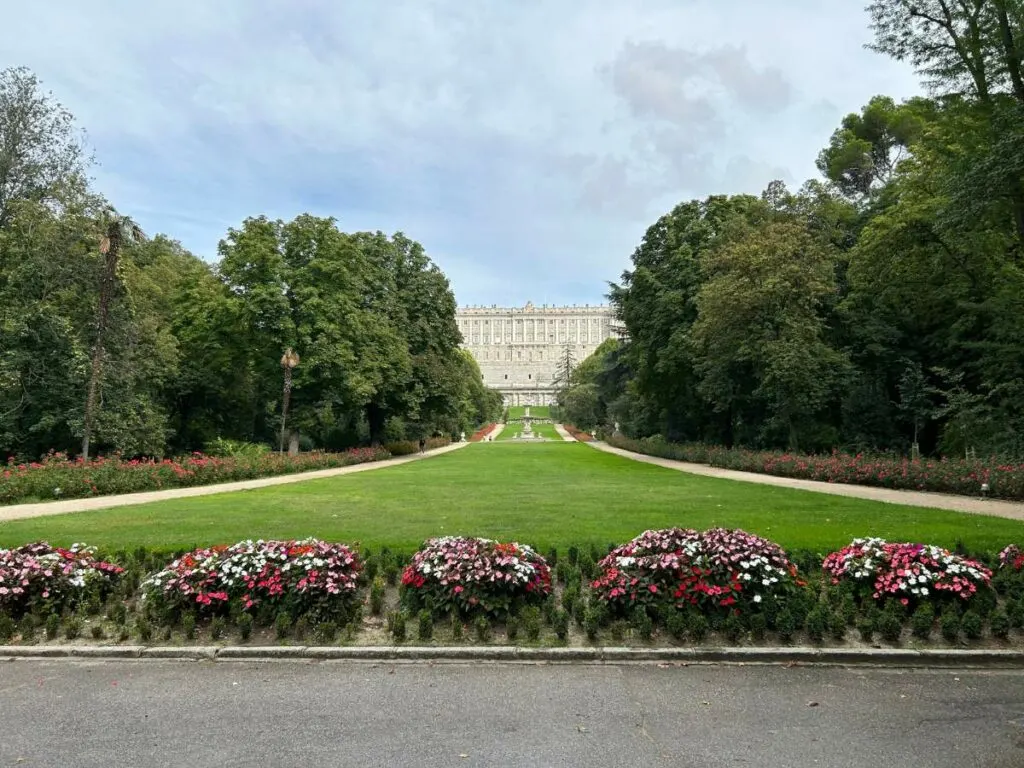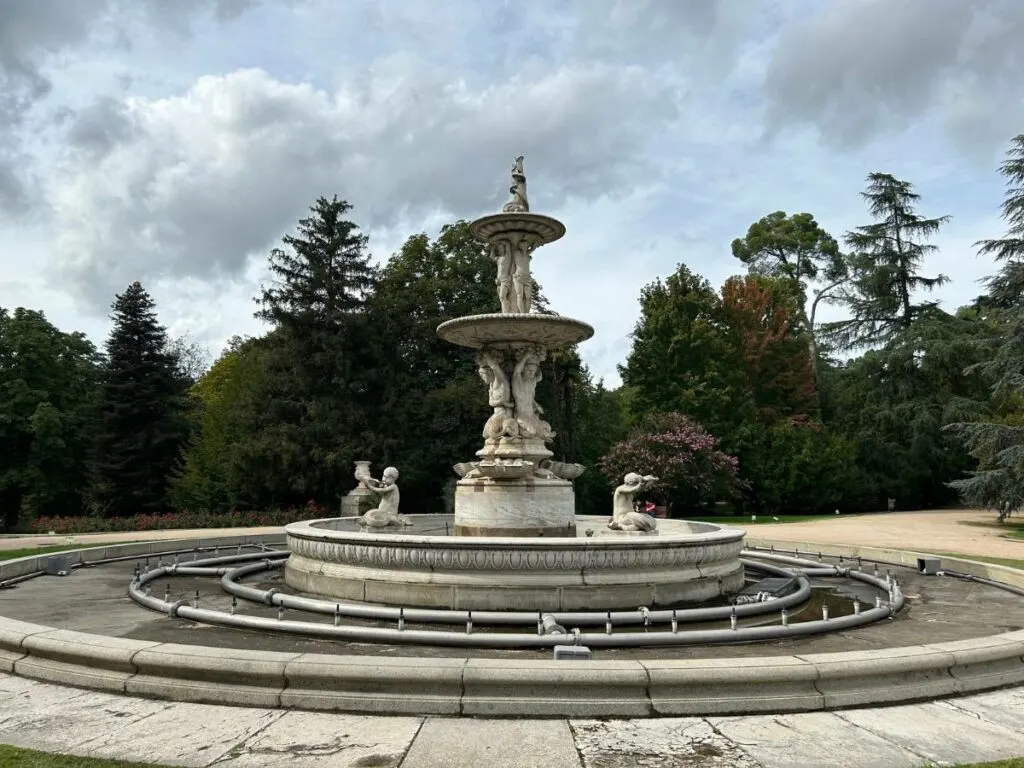 I recommend booking a tour, or booking your ticket in advance, as the queues to get in can get very long!
It's also worth checking out the gardens behind the palace, as they are beautiful and a nice place to stroll around.
Retiro Park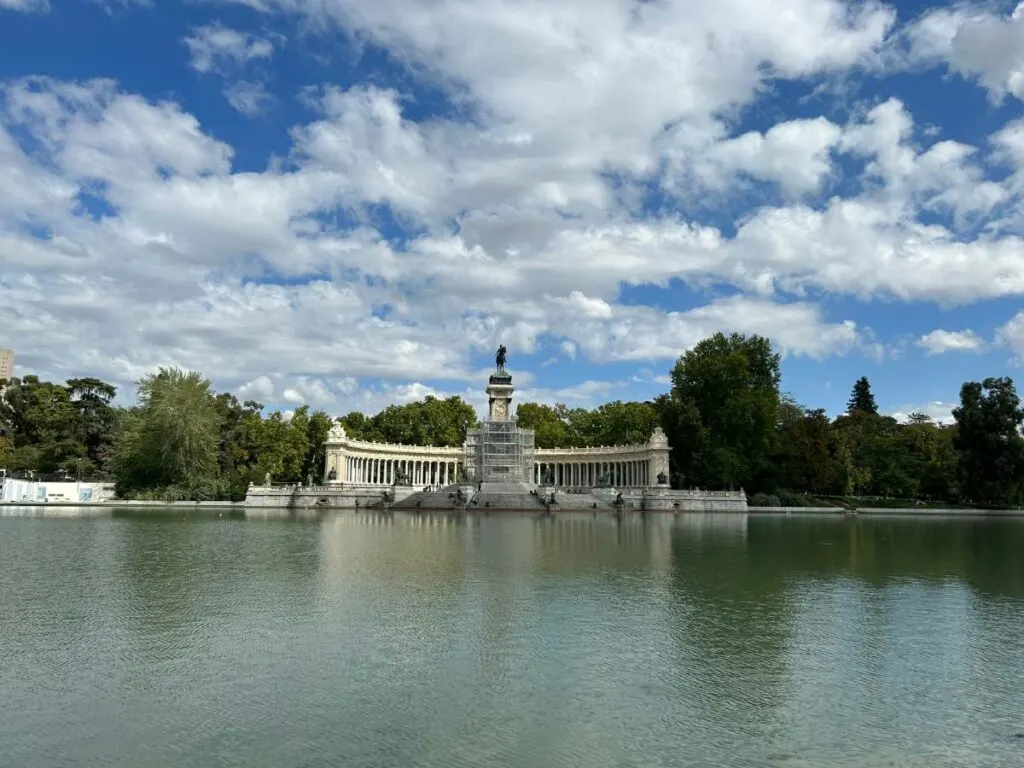 Retiro Park (El Retiro Parque in Spanish) is the largest green space in Spain and a UNESCO World Heritage Site.
One of the best things about Madrid is that there are a lot of green spaces and Retiro Park is one of my favourites.
The park is home to a range of different monuments and gardens such as Jardín de Vivaces and the grand monument to Alfonso XII, which looks over the lake in the park.
There's also the Crystal Palace, which is an impressive piece of architecture, although it was closed when I was there.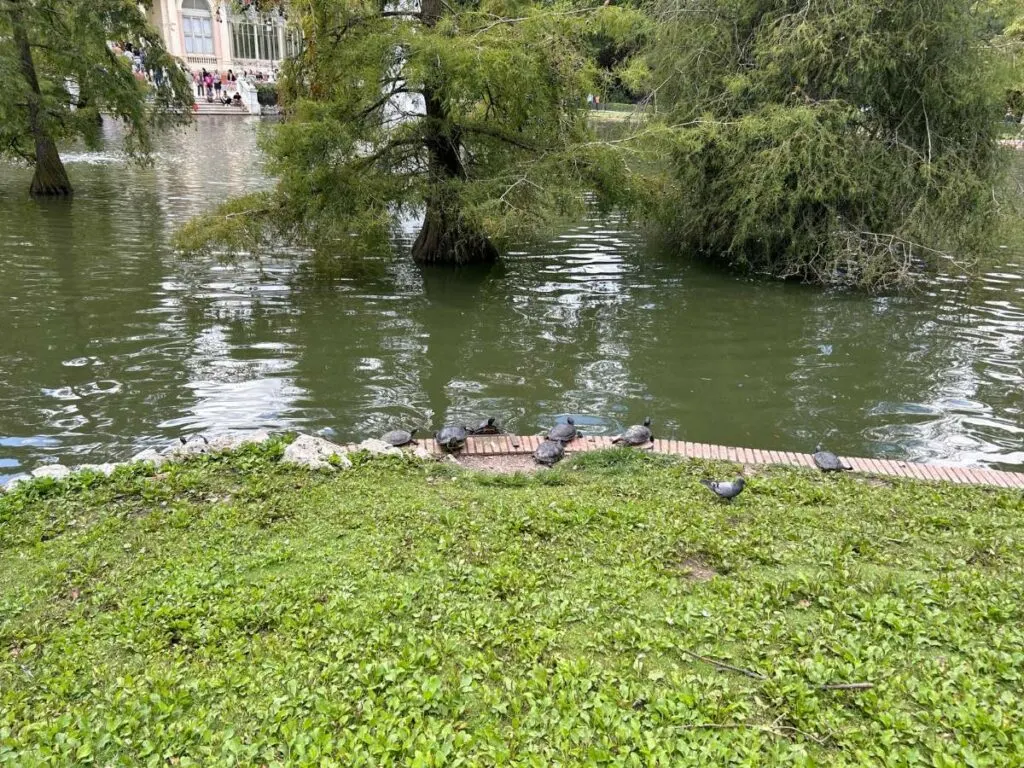 It's a great place to stroll around, especially on a warm day, and you'll also lots of wildlife too. There are plenty of ducks and turtles in some of the lakes.
You can do a walking tour of the park if you wish to learn more about its past and importance to Madrid.
Puerta del Sol
Puerta del Sol, which translates to Gate of the Sun, is another one of the city's famous squares.
This one is right in the heart of the city not far from Gran Via, which is the main shopping street in Madrid.
In the square, you'll find a statue of a bear and a strawberry tree, which is the symbol of the city. There's also a statue of Charles III on the south side of the square.
An interesting fact about Puerta del Sol is that it's regarded as kilometro cero in Spain, the symbolic centre of the country. A plaque commemorates this in the square.
Madrid Itinerary – Day 3
The final day sees you visit an ancient Egyptian temple, get some churros and take a day trip to Toledo if you have time.
Temple of Debod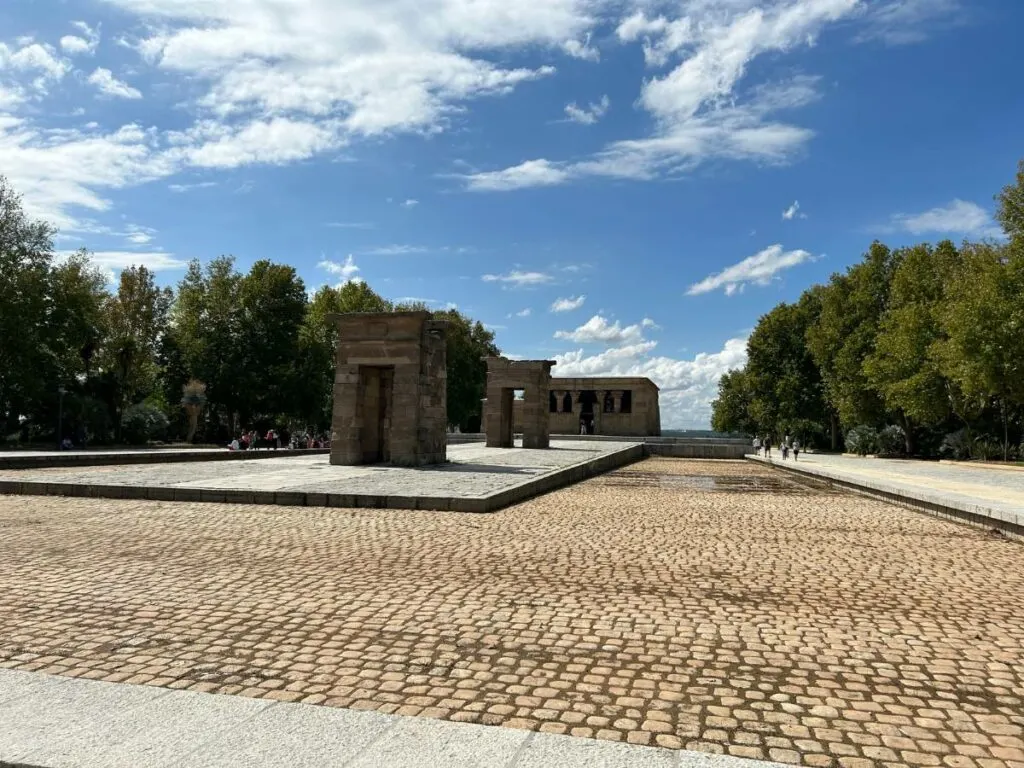 This is one of the stranger attractions in Madrid but it's also one of the best and a great place to start your final day in Madrid.
The Temple of Debod is an ancient Egyptian that is in the centre of the city. You might be wondering how it got there.
Well, it was dismantled following the decision to build the Aswan Dam, which would have flooded the site. The temple was then reconstructed in Parque de la Montaña and opened to the public in 1972.
The great thing about the temple is that it's free to enter. However, this means there can be lengthy queues, so I'd advise going early to avoid the crowds and standing around in the sun.
It's really cool to walk around an ancient temple and is definitely not something I thought I'd be doing when I visited Madrid!
Chocolateria San Ginés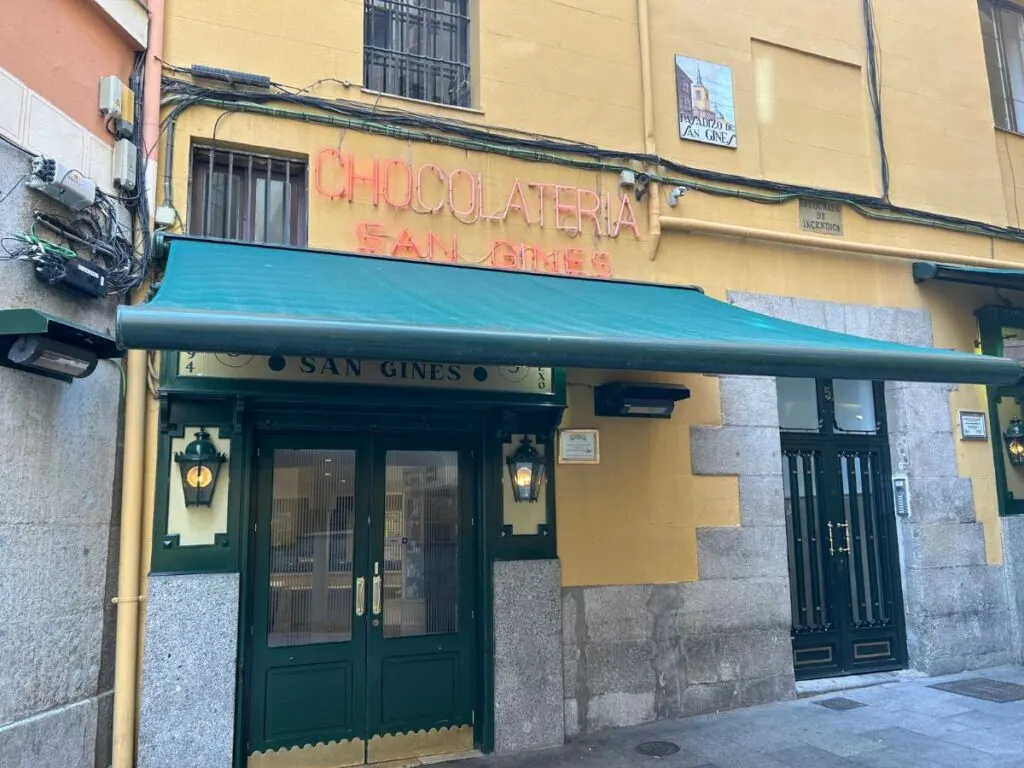 I was lucky enough to stay right next to this place when I was in Madrid and was baffled as to why there was a large queue outside when I first got there.
The reason is that it's a popular spot to get churros and chocolate and has been open since 1894! Hence the queue of people who want to get in!
Chocolateria San Ginés is somewhere you have to visit in Madrid, so even if the morning is a bit early for churros, I'd still recommend going.
You can always get a croissant and a coffee and come back to get some churros and chocolate later. The chocolateria is close to Puerta del Sol, so it's easy to reach.
Plaza de Cibeles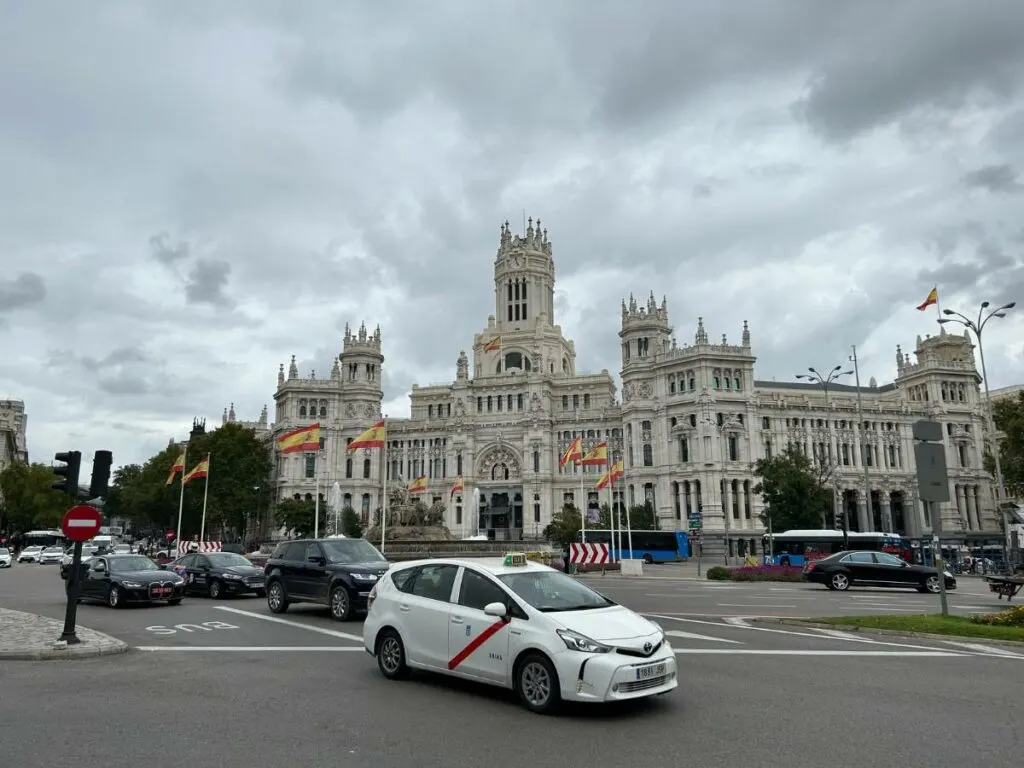 Plaza de Cibeles is another of the city's squares you have to check out on this 3 day Madrid itinerary.
The square is dominated by a fountain in the middle, which is named after Cybele, a Phrygian goddess.
Fans of Real traditionally gather here when their team has won a trophy to celebrate.
One of the prominent buildings behind the fountain is Cybele Palace, which is home to Madrid City Council.
Toledo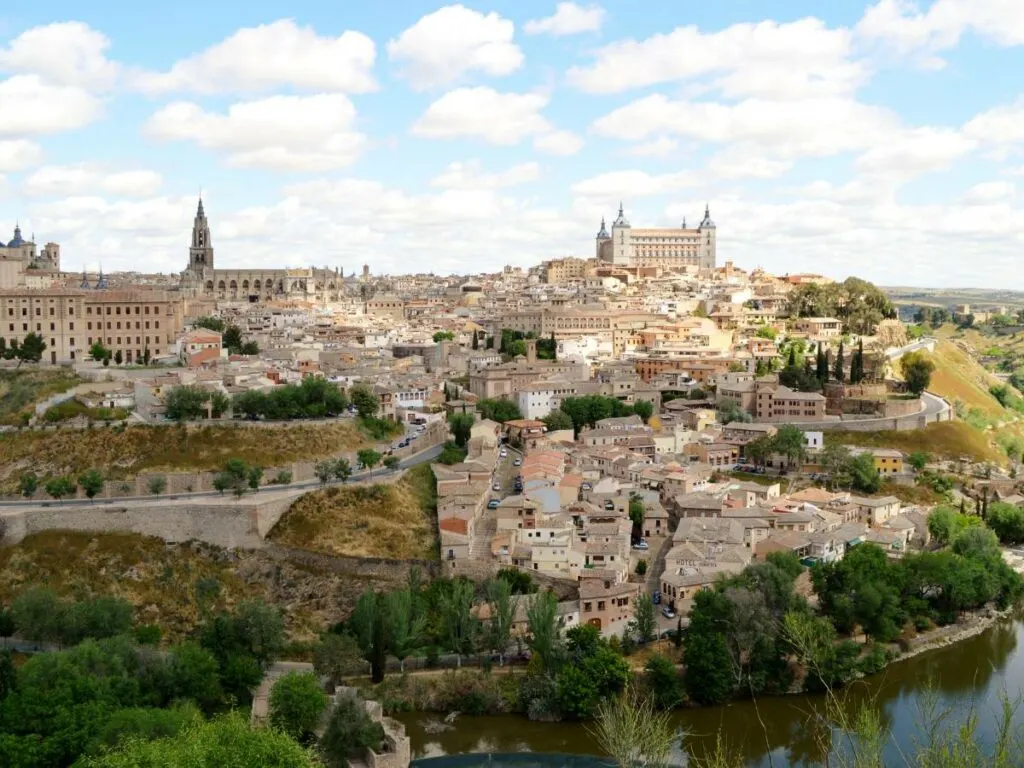 I've included a day trip to Toledo as part of this Madrid itinerary, as you can visit there for half a day if you wish.
It takes around 32 minutes to an hour to get to Toledo from Marid depending on which train you get. This makes it possible to see a few sights in the morning and head there in the afternoon.
Visiting for half a day is a stretch as there's a lot to do in Toledo, but you can get a late train and see most of the ancient capital.
There are Moorish palaces, cathedrals and lots of beautiful buildings to check out while you're there!
Other Places to Visit in Madrid
Segovia – Segovia is another place you can visit for a day from Madrid. It's famous for its Roman aqueduct, which is worth visiting by itself! Click here to book your tour now!
Mercado de San Miguel – If you want to get some local food and get some food to take away, Mercado San Miguel is the place to go in Madrid! There are plenty of tapas here and its location near Plaza Mayor makes it easy to reach.
Thyssen Bornemisza National Museum – Another one of Madrid's art museums located in the cultural center of the city. There are lots of works here with many dating from the 18th century and 19th century. Click here to book your tour now!
Plaza de Espana – Another prominent square in Madrid, Plaza de Espana is near Gran Via and is home to a sculpture of the famous Spanish writer, Cervantes.
La Latina – La Latina is one of the most famous neighbourhoods in Madrid and is located in the Centro district of the city. The narrow streets built on the site of an old Islamic fort are full of tapas bars and cantinas and make a great place to get something to eat.
Check out some of the other activities you can do in three days in Madrid below:
Madrid Travel Tips
You'll find a wide range of tips in this section to help you plan your trip to Madrid.
It includes the best time to visit, advice on where to stay, rough estimates for expenses in the city, and how to get around.
Where to stay in Madrid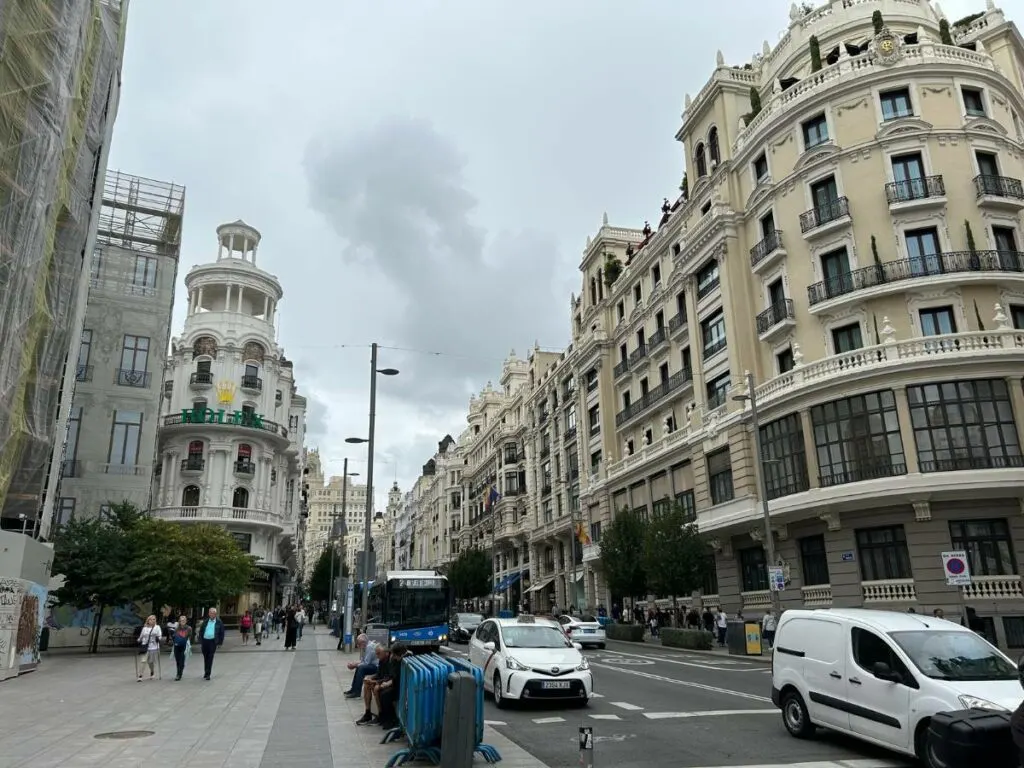 The good thing about visiting Madrid is that you won't be short of places to stay.
The city is huge and there are plenty of hostels, hotels and rental apartments to choose from. The main decision is what part of the city you'll stay in.
I stayed at Social Co-living, which was right in Central Madrid by Gran Via. It was a handy place to stay even if the area was very busy.
Everything was close by and I could walk to the nearest metro station in a minute or two. If you do stay a bit further out, you'll need to be near a metro station, otherwise getting around will be difficult.
I've listed a few places you should consider staying at during your trip.
| Accommodation | Description | Link |
| --- | --- | --- |
| Cats Hostel | A lively hostel that's ideal if you want to meet people and party. | Book Now |
| Mucho Madrid | A hostel with spacious rooms that's in the heat of the city on Gran Via. | Book Now |
| Latroupe Prado | Great place to stay that has a range of events to meet fellow travellers and big rooms. | Book Now |
Cost of Travel in Madrid
Like Barcelona, Madrid is one of the more expensive cities in Spain. This is relative though, as it's still cheaper than a lot of cities in northern Europe such as Copenhagen, for example.
Accommodation here is pricey, depending on where you stay, and you'll find that hostels are a bit more expensive than elsewhere in the country.
But I'd recommend staying in one if you're on a budget, as you can save money by cooking meals. Eating out can make a hole in your wallet if you're not careful, so cooking a few meals a day is a good way to mitigate this.
One thing that will eat into your budget is entrance fees to museums and tours. I spent a bit of money on these, although I'd factored it in as I wanted to visit Museo Sofia Reina and see Real play before I visited.
If you're planning a day trip to either Segovia or Toledo, I'd either book the tour beforehand or purchase train tickets early to get them cheaper.
Tours can eat into your budget, so be careful when it comes to how much you book.
Other than that, the only other expenses will be travel gifts for friends and family, so I'd set some money aside for this if you planning to get a few gifts.
I've included a rough estimate of prices for accommodation, eating out and transport in Madrid below
This doesn't include prices for other expenses such as nights out at a bar/pub, club entry fees, souvenirs/clothing purchases, tours. etc.
You'll have to budget extra for these purchases as they are 'non-essential!'

Accommodation
Hostel: Dorm – €20-45; Private – €100-180
Hotels: €90-160
Rental Apartment: €80-140

Food and Drink
Breakfast: Free-€6
Dinner: €15-25
Takeaway meal: €5-8+
Pint of beer: €3-5

Transport
Metro single ticket: €1.50
Day card: $8.40
Bike rental: €25 for the day
Best Time to Visit Madrid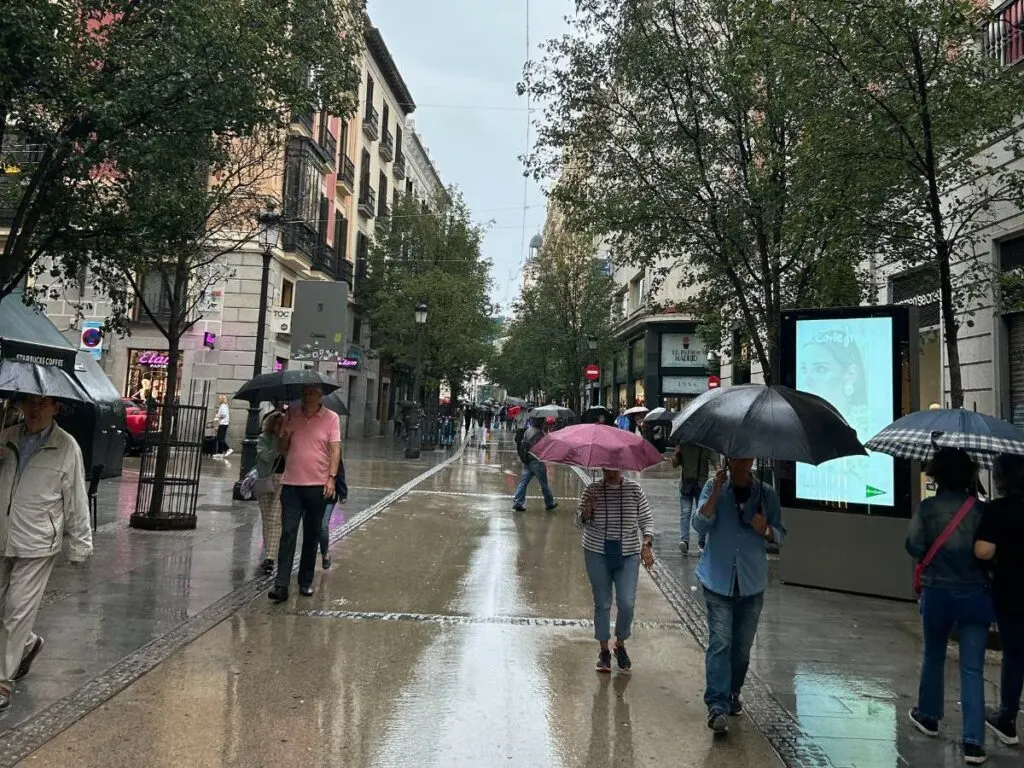 Going to Madrid is a little different from spending 3 days in Valencia, for example. This is because Madrid is right in the centre of Spain, as opposed to the coast.
This means the weather can vary depending on the time of year you visit more than in other parts of the country.
Summers can be brutally hot, with no relief from the sea as you're slap bang in the middle of the country. The opposite is true in winter, with it being much colder than places such as Barcelona or Seville.
I visited during September and experienced a mix of weather, with it raining one day, grey the next, and sunny after that. The city was very busy as well, so I can only imagine it's much more busier during summer.
If you want to avoid crowds, March to May and September to November are good months to visit, but you will compromise slightly with the weather at the start of spring and end of autumn.
I've included a quick guide on what to expect regards weather in Madrid depending on the time of year you visit.
Madrid in Spring
If you want a good time in Madrid, Spring is a decent period to visit, as the weather isn't too warm and you're starting to see the last of the winter cold too. The city should be a bit quieter during March and April too.
Average temperatures from low to high: 6.2°C – 22.2°C / 43.2°F – 72°F
Madrid in Summer
Summer can be intense in Madrid with no sea air to bring relief. You're going to get a lot of sun, but it's going to be very hot too! That's without mentioning the crowds too!
Average temperatures from low to high: 16.1°C – 31.3°C / 61°F – 88.3°F
Madrid in Autumn
I visited during September and found the weather to be a mix of rain and sun, which is about right of this time of year. A good time to visit if you want to avoid the heat and the crowds.
Average temperatures from low to high: 6.3°C – 26.4°C / 43.3°F – 79.5°F
Madrid in Winter
If you don't mind the cold and a bit of rain, this is a good time to visit the city. You'll find fewer tourists and get to experience the city at an interesting time of the year!
Average temperatures from low to high: 2.7°C – 12°C / 36.9°F – 53.6°F
How to Get Around Madrid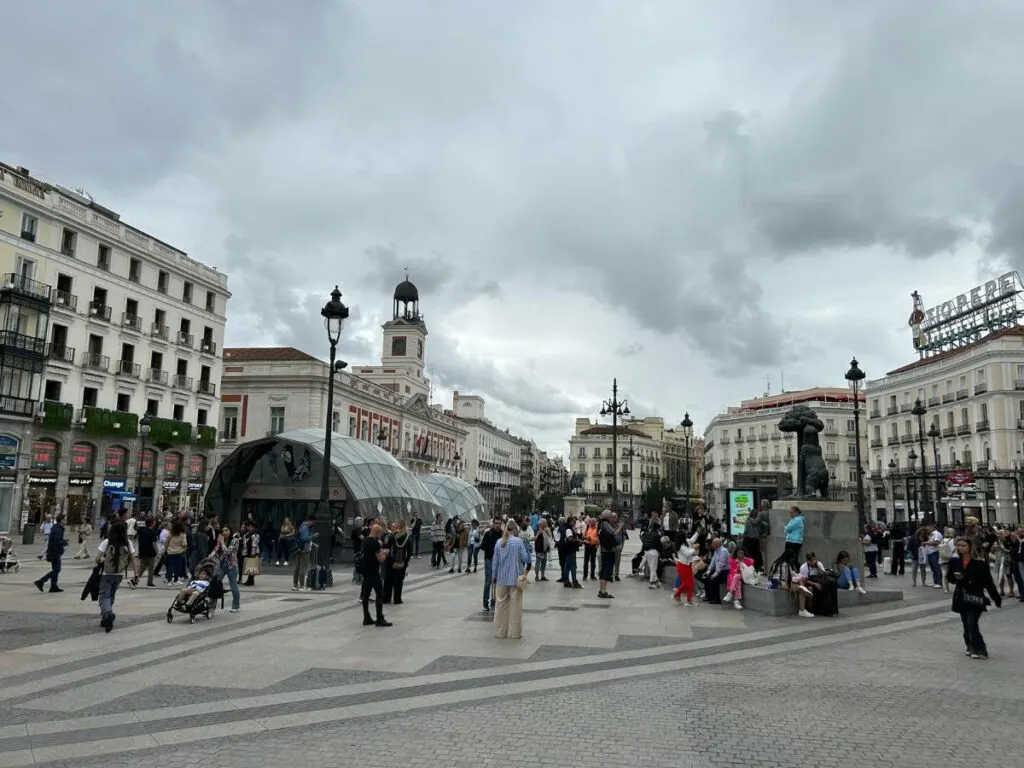 Madrid is a huge city and you can walk around the centre without too much difficulty. However, if you want to venture further afield, you'll need to use public transport.
You can walk between most of the sights in the centre such as Museo Sofia Reina, Gran Via and the Royal Palace. Although it will involve a bit of walking.
To get to places such as the Santiago Bernabeu Stadium, you'll need. touse the metro. It's too far to walk and the metro is quick and gets you right there.
The metro system isn't the easiest to figure out as it's so big. Despite living in Barcelona for two years, which has its own extensive system, I found Madrid's one harder to get to grips with.
The directions the metro goes in aren't marked very well and I got on the wrong metro once or twice because of this.
Other than that, it's easy to use and you can get a 10 journey for €6.80 in zone 1, which is helpful if you don't have a Madrid card.
Atocha train station is the main station in Madrid and is also within easy reach of the centre. Depending on where you're staying it shouldn't be too far to walk to or from the station.
The main bus station is a bit further out of the city, but there's a metro station connected to it, so if you arrive in the city via bus like me, you can just walk to the metro stop and go from there.
Madrid airport is also linked to the metro system, so if you're arriving or leaving by air, you just take the metro line 8, which is the pink one, and you're set.
Or you can take the airport express bus to get there instead.
Frequently Asked Questions
Is 3 Days Enough To Visit Madrid?
3 days is enough to see Madrid but if you want to venture to places outside of the city such as Segovia and Toledo, you'll need 4 to 5 days.
How Many Days in Madrid is Enough?
To see all of Madrid, the minimum is 3 days, with 3 to 4 days the ideal amount. If you planning on checking out the surrounding area, you'll need a minimum of 5 to 7 days.
Is Madrid or Barcelona Better?
Personally, I think Barcelona is better than Madrid, but I did live there for two years, so I'm somewhat biased. I feel there's more to do in Barcelona as a tourist, plus you can visit the beaches in the city or down the coast, which you can't do in Madrid.
That said, Madrid does have some great museums and visiting the football stadiums is fun too. But Barcelona edges it for me.
Looking For More Travel Guides?
3 Days in Barcelona – It doesn't take long to get between the two biggest cities in Spain on high-speed rail, so why not check them both out on the same trip?
3 Days in Seville – A city in Southern Spain that's not too far if you're travelling on the high-speed network. Seville is beautiful and well worth visiting!
3 Days in Malaga – Head to the beach after you've checked out Madrid and see one of the most underrated cities in Spain!
3 Days in Porto – A lovely city in Portugal that's a great place to travel to afterwards if you want to see somewhere a bit different!
Barcelona to Madrid Road Trip – Driving between the two biggest cities is a great trip if you have longer than three days.
Tom is a travel addict who first left England to spend a year Down Under. Not satisfied with this, he then went to New Zealand, about as far away from home as he could get. He is now planning his next adventures in Europe and Canada while maintaining this blog. Check out the about me page to learn more!