3 Days in Malaga is just the right amount of time to check out this beautiful Spanish city. Malaga is at the southern tip of the country in Andalucia, which makes it an ideal place to visit if you want to get some Spanish sun.
There are lots of things to do in Malaga, such as visit La Malagueta beach, check out the Roman Theatre or hike up to Castillo de Gibralfaro and take in the amazing view!
One of the best things about a trip to Malaga is that it is cheap. If you're clever, you can easily spend less than €50 a day, depending on where you are staying. Due to it being so far south, the weather is good all year round.
This Malaga itinerary will let you know the places you should visit when to go and much more during your stay in the city!
Whether you visit Malaga for 3 days or longer, it's one place you shouldn't miss out on when you're backpacking around Spain!
Disclosure: This article may contain affiliate/compensated links. For more information, please see our full disclosure policy.
3 Days in Malaga Itinerary
Quick 3 Days in Malaga Itinerary
Day 1 – Walk around Malaga, Castillo Gibralfaro, El Teatro Romano
Day 2 – Picasso Museum, Soho Neighbourhood, La Malagueta
Day 3 – El Caminito del Rey, Ronda
My Experience in Malaga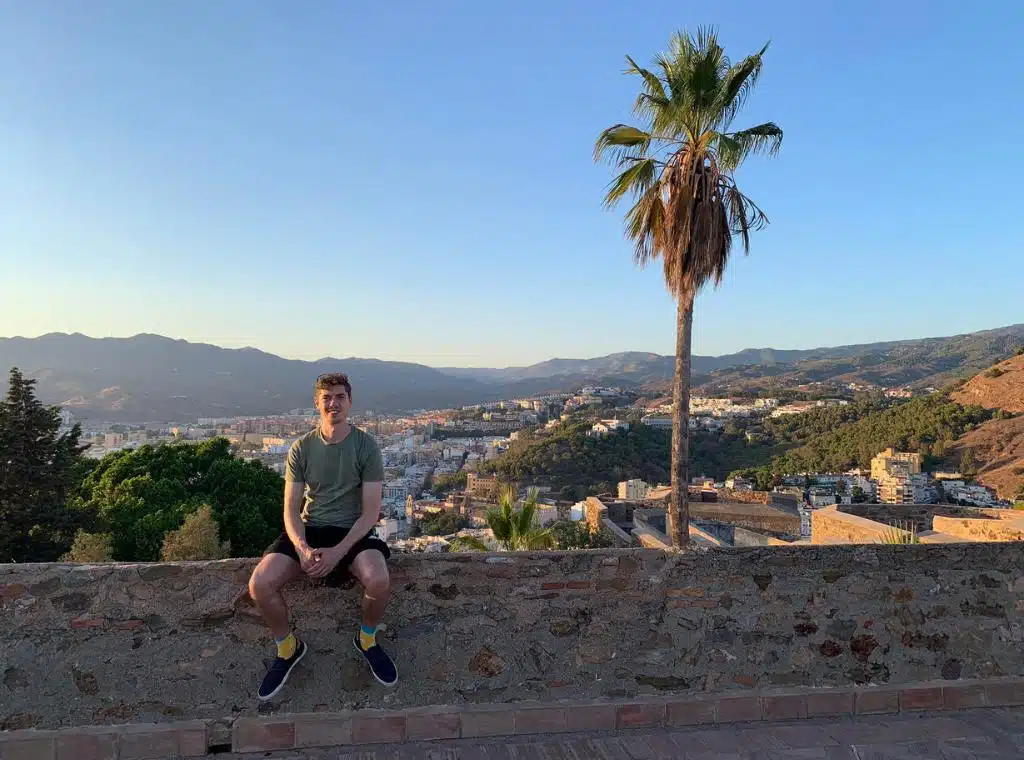 Malaga had been on my list of places to visit for a while, so I was delighted to be able to get there recently after wanting to visit for what felt like ages.
It's not the biggest city, but it's full of life and character. The location by the sea means it's not as hot as Cordoba and Sevilla in inland Andalucia. This makes it easier to see things during the day, as opposed to avoiding the sun during the afternoon!
You can see the majority of Malaga in two to three days, so I wouldn't recommend staying much longer than that. Unless you like relaxing at the beach, there isn't much else to do.
However, if you're using Malaga as a base to explore the nearby area, it's worth staying longer. You can easily reach interesting places nearby such as Ronda and Fuengirola by public transport.
Malaga is a great place to visit for three to five days, any longer than that, and I would consider doing a road trip in Andalucia instead.
Here are a few things I liked during my time in Malaga and a few things I didn't:
Good
There was much more to do here than I realised. I thought the city was mainly a beachside destination. I was wrong. You'll find plenty of cultural sights in Malaga.
The food in Malaga is amazing. There are a wide range of cuisines available to try. A Peruvian restaurant, La Barra Inka was a particular favourite.
Bad
If you visit from April to September, be prepared for warm weather. Malaga is cooler than places in inland Andalucia, but it still regularly tops 30ºC
The city is big and without a metro system, it can be hard to find your way around. This is true if you venture into the areas outside the city centre too.
What To Do in Malaga in 3 Days
Below you'll find a brief outline of some of the best things to do in the city. If you're curious about what more you can do or want a general idea of where everything is in Malaga, then check out the map below.
El Teatro Romano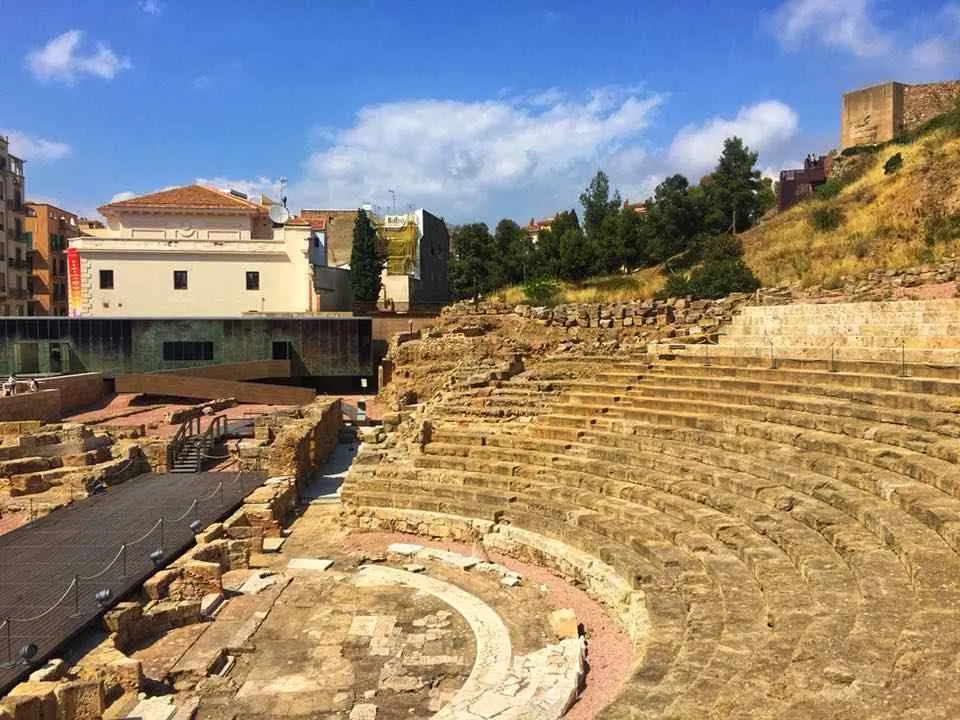 El Teatro Romano (The Roman Theatre) is an impressive amphitheatre in the centre of Malaga. As the name suggests, the theatre dates from Roman times, when it will have been used to stage plays.
It sits at the foot of the Alcazaba fortress and is an interesting place to check out. You can enter the theatre for free, sit down, and soak in your surroundings, or imagine yourself watching a Roman play!
There is a visitor's centre next to the theatre if you want to learn about its history and subsequent excavation.
There aren't many cities in the world with an intact Roman theatre in the middle of them, so visiting this one is something I highly recommend doing during your trip to Malaga!
La Malagueta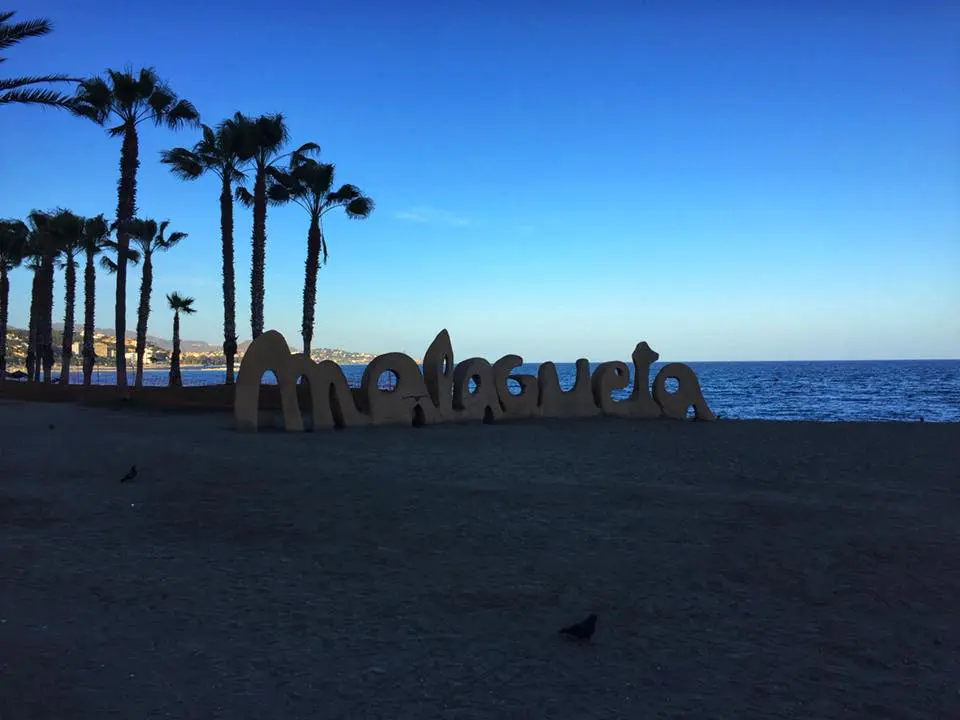 One of the reasons a lot of people visit Malaga is for the beach. I was no exception! I love a good beach, and in La Malagueta, Malaga has a good one.
The beach is within easy reach o the city centre on foot. It only takes 15 to 20 minutes to walk there, depending on where you are walking from. Once you're there, you have a beautiful stretch of golden sand to check out.
You can relax on the beach, or under one of the numerous palm trees. If you're the more active type, you can play volleyball at one of the numerous nets on the beach, or simply kick a football around.
Either way, La Malagueta is somewhere you have to visit during your 3 days in Malaga!
Malaga Itinerary – Day 1
Walking tour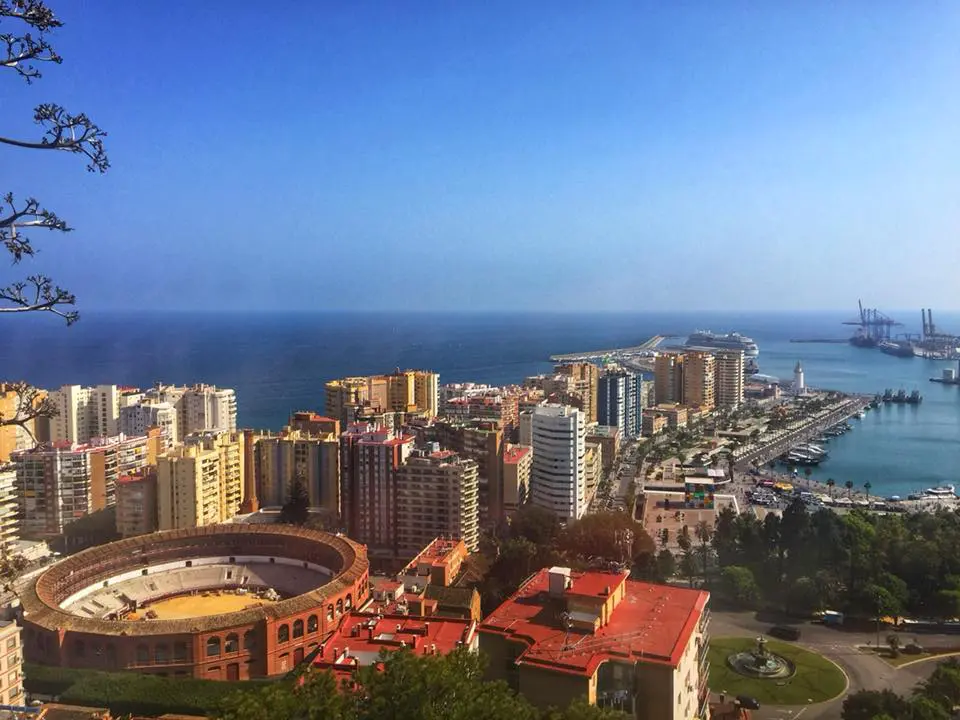 I'm a big fan of walking around a city as soon as I get there so I can get my bearings. While my walks have no structure, a good alternative is to go on a walking tour.
This is one of the best ways to get to grips with Malaga, find out where all the main spots are, and learn more about the city's history.
A lot of hostels offer a free walking tour, or you can choose to pay for one. If you pay for one, it will normally be longer, and you will visit more places and learn more.
Whichever one you choose, walking around Malaga when you get there is something I highly recommend!
Castillo Gibralfaro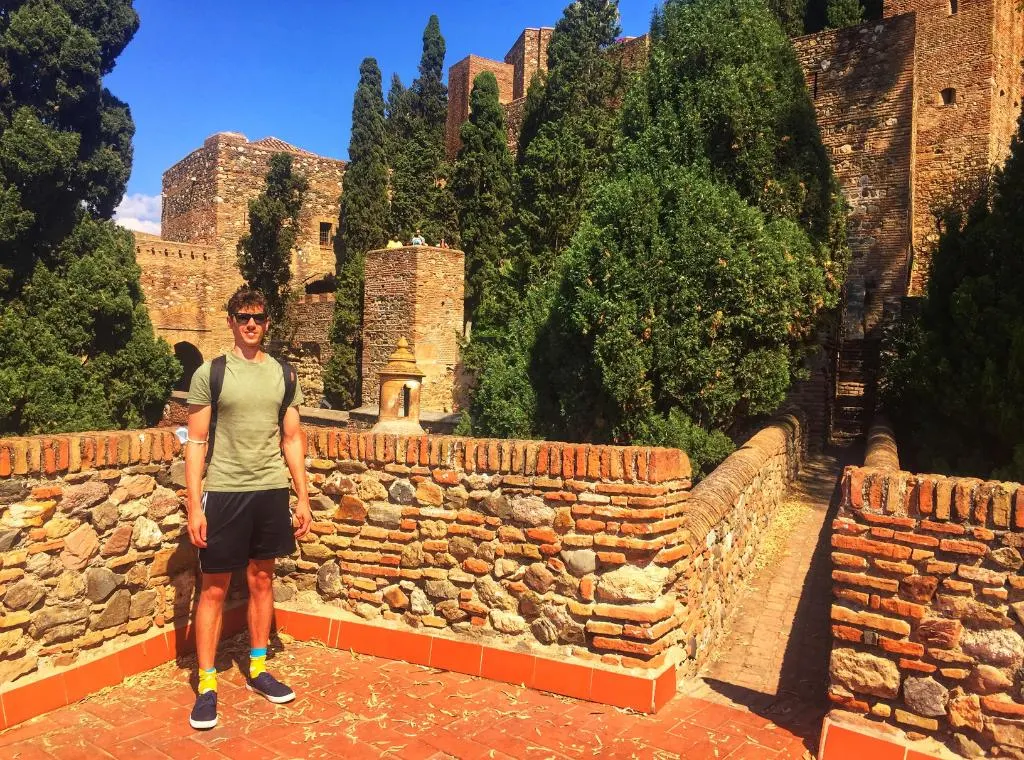 Castillo Gibralfaro sits on a hill overlooking Malaga and its port area. The views from the top are impressive and it's well worth doing the hike up to the top to get the views!
The castle was built in the 10th century by Abd-al-Rahman III, Caliph of Cordoba, on a former Phoenician enclosure and lighthouse, from which its name was derived.
Gibralfaro is still in good condition today and it's worth taking a look inside to further explore the castle. Entry costs €2.20 and it's open 7 days a week.
El Teatro Romano
The Roman theatre is located near the base of Castillo Gibralfaro and is an ideal place to visit after you've checked out the castle!
The amphitheatre once held plays and many more events in Roman times. There isn't much of that nowadays. however, you still bask in its beauty by taking a seat in the theatre.
There is also an information centre next to the theatre if you want to learn more about its history.
It isn't often you find an old Roman ruin in the middle of a city, so it's worth visiting if you're wondering how to spend 3 days in Malaga!
Malaga Itinerary – Day 2
Picasso Museum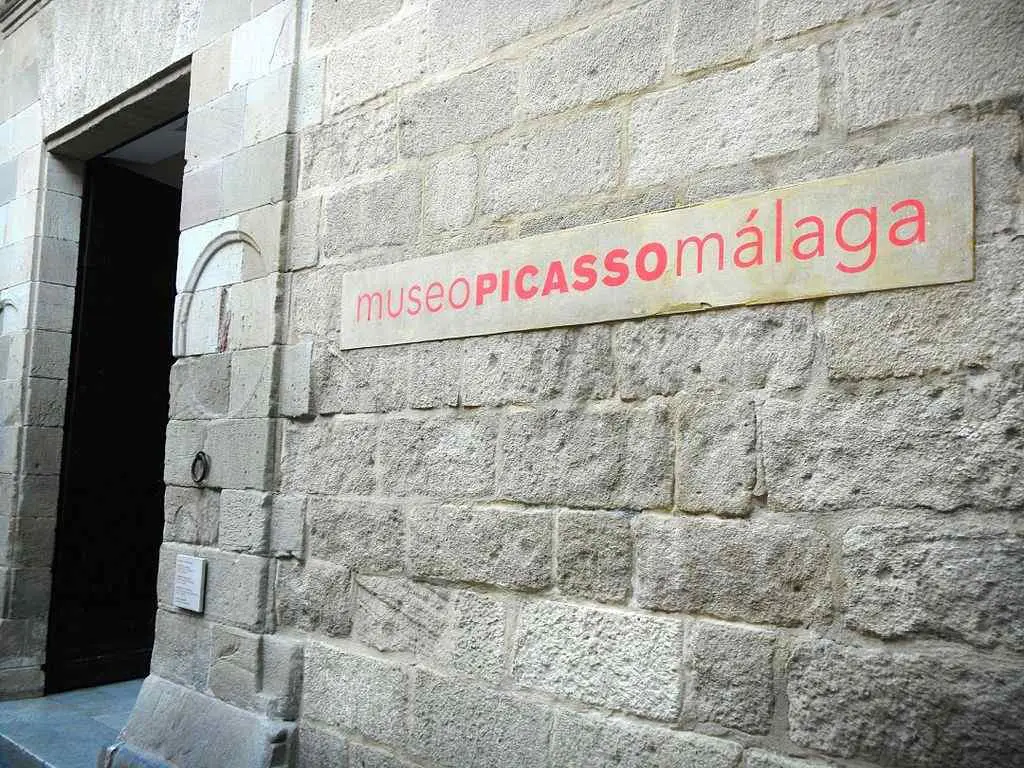 If you're an art lover or a big fan of Picasso like me, visiting a museum based on the great man's life is something you have to do while you're in Malaga!
Malaga was the city of Picassos' birth and in the museum, you can find over 200 works by the creator of Cubism. You could easily spend a good few hours checking them all out!
The museum includes various works by Picasso such as paintings, drawings, sculptures, ceramics and graphic works. You will find all sorts of pieces in the museum that you were unaware Picasso dabbled in.
You can book a ticket in advance which will give you access to all areas of the museum for the small price of €6.50. It's a price worth paying if you're an art lover, the museum was one of my favourite places in the whole of Malaga!
Soho neighbourhood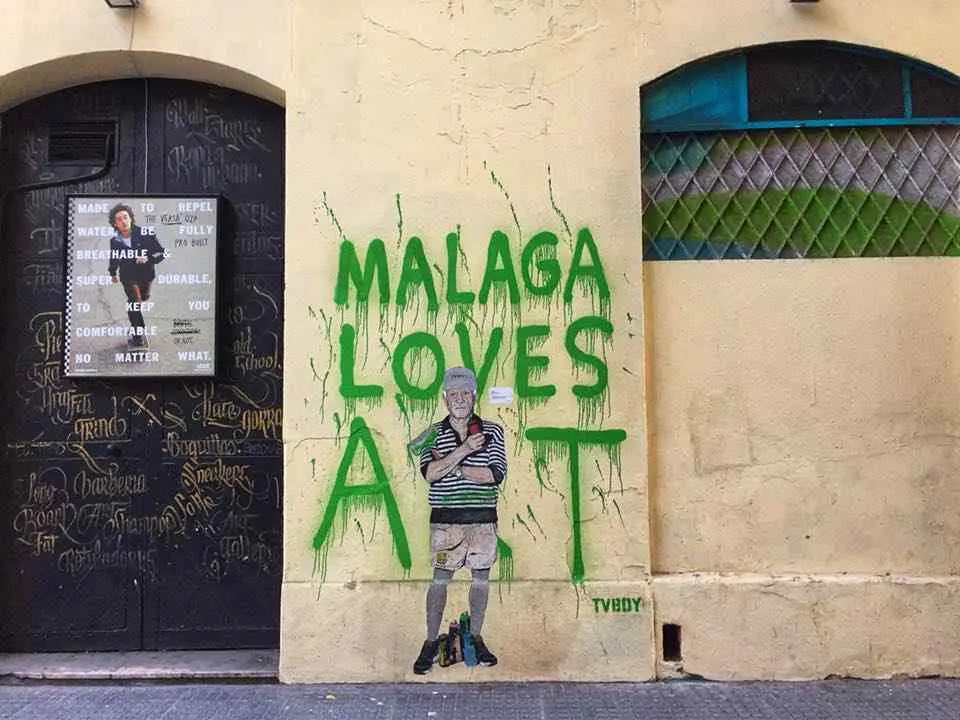 The Soho neighbourhood is where I stayed during my trip to Malaga. It's close to the beach, so it's an ideal place to stay if you want to make regular trips to La Malagueta.
Soho is a vibrant and interesting place. Street art is abundant in the area, which is worth checking out. There are also several galleries and cafes in the area too.
One place that caught my attention while I was there was a gaming bar. Inside, there are many arcades and console games you can play, while enjoying a drink or two!
Soho is a cool place in Malaga and one you should frequent during your time in the city!
La Malagueta
One of the reasons a lot of people visit Malaga is because it has a beach. La Malagueta is the main beach in the city, and is somewhere you shouldn't miss out on!
La Malagueta is only a short walk from the city centre. You can reach the beach in about 10 to 15 minutes depending on how close you are. Being able to get to the beach that easily from the centre is a godsend!
It is a long stretch of sand, and if you have been on a trip to Barcelona before, you'll be pleased to know it is nowhere near as busy as Barceloneta! There is more than enough space to relax and not feel like you are surrounded by people!
La Malagueta is a great place to unwind on your second day in Malaga, and with the Muelle Uno shopping and restaurant district close by, you can treat yourself to a nice meal once you're one too!
Malaga Itinerary – Day 3
With some of the best places to visit in Andalucia on the doorstep of Malaga, you should dedicate your third day here to a day trip to one of these places.
El Caminito del Rey and Ronda are two of the most popular places to visit from Malaga on a day trip. If you're lucky enough to be in Malaga for more than 3 days, I recommend you do both of them.
It's possible to do both in one day, but you will need a car and an early start to the day. If you head to El Caminito del Rey early in the morning, you can spend the evening relaxing in Ronda before heading back to Malaga.
However, if you're time-limited, then you can do both, but it will mean you spend less time in Malaga. On a tight schedule, you're only going to be able to fit one in. so it depends on what you prefer.
Do you want to do an exhilarating hike high in a canyon? or do you want to visit one of the most scenic places in Spain?
It's not an easy choice. For that reason, I have detailed both of these day trips so you can make up your mind about which one to visit.
El Caminito del Rey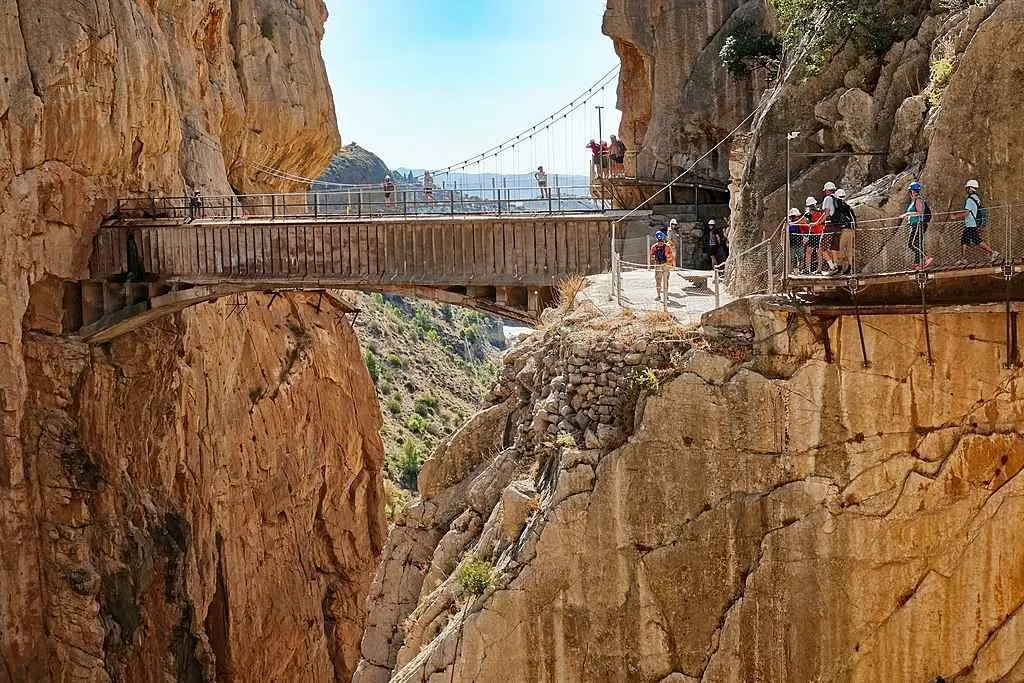 El Caminito del Rey is a popular hike that involves walking high in the canyons on tracks that were once known as the 'world's most dangerous hike!'
The danger is virtually non-existent now due to safety precautions, but if you look down, it's hard to feel a chill run up and down your spine!
The hike is 7.7 km long and consists of 4.8 km of accessways and 2.9 km of boardwalks. This should take between three to four hours to complete.
If you don't have a car, getting to El Caminito del Rey isn't easy via public transport. Your two options come down to renting a car and driving there or booking in as part of a group tour.
A tour will make everything easier, but you will be on a schedule, so you can't explore the route at your leisure. However, you will learn more about the history of the area and the hike, plus you don't have to worry about getting there and back!
Ronda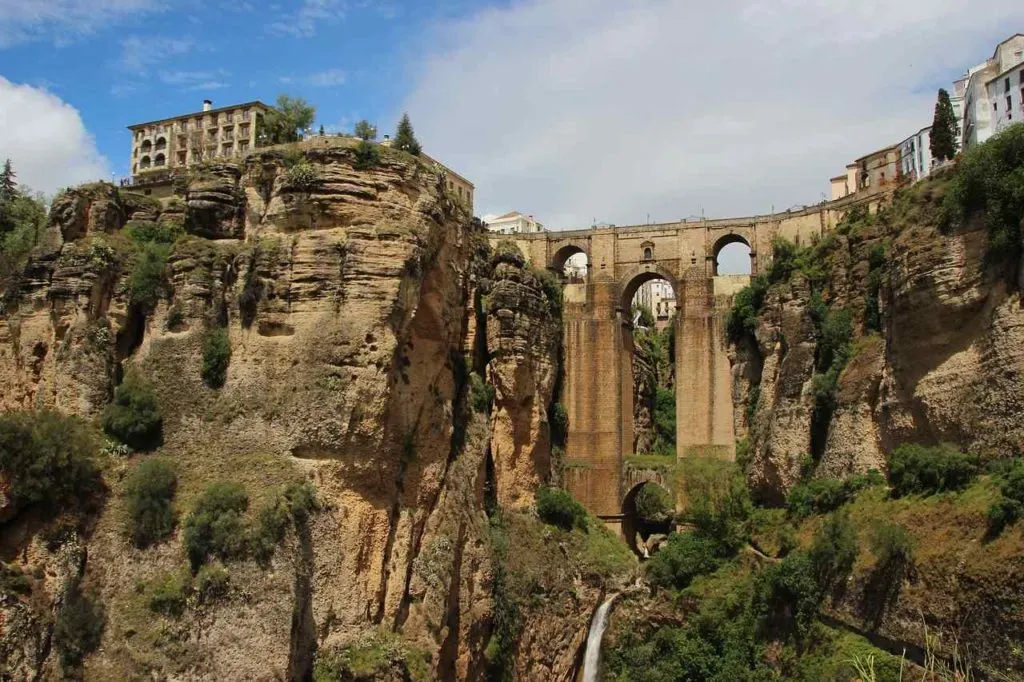 Ronda is one of the most scenic places to visit in Spain. If you don't want to go hiking, it is an excellent day trip from Malaga that you can do.
There are four trains daily from Malaga to Ronda and back. It does take a while to get there, so if you want to make the most of your day, I recommend getting up early and catching the first train.
If you have a vehicle this will make things easier. You can drive straight there and not have to adhere to the train schedule. This means you can take your time exploring Ronda when you get there.
The main attraction in Ronda is the misleadingly named Puente Nuevo, which translates to New Bridge. Despite the name, the bridge was built in 1793! There is also a smaller bridge in the city known as Puente Viejo, which translates to, you guessed it, Old Bridge!
There are numerous other things to do in Ronda. If you're looking for somewhere to go for the day from Malaga, there aren't many better places in the area than Ronda!
Other Places to Visit in Malaga
If you're looking for more things to do in Malaga, check out the link below to find some great tours and activities you can do while you're there.
Malaga Travel Tips
Where to Stay in Malaga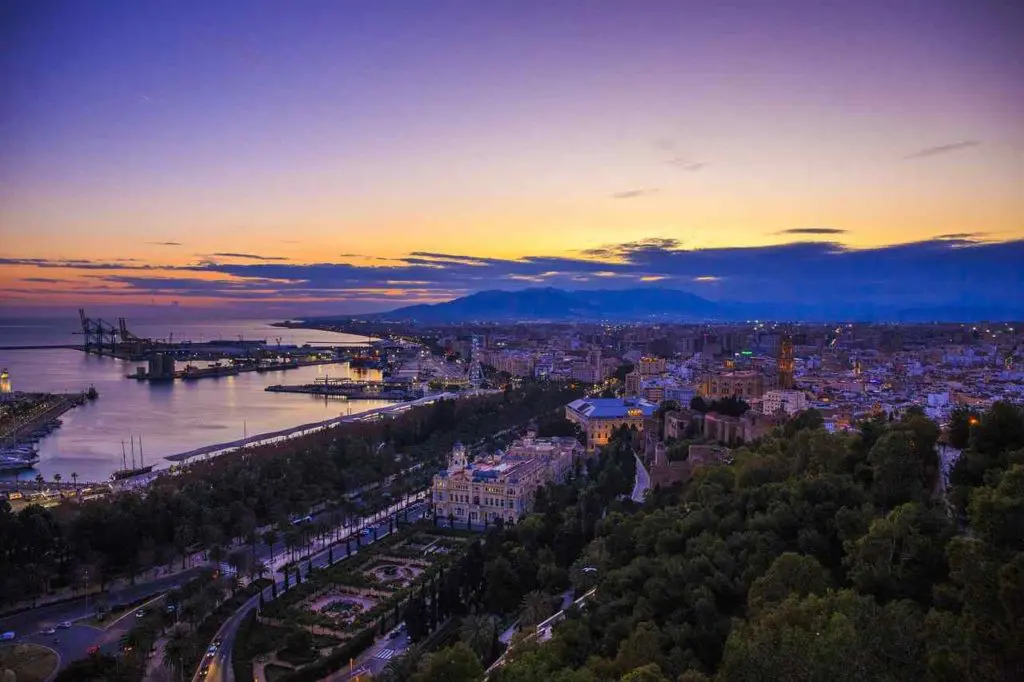 One of the best things about visiting Malaga is that you won't be short of places to stay. There are plenty of hotels and hostels in the city. You will easily be able to find somewhere to stay that suits your budget.
Malaga isn't the biggest city, so no matter where you decide to stay, you won't be too far from the action. There are a lot of hostels in Malaga to choose from. I stayed in Feel Hostel Malaga Soho and enjoyed my time there.
It's a cheap and nice hostel, with a kitchen which is important if you're trying to save money. I've included several hostels in the table below too if you'd like some more choice about where to stay in Malaga.
Cost of Travel in Malaga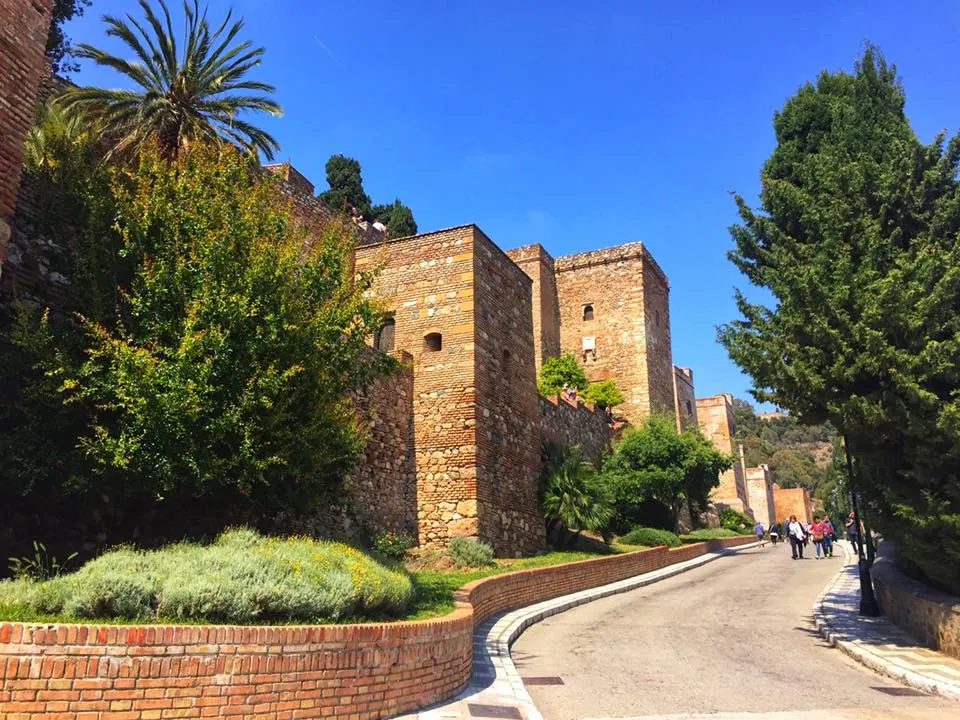 One of the best things about visiting Malaga is that it isn't an expensive destination. If you're clever, you can easily keep your costs down during your trip.
There are a few caveats though. If you want to do tours, these will eat into your budget. It's best to account for these before you go on your trip and have an idea of which ones you want to do.
Likewise, if you're always eating out, you will spend more than you would by cooking the majority of your food.
The following prices are for the average travel budget. That is someone who is not going to splurge, but someone who will not be travelling on an ultra-frugal budget either.
They don't include prices for extras such as nights out at a bar/pub, club entry fees, souvenirs/clothing purchases, tours. etc. You will have to budget extra for these purchases as they are 'non-essential!'
Here's a rough breakdown of essential travel costs in Malaga:

Accommodation
Hostel: Dorm – €17-25; Private – €35-70
Hotels: €40-100
Rental Apartment: €65-100

Food and Drink
Breakfast: Free-€7
Dinner: €5-20
Takeaway meal: €3-5+
Pint of beer: €2-4

Transport
City Metro / Bus: €1.90
10 journey card: €8.30
Bike rental: €7-12
Taxi from airport to city centre: €20
Best Time to Visit Malaga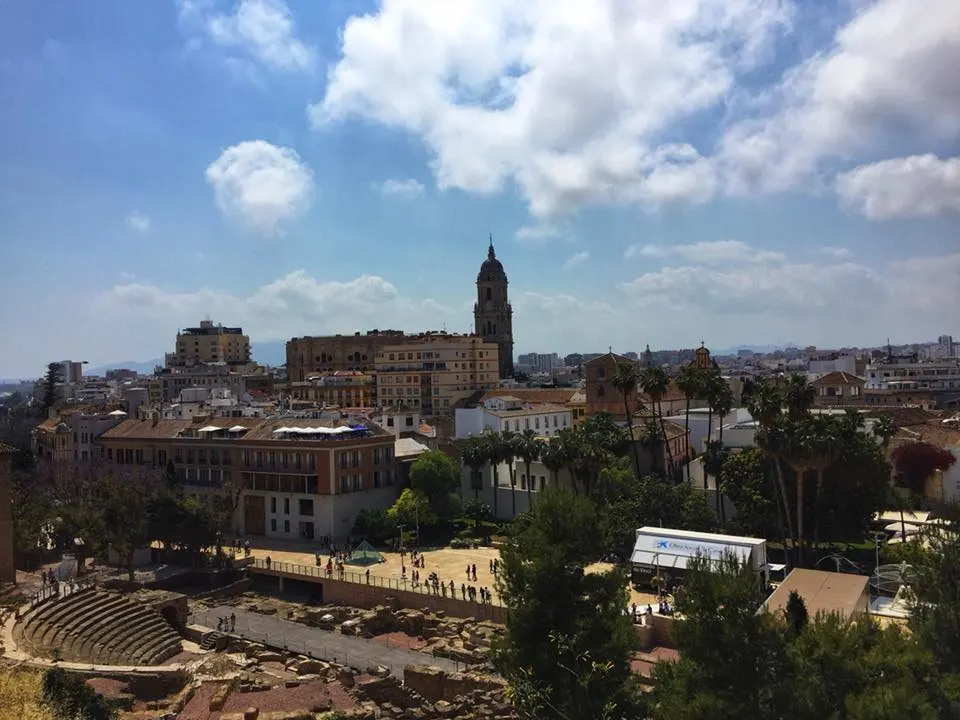 If you want to visit Malaga when the weather is at its best, then you want to go during the summer months. Although owing to its Mediterranean climate, Malaga rarely gets cold.
Even during the winter, it is still much warmer than the rest of the country. It won't be as warm as during spring or summer, but it will still be around 10 to 17 degrees Celsius.
Summer is the busiest time in Malaga, so it may be worth looking at visiting during the spring when it is quieter and there aren't as many tourists.
You could also visit during autumn. Temperatures regularly stay in the 20s from September to November. You will still be able to enjoy the warm weather regardless of visiting once summer has finished!
The best time to go to Malaga depends on personal preference, but if you want to make the most of the weather, then I would advise visiting from April until October. If you want to save a bit of money and deal with fewer tourists, outside of those months is the time to go!
How to Get Around Malaga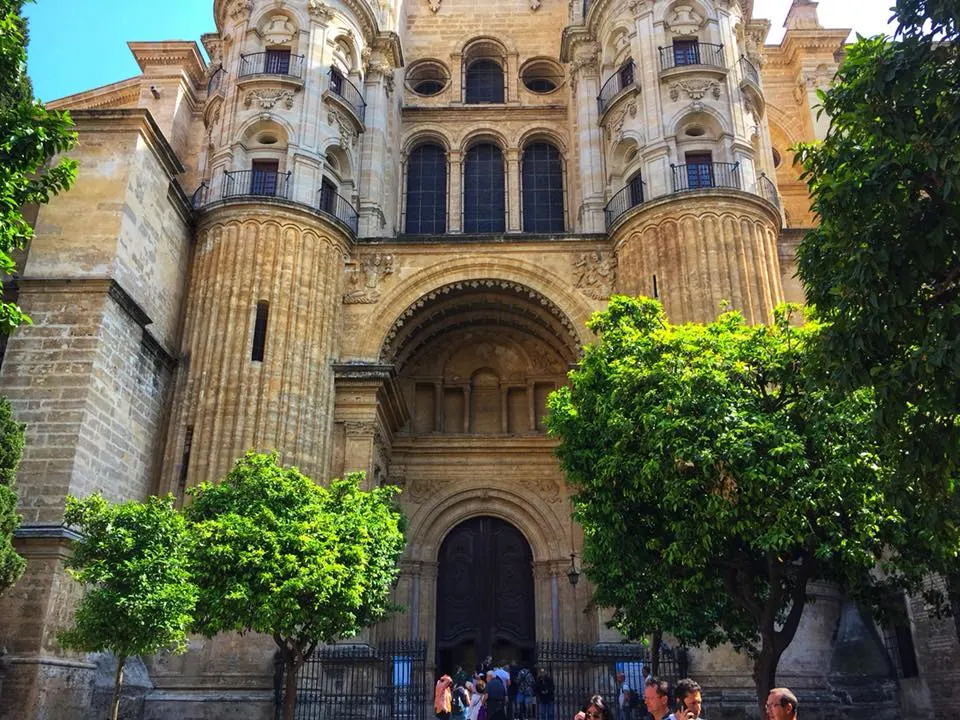 Malaga isn't the biggest city, so getting around isn't too much of a problem. If you like walking as much as I do, then you can easily get around on foot.
Most of the main sights are within walking distance of the city centre. If you want to go further afield, it may be worth using the metro instead of walking. It's cheap and easy to use and will get you there a lot quicker than walking.
If you have a car, you can easily drive around Malaga to get where you need to go. The roads are busy, but if you have Google Maps on your phone you won't have any issues.
Another way to get around the city is to use one of the numerous electric scooters that are present in Malaga. Companies such as Lime operate across the city centre.
All you have to do is download the app, and you can use the scooters. It links to your card and how much you pay is dependent on how far you travel. It's quicker than walking and a fun way to get around the city!
Frequently Asked Questions
Is 3 Days Enough in Malaga?
3 days in Malaga is a good amount of time to check out this beautiful city in Andalucia. If you want to check out more of the region, I advise spending longer in the county. Two weeks would be the ideal time.
However, Malaga is an ideal place for a long weekend to get some sun. There is a lot to do and you can relax at the beach too, which is always a plus in my eyes!
How Many Days Should I Spend in Malaga?
You'll need at least three days to see most of Malaga. You can see most of the city in two but there are a lot of great places nearby such as El Caminito del Rey, Nerja and Torremolinos that you can visit for a day too!
Need Travel Insurance?
You can buy and claim online, even after you've left home. Travel insurance from WorldNomads.com is available to people from 140 countries. It's designed for adventurous travellers with cover for overseas medical, evacuation, baggage and a range of adventure sports and activities.
Looking For More Travel Guides?
3 Days in Seville – Another 3-day itinerary for one of the most beautiful cities in Andalucia!
3 Days in Madrid – It's not too far from Malaga from Madrid, so visiting the capital afterwards is a good idea!
3 Days in Barcelona – A brilliant itinerary, based on my two years living there, that will show the best of the most famous city in Spain!
3 Days in Valencia – Check out one of the most underrated cities in Spain with this itinerary!
3 Days In Porto – Why not venture over the border into Northern Portugal and check out one of the most underrated cities in Europe!?
Pin For Later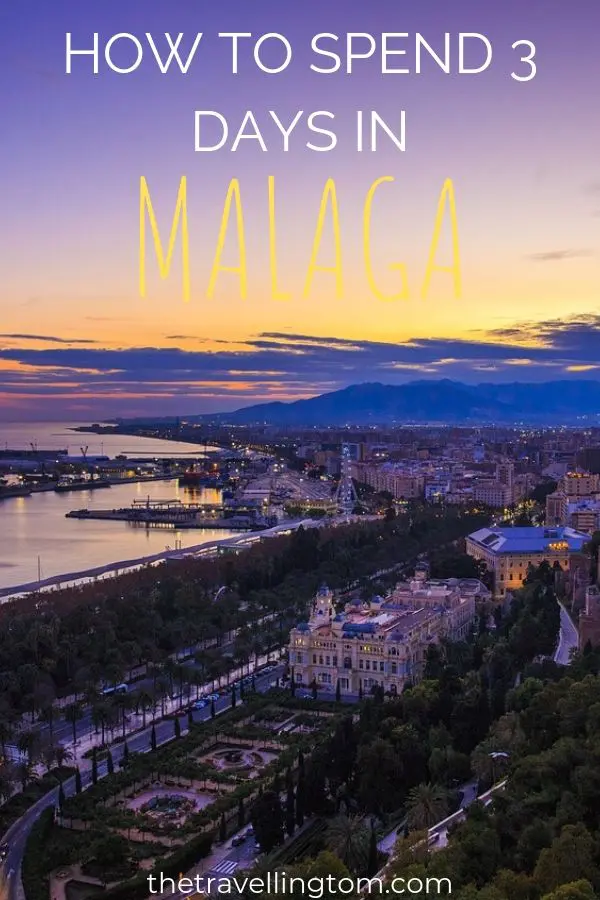 Tom is a travel addict who first left England to spend a year Down Under. Not satisfied with this, he then went to New Zealand, about as far away from home as he could get. He is now planning his next adventures in Europe and Canada while maintaining this blog. Check out the about me page to learn more!