3 days in Valencia may not sound like a lot of time to explore this interesting Spanish City.
However, if you spend those 3 days wisely you can see a lot more than you would think!
It may not be the most popular place to visit when backpacking around Spain, but there are lots of things to do in Valencia such as visit the beach and the magnificent cathedral.
The city is the home of paella, and there are several intriguing cultural places to see, not least the City of Sciences and Arts!
My Valencia itinerary will guide you on how best to spend your time in the city, what to do, a rough guide on costs and some great hostels in Valencia you can stay at!
Disclosure: This article may contain affiliate/compensated links. For more information, please see our full disclosure policy.
3 Days in Valencia Itinerary
Quick 3 Days in Valencia Itinerary
Day 1 – Walk around Valencia, City of Arts and Sciences, Llotja de la Seda
Day 2 – Mestalla, Playa de la Malvarrosa, Valencia Cathedral
Day 3 – Mercado Central, Marina, Turia Park
My Thoughts on Valencia
I decided to visit Valencia during my Easter break while I was teaching English in Barcelona. It was only a short 3-hour ride on the train, and I was excited to visit a city I had wanted to see for a while.
I was impressed by Valencia. The city is a vibrant hub of people, with the modern meeting the old in one of Spain's most interesting cities.
There are a lot of things to do in Valencia, such as the City of Arts and Sciences and the various Gothic buildings around the city. You can do Valencia in 3 days, but if you can stay for longer, you will be able to see almost everything in the city.
One thing I should note is that if you venture towards the Marina area past the City of Arts and Sciences, the blight of corruption that hit the city in the 2000s becomes evident.
The Marina area was heavily developed during that time for the America's Cup and Formula 1 events the city used to host. However, they are now left derelict.
The buildings that played host to the America's Cup are falling to pieces. While the remnants of the F1 track remain, with other parts closed off.
It was a bit strange walking around these areas. It felt like they should be much busier than they were. The area is a testament to what corruption at a high level can do to a city.
One thing I should note is that Valencia is cheap. You can eat a two-course meal for €8.90 in most restaurants during lunch! The accommodation was also surprisingly cheap!
Valencia was an interesting city, with a lot of quirks and a lot to see. I wouldn't hesitate to go back again!
Some of The Best Things To Do in Valencia
City of Arts and Sciences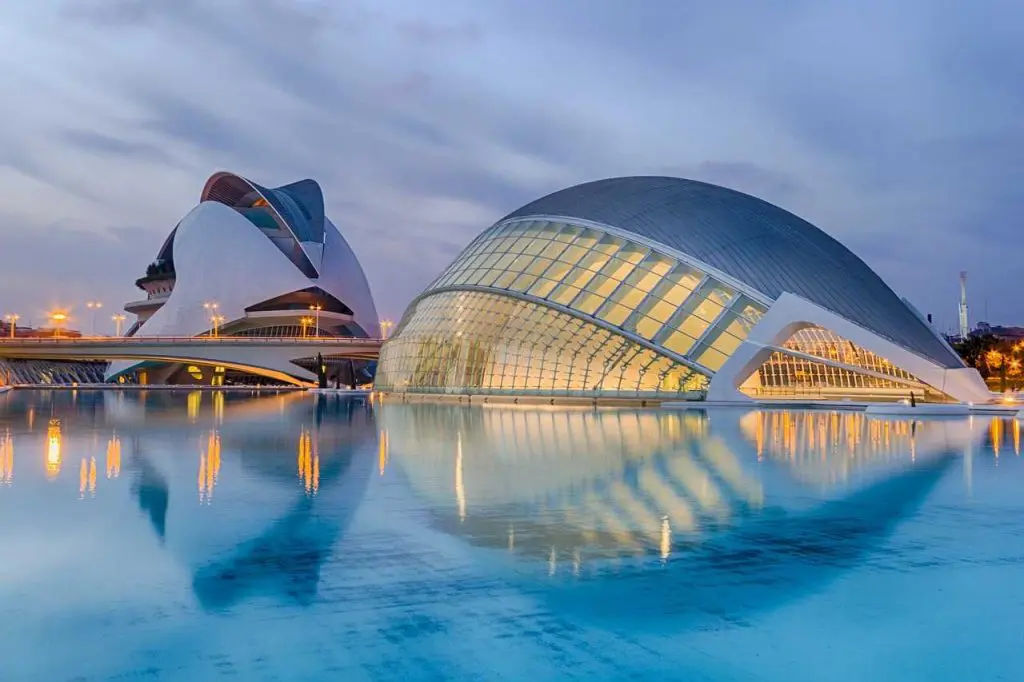 If you think of an image of Valencia, it's likely a vision of the futuristic buildings of the City of Arts and Sciences will pop into your head.
A recent addition to the city, the buildings have become synonymous with Valencia.
While they are beautiful buildings, they are also home to interesting exhibits and museums.
There are a lot of things to do in the complex, and you could easily spend a long time exploring all the complex has to offer!
The City of Arts and Sciences is a must-visit during your 3 days in Valencia. The architecture and the activities you can do here, make it a great destination!
Paella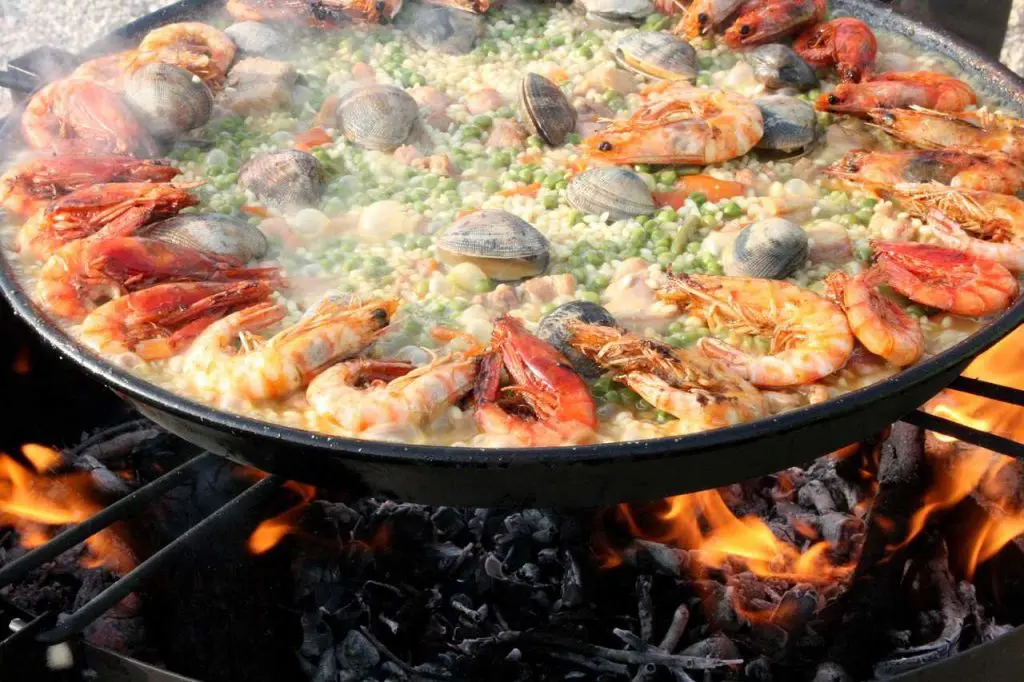 Paella may seem like a strange thing to include on a 3-day itinerary of Valencia, but there is a reason.
Let me explain:
The dish originated in Valencia, as such, this is the place you want to sample it. Almost every restaurant will serve some form of Paella. So you won't be short of choice!
If you want to learn more about the history of paella and its origins, you can do a Paella food tour.
Not only will you learn more about the dish, but you will try your hand at cooking it, and get to sample the goods. Plus, you'll know how to cook it authentically for when you return home!
A great deal all around!
Valencia Itinerary – Day 1
Walking Tour
Whenever I arrive in a new city, the first thing I do is go for a wander around. My walks are completely unplanned, so if you prefer some structure a walking tour is a good idea.
Most hostels in Valencia offer walking tours for free. You simply go along, follow the tour guide around and learn all about the history and culture of Valencia.
It's a good way to get an introduction to the city. As it's free, it won't cost you anything either, a great way to start your 3 days in Valencia!
If you want to see the city at a faster pace, you can do a bike tour, which takes you to all the main attractions in Valencia! It's a good alternative to the walking tour if you want a more professional experience!
City of Arts and Sciences
The City of Arts and Sciences is arguably the most popular tourist attraction in Valencia. There are several reasons for this.
Let me explain:
The architecture of the buildings is stunning. It's hard not to be impressed by the sheer size of the complex. It sprawls over a vast area and is full of great things to do.
You can visit the City of Arts and Sciences, as well as the Felipe Science Museum and Hemisfèric too. If your trip to Valencia is with children, this is one of the best places to go.
They will love the various exhibitions, and they will keep them entertained for hours. You can book an all-in-one ticket, which allows you to visit all the sights in the complex, saving you money in the long run!
Llotja de la Seda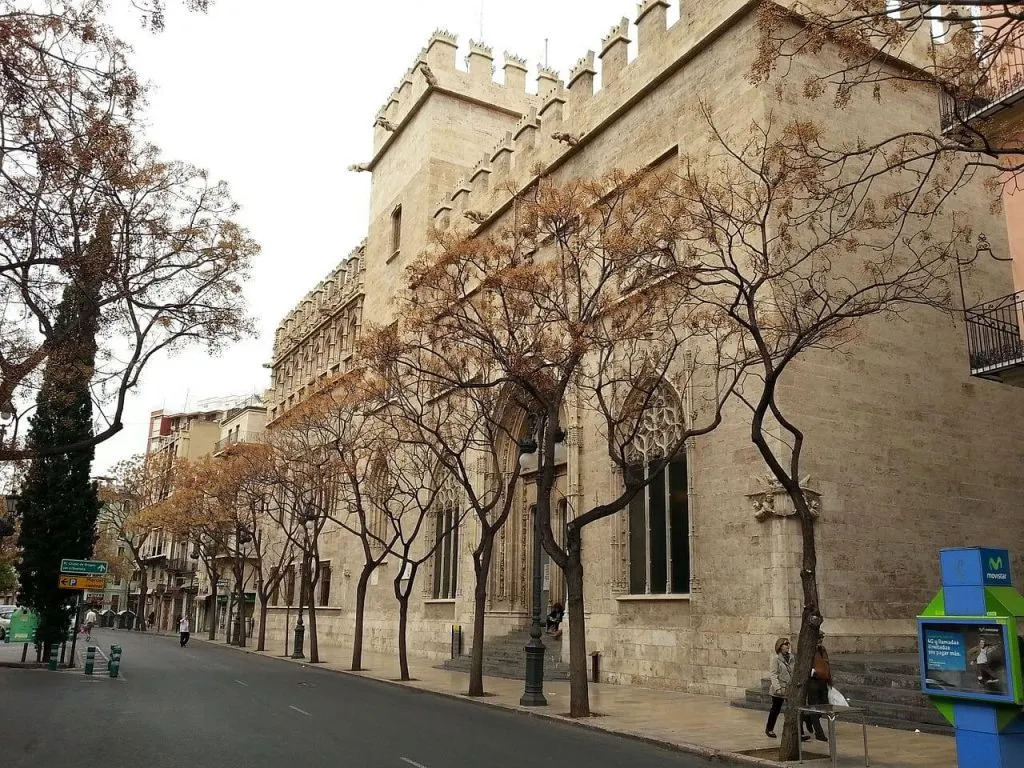 Llotja de la Seda is a gothic-style building, the name means Silk Exchange in English.
It was an important mercantile building from the 14th century onwards in the city.
The building is architecturally impressive, and if you get the chance to go inside, you should take it.
You will find beautiful rooms with ornate decorations that show the grandeur and wealth had when it was an important trading hub.
There are a lot of magnificent buildings in Valencia, but Llotja de la Seda is among the best, and one that shouldn't be left off your Valencia itinerary!
Valencia Itinerary – Day 2
Mestalla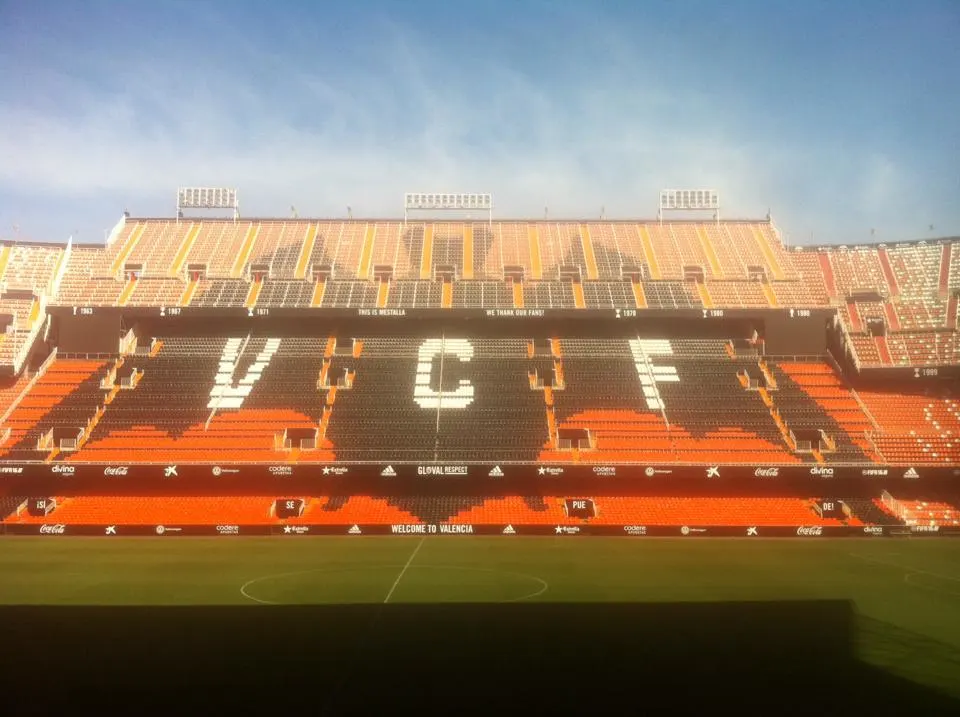 Valencia is a football-mad city, and as I'm football mad, I had to include the home ground of Valencia's football team on the list.
If you're not a football fan, it may be worth swapping this for something else further down the list. However, if you are a fan, I recommend you visit the Mestalla.
It's not too far from the city centre, and the tour of the ground is well worth doing. You also get a free pen at the end of the tour, which is a nice bonus!
It costs around €10 and you will learn about the history of the club and the important role it plays in Valencia society.
The stadium is impressive, and if you get the chance to see a match you should take it.
Playa de la Malvarrosa
Playa de la Malvarrosa is the main beach in Valencia, and it's a giant beach!
It stretches for miles and is the perfect place to go on a hot summer's day. It's not too far from the city centre, but it's probably easier to get there by bus or metro rather than on foot.
There are many restaurants and cafes close by, so it's an ideal place to spend your first day in Valencia. You can eat and watch the sun come down over the Mediterranean.
The beach is an ideal place to relax, and you can make a whole day of it if you wish!
Valencia Cathedral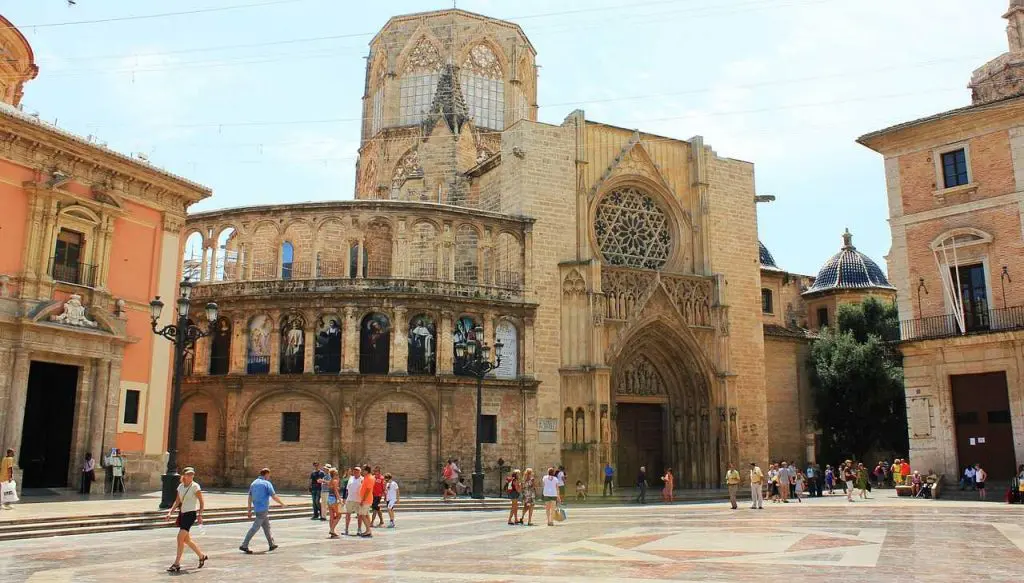 Valencia Cathedral is one of the more impressive buildings in Valencia, which is saying something given how many there are in the city.
Built in the 13th century, its Gothic style is visually striking. Inside, the cathedral is even more impressive.
The structure of the building is incredible, with large arches spanning the rooms inside. The cathedral also houses some 15th-century paintings too.
The beauty of this cathedral is undoubted, and you should take a few hours to take it in during your 3 days in Valencia!
Valencia Itinerary – Day 3
Mercado Central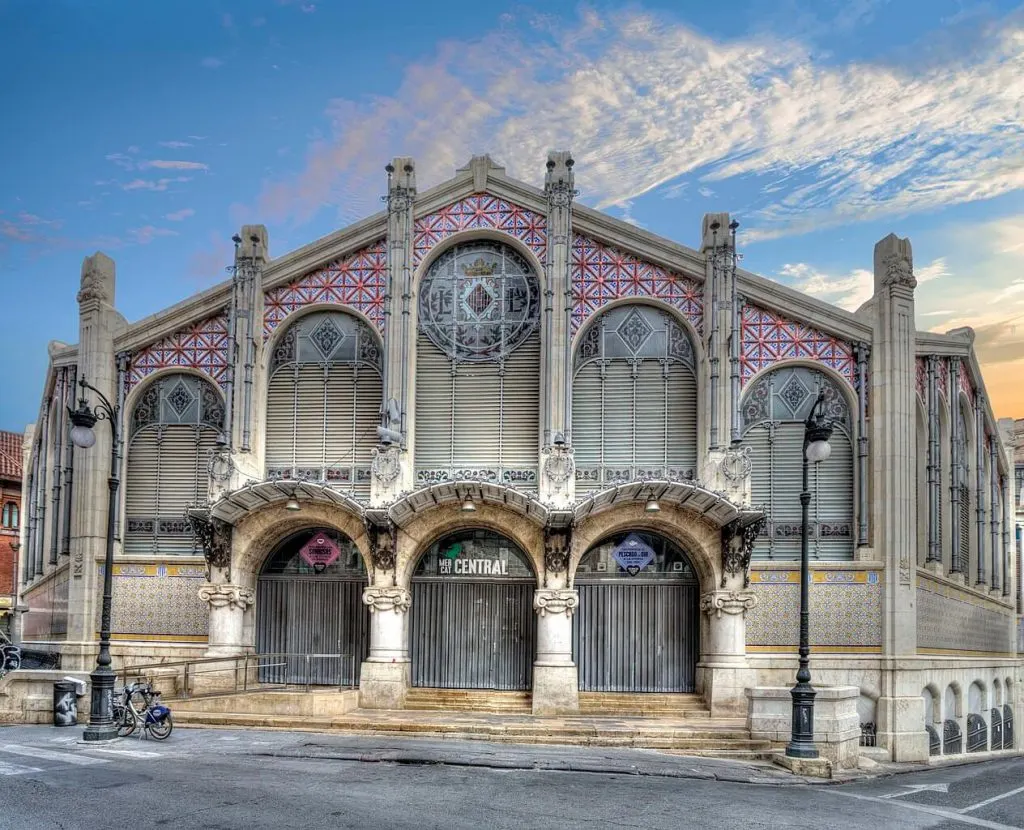 Without a doubt, one of the best places to visit in Valencia is the Mercado Central. It's a public market located across from Llotja de la Seda in the centre of the city.
The building is hugely impressive. Built in an Art Nouveau style, it covers 8,000 square meters and is one of the biggest markets in Europe.
While food is mostly sold in the market, many vendors sell souvenirs, and there are a few restaurants inside as well.
I love walking around markets and seeing the various products that are on sale. The hustle and bustle of markets and the smell is ecstasy for my senses!
If you feel the same way, then a trip to Mercado Central is something you have to do when you visit Valencia!
Marina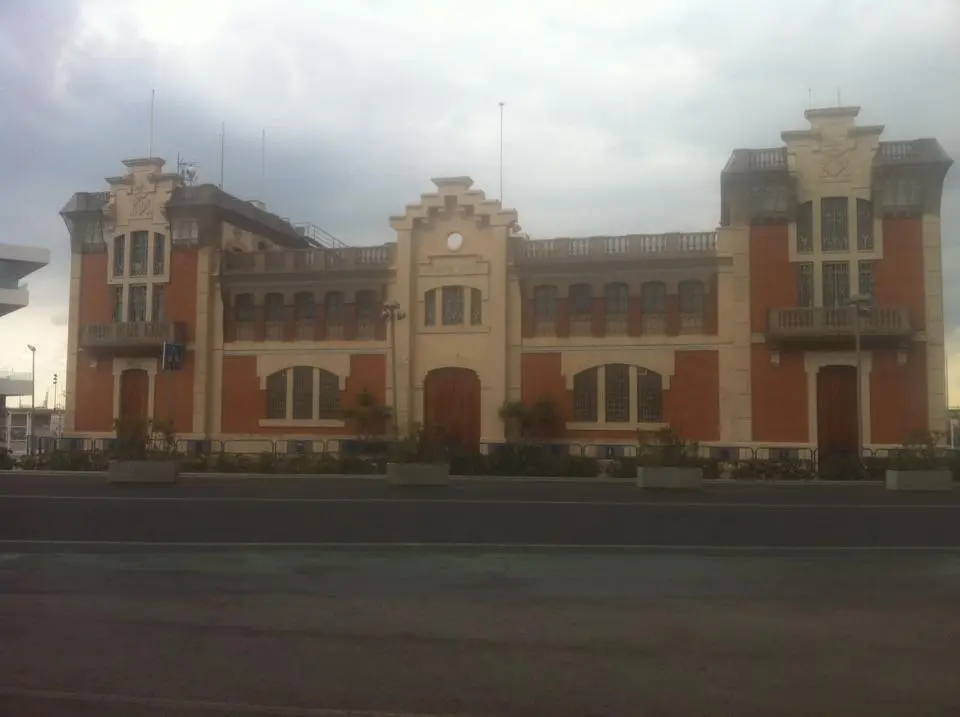 The marina is one of the more interesting places you can visit if you're in Valencia for 3 days.
The area was redeveloped in the early 2000s at great expense when Valencia hosted the America's Cup and an F1 race.
Since then, the city has suffered corruption scandals, and this area has become neglected. The F1 track is disused, while the buildings used to house the America's Cup are derelict.
It amazed me how empty the area was, despite being built up. It's worth visiting this area, to explore some of the abandoned areas, particularly the F1 track.
There are also several restaurants in the area, which serve some excellent food!
Turia Park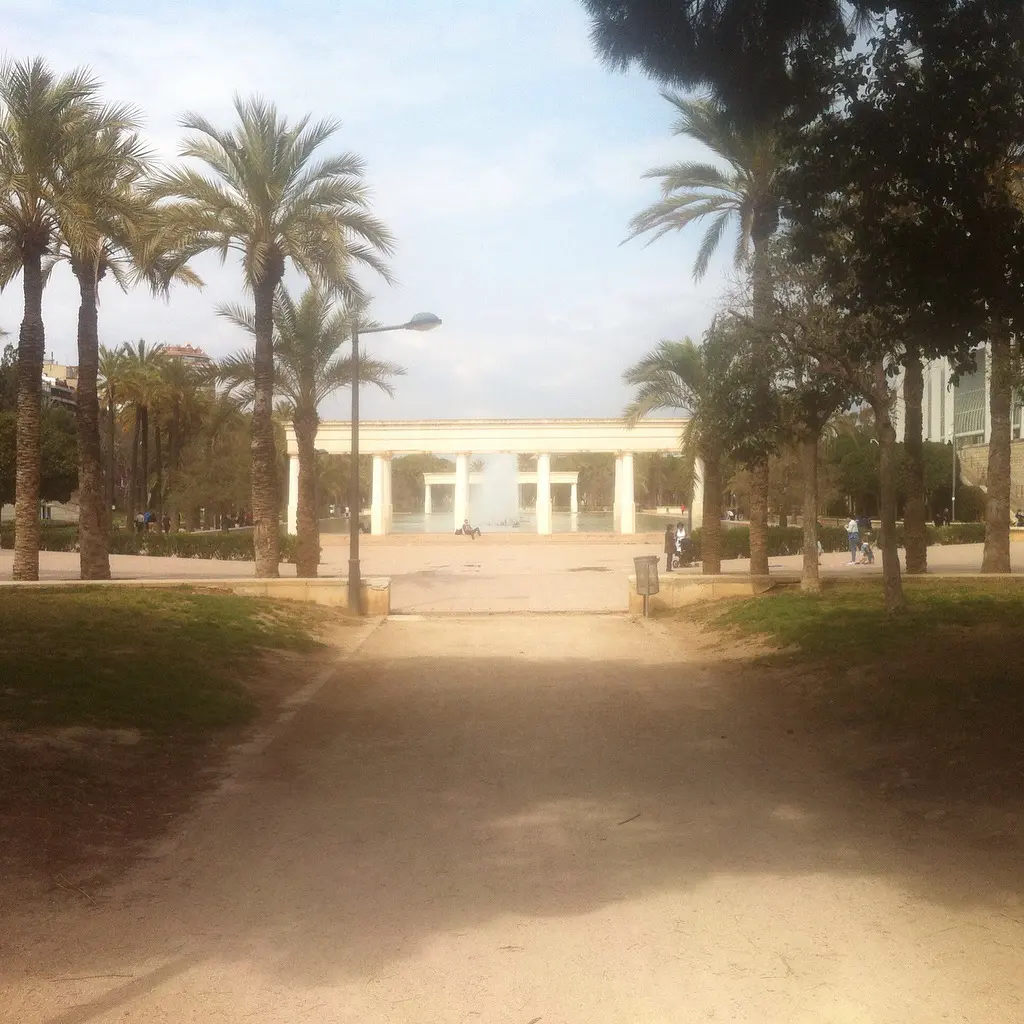 Turia Park is one of the best places to go in Valencia.
This large park in the centre of the city is a beautiful spot. It stretches for 7 kilometres from the biopic to the City of Arts and Sciences.
The Turia River used to flow through this part of the city, but it was diverted, and replaced with the park. A good decision if you ask me!
There are gardens and large stretches of land. This normally means you can see yoga classes going on.
Its length makes it an ideal place to go cycling, and you can use it to navigate different parts of the city and beyond!
It's a beautiful part of the city and one you should the time to walk through and explore during your trip to Valencia.
Valencia Travel Tips
It can be confusing visiting a new place and wondering where you should, how to get around and how much things cost.
This section will answer all of this and give you a rough idea of when's best to visit Valencia.
Where to Stay in Valencia
There are a lot of hostels in Valencia, and choosing where to stay can be a tricky process.
Choosing somewhere to stay in Valencia comes down to your preferences when travelling.
If you want to socialise, it may be best to go to a livelier hostel. While, if you want to relax, a quieter option is your best choice.
You may only be on a 3-day trip to Valencia, but the right accommodation can make or break your visit!
I stayed at the River Hostel and thoroughly enjoyed my stay. It was a nice mix of lively and quiet. Plus, the price and location were fantastic.
Below, I have listed a few hostels you should consider staying at during your time in the city. If you aren't a fan of hostels, I have also included some hotels on the list too!
Cost of Travel in Valencia
I was pleasantly surprised by how cheap everything was in Valencia when I visited.
You can easily get good food and cheap accommodation at competitive prices. One of the best deals is the menu del dia most cafes and restaurants do. You can get two courses and a drink for under €10 in most places and as cheap as €7.90 if you're lucky!
Whether you're on a tight budget, or you have a little extra cash to play with, a trip to Valencia will not decimate your budget!
Below are the average prices for the essential services you will use during your three days in Valencia.
They take into account what you need to visit the city comfortably and don't include take extras such as tours, nights out, souvenirs/clothing. They are deemed as 'non-essential' extras!

Accommodation
Hostel: Dorm – €10-18; Private – €40-50
Hotels: €35-100
Rental Apartment: €50-150

Food and Drink
Breakfast: Free-€5
Dinner: €7-15
Takeaway meal: €3-5
Pint of beer: €2-4

Transport
Single Bus/Tram ticket: €1.50
Bike Rental: €2-5/day
Bus from airport to city centre: €1.50
Best Time to Visit Valencia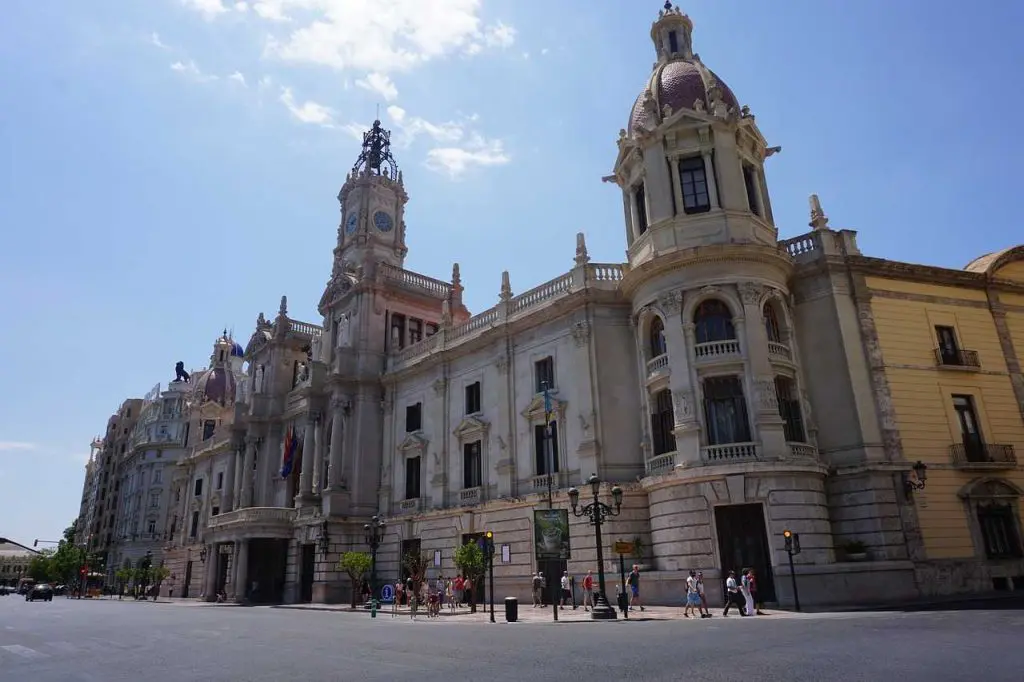 It's hard to argue with the best time to visit Valencia being the summer months.
This is when the weather will be at its best, and you will be able to enjoy all the attractions in Valencia in glorious sunshine.
However, as with the best time of the year to visit Spain, it's not that simple. The summer months are when tourism in Spain ramps up.
The weather is great and that means more tourists. If you want to avoid crowds, it may be wise to visit Valencia during the spring or autumn.
I visited towards the end of March, and the city wasn't too crowded, while the weather was warm for the majority of my stay.
My advice would be to aim to plan your trip to Valencia for March/April or September/October to get the best of both worlds.
Getting Around Valencia
Valencia isn't the biggest city, so getting around isn't the most difficult task.
Most places are easily reachable by foot, which is how I predominately got around. This gives you the advantage of stumbling across lesser-visited spots in the city, such as the Marina area.
If you don't want to walk around the city like me, you can use Valencia's excellent public transportation instead!
There are many bus and metro routes that operate throughout the city. These would be best to use if you're looking to go from one side of the city to another.
Another option is to rent a bike and explore the city this way. Valencia is a flat city, which makes it ideal for exploring by bike. Some hostels offer bike rentals, but if yours doesn't, you can use one of the numerous companies based in the city.
Frequently Asked Questions
Is 3 Days in Valencia Enough?
3 days in Valencia is a decent amount of time to visit this beautiful Spanish City. Ideally, you would want to stay for longer, but you can do a lot in 3 days.
There are a lot of things to do in Valencia, and although it may grab the attention in the way that Barcelona and Madrid, it is still a fascinating city to visit!
How many days are needed in Valencia?
You'll need at least 3 days to see everything in Valencia.
The city is bigger than most people realise and if you stay for a weekend or just a day, you won't be able to do much apart from seeing the main sights.
By staying for three days, you give yourself to look around the city, visit the beach and maybe take a trip to a few spots outside Valencia too!
Need Travel Insurance?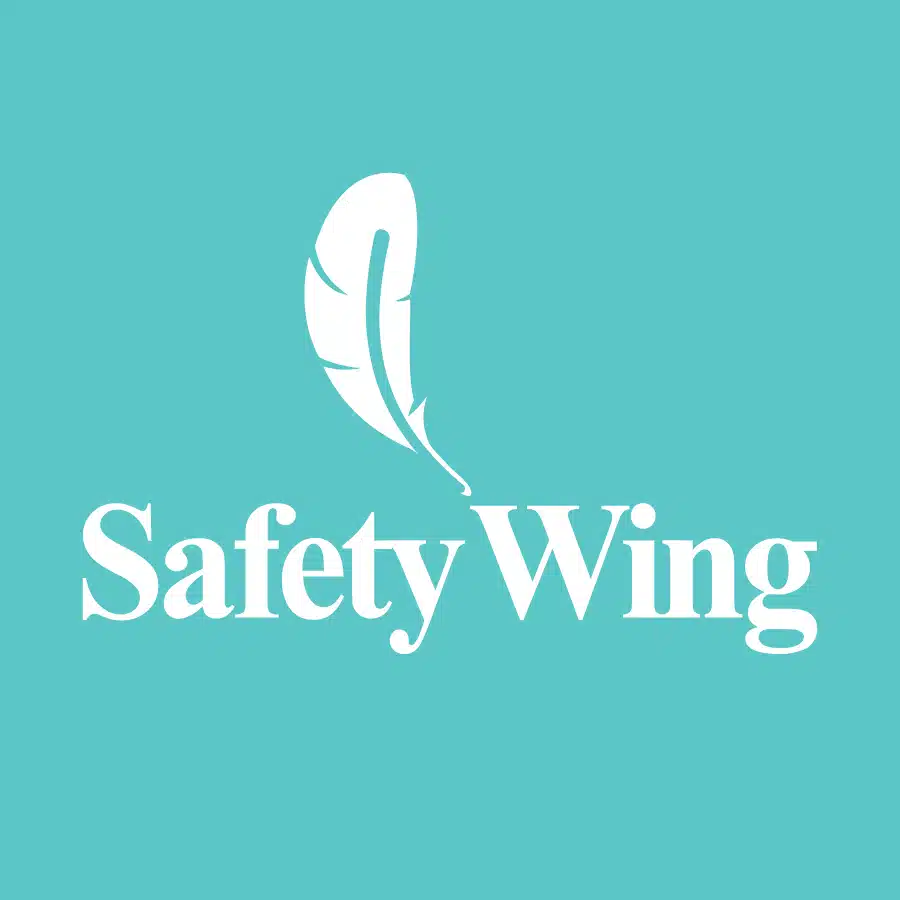 SafetyWing offers coverage that will give you peace of mind while you're on the road. If you want to protect yourself while you're on the road, then click the image to take a look at the options available to you.
Pin For Later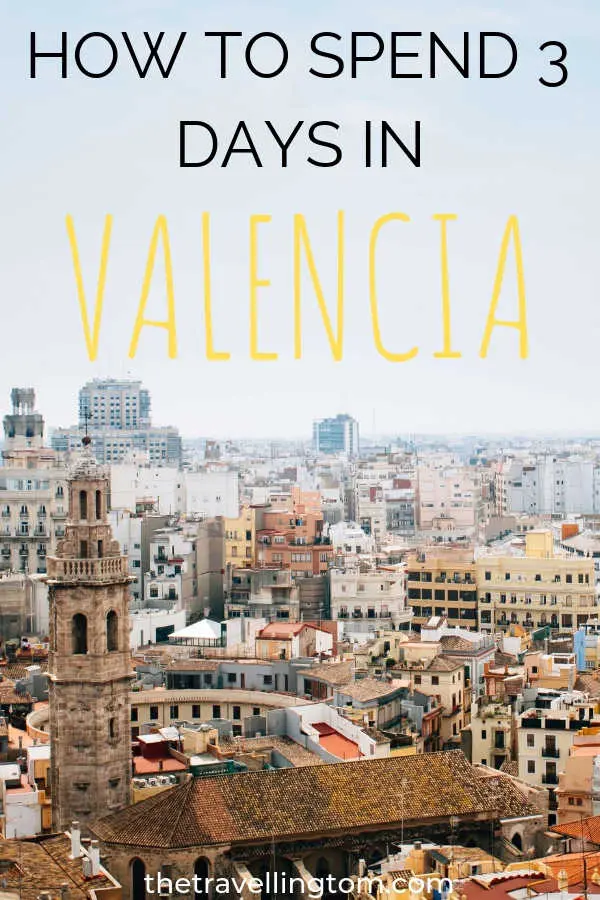 Tom is a travel addict who first left England to spend a year Down Under. Not satisfied with this, he then went to New Zealand, about as far away from home as he could get. He is now planning his next adventures in Europe and Canada while maintaining this blog. Check out the about me page to learn more!