3 days in Helsinki is a good amount of time to see the fascinating Finnish capital. Helsinki is a beautiful city and there is a lot to see.
Finland isn't the most popular tourist destination in Europe but its capital is a great place to visit and you won't be short of things to do.
You can check out the impressive cathedral, relax in one of the many saunas in the city or take a trip to the beautiful botanic gardens.
Helsinki is a great place to go for a long weekend break in Europe, especially if you're looking for a new and interesting place to check out.
This 3-day Helsinki itinerary will let you know the places you should visit and where to stay, during a visit to the city.
So without further ado, let's get into it!
Disclosure: This article may contain affiliate/compensated links. For full information, please see our full disclosure policy.
3 Days in Helsinki Itinerary
Quick 3 Days in Helsinki Itinerary
Day 1 – Walk around Helsinki, Suomenlinna
Day 2 – National Museum of Finland, Helsinki Cathedral, Botanic Gardens
Day 3 – Helsinki City Museum, Bank of Finland Museum, Market Square
My Experience in Helsinki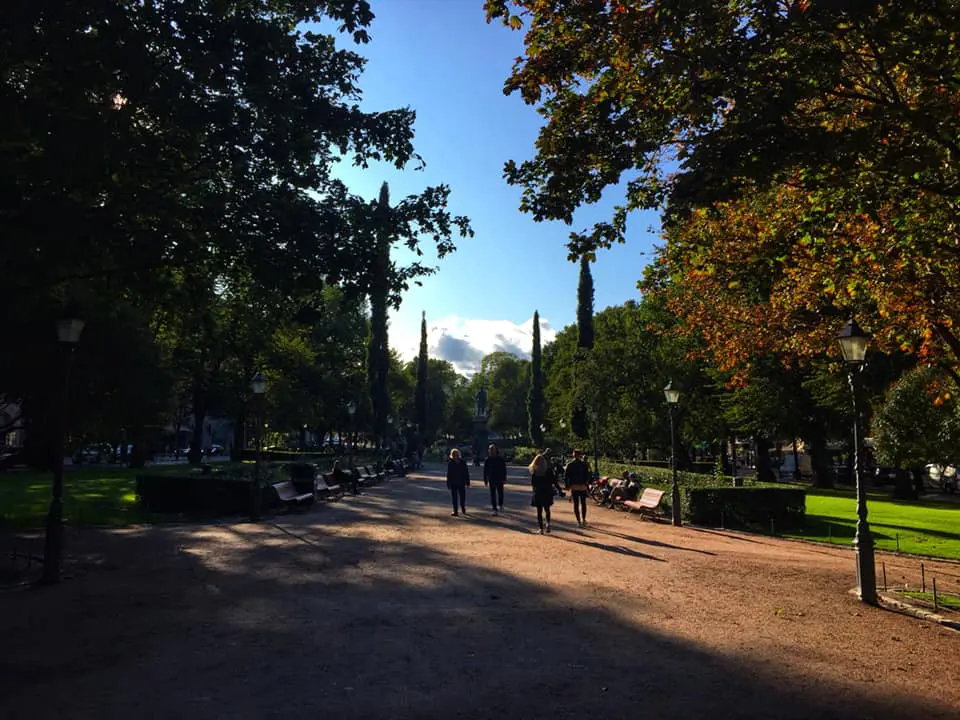 I didn't know what to expect before I visited Helsinki. Finland had been somewhere I wanted to visit for a while, but I'd never gotten around to it.
Helsinki was a city I knew about but I didn't know much about what was there. Well, after arriving in the city I was pleasantly surprised.
It's a beautiful city and although it's not the biggest place in the world, there are a lot of things to do. It's not on the scale of Copenhagen, or Stockholm, but it's a charming place nonetheless.
I enjoyed walking around Helsinki and taking in the sights. The city has a lot of beautiful buildings and its location next to the sea makes it an even nicer place in my mind.
One thing to note is that Helsinki isn't a cheap place. It will cost more for food, drink and attractions than it will in other cities. But, you'll be rewarded with a beautiful city to explore and one that has an interesting history.
If you want to visit a capital city in Europe that is underexplored and has a lot to offer, Helsinki is the place!
Here are a few things I liked about Helsinki during my trip and a few things I didn't:
Good
Helsinki is much more interesting than I realised. I actually didn't know Finland was part of the Russian Empire for a long time before I visited. This explains some of the buildings in the city, particularly Helsinki Cathedral.
You won't run out of things to do in Helsinki in three days. There's so much to see and do in the city, despite it not feeling like the biggest city. There are also plenty of interesting places to discover outside the city centre too.
Bad
The weather can be hit-and-miss. I visited towards the end of August and needed my waterproof jacket the whole time. This is inevitable when visiting Helsinki. But you will get extra kudos if you visit Helsinki during the winter from the locals!
Finland is an expensive country, and as Helsinki is the capital, the prices can be steep. They aren't as bad as Norway, but if you've never visited before you might get a shock!
I've included a map below to help you navigate the city and get a feel for where everything is.
What to do in Helsinki in 3 Days
3 days in Helsinki is enough time to see the majority of the city and enjoy it. Helsinki isn't the biggest city, so you'll have no difficulty seeing everything.
Something I recommend getting before you is a Helsinki Card.
The card allows you to enter several of the best attractions in Helsinki for free. Plus, you get free public transport for the duration of your stay and free sightseeing tour is included too.
Depending on how long you're in the city, you can choose a card that will last for 24 hours, 48 hours or one that will last for 72 hours.
I recommend getting the card as it will make your time in Helsinki much easier and cheaper. It's worth paying for the card to save money while you're there.
Below are some of the best things to see in Helsinki in 3 days that you have to do during your time in the city.
Helsinki Cathedral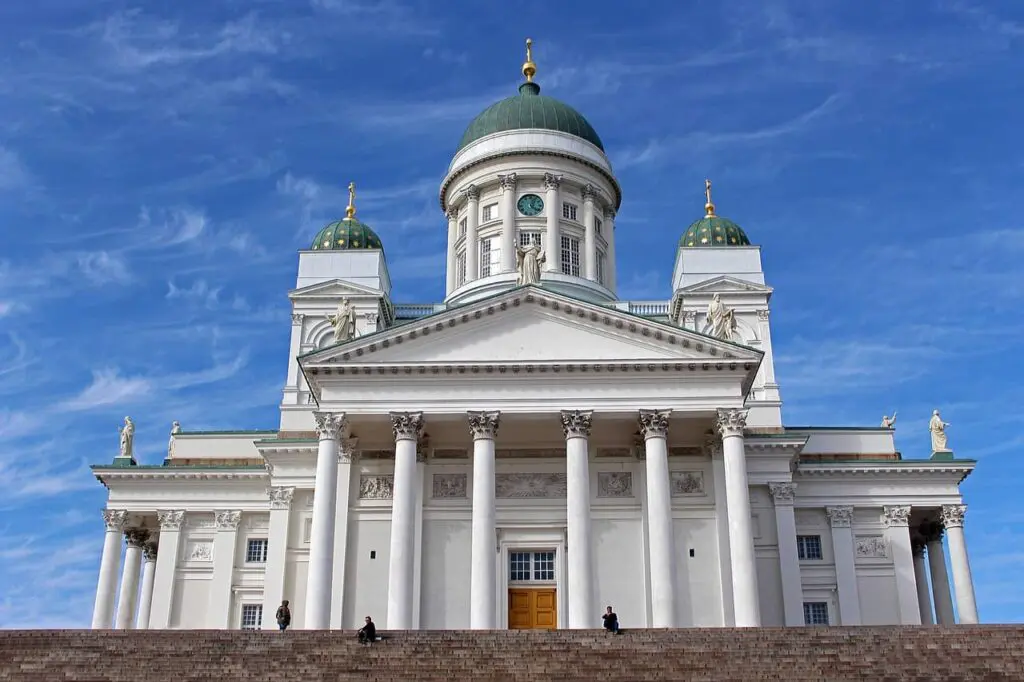 Helsinki Cathedral is one of the most recognisable sights in the city and somewhere you have to check out. It's an impressive building inside and out.
The cathedral was built from 1830 to 1852 and was a tribute to Tsar Nicholas I. The exterior of the building has statues of the 12 apostles, with many more inside.
The cathedral is open every day from 9 am to 6 pm and entrance is free. It's worth wandering around the cathedral as there is a lot to see and found it more interesting than other cathedrals I've been inside.
Even if you're not religious, I recommend visiting the cathedral. It's a beautiful building and the architecture will impress you no matter you're religious disposition.
Suomenlinna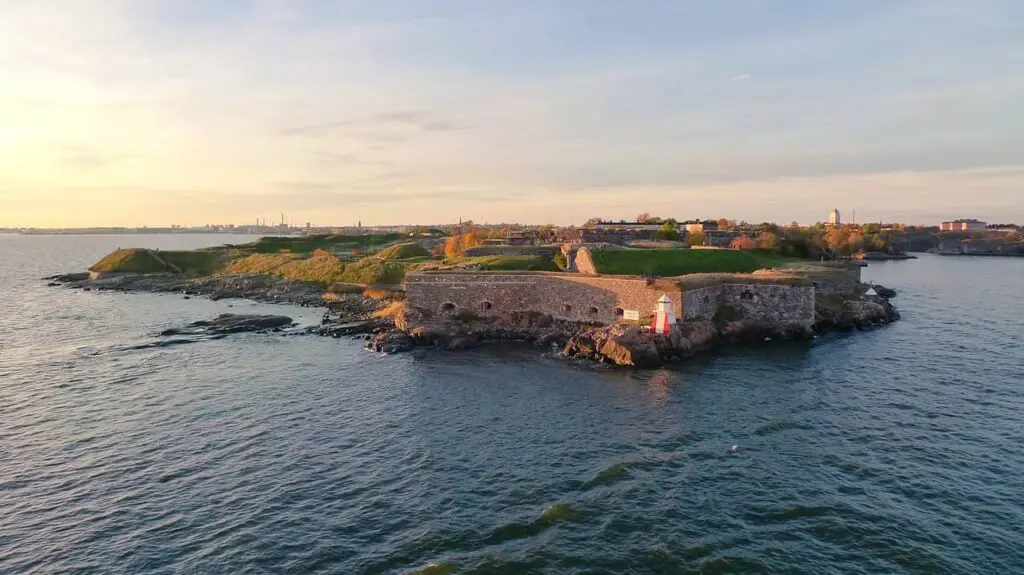 Suomenlinna is an island that once served as a fortress. Constructed by the Swedes as a defence against the Russians in 1748, it served as a fortress through years of Russian occupation from 1818, until Finland gained its independence in 1917.
Nowadays, it's a park and residential area but the history of the island means it should be one of your first ports of call during your 3 days in Helsinki.
Why? Because it's one of the best places to visit in Finland!
The island is a UNESCO World Heritage Site and features six kilometres of walls, 100 cannons, tunnels and much more. You'll also find six museums on the island and a beach too!
Suomenlinna is a big island and you could easily spend half a day exploring it all. To get there, you'll need to take a ferry, while admission to the fort is free, you will need to pay to enter some of the museums.
National Museum of Finland
As the name suggests, this is the main museum in Finland and well worth visiting if you want to learn more about the history of the country.
One of the most interesting facts about Finland I learned is that it's a relatively new country. It only gained its independence in 1917, which surprised me as someone who studied history at university!
The museum is a brilliant one and has lots of artefacts and exhibitions to pour over. A good job is done to ensure that everything is properly and you can move around the museum in a logical order which isn't always the case with most museums.
Even if you're not a history buff like me, I'd recommend checking out the museum. You'll learn a lot, especially as Finland doesn't have the most well-known in history!
Helsinki Itinerary – Day 1
Free Walking Tour
Often the first thing I do when I get to a new city is to go for a walk. I find this is the best way to get acquainted with a city. It helps me to find my bearings and sometimes, I find a place I might not otherwise have seen.
I understand wandering around a city randomly is not to everyone's taste. That's why going on a free walking tour, or paying for one, is a good idea.
The guides have excellent local knowledge and not only will they take you to some of the most interesting places in the city, such as the Old Town but you'll also learn a lot along the way too.
The Helsinki Card has a free walking tour included, and the place where you're staying might offer one too. If not, you can book a walking tour, which will offer the same thing, but you'll have to pay.
Suomenlinna
After you've done the walking tour, head over to the island of Suomenlinna by jumping on the ferry. As I mentioned above, this island used to be a fortress, but now it's a suburb of the city and home to numerous museums.
A visit to the island to the island will take up the remainder of the day, as there is a lot to see. You'll find six museums on the island, as well as the fortress and parks.
Exploring it all will take a while and as it's such an interesting place you'd be mad to go there and rush off after an hour or two.
Take your time to explore the island. Check out the fort and go into a few of the museums to understand the history of the island, which is a fascinating one!
Helsinki Itinerary – Day 2
National Museum of Finland
The first stop of the day should be the National Museum of Finland. This is the main museum in the country and a great place to visit during your time in the city.
The history of Finland is explained in great detail through a variety of artefacts and exhibitions all of which are impeccably explained.
You could spend a good hour or two walking around and taking everything. You're sure to learn a lot about the country's past!
The museum opens from 11 am to 6 pm. Entry is €12 for adults, €9 for students and seniors, and free for children under 18.
Helsinki Cathedral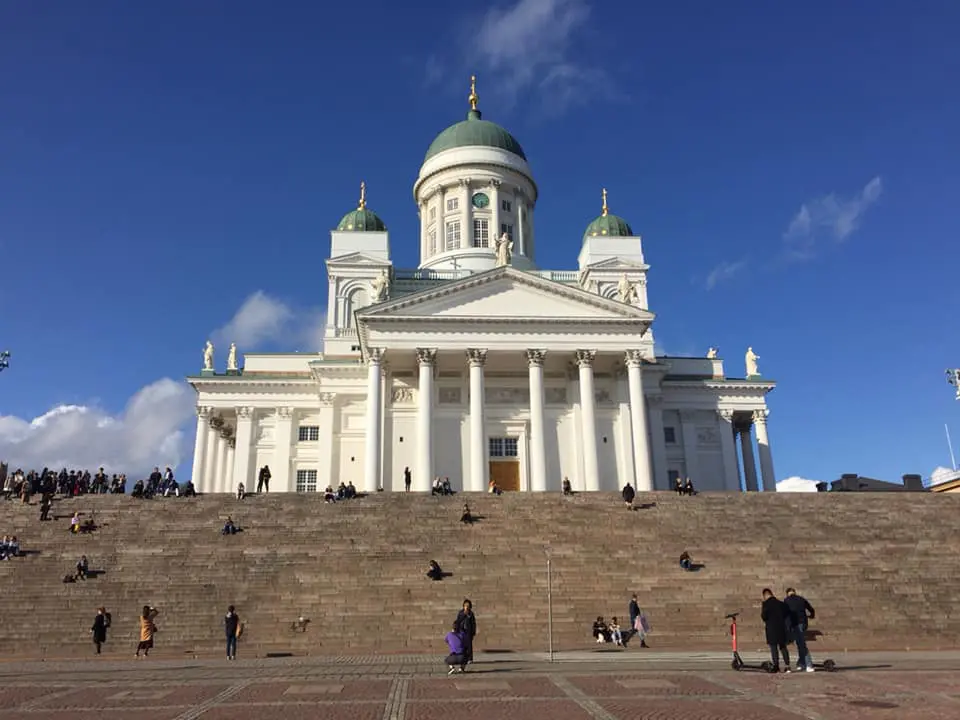 After you've visited the museum, your next stop should be the impressive Helsinki Cathedral. It's one of the nicest cathedrals I've seen and distinct from those you'll find in the rest of Europe.
The reason for this is simple. It was built in a neoclassical style which was common during the Russian occupation of Finland.
It's worth taking a look inside because it's as beautiful as the facade of the building. There's a lot to see and if you're religious it will be a fascinating building to explore.
I enjoyed standing outside the building and admiring its scale. It's a lot bigger than it looks in real life and a building you won't miss during your 3 days in Helsinki!
University of Helsinki Botanical Gardens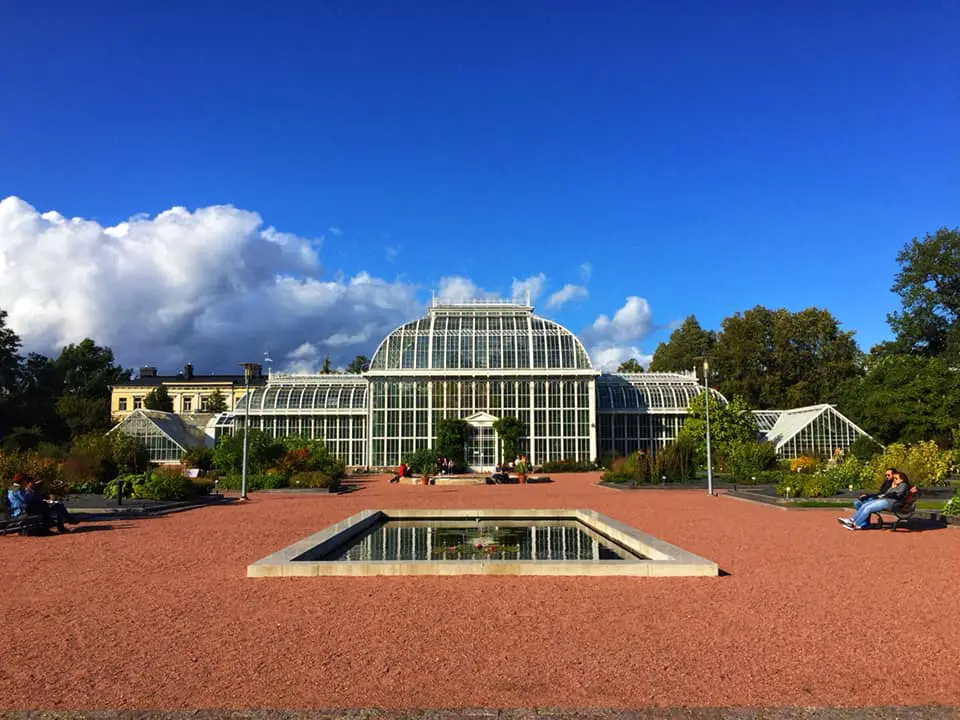 One of my favourite places in Helsinki was the Botanical Gardens. They aren't located far from the cathedral and make for a great place to explore and relax late in the day.
I'm a big fan of botanical gardens, and this is one of the best that I've come across on my travels. The huge greenhouse in the middle of the gardens was a highlight. It's home to more than 800 different species of plants!
This is a great place to unwind and stroll around after a busy day. There's something about gardens that help to relax me. Maybe it's the plants, maybe it's all the green I can see, I'm not sure.
Given that the botanical gardens are slap bang in the centre of the city, it'd be stupid to miss them during your trip to Helsinki.
Helsinki Itinerary – Day 3
Helsinki City Museum
One of the things that Helsinki has a lot of is museums. You'll find plenty of them in the city and with so many, it can be hard to know which ones to visit.
That said, the Helsinki City Museum is one that you should take the time to check out. If you want to know more about the history of Helsinki then this is the place.
It's an interesting museum as there is a wealth of things to see. You'll also learn a lot about the fascinating history of Helsinki which is much more multi-faceted than you might think.
The museum is open from 11 am to 7 pm Monday to Friday and from 11 am to 5 pm Saturday to Sunday. Admission to the museum is free.
Bank of Finland Museum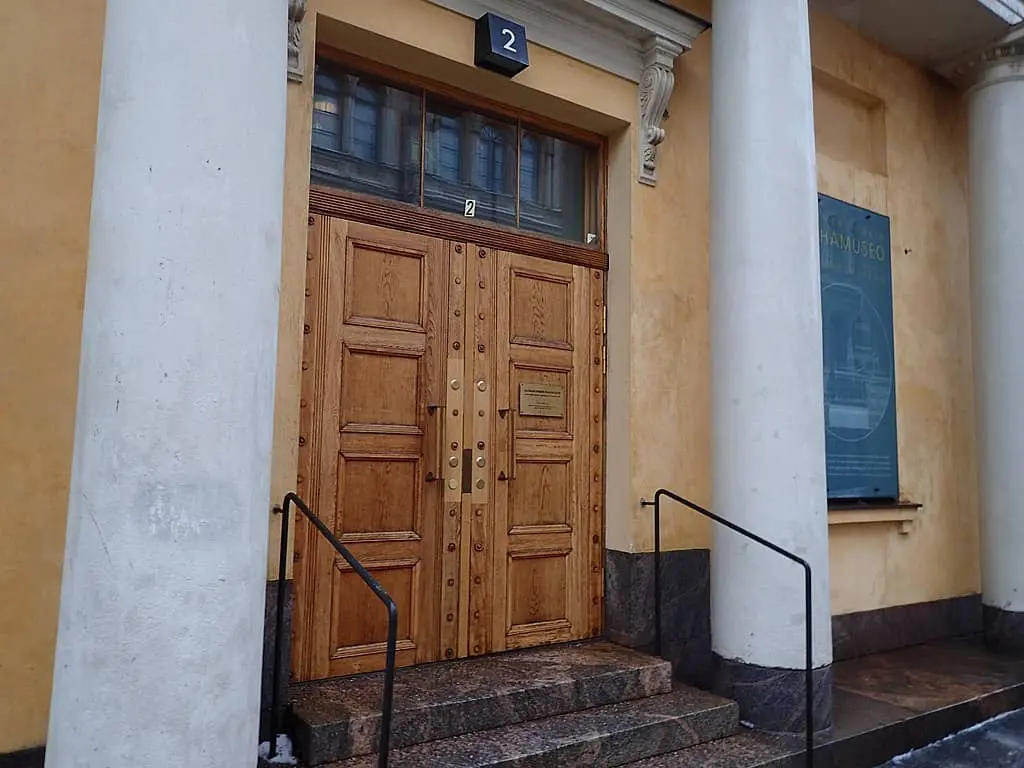 Going to a museum about a bank might seem a bit odd and a little boring, but the Bank of Finland Museum is far from boring.
In fact, it's one of the most interesting places to visit during your 3 days in Helsinki. You'll learn about the history of money in Finland, which is an interesting subject in itself.
Where the museum comes into its own is in its explanation of the history of modern finance. As this is something that affects all of our lives, learning more about the topic is always a good idea!
This is a brilliant museum and one you'll thoroughly enjoy. It's open from 11 am to 5 pm during the week and from 11 till 4 on the weekend. Admission is free.
Market Square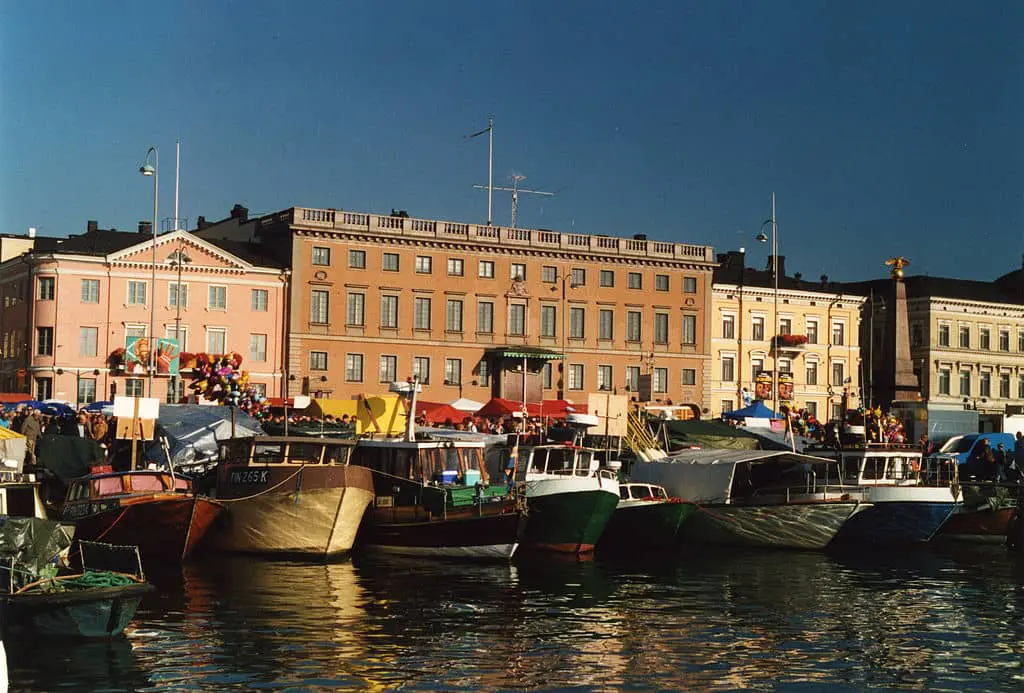 Market Square is one of the most popular tourist attractions in Helsinki and for good reason. It's located next to the harbour on the Eastern side of the city and is a great place to explore.
As the name suggests, the square is home to a market. When I was there I spent a good hour walking around and exploring the different stalls. You can get a variety of food from the market and pick up some souvenirs too!
It's also a great place to go if you want to get some fresh food to cook later on or eat straight away. Another benefit of the square is that there is a sauna nearby and a big pool next to the harbour which you can swim in.
After you've strolled around the market, you can relax in the sauna, or go for a swim in the pool. Or you can get a coffee and admire the view out into the harbour. Whatever floats your boat!
Other Places to Visit in Helsinki
Day trip to Tallinn – A little-known fact about Helsinki is that Estonia is only a 2-hour ferry ride across the Baltic Sea. This means you can spend a day in the capital, Tallinn if you wish. If you're here for longer than 3 days, or you want to explore the city, this is one of the best day trips from Helsinki. You could even rent a car and check out some other parts of Estonia, such as the wacky Museum of Soviet Vehicles. The ferry takes you there and back on the same day. It'll be an early start, but Tallinn is a beautiful city, so it's worth it! Click here to book your ticket!
Olympic Stadium – Another little-known fact is that Helsinki hosted the Summer Olympic Games in 1952. If you're a sports fan. It's worth checking the stadium out, especially as you can go up the tower connected to the stadium to get a fantastic view of Helsinki. A stadium tour is also available if you want to know about the history of the stadium!
Sauna – One of the first things that people associate with Finland is a sauna. It's synonymous with the country and Helsinki is full of saunas. If you've never been to a Finnish sauna, this is a great chance to try one out.
Porvoo – Not far from Helsinki, you'll find the medieval town of Porvoo. If you're looking to escape the city for a day, this is an ideal place to visit. It's a beautiful little town with a lot to see. It will give you a glimpse into what life in Finland used to be like. You can book a tour, or make your own way there using public transport.
Check out some of the other tours and activities you can do in Helsinki by clicking the link below:
Helsinki Travel Tips
This part of my Helsinki travel guide offers practical tips for your visit. You'll find out where to stay, rough estimates of prices, the best time to visit and how to get around.
Where to Stay in Helsinki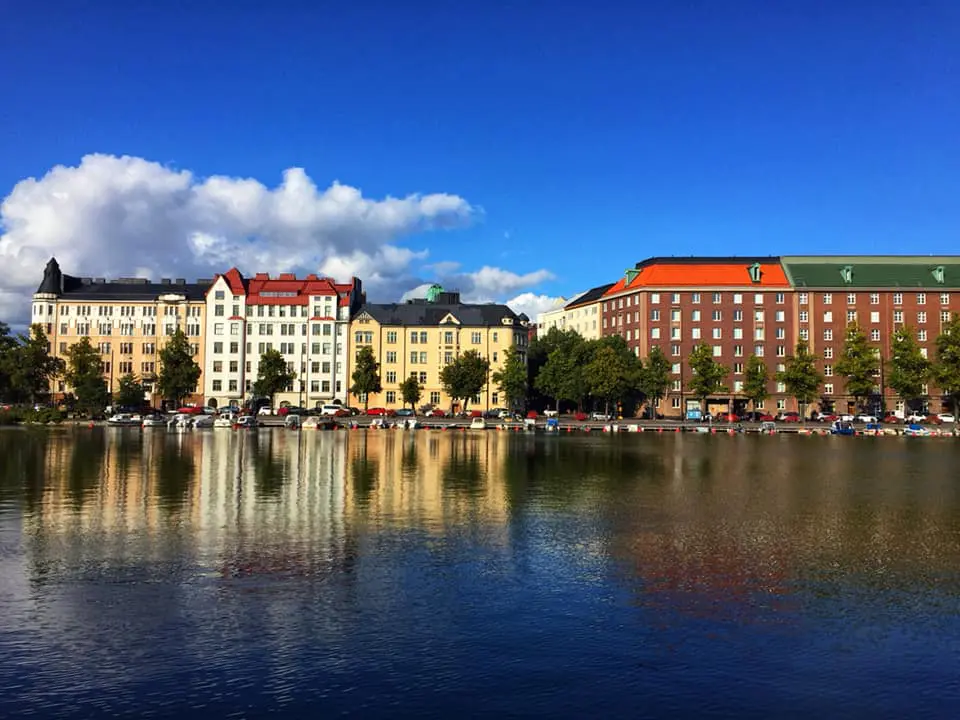 The good thing about visiting Helsinki is that there is no shortage of places to stay. If you want to stay in a hostel or a hotel, you'll find somewhere to suit your needs.
It's important to consider costs when it comes to deciding where to stay in Helsinki. Finland is an expensive country and you will pay more to stay in the centre of the city.
If you're on a budget, it might be a good idea to stay a bit further out of the city. You can easily reach the city centre via the metro system and the money you save could come in handy later.
I've included it and several hostels you should consider staying at during your trip to Helsinki in the table below.
| Accommodation | Description | Link |
| --- | --- | --- |
| The Yard Hostel | A boutique hostel right in the heat of the city that has great facilities and comfortable rooms. | Book Now |
| Hostel Suomenlinna | If you want to stay somewhere different, then this hostel on the former fortress island of Suomenlinna is the place to stay! | Book Now |
| Eurohostel Helsinki | Located in the Katajanokka district, this hostel has a chilled vibe and a free sauna! | Book Now |
Cost of Travel in Helsinki
Like the rest of Scandinavia, Helsinki is expensive. It's not as expensive as spending 3 days in Oslo, but you'll pay a lot more than you would in other parts of Europe.
My advice is to budget before you go. This is important, otherwise, you could end up spending a lot more than you'd like if you're not careful.
Decide what you want to visit before you go and set aside a budget for splurges such as a day trip to Tallinn, or a visit to the National Museum of Finland.
The following prices are for the average travel budget. That's someone who is not going to splurge, but someone who will not be travelling on an ultra-frugal budget either.
They don't include prices for extras such as nights out at a bar/pub, club entry fees, souvenirs/clothing purchases, or tours. etc. You will have to budget extra for these purchases as they are 'non-essential!'
Here's a rough breakdown of essential travel costs in Helsinki:

Accommodation
Hostel: Dorm – €21-27; Private – €45-80
Hotels: €64-154
Rental Apartment: €80-150+

Food and Drink
Breakfast: €4-57
Dinner: €9-14
Takeaway meal: €6
Pint of beer: €5.50-7

Transport
City Metro / Bus: €2.50-3.20
Day ticket: €8
24-hour ticket: €16
Bus from Helsinki airport to city centre: €6.30
Best Time to Visit Helsinki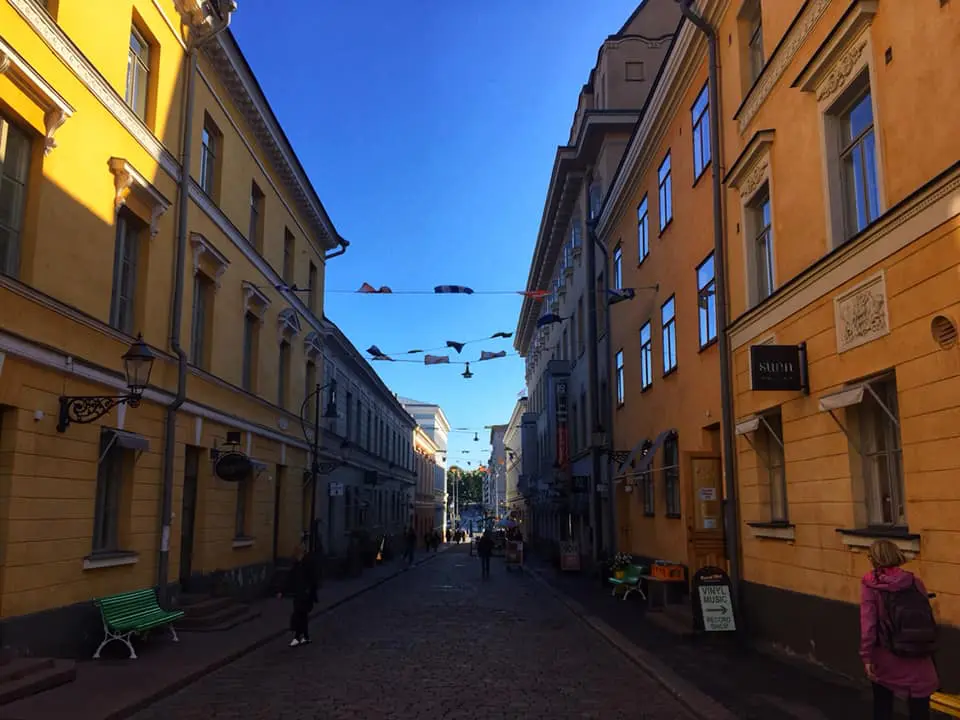 One of the things you may be considering before you visit Helsinki is when to visit. Considering Helsinki's location on a map, this is a reasonable thought.
Finland gets cold during the winter months. Even though Helsinki is located at the southern end of the country, the temperatures can still plummet.
While it may not be one of the best places to visit Europe during winter, you will encounter fewer tourists and cheaper prices. Plus, the city is beautiful under the winter lights.
That said, the temperatures are much hotter during the summer months and this means you can do more stuff. You won't need to worry about exploring the city in the cold and rain.
Yes, it'll be busier, but that's a small price to pay for better weather. If I had to choose, I'd visit Helsinki during the summer, spring or the beginning of autumn. These months will provide you with the best weather which will allow you to see more of the city and its surroundings.
How to Get Around Helsinki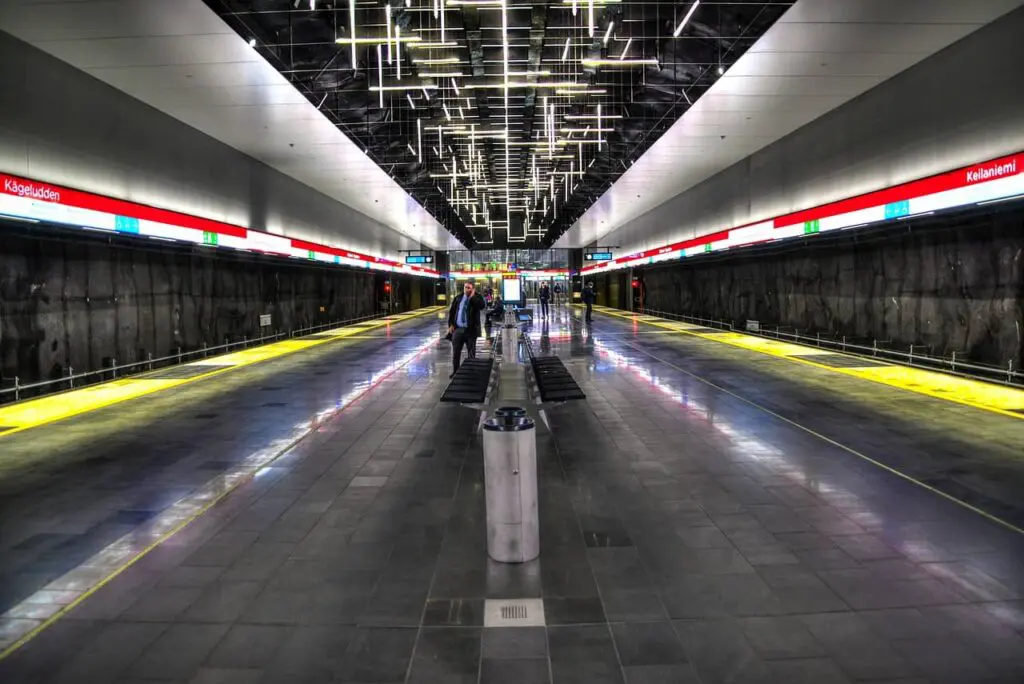 Helsinki isn't the biggest city and that means getting around is much easier than in some other European cities. It's a lot smaller than Stockholm for example, so you can see most places on foot.
If you don't want to see the city on foot, or you want to go somewhere outside the city centre, the excellent metro system is your best bet.
Purchasing the Helsinki Card before you go, will give you free access for the duration of your trip. The metro is efficient and easy to use.
I stayed outside the city centre when I visited and getting around the city was easy. It's one of the best metro systems I've come across in Europe.
Once you're in the city centre, there's not much use for it as everywhere is accessible by foot. My advice is to walk around as you'll often come across places you might not otherwise see.
If you want to visit the islands surrounding Helsinki, such as Suomenlinna which is home to a fortress, you can hop on a ferry. They aren't too expensive at €5.95 for a return and allow you to see some of the more interesting sights in Helsinki.
Frequently Asked Questions
Is 3 Days Enough in Helsinki?
3 days in Helsinki is the ideal amount of time to see this fascinating Scandinavian city. It's not the most well-visited city in Europe, but it has its attractions!
How Many Days Is Enough To See Helsinki?
3 days is probably the most you need to see Helsinki. You can see almost everything in the city in this time and travel to a few places outside the city too.
Is Helsinki a Walkable City?
Yes, Helsinki is very walkable. It's a big city but you won't have any issue getting around on foot. If you need to cover large distances, you can use the metro to get around and walk once you've reached your stop.
Need Travel Insurance?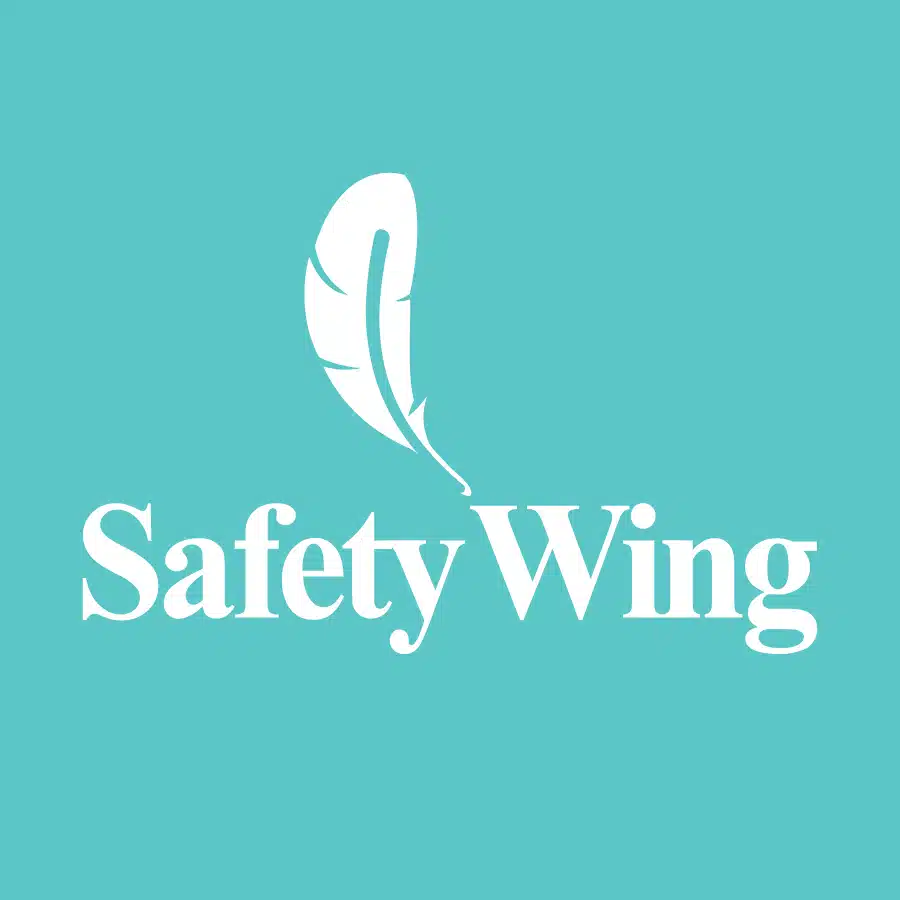 SafetyWing offers coverage that will give you peace of mind while you're on the road. If you want to protect yourself while you're on the road, then click the image to take a look at the options available to you.
Pin For Later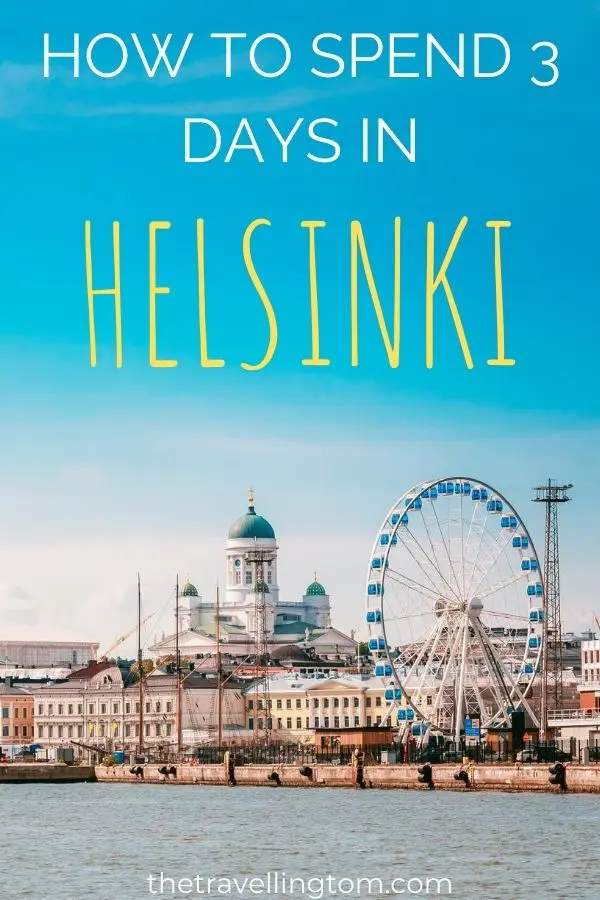 Tom is a travel addict who first left England to spend a year Down Under. Not satisfied with this, he then went to New Zealand, about as far away from home as he could get. He is now planning his next adventures in Europe and Canada while maintaining this blog. Check out the about me page to learn more!