3 days in Milan is a good amount of time to see one of the most interesting cities in Italy. Milan is full of incredible cultural sights and if you're a sports fan, you can check out one of the most famous stadiums in the world.
The San Siro is world-famous as a sporting venue, and visiting is a must even if you're not into sports. If you're looking for more conventional places to visit, then the Duomo di Milano and Castello Sforzesco are just of the many great landmarks in Milan.
This perfect Milan itinerary will let you know the places you should visit and where to stay, during a visit to this incredible city.
Italy is a big country with a lot of fascinating places to check out but Milan has to be on your list because of its history and cultural heritage. Even if you visit Milan in 3 days, it's better than nothing!
If you're wondering what to do in Milan for 3 days, keep scrolling to find out more!
Disclosure: This article may contain affiliate/compensated links. For more information, please see our full disclosure policy.
3 Days in Milan Guide
Quick 3 Days in Milan Itinerary
Day 1 – Walk around Milan, Duomo, Galleria Vittorio Emanuele II
Day 2 – Castello Sforzesco, Parco Sempione, Isola
Day 3 – The Last Supper, Teatro alla Scala, Navigli District

• Top Tip – Get a Milan City Card to save money on attractions, museums and select restaurants
• Love Italian food? Check out this cooking class to learn how to make these amazing dishes!
• Get transport to/from Malpensa Airport and to/from Bergamo Airport
My Experience in Milan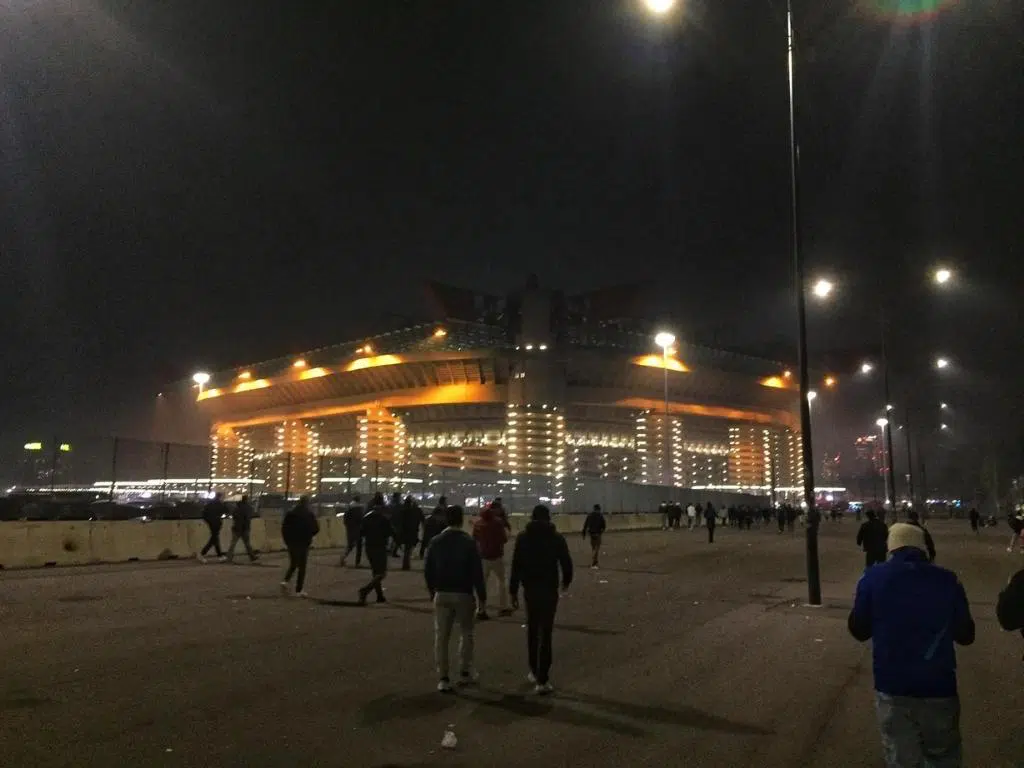 I was looking forward to visiting Milan for several reasons.
One was to check out the Duomo Cathedral, which is one of the most impressive buildings I've seen. Another was to visit the San Siro and watch a match there, something I've wanted to do for ages. Finally, learning more about the city's history was behind my reasons for visiting too.
It's fair to say Milan ticked all these boxes and I was pleasantly surprised by the city. It doesn't have the allure of Rome or the coastlines of other places in Italy but it's still got a lot to offer.
It's one of the best places to visit in Northern Italy and with so much to see and do there, you might be wondering how many days in Milan you might need. You can spend 3 days in the city and still have lots to see, so three is the absolute minimum in my eyes.
That's what happened to me, as I only realised the city was home to Leonardo Da Vinci's Last Supper when I arrived and I didn't have time to check out several museums too.
Milan is a vibrant city, and you'll have a fantastic time should you visit. Maybe, just plan your trip a bit better than I did!
Here are a few things I liked about Milan and a few things I didn't:
Good
I feel like Milan is an underrated city. There was more to see here than I thought and I didn't run out of things to do during my 3 days here. I heard a few bad things about the city, but I enjoyed it.
The metro system in Milan makes it easy to get around. You can also get a multi-day ticket, so you can jump on the metro when you need to get to the other side of the city. Milan is a big city, so need to use the metro unless you enjoy long walks.
Bad
I felt like a lot of the city was focused around the Plaza di Duomo. This is the real heart of the city and you can feel the buzz when you're there. That buzz isn't apparent in the rest of the city, which feels much slower. It's not necessarily a bad thing but you do get the sense there's not much happening outside the centre.
The crowds in Plaza di Duomo are insane. It's a big square but if you go during the middle of the day, you're guaranteed to see huge crowds. It gets quieter at night, but then there are scammers trying to get you to let them take photos of you so be aware if you go there at night.
What to See in Milan in 3 Days
As one of the biggest cities in Northern Italy, there are plenty of things to do in Milan. This is one of the best things about visiting the city as you won't run out of stuff to do.
If you're wondering what to do in Milan, I have listed a few of the best places to see to ease some of the pressure on the decision-making front.
One thing you should do before you go is purchase a Milan City Card. This pass gives you a discount on numerous activities in the city and you'll also get money off at select restaurants, entertainment venues, and shops.
It's a useful thing to have with you, and although it's an extra cost at the start of the trip, it will allow you to save a decent amount of money on your trip!
I've listed three tours/day trips you should do during your time in the city below. These are tours I think are some of the best in the city and will allow you to see some of the best sights in Milan!
Below are some of the places and things you should see during your Milan trip.
Duomo di Milano – The Duomo is the symbol of Milan and one of the most impressive sights in the city. Piazza del Duomo often gets busy, but it's a place you have to visit in Milan.
San Siro – One of the most iconic football stadiums in the world. If you're a football fan, a visit here to either go on a guided tour or watch a match has to be part of any 3 days in Milan itinerary.
Basilica di Sant'ambrogio – One of the oldest churches in Milan, Basilica di Sant'ambrogio is a beautiful church that's been around since 379! The architecture is magnificent and the patron Saint of the church, Ambrose is buried in the crypt.
Galleria Vittorio Emanuele II – A brilliant piece of architecture in the city center, the Galleria is next to Piazza del Duomo and contains some of the most luxurious shops in Milan. It's a good place to go window shopping as well as admire the beautiful architecture.
Leonardo da Vinci's The Last Supper – Milan is home to numerous art galleries, but perhaps the most famous piece of art in the city is in the church of Santa Maria delle Grazie. You'll need to book a ticket in advance to see it, but it's worth it!
Use the map below to find the places listed above and to get an idea of where everything is in Milan.
Milan Itinerary – Day 1
Free walking tour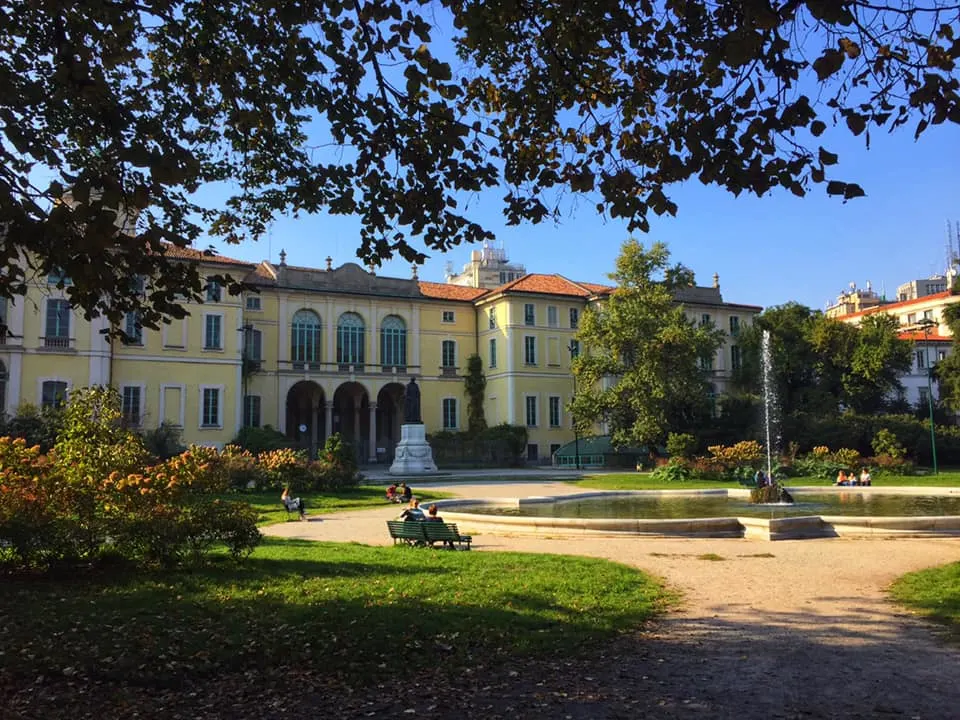 Whenever I visit a new city, the first thing I do is check in to my accommodation, drop off my bags and go and explore.
This usually involves me walking in one direction and seeing where I end up. Most of the time, this goes well. But there are the odd occasions where I end up in some random place and lose any semblance of where I am.
I realise this isn't everyone's cup of tea, so if you want something more structured you can go on a walking tour. These are offered by most hostels, or if you can't find one, you can book a bike tour of the city for example.
This way, you'll get to see most of the interesting sights and explore Milan while getting a feel for the city.
Win-win!
Duomo di Milano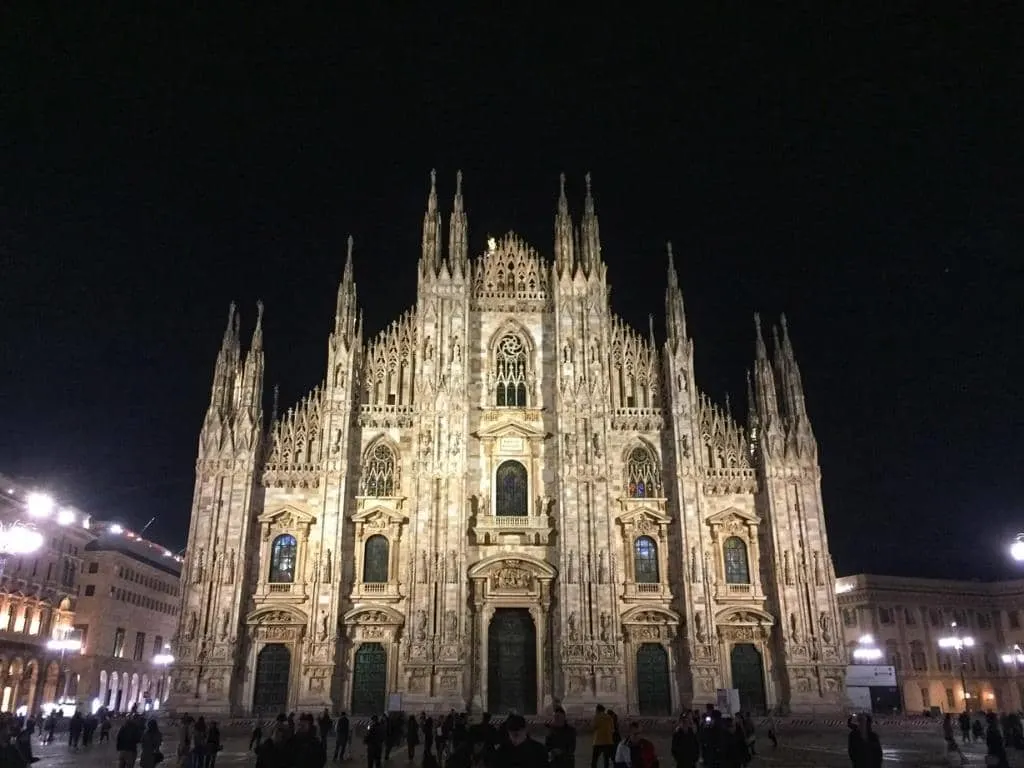 The Duomo is one of the most famous landmarks in Milan and it's one you can't leave the city without visiting.
Once you've finished your walking tour, which will have included the Duomo, also known as Milan Cathedral, I'm sure, it's worth heading back there to see it and go inside.
You need to take a few minutes to appreciate the beauty of the building. It's an unbelievable piece of architecture and as impressive as it is from the outside, it's even more impressive inside.
Piazza del Duomo is a sight to behold too. Even though it can get busy, the piazza provides you with an excellent view of the cathedral.
You also have the Duomo museum within walking distance of the Duomo too, which is worth visiting to learn more about the magnificent cathedral.
Book a guided tour to learn more about the history of the building and to see everything inside. Plus, this way you're guaranteed not to miss out on getting inside!
Galleria Vittorio Emanuele II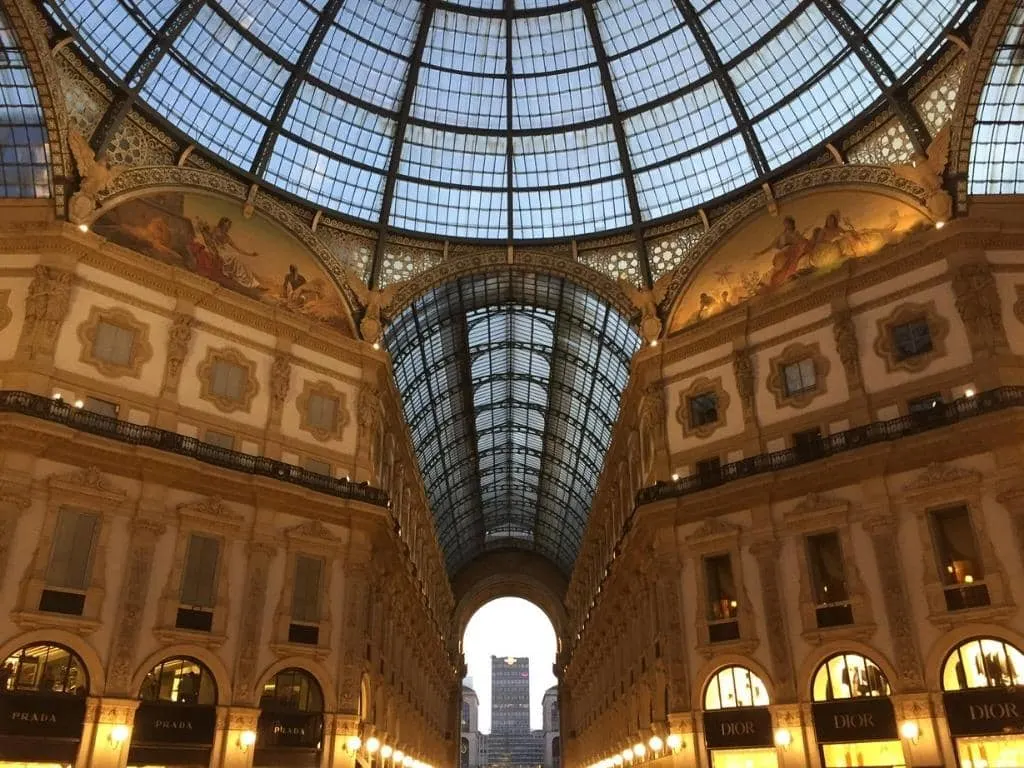 Right next to the Duomo is the Galleria Vittorio Emanuele II. This is the perfect place to go after you've checked out the incredible cathedral.
The Galleria is Italy's oldest active shopping gallery, it opened in 1877, and is a magnificent piece of architecture.
If you love shopping, then you have to visit as Milan is the fashion capital of Italy! If you don't, then the architecture will more than satisfy you. That said, there is a great bookshop in the Galleria I highly recommend checking out!
I spent a good few minutes marvelling at the beauty of the galleria, in between trying to avoid photobombing the multiple people taking selfies!
You'll also find some of the best places to eat in Milan here, albeit, they are on the more expensive side.
If you want to really appreciate the Galleria, it might be best to visit early in the morning or later at night when there are fewer people.
This way you'll have more time to yourself to appreciate how impressive it is!
Milan Itinerary – Day 2
Castello Sforzesco
One of the most underrated places to visit in Milan is Castello Sforzesco. If you've spent 3 days in Turin and seen the Palazzo Reale, then you'll have an idea of what you'll find inside even if there are a few differences.
The castle is a 15th-century citadel and is a must-visit while you're in the city. Not only for its architectural beauty but because it's home to several museums.
Wandering around the grounds is a lot of fun and it's free, but you will need to pay to go to the museums. Luckily, you can purchase one ticket which lets you visit all the museums on the grounds.
Among these, you'll find the Pinacoteca di Brera, which is home to some impressive Renaissance art, a museum dedicated to ancient Egypt and a Museum of Musical Instruments.
You'll also find an art gallery that has numerous works by well-renowned artists.
Parco Sempione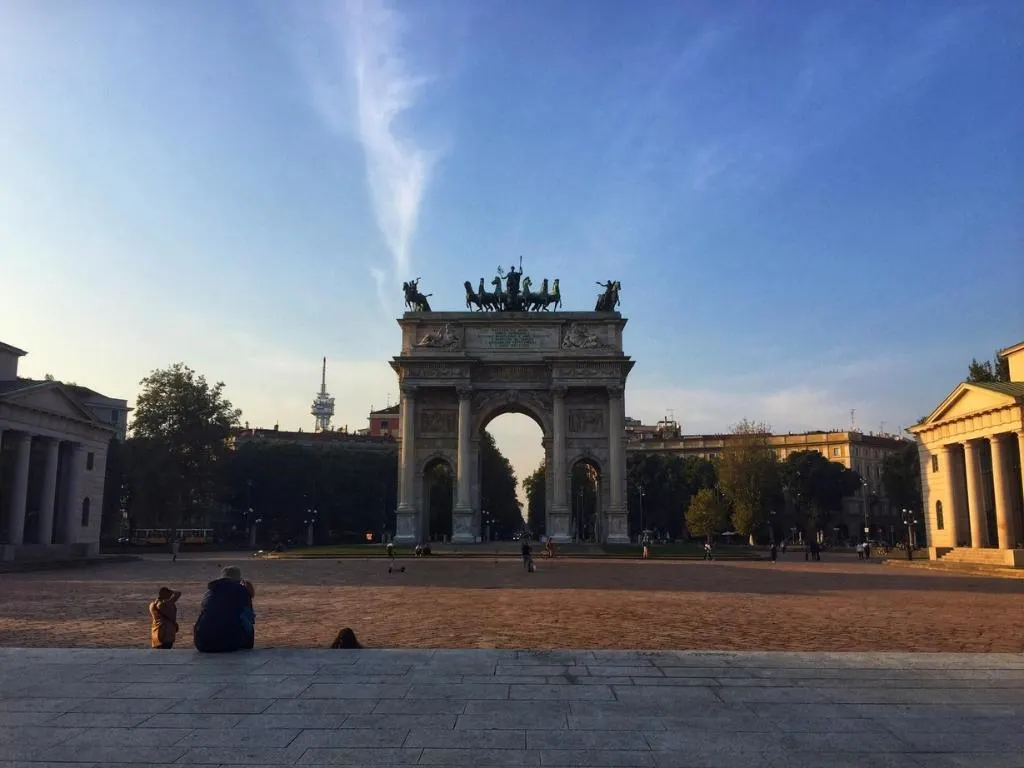 Just behind the Castello Sforzesco is Parco Sempione, so it makes to wander around the park once you've explored the castle.
The park is one of the best things about Milan as it's a huge green space in the middle of the city that's highly accessible.
If it's a hot day, there are not many better places to cool off than in the shade of the numerous trees in the park.
You can also amble around the park and take it all in too. You'll also get some impressive views of the castle if you turn around and look back.
The park is also home to the Arco della Pace (Arch of Peace), which was built in 1838 after work initially started in 1807 when Milan was under Napoleonic rule.
It might not have the mystique or the majestic of the similar Arc de Triomphe, but it's impressive nonetheless.
Isola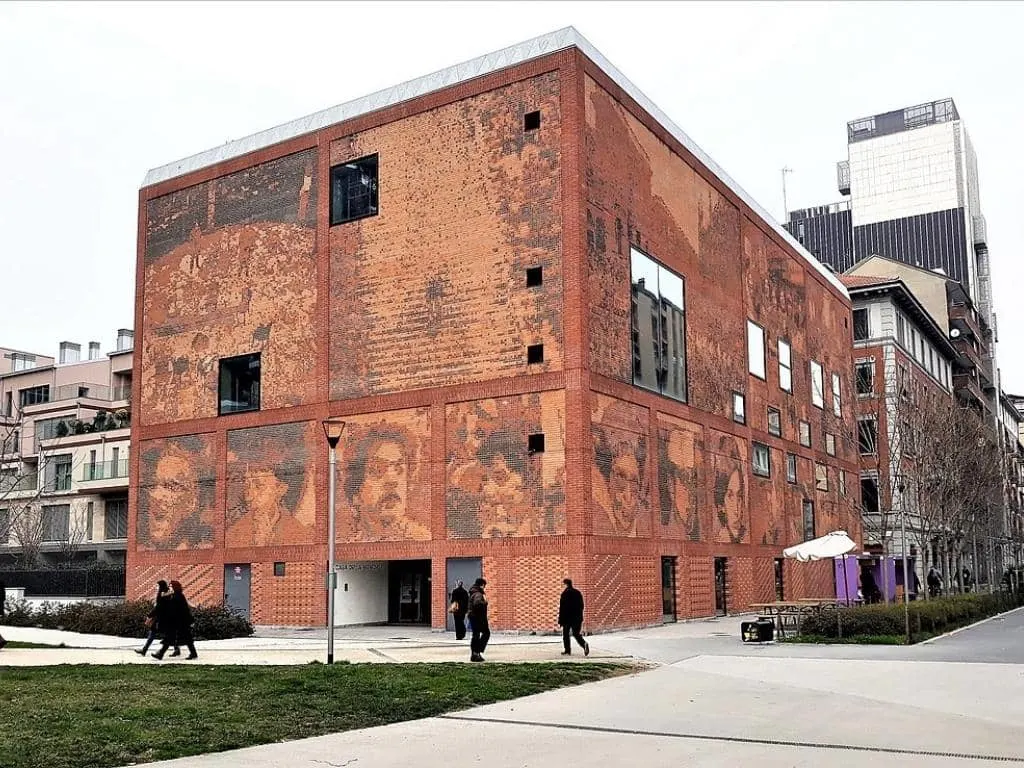 If you want to get out of the city center and see the grittier side of Milan, then you need to take a trip to the Isola district.
You can reach Isola via the metro if you get off at Milano Porta Garibaldi station. The reason for its distinctive vibe is that the district was cut from the rest of the city until the Porta Nuova business district was built.
You'll find plenty of street art in Isola, which is one of the main reasons for visiting. It's not hard to spend a large portion of your time walking around trying to find all the great pieces of art.
Despite the increasing gentrification of Isola, it still retains a gritty vibe and the mix of thrift stores, hipster outlets and cafes make it a great place to visit to see another side of Milan.
Milan Itinerary – Day 3
Leonardo Da Vinci's The Last Supper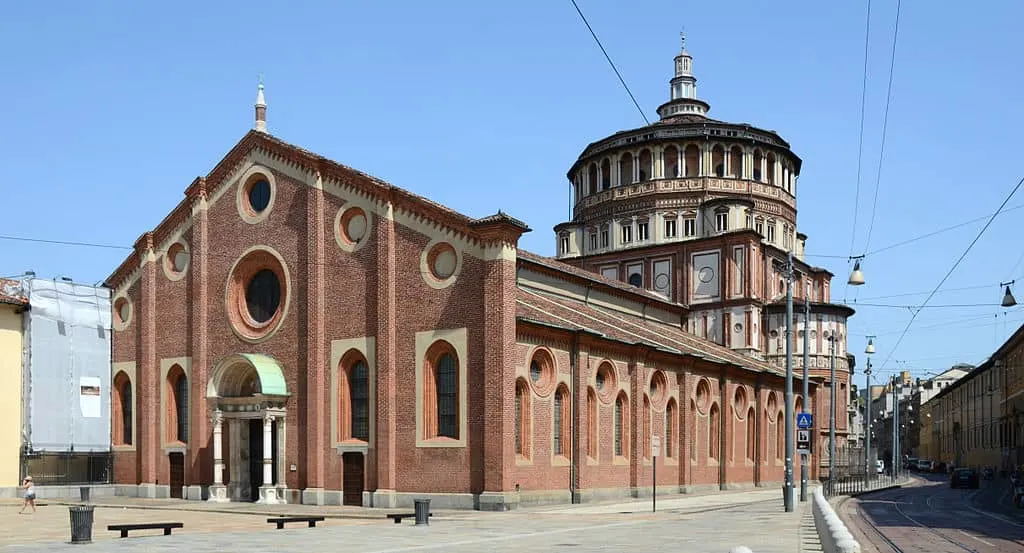 The Last Supper is one of the most famous paintings in the world in the Santa Maria delle Grazie, and until I visited Milan I was unaware the city was home to the famous painting by Leonardo Da Vinci.
My excitement at finding this out was tempered by the fact you need to purchase tickets well in advance of your visit to Milan.
The painting is on one of the walls in the church of Santa Maria delle Grazie, which is a UNESCO World Heritage Site. Although I didn't get to visit, if you can book tickets to ensure you see it, you should.
I want to go back to Milan to see the painting one day, and you can't really spend 3 days in Milan without checking out one of the most famous works of art in the world.
Teatro alla Scala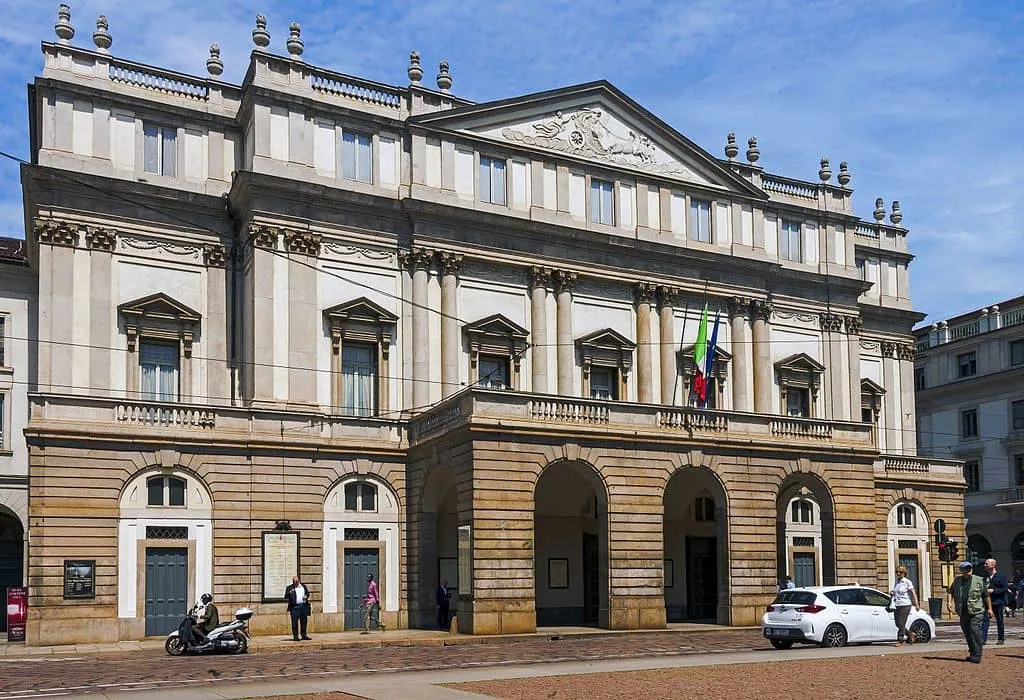 The Teatro alla Scala, also known as La Scala, is the famous opera house in central Milan.
Even if you're not a fan of theatre, it's worth checking out La Scala as it's a beautiful building and the square it sits in is impressive too.
That said, if you do like the theatre and want to see a show, then the theatre will be high on your list of places to visit.
This would be a perfect way to spend part of your time in Milan. Either by watching a show or taking a look around the theatre itself.
Navigli District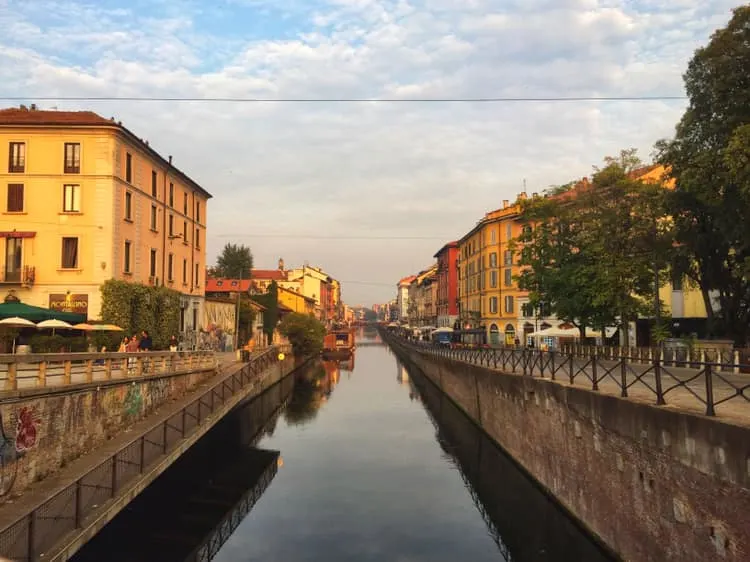 The Navigli District is one of the lesser-known parts of Milan, but it's also one of the most interesting and vibrant.
The district gets its name from the series of canals that comprise the area, with the Navigli district being the biggest. The district is a throwback to Milan's past when the canals were more prominent in the city.
What makes Navigli a great place to check out is the lively cafe and restaurant culture here. It's the perfect place to go off an evening to get something to eat.
I went to a restaurant here and thoroughly enjoyed the views and the general vibe in the area.
A walk around the district in the evening to get something to eat and then a few drinks afterwards at one of the numerous trendy bars is the ideal way to spend your last night in Milan!
If you want to see as much of the district as you can, then a canal tour with wine and snacks is a good idea.
Other Places to Visit in Milan
Day trip to Bergamo – Bergamo is one of the best day trips from Milan you can do. It's only an hour from Milan by train and is worth visiting if you're staying in Milan for longer than three days.
Science and Technology Museum – This is a great museum to visit if you want to learn more about Da Vinci's past and some of the inventions he came up with during his life. Book your ticket now!
Branca Tower – If you want to get some spectacular views of Milan from up high, then going to the top of Branca Tower in Parco Sempione is a must! Book your ticket now!
Check out some of the other tours and activities you can do in Milan by clicking the link below:
Milan Travel Tips
In this section, you'll get a range of tips on where you can stay in Milan, how much a 3-day trip will cost, the time of the year that's best to go and how to get around the city.
If this is your first time visiting Milan, these tips will help you get an idea of what the city is like and what to expect.
Where to stay in Milan
The good thing about visiting Milan is that there are plenty of places to stay.
As one of the biggest cities in Italy, there's a multitude of options when it comes to accommodation. From hostels to hotels and Airbnb, you have plenty to choose from. One thing you do have to consider is what part of the city you stay in.
You can stay close to the centre, which will cost more but is more convenient, or stay a bit further out, which will be cheaper but will require you to use the metro to get around. I stayed out of the centre close to the San Siro in a hostel and it was fine.
The good transport network in Milan means getting around is easy. Walking wasn't that bad either, though it's probably only best if you know where you're going as it's easy to get lost unless you're in the centre.
I've included a few places you should consider staying at below.
| Accommodation | Description | Link |
| --- | --- | --- |
| Ostello Bello | Great hostel in the centre of the city with a bar that's a good place to meet fellow travellers. | Book Now |
| YellowSquare Hostel | Located in the Porta Romanna district, this is great hostel with a social vibe and lots of events. | Book Now |
| MEININGER Milano Garibaldi | Located not far from the San Siro, it's outside the city centre but has great facilities and a chilled vibe. | Book Now |
Cost of travel in Milan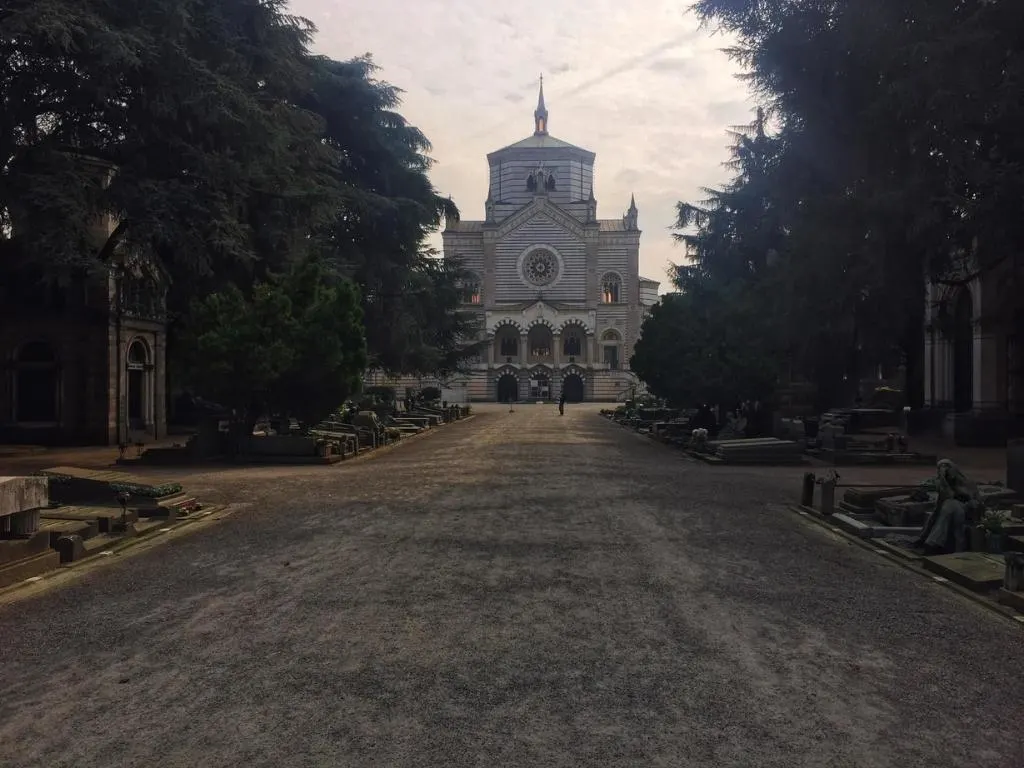 3 days in Milan might not be the longest time to spend in the city but if you're not careful you can end up spending a lot. Milan is one of the most expensive cities in Italy, so it pays to have a budget when you do visit.
Italy is cheaper than other countries in Europe such as Germany and the Netherlands, but it can be expensive. It depends on what you do in Milan too. If you plan to buy a lot from the fashion houses here, then you'll eat into your budget quickly.
That said, if you're clever, you can have a great trip on a modest budget with plenty left over for tours or watching a football match.
Below is a rough guide to prices for accommodation, eating out and transport in Milan.
They don't include prices for extras such as nights out at a bar/pub, club entry fees, souvenirs/clothing purchases, tours. etc. You will have to budget extra for these purchases as they are 'non-essential!'

Accommodation
Hostel: Dorm – €15-35; Private – €50-90
Hotels: €80-150
Rental Apartment: €60-150

Food and Drink
Breakfast: €2-€4
Dinner: €9-18
Takeaway meal: €2.50-5+
Pint of beer: €4-5

Transport
City Metro / Bus: €1.50
Day card: €4.50
Bike rental: €1.50 for 90 minutes
Train from airport to city centre: €12
Best time to visit Milan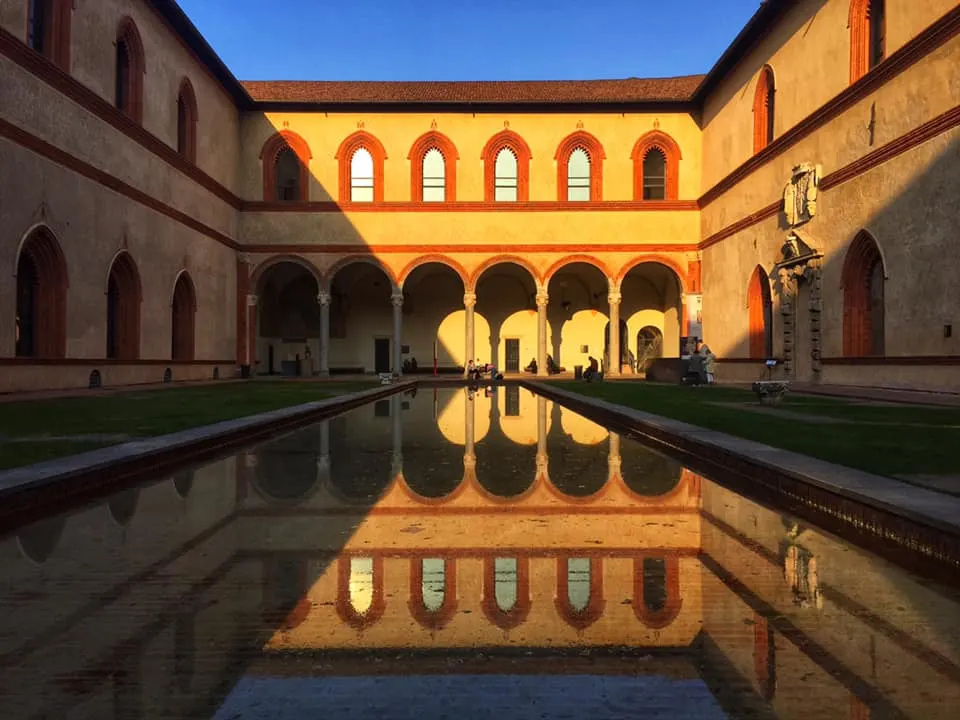 The best time to visit Milan is from March to June. The weather isn't too hot at this time of the year and there should be fewer tourists in the city too.
I visited Milan in October and this was a good time to visit too, but it was noticeably colder. September would be another good month to visit if you want warm weather and quieter crowds.
While the weather in Italy will be warmer and less volatile during the summer, it can be hot. This means it can often be better to visit outside of the June to August period.
If you can stand the cold weather and the potential for rain, the winter months are a good time to visit. But you will need to consult a packing list for Italy before you do!
Milan in Spring
Spring is arguably the best time to visit Milan. You're going to get warm weather without the heat you'll experience in summer. Plus, you're likely to see fewer tourists than you would during the summer months.
Average temperatures from low to high: 3.8°C – 22.3° C / 38.8°F – 72.1° F
Milan in Summer
The weather in Milan is much warmer during the summer. Temperatures regularly get in the high 20s and low 30s.
The temperature rarely goes above the mid-30 range, with the record high being 37.2. But if you're not a fan of high temperatures, it might be best to visit at a different time of the year.
Average temperatures from low to high: 15.4°C – 29.2° C / 59.7°F – 84.6° F
Milan in Autumn
Milan is much cooler in the autumn although it does depend on what month you visit. September will be slightly colder than the summer months, while October can still be warm.
This was when I visited and I was able to walk around in shorts at one point. Expect mild temperatures for the most part with the odd rain shower.
Average temperatures from low to high: 3.7°C – 24.4° C / 38.7°F – 75.9° F
Milan in Winter
If you like cold weather, then Milan in winter is for you. The north of Italy can get cold during the winter months and Milan is no exception.
You'll find fewer tourists at this point of the year, but you will have to brave the cold weather at the same time.
Average temperatures from low to high: -0.9°C – 9° C / 30.4°F – 48.2° F
How to get around Milan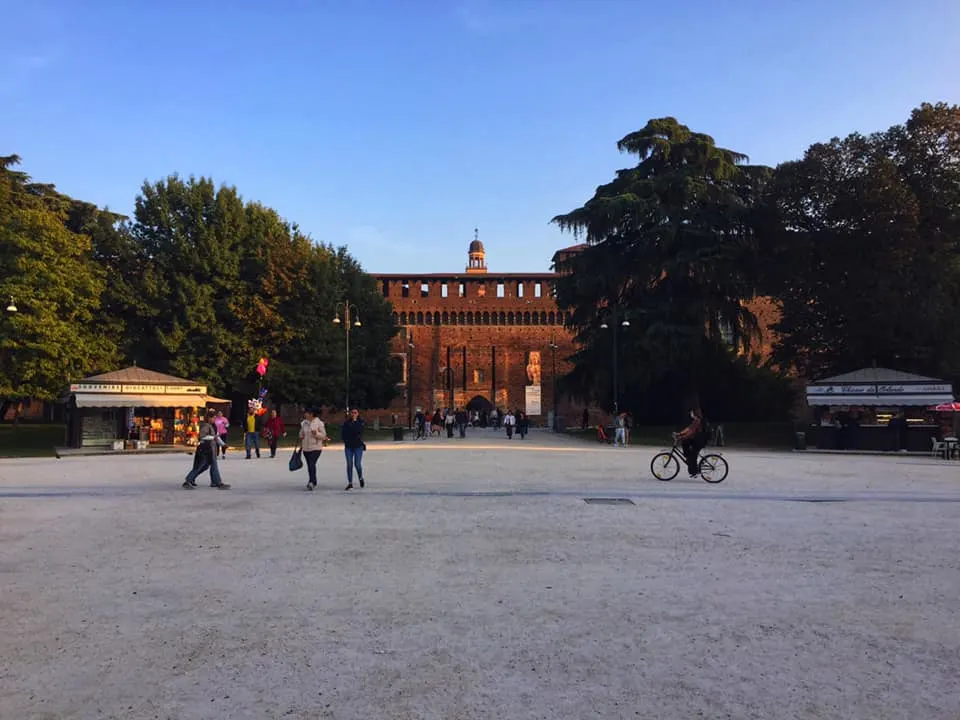 Milan is a big city. I wish I'd realised when I got out of Milan Central Station and decided to walk to my accommodation instead of getting the metro. An hour later, I was there a lot more tired and with much less battery on my phone!
This is probably the most important thing to know about Milan: if you want to get around you'll need to use the metro system. Thankfully, it's reasonably priced and will save you a lot of time.
You have two options in regard to buying a ticket. You can do what I did and get a 3-day ticket which costs €12 and allows you to travel anywhere within the city center.
Or, you can get a Milan city pass, which costs more at €19.50 for 3 days, but as well as the metro you also get free or discounted access to museums, tours and restaurants.
While you can walk around Milan, it's only advisable if you're walking from one attraction to another that's close by. I spent one of my days walking around the city and realised how big it was and hard to find your way around if you're not familiar with it.
If you're looking to get from Milan to an airport, then it's handy to know which one, as there are three airports near Milan! The biggest, Milan Malpensa, can be reached easily via the Malpensa express train which runs every 30 minutes from Cadorna and Milan Central railway stations.
For the other two, Milan Linate and Milan Bergamo, one is easier than the other. Linate is only a few kilometres outside the city center so you can get a taxi there if need be. Bergamo airport is actually in Bergamo, so you'll have to get a train from Milan Central Station which takes an hour.
For more info on getting to and from airports, check out this handy post.
Frequently Asked Questions
Is 3 Days in Milan enough?
You should be able to see almost everything in Milan in 3 days. As big as the city is, it's not on the same scale as Rome or London, so you can comfortably enjoy the city without rushing around.
3 days in Milan will give you plenty of time to see all the amazing sights in this great city. If you have more time, that's brilliant. But if you're constrained by how long you can spend in the city, 3 days is a good amount of time to spend there.
Is Milan worth a city break?
Yes, Milan is worth visiting on a city break. There are so many things to see in the city such as The Last Supper in Santa Maria delle Grazie, Milan Cathedral and much more!
You also have the option of going on a day trip, as the train station in Milan connects you with the rest of Northern Italy. So you can visit places like Lake Como, if you have a day or two spare.
Is Milan cheap or expensive?
Milan is one of the most expensive cities in Italy as it's the main business centre in the country. So, you can expect to pay more here than in other cities in Italy. The prices are still reasonable compared to northern Europe, but they are more than what you might find in other parts of Italy.
Need Travel Insurance?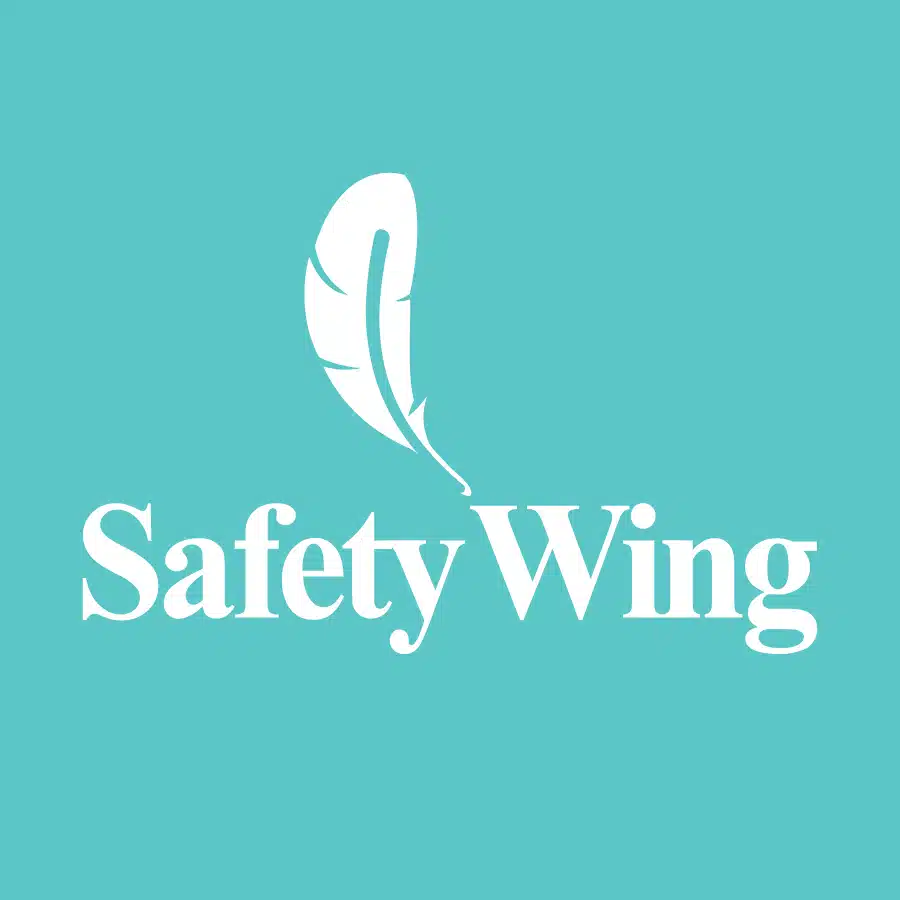 SafetyWing offers coverage that will give you peace of mind while you're on the road. If you want to protect yourself while you're on the road, then click the image to take a look at the options available to you.
Looking For More Travel Guides?
Sicily Road Trip – A fantastic drive around the beautiful island of Sicily that takes you to all the best spots!
3 Days in Palermo – Check out the amazing city of Palermo and see why it's one of the best cities in Italy
3 Days in Rome – This 3-day itinerary of the Eternal City will blow you away!
3 Days in Bologna – Bologna isn't far from Milan, which makes it the ideal place to visit after Milan.
3 Days in Florence – You can visit Florence for the day from Milan or next as part of a wider Italian itinerary to see some of the best sights in the country!
Tom is a travel addict who first left England to spend a year Down Under. Not satisfied with this, he then went to New Zealand, about as far away from home as he could get. He is now planning his next adventures in Europe and Canada while maintaining this blog. Check out the about me page to learn more!