3 days in Rome is a good amount of time to explore this incredible city! If you can stay longer, do it! But three days is a good compromise if you're strapped for time.
Rome is one of my favourite cities in Europe. I'm not prone to hyperbole, but I can say it is undoubtedly one of the most beautiful and interesting cities I have ever visited.
History oozes out of every corner. From the Colosseum, Vatican Museums and Spanish Steps to the Trevi Fountain, there are so many incredible sights in the city, you will be left spellbound by the sheer amount of things to see if you see Rome in 3 days.
My Rome itinerary will take you to the best places to visit in the city, tell you where you should stay and advise you on the best time of the year to enjoy the Italian capital.
Keep scrolling to discover the best way to spend your three days in Rome!
Disclosure: This article may contain affiliate/compensated links. For more information, please see our full disclosure policy.
3 Days in Rome Itinerary
Ultimate 3 Days in Rome Itinerary
Day 1 – Walk around Rome, The Colosseum, Roman Forum
Day 2 – The Pantheon, Castel Sant'Angelo, Baths of Caracalla
Day 3 – Trevi Fountain, Vatican City, Capitoline Hill

• Top Tip – Skip the lines and get free transportation with the Roma Pass
• Check out the best Roman cuisine with this amazing food tour
• If you're flying in or out of Fiumicino Airport, book a cheap shuttle bus to/from the airport
My Experience in Rome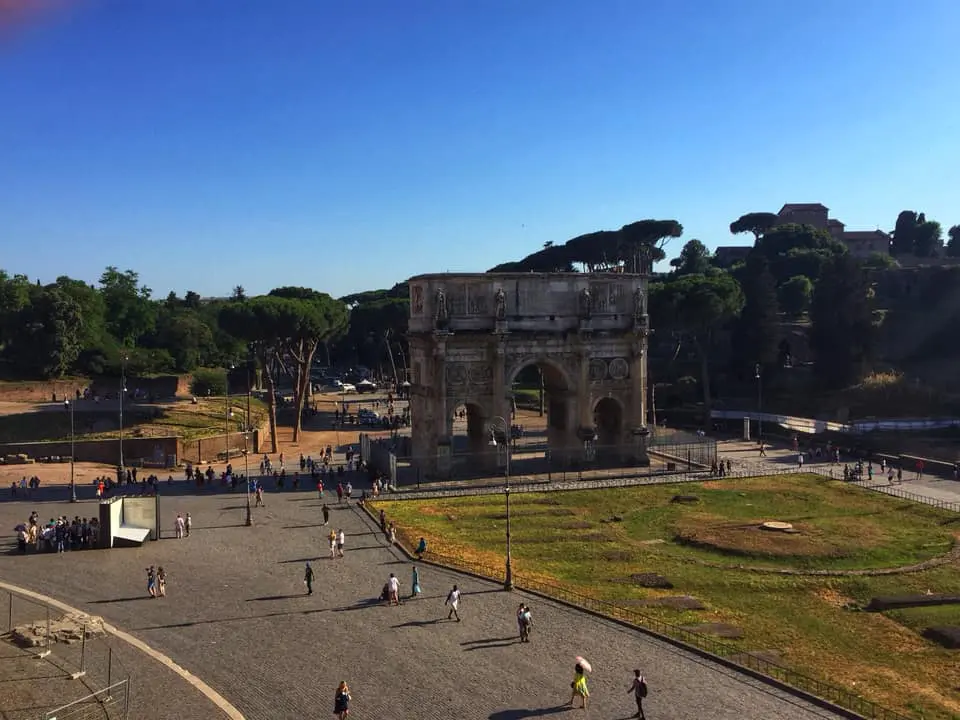 Ever since I watched Gladiator when I was 10, I've wanted to visit Rome. The ancient history, the architecture and the grandeur of the Eternal City made it an alluring place to me.
Sometimes, your expectations, especially if you're familiar with Rome quotes, are often misguided when you're presented with the reality. Thankfully, my expectations were outdone when I visited Rome.
The city was very impressive. The buildings are out of his world, there is history around every corner and setting your eyes on the Colosseum is a magical moment.
It's not a perfect city. The traffic in Rome can be horrendous, public transportation isn't as good as it could be and can get very busy.
However, these are minor gripes and you will still have a fantastic time regardless. I have visited a lot of cities and not many of them compare to Rome.
Here are a few things I liked about Rome and a few things I didn't like during my trip to the city:
Good
You don't need me to tell you, but Rome is an incredible city. The range of sights you can see is mindboggling. It's possibly the greatest city on Earth and one you won't run out of things to do in five days, never mind three.
The Vatican is an amazing place and a city within a city which makes it extra special. That was one of the things I enjoyed the most about Rome. That you kind of get two cities in one!
The history of Rome is crazy. There are so many amazing buildings, old ruins, and much more to see. I'm not sure you'll find a city with as many historical sights as Rome with the exception of Cairo.
Bad
The sheer number of tourists in Rome is incredible. If you visit during the height of summer like I did, this is something you can't avoid. The crowds are everywhere, especially at the Colosseum and Trevi Fountain. Unless you get up extra early, there's no way to avoid them.
Traffic in Rome is a major problem. It's better to use public transport to get around rather than relying on taxis or driving yourself. If you take a taxi to get to the airport, give yourself plenty of time to get there.
Pickpockets are a problem in Rome. Make sure you have your belongings safely on your person, and leave as much in your accommodation as you can. The main tourist spots and the metro are the places to be aware of your surroundings.
What to see in Rome in 3 days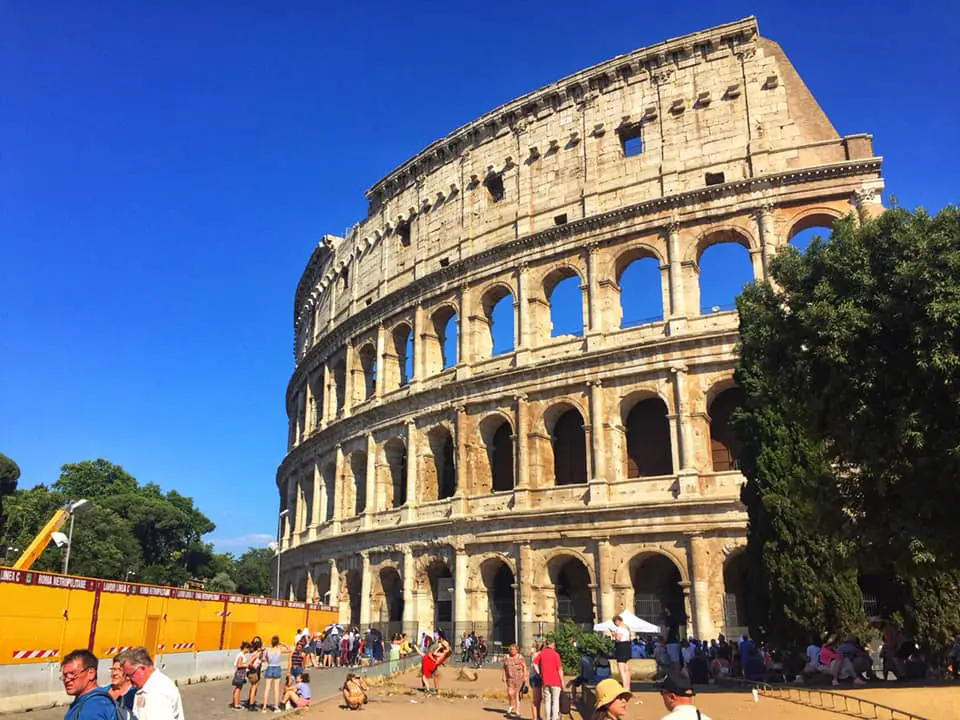 3 days in Rome should give you enough time to see most of the sights in the city. It is a tight schedule, so if you're wondering how many days in Rome you'll need, three is the absolute minimum as far as I'm concerned.
One of the things I would recommend getting is the Roma Pass.
The card gives you free access to all the major attractions in Rome. It also provides you with free public transportation for the entire inner-city area, which will help you save money!
The pass will make your Rome itinerary a little bit cheaper, easier and ensure you get the best value possible!
Below are three tours I recommend doing while during your three days in Rome. Visiting the Colosseum and the Vatican Museums are musts while you're in the city.
While checking out the catacombs in Rome is an interesting way to learn more about the city's past.
If you're wondering what to do in Rome for 3 days, the suggestions below will give you a few ideas:
The Colosseum – This is the famous landmark in Rome and the number one you have to visit while you're there. The Colosseum looks magnificent in photos but it's even more so in the flesh.
Vatican City – The Vatican is a state within a city and is a fascinating place to visit due to its history. A walk around St Peter's Basilica is a must.
Trevi Fountain – Another of Rome's famous landmarks, the Trevi Fountain is an incredible piece of architecture. One downside is that it's almost always full of tourists. If you can wake up early, you might be able to see it in all its splendour without the crowds!
Roman Forum – The forum is the remains of what was once the heartbeat of the administration of the Roman Empire. The ruins are of old government buildings and Palatine Hill is the site of the founding of Rome according to the myth of Romulus and Remus.
The Pantheon – One of the oldest buildings in Rome and a former temple that's now a church. A great place to visit to see some Roman architecture and marvel at the beauty of the building.
Use this map below to help you find your way around Rome and the distance between the various landmarks.
Rome Itinerary – Day 1
Walking tour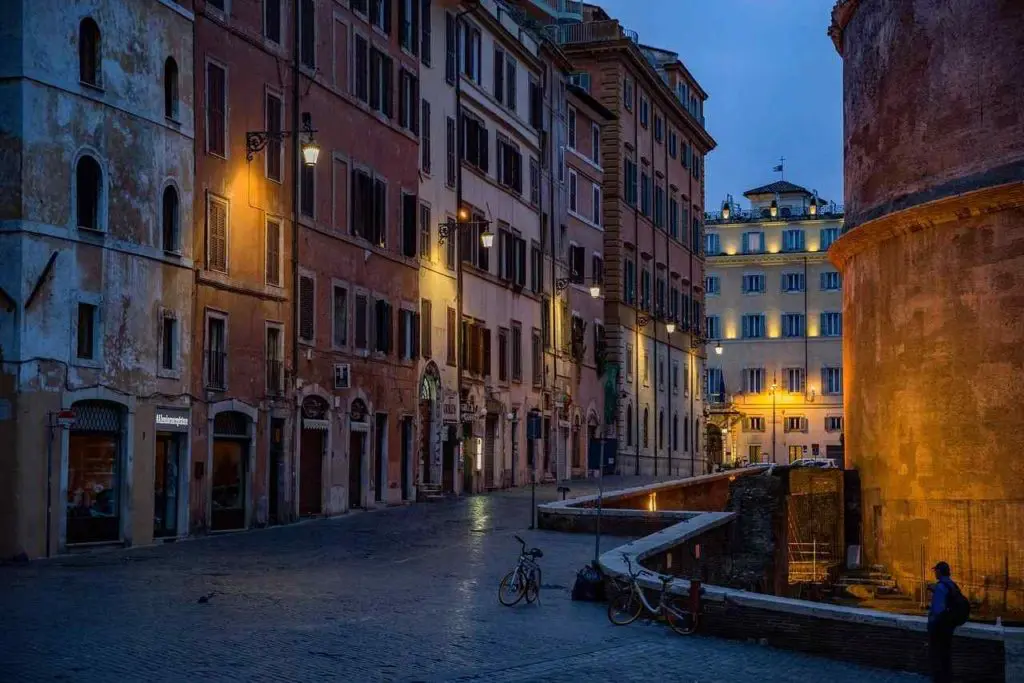 Whenever I arrive in a new city, the first thing I do is go for a walk. I feel this is the best way to get to grips with a new city and allows you to venture to places you might otherwise not come across.
I realise this is not everyone's cup of tea, but I suggest you give it a go. There is a lot to see in Rome, so even if you head out in a random direction towards Rome's historic center, for example, you'll come across something!
If this doesn't like something you want to do, my advice is to go on a guided tour. Many hostels offer free walking tours and they are a great way to see Rome and learn about its fascinating history.
Another option is to book a tour of the city if you can't find a free one. It's worth it for the inside knowledge you will gain as you make your way around the Eternal City!
The Colosseum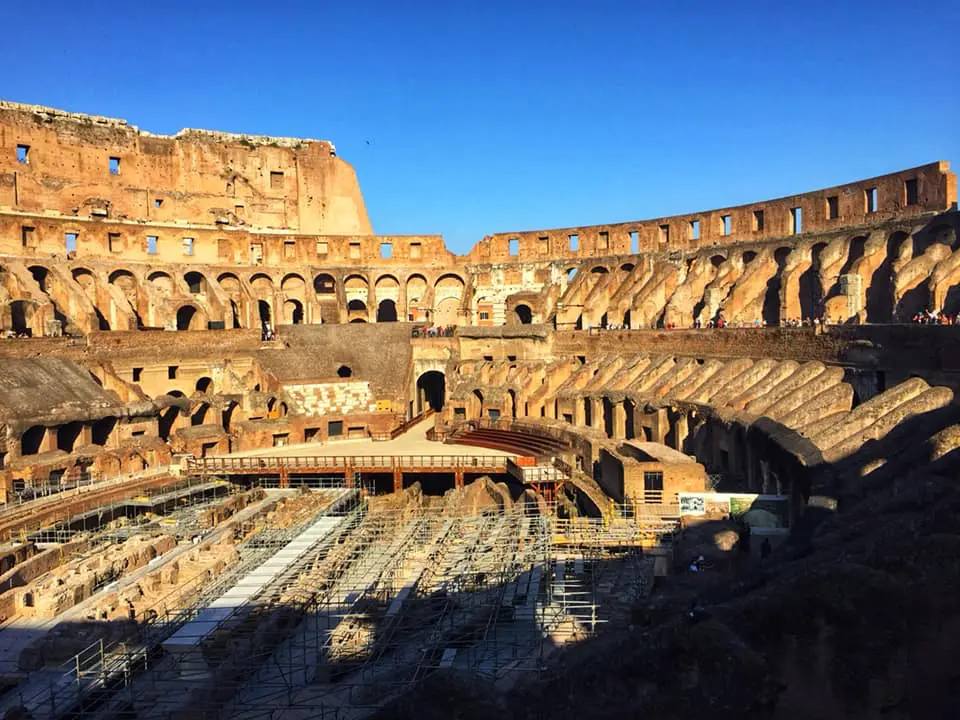 Rome attractions don't come any bigger than the Colosseum, so it makes sense to see it on your first day. Speaking from personal experience, I would struggle to contain myself if I didn't see it on the first day!
The anticipation would kill me!
As I mentioned above, the Colosseum is an incredible sight. It's one of the most impressive buildings I've ever seen! It's no wonder it's considered one of the seven wonders of the ancient world.
My advice is to book a tour to get the best experience. You can pay to enter and look around yourself, but by going on a tour you will find out much more about the fascinating history of the Colosseum.
This is the one place you can't miss out on in Rome. It's an amazing structure and probably the best thing to see during your 3 days in Rome!
Roman Forum
If you want to get to the heart of ancient Rome and visit a place that should be on every Italy bucket list, the Roman Forum is the place to go.
What remains today are the ruins of several important government buildings and the centre of day-to-day life in Rome. It was here that triumphal processions, elections and criminal trials would take place.
The Colosseum and Roman Forum are just a short walk from each other in central Rome, so you can visit once you're finished at the Colosseum and marvel at some more incredible ancient ruins!
You do have to pay to enter, but it is well worth the fee to get inside. It can get busy, so either arrive early at the ticket office or book one in advance and skip the line.
It's an incredible place and home to the Palatine Hill, where according to legend, twins Romulus and Remus were brought up by a wolf, and where Romulus founded the village that came to be known as Rome after he killed his brother!
Rome Itinerary – Day 2
The Pantheon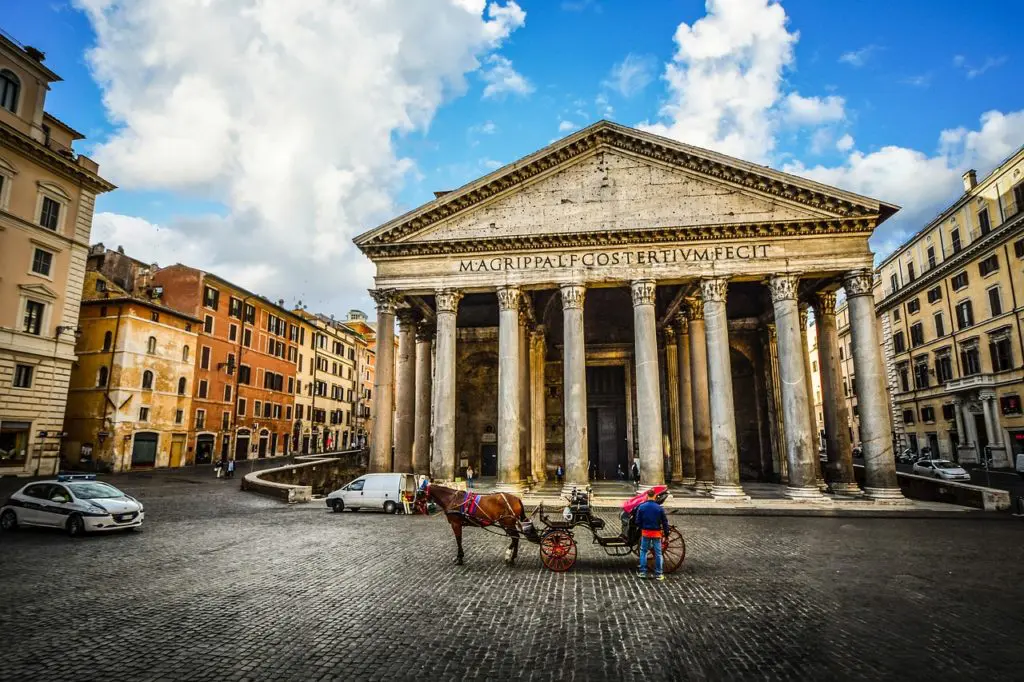 The Pantheon is a former Roman temple which now functions as a church. It's amazing to think that it was built in 126 AD during the height of the Roman Empire and is still standing today!
One of the best things about the Pantheon is the free entry as it's a church. This makes it all the more worthwhile to visit.
The Pantheon is home to the tombs of King Victor Emmanuel II and the famous Italian artist Raphael.
The architecture inside the Pantheon is incredible and you will be marvelling at it as you make your way around the interior.
Castel Sant'Angelo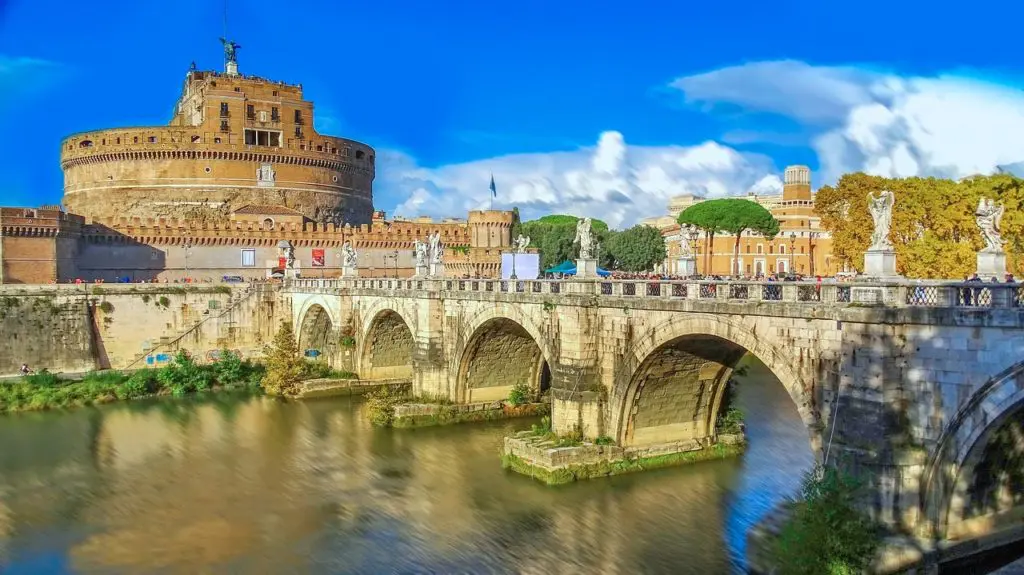 The Castel Sant'Angelo is another impressive building in Rome that you have to check out. Built in 139 AD at the direction of Emperor Hadrian, it was intended to be used as a mausoleum for him and his family.
Since that time it has been used for many different purposes. It functioned as a prison, citadel and was even used as a safe haven for Popes during times of unrest. A corridor connects the Vatican Palace to the castle, which provided an escape route in case of an emergency.
More recently, the castle featured in Dan Brown's novel Angels and Demons and in the film adaptation. As a result, it is a popular place to visit! It's a stunning building and some of the rooms inside are exquisite.
The lines aren't as bad as they are for St Peter's Basilica at the Vatican, but there can still be queues. Booking a ticket in advance allows you to skip the line and get in without any hassle or hanging around.
Baths of Caracalla
The Baths of Caracalla are a lesser-known place to visit in Rome, but one you should visit nonetheless. They are located close to the Colosseum and is a huge complex where over 1600 people at any one time could bathe during the Roman Empire.
Unfortunately, not much is left of the original buildings, however, they are still an impressive sight. Due to its relatively low profile, it gets fewer visitors than other spots in the city, so you won't have to compete with other tourists for space here!
You do have to use your imagination about how the complex would look when it was at its peak, as there isn't much left, but it is an impressive place nonetheless. It's amazing to think that 2000 years ago these baths were operating and providing heating and water supplies we'd be proud of today!
You have to pay to enter and my advice is to book a ticket in advance along with an audio guide so you can get the most out of the experience!
Rome Itinerary – Day 3
Trevi Fountain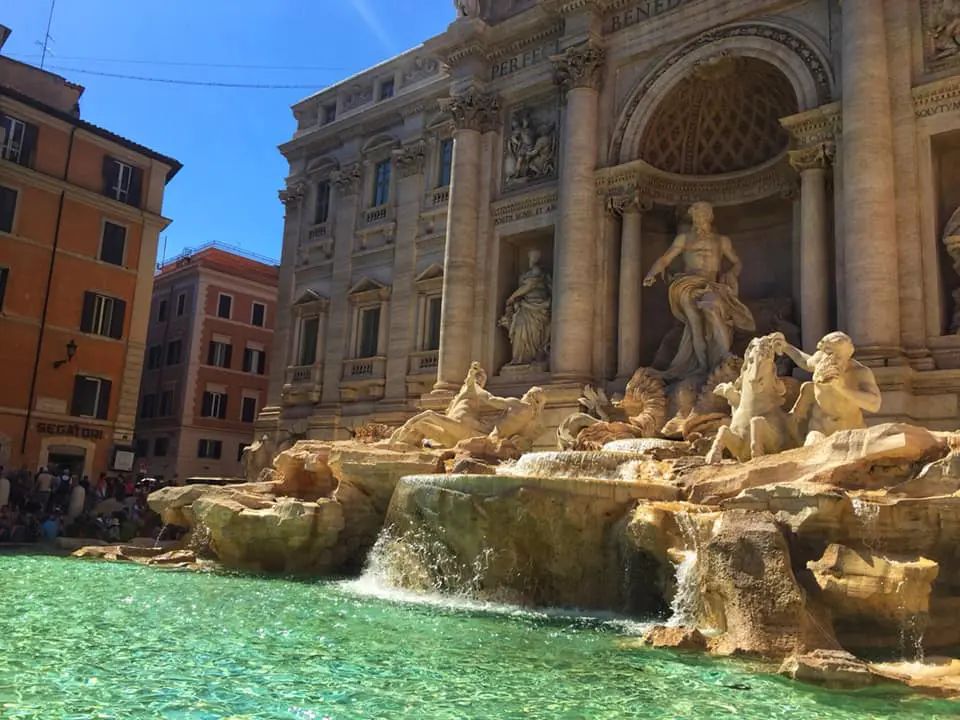 A great way to start the last of your 3 days in Rome is to head to the Trevi Fountain. As I mentioned above, it is an incredible piece of architecture and one you can't miss out on! This, and the incredible sights nearby, are what make Rome one of the best elopement destinations in the world!
One of the things you may notice when you visit the fountain is people throwing coins into the water. This originates from a 1954 movie, Three Coins In The Fountain. The myth is as follows:
If you throw one coin into the fountain, you will return to Rome
If you throw two coins into the fountain, you will fall in love with an Italian
If you throw three coins in the fountain, you will marry the person you met
While this is nothing more than fun and not to be taken seriously. There's no harm in joining in with the tradition!
It's an interesting reason to visit the fountain, as is the fact that the Trevi Fountain is an incredible sight and somewhere you have to see while you're in Rome.
Vatican City
The Vatican City is one of the most interesting places you can visit in Rome. This microstate is the home of the papacy and is awash with historical significance.
You will find one of the most famous squares in Rome and St Peter's Basilica, both of which are impressive and a sight to behold. You will also find several fascinating museums, including the Vatican Museum and the Vatican Gardens too.
Despite its small size, there are a lot of things to do in the Vatican City. You could easily spend the majority of the day, checking everything out.
My advice is to spend as much time as you can here and visit one of the Vatican museums. You will learn a lot about the history of the papacy and the Vatican itself!
Capitoline Hill and Museums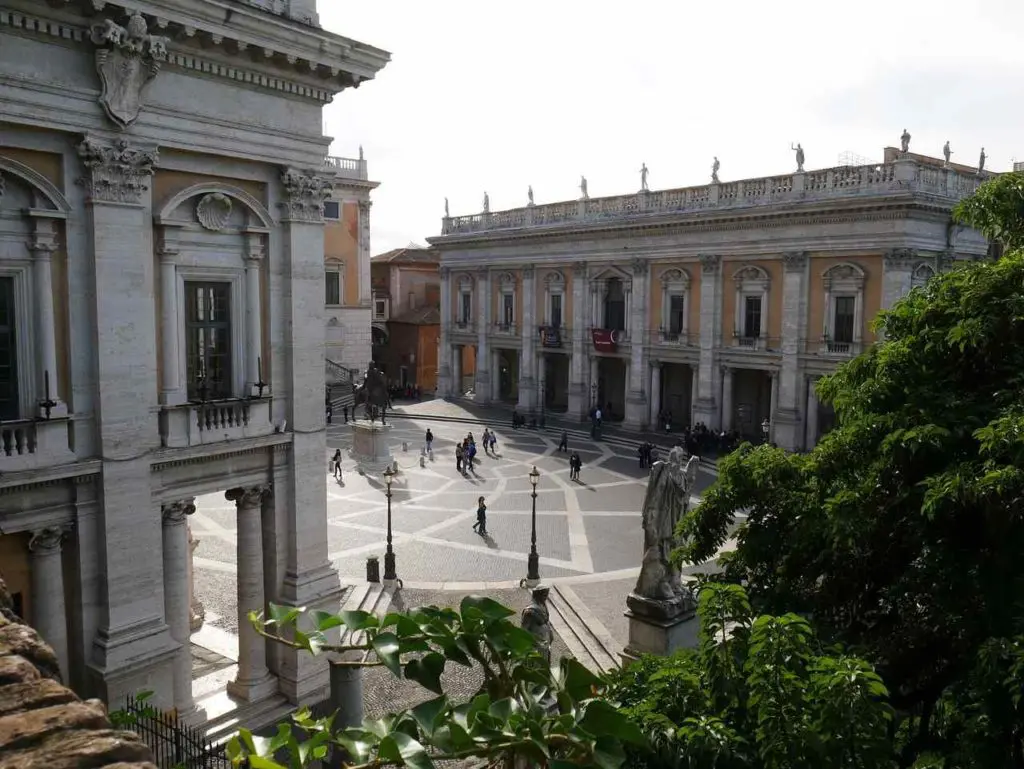 One of the best places to visit in Rome is Capitoline Hill and the numerous museums that are clustered there. The palace at the top of the hill was designed by Michelangelo and is a beautiful piece of architecture.
The Capitoline museums are worth a visit if you're interested in seeing some beautiful pieces of art from Rome's past.
Another reason to visit Capitoline Hill is to marvel at Piazza del Campidoglio, one of the most famous squares in Rome. It's a beautiful square that was commissioned by Pope Paul III. Completed by Michelangelo, it's not on the scale of St Peter's Square, but it's impressive nonetheless.
You will need to pay to enter the museums, so it's worth booking your ticket in advance to avoid the lengthy queues that can form.
Other Places to Visit in Rome
The Mouth of Truth – Located by the entrance to Santa Maria in Cosmedinchurch, the Mouth of Truth is a large marble manhole dating back to the first century. Legend states that the Mouth of Truth bites off the hand of liars. If you're nearby, give it a try and see if your hand remains intact!
Stadio Olimpico – The Stadio Olimpico is the home of Rome's two top-flight football teams Lazio and Rome. It also hosted the 1960 Olympics. If you're a sports fan, it's worth visiting to check out the stadium.
Rome's Catacombs – Rome has a large labyrinth of catacombs beneath its streets. It's a really interesting place to visit, especially if you want to see a different side of the city. You'll have to book a tour, but it's worth it! Click here to book your tour!
Food tours – Italian food is among the best in the world. As the capital, you will find plenty of great places to eat. One part of the city has a great food scene and that is Testaccio. You will get the chance to eat in multiple restaurants and sample some brilliant delicacies. A food tour in Testaccio is a great way to learn more and indulge in Italian food!
Rome Travel Tips
If you've not visited Rome before, or it's been a while since your last visit, this section will tell you some of the best tips to make your stay in the city easier.
Find out where to stay, the general costs of visiting the city, the best time to visit, how to get around, and my thoughts on visiting Rome.
Where to stay in Rome for 3 Days
As the capital of Italy, there is no shortage of places to stay in Rome. Whether you want to stay in a hotel or a budget hostel, you will be able to find accommodation to suit your needs during your 3 days in Rome.
A choice you need to make is whether you want to stay in Rome's city center or a bit further out. The downside of staying further away from the centre is that you will have to get public transport or a taxi to the centre, but it will be quieter.
If you stay in the centre, you will probably pay more, but you will be close to the action and won't need to worry about getting in and out of the centre which can be a hassle.
Below are some hostels you should consider staying at during your trip to Rome.
Cost of travel in Rome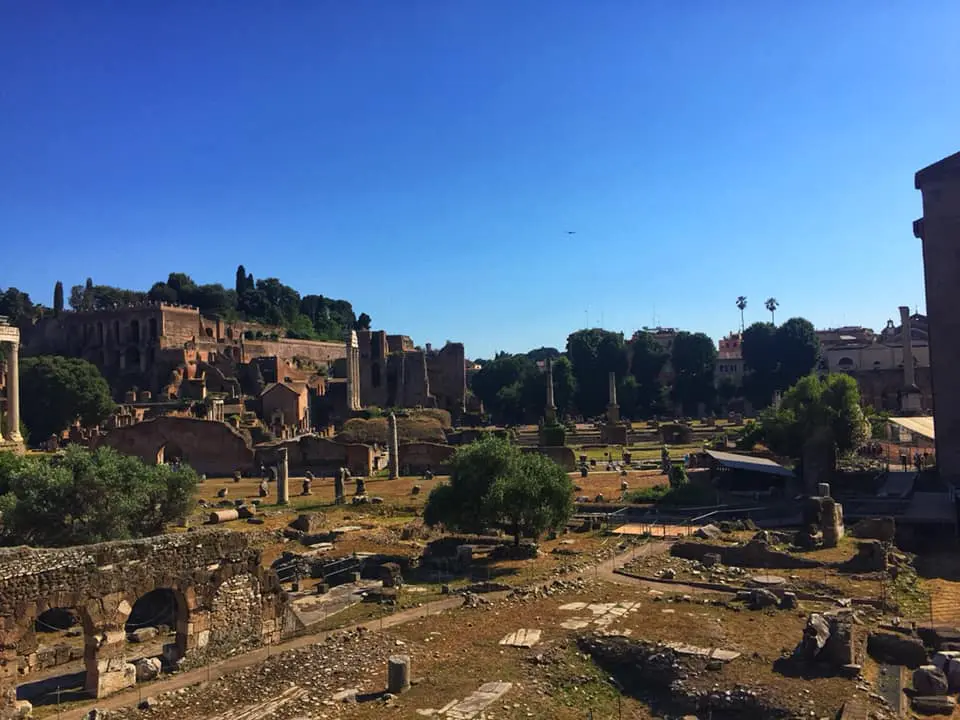 Rome is one of the more expensive cities in Europe, but it's not going to destroy your budget. If you're clever, you can spend 3 days in Rome on a budget.
One of the things to note in Rome is that if you eat or frequent the tourist hotspots, you will pay a lot more. Restaurant prices can be extortionate in these areas.
It's best to browse the menus or look at sites such as TripAdvisor to get an idea of the prices. We got stung once or twice by not doing this!
The following prices are for the average travel budget. That is someone who is not going to splurge, but someone who will not be travelling on an ultra-frugal budget either.
They don't include prices for extras such as nights out at a bar/pub, club entry fees, souvenirs/clothing purchases, or tours. You will have to budget extra for these purchases as they are 'non-essential!'
Here's a rough breakdown of essential travel costs in Rome:

Accommodation
Hostel: Dorm – €18-32; Private – €45-80
Hotels: €70-145
Rental Apartment: €80-150+

Food and Drink
Breakfast: Free-€5
Dinner: €7-15
Takeaway meal: €4
Pint of beer: €5

Transport
City Metro / Bus: €1.50
Day ticket: €6
3-day ticket: €16.50
Train from Fiumicino airport to city centre: €11
Best time to visit Rome
The best time to visit Rome is from March to June. The weather isn't too hot at this time of the year and there should be fewer tourists in the city too.
I visited Rome in the middle of June and it was roasting. It was so hot, we had to find shade during the day at times.
Despite the weather in Italy being nicer during the summer, it can get too hot. This means it can often be better to visit outside of the June to August period in months such as April and September when it's slightly cooler.
If you can stand the cold weather and the potential for rain, the winter months are a good time to visit. But you will need to consult a packing list for Italy before you do!
Rome in Spring
It could be argued spring is the best time to visit Rome. It won't be as hot as during the summer, but not as cold as in winter. Plus, the city should be quieter than at the summer peak too.
Average temperatures from low to high: 4.3° – 23.9° C / 39.7° – 75° F
Rome in Summer
This is when I visited Rome, and while it was sunny all the time, it was hot, very hot. Visiting Rome has the benefit of almost guaranteeing good weather but the downside is the temperatures can push into the extremes, which can diminish the experience somewhat.
Average temperatures from low to high: 14.3° – 31.7° C / 57.7° – 89.1° F
Rome in Autumn
Rome will be much cooler in Autumn, especially as you get into October and November. This will be a good time to visit if you don't like warm temperatures and would prefer to visit when the city is quieter.
Average temperatures from low to high: 5.8° – 27.5° C / 42.4° – 81.5° F
Rome in Winter
If you want to avoid crowds and take in the eternal city during the colder months, then winter is the tie to visit. There's a kind of magical quality to visiting the city in winter, making a long weekend in Rome an attractive proposition.
Average temperatures from low to high: 2.1° – 14° C / 35.8° – 57.2° F
How to get around Rome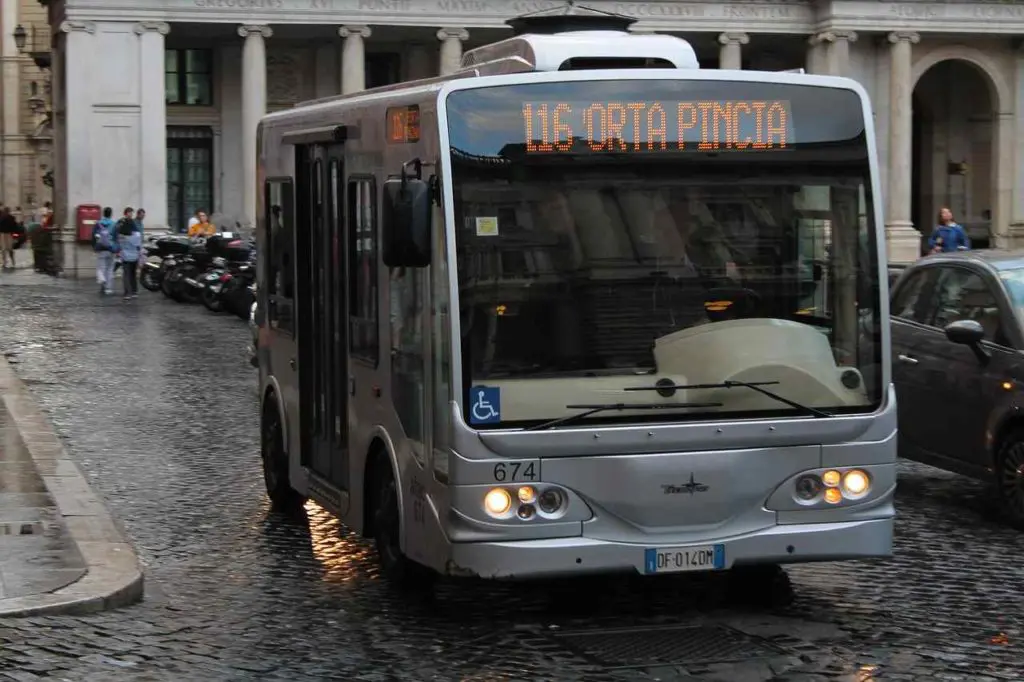 One of the downsides of Rome is that the public transport system is not the best. This is compounded by the fact that Rome is a big city and it's hard to make your way around the city on foot.
One of the downsides of Rome is that the public transport system is not the best. This is compounded by the fact that Rome is a big city and it's hard to make your way around the city on foot.
Rome has a metro system, but there are only three lines and although the metro stations are close to most of the tourist spots, it's not very extensive. Likewise, the tram system only has six lines and doesn't reach the city centre.
Your best bet for public transportation in Rome is to get around by bus. They are aplenty and reach most parts of the city. However, they are not without their issues.
The schedules are very complicated and not easy to understand. Plus, you can't buy tickets on the bus, they must be bought beforehand.
My advice is to walk as much as you can during your 3 days in Rome. Rome is a big city, but it's not too big that you can't walk around most of the main spots.
An advantage of this is that you might come across sights and places that you might otherwise not see.
If you're going to use public transport in Rome, keep your valuables safe. Pickpockets are common in the city and they lurk near stations, on buses and on the metro. Only take what you need and keep valuables hidden from sight.
The last thing you want is to be robbed while you're enjoying one of the most beautiful cities on the planet!
Frequently Asked Questions
Is 3 Days in Rome Enough?
3 days in Rome may not be enough to do justice to this magnificent city, but you can still see a lot in that time. If you're visiting Italy, you have to visit Rome, it's a beautiful and fascinating city that will leave you mesmerised.
How many days is enough in Rome?
3 to 5 days are enough for Rome. There's a lot to see in Rome and you could easily spend a week in the city seeing everything.
3 days is the absolute minimum you'll need but if you can stretch it a day or two further you'll be able to see most of the city and the surrounding area.
How to spend 3 days in Rome?
Here's my quick itinerary for your three-day trip to Rome:
Day 1 – Walk around Rome, The Colosseum, Roman Forum
Day 2 – The Pantheon, Castel Sant'Angelo, Baths of Caracalla
Day 3 – Trevi Fountain, Vatican City, Capitoline Hill
Need Travel Insurance?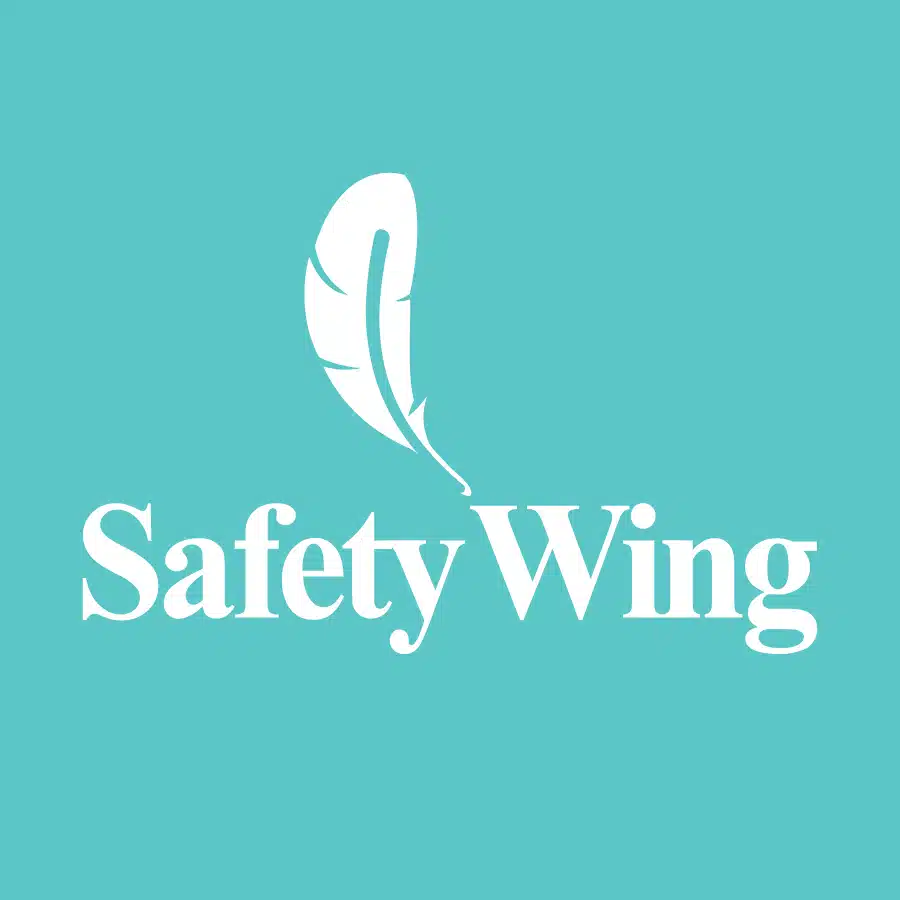 SafetyWing offers coverage that will give you peace of mind while you're on the road. If you want to protect yourself while you're on the road, then click the image to take a look at the options available to you.
Looking For More Travel Guides?
3 Days in Milan – Check out one of Italy's other cities with this fun itinerary!
Sicily Road Trip – A road trip around the majestic island of Sicily that will leave you speechless!
3 Days in Turin – Discover one of the most underrated cities in Italy with this 3-day itinerary!
3 Days in Palermo – A brilliant itinerary of this fascinating Sicilian city!
3 Days in Bologna – An underrated city that's worth visiting after you've been to Rome!
Pin For Later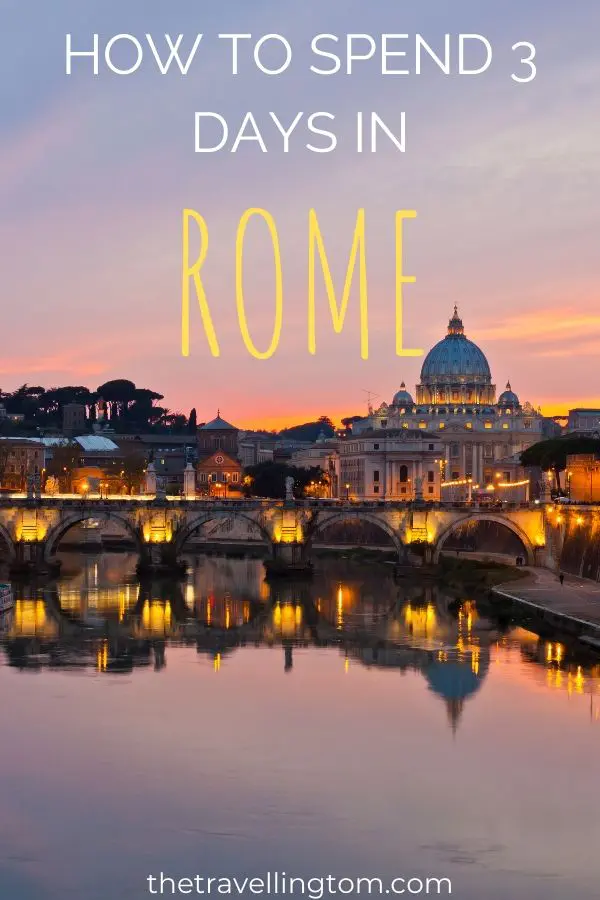 Tom is a travel addict who first left England to spend a year Down Under. Not satisfied with this, he then went to New Zealand, about as far away from home as he could get. He is now planning his next adventures in Europe and Canada while maintaining this blog. Check out the about me page to learn more!