This Boracay travel guide is the result of a marvellous four-day trip.
You must visit Boracay if you're backpacking the Philippines! It is the most widely known and perhaps premier destination in the Philippines. Regularly ranked as one of the best beaches in the world, Boracay is a beach bum's dream.
Located 2km off the northwest tip of Panay Island in the Visayas, Boracay is a picture-postcard beach destination. However, that is if you stay within the confines and essentially, the bubble of White beach.
Away from the commercialised beachfront, it is the same as the rest of the Philippines, with the slums and poor houses next to hotels and resorts. A juxtaposition of rich and poor, emphasising the gaps in wealth between the locals of Boracay and the tourists.
This is not to detract from Boracay as it is a great destination, but it is easy to stay within White beach and forget that there are bustling streets behind the serene beach.
Disclosure: This article may contain affiliate/compensated links. For full information, please see our full disclosure policy.
Table of Contents
Boracay Travel Guide
How to get to Boracay
The first thing to know is that there is no Boracay airport. You'll fly into. one of two airports to get to the island.
The main route into Boracay is via Kalibo International Airport, which is located on neighbouring Panay Island. The airport takes flights from many locations in Southeast Asia, such as Busan, Hong Kong, and Singapore. If you are arriving internally, then Cebu Pacific and Philippine Airlines offer daily flights from Manila and Cebu.
The other airport you can fly into is Caticlan Airport. I would advise you to fly in via Kalibo, as it is the main airport for Boracay and there are more carriers that serve the airport. As of writing, no international airlines fly into Caticlan.
That is only half the journey, though. You will need to hop on a coach for another 1 hour and 30 minutes journey before you reach the Caticlan jetty port. Then you have to get on a Bangka and complete the short trip across the water to Boracay.
Cebu Pacific offered tickets for the coach while we were on the flight, which cost PHP500 per person. However, if you wait till you are outside the terminal, you will be met with the usual barrage of salesmen trying to sell you a ticket. The prices can be cheaper at around PHP350 and if they are higher you can always haggle them down.
Where to Stay in Boracay
There is an absolute wealth of accommodation in Boracay. From 5-star beach resorts to backpacker hostels by the beach, there is something to suit everyone's tastes and pockets.
Hotels in Boracay can be expensive. Especially, if you stay in some of the luxury places. I stayed at Frendz Resort and would highly recommend it. There is the option of private rooms, which cost around PHP500 a night, or shared rooms, which are about PHP400 a night. With White Beach only a two-minute walk, this makes Frendz Resort an ideal place for backpackers to stay in Boracay if they are looking for a cheap option.
Below are a few of my suggestions on where to stay in Boracay. I've listed hostels and hotels, so you can find something that suits your budget!
Why You Should Visit Boracay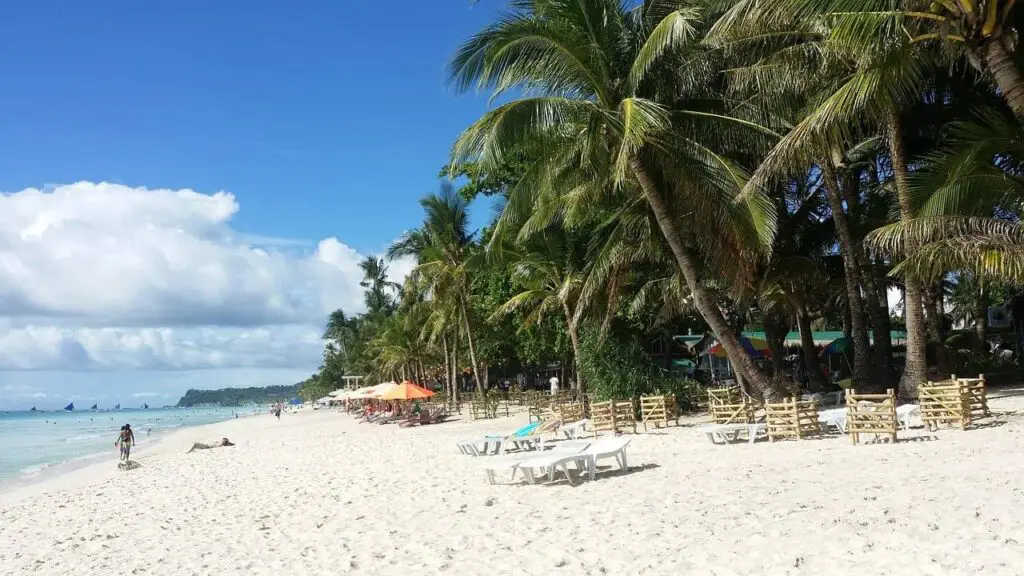 Boracay is considered to be one of the best places to go in the Philippines and it's easy to see why. As well as fitting the paradise stereotype with white beaches, palm trees, and epic sunsets, the wealth of activities add to this.
The atmosphere of the island adds to its lustre as well. It's obvious from when you arrive that everyone is here to relax and enjoy the beauty of the island. I felt really chilled and laid back, which was a complete change to the fast-paced mayhem of Manila and Cebu.
Boracay embodied how I envisioned the Philippines when I first decided to go. White beaches in a tropical setting, with backpackers and tourists enjoying the beauty of the place. In this regard, it did not disappoint!
A trip to Boracay isn't complete without a visit to White Beach. It's a lovely beach! You could easily spend a day lounging about, soaking up the sun. Although the photos that circulate online can be a bit misleading.
Yes, it is very white, but there are a lot of seaweed and algae floating around. This is only a minor quibble, though, as it is still incredible regardless.
The D mall is a great place for shopping, if you so wish, with lots of choice from hand-crafted souvenirs to more upmarket clothes. It is also home to numerous food outlets, with a huge range of choice.
As you would expect at a beach-side resort such as this, there is an abundance of nightlife. There are plenty of bars to choose from on White Beach, there isn't a particular one that sticks out in my mind. There is a pub crawl most nights that takes in a lot of these bars and is worth a look if you fancy an eventful night!
Downsides
Perhaps the main downside of Boracay is that is quite commercialised and certainly has less of a backpacker vibe than El Nido. With more obvious commercialism comes increased costs, which makes Boracay one of the most expensive locations in the Philippines.
Added to this is the fact that a lot of the vendors located on the beachfront will try and rip you off. From the people offering boat trips to the restaurants, it can be daunting trying to save money if you are on a budget. My advice would be not to book any tours with these vendors and book directly via the people offering the tours, as you will be able to haggle and get a cheaper price.
If you spend the majority of your time in and around White Beach, then it's easy to forget that there is more to Boracay. Walking out into the main streets behind the beach after a while can be a shock to the system.
It's all too easy to get sucked into the bubble of White beach, other parts of Boracay have a lot to offer. Puka Beach at the top of Boracay is a quieter and no less spectacular beach while there is also Bulabog Beach on the opposite side of the island to White Beach, which is home to kite-boarders when it is good weather.
Things to Do in Boracay
Boracay may be a small island, but there are a surprising amount of things to do! This Boracay travel blog will detail some of the best ones for you. A lot of the activities revolve around adrenaline. You can do parasailing and rock jumping if you wish.
However, there are a lot of relaxing activities in Boracay as well.
Cliff Diving at Ariel's Point
This is one of the best things that I did while I was in the Philippines. Ariel's Point is a place that you must include on your Boracay itinerary. The views here are amazing and if you love throwing yourself off rocks then you will love it! There are multiple places to jump from, and if you are feeling brave, you can attempt the 10m jump!
Even if you don't want to jump off cliffs, there are lots of other things to do at Ariel's Point. You can go kayaking, snorkelling, or just relax and enjoy the great views. You also get a buffet included in the PHP2000 price, if that sweetens the deal for you!
Read more: Cliff diving at Ariel's Point
Island Hopping Tour
Like most of the popular islands in the Philippines, you can do an island hopping tour in the Philippines. Island hopping in Boracay does not offer the same wealth of choice that you have in El Nido, but it's still worth doing! If you decide to go on the tour, you will visit a number of interesting places such as Crocodile and Magic Island!
The price is around PHP 1300, which is great value, considering all the places that you get to visit! This is a great activity if you want to see some wildlife and meet some different people during your travels!
If you're wondering where to go in Boracay, you won't go far wrong doing an island hopping tour!
Relax on The Beach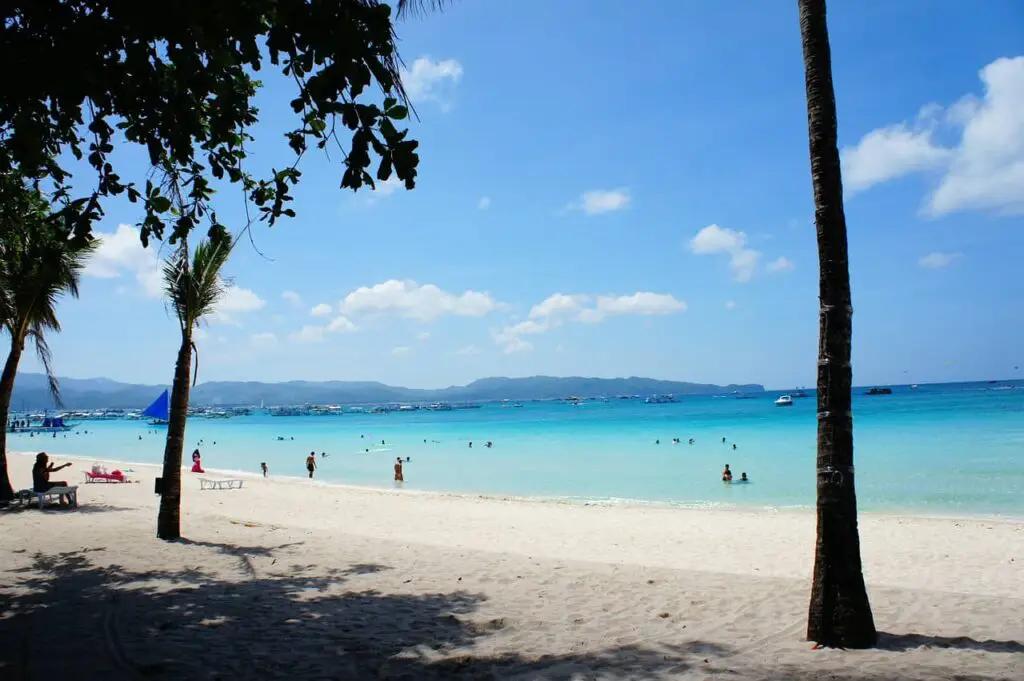 As White Beach in Boracay is regularly ranked as one of the best beaches in the world, it would make sense to spend some time relaxing on the beach! There is plenty of beach to choose from, so if you feel like a certain part is too busy, you can always move down the beach!
I was slightly underwhelmed by White Beach, there was a lot of seaweed, which isn't shown in all the pictures you see of Boracay. There were a lot of people as well, but that wasn't such a bad thing. The beach is still great, and a great place to relax. I'm just not overly convinced that it is one of the best in the world!
Water Activities
As well as island hopping tours, there are lots of other activities you can do that are water-related. Parasailing, scuba diving, kayaking and snorkelling can all be done in and around Boracay. Most of these activities are reasonably priced, and if you have a need for an adrenaline fix, these are the activities for you!
How Much Does It Cost to Travel in Boracay?
It should be noted that Boracay is not one of the cheaper destinations in the Philippines. Prices tend to be a little higher in Boracay, due to its popularity. Bear this in mind when travelling to Boracay, as your money can soon vanish!
The price range for accommodation is quite big, you can get beds in a hostel for as little as PHP300. While you could pay anywhere between PHP 10,000 to 30,000 a night for a room in one of the fancier hotels. Obviously, if you are backpacking, then you are going to be looking at the lower end of the price scale. Frendz resort would be my recommendation, it's a great place to meet people and it's cheap as well! Win, win!
Eating out in Boracay can be cheap and it can also be expensive. Generally, if you are in the D'Mall or on White Beach, you will pay more for a meal, than you would on the Main street behind White Beach, or at the street food shacks! Expect to pay anymore between PHP100-400 for a decent meal, depending on where you go.
If you want to drink alcohol, then my advice would be to pay for some rum from one of the supermarkets. Rum is ridiculously cheap here, and it will save you money, as the bars can be quite expensive. A bottle costs about PHP 70, as opposed to a beer or rum and coke in a bar, which could cost between PHP 20-50. Buying a bottle of rum offers much better value!
Concluding Thoughts
If your idea of the Philippines is one of tropical beaches and beaches as far as the eye can see then this is the place for you.
Despite the over-commercialisation of the place, I hope my Boracay travel guide has reflected why it's somewhere you should visit! It's a fantastic destination with lots to see and do. Personally, I think a trip to the Philippines is wasted without a visit here. It may not be the most backpacker-friendly spot, but it beats the smog and chaos of the big cities any day.
I know where I would rather be!
Need Travel Insurance?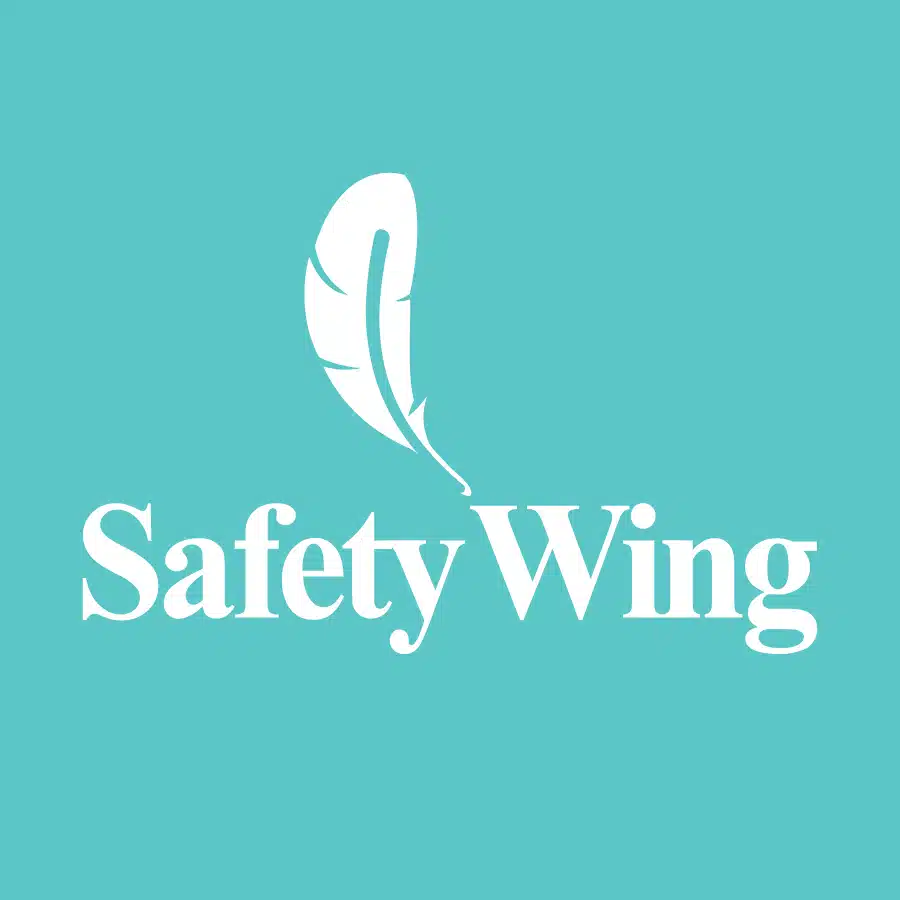 SafetyWing offers coverage that will give you peace of mind while you're on the road. If you want to protect yourself while you're on the road, then click the image to take a look at the options available to you.
Tom is a travel addict who first left England to spend a year Down Under. Not satisfied with this, he then went to New Zealand, about as far away from home as he could get. He is now planning his next adventures in Europe and Canada while maintaining this blog. Check out the about me page to learn more!