There are so many things to do in Bilbao that you have no chance of getting bored during your time in the city.
Bilbao is the biggest city in the Basque Country and one that's home to lots of interesting places to see.
The Guggenheim Museum is the most well-known attraction, but there are many others such as the Museo de Bellas Artes and the Casco Viejo district.
Northern Spain is often overlooked on itineraries of Spain, but it's a region full of interesting sights and Bilbao is no different.
If you're wondering what to do in Bilbao keep scrolling to find out everything the city has to offer.
Disclosure: This article may contain affiliate/compensated links. For more information, please see our full disclosure policy.
Best Things To Do In Bilbao
Below are what I consider to be some of the best things to see and do in Bilbao. All but one of them is in the city centre, meaning you can do them during a 2 or 3-day trip to Bilbao or if you're on a Basque Country road trip.
I've included a map of the city below to give you an idea of where everything is and that you can use to navigate Bilbao.
Guggenheim Museum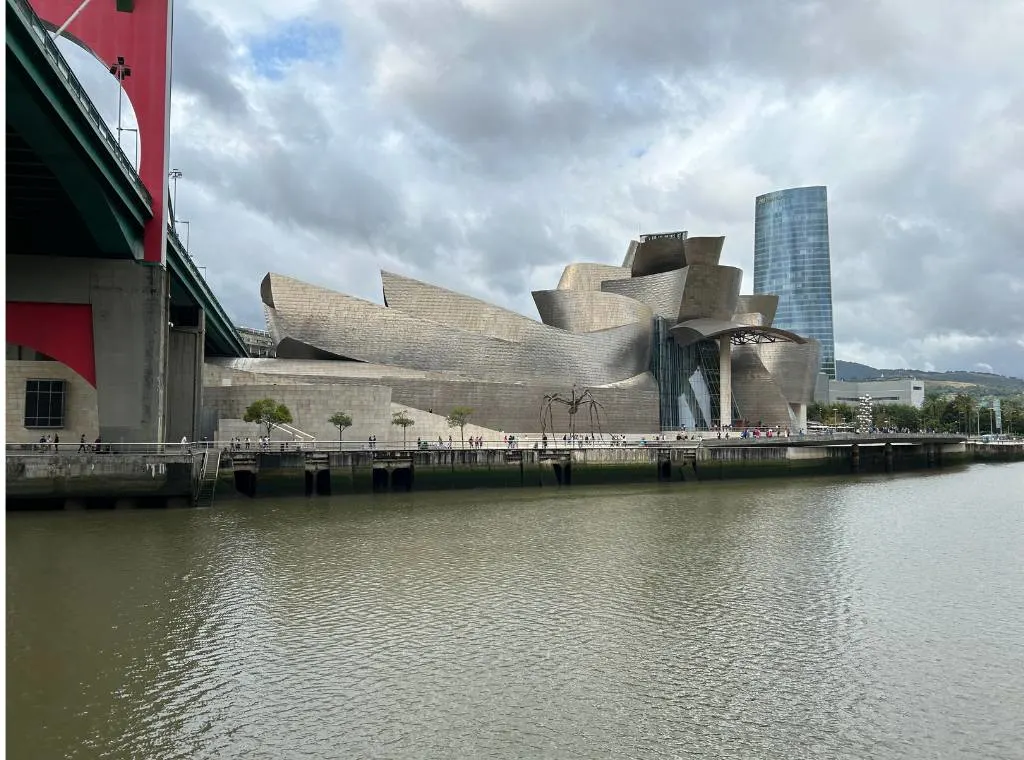 The Guggenheim Museum is one the most iconic buildings in Bilbao, which is incredible it was only inaugurated in 1997!
Designed by world renowned architect Frank Gehry, the Guggenheim is home to numerous exhibitions of modern and contemporary art and is one of the most visited museums in Spain.
The exhibitions change throughout the year, so it's worth checking what's featured before you visit.
Regardless of the artwork inside, which has some of the best modern art collections you'll find in Spain, the building itself is an attraction. Its bold and daring architecture isn't to everyone's tastes.
But I liked the museum and think it fits well with the area it resides by the Nervion River.
It costs €18 to enter, and it will take you about an hour to an hour and a half to see everything. But you can also take your time to walk around the exterior of the museum to take it in and decide whether you like the building or not!
Plaza Nueva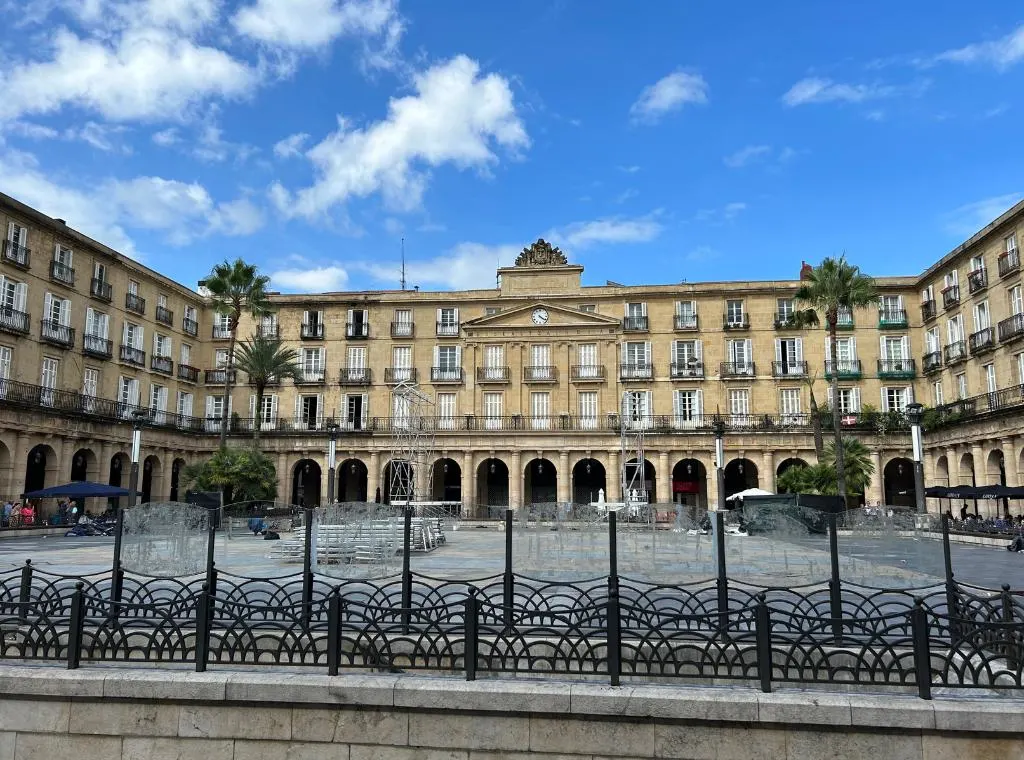 Plaza Nueva is a square in the old town of Bilbao, that is one of the most impressive structures in the city.
The square is built in a neoclassical style and features a central square with shops and restaurants all along the bottom and apartments on the top.
It's a great place to go if you want something to eat, there are plenty of restaurants to choose from. There are also events held here throughout the year, so check if there are any while you're there.
If you visit on a Sunday, you'll find a flea market where you can buy and sell numerous items such as books, records and much more!
The Old Town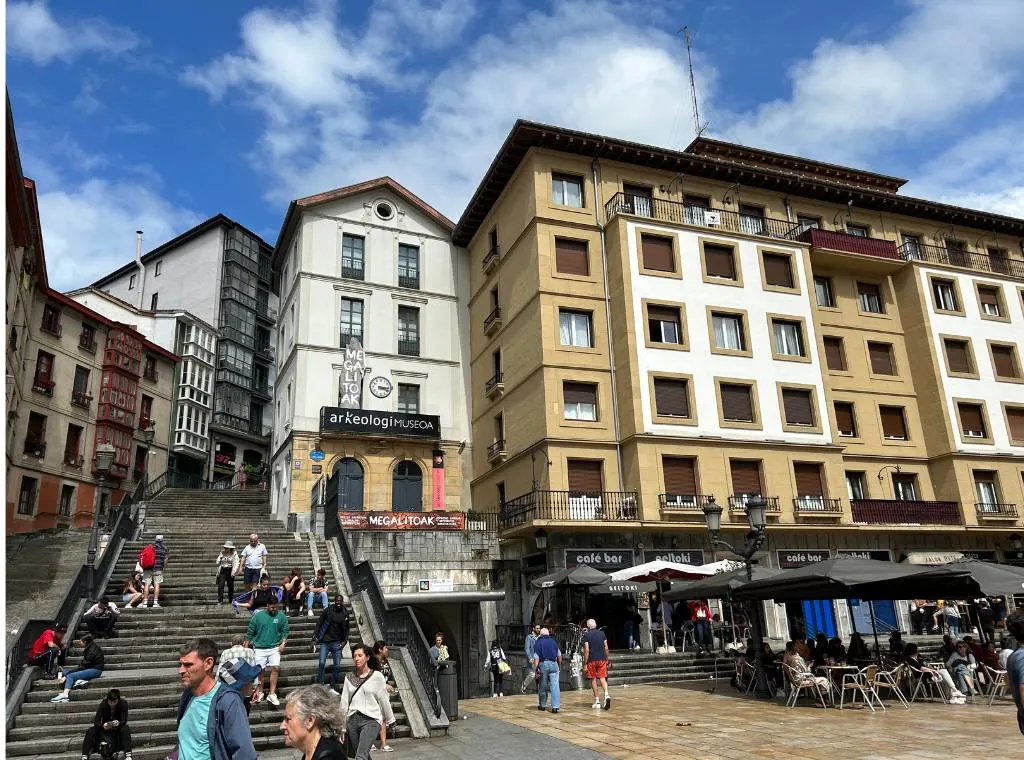 The Old Town of Bilbao, also known as Casco Viejo, is a fascinating place that's great to stroll around.
It's located across the river from the centre of the city and is home to several attractions. One of the best is wandering the narrow streets and enjoying all the various shops and restaurants along the way.
This part of Bilbao is known as the Siete Calles, which means seven streets. There's a lot to see, and although there aren't that many streets, they pack a lot into a small space!
You'll find two impressive churches in Casco Viejo, the Cathedral of Santiago and Church of San Anton. You can enter both for a small fee to take a look around.
There's also an archeological museum to check out if you want to learn about the past of the area.
Bridges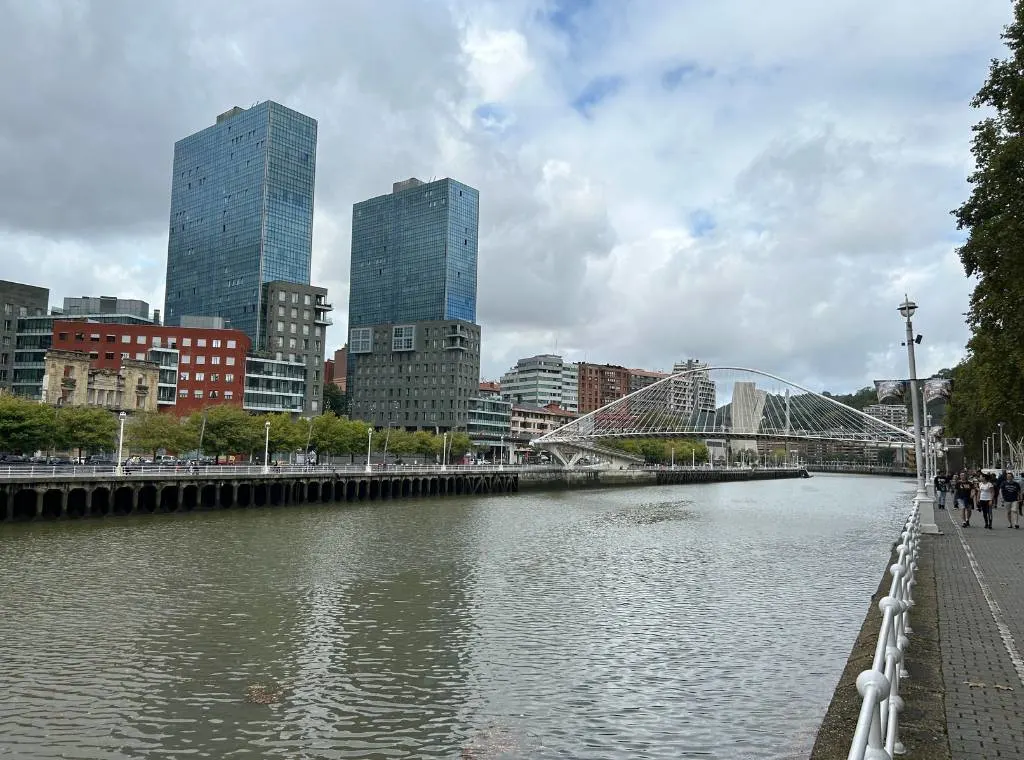 With the Nervion River winding its way through the city center, there are numerous bridges to help you cross the Bilbao estuary that divides the city in two.
One of my favourite ones is ZubiZurri, which means white bridge and is not far from the Guggenheim Museum. It's a modern design and looks striking when you see it up close.
The biggest bridge in the city is La Salve Bridge, which is right next to the Guggenheim. You have to walk up a lot of steps to get to the top, but it's worth it as you get some fantastic views of the city on the way up.
There's also a big piece of street art on the wall that supports one of the arches. There are plenty of other bridges such as Puente de San Antón to check out.
You could spend the whole day searching out the bridges in Bilbao there are that many of them!
Basilica de Begoña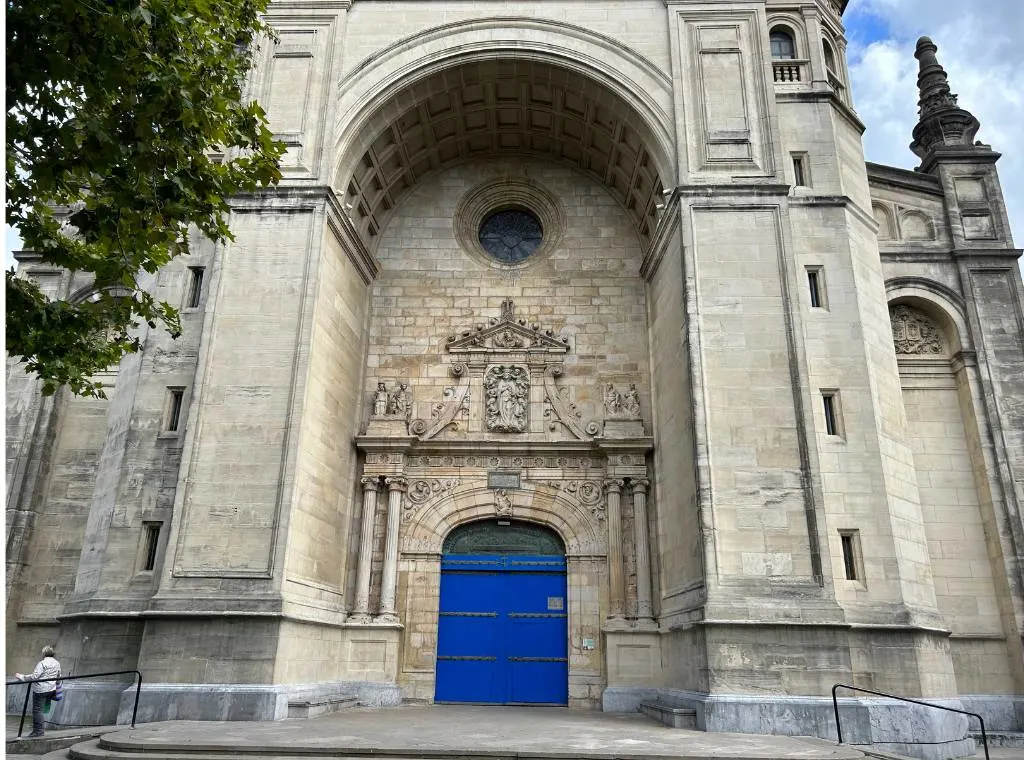 One of the more interesting things to do in Bilbao is to visit the Basilica de Begoña, a basilica that's dedicated to the patron saint of Biscay, the Virgin Begoña.
It's a beautiful building and has an interesting history. The basilica is built on the site of an old shrine, where according to legend, an apparition of the Virgin Mary appeared in the 16th century.
The basilica is located in the upper part of Bilbao. You'll need to walk up a lot of steps to get there or you can take the metro and get off at the Begoña stop, with the Basilica a short walk from there.
It's worth taking a look inside to appreciate the stunning architecture, and you'll also get some great views of Bilbao from the vantage point of the Basilica.
Rascacielos de Bailen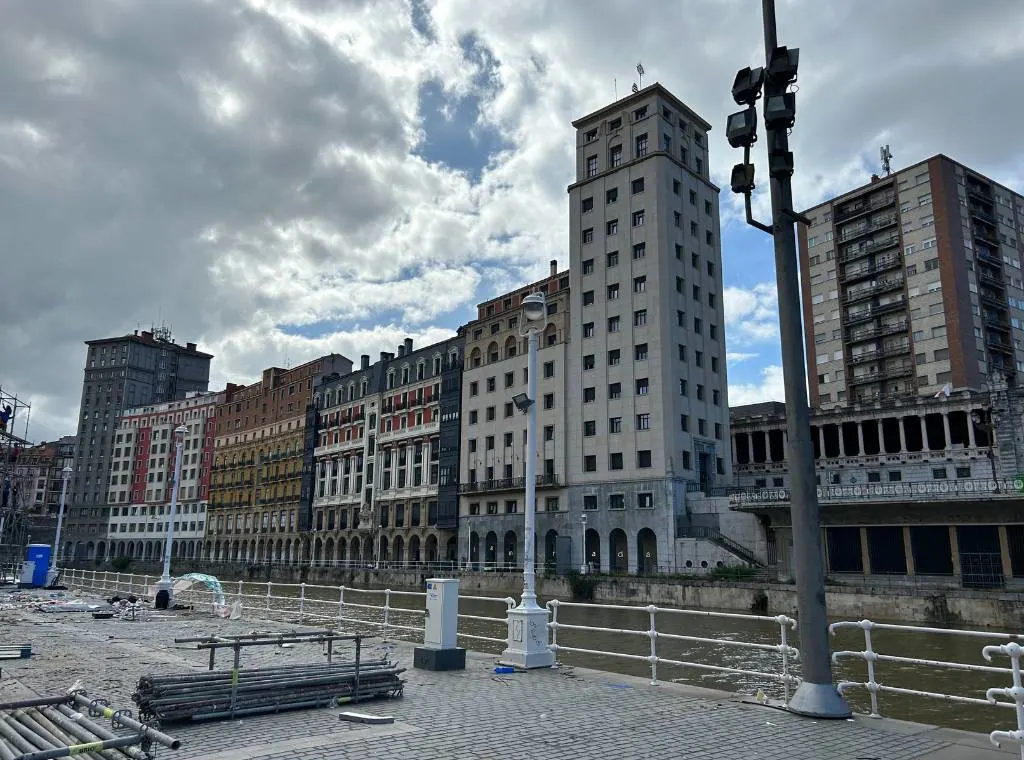 Rascacielos de Bailen might not be one of the things to do in Bilbao that jumps out at you on this list, but it's an interesting building you should check out.
It's notable for being the first building in Bilbao to be taller than 40 metres, which makes it the first skyscraper in the city.
Rascacielos de Bailen is nestled on the banks of the Nervion River not far from Mercado de la Ribera but on the opposite side.
It's a beautiful building that looks like it wouldn't be out of place in an American city. You can also head to the rooftop to get some great views of Bilbao.
Mount Artxanda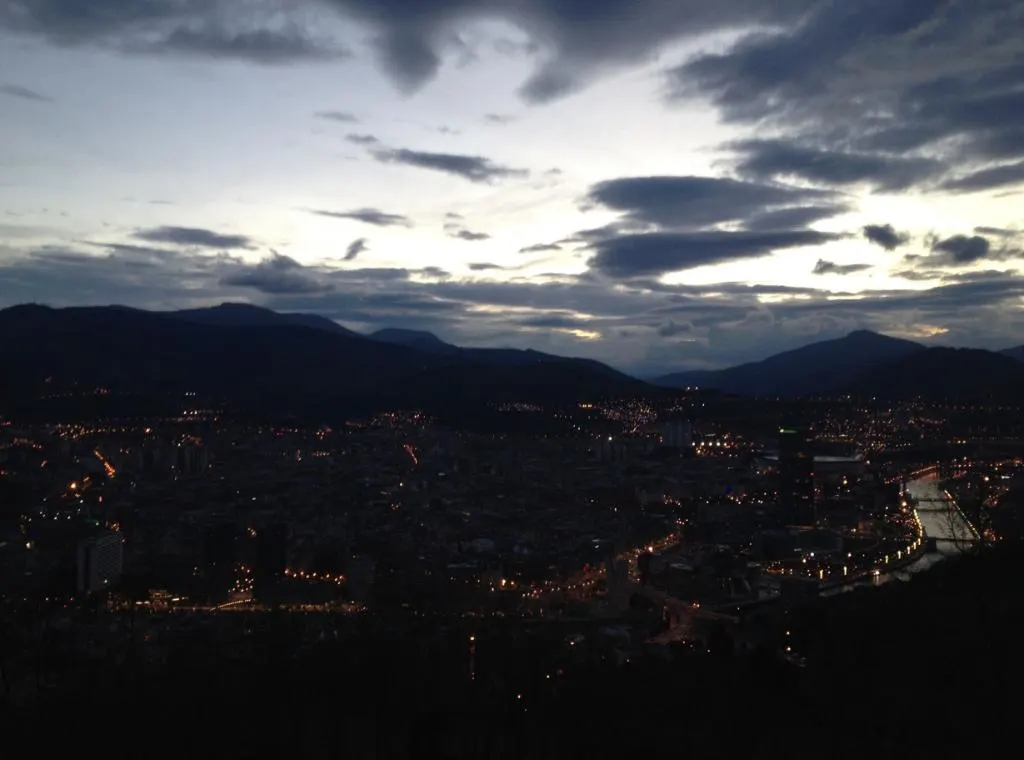 Mount Artxanda is the place to go if you want to get an overview of Bilbao and the surrounding area.
Artxanda is 300 metres above sea level and offers a perfect vantage point of the city. You can walk up to the top, but it's a tough walk, so the better option is to take the funicular to the top.
The funicular isn't far from the Zubizurri bridge, with services running every 15 minutes from 7:15 am to 10:00 pm from Monday to Saturday.
A single trip is €2.50 and a round trip is €4.30. It's well worth it as the amazing views from the viewpoint will blow you away!
Parque Extebarria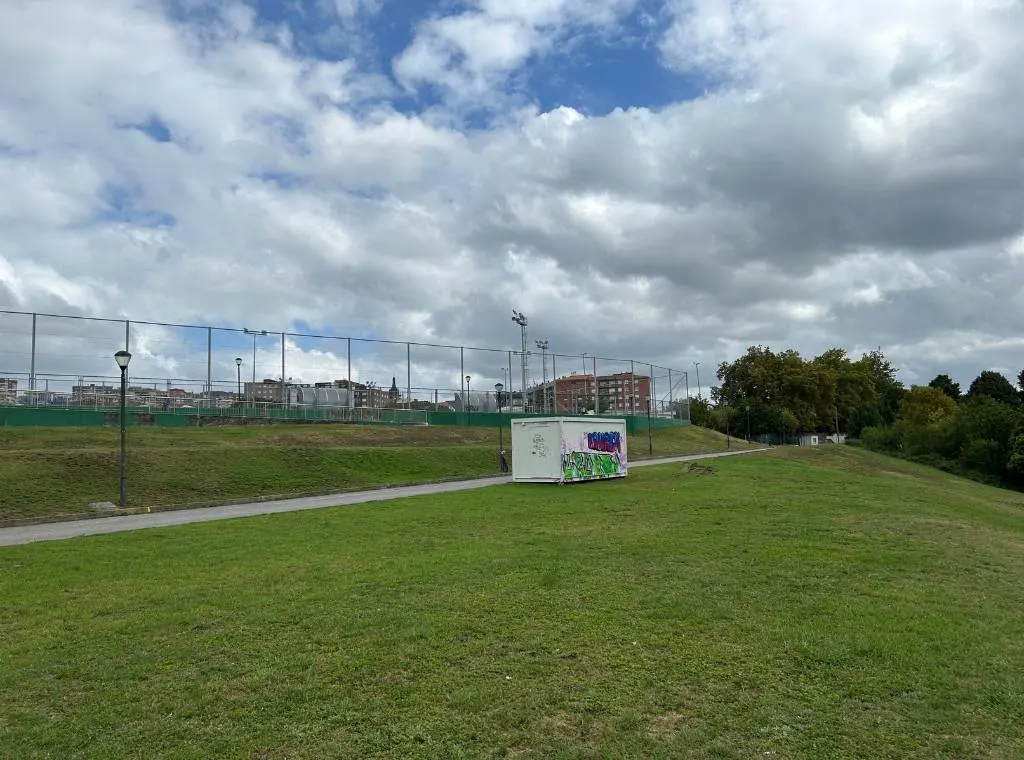 If you want to get away from the hustle of Bilbao city centre Parque Extebaria is a good place to go.
The area was once an industrial site, as visible from the brick chimney, that's now a vast green space. The park isn't far from the old town, and is a good place to head after you've checked out the Basilica de Begoña.
The views aren't as good as from the viewpoint in Mount Artxanda but they are still good and give you an idea of how big Bilbao is.
Parque Extebarria is perfect if you want to go for a stroll, do some exercise, or relax on a warm day and enjoy the views!
Gran Via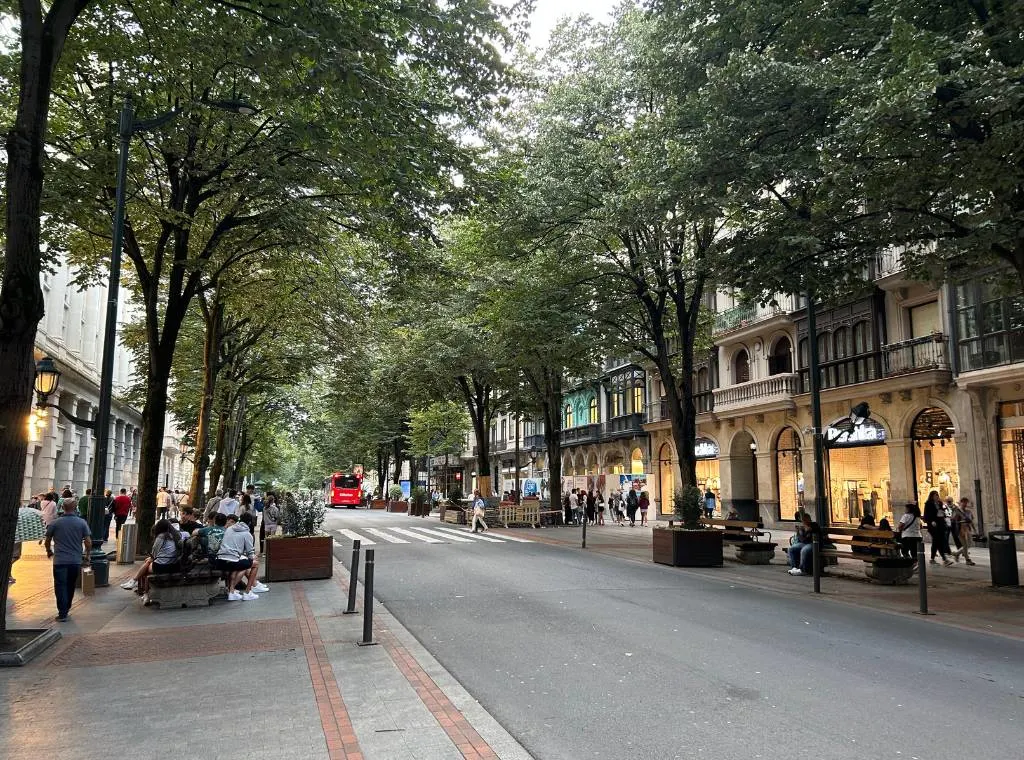 Gran Via is the main street in Bilbao and somewhere you're going to end up in the city one way or another.
It's a long street that takes you through the heart of the city. If you want to walk around to the various sights, the easiest way is to go down Gran Via and branch off to where you need to go.
There are plenty of signs to help you find your way.
As the main street, you'll find plenty of shops in Bilbao's Gran Vía. If you need to buy something or just want to have a look around, it's the place to go for this.
The huge El Corte Ingles department store is one place that's fun to walk around for a bit!
Calle de la Pelota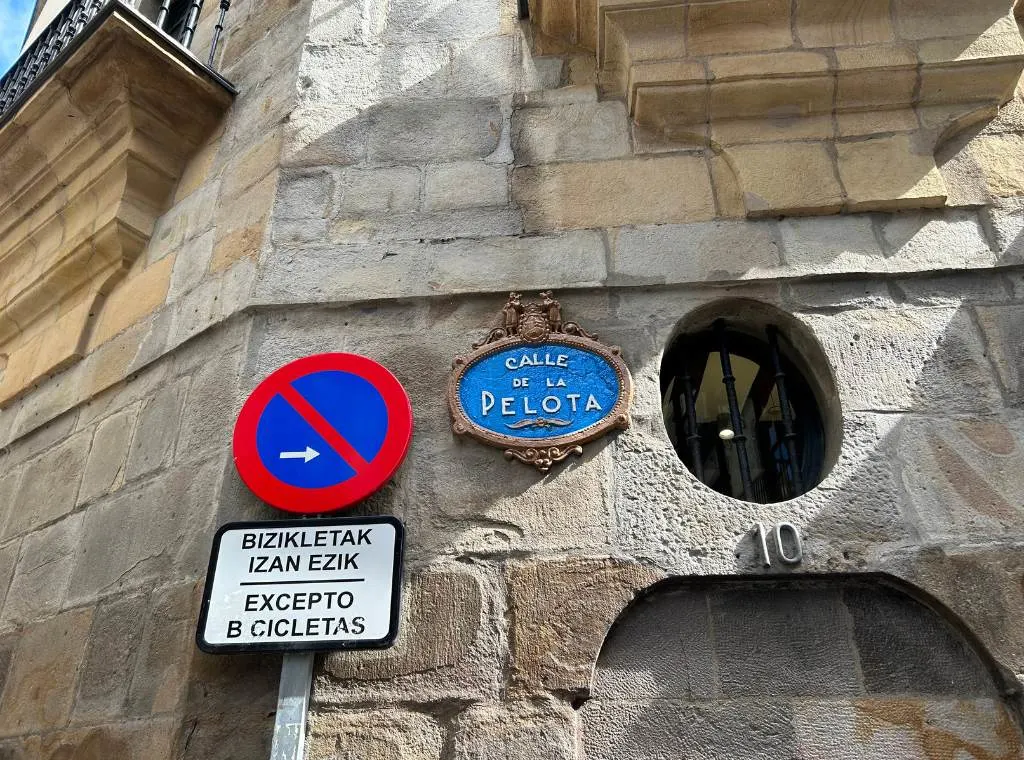 Calle de la Pelota is a street in the old town of Bilbao that's literally translated as 'Street of the ball,' or 'Ball Street.'
What makes the street interesting is that a group of people who frequent the bars in the old part of town, who are known as Txikiteros, put coins in a 'piggybank' in the street marked with an 'X' and deposit their leftover coins.
The coins are collected on 11 October each year and the money is donated to charity.
It's a fun street to walk down as you explore Bilbao to try and find the 'piggybank' and perhaps join a few of the Txikiteros in the bars yourself.
Bilbao Fine Arts Museum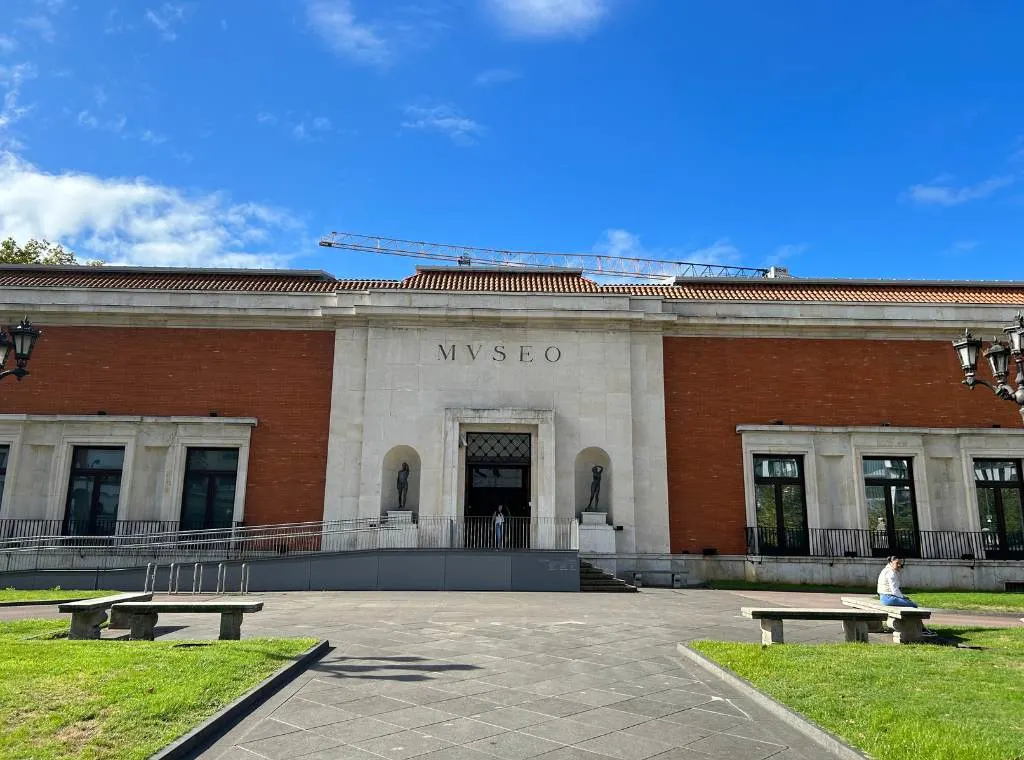 Before the Guggenheim Museum, there was the Bilbao Fine Arts Museum.
It's the lesser-known of the art museums in Bilbao and was founded in 1908 and displays several masterpieces such as Lucretia by Lucas Cranach and works by Francisco de Goya and El Greco among others that art lovers will enjoy.
The museum is located in Parque de Doña Casilda Iturrizar, is open from 10:00 am to 8 pm, and is free to enter.
If you're wondering what to do in Bilbao and you're an art lover or just want somewhere to check out for free, this museum is a good place to visit.
Estadio de San Memes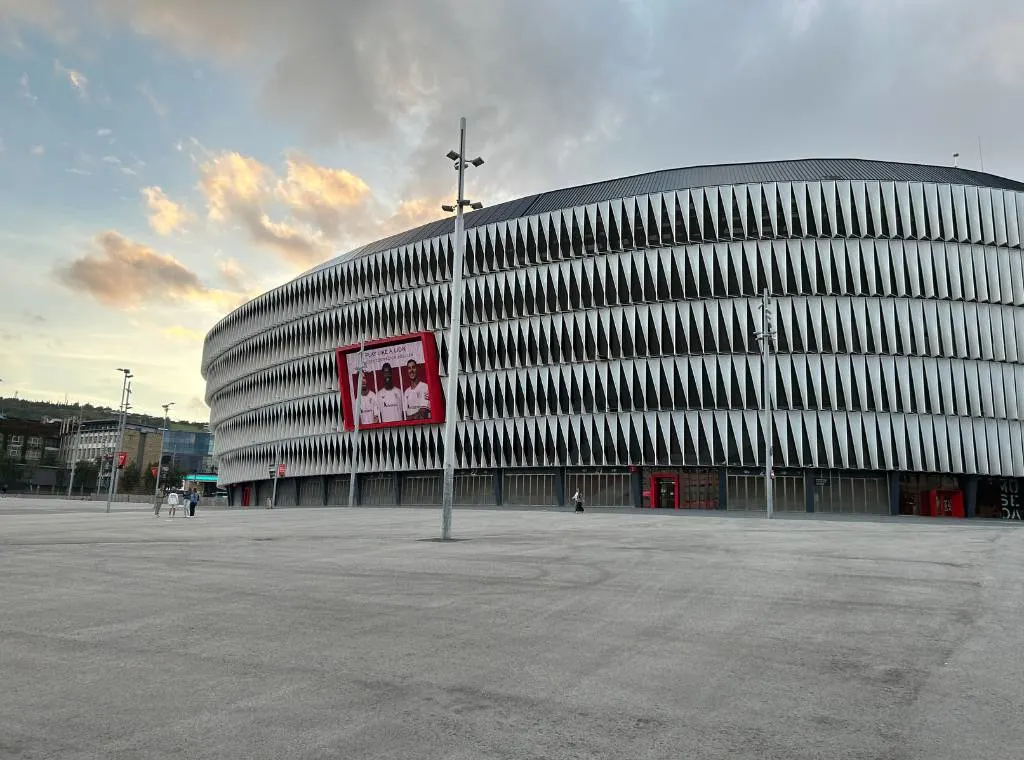 Estadio de San Memes is the home of Athletic Bilbao, one of the most famous football clubs in Spain.
Along with Barcelona and Real Madrid, Athletic Club are the only teams to have never been relegated from the top division in Spain.
They're also unique in that all their players are from the Basque region, which is unique in the globalised world of modern football.
The stadium is impressive, and one of the most famous in Spain. The old stadium, which was knocked down in the early 2010s, was known as 'the Cathedral.'
You can do a stadium tour and visit the club museum. If you coincide your trip with a match, which is a good idea if you're a football fan.
You'll be able to experience the atmosphere for yourself and see the famous Athletic Bilbao live.
Mercado de la Ribera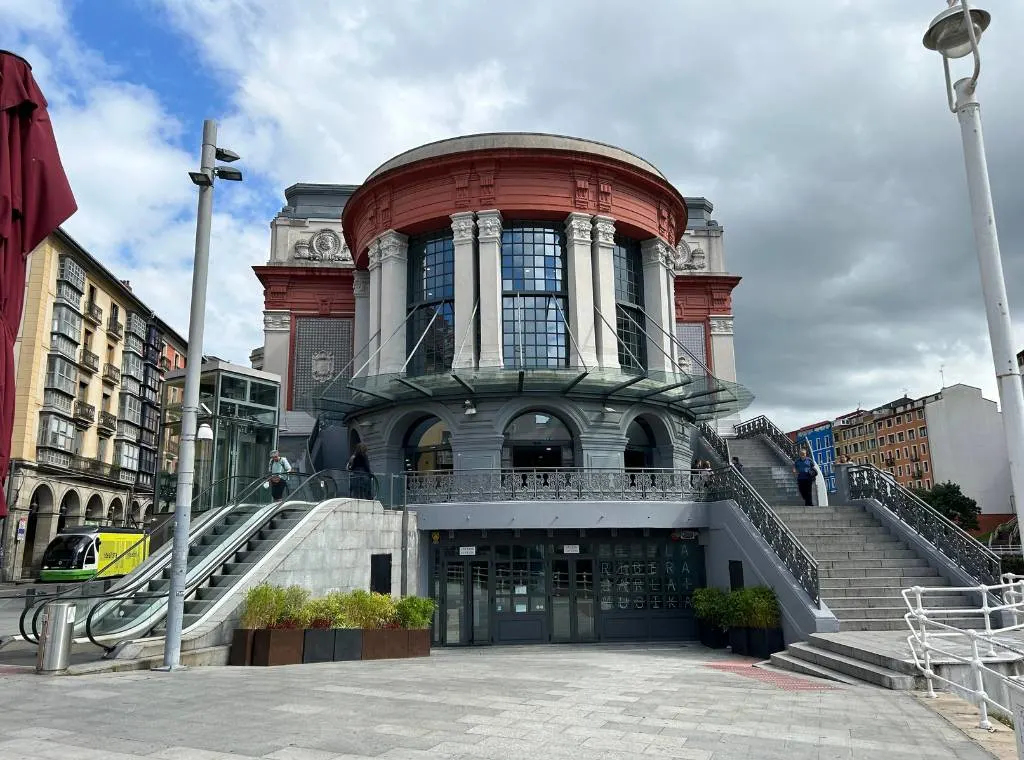 One of the best things to do in Bilbao is to sample some local delicacies.
Basque cuisine is renowned for being some of the best in Spain, and one of the best places to do that in Bilbao is Mercado de la Ribera.
It's the largest covered market in Europe and you'll be able to find all sorts of food here. rgional produce, pintxos and much more!
There are numerous cafes and restaurants within the market where you can try the local cuisine and admire the views of the river.
Parque Doña Casilda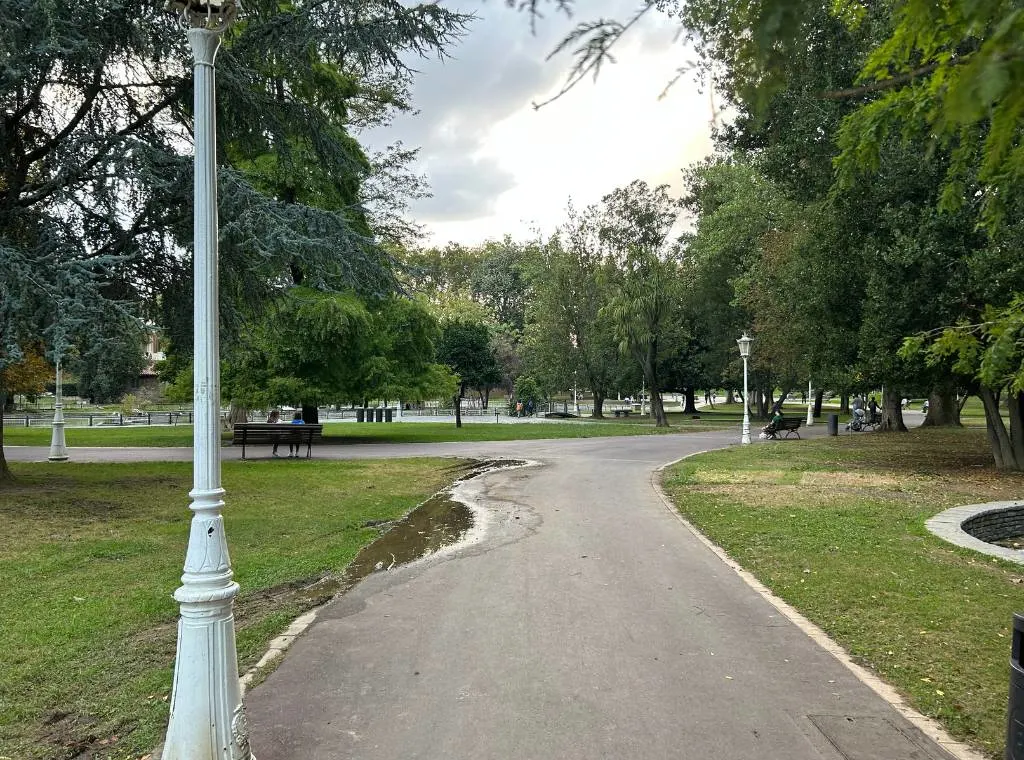 Parque Doña Casilda is right in the centre of Bilbao and a perfect place to go if you want to get away from the hustle and bustle.
It's just a short walk from Gran Via, and features green space, with a lot of ponds and water features too.
The park is much bigger than might think. It's over eight hectares with lots of ducks and swans wandering around. It's easy to forget you're in the middle of a city at times!
One landmark you should check out is La Pérgola, which is a fountain that's a beautiful sight.
Eat Some Pintxos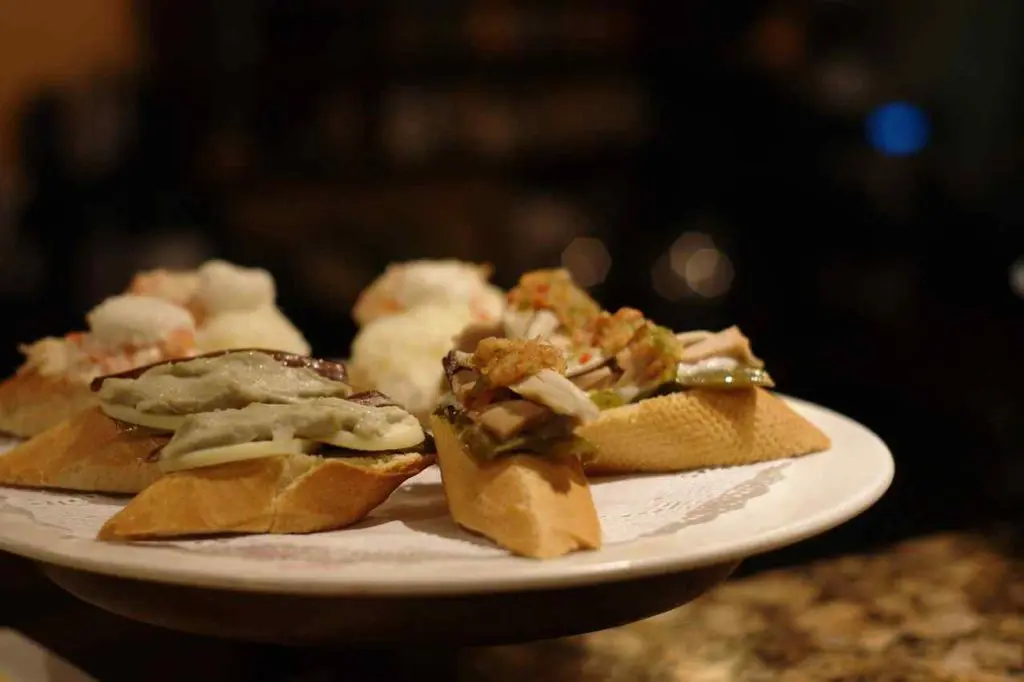 One of the most well-known things about Basque culture is pintxos.
They're small snacks that you can find in almost every bar in Bilbao. If you're feeling peckish, heading to a bar and getting a few pintxos is a good lunch idea.
Pintxos are popular across the Basque country and you can't leave the region without trying them.
I recommend heading to Mercado de la Ribera and browsing some of the stalls there too. You'll find lots of different types of pintxos to satisfy your palette.
Santiago Cathedral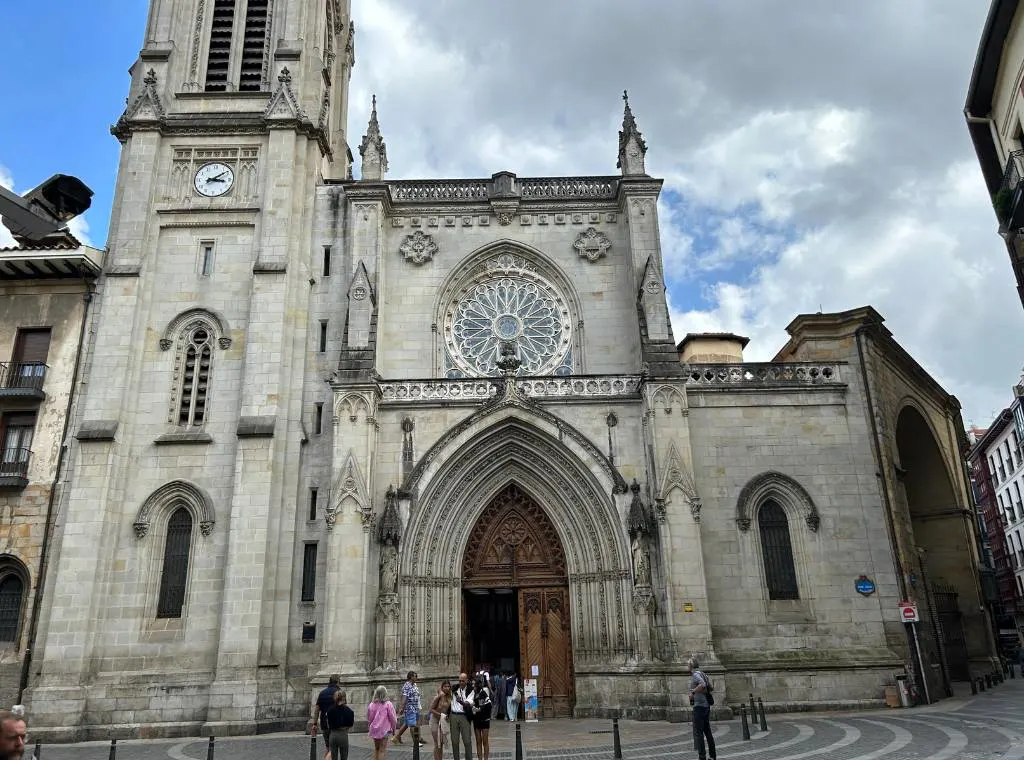 Santiago Cathedral, also known as Cathedral de Bilbao, is a huge church in the heart of the old medieval town of Bilbao.
The church is dedicated to St James the Apostle, the city's patron saint and was built in the 15th century.
It's built on the site of an old shrine that can be traced back to the time of Jacobean pilgrimages.
The cathedral. isimpressive inside and you'll want to take your time to explore it fully and take everything in.
Azkuna Zentroa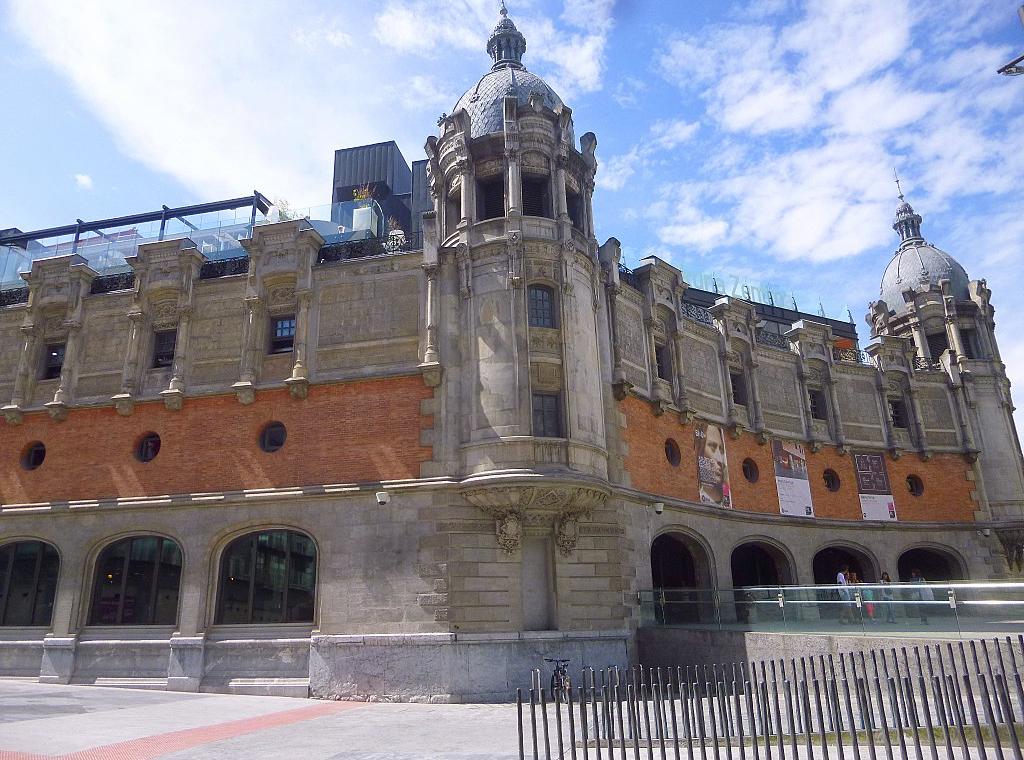 One of the lesser-known things to do in Bilbao is to visit Azkuna Zentroa, a modern contemporary art and exhibition centre.
The building was originally designed as a wine warehouse but was redesigned by the French designer Philippe Starck into a new cultural space.
Azkuna Zentroa is home to an auditorium, cinema, galleries, a library, restaurants, and doubles up as a cultural space too.
If you want to take a break from sightseeing for a bit and relax, this is the place to go. You can spend hours here, winding down, watching a movie, and grabbing something to eat.
It's not hard to see why it's now among many locals favourite places!
San Juan de Gaztelugatxe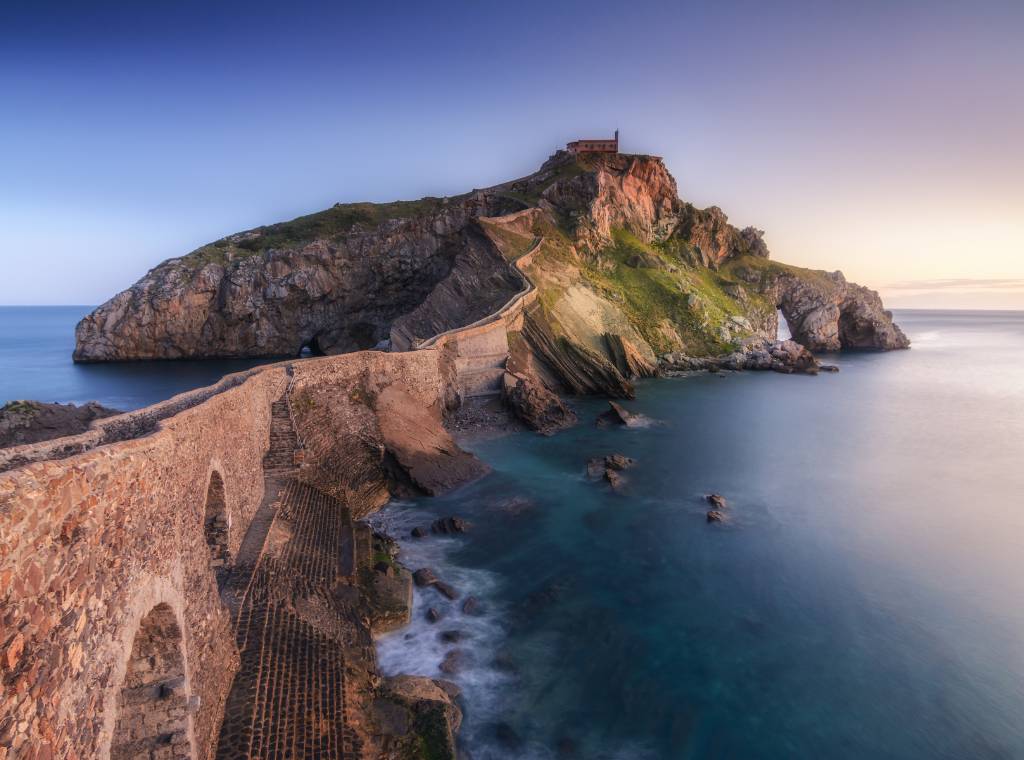 If you want to go on one of the best day trips from Bilbao, San Juan de Gaztelugatxe is the place to go.
It's located between the towns of Bemeo and Bakio on the Basque Coast about 35 km from Bilbao, making it easy to reach via car, such as on a Northern Spain road trip or a guided tour.
The island was used in the Game of Thrones series as the island fortress of Dragonstone in series 7.
To get to Gaztelugatxe, you'll need to walk across a stone bridge to the rocky outcrop and then walk up 241 steps to the chapel on top.
ASs well as being a spectacular sight, you'll also get some great views of the coastline!
Frequently Asked Questions
Is it worth visiting Bilbao?
Yes, this Spanish city is one of the most underrated in the country. There are lots of cultural sights to see such as the Guggenheim Museum, while the city is also home to one of the most famous football clubs in Europe, Athletic Bilbao.
What is Bilbao best known for?
Bilbao is best known for the Guggenheim Museum, which is the iconic building in the city. The local culture, Basque cuisine, and the UNESCO World Heritage Vizcaya Bridge, also known as the Hanging Bridge are other examples of what makes the city famous.
Which is better San Sebastian or Bilbao?
While I like both cities, I think San Sebastián is the better of the two. It's a beautiful city on the Basque coast that has three beaches, some amazing views from Mount Igueldo, and lots of cultural sights.
That doesn't mean you shouldn't visit both cities. They're both great and you can visit Bilbao from San Sebastián on a day trip and vice versa.
Looking For More Travel Guides?
Things to do in Barcelona – Why not check out one of the biggest cities in Spain after you've visited Bilbao?
Things to do in Valencia – Valencia is another underrated city in Spain that has plenty to do and see.
3 Days in Seville – Seville is a long way from Bilbao but if you're doing a countrywide trip, it's somewhere you have to visit.
Tom is a travel addict who first left England to spend a year Down Under. Not satisfied with this, he then went to New Zealand, about as far away from home as he could get. He is now planning his next adventures in Europe and Canada while maintaining this blog. Check out the about me page to learn more!