With so many things to do in Valencia, it's hard to know where to start!
Should I head to the beach at Playa de la Malvarossa or check out the city of Arts and Sciences? It can be daunting to know where to start when you arrive in the city.
However, even if you're in Valencia for 3 days, you will be able to fit most of these activities into your schedule.
Valencia is a beautiful city and one of my favourites in Spain. It's in a great location and the weather is brilliant almost year-round apart from a slight dip in temperature during winter.
I've been lucky enough to visit Valencia multiple times and each time I find something new that I didn't see before. If you're wondering what to do in Valencia during your trip, this is the post for you!
Disclosure: This article may contain affiliate/compensated links. For full information, please see our full disclosure policy.
Fun things to do in Valencia
1. Las Fallas
Las Fallas is a traditional celebration of Saint Joseph held in the middle of March. It is one of the biggest festivals in Spain and the biggest held annually in Valencia.
If you want to experience Las Fallas you will have to arrange your trip to coincide with the festival, but it's well worth it!
There are parades, giant puppets and dolls, known as falles, are created and displayed throughout the city, while on the final night, all the puppets and dolls are burnt in huge bonfires!
Festivals in Spain are passionate affairs and Las Fallas is no exception. If you want to have an experience in Valencia you'll never forget, book your trip to coincide with the Las Fallas festival!
2. Mestalla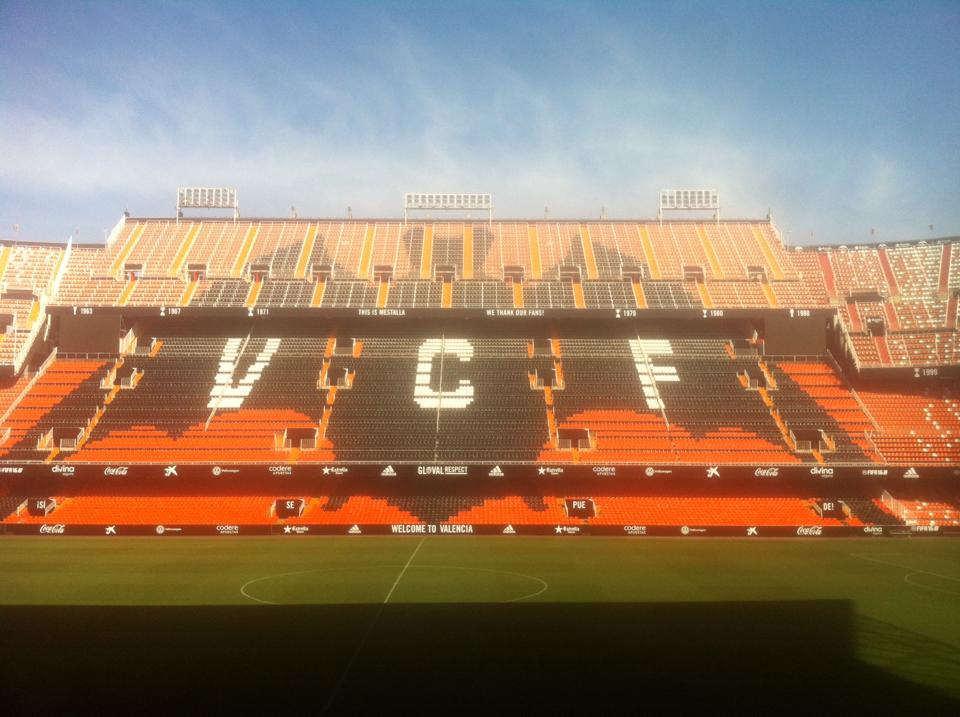 The Mestalla is home to Valencia CF, one of the most successful football teams in Spain. The stadium is located close to the city centre and is an imposing sight when you first lock eyes on it.
If you're not a football fan, it may be best to skip going to the stadium. If you're a football fan like me, then a visit to Mestalla is a must.
A stadium tour costs €10 and is well worth doing. You'll learn a lot about the history of the club, see the trophy room and much more. Plus, you get a free pen at the end of the tour!
Another idea is to coincide your trip to Valencia when there is a match at the Mestalla. This way you will get to watch a match, experience the atmosphere and visit the stadium all in one!
3. Llotja de la Seda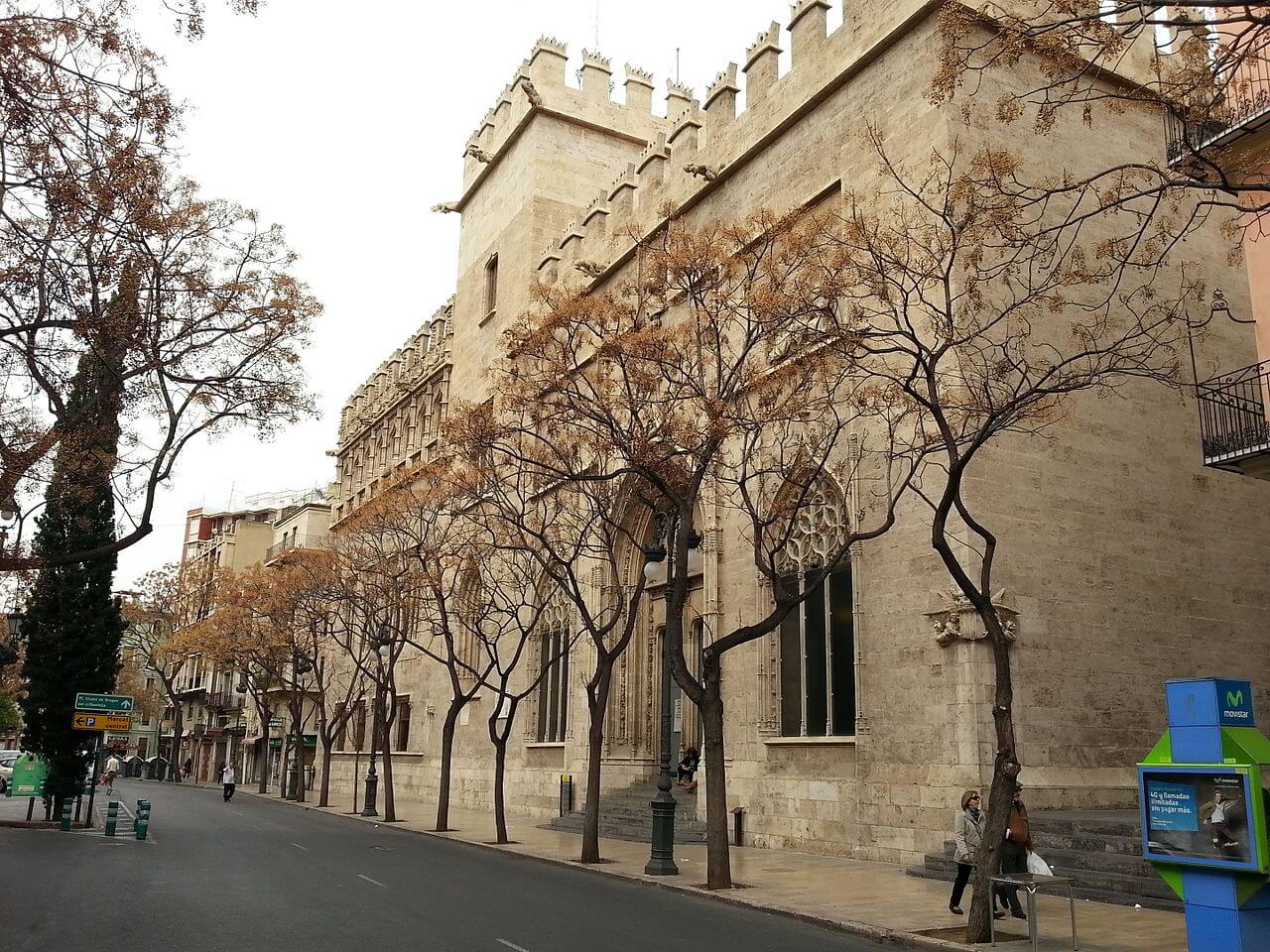 Llottja de la Seda is one of the most impressive and beautiful buildings in Valencia. Translated into English, the name means Silk exchange and it's a gothic-style building that was built in the 14th century.
It was an important building back in those days and showcased the wealth of Valencia as an important mercantile city in the Mediterranean.
The building is a UNESCO World Heritage Site and you should go inside and take a look around if you get the chance. It's a lovely building and the architecture is incredible.
It costs €2 to enter, but if you go on a Sunday or public holiday, it's free. If you're spending 3 days in Valencia, it's a place you have to check out!
4. City of Arts and Science
The city of Arts and Science is one of the most recognisable tourist attractions in Valencia. The main reason for this is the unique nature of the architecture.
The buildings do weirdly resemble spaceships, they are undoubtedly futuristic in their design! Apart from admiring their design, there are a lot of things to do inside too.
You will find numerous museums and exhibits inside the buildings. Given the name that's not much of a surprise!
Due to the uniqueness of the architecture and what you can see inside the buildings a visit to the city of Arts and Sciences is one of the best things to do in Valencia!
5. Valencia Cathedral
As well as space-age architecture, you will find a lot of beautiful older buildings in the city too. The Cathedral is one such building, and is one of the best things to see in Valencia.
It was built in the 13th century in a Gothic style and is an impressive building. It's located in the centre of the city which makes it an easy place to visit while you're in the city.
Inside the cathedral, you will find large arches spanning the rooms and numerous old paintings that date as far back as the 15th century.
Even if you're not religious, it's still worth checking out the cathedral. The architecture and beauty of the building should be admired by all who visit Valencia.
6. Eat paella
One of the best things to do in Valencia is to eat paella. This may sound strange, but there is a reason behind this.
Let me explain:
Paella originates in Valencia, so it makes sense to want to try it in the place that it was created. You will find the dish in most restaurants and cafes in the city. All of the places where I ate in Valencia had paella on the menu and all of them were amazing.
Often, some of the best paella in Valencia is at the smaller and unassuming restaurants than the big fancy ones!
If you want to take your experience a step further, a good idea is to go on a paella food tour. You will learn about the history and origins of the dish and you'll get a chance to cook the dish yourself too!
Click Here To Book Your Paella Cooking Class
7. Playa de la Malvarossa
Playa de la Malvarossa is the main beach in Valencia and it is one hell of a beach. It stretches a long way, so you'll have no difficulty finding somewhere to sit and relax.
If you're in Valencia during the warmer months, it's the perfect place to go for the day and relax. The only problem is that it's a long walk from the city centre.
Thankfully, Valencia's excellent transport network means you can get there and back with ease. Spain is famous for its beaches, the image of sun, sand and sangria is a major selling point for visiting the country.
If you're wondering what to do in Valencia, a visit to Playa de la Malvarossa is a good place to start!
8. Mercado Central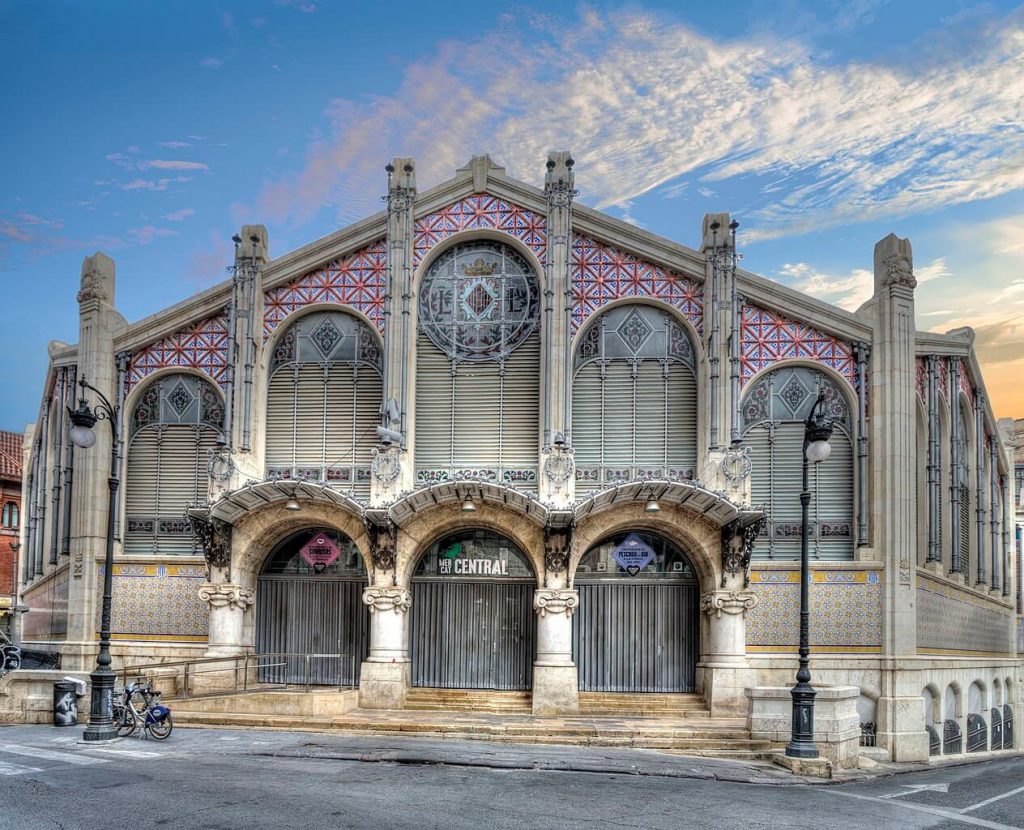 Mercado Central is one of the most beautiful buildings in Valencia, which is some statement given the number of stunning buildings in the city!
As the name suggests, Mercado Central is home to a public market and is a bustling place during the day. The market was built in an Art-Nouveau and is one of the biggest markets in Europe at 8,000 square meters.
You should visit the market when it's open. Otherwise, all you will be able to do is admire its beauty from the outside.
Inside you will find numerous stalls selling a variety of food. It's a good place to do your food shopping if you're in Valencia for 3 days or more.
Some vendors sell souvenirs and you will find several restaurants too, which are good places to sample the local cuisine!
9. Turia Park
Turia Park is one of the top things to do in Valencia. This sprawling park starts in the city centre and takes you to the City of Arts and Sciences.
An interesting fact about the park is that it's built on the former riverbed of the River Turia. A catastrophic flood in 1957 led to the river being drained and rerouted.
The park stretches for 7km and is an excellent place to go if you want to relax and escape the hustle and bustle of the city centre. It's incredible that you can be walking in the park and be oblivious to the fact you're in a major city!
You will find a mixture of stuff in the park from cycle paths, walking trails, football pitches and a giant children's playground!
10. Visit the bullring
I wasn't sure whether to include this or not, but I figured it's better to let people come to their conclusions about whether they would visit or not.
When you're in Valencia you cannot miss the bullring. It's an imposing sight and stands out like a smaller version of the Colosseum in the middle of the city.
The thought of watching a bullfight does not sit easily with me, although I would like to experience it just once to see it for myself. If you're against bullfighting, then you can visit the bullring when there are no bullfights.
One thing I would recommend doing is visiting the bullfighting museum which is adjacent to the bullring. You will learn about the history of bullfighting and its cultural significance.
I think it's important to educate yourself about something especially if you're opposed to it, so you can consider all sides of the argument. Visiting the museum is essential if you have strong opinions on bullfighting one way or the other.
11. Botanical garden
The botanical gardens is one of the top things to do in Valencia for multiple reasons.
It's a great place to visit on a warm day or even a winter's day for that matter. With many places to hide in the shade, you can take a break from the intense Valencian heat!
In the gardens, you will find over three thousand species of plants from around the world. There are many different buildings to wander in and out of and check out the exotic plants.
The botanical garden is a great spot to escape the hustle and bustle of the city and relax. There is a cafe on-site where you can get a drink and bite to eat too!
12. La Tomatina
La Tomatina is one of the most famous festivals in the world. It's not held in Valencia, but in the town of Buñol, 35km outside of the city.
It's without a doubt one of the best things to do in Valencia during the summer. If you want to be a part of the madness, La Tomatina is held on the last Wednesday in August.
You will need to purchase tickets to take part in the organised chaos. This is likely to be a once in a lifetime thing for most people, so it's well worth looking into if you want to get caked in tomato juice!
It's best to wear old clothes because they will be in no fit state to wear after they've been pummelled with tomatoes!
13. Russafa market
Russafa is one of the trendiest neighbourhoods in Valencia and there you will find one of the best markets in the city.
It may not have the grandeur or size of Mercado Central, but it's an impressive and great place to visit nonetheless.
One benefit of visiting Russafa market is that you will find all the same stuff as Mercado Central, but cheaper. If you're travelling on a budget, it's a great place to do your shopping!
There are a variety of vendors and most of them are happy to give you free samples as you make your way around. You can even have a drink in the bar in the corner if you need a break from all the shopping!
14. See the Holy Grail
That's right, if you visit Valencia you may be able to feast your eyes on the coveted Holy Grail. There's no need to wander through caves like Indiana Jones, all you need to do is visit Valencia cathedral.
The grail is housed in the Chapel of the Holy Chalice, where you can find it on the altar. This is the cup that Jesus drank out of during The Last Supper.
Of course, there is no way to prove or disprove these claims. The grail housed in the chapel is one of many supposed to be the real deal around the world.
Whether you're religious or not, or whether you believe the grail is authentic or not, it's still a cool place to visit to see it for yourself and learn more about the history and myths surrounding it!
15. F1 track
From 2008 to 2012, Valencia's marina was home to a Formula One Grand Prix. Unfortunately for petrolheads the race no longer takes place in the city, but the track remains.
If you're a big Formula One fan, it's worth going out of your way to see it. Most of the track is still in place, which is very surreal and you can walk the majority of it.
There are no plans to bring the race back to Valencia and seemingly no plans to rip the track up either.
It's one of the many quirks of Valencia. Checking out the F1 track is a good excuse to visit the marina area of the city.
You can see the abandoned hangars that were used for the America's Cup and there are several great restaurants in the vicinity too!
16. Torres de Serranos
One of the most impressive sights in Valencia is the Torres de Serranos. These guard towers were finished in 1391 and were part of walls that extended around the city.
The Torres are considered to be part of the largest Gothic city in Europe. They originally housed prison cells and were as a triumphal arch on many festive occasions.
It's possible to go up to the top of the towers and view the city from the terrace. The towers used to be the main entrance to Valencia and you can let your mind wander back to the medieval period and imagine what guards on the towers would have been thinking all those years ago.
Today, you will be treated to views of the city and the Turia river as opposed to potential invaders trying to breach the city fortresses!
17. Historic walking tour
One of the things I tend to do when I arrive in a new city is to go for a walk to get my bearings and see what I can find.
There are advantages and disadvantages to this. An advantage is that you get to grips with the city and often come across places you might not otherwise see.
The disadvantages are that you have no idea where you are or where you're going at times. Plus, you don't have any context about the places that you do see.
One way of getting around this is to book a walking tour. You will learn a lot about Valencia, see all the major sights and get a handle on the city at the same time.
18. Almoina Archaeological Centre
The Almoina Archaeological Centre is one of the best things to do in Valencia if you want to learn about the city's past under the Romans and Moors.
You will find a lot of archaeological treasures, which will please history buffs. It will also please the casual visitor as there are a lot of intriguing things to see.
One of which is the Roman baths. Due to the scale of the excavations, you can get a feel for how the baths might have looked some two thousand years ago!
You will also find lots of artefacts that have been dug up as well. The centre is next to the cathedral and it makes sense to combine the two while you're in the area!
19. Natural Science Museum of Valencia
I'm a big fan of museums and the National Science Museum of Valencia is a fantastic place to visit. One reason sticks out in my mind, they have dinosaurs!
Ok, not real dinosaurs, but several life-size skeletons including one of a Velociraptor! They also have a giant skeleton of a Megaterio, which was a Giant Ground Sloth!
The museum also has many interactive exhibits, which make it a fun place to visit. Plus, you'll learn a lot about the history of Valencia and how its ecosystem has changed over the centuries.
The museum is located in the City of Arts and Sciences and is one of many great places to visit in the area!
20. Palace of the Borgias
The Palace of the Borgias is an interesting place to see in Valencia. The palace was the home of the noble Borgia family, who were influential during the 14th and 15th centuries as they produced two popes.
The Borgia family is renowned for its sin and immorality, although it's not entirely clear if those assumptions are fair. However, the palace is an impressive place regardless.
If you're into history, this is one of the best things to do in Valencia. You will learn a lot about the Borgias and the history of the building, which is now the seat of the Valencian parliament.
You will have to book a tour to see inside, but it's well worth it to learn more about this amazing building!
Things to do near Valencia
21. Albufera National Park
If you're looking to go on a day trip from Valencia, a trip to Albufera National Park is one of the best you can do.
The park is located 12 miles (20 km) south of Valencia and is home to the largest lake in Spain! It's a beautiful place and there are lots of things to do here.
You can go birdwatching, relax on the numerous beaches in the park, or book a boat trip to explore the wider park and learn more about it!
There is a lot of biodiversity in the park and travelling by boat is the best way to see it. It's a great place to visit for a day to get away from the hustle and bustle of Valencia.
22. Xàtiva Castle
If you want to visit one of the most spectacular places near Valencia, then Xàtiva Castle is the place to go!
The castle is located 41 miles (67 km) south of Valencia and was an important castle on the important via Augusta route which stretched from Rome to Cadiz.
The castle is rich in history and is been around in one form or another since at least 218 BC! You will also be presented with incredible views of the surrounding area from the lookout towers.
Admission is only €2.40 and is well worth paying as you won't find too many castles like this on your travels!
23. Peñíscola
Peñíscola is one of the nicest towns close to Valencia. It's the perfect place to go if you want a day away from Valencia.
The views from the town are spectacular and if you make your way to the top of the Old Town you will get some fantastic views of the Mediterranean.
If you're a fan of Game of Thrones then you have a good reason to visit Peñíscola as portions of the series were filmed here.
You'll be able to wander around the town and pretend that you are worthy of sitting on the Iron Throne! For everyone else, there is a great beach and lots of history to check out!
Where to stay in Valencia
One of the good things about Valencia is that there are plenty of places to stay. You can stay in budget accommodation or splurge and stay in a luxury hotel. The choice is yours.
There are many great hostels in Valencia, and they are reasonably priced too. It's not uncommon to pay less than €10 a night for a room in some places!
The hostels are sociable too, which is a good thing. Getting to know people in a hostel makes it a much more fun place to stay and makes your trip more enjoyable too!
Below are a few of my suggestions for places to stay in Valencia. You have a range of choice from budget and high-end hostels to hotels.
Best time to visit Valencia
The best time to visit Spain is from April to October and Valencia is no different. During these months the weather is at its best and you are almost guaranteed to have warm weather most days.
Temperatures during the summer will regularly go above 30 degrees in the summer months and either side of summer too. It has been known for temperatures to reach above 40 degrees, although this is not as common.
The downside of visiting Valencia outside of the aforementioned months is that it will be a lot colder. Although Valencia doesn't have winters that are too cold, it will still be cold.
An upside of going to Valencia in winter is that it will be quieter and cheaper. If crowds are not your thing this would be a good time to go.
My advice is to visit Valencia in the summer. It will be warmer and busier, but you will ab able to enjoy the city much more than you would during the winter.
Frequently asked questions
What is Valencia known for?
Valencia is one of the best places to see in Spain and one of the biggest cities in the country. The Las Fallas festival, which is held every March and involves a lot of fireworks.
Valencia is also famous as the home of paella. The dish originated in the region and you can find it in virtually every cafe and restaurant in the city.
As well as this, Valencia is famous for the City of Arts and Sciences, which are futuristic buildings designed by the architects Santiago Calatrava and Félix Candela.
Valencia's football team is also well-known around the world and is one of the most successful teams in Spain and Europe.
Is Valencia safe for tourists?
On the whole, Valencia is a safe city to visit and live in. There is relatively little crime and compared to a trip to Barcelona, you are less likely to be pickpocketed which is always a good thing!
During my numerous visits to Valencia, I've never seen any trouble and always felt very safe in the city. This is in contrast to Barcelona, where I was nearly pickpocketed twice and saw it happen multiple times while travelling on the metro.
My experiences are not representative of everybody's, but you're unlikely to run into trouble.
As long as you exercise the same precautions that you would when travelling to any other city in the world, you will be fine!
Is Valencia a walkable city?
Yes and no. Yes, in the regard that you can walk around Valencia and see everything in reason. However, when you want to head to the beach or even to the City of Arts and Sciences, it becomes a No.
Valencia is a much bigger city than many people think. While you can walk around the city, if you want to travel to the marina or the beach, it's going to be a long walk.
You can walk around the city centre without much difficulty, but when you want to go further afield, it's better to take the metro. It will be a long walk and your feet will not thank you for it.
Take my word for it on this one!
Is Barcelona or Valencia better?
This is a good question to ask and the answer is that they are both great places to visit. This may seem like I'm sitting on the fence, but it's the truth.
I lived in Barcelona for two years and there is a lot to do there. Whether you're visiting Barcelona in 3 days, or you're staying for longer, you'll have a great time.
The same is true of Valencia. As we have established, there are plenty of things to do in Valencia and you won't get bored anytime soon while you're in the city.
As the cities are only 3 hours apart by train, my advice is to check them out if you can and make a decision for yourself!
Need travel insurance?
You can buy and claim online, even after you've left home. Travel insurance from WorldNomads.com is available to people from 140 countries. It's designed for adventurous travellers with cover for overseas medical, evacuation, baggage and a range of adventure sports and activities.
Pin for later