This San Sebastian travel guide was very close to never being written.
I didn't intend on going there when I decided to visit the Basque Country. I'm not one to plan things too much, beyond booking my tickets and accommodation beforehand. I don't like to tie myself to a plan.
It was only when I saw some photos of the city that I decided travelling to San Sebastian was something I had to do! The main photos that swayed me were the views of La Concha beach, they were just breathtaking!
I'm glad I decided to visit San Sebastian. It was certainly not a disappointment. The city was every bit as beautiful as it was in the pictures!
My San Sebastian City guide will give you all the information you need to know before visiting this beautiful city in the Basque Country area of Spain! If you're not familiar with San Sebastian, then read on to find out more about this absolute must-visit destination while backpacking Spain!
Disclosure: This article may contain affiliate/compensated links. For full information, please see our full disclosure policy.
Table of Contents
San Sebastian Travel Guide
General info
San Sebastian, known as Donostia in Euskara, the language of the Basque Country, is a coastal city in Northern Spain. It's located 20 km (12 miles) away from the border of France.
It's interesting to note that the current layout of the city was built up to 1914. It was modelled upon the Haussmanisation of Paris with the Buen Pastor Square built in the style of Rue de Rivoli.
San Sebastian has an oceanic climate with warm summers and cool winters. This climate can lead to cloudy and overcast conditions during the year. I was incredibly lucky that when I visited in December, the weather was excellent. I was not expecting clear skies and 20-degree heat at all!
It's important to factor this into what to pack for Spain. The climate is markedly different from that in the rest of the country. You will need jackets and like to fend off the rain.
Travelling to San Sebastian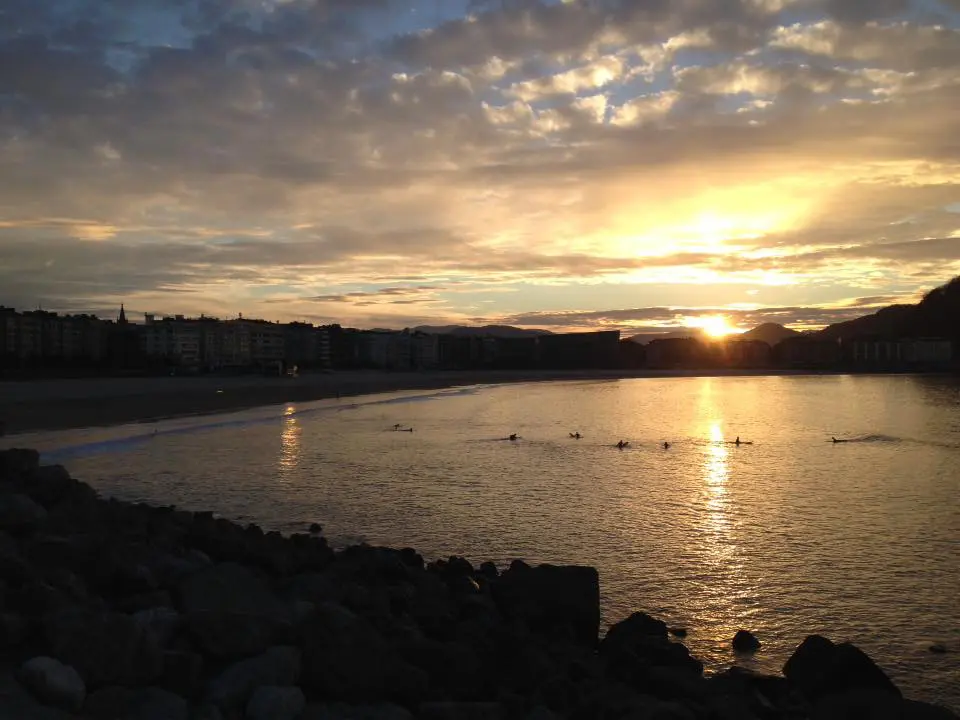 Travelling to San Sebastian is quite straightforward no matter where you're travelling from. If you're from inside Spain, then it can take a while depending on where you're coming from. San Sebastian is in the northwest of the country, so it can be a long journey from the South or even Madrid for example.
If you're already in the Basque Country, then you can travel from Bilbao by bus. It takes just over an hour for about €10. You'll be able to travel to San Sebastian via bus or train from most cities. The bus might be cheaper, but the train will almost certainly be faster. So, it depends on whether you want to save money or not!
Once you're here, it's not too difficult to explore San Sebastian on foot. It's not the biggest city and the beaches and all the sights are within walking distance of the city centre.
Walking to Monte Igeldo will take a bit longer, but you can always take the funicular if you wish. There's really need no need to use public transport while you're exploring the city!
Best Time to Visit San Sebastian
It's really important to consider the best time to visit Spain when travelling to this great country, as the weather can impact a number of things!
Most people have an image of Spain being a sun-kissed destination. Well, the reality is a little different depending on what part of the country you visit. This is one of the important things to know before visiting Spain!
This applies to the best time to travel to San Sebastian. Generally, the best time to visit is during the summer, as this is when the weather is at its best. Although, I visited during December and the temperature was above 20 degrees, so even in winter you can get great days!
My advice would be to visit from April to October if you can. The weather will be great and you will be able to swim in La Concha or Playa Zurriola as opposed to just admiring it!
The downside is that there'll be more tourists, but this is a small price to pay for better weather!
Why You Must Visit San Sebastian
The main reason why you should visit San Sebastian is its beauty! If I hadn't come across pictures of the city, my San Sebastian travel guide would never have been written!
I think it may be the most beautiful place in Spain, which is some statement considering the competition in the country! The reason I say this is because it was so different from where I lived in Spain, Barcelona.
It's no secret that I'm not the biggest fan of Barcelona. I just don't think it's as beautiful as everyone states. When I arrived in San Sebastian, I felt the complete opposite. Immediately, I was enthralled by the buildings and the architecture of the city! It was a refreshing change to what I was seeing in Barcelona on a daily basis!
This does come with a caveat as I was only in San Sebastian for less than 24 hours, so I didn't see as much of the city as I would have liked. I'm sure there are lots of places in and around San Sebastian that I missed out on.
However, from what I did see, I was impressed! It really is a city of tremendous beauty from the architecture to the landscape!
This is reason enough to visit San Sebastian, as it's lovely to walk around a city that is this picturesque. No matter what direction you look, there is either a beautiful building or great scenery to see! Another caveat is that I visited at the start of December, visiting during the summer months might be a different proposition!
A trip to San Sebastian could be completely different in winter compared to summer, as the increased crowds of people mean prices and space in a not-so-big city will be at a premium!
If you're a food lover then you simply have to visit San Sebastian. The city is home to a number of Michelin-starred restaurants. Three of the seven 3-star Michelin restaurants in Spain are here!
Although they were out of my price range, I would encourage you to try the food scene here. The pintxos in San Sebastian are incredible and very reasonably priced!
Where to Stay in San Sebastian
San Sebastian may be a small city, but there is no shortage of accommodation available in the city. There are several hostels in San Sebastian and due to the city's small size, most of them are within walking distance of the main sights!
Deciding where to stay in San Sebastian is difficult. There are a lot of options in the city, despite its small size. My advice would be to check out the hostels on Hostelworld. Look at the pictures and reviews to make up your mind!
A particular favourite of mine was the Downtown River Hostel. I really enjoyed my stay. The staff were lovely and the hostel was clean, spacious and in a good location. I would recommend it if you're on the fence about where to stay.
Click on the links below to check out some of the best hostels in San Sebastian!
| Accommodation | Description | Link |
| --- | --- | --- |
| A Room In The City | A beautiful and spacious located in the centre of San Sebastian close to La Concha Beach. | Book Now |
| Surfing Etxea | Located close to the beach at La Zurriola, this is a great place to stay if you want to do some surfing and meet new people | Book Now |
| Downtown River Hostel | A clean and vibrant hostel not far from the bus and train station. The staff here were lovely. | Book Now |
| Koba Hostel | Not far from La Zurriola and a short walk to the old town, this hostel has free breakfast and a good common room. | Book Now |
Things To Do in San Sebastian
It's not the biggest city in Spain, but there are plenty of things to do in San Sebastian. Primary among them for me is visiting La Concha beach, which is just incredible! You also have to trek to Mont Igeldo to get an amazing view of the city. For me, this was the best part of my San Sebastian trip!
There's a multitude of places to visit in San Sebastian and quite a few varied activities. For example, you can check out the Petritegi Cider House, which makes famous Basque Cider. You can also check out the numerous Michelin-starred restaurants in the city as well!
Below are a few of my favourite things to do in San Sebastian, that you should do too!
El Peine de Los Vientos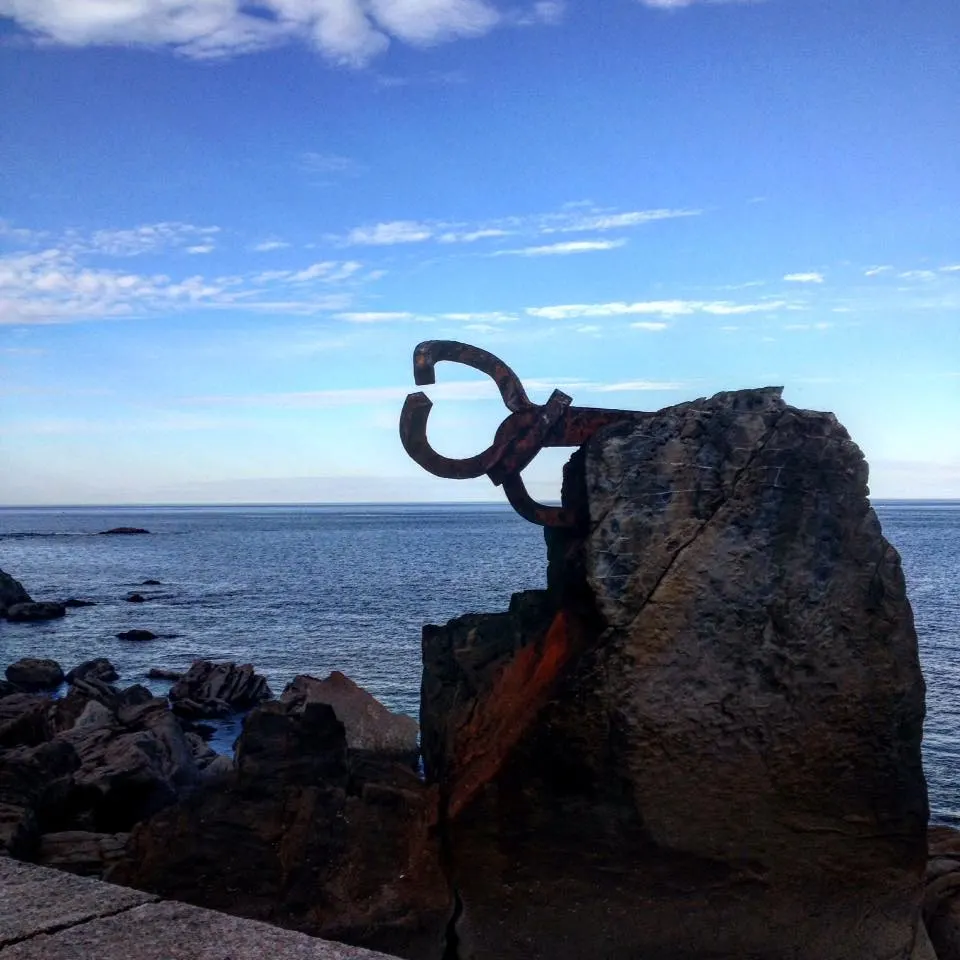 El Peine de Los Vientos, translated as the comb of the winds in English, is a series of sculptures at the base of Mount Igeldo. They are kind of strange looking and even stranger close up, as I didn't realise how rusty they were!
The three sculptures attached to the rocks are an interesting sight, as they look like little creatures hanging onto the rocks for dear life!
You should definitely check the sculptures out before you head up Monte Igeldo, as it's one of the more interesting things to do in San Sebastian!
La Concha Bay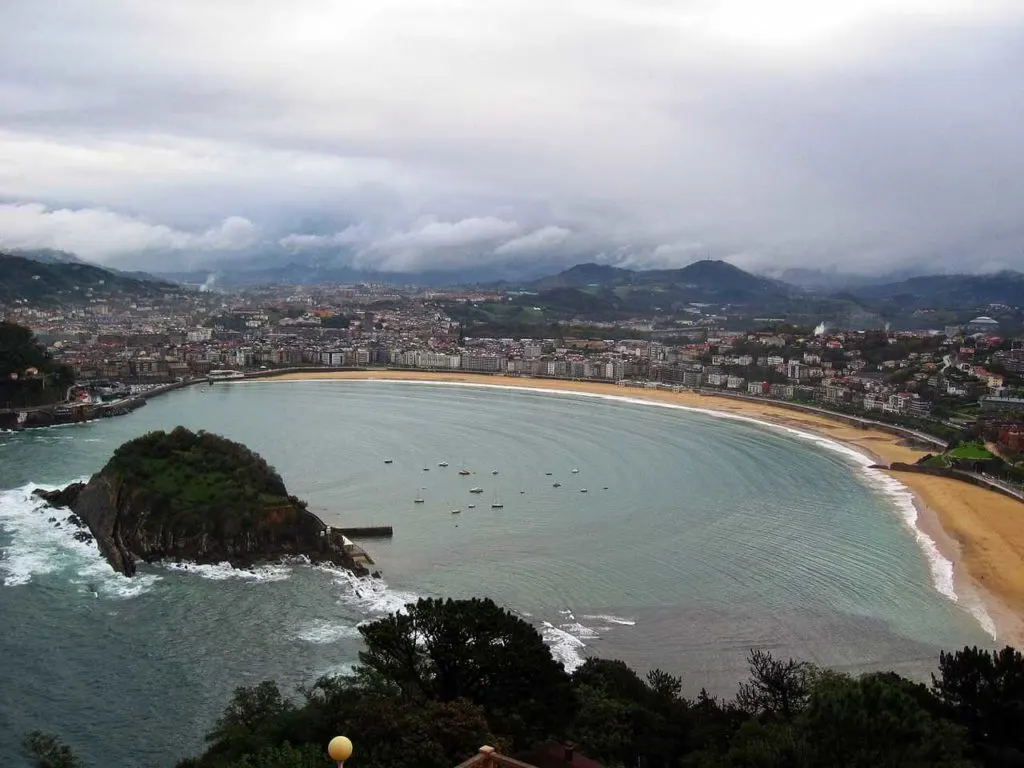 La Concha Bay is one of the nicest beaches I've ever been to, never mind in Spain. The beach itself is great, even if I was visiting in December, it still looked great.
What really makes La Concha special though, is the view across the Bay!
The views across La Concha are spectacular and are just one of the reasons that I feel San Sebastian is perhaps the most beautiful place in Spain!
The rock outcrop in the middle of the bay and the hills on either side frame the beach and make for an amazing setting!
Mount Igeldo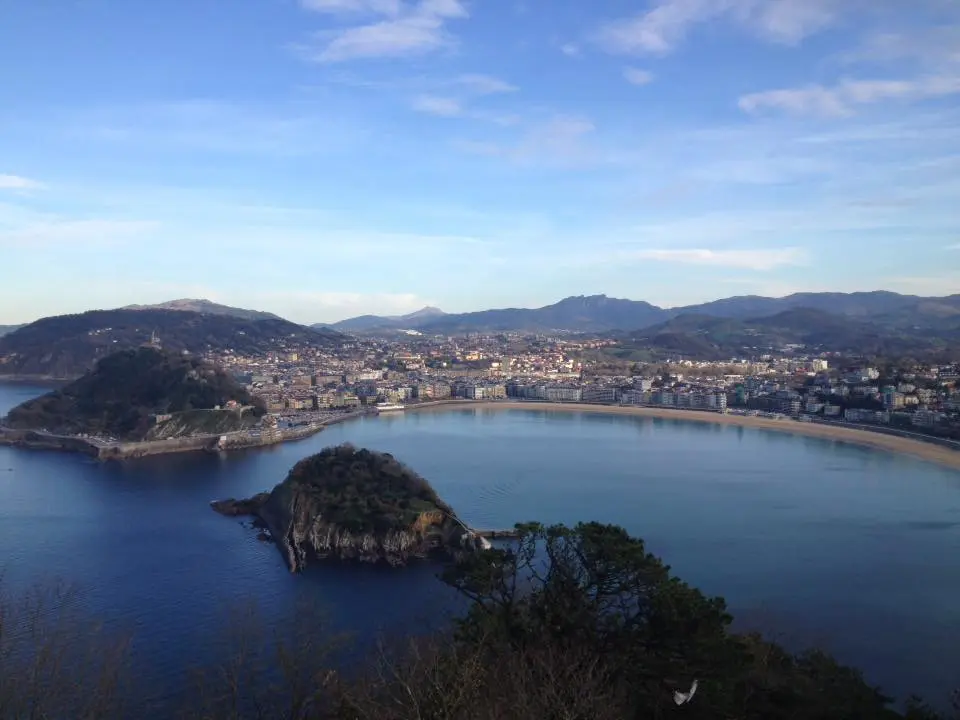 Of all the things to do in San Sebastian, going to Mount Igeldo might be the best! This is simply because of the views of the city from the top.
They are quite simply breathtaking! You get a clear view of La Concha Bay and get to see why San Sebastian is such a beautiful city.
There are two choices when it comes to getting to the top. You can either walk up as I did, which takes around 30-40 minutes, or you can take the Funicular.
Either way, you have to pay to enter, so if you don't like walking I would take the Funicular. The walk is great, as you can see across the Bay and out towards the Atlantic Ocean!
Parte Vieja
Parte Vieja, which roughly translates as the Old Town in English, is one of the best places to visit in San Sebastian!
It's very similar to many other old towns in Spain, in that the streets are quite narrow and the buildings are all squashed together with little space around.
Parte Vieja is arguably the beating heart of San Sebastian. When I was walking around at lunchtime, the area was abuzz with activity.
People walking to and from work, going to cafes to get their lunch. There are plenty of cafes here if you fancy sampling the local cuisine as well as the beautiful architecture!
Playa la Zurriola
Not only does San Sebastian have the great La Concha Bay, but it also has another beach in the city limits. Playa La Zurriola is smaller than La Concha, but it's no less beautiful!
This is the surfing beach in San Sebastian, even on a December evening, there was decent surf here!
Again, the view across the Bay of Biscay is just beautiful! I spent a good 30 minutes just staring into the distance across the bay, it was a great way to watch the sunset!
Another curious thing that I noted was that there were a lot of stray cats here.
They seemed to be living in the Sea Defence at the edge of the beach! Just another reason to visit this great beach!
How Much Does It Cost to Travel in San Sebastian?
The cost of travel in San Sebastian really depends upon what you do while you're there! If you're a big fan of food, then visiting the many Michelin-starred restaurants in the city will greatly eat into your budget! This San Sebastian City guide will show you a few ways that you can avoid this happening!
The good thing about travelling in San Sebastian is that a lot of the best things to do in the city are more or less free. You have to pay to gain entry to Mount Igeldo, but apart from that, expenses aren't that much! Both of the beaches in the city are free, while Parte Vieja is free to stroll around as well.
The bulk of your expenses will probably be spent on accommodation and food. Depending on the type of accommodation you book while visiting San Sebastian, will determine how cheap it will be!
I paid €14 for a bed in a room of eight. I thought this was quite reasonable considering the hostel had a kitchen, as I saved a bit of money here by being able to cook my own food! Obviously, if you stay in a hotel that will be different, as you'll pay more for a room and food!
If you really watch your budget you can definitely spend less than €30 a day in San Sebastian. Cooking your own food and limiting yourself to one meal in a cafe is the way to do this!
I recommend eating one of the Menu del Dias to get the most value.
You can find places that offer this for just €8.90, which includes two courses and a drink! If you eat a few pinchos as well, you won't be breaking the bank either! Hopefully, these San Sebastian travel tips will help you save some money during your stay in the city!
Concluding Thoughts
If this San Sebastian travel guide hasn't persuaded you to visit the city, then I don't know what will! San Sebastian is undoubtedly one of the most beautiful places to visit in Spain, and perhaps Europe as well!
It may not be the biggest of cities, but there are plenty of things to do in San Sebastian. Plus, the beauty of the place more than makes up for its small size!
Have you visited San Sebastian before? Do you agree or disagree with my view of the city? I'd love to hear your thoughts in the comments below!
Want more information about your trip to San Sebastian? Get the Lonely Planet Pocket San Sebastian (Travel Guide) here
.
Pin For Later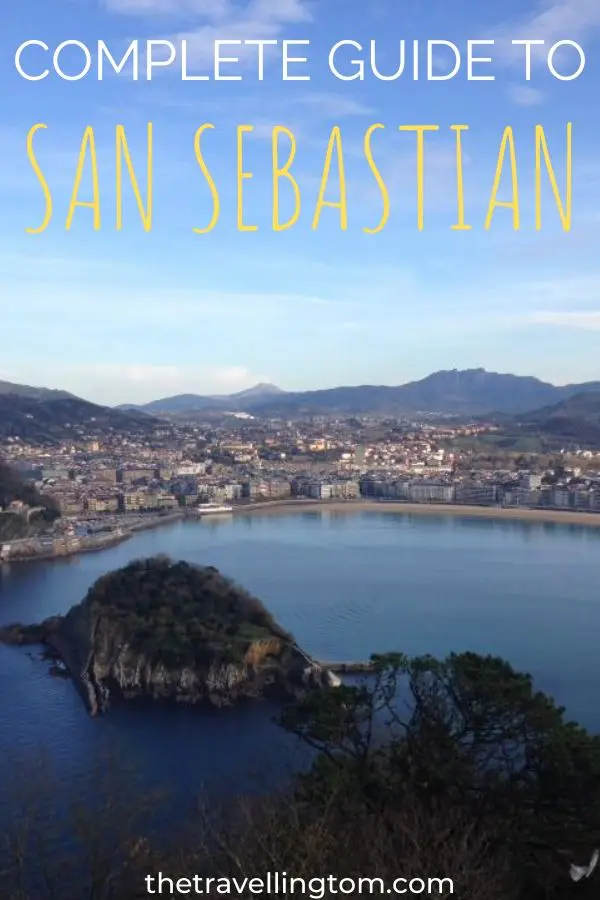 Tom is a travel addict who first left England to spend a year Down Under. Not satisfied with this, he then went to New Zealand, about as far away from home as he could get. He is now planning his next adventures in Europe and Canada while maintaining this blog. Check out the about me page to learn more!