If you're looking for Athens quotes, then you've come to the right place!
Athens is one of the most beautiful cities in Europe and is famous throughout the world for its history. This is what makes it such a great place to visit, as there are lots of reasons to check out the city and something for everyone.
These quotes about Athens will help you get a sense of the city and why it's such a brilliant destination. From the beauty of the Acropolis, Syntagma Square and the hustle and bustle of the centre, there's a lot to see. As well as retracing the steps of the likes of Aristotle and Plato who frequented the city thousands of years ago.
I've also included some Athens captions you can use for photos on Instagram and other social media. You'll have plenty of them, as Athens is a photographer's delight!
So, check out this collection of the best Athens quotes on the web and get planning your trip today!
Table of Contents
Best Athens Quotes
"Athens, the eye of Greece, mother of arts and eloquence." – John Milton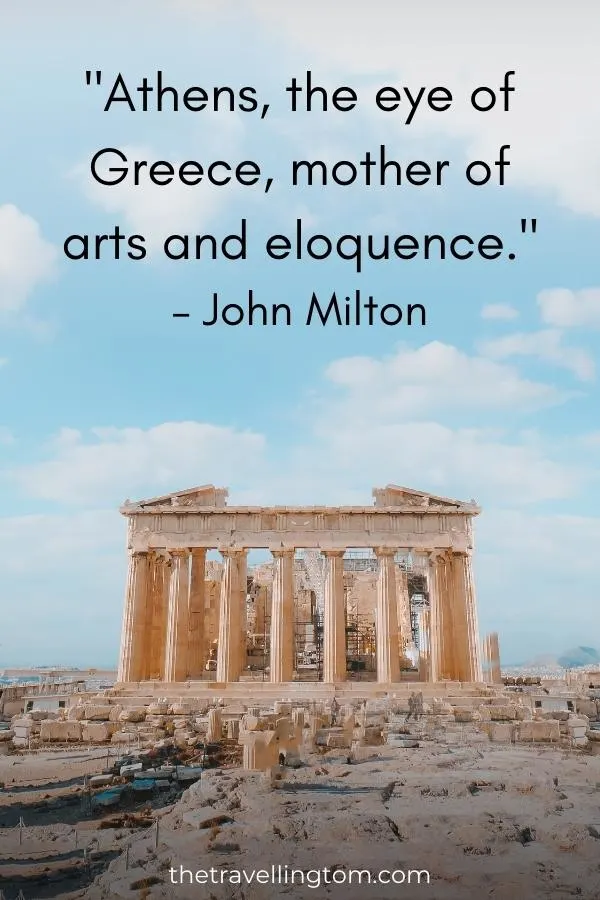 You might also like: Italy quotes
"What has Athens to do with Jerusalem?" – Tertullian
"Justice will not come to Athens until those who are not injured are as indignant as those who are injured." – Thucydides
"At Athens, wise men propose, and fools dispose." – Alcuin
"I am a citizen, not of Athens, or Greece, but of the world." – Socrates
"I would like to be a philosopher in ancient Athens and a poet in ancient China." – Shan Sa
"A great city, whose image dwells in the memory of man, is the type of some great idea. Rome represents conquest; Faith hovers over the towers of Jerusalem; and Athens embodies the pre-eminent quality of the antique world, Art." – Benjamin Disraeli
"A few of the sublimest geniuses of Rome and Athens had some faint discoveries of the spiritual nature of the human soul, and formed some probable conjectures, that man was designed for a future state of existence." – David Brainerd
"If Athens shall appear great to you, consider then that her glories were purchased by valiant men, and by men who learned their duty." – Pericles
"Let there be light! Said Liberty, And like sunrise from the sea, Athens arose!" – Percy Bysshe Shelley
"Earth proudly wears the Parthenon As the best gem upon her zone." – Ralph Waldo Emerson
"Such is beauty ever – neither here nor there, now nor then – neither in Rome nor in Athens, but wherever there is a soul to admire." – Henry David Thoreau
"Many of our ideas of democracy, so much of our literature and philosophy and science can be traced back to roots right here in Athens." – Barack Obama
"Athens is an amazing city for creativity. I bought a house there. A little, tiny place." – Cindy Wilson
"I like living in a smaller place, but I like being in big cities, too, like Athens." – Giannis Antetokounmpo
"I want to see the Parthenon by moonlight." – Daphne du Maurier
Athens Travel Quotes
"I want Rome and the Coliseum, the Acropolis, Athens; I want beauty, and the flame of life." – Eleanora Duse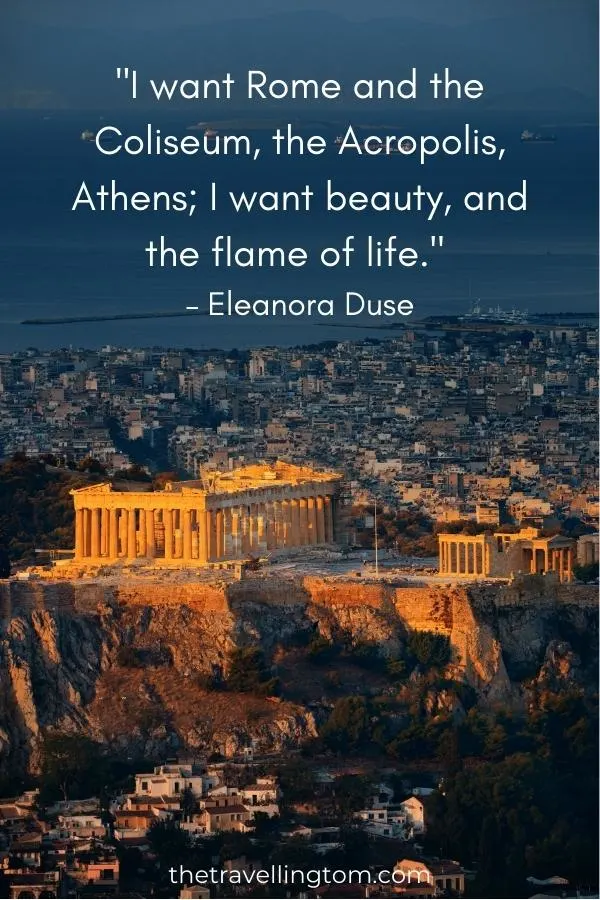 "We approached Athens from the north in early twilight, climbing a hill. When we reached its peak, we were dazzled to look down and see the Acropolis struck by one beam of the setting sun, as if posing for a picture." – Donald Hall
"Greece has got something like 1,400 islands. There is so much of Greece you can't know even if you're Greek. It's sprinkled out all around the edge of the Aegean, all over the place. It's already a secret place wherever you go, even if it's somewhere huge like Athens or Corinth. The place enchanted me." – Joanna Lumley
"My sisters and I were fortunate to travel through Asia and Europe at very young ages. We confronted extraordinary beauty in Athens and unspeakable poverty in India." – Mary Chapin Carpenter
"The anchovy which is found in the sea at Athens, men despise on account of its abundance and say that it is a poor man's fish; but in other cities, they prize it above everything, even where it is far inferior to the Attic anchovy." – Chrysippus
"My worst holiday was in Athens when I was a young drama student at Rada in 1965. I ran out of money. I had my things stolen and I wasn't able to speak a word of the language." – Stephanie Beacham
"And thence from Athens turn away our eyes to seek new friends and stranger companies." – William Shakespeare
"Every time I go to Athens, it's not just a trip down memory lane; there's some surprise. I always meet somebody new, or some crazy party happens, or there's some amazing event." – Kate Pierson
Funny Quotes About Athens
"I am afraid that, like Timon of Athens, I just cannot let go of my friendships." – Spike Milligan
"Athens is like a sluggish horse, and I am the gadfly trying to sting it into life." – Jostein Gaarder
"The Parthenon is really only a farmyard over which someone put a roof; colonades and sculptures were added because there were people in Athens who happened to be working and wanted to express themselves." – Pablo Picasso
Athens Captions for Instagram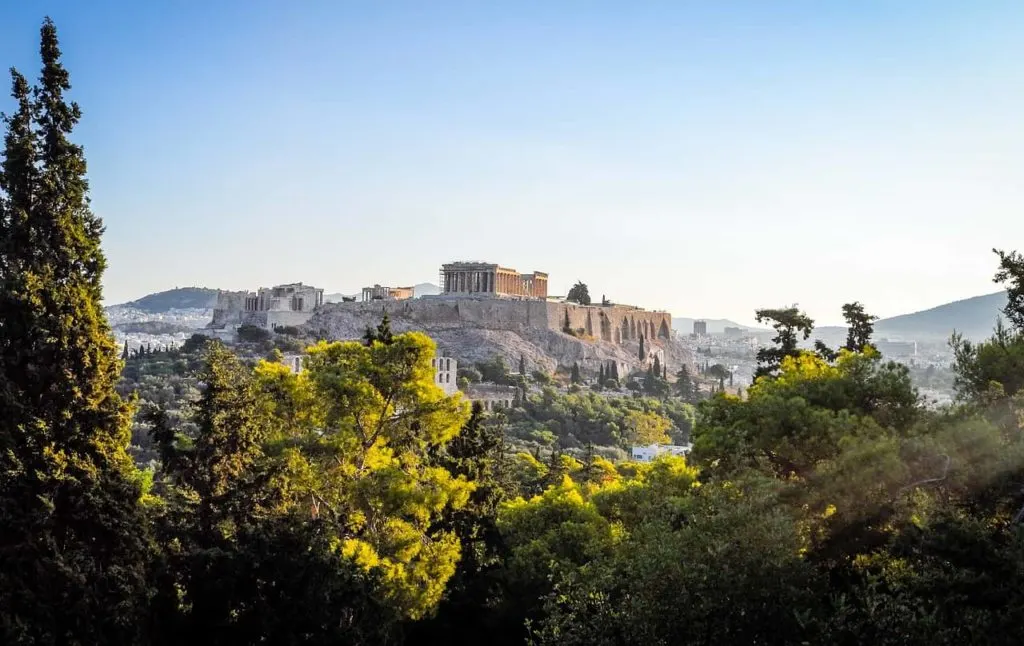 Amazing Athens
What Athens in Greece, stays in Greece
Athens simply ouzos with charm
What's Athen'in?
Falafeling in love with this view!
The incredible Acropolis
History comes alive in Athens
Athens is simply stunning
Aristotle, Socrates, Plato and now me in Athens
Athens, a city with endless history and beauty
Athens, quite possibly Europe's most beautiful city
Quotes About Athens Culture and History
"How great are the dangers I face to win a good name in Athens." – Alexander The Great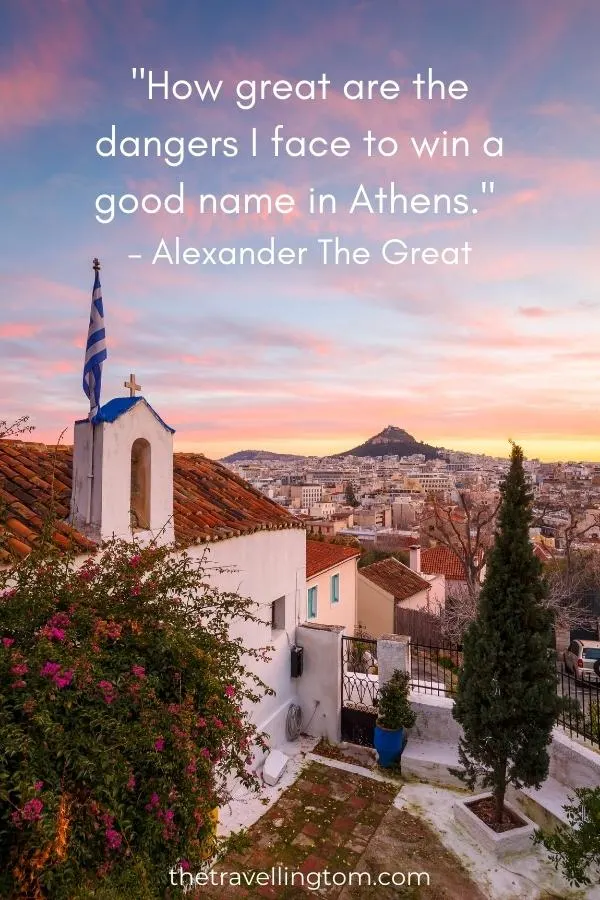 You might also like: Quotes about Spain
"Homer, Hesiod, Pythagoras, Plato, and Cicero, just to name a few, all lived in pagan societies. Some of the greatest political and military leaders of all time, such as Alexander the Great, Pericles of Athens, Hannibal of Carthage, and Julius Caesar of Rome, were all pagans, or else living in a pagan society." – Brendan Myers
"An Aristotle was but the rubbish of an Adam, and Athens but the rudiments of Paradise." – Robert South
"My good friend, you are a citizen of Athens, a city which is very great and very famous for its wisdom and power – are you not ashamed of caring so much for the making of money and for fame and prestige, when you neither think nor care about wisdom and truth and the improvement of your soul?" – Plato
"Socrates was tried in a religious court. He was condemned for disregarding Athens' gods. If you look at the way he speaks at his trial, according to Plato, there seems to be a moment when he realizes this isn't just a game." – Bettany Hughes
"So far has Athens left the rest of mankind behind in thought and expression that her pupils have become the teachers of the world, and she has made the name of Hellas distinctive no longer of race but of intellect, and the title of Hellene a badge of education rather than of common descent." – Isocrates
"In Elizabethan England or classical Athens… theater was at the center of, not culture, but society and politics and religion and civic engagement. Those things have a different audience." – Diane Paulus
"The male orientation of classical Athens was inseparable from its genius. Athens became great not despite but because of its misogyny." – Camille Paglia
"If I have to pick one story that most influenced 'The Hunger Games,' it would be the Greek myth of Theseus, which I read when I was about 8 years old. In punishment for past deeds, Athens periodically had to send seven youths and seven maidens to a labyrinth. In the maze was this Minotaur, and it would eat them." – Suzanne Collins
"The Olympic Games of the Modern Era began in 1896 in the city of Athens." – Bill Toomey
"When the freedom they wished for most was freedom from responsibility, then Athens ceased to be free and was never free again." – Edith Hamilton
"One of the flashpoints of the grand war between Athens and Sparta, a millennium after Helen first caused trouble for the Mediterranean world, was nearby Thassos. Thassos – Greece's northernmost island, is pine-rich, honey-sweet, gold-bearing and picture-postcard perfect." – Bettany Hughes
---
Thanks for reading my collection of the best Athens quotes! Hopefully, you've enjoyed reading and are now considering a trip to this amazing Greek city.
Do you have any other quotes about Athens? If you do, leave them in the comments below. Let me know if you've been to Athens and what you think. I'm interested to see what your opinion of the city is!
Tom is a travel addict who first left England to spend a year Down Under. Not satisfied with this, he then went to New Zealand, about as far away from home as he could get. He is now planning his next adventures in Europe and Canada while maintaining this blog. Check out the about me page to learn more!