If you're going away to a sunny destination, there is one item you definitely need to pack, sunglasses!
They are an essential item, but you shouldn't pack any old sunglasses. You want to pack the best polarized sunglasses to protect you from harmful UV rays.
I find that they are the best travel sunglasses to take with you. They offer better protection for your eyes than conventional sunglasses, and they last longer too!
They are an item that can't be left off a packing list for Australia or any other warm country. A good pair of sunglasses is essential for your travels!
If you're wondering who makes top-rated polarized sunglasses, this is the post for you to mull over.
Some of the sunglasses are over $100, but it's a price worth paying if you want a high-quality pair of the best cheap polarized sunglasses that will last you a long time!
Without further ado, let's get into it!
Disclosure: This article may contain affiliate/compensated links. For full information, please see our full disclosure policy.
Best Polarized Sunglasses 2023
What are the advantages of polarized sunglasses?
You may be wondering why you should buy a pair of polarized sunglasses.
Well, you would be right to ask that question.
The reason is not immediately obvious, but once you dig deeper there are a lot of advantages to owning a pair.
Advantages
The most obvious advantage of polarized sunglasses ahead of non-polarized sunglasses is UV protection. Polarized lenses offer a better level of protection than non-polarized lenses.
Glare is another area where they are useful. Polarized lenses reduce the amount of glare that you will experience. Glare itself causes eyestrain, without this to worry about, these types of sunglasses offer better visual clarity and comfort.
This makes them the ideal type of sunglasses for outdoor activities, such as hiking, skiing or cycling. Polarised travel sunglasses are ideal for people doing road trips.
My sunnies came in handy when I was on a road trip in New Zealand.
They reduced the glare from other cars and from the road, making my driving experience more comfortable and safer.
Disadvantages
Despite the obvious advantages, there are a number of disadvantages too. One is that polarisation means you won't be able to view LCD or LED displays.
You will have to lift your sunglasses up to view what's on your screen.
This can be annoying if you're using GPS on your phone to navigate your way around. My advice would be to buy polarized sunglasses if you plan on doing a lot of outdoor activities.
They are more expensive than their non-polarized counterparts.
If you're planning to be outside regularly, you might not get the most out of the extra benefits.
Lens
It goes without saying that the most important part of any pair of sunglasses is the lens. After all, they are what protect your eyes from the sun.
The better the quality lens, the better protected your eyes are!
There are different types of lenses, such as those made from glass, plastic and polycarbonate. Unsurprisingly, they all have advantages and disadvantages.
Glass lenses offer the best clarity, but they are heavy and easy to shatter if you drop them.
Plastic lenses are lightweight, but they are cheap and the quality isn't as good as glass, while polycarbonate lenses are shatterproof, but they can be easily scratched!
You want to choose a lens that meets your needs.
Style
Sunglasses that protect you against damaging rays are good, but they are much better when they are stylish as well!
We've all bought a cheap pair of sunglasses, and regretted it after a few weeks.
They may have been cheap, but often the cheaper, they are, the less stylish they are. Polarised sunglasses cost a decent amount of money.
A lot of work has gone into making them look stylish, as well as fitting ergonomically on your face.
The pair you buy should sit comfortably on your face and not require pushing back up the bridge of your nose. Style is important, but so is comfort.
UV Protection
As standard, all polarized sunglasses provide excellent protection from harmful UV rays.
The idea that the darker the lenses, the better protection is a myth. In many cases, they can actually be more dangerous, especially if the lenses are not polarized.
The pupils dilate under dark conditions, which will expose your eyes to more UV rays.
Before buying any sunglasses, ensure that they conform to safety standards. Buy your glasses from reputable sources.
Those glasses on market stalls will not protect your eyes from the sun!
Tints and Gradients
While browsing various sunglasses, you will have noticed that the lens come in varying colours. As odd as it seems, there are reasons why.
These tints often provide extra protection from certain conditions such as overhead sunlight. The tint runs from the top of the lens to the bottom, with the top darker than the bottom.
The various colours are suitable for different environments. Yellow is good for foggy conditions with minimal light, while brown is suitable for days when there is a lot of sun!
Bnus Italy-Made Classic Sunglasses
We earn a commission if you make a purchase, at no additional cost to you.
If affordability is your main concern, the Bnus Italy sunglasses are the ones for you.
This pair of sunglasses comes in at a cheap price and won't break the bank like bigger brands such as Ray Ban or Oakleys. A plus point is that they come in a variety of colours and styles.
One of the selling points of the glasses is that the lenses are durable and resistant to seawater corrosion. This makes them som of the best women's polarised sunglasses and men's if you're someone who's active.
I like the ability to buy different styles and lens colours. This makes the Bnus sunglasses more personalised than other glasses on the list.
Bnus is a lesser-known brand, but any purchase comes with a 12-month warranty, which will provide you with peace of mind.
J +S Military Style Classic Aviator Sunglasses
We earn a commission if you make a purchase, at no additional cost to you.
One thing to note about the J + S Military Style Aviators
is that they are big! If you like aviators, and you're fine with a big pair of sunglasses, then you should absolutely buy them.
Otherwise, it might be best to look at alternative options.
The J +S sunglasses offer some of the best protection among polarized sunglasses from UV rays.
They have a UV rating of 400, which blocks out 100% of harmful UV rays. The lenses are also scratch-resistant.
The multi-layered lenses are also perfect for blocking out glare. It works by blocking out horizontal reflection, only allowing light from a vertical plane to pass through the lenses.
This makes them an ideal choice for lovers of the outdoors, and one of the best polarized sunnies for driving!
The frame is lightweight and made from a high-quality metallic alloy. They will be able to withstand any rough and tumble you might experience on your travels.
At 58 mm, the J + S sunglasses are big. They will fit the face of the average man well while being slightly oversized on a woman. The design is unisex and is ideal for travellers who want to look stylish on the go!
One drawback is that the J + S sunglasses only come in black lenses. There's no option to switch the lenses for gradient tints, while there are only two options for frame colour in either black or silver.
They come with a protective case and cloth for keeping your lenses clean.
They may be available at a cheap price, but they are one-of-the best pairs of polarized sunglasses you can buy and a sound investment!
Oakley Frogskins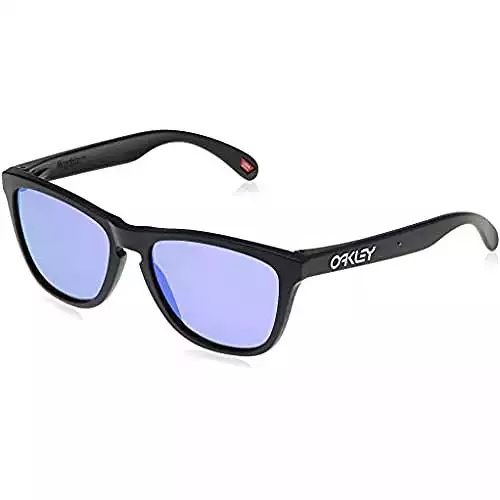 Size: 54x44mm UV Protection: 100% Unisex: Yes
Oakley Frogskins
are one of the best-polarized sunglasses money can buy! I have had these sunglasses for four years now, and they are still going strong!
I can be clumsy at times. One of the features that persuaded me to buy them, was the reclippable hinges.
This is a great feature because if you're prone to dropping your sunglasses, like me, you don't have to worry about them breaking!
The lenses are top of the range and reduce the number of UV rays that reach your eyes.
I tried a pair of non-polarized and polarized glasses in the shop, and the difference was striking!
The polarized glasses block a lot more of the harmful rays.
The glasses are lightweight and fit snugly around your head. They also look super stylish and come in a range of colours.
If you want a pair of sunglasses, that will protect your eyes and make you look super cool, these are the ones for you!
---
You might also like:
---
Maui Jim Kanaha Sunglasses

We earn a commission if you make a purchase, at no additional cost to you.
If you're looking for a frameless pair of polarized sunglasses, the Maui Jim Kanaha
is a great option.
It can be worrying when you purchase a pair of frameless sunglasses because they can be easy to break. However, Maui Jim offers a sturdy pair of sunglasses that are much less prone to snapping than other similar models.
Saying that they can still be prone to cracking in the lenses near where the arms meet. This is a common occurrence with frameless sunglasses, but the Maui Jim Kanaha pair are sturdy than most!
The sunglasses come with polycarbonate lenses which are ideal for adventurous travellers. They are impact-resistant, lightweight and durable and have a special scratch-resistant coating too.
Each pair of Maui Jim Kanaha Sunglasses comes complete with a case and lens cloth. They are ideal for travellers who have an oval, round or heart-shaped face.
The Maui Jim Kanaha is one of the best-polarized sunglasses for men or women if you want a frameless option that will stand up to tough conditions!
Ray-Ban RB2132 Wayfarer Sunglasses
We earn a commission if you make a purchase, at no additional cost to you.
When you think of sunglasses, there is one brand that will stand out above the rest. Ray-Ban.
No matter who you are, you will have heard of this company. They are world-famous for their high-quality sunglasses.
The Ray Ban RB2132 Wayfarer Sunglasses
offer a stylish and classic look which sits comfortably on your face.
One great aspect of the Wayfarer sunglasses is that you can customise your pair. If you want a blue frame with green lenses you can! I would customise your lenses depending on where you going to be travelling to.
If you're travelling to sunny, cloudy or environments with low light, it's best to go with black or green lenses. On the other hand, if you're going to snowy climates, red and blue tints are best.
One downside to the Ray Ban Wayfarer Sunglasses is that they don't offer 100% protection from UV rays.
You can opt for B-15 XLT and G-15 XLT, they offer 100% protection from UV rays and block 85% of visible light and blue light. The 15 in the name of both lenses refers to the amount of light the lens lets through.
If you have an oval or round-shaped face, the Wayfarer glasses are an ideal pair of polarized sunglasses. They come in two sizes, normal (50-52mm) and large (54-55mm), which will the average-sized face just fine.
Each pair of Ray Ban's comes with a pouch and a lens cloth for keeping your lenses in tip-top condition!
Reks Round Lumolux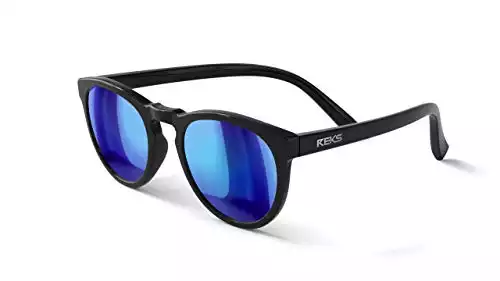 We earn a commission if you make a purchase, at no additional cost to you.
If you want one of the best cheap polarized sunglasses, the Reks Round Lumolux
are one of the better pairs you can buy!
What makes these sunglasses unique is that they are unbreakable. The frames are made from high-quality polymer, which is BPA-free. This makes the sunglasses lightweight and durable.
The multicoated lenses, complete with Hydrophobic coating help to shed water, and reduce the glare from the sun. The lenses also protect you from 100% of the sun's harmful UV rays.
The lenses themselves are polycarbonate, they are 10x more shatter-resistant than your standard glass or plastic lenses.
The superior quality of the lenses means there is less risk of delamination, which affects the optic quality.
The Reks sunglasses are a fantastic option if you're looking for cheap polarised sunglasses that are strong and durable.
William Painter – The Hook Titanium Polarized Wayfarer Sunglasses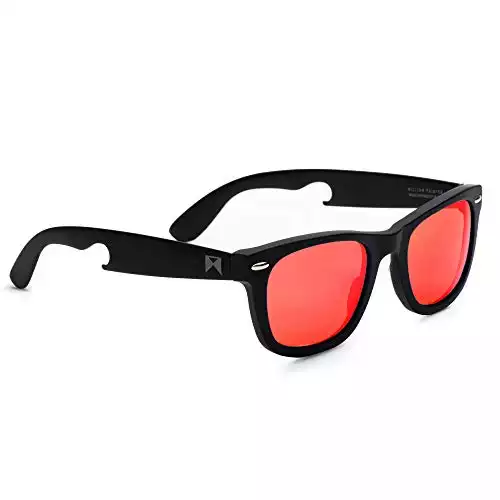 We earn a commission if you make a purchase, at no additional cost to you.
These William Painter sunglasses
are one of the most unique pairs that I have come across!
The Hook in the name refers to a bottle opener! That's right, these sunglasses double up as a bottle opener! If you need to open a bottle on your travels, just whip out your sunglasses and you're good to go!
You're probably thinking about how the hinges are able to withstand the pressure of opening bottles. Well, they are made from aerospace-grade titanium, which gives them excellent durability and strength.
They are tough sunglasses and extremely durable, able to withstand the rough and tumble of travelling life.
They are among the best polarized sunglasses for UV protection, offering 100% protection from those harmful rays.
The gradient lenses reduce the amount of light that penetrates the eye from above.
One downside is that they are expensive. Expect to pay over $150 for a pair. Plus, the bottle opener is in plain view. If you're fashion-conscious, they may not be for you.
However, they are one of the best polarized sunglasses for women, men, and sports lovers!
They will certainly last long enough to warrant you from buying another pair in the long run!
Frequently Asked Questions
Which brand of sunglasses is the best?
This is a very subjective question. There will never be one right or wrong answer. It comes down to personal preference and what type of sunglasses you like to wear.
A lot of us have brand preferences, I know I do. I prefer Oakleys over any other type of sunglasses. If I didn't buy Oakley's, I would probably buy a pair of Ray-Ban sunglasses.
For me, Oakleys are the best brand of sunglasses, but that is just a personal opinion and not a fact.
How do I choose sunglasses to protect my eyes?
Firstly, you want to ensure you choose sunglasses with polarised lenses. They reduce the amount of glare that penetrates the lenses, which means less harmful UV rays will make it through the lenses.
The next factor to consider is how comfortable they sit on your face. If the glasses do not fit properly, they won't be able to protect your eyes properly.
Another factor to consider is what style you should choose. If you're cycling, for example, it's better to buy sunglasses that wrap around your face as opposed to aviators, as they will offer more protection from the elements.
Are polarised lenses worth it?
This is a legitimate question to ask. The price of polarised sunglasses, as opposed to non-polarised, can be substantial. It makes sense to question what you are getting for the extra money you are spending.
If you're going to be out and about, polarised lenses are a worthwhile investment. The reduced glare penetrating the lenses will allow you to see better and stop you from potentially damaging your eyes.
They are a worthwhile investment if you do a lot of driving too. Glare can be common while you're driving and the last thing you want to be is temporarily blinded while you're driving!
Do cheap sunglasses protect your eyes?
Cheap sunglasses will offer some relief from visible sun and reduce your need to squint, but they will not protect your eyes in the same way as polarised sunglasses.
Sunglasses without UVA and UVB protection filter out ambient light, they do not do anything to protect your eyes. The rays will still penetrate the lenses.
In fact, they can cause significant damage to your eyes.
If you buy a pair of dark sunglasses, your pupils will dilate, which means you're allowing more sunlight into your eyes than you would be if you weren't wearing cheap sunglasses.
If you want to protect your eyes while you're in the sun, you have to buy a pair of polarised sunglasses!
The Best polarized sunglasses?
Choosing the best polarized sunglasses is no easy task. All of the above options are excellent choices that will keep you protected and make you look super stylish on your travels!
Personally, I'm a big fan of Ray Ban and Oakley sunglasses. I would be hard-pressed to choose between the two. Either one is an ideal choice of sunglasses for you to take on your travels.
If I had to choose, I would go with Oakley's. I like the fact that the hinges are detachable, and if you drop your sunglasses, you can just reattach the hinges.
While the lack of 100% protection from UV rays is a downside to the Ray Bans!
Pin For Later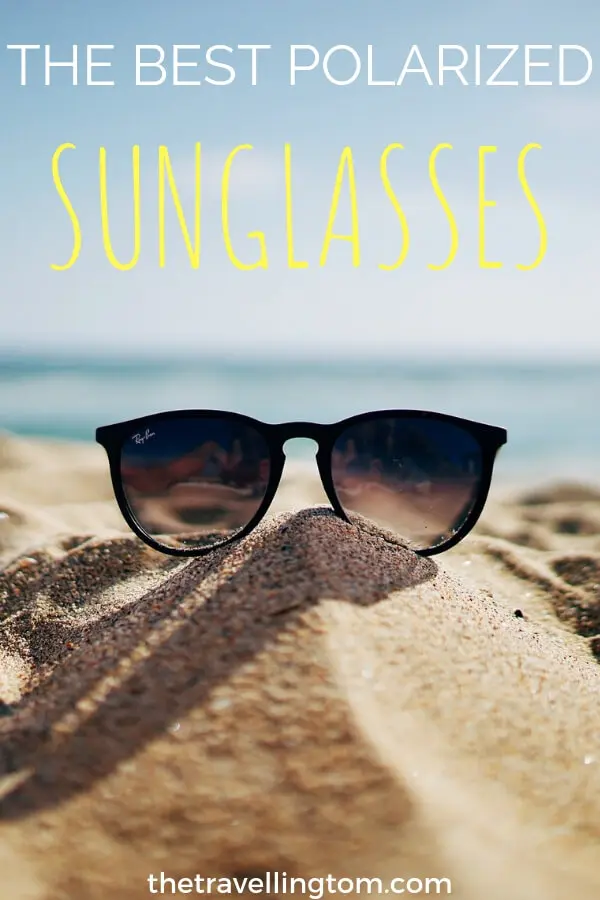 Tom is a travel addict who first left England to spend a year Down Under. Not satisfied with this, he then went to New Zealand, about as far away from home as he could get. He is now planning his next adventures in Europe and Canada while maintaining this blog. Check out the about me page to learn more!