When you go travelling, there is one piece of travel gear you have to take:
A backpack.
You won't get very far without one, so it's imperative you choose one that is both comfortable and practical.
This list of the best travel backpacks will help you narrow down your list of backpacks and find the ideal one for you!
Backpacks come in all shapes and sizes. Plus, there are different ways of opening them from front to top-loading backpacks.
Below are some of the best backpacks for travellers that will stand the test of time, and make your travels that little bit easier!
Disclosure: This article may contain affiliate/compensated links. For full information, please see our full disclosure policy.
Best Travel Backpack 2023
Why a Backpack and Not a Suitcase?
At first glance, it seems obvious why you would take a backpack over a suitcase. After all, it is called backpacking and not suitcasing!
However, there are a lot more practical reasons why it's better to take a backpack rather than a suitcase. To put it simply, it's more convenient.
If you're backpacking around the Philippines, or places such as Nepal, South America and alike, you don't want to be dragging around a big suitcase with you.
One issue with suitcases is that if the wheels fall off, which they do from time to time, you'll have to carry them around.
As they don't have straps like backpacks, it will quickly get tiresome, and you'll be yearning for a backpack you can sling over your shoulders!
A good travelling backpack will last you a lifetime. If you buy a high-quality one, potentially, you will never have to buy another one again. You certainly can't say that about suitcases!
Comparison of The Best Travel Backpacks 2023
Nomatic 40L
We earn a commission if you make a purchase, at no additional cost to you.
The Nomatic 40L Travel Bag is one of the best travel backpacks if you're looking for a lightweight bag that you can take as a carry on.
The bag is versatile and can be used as a backpack or as a duffel bag. It's also TSA-compliant, so you won't have any issues getting through security with it!
This is a useful back to have with you if you're doing a short trip around Europe or the US. It has some interesting compartments, such as one for hoes, that will come in handy.
If you're going on a long trip, such as backpacking New Zealand, it's better combined with one of the bigger bags below.
The Nomatic 40L is more suited to short trips, rather than long ones. A week-long trip around Europe is the ideal scenario in which to just use this backpack rather than pair it up with another.
Deuter Aircontact 65+10
We earn a commission if you make a purchase, at no additional cost to you.
The Deuter Aircontact is an ideal backpack if you need to take more items than usual on your backpacking trip.
While I wouldn't normally recommend taking a backpack larger than 40 litres, if you're going to be hiking or camping on your trip, then it will come in handy.
The Deuter Aircontact is an ideal backpack for adventurous travellers.
The bag is top-loading, but it also has a zip at the front allowing you to get to your clothes easily without rummaging through the whole backpack!
The backpack has an adjustable aluminium X frame, which helps you to distribute the load towards your hips and save your back and shoulders from unnecessary pain!
There are compression straps on the side and a useful compartment inside for your valuables. There is even a separate compartment for your wet laundry, so you can keep your stinky clothes away from your fresh ones!
This backpack is larger than the average one, but if you're going to be on long, and big adventures, it's the ideal travel backpack to take with you!
Kelty Redwing 44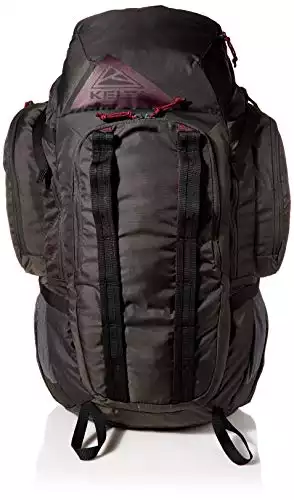 We earn a commission if you make a purchase, at no additional cost to you.
The Kelty Redwing is an ideal backpack for women if you want a bag that is smaller than the average and costs less too. At around $100 it offers great value for money!
The best thing about this backpack is that it's big enough to store a lot of items, yet small enough to be taken as a carry-on on most flights.
This will save you a lot of money, as you won't have to check any bags on your flights!
There are a lot of different compartments to the big, which makes it extremely versatile.
You can use the bag as a top loader, but there is a zip on the front which gives you access to the main compartment.
Some other useful features are a water bottle holder, and the bag can be used with a hydration pack too.
Plus, there is a sleeve in the bag, which allows you to store your laptop safely without fear it will get damaged during your travels!
40 litres is probably the ideal size for a travel backpack, and if you want to travel lightly, the Kelty Redwing is one of the best backpacks around for this! The bag is compact and portable making it an ideal choice!
Osprey Aura 50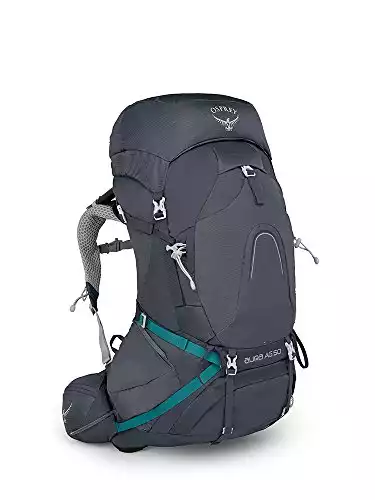 We earn a commission if you make a purchase, at no additional cost to you.
The Osprey Aura 50 is without a doubt, one of the best travel backpacks for women!
This backpack has been specifically designed for women and is a great choice if you're looking to backpack for a lengthy period.
The backpack has shoulder, hip and chest compression straps, which help to reduce the strain of the weight from the backpack.
Another cool feature is the anti-gravity suspension system, which makes the weight of the backpack less noticeable while carrying the backpack!
Osprey backpacks are generally built to last, and the aura is no different! Its full internal and peripheral frame is sturdy and will stand the test of time.
While the nylon material is able to withstand what nature throws at it!
If you're a woman looking for a good travel backpack, you can't do much worse than buying the Osprey Aura!
Osprey Farpoint 40
We earn a commission if you make a purchase, at no additional cost to you.
The Osprey Farpoint 40 is without a doubt one of the best travel backpacks you can buy!
One of this backpack's best features is its front-loading instead of top-loading.
This means that instead of having an open compartment at the top, it's at the front instead.
This makes it much easier when you're trying to find what you want from your backpack!
Perhaps the main downside to this bag is that the main compartment doesn't have side pockets allowing you to divide your belongings.
A useful way to get around this problem is to purchase some packing cubes and use them in conjunction with the backpack!
The Osprey Farpoint is a great option if you're looking to travel light and buy a travel backpack for a cheap price!
Osprey Farpoint 55
We earn a commission if you make a purchase, at no additional cost to you.
The Osprey Farpoint 55 is a good option if you want a travel backpack that isn't too cumbersome.
While it may be advertised as a 55 Litre backpack, it's actually two separate backpacks. The main one is 40 L and a smaller day pack of 15 L.
This is quite handy, if, like me, you tend to travel with a main backpack and a smaller one.
The backpack comes in two sizes, with a small/medium and medium/large options available.
If you're going to be taking a bit more with you, it may be worth getting the bigger size. Otherwise, the smaller size should do fine!
The suspension system on the backpack is very sturdy and stable, which takes the weight off your back. Plus, the shoulder straps have excellent and can be adjusted easily.
A major plus of the Osprey Farpoint 55 is that it has a suitcase opening, instead of being top-loading. This makes it easier to access your clothes without digging through the bag trying to find them!
This is one of the best travel backpacks if you plan on travelling light, and aren't taking too much with you.
The multiple compartments make it easy to store all your items, which is ideal if you're a minimalist traveller.
Pacsafe Venturesafe EXP35
We earn a commission if you make a purchase, at no additional cost to you.
The Pacsafe Venturesafe EXP35 is a top travel backpack to choose if you're concerned about safety on your travels.
The backpack is designed as an anti-theft backpack and will keep your belongings safe from would-be thieves.
The main compartment is lockable with top and back access features.
A cool feature is the built-in eXomesh slashguards, which are embedded between the bag's inside and outside. This stops bag slashers from getting at your bag.
Another useful feature is the Smart Zipper Security, which makes the bag's outer zippers tamperproof.
This prevents would-be pickpockets from opening the zips and getting at your belongings. Inside, the bag has space for travel laptops and lots of compartments to help store your items.
The shoulder straps are comfortable, and the hip belts are padded to help your body support the weight of the back better.
If you're looking for a backpack that is comfortable and safe, the Pacsafe Venturesafe X40 is the one for you!
Choosing your backpack
There are a lot of things to consider when it comes to choosing a travel backpack.
The backpacks may look very similar, but the devil is in the detail, and while backpacks can look similar there are a lot of differences to consider.
Material
When buying a backpack, the material it's made of doesn't normally factor into the equation, but it definitely should!
Your backpack is going to be exposed to the elements constantly. Be it rain, sun, or the unforgiving ground, your backpack needs to be made of a material that stands up to all of these factors!
Good travel backpacks will be made of lightweight material that is waterproof and tough enough to withstand any unwanted cuts or scrapes.
The last thing you want is to buy a backpack, and for it to develop cuts and holes due to it being made of low-quality material!
Size
The size of a backpack is perhaps the most important aspect to consider. There are a number of varying sizes to choose from, and it can be confusing to know which ones to choose when you're choosing between top travel backpacks.
Generally, the sizes range from 40 to 65 litres. I believe that anything over 55 litres is completely unnecessary unless you are going on some crazy expedition, where you need to take a lot of stuff.
Otherwise, 40 L backpacks will do the job fine. You'll be surprised how much you can fit into a 40 L bag. Plus, if you travel with a bag bigger than this, your back will get a hard time.
The backpack can weigh you down when you have to carry it long distances.
It does come down to a person-by-person decision, some people will need a bigger bag if they are carrying camping gear for example.
But, if you're the average backpacker, the best travel backpacks for you are those that are no bigger than 50 litres.
Straps
The straps may be part of the travel backpack that gets overlooked, but they are one of the most essential parts of the backpack. After all, they are what enable you to carry the bag on your back!
That's why it's vitally important you buy a backpack which has cushioned straps that offer support to your shoulders and hips. You don't want straps that are uncomfortable and dig into you!
One of the secrets of a backpack is that you should use the hip straps to support the weight. You should never a backpack without hip straps. Your shoulders will end up supporting the weight, and they will hate you for it!
Ensure your travel backpack of choice comes with cushioned hip and shoulder straps and your life on the road will be much easier.
Some backpacks also offer chest straps, but these are secondary in importance to the aforementioned two!
Weight
An important trait of top travel backpacks is that they are lightweight. You don't want to buy a bag that is heavy already without anything in it!
The weight will only increase as you add more items, and could become unbearable!
You want a backpack that is easy to pick up and lift above your head. This way you know it's not too heavy, and you won't be increasingly weighed down over time.
It is important to note that you don't want a completely lightweight backpack. There does need to be some weight to it, otherwise, it would be completely flimsy and useless!
It does depend on what you're doing with the backpack too. If you're hiking, you want one that is as light as possible and not too rigid, whereas if you're solely backpacking around a country, then it doesn't matter too much.
There is no ideal weight for a backpack. It's all about weighing up which backpack is ideal for you and what you plan to do on your travels!
Comfort
This goes without saying, but you when buying a backpack, it needs to be comfortable! The backpack will house all your items while you travel, and will be your companion wherever you go. It simply needs to be comfortable.
The last thing you want is to be carrying around an uncomfortable backpack! It will deflate your mood quickly!
The best way to find out if your backpack is a good fit is to test drive it once you've bought it. Put a few items in, and go for a short walk, if it gets uncomfortable quickly, you might need to adjust the straps slightly, or it might not be right for you.
One thing to check is that the straps and pads around your hips are cushioned.
This will make the backpack much more comfortable, and prevent it from digging into your body as you walk around!
Concluding Thoughts
There's no doubt these are among the best travel backpacks money can buy! Each one has its own plus and negative points, but they are all great backpacks.
If I had to choose one, I would go with the Osprey Farpoint 40. It's lightweight, portable and comfortable which is the perfect size for short trips and those on longer trips!
It may be a bit pricey for some, but it's an investment that is well worth making!
Disclaimer: The Travelling Tom is a participant in the Amazon Services LLC Associates Program, an affiliate advertising program designed to provide a means for sites to earn advertising fees by advertising and linking to amazon.com and its partners. Amazon and the Amazon logo are trademarks of Amazon.com, Inc. or its affiliates. As an Amazon Associate, I earn from qualifying purchases.
Pin For Later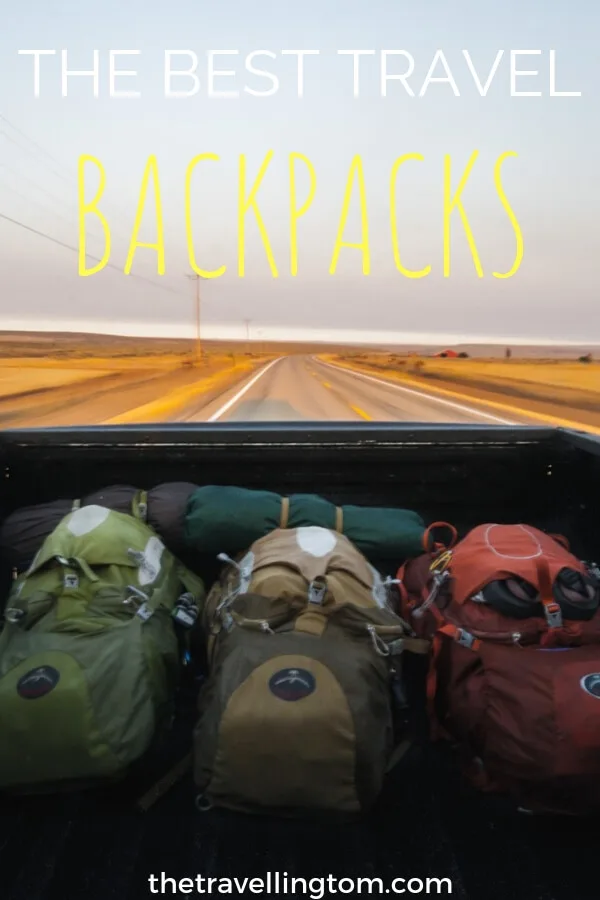 Tom is a travel addict who first left England to spend a year Down Under. Not satisfied with this, he then went to New Zealand, about as far away from home as he could get. He is now planning his next adventures in Europe and Canada while maintaining this blog. Check out the about me page to learn more!