I've put together this list of the best places to visit in Belgium to help you understand where you should go if you're planning on visiting the country.
Belgium has an unfair reputation for being a bland and boring country. From my own experiences, this is far from the truth. There are plenty of interesting places in Belgium you should go out of your way to visit.
Cities such as Bruges, Brussels and Ghent, to name a few, are beautiful and among some of the nicest places in Europe.
While lesser-known places to see in Belgium, like the stunning town of Dinant, the quirky high point of Signal de Botrange and the brewery city of Leuven are worth checking out too.
Keep scrolling to discover where to go in Belgium, the land of delicious chocolate and extra-strong beer!
Best Places To Visit in Belgium
Bruges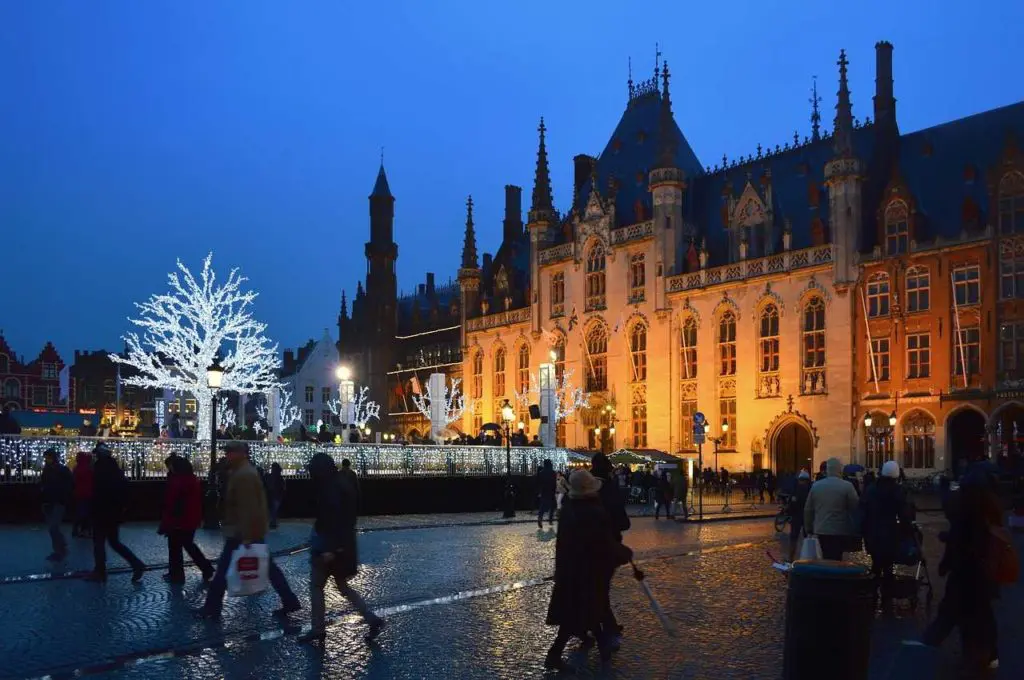 Bruges is arguably the nicest of the numerous cities in Belgium and one place you have to visit while you're in the country.
I first realised how nice Bruges was when I was watching the film, In Bruges. I remember one of the characters saying it was like a 'fairytale city' and was intrigued to visit it after that.
When I got the chance to spend 2 days in Bruges, I discovered the character was right. Bruges is a beautiful city, and it does feel like an otherworldly place from a fictional story. The towering belfry and canals add to its lustre.
Plus, the way the city looks at night, also adds to this feel. Bruges at night is when it's at its best. Strolling around the city at night is a joy to behold and allows you to marvel at the beauty of Bruges under the lights!
Brussels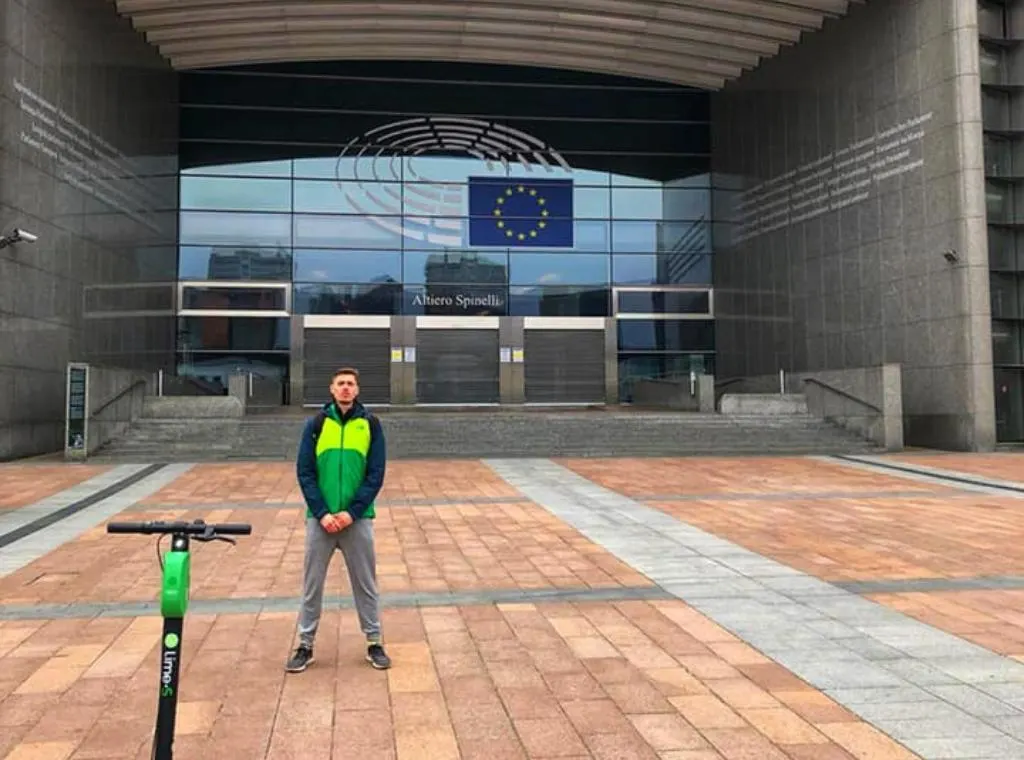 The first thing that comes to a lot of people's minds when they think of Brussels is the European Union (EU).
Brussels is home to numerous EU institutions, but as interesting as they are, there's more to the city than that. I was surprised to discover that Brussels is a lively and interesting city, which is in stark comparison to how the British press portrays it.
Le Grand-Place is a beautiful square that contains one of the funniest statues I've ever seen, a little pissing! While you can visit several interesting museums and marvel at the Atomium, Belgium's most recognisable structure.
3 days in Brussels is how long I suggest staying there to see everything and get acquainted with the city. Don't let the naysayers put you off, there's a lot going on in Brussels and you'll have a splendid time!
Ghent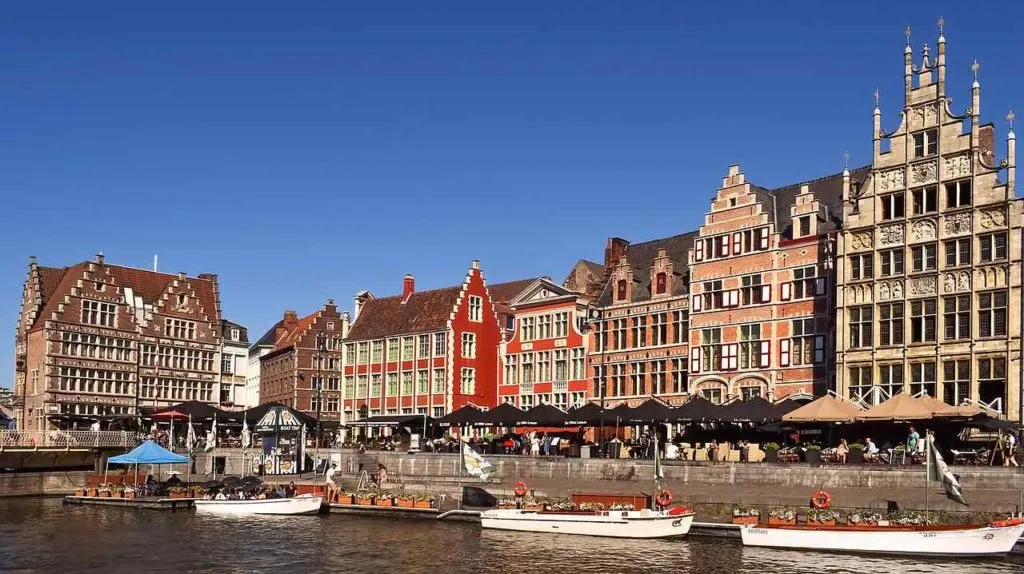 Ghent is another stunning city in Belgium and one that goes under the radar more so than Bruges.
It's similar to Bruges in a lot of ways, with the architecture being one such comparison but it does have its own character and vibe with a lot of street art to be seen in the city.
One of the main attractions is the 12th-century Gravensteen Castle, which is as imposing as it is beautiful. Saint Bevo's Cathedral is another fascinating place to check out and does look similar to the belfry in Bruges.
Ghent is one of the longer day trips from Amsterdam you can do, but if you're looking to visit it on a day trip or a longer one, you should. You won't be disappointed by what you find!
Antwerp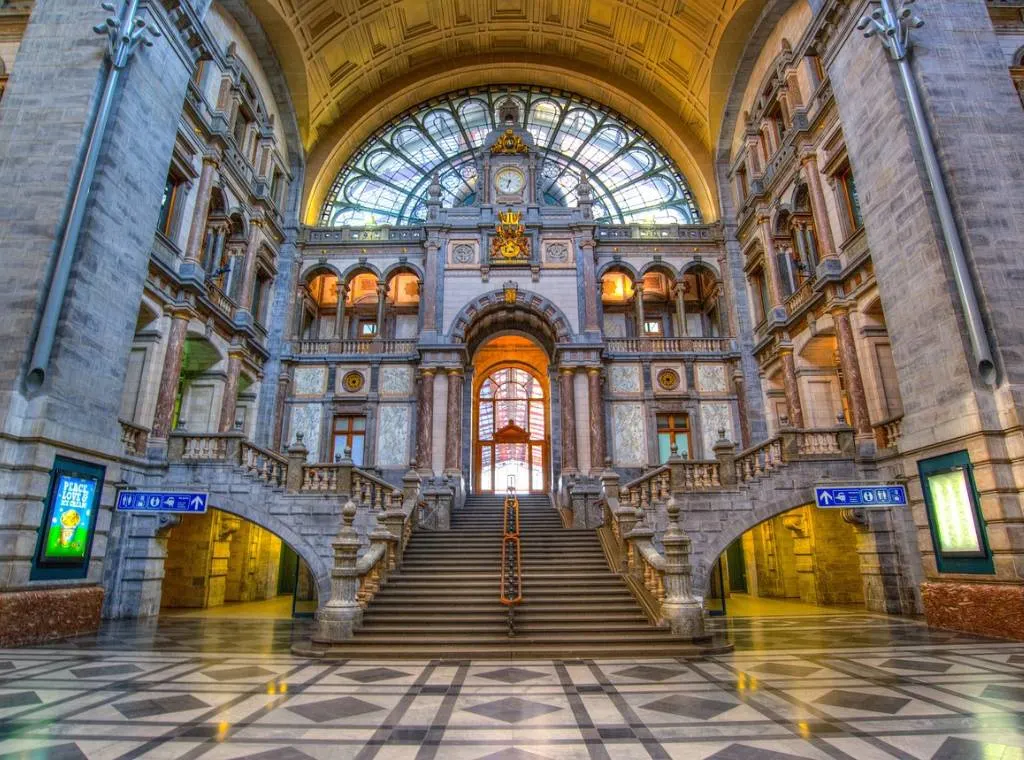 Antwerp is one of the most fascinating places to visit in Belgium from many different perspectives.
Historically, the city was an important trading hub with the Diamond District housing thousands of former diamond traders. There aren't so many today, but the splendour of the Grote Market and Central Square are testimony to the money that flowed through the city at the time.
The architecture in Antwerp is something to behold, with the central train station possibly being the most impressive building in the city! If you visit by train, take your time to look around the interior and exterior of the station, you'll be amazed.
Antwerp is also home to a famous zoo. It's a good place to visit if you're with children, as they will love seeing all the different animals.
Leuven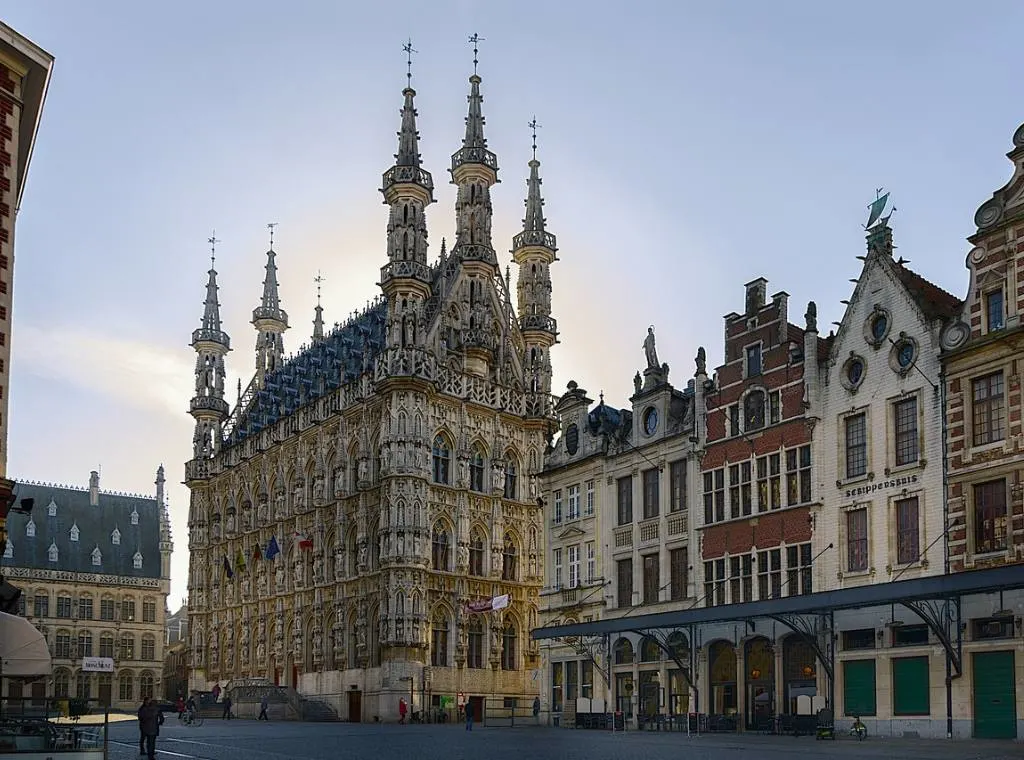 Leuven is another of the lesser-known cities in Belgium, but if you're familiar with Belgian beer then you might have heard of it.
That's because Leuven is home to numerous breweries. Many of the famous Belgian beer brands such as Stella Artois and Brouwerij De Coureur are from Leuven. If you're a beer lover, then a visit to one of the breweries is a must.
One of the most impressive landmarks in the city is the central square which is home to the 15th-century Town Hall, which is one of the most intricate buildings I've seen, with numerous statues of local figures all over the building.
Leuven isn't far from Brussels, so it's a good place to visit for a day or check out after you've visited the capital.
Signal de Botrange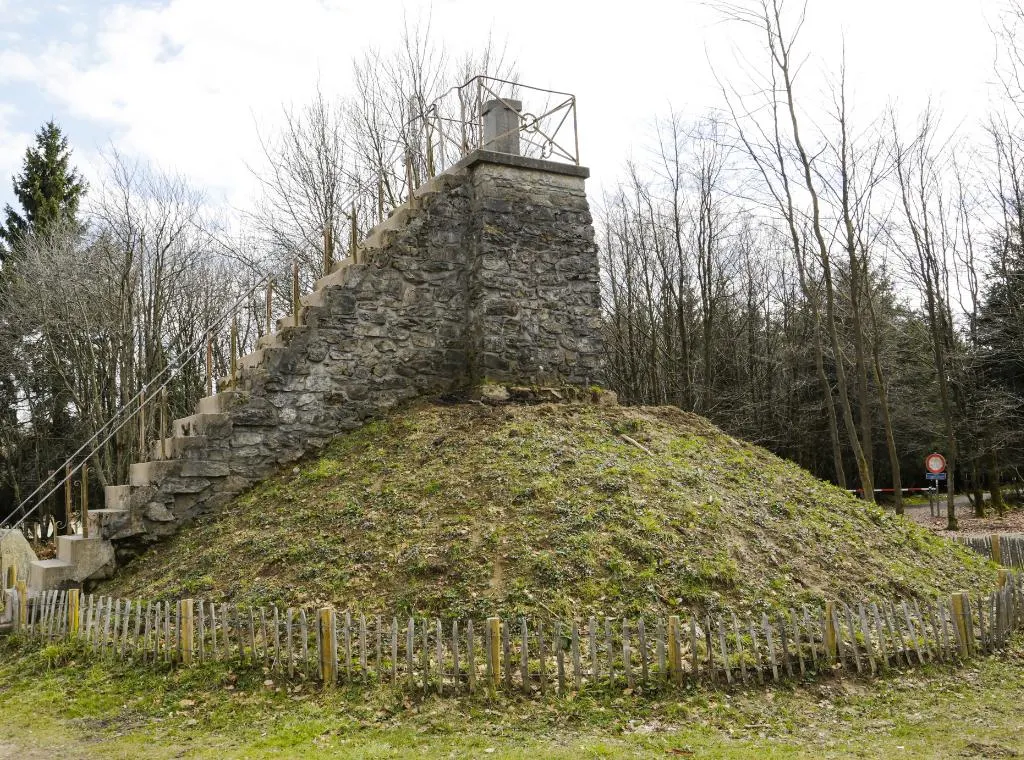 You might not have heard of Signal de Botrange before, but it's an interesting place you should visit for one particular reason.
Let me explain:
Signal de Botrange is the highest point in Belgium. It's 694 metres (2,277 feet) above sea level and is located in the Ardennes not far from the border with Germany.
There is a tower there which allows you to climb up and see a bit more of the surrounding area. It's a quirky place to visit and worth it if you're looking to get out of the cities for a while.
Liège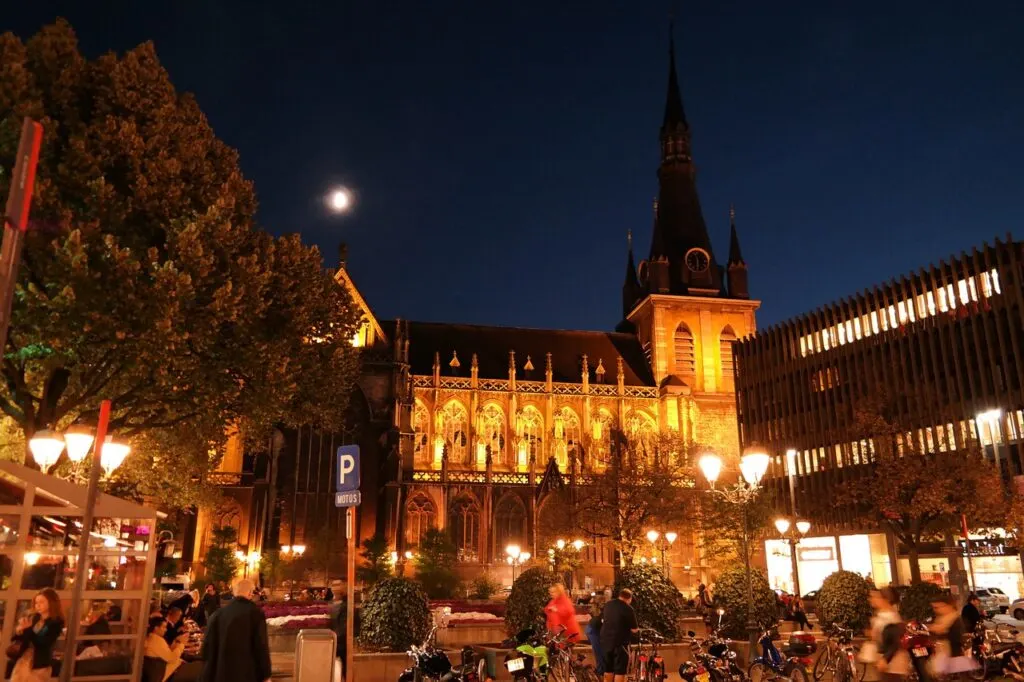 Liège is an interesting city in the east of Belgium, that's commonly known as an industrial city.
Again, it's another city that has a reputation for being a bit boring. While I didn't think it was the most exciting place in Belgium when I visited, I still had a good time and there are good reasons to visit.
Montagne de Bueren is one of them. It's a 374-step staircase that provides you with some incredible views of the city. It's a steep climb to the top but worth it for the view.
You can also visit numerous museums in Liège such as the Museum of Walloon Life and take a walk along the river and soak up the scenery of the city.
Dinant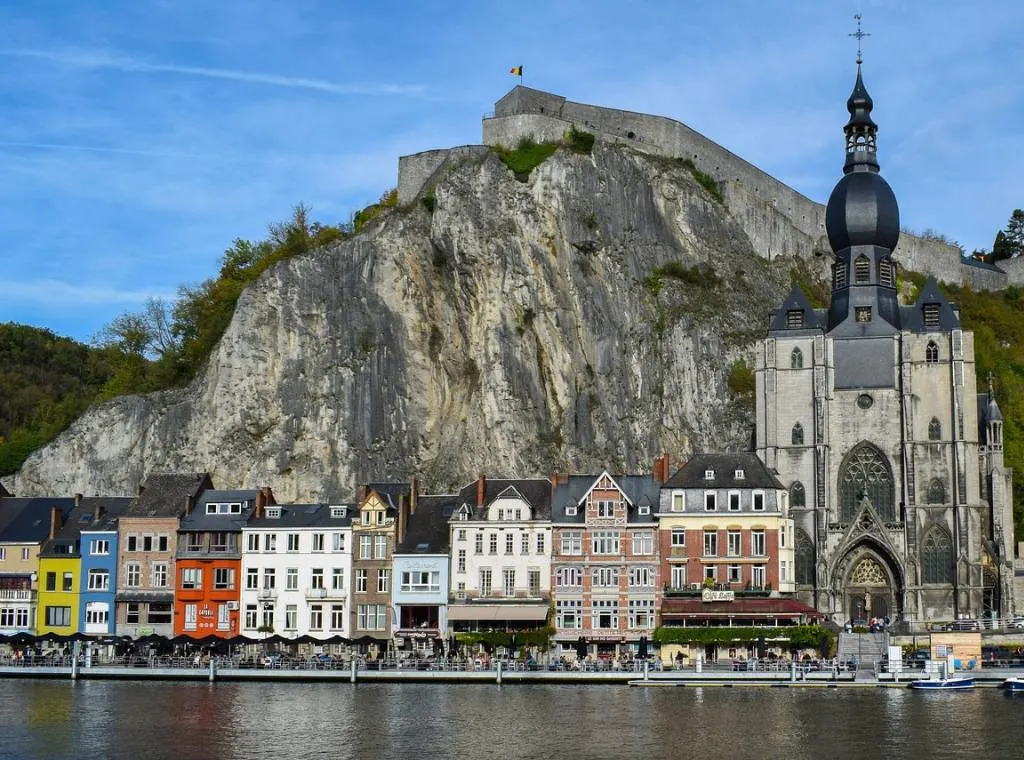 Dinant is one of the most beautiful places in Belgium. It's a city in the Walloon Region, that's on the banks of the Meuse River and has steep cliffs behind it.
That somewhere like this is actually in Belgium might come as a shock. It feels more appropriate for the south of France, but it's here in the southeast of the country.
What was a citadel, and is now a museum, sits atop the cliffs that overlook the city. It goes without saying that this place is a must-visit when you're in Dinant.
You can also visit Park Fufooz, which is a nature reserve close to the city and Grotte de Dinant La Merveilleuse, which is a cave with many impressive geographical features.
Ypres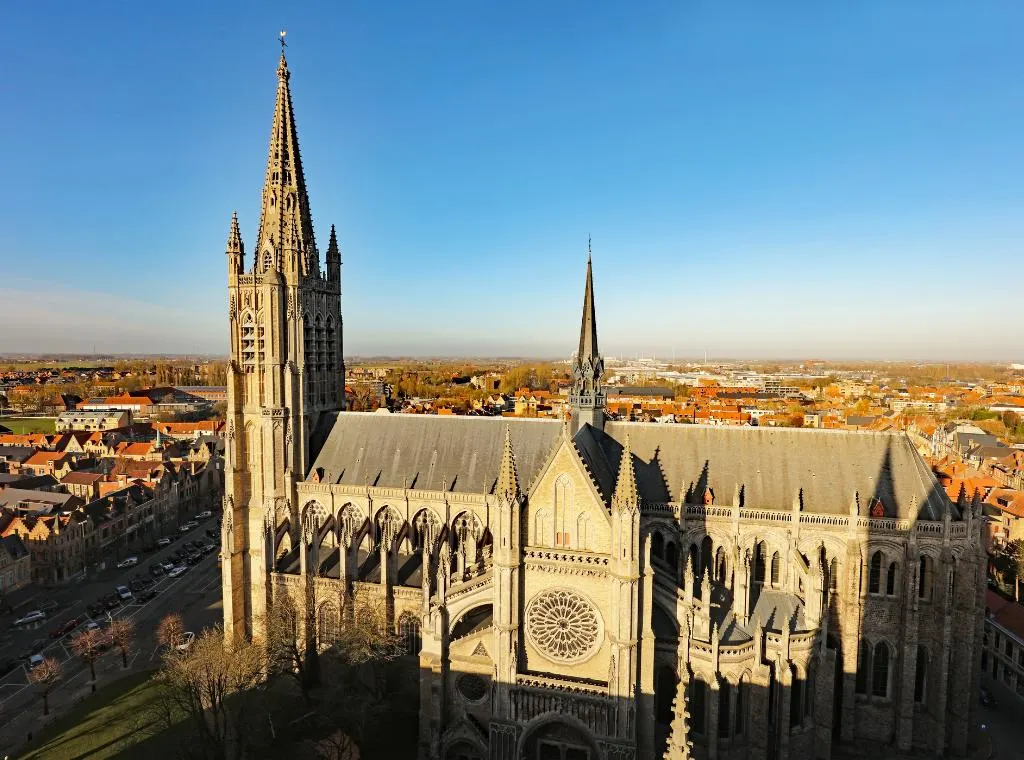 Ypres is famous as the town that was near many of the World War I in Flanders. If you're a history buff, then this is one place in Belgium you have to visit.
It's hard to imagine now but the town was reduced to ruins at the end of the First World War, with one million people estimated to have been killed during the five Battles of Ypres. It was rebuilt in a similar fashion to how it once looked.
Numerous cemeteries, memorials and war museums can be found in the town and the surrounding area, as well as the battlefields themselves, which you should visit to get an understanding of the scale of the battles that took place here.
Ypres may have had a dark past, but it's an important place to visit so we can understand why such destruction was wrought there and ensure it never happens again.
Ostend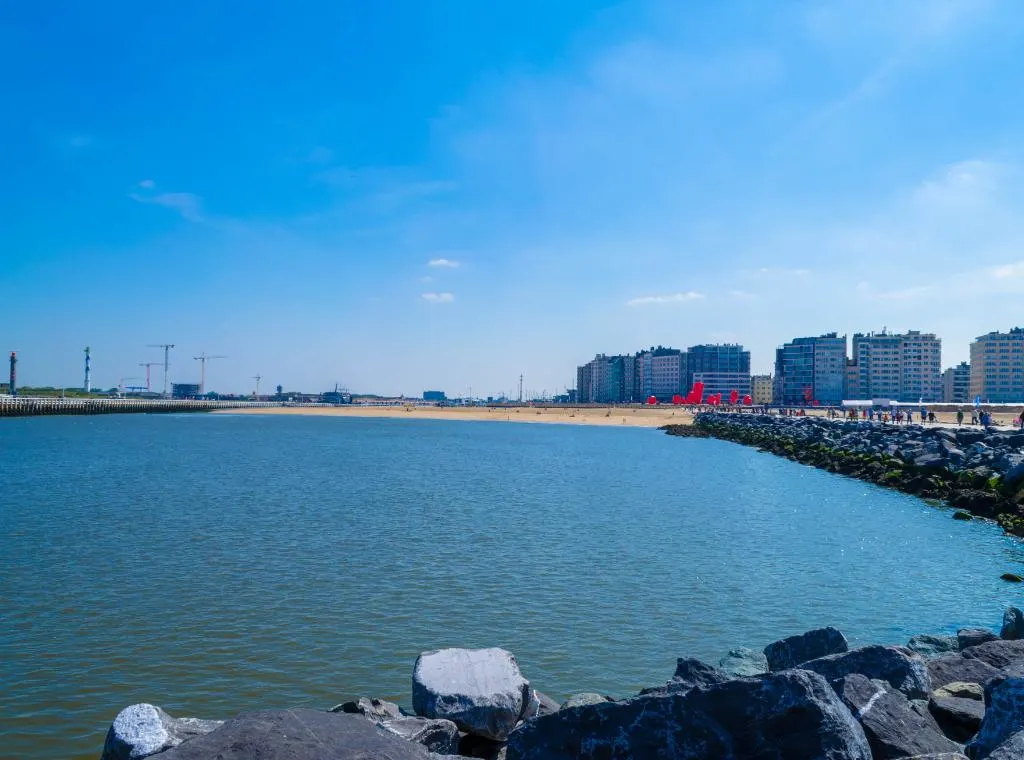 Want to head to the beach while you're in Belgium, then a trip to Ostend is a must.
It's a city on the northern Belgian coast not far from Bruges, that's the perfect place to visit in summer if there's good weather.
The beach at Ostend is huge and you won't have much trouble finding a spot on a warm day. Even if the weather isn't great, it's nice to stroll down the promenade and enjoy the views.
Ostend is more of a summer destination, so I'd avoid visiting during winter unless the cold doesn't bother you!
Mons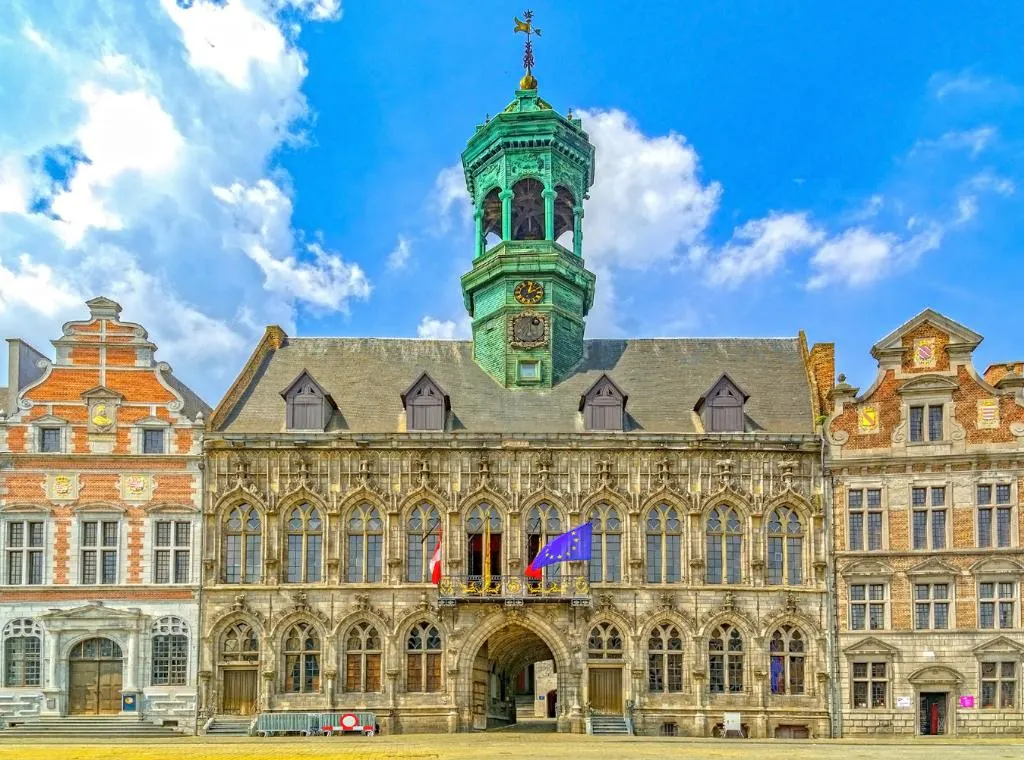 Mons is one of the lesser-known places to go in Belgium and a city that has a surprising amount to offer.
The Grand Place is the cobbled central square in the city, which is full of cafes and the impressive Town Hall. Spending an hour or so relaxing in a cafe and enjoying the buildings is a must.
The Beffroi, a Baroque bell tower is another place you should check out. It's an imposing sight and is regarded as the symbol of the city.
Another beautiful building is the Sainte Waidru Collegiate Church, which you should check out. The Mons Memorial Museum is also worth visiting and tells the history of the city's relationship with war from the Ancien Regime to the Second World War.
Frequently Asked Questions
What is the most beautiful part of Belgium?
Bruges is probably the most beautiful part of Belgium. I say probably because it's subjective, but the city is stunning and amazing during the day but even more beautiful at night. It's like a fairytale town and has to be visited while you're in Belgium.
What is the best city to visit in Belgium?
Brussels is the most interesting city in Belgium. This is because there's just so much going on there that makes it so. Home to the European Union, stunning parks, great museums and quirky statues. Ghent, Bruges and Liège are great too, but Brussels beats the lot.
Should I visit Belgium in 3 or 4 days?
3 to 4 days is not enough time to visit Belgium. While you can see a few cities in those days, you won't be able to get an appreciation for them or the country. Ideally, you'd need at least a week or two ideally to do the whole country justice.
Looking For More Travel Guides?
3 Days in Amsterdam – Fancy heading over the border to check out the Dutch capital? This guide will tell you everything you need to see and do.
3 Days in Rotterdam – Rotterdam might not be as visited as Amsterdam but it's an interesting city with a lot going on. Check out my itinerary if you feel like visiting.
Belgium Quotes – Learn more about Belgium through this entertaining selection of quotes!
Tom is a travel addict who first left England to spend a year Down Under. Not satisfied with this, he then went to New Zealand, about as far away from home as he could get. He is now planning his next adventures in Europe and Canada while maintaining this blog. Check out the about me page to learn more!