3 days in Marseille is the perfect amount of time to see the biggest city in southern France.
I spent three days here during a trip around Europe and found Marseille to be a fascinating city with a lot to offer despite its somewhat bad reputation.
There are lots of things to do in Marseille such as visiting the Natural History Museum at Palais Longchamp, going to Les Calanques National Park and checking out the Old Port and Fort Saint Jean.
This 3 day Marseille itinerary will tell you everything you need about a trip to this part of France. There's advice on what to do, where to stay, costs and much more!
Keep scrolling to learn what you can do in Marseille in 3 days.
Disclosure: This article may contain affiliate/compensated links. For full information, please see our full disclosure policy.
3 Days in Marseille Itinerary
Quick 3 Days in Marseille Itinerary
Day 1 – Walking Tour, Basilique Notre-Dame de la Garde, Palais Longchamp
Day 2 – Old Port of Marseille, Museum of Civilizations of Europe and Mediterranean, Calanques
Day 3 – Marseille History Museum, Marseille Cathedral, Arles

Top Tip – Skip the lines and get free public transportation with the Marseille City Pass
Check out some of the best places to eat in Marseille with this food tour
Book a cheap shuttle bus to/from Marseille Airport to/from Marseille City Centre
My Experience in Marseille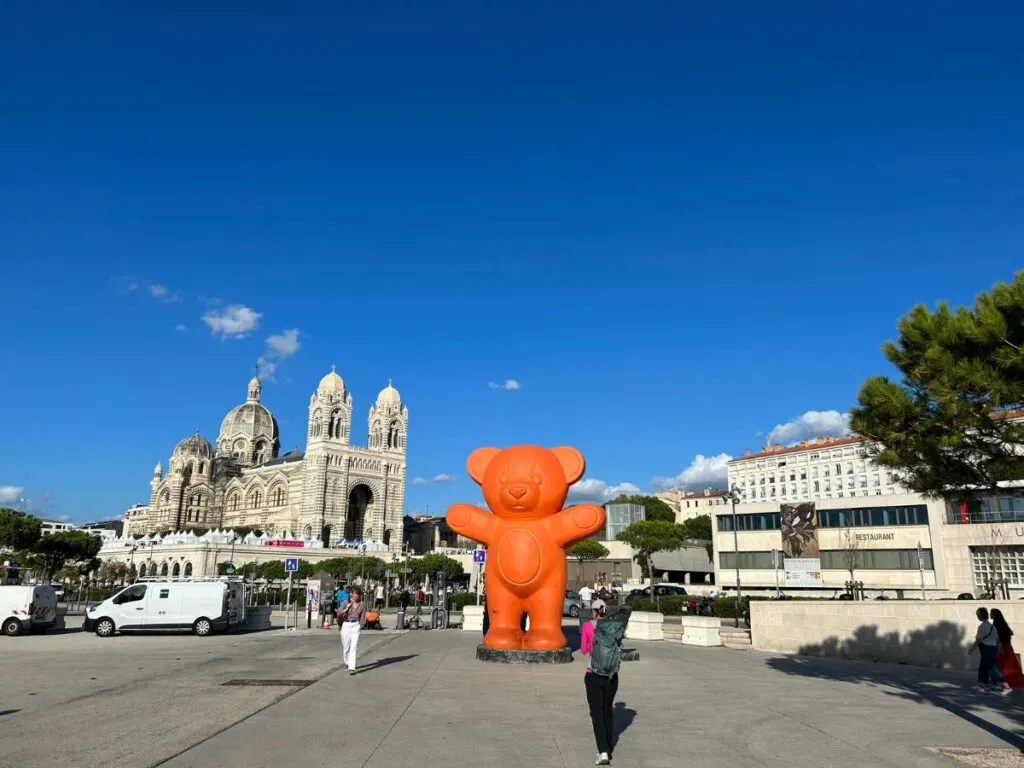 I headed to Marseille after spending 3 days in Madrid via Barcelona and Perpignan. I'd never visited before and was intrigued to see what Marseille was like.
I've heard a lot about the city, with most of it negative. Mainly that it's unsafe, dangerous and not the best place for tourists.
When I was walking to my hostel and then around afterwards, I could see why this was the case. There's a lot of rubbish on some streets and people hanging on the streets.
It does give the impression of being unsafe and a bit dangerous. From my own experience, I didn't see anything that made me feel unsafe, or experience any hostility.
If you're a solo female traveller, it will likely feel more intimidating as there are a lot of men hanging around on the streets.
Marseille's reputation is somewhat unwarranted. The centre is nowhere near unsafe. It's only if you venture to the neighborhoods surrounding Marseille in the northern districts that it becomes unsafe, which I don't advise you to do.
But the city itself is nice, especially in the old port area. This is a nice area, with great scenery and lots of interesting buildings.
I spent a good part of my time in this part of the city, exploring the various buildings and museums. The old town of Le Panier is nice too with beautiful narrow streets and street art. There are also plenty of places to explore around Marseille, such as Calanques and Arles.
You can also get the train and spend 3 days in Nice if you're on a long trip or just a day trip if you don't have much time.
Marseille isn't the best city I've ever visited, but it's an interesting one nonetheless. The streets can be dirty and appear menacing but you should have no issues as long as you stick to the centre.
Here are a few things I liked about Marseille and a few things I didn't:
Good
The Vieux Port area is lovely and one of the nicest places in France I've visited. There's a lot to do here, such as visiting the fortress, which houses a museum and offers a great view of the city and the Mediterranean Sea.
Marseille is a good place to base yourself in the south of France to see the wider region. Nice isn't too far away, which is another good spot to use as a base. Places like Arles, Cassis and Aix-en Provence aren't too far away and are worth a visit if you're here for more than 3 days.
Bad
Marseille is a grimy and dirty city in places. I saw a lot of rubbish on the street, people urinating in broad daylight and a lot of people loitering around outside shops. It didn't bother me too much because I've seen worse, but it might be off-putting for some.
While I didn't feel unsafe in Marseille, I can see why it has the reputation it does. One girl in the hostel I stayed in, said she witnessed one guy threaten another with a knife in the northern part of the city! You should be fine if you stick to the centre, but be aware the outer districts can be dangerous.
What to do in Marseille in 3 Days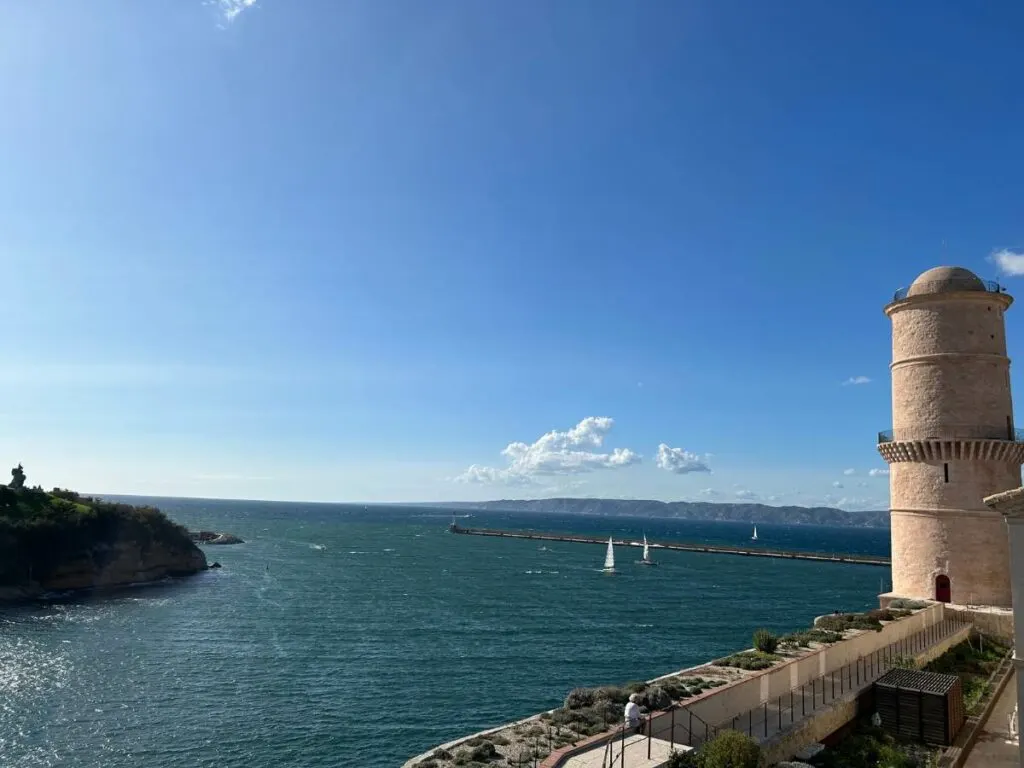 The good thing about visiting Marseille is that there are plenty of things to do. You can spend three days here and not run out of places to see.
This includes day trips to places such as Arles or Aix-en Provence. You're going to have more issues fitting everything in rather than finding things to do.
If you're unsure about what to do in Marseille, or looking for some recommendations, I've listed a few places below. I've also included some tours I recommend you do too.
One thing you should consider doing before you visit Marseille is to get a Marseille City Pass. You get unlimited access to public transport, entry to some museums and discounts in shops and on some tours.
Travelling can be expensive and even if you're only visiting for a few days, it's worth getting for the free public transport alone. This makes getting around the city much easier.
Here are a few places I recommend you check out during your 3 days in Marseille:
Basilique de Notre Dame – This is a church that sits on the highest point of Marseille overlooking the city. You'll get some great views up here while checking out a beautiful church.
Calanques – An island off the coast of Marseille that's easy to reach from the old port. A good idea for a day trip or half a day exploring the island and enjoying the sights.
Palais Longchamp – A palace that's home to two museums and some impressive architecture. It's a beautiful place and there's a park behind it to relax in too!
Museum of Civilizations of Europe and Mediterranean – A fascinating museum that looks at the history of people in Marseille and the Mediterranean region. The museum includes Fort Saint-Jean, which you can walk around to get some great views of the city.
Old Port of Marseille – The best part of the entire city in my opinion, which has a lovely vibe. It's a scenic place with all the boats in the harbour and plenty of cafes and restaurants too, while it's bookended by Fort Saint-Jean on one side and Abbaye Saint-Victor on the other.
Marseille Itinerary – Day 1
Your first day in Marseille starts with a walk around to get acquainted with it, then visiting two of the best spots in the city!
Walking Tour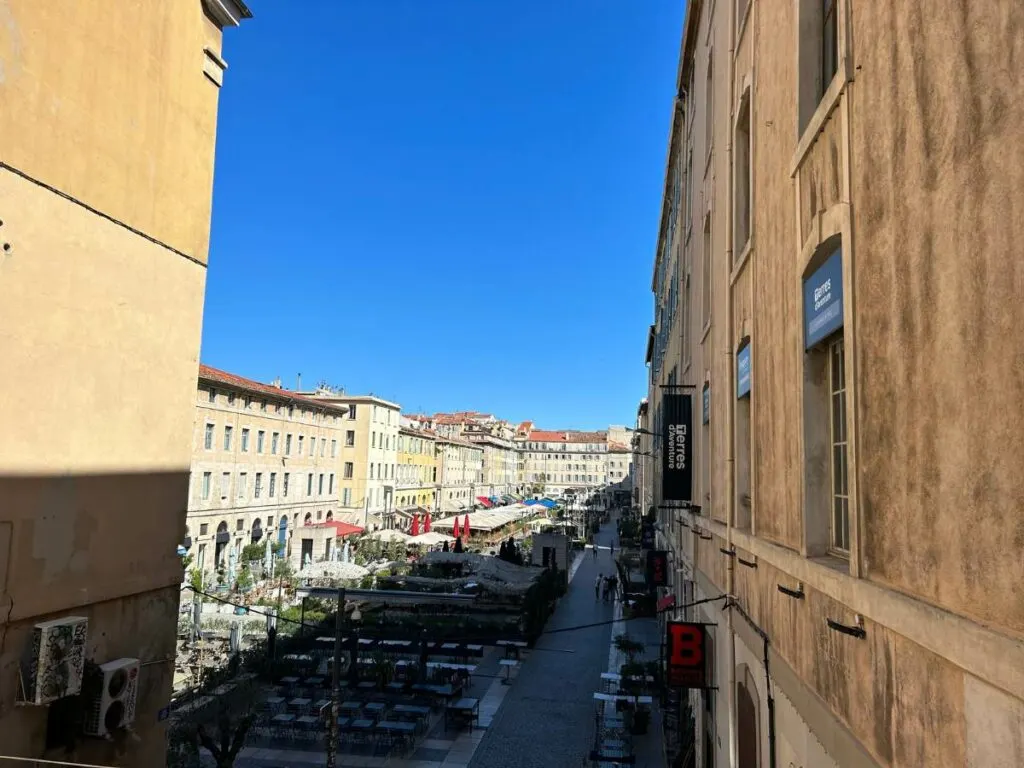 Whenever I first get to a city, the first thing I do is check in to my accommodation, drop off my bags and go for a wander.
I feel this is a good way to see a city and, for me, it's fun to walk and see where I end up. This isn't for everyone and probably not advisable in Marseille if you go in the wrong direction.
Another option is to book a walking tour. This way you'll get to see all the important sights, learn about Marseille's history, and get an idea of where everything is.
There are plenty of places to see in Marseille, so a tour is a good overview before you head off and see the city for yourself.
Basilique Notre-Dame de la Garde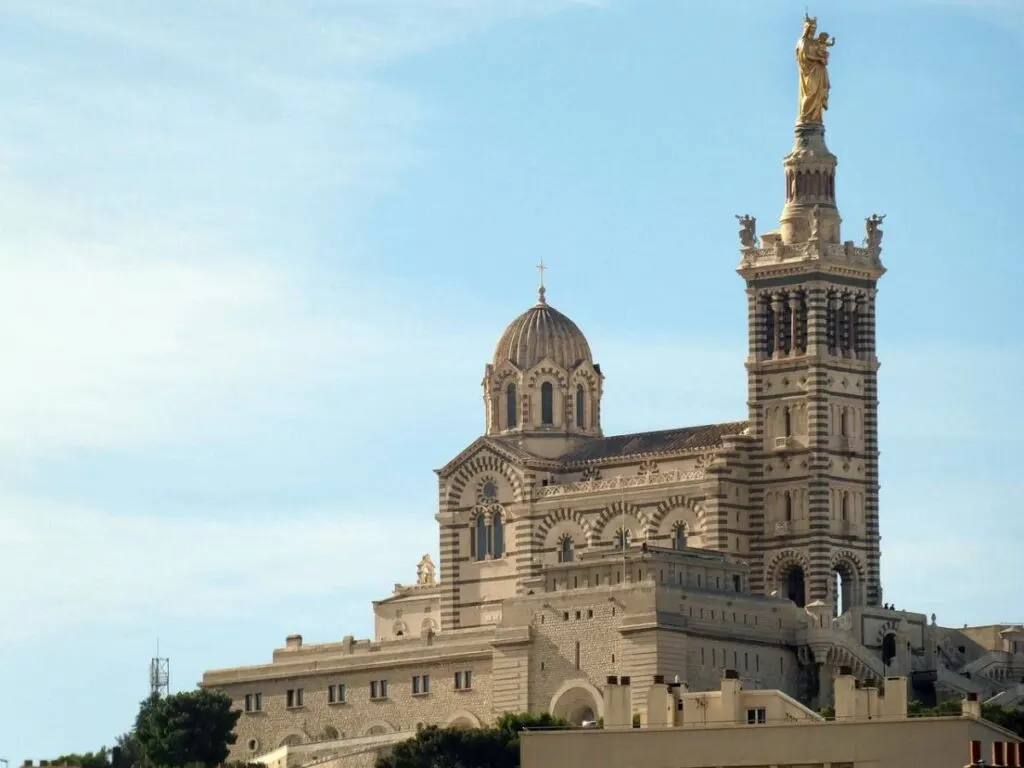 After you've finished your walking tour, I recommend you head to Basilique Notre-Dame de la Garde, where you'll get some of the best views of the city.
It's a huge church that overlooks Marseille and is spectacular. Unfortunately, I wasn't able to visit when I was there, as the Pope was in town and it was closed off.
Notre Dame is the highest point in Marseille, and it's a bit of a slog to get up there. But it will be worth it for the views and to take a look inside the church itself.
This is something I didn't get to do, so if I go back to Marseille it will be one of the first things I do.
Palais Longchamp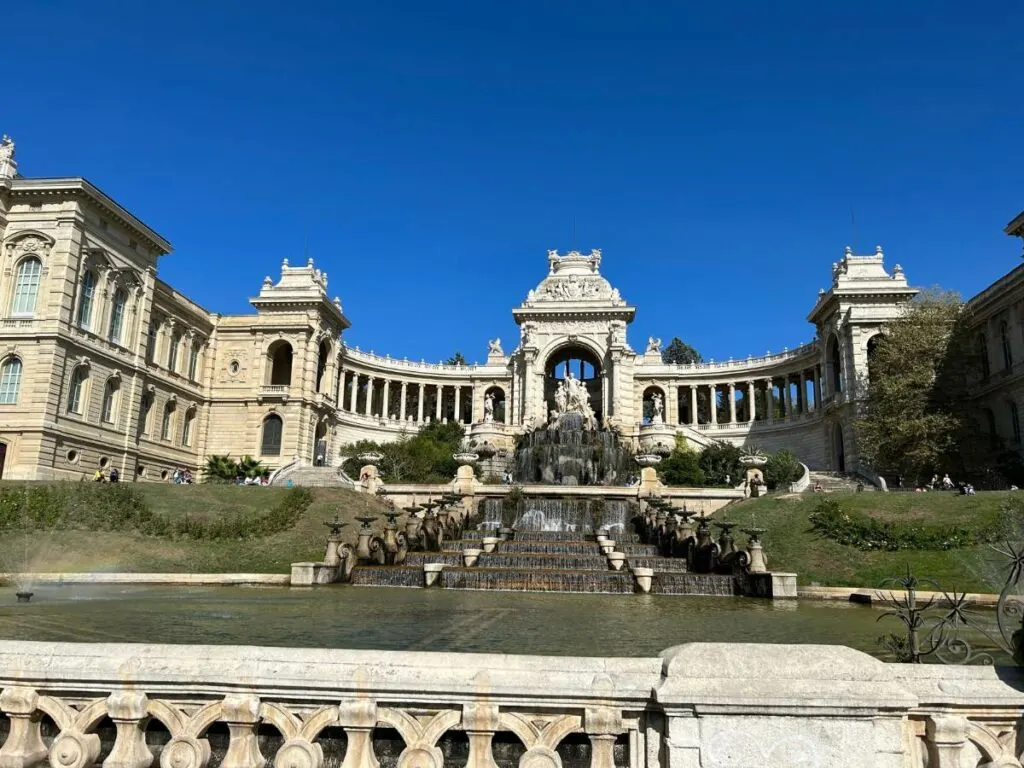 After visiting the Basilique, it's time to go and visit another amazing piece of architecture in Marseille, Palais Longchamp.
Created to celebrate the construction of the Canal of Marseille, the Palais is a beautiful building that will blow you away. I was impressed by it when I saw it for the first time.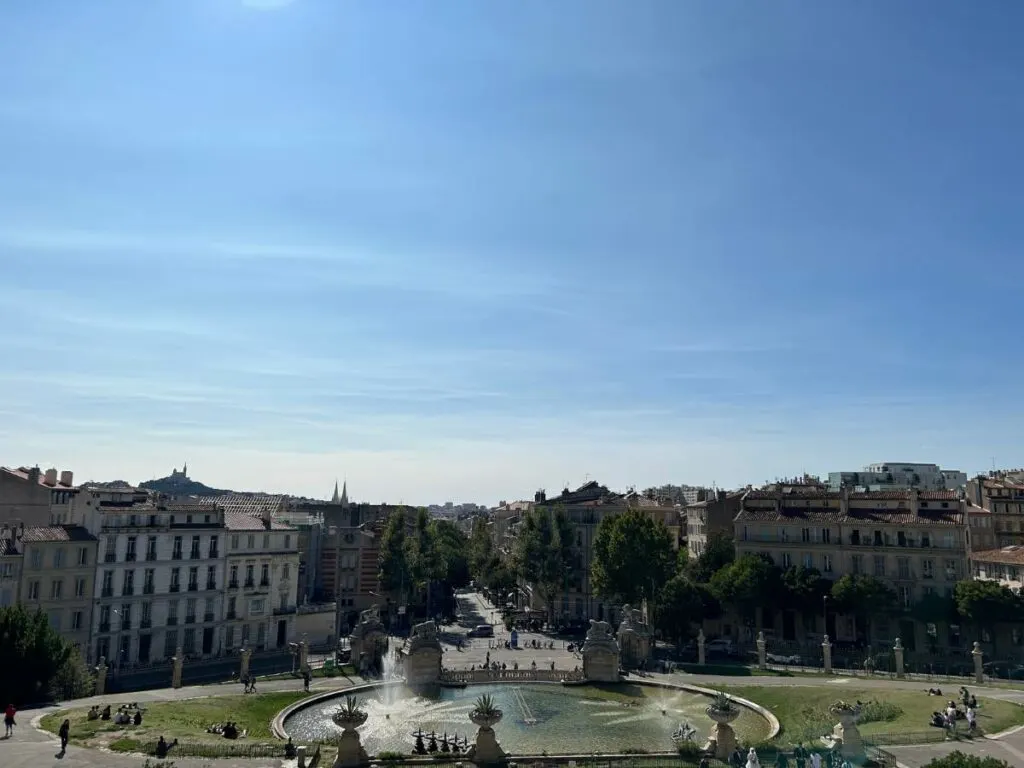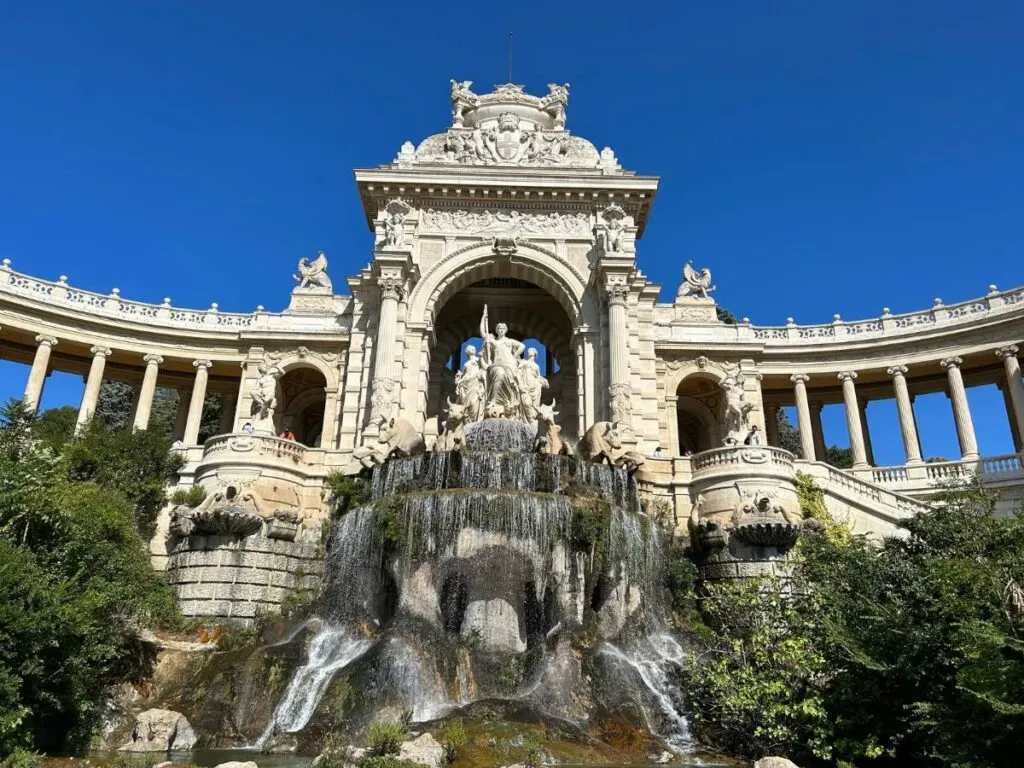 The building is split into three parts with the château d'eau in the middle, the Museum of Fine Arts (Musée des Beaux-Arts) in the east wing, which is a huge art gallery and the Natural History Museum (Museum d'Histoire Naturelle) in the west wing.
I enjoyed walking around the complex, taking in the beautiful architecture and exploring the museums. There's also a park behind the Palais which is a good place to relax for a bit before walking back into the centre.
Marseille Itinerary – Day 2
Spend the second of your 3 days in Marseille in the old port area before jumping on a boat to check out the island of Calanques.
Old Port of Marseille (Vieux Port)
The Old Port was one of my favourite places in Marseille. It feels a lot different from the rest of the city, and is the nicest part of Marseille in my opinion.
The boats in the port give it a vibrant feel and walking around either side of the port brings you along many nice cafes and restaurants.
You'll also find two of the best attractions in Marseille in the port area. One is the Museum of Civilizations of Europe and Mediterranean, which is the next stop and the other is Abbaye Saint-Victor (change).
Unfortunately, the Abbaye was closed when I was there. I'm not sure if this was to do with the Pope being in town, but I wanted to visit so it was a shame I couldn't.
Still, if it's open when you visit, you'll get some brilliant panoramic views of the port as well as explore one of the most interesting places in Marseille.
Museum of Civilizations of Europe and Mediterranean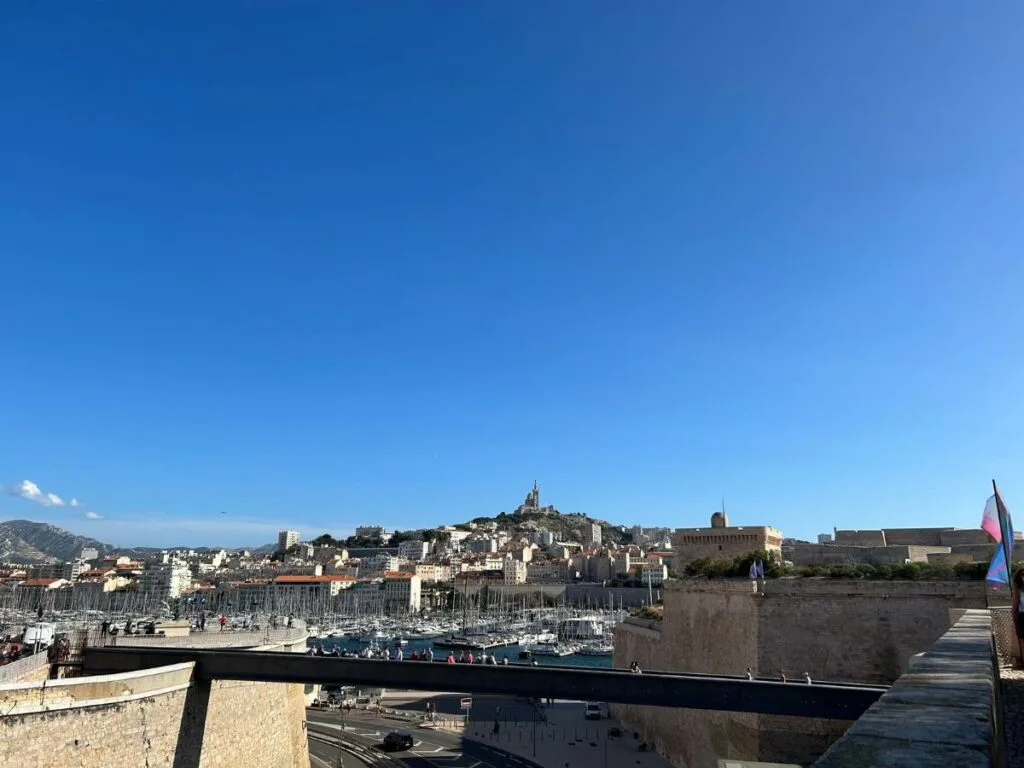 The Museum of Civilizations of Europe and Mediterranean is one of the most interesting places to visit in the city.
The museum is dedicated to the history of the European and Mediterranean civilizations and is a brilliant place to go and learn more about the history of Marseille and Mediterranean culture.
The complex is big and will take you around two hours to explore, as it's connected to Fort Saint-Jean.
One of the things I liked the most was that you could walk around the walls of the old part of the museum to get some great views of the city.
You then walk across a bridge that connects Fort Saint-Jean to the modern building that houses part of the museum, which has some fascinating exhibits.
Calanques National Park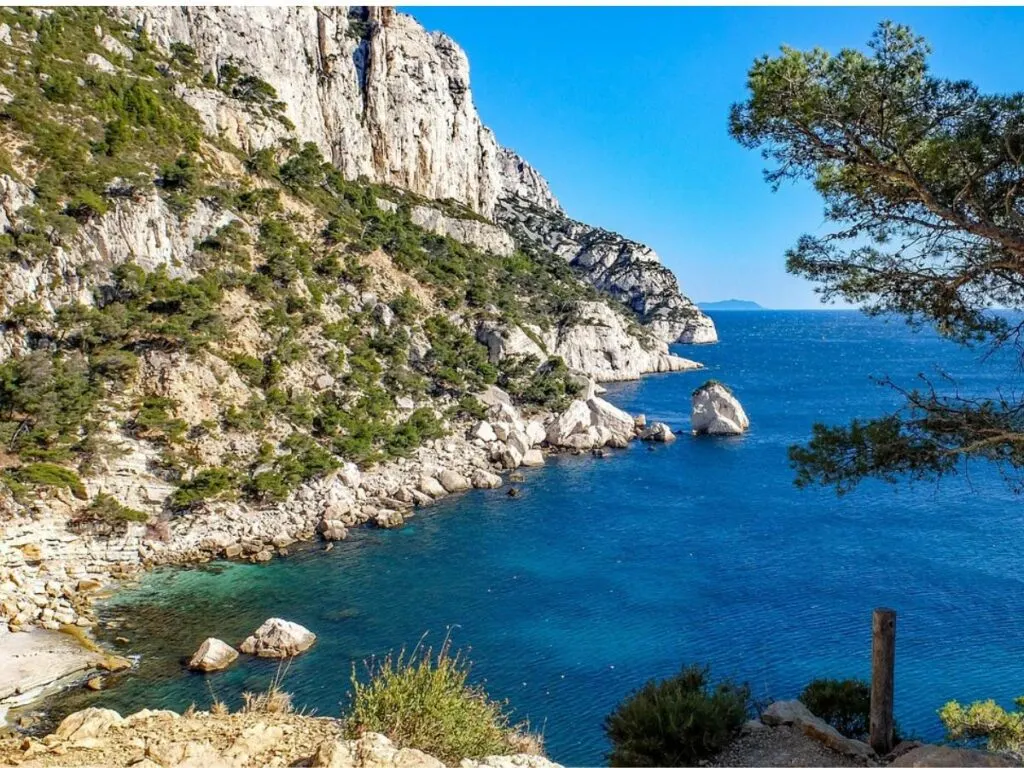 After you've explored the fort and the Museum, my recommendation is to spend the rest of the day in Calanques National Park (Parc National des Calanques).
It's an island not far from Marseille, and it's possible to get there by taking a boat from the port area. Some boats leave every half hour, so you shouldn't miss out even if you go in the afternoon.
Once you get to the island, you'll find plenty of things to do such as kayaking, swimming in the Mediterranean Sea or going on a beautiful walk on one of the numerous hiking trails and discovering the island.
Another option is to book a tour which will take you there and show you around the island. If you're short on time, this is a good idea and a great way to see Calanques.
Marseille Itinerary – Day 3
Your final day in Marseille sees you check out a museum and a beautiful cathedral in the morning before spending the afternoon in the nearby city of Arles.
Marseille History Museum
If you want to learn about the history of Marseille, the history museum is the place to go.
As the oldest city in France, there is a lot of history to be detailed with 26 centuries of it crammed into one museum.
There are over 4,000 exhibits on display that take you through the various periods to the present day. If you're a history geek like me, you'll enjoy the museum.
I enjoyed walking around and learning more about Marseille, especially as I didn't know much beforehand. So, this museum helped me to understand more about the city and its fascinating past.
Marseille Cathedral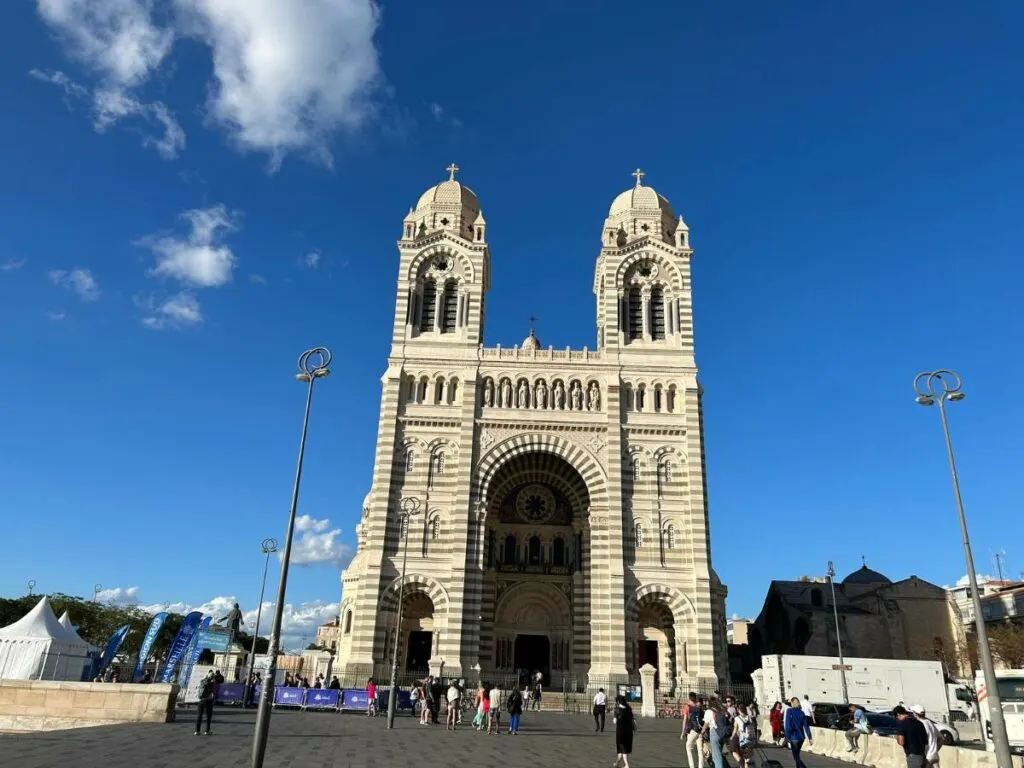 After the history museum, it's time to walk to Marseille Cathedral which is near the Vieux Port area and one of the most impressive buildings in the city.
The cathedral is much different today to when it was first built in the 12th century. Back then, it was a simple Romanesque cathedral, whereas now it's much more elaborate.
The white and red outline on the exterior gives it the feel of a Moorish mosque, similar to the one in Cordoba.
It feels similar inside, where you can see the stunning architecture that contains the same faux-Moorish style along with a traditional cathedral layout.
Arles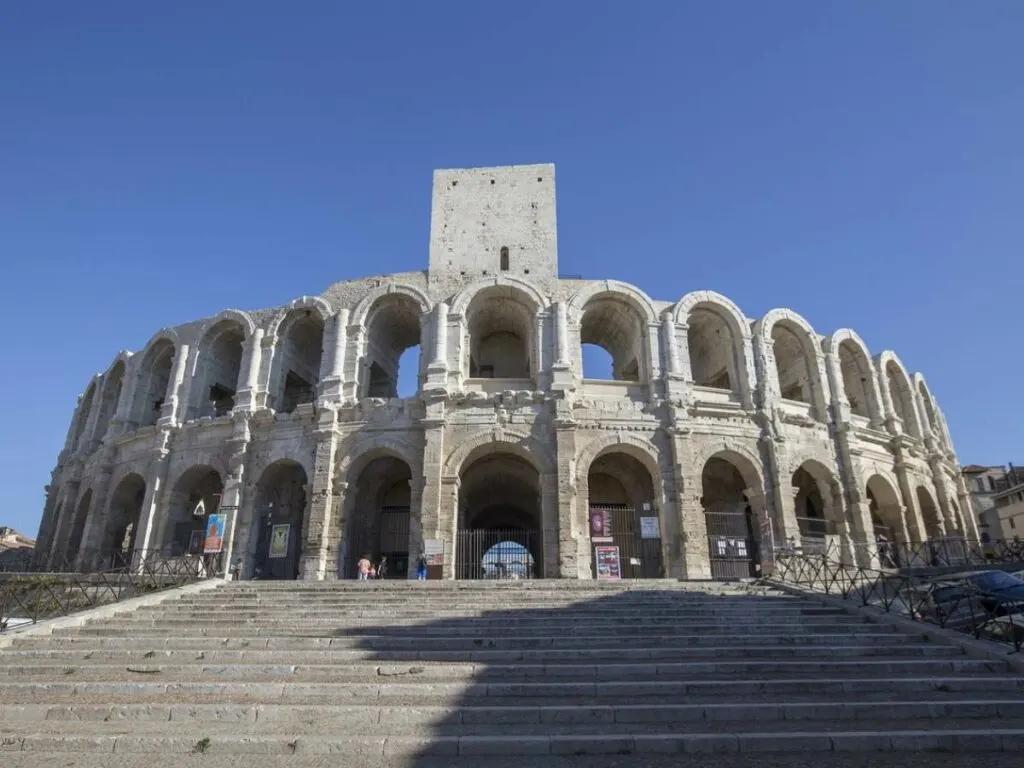 If you get up early, you can explore the first two places before heading to the train station to go on a day trip to Arles.
The reason you should visit Arles is that it's one of the most interesting cities in the south of France and is home to an impressive Roman Colosseum.
It may be on the scale of the one in Rome, but it's impressive nonetheless and slightly more complete. This is the best thing to do in Arles in my opinion, and is worth the trip alone.
You can also check out more Roman ruins such as the aqueduct and mill, while walking around the town and admiring its beauty.
It's a great place to get away from the hustle and bustle of Marseille and a beautiful one too.
Other Places to Visit in Marseille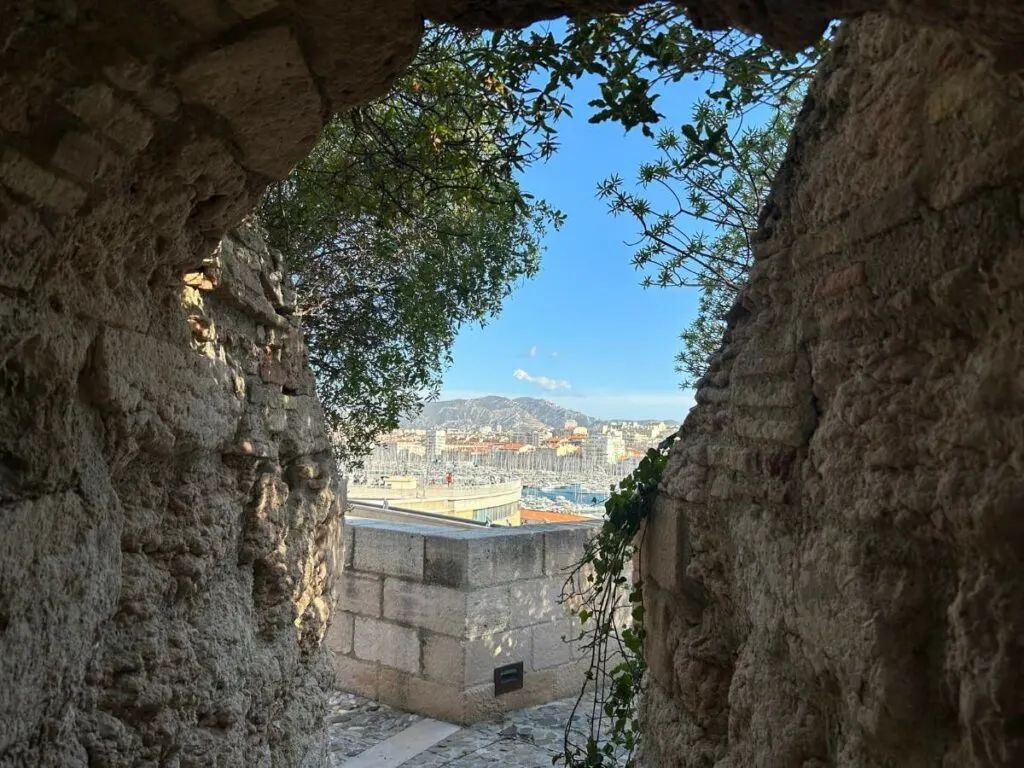 If you still want a few more places to check out, take a look at the list below for some more inspiration!
Aix en-Provence – A short day trip north of Marseille to visit one of the most beautiful cities in Provence. You can also include a trip to nearby Cassis by the sea if you wish. Click here to book your tour.
Avignon – Another beautiful spot to check out is the town of Avignon, which used to be home to the Pope during the 14th century. Click here to book your tour.
Olympique de Marseille – Marseille is home to one of the biggest football clubs in France. If you're a football fan, it's worth visiting the stadium to take a look around or watch a match if there's one on when you visit.
Botanical Garden – There are a few botanical gardens you can visit in Marseille. One is in Borely Park, the E.M. Heckel Botanical Garden is another one, while there's also one in Palais du Pharo.
Check out some of the other places you can visit in Marseille below:
Marseille Travel Tips
In this section, you'll find practical advice about Marseille such as how safe the city is, the relative costs, where to stay, how to get around and what time of the year is best to visit.
Is Marseille Safe?
I don't normally include a section on how safe a city is, but as Marseille has a reputation as being dangerous, I thought I'd address the issue.
I should make it clear that this is my perspective mixed in with some statistics related to safety in Marseille. Everyone's experience is different and can vary depending on what they did and where they stayed.
I can see why Marseille is considered to be unsafe. There are a lot of people hanging around on the streets, I saw two people peeing in broad daylight, which was an eye-opener.
If it's your first time in the city, this can be intimidating and I found it a bit unsettling walking from the train station to my hostel with my big backpack.
Having said that, I didn't encounter any issues when I was in Marseille. There are some dodgy areas, but as long as you keep yourself to yourself, you should be ok.
The crime rate is high in Marseille, but it's comparable with Paris and a lot of it has to do with the drug trade, rather than petty crime.
You should take the usual precautions that you would in any major city and make sure your valuables are protected at all times. Pickpockets can be an issue, especially if you use the metro.
Overall, I feel like Marseille is safe, especially if you stick to the centre and don't venture to the northern part, you should be fine.
Where to stay in Marseille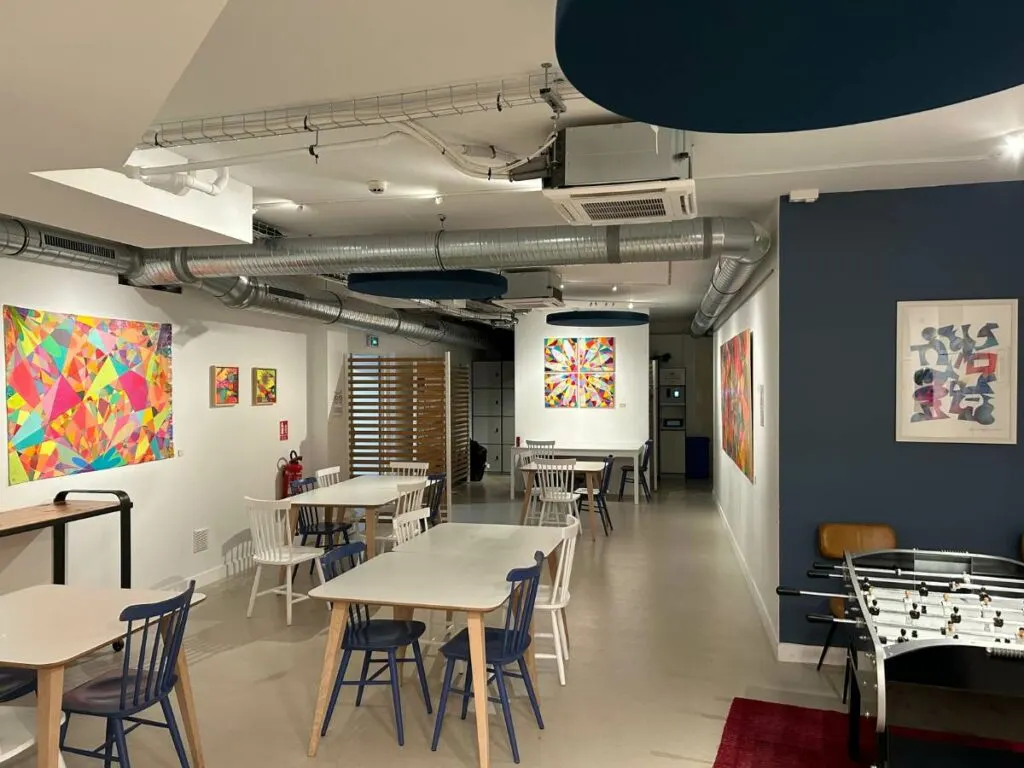 Marseille is the second-biggest city in France, so you won't have any trouble finding somewhere to stay. There are plenty of places to choose from.
Whether you want to stay in a hostel, hotel or rent an apartment, you'll be able to find somewhere to meet your needs.
The only thing you have to consider is what part of the city to stay in. Given Marseille has a reputation as being somewhat dangerous, this is an important factor.
You'll be fine in the centre, and this is the best place to stay as all the sights are close and the train station isn't far away either.
It will be cheaper to stay a bit further out, but you'll have to use the metro to get into the centre. I wouldn't advise staying in the north, as this is where most of the dodgy arrondissements are located.
I've included a table with a few suggestions on places you can say below:
Cost of Travel in Marseille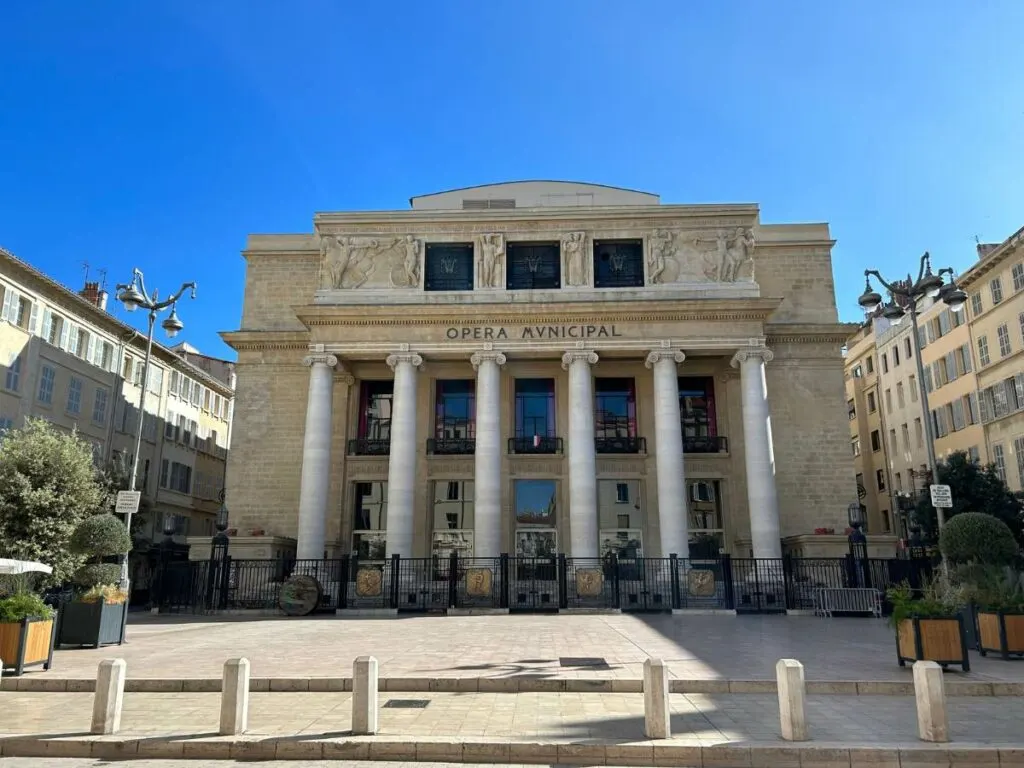 Marseille isn't overly expensive, but it can be pricey if you're not careful.
If you visit during the warmer months, you can expect to pay more for accommodation, for example, as these are the most popular months. Hostels and hotels will cost a bit, but they're about the same as those on the Cote d'Azur, if not a little cheaper.
Hostels are ideal if you're on a budget, although, The People, the hostel I stayed in didn't have a kitchen, which added to my costs.
You will incur costs for visiting museums and getting tickets to get to and from Calanques for example. But you can factor this in before you visit, so it shouldn't be too much of an issue.
Plus, you can get the Marseille City pass, which will give you money off entry to some museums and unlimited use of the public transport system in Marseille.
Day trips down the cost are another factor, but train tickets are reasonably priced in France, so this shouldn't eat into your budget too much.
The only other major expense would be on tours and if you buy travel gifts for your friends and family, which can be expensive depending on what you get.
I've included a rough estimate of prices for accommodation, eating out and transport in Marseille below.
I've not included prices for other expenses such as nights out at a bar/pub, club entry fees, souvenirs/clothing purchases, tours. etc.
You'll have to budget extra for these purchases as they are 'non-essential!'

Accommodation
Hostel: Dorm – €25-32; Private – €70-150
Hotels: €65-130
Rental Apartment: €65-130

Food and Drink
Breakfast: Free-€6
Dinner: €15-25
Takeaway meal: €6-9+
Pint of beer: €4-5

Transport
Metro single ticket: €1.70
Day card: €5.20
Bike rental: €28 for the day
Best Time to Visit Marseille
As Marseille is in the south of France, the climate is very Mediterranean in nature.
This means that you can expect warm temperatures during summer, the latter part of spring and the early part of autumn too.
I visited during September and the temperatures were regularly in the 20s and I was able to walk around in t-shirts and shorts without any difficulty.
The city wasn't too busy, but I can imagine it's much busier during the summer months when more tourists and people are visiting on day trips
Winter will be a bit colder, but there will be fewer tourists to contend with. As there isn't a beach in the city and a lot of the attractions are either museums or involve being inside, it's not a bad time to visit.
If you don't mind the temperature being a bit colder, it could be a good place to visit during winter.
I've outlined what to expect weatherwise depending on the time of year you visit you're visiting Marseille below:
Marseille in Spring
Spring is a good time to visit if you want to go while the temperatures are a bit cooler and there aren't as many people. Temperatures increase towards May, but there's still decent weather in March.
Average temperatures from low to high: 6.5°C – 24.5°C / 43.7°F – 76.1°F
Marseille in Summer
This is the time of the year when you're almost guaranteed to get good weather. However, the temperatures can get into the high 30s and the city will be much easier at this time of the year too.
Average temperatures from low to high: 17.2°C – 31.7°C / 63°F – 89.1°F
Marseille in Autumn
This is a good time to visit if you want to see Marseille when it's a bit cooler but still warm. I was there in September and it was perfect weather in a not-too-busy city. It will get colder towards November, but September and October are good months to visit.
Average temperatures from low to high: 7.7°C – 27.9°C / 45.9°F – 82.2°F
Marseille in Winter
Weatherwise, this is the worst time to visit Marseille, as it's much colder than the other parts of the year. You will get a quieter city, but you'll have to contend with the cold weather.
Average temperatures from low to high: 3.6°C – 16.8°C / 38.5°F – 62.2°F
How to Get Around Marseille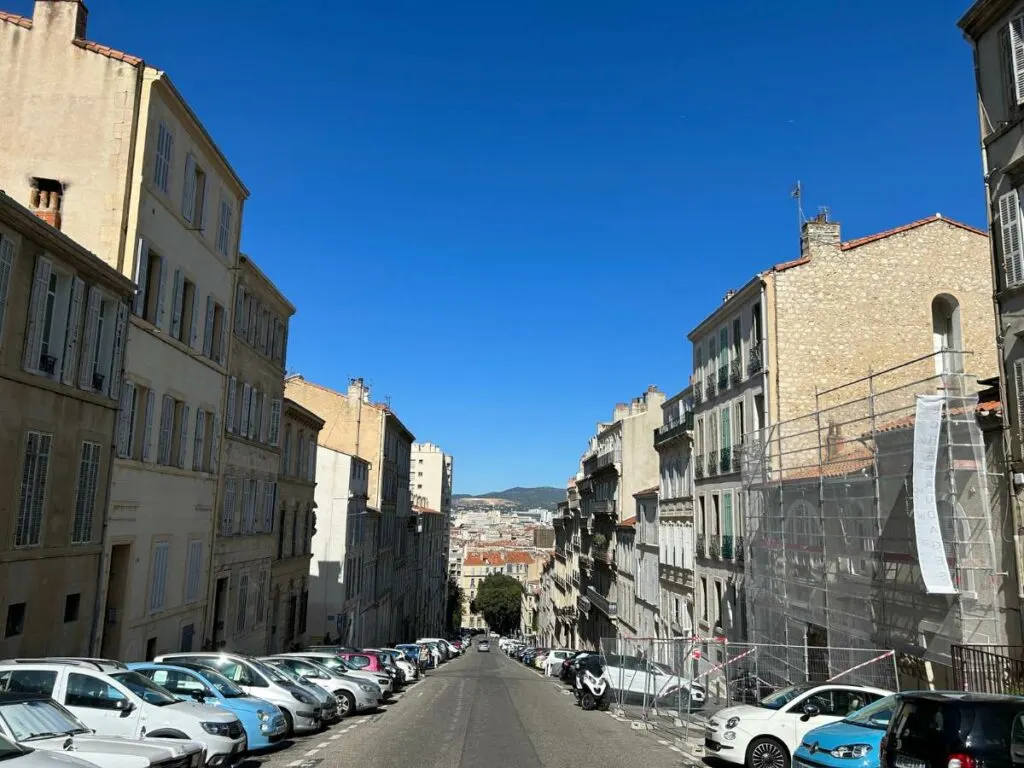 One of the good things about Marseille is that it's a walkable city. You can easily get to and from most places on foot.
Marseille is big, but everything within the city center is easy to reach by walking. I walked around and never felt like I needed to use public transport to get around.
You can if you want. Marseille has a good public transportation system, with a metro and bus. I didn't use either, so I can't say what they're like, but they looked easy to use.
My advice would be to use the metro only if you're going somewhere that's outside the city centre or you're on a tight schedule. Otherwise, walking around should suffice.
Marseille Saint Charles train station is the main train station and is in the heart of the city. It's only a short walk to the centre from there and is easy to reach from most parts of the city.
Marseille Provence Airport is the main route to the city from outside France. It's located 27km outside of the centre but it's easy to get into the centre from the airport.
You can take a free shuttle bus from the airport to the centre, or you can get the train instead, which is a bit quicker.
Frequently Asked Questions
Is 3 Days in Marseille Enough?
3 days in Marseille is enough time to see the city. You have more than enough time to walk around, see the sights and visit a few places further down the coast too. A long weekend in Marseille is a good idea as you can see all the city and potentially one or two places on the French Riviera too.
Is Marseille Worth Visiting?
Yes, there's a lot to see in Marseille and the city is interesting despite the reputation it has as being a bit unsafe. There are plenty of historic sites to check out such as the Basilique Notre Dame de la Garde and you can visit nearby Calanques National Park too.
Is Nice or Marseille Better?
Whether you prefer Nice or Marseille depends on what you want. todo. If you want to relax at the beach, then Nice is the place to go. While Marseille is better if you want to see historical sites and visit museums.
Looking For More Travel Guides?
3 Days in Barcelona – Another city on the Mediterranean that you should check out if you're travelling around Europe for a while.
3 Days in Seville – Another Mediterranean city that has stunning architecture and lots to see and do.
3 Days in Lisbon – If you're on a big trip around Europe, Lisbon is a place you have to check out. Lots of great architecture like Marseille and just as lively.
Tom is a travel addict who first left England to spend a year Down Under. Not satisfied with this, he then went to New Zealand, about as far away from home as he could get. He is now planning his next adventures in Europe and Canada while maintaining this blog. Check out the about me page to learn more!