Choosing the best places to visit in Sicily is no easy feat. Despite the size of the island, there are plenty of brilliant places to check out.
From the stunning city of Palermo, the rumbling volcano of Mt Etna and the beauty of Catania, you're spoilt for choice!
You could easily spend a week or two driving around Sicily to see all of the amazing places to see here. Sicily is often passed over in favour of other Italian destinations, but there is a wealth of things to do here.
Some of the best places in Sicily to visit are historical cities such as Catania, Palermo and Catania. You can also see natural wonders such as Mt Etna, and relax at beaches that rival those on the Amalfi Coast.
If you're looking for a getaway in Italy, you can't do much worse than visit Sicily. There's a lot to see and you won't be disappointed by what you find.
Keep on scrolling to find out where to go in Sicily so you can have an amazing trip !
Table of Contents
Best Places to Visit in Sicily
Palermo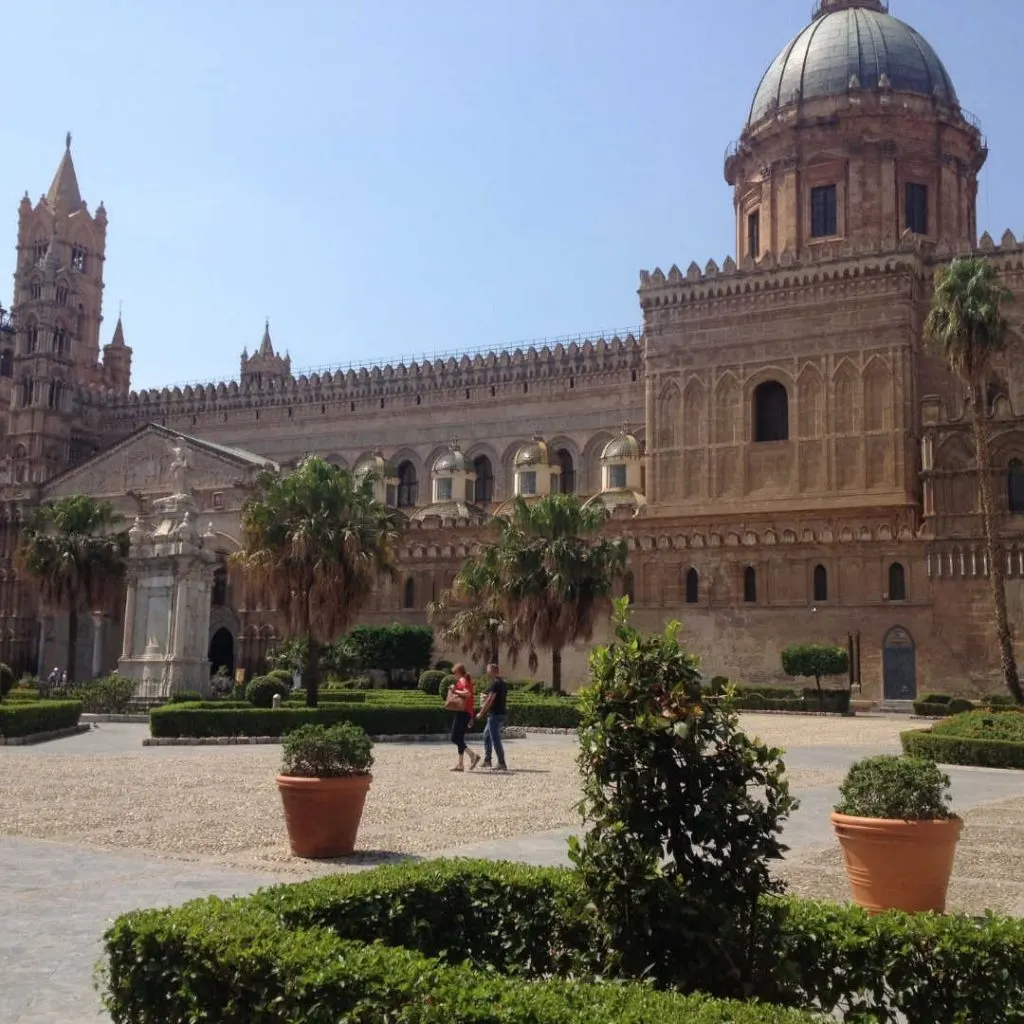 Palermo is the capital of Sicily and one of the main ports of call on the island. I'd go as far as to say that you can't visit Sicily without checking out Palermo. There's so much to see and do here it would be a crime if you did.
I spent 3 days in Palermo back in 2018 and loved it. I didn't know much about Palermo before I went but I was impressed by what I found. The city is full of historical sights such as Quattro Canti, numerous old churches and the impressive La Zisa built by the Moors thousands of years ago.
Palermo also has some strange sights to see. You can head to the Capuchin catacombs to see the mummified remains of hundreds of bodies. Remarkably this practice was still in place in the 1920s, with one of the last people to be interred a two-year-old child!
As well as this, you can go on a mafia tour to discover the dark past of Palermo when it was in the grip of ruthless mafia families that live in Sicily. Palermo is one of my favourite places in Sicily due to its beauty and the range of things you can do there.
Catania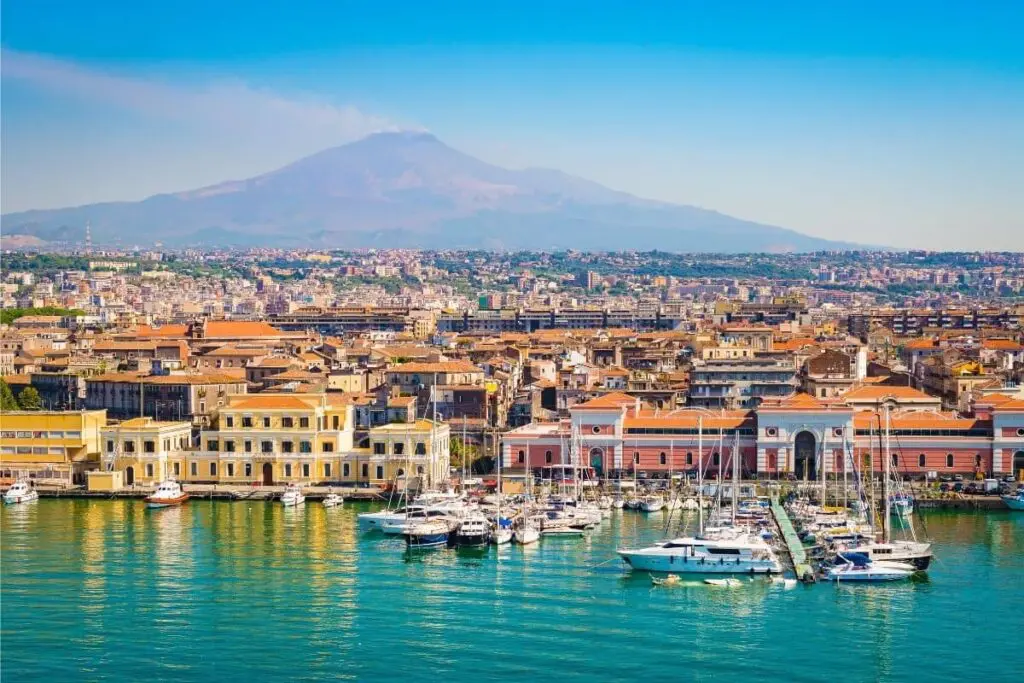 Catania is the second-biggest city in Sicily after Palermo, and like its bigger neighbour, it's a beautiful place to visit. The city is located beneath Mt Etna, which makes for an impressive backdrop.
One of the best places to check out in Catania is Piazza Duomo. The square is home to several buildings that will intrigue and entice you such as the Duomo di Catania, which is the city's cathedral.
You're not far from the beach in Catania, which sits on the East Coast of the island. San Giovanni li Cuti is arguably the nicest out of the lot. You'll find black rocks and ash on the beach due to the volcanic activity nearby. Plus the wooden boats of local fishermen give the beach a cultural feel.
Perhaps the most intriguing sight is the Roman Theatre. Recently excavated in the 20th century, the theatre is made from lava stone, brick and marble and is an impressive sight. This is a spot you have to visit in the city, and if you can, take a tour so you can understand the theatre's intriguing history.
Its sights like this make Catania one of the best places to visit in Sicily!
Mt Etna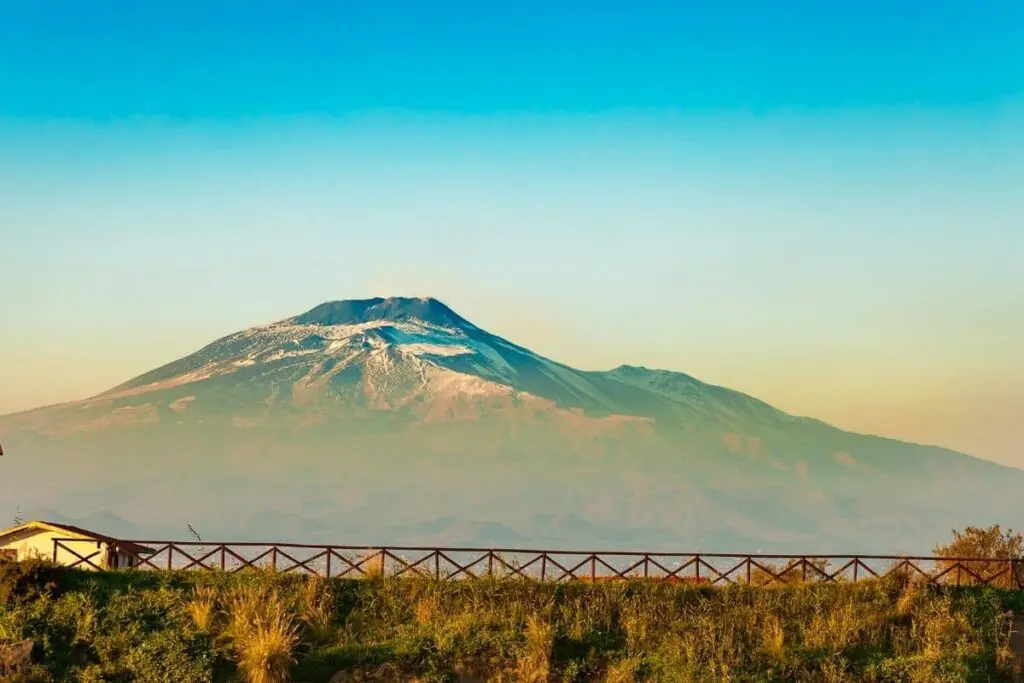 If you ask someone to name one thing they know about Sicily, most people will say Mt Etna. The volcano is arguably the most famous place to visit in Sicily and it's one you should check out. If you're doing a Sicily road trip, it's a place you have to stop at along the way.
The volcano is one of the most active in the world and is almost in a constant state of activity. Despite this, you can still traverse up and down the mountain. In fact, there's a range of activities you can do at Etna.
One of the most obvious is hiking. You can hike up to the crater at 2920 metres if you wish, which will give you an impressive view of your surroundings and an interesting look into the workings of an active volcano.
If going up the mountain sounds like too much effort, you can always ski down it if you visit in the winter. Etna has two ski resorts, Sapienza and Piano Provenzana, which are worth visiting if you want to ski in a lesser-known spot in Europe!
Taormina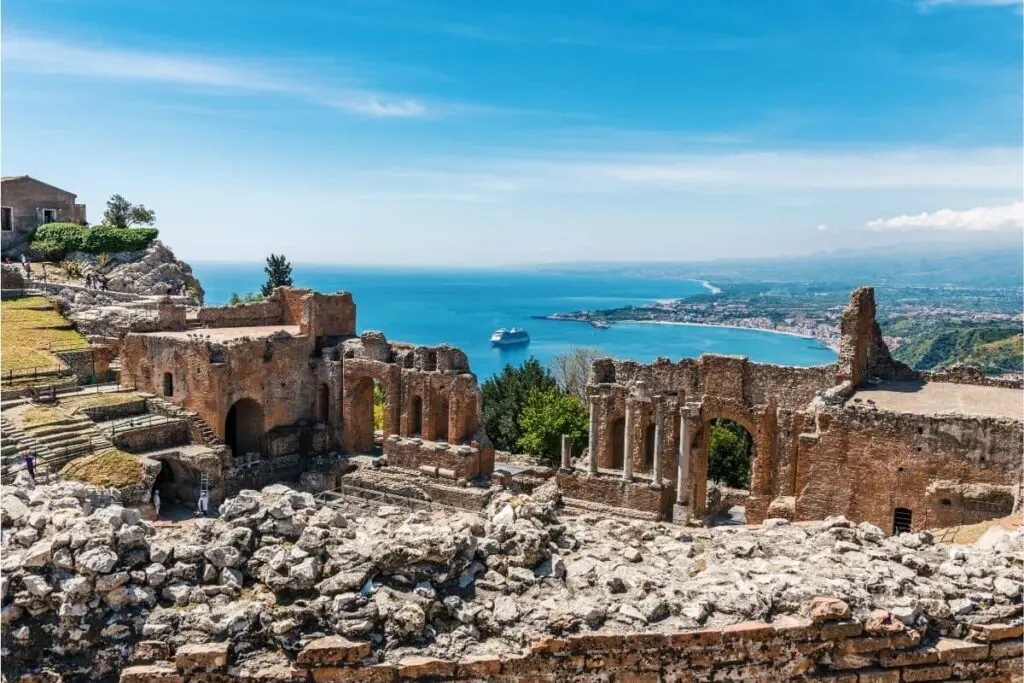 Taormina is one of the nicest places to go in Sicily. There's a reason it's the subject of many quotes about Sicily. This picturesque town is situated on a rocky hillside on the east coast of the island near Catania.
If you're a history buff, then you'll want to check out Taormina when you visit Sicily. You'll find a Roman amphitheatre, which is an impressive sight, as well as many other historical buildings and structures.
Here's the thing:
There are so many places to list it could fill a whole article. The Porte Messina shouldn't be missed, nor should the Odeon, a small theatre built under Emperor Octavian.
One of the more interesting parts of the town is the Public Garden of Taormina, which was modelled after English gardens. The park is built on multiple levels which are connected by staircases leading to squares.
It's a great place to explore and as good a reason as any to visit Taormina while you're in Sicily!
Syracuse
No matter where you go in Sicily, you're bound to find history around every corner and Syracuse is no different. The town was founded by the Greeks and the influence is everywhere, including the huge theatre, which is one of the biggest of its kind in the world.
Another fascinating place you should check out is a cave known as the Ear of Dionysus. It's referred to as an ear because of its shape and the way its acoustic properties amplify sounds within it.
For the culture vultures among you, the archaeological museum is somewhere you have to check out. It's one of the most important museums of its kind in Europe and features a wide range of exhibits and artefacts from prehistory to the Greek and the Roman period from the town and Sicily.
Syracuse is located on the east coast of Sicily near Catania. If you're looking for somewhere to visit for the day, even if you're travelling from Palermo, it's a place worth checking out!
Agrigento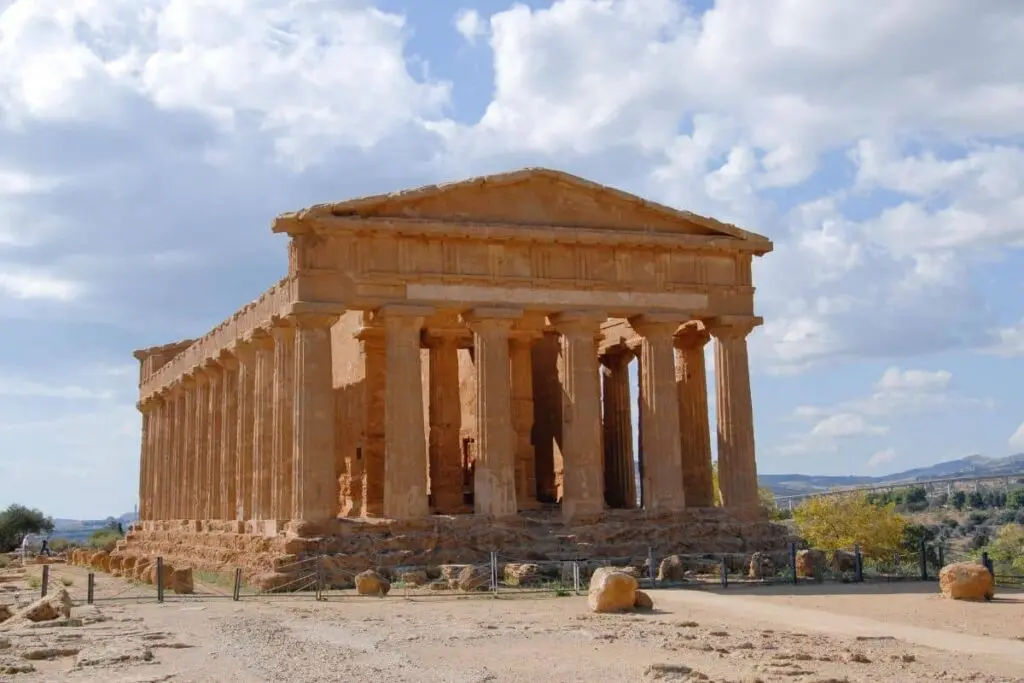 Syracuse is not the only town in Sicily with Greek origins, Agrigento has plenty of them too. Located to the west of the island and on the southern coast of the island, it's an intriguing place.
Agrigento is one of the best places to visit in Sicily because of its history and the quality of the temples that remain standing today. Unfortunately, a lot of them don't retain their former glory, but the temples of Juno, Heracles and Asclepius are still an impressive sight.
The old town is another place you have to explore with many excellent cafes and ice cream parlours to be found. The labyrinth of streets that make up the old town contains some of Agrigento's best sights such as the Santa Maria Dei Greci and Abbazia di Santo Spirito, as well as the cathedral of San Gerlando.
If you're looking for something to do with nature then checking out La Scala Dei Turchi, a rock that stretches out into the sea between Realmonte and Porto Empedocle, is a must.
Cefalù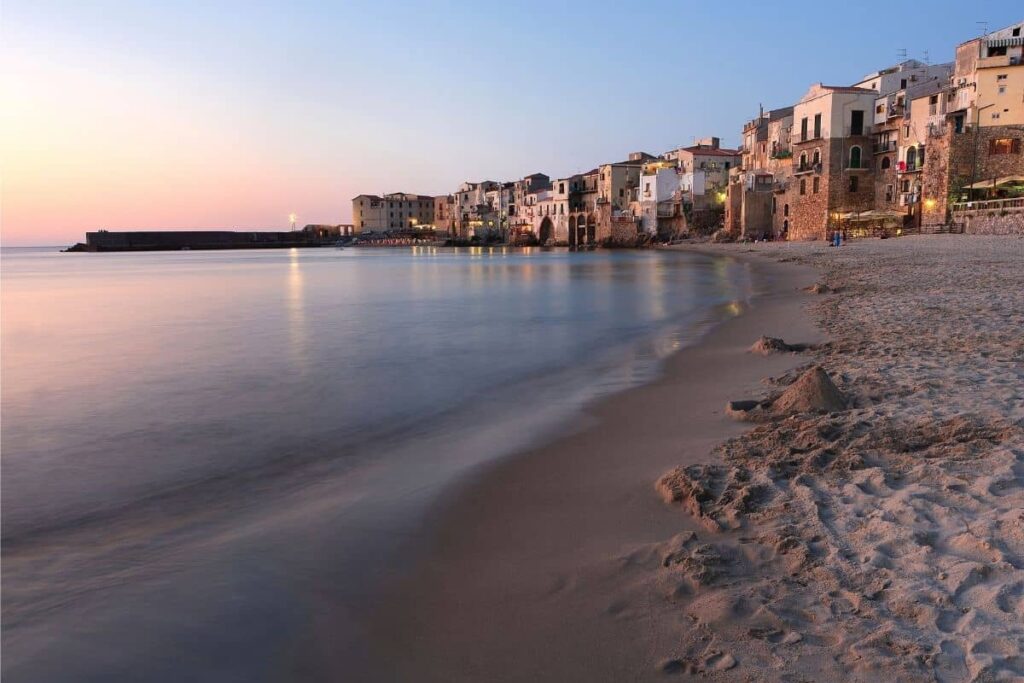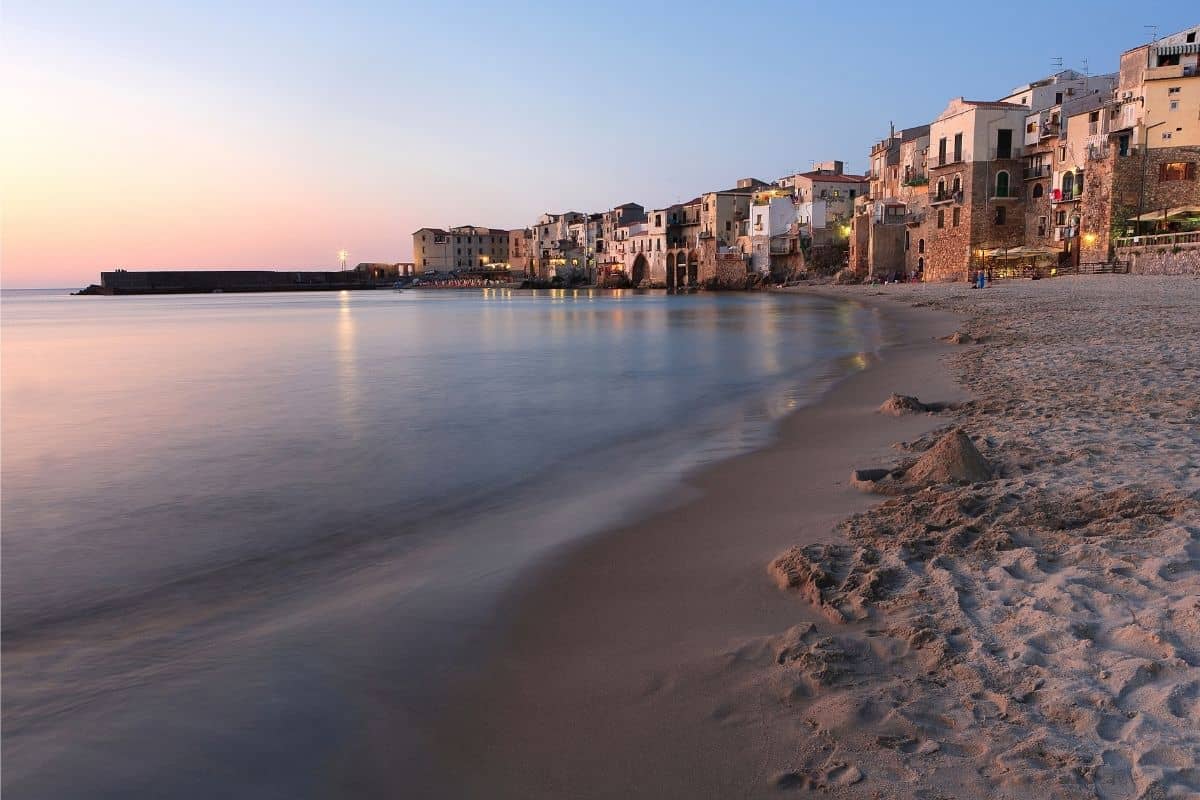 Cefalù is an underrated place to visit in Sicily. This small town a short distance from Palermo is a beautiful place with a lot to see. If you considering a day trip from Palermo, it's somewhere you should consider visiting.
One of the main reasons to visit the town is to spend a day at its gorgeous beach. It's one of the best beaches in Sicily and the backdrop of stunning houses and boats on the shore makes it more enticing.
If the beach isn't your thing, you'll find plenty to do in the centre of town. You can the old Roman baths, check out the impressive cathedral where you'll find one of the most famous frescoes of Christ anywhere in the world!
Cefalù may not be the most well-known place in Sicily but that doesn't mean you shouldn't. It's a beautiful place and one you should include on any Sicily itinerary.
Stromboli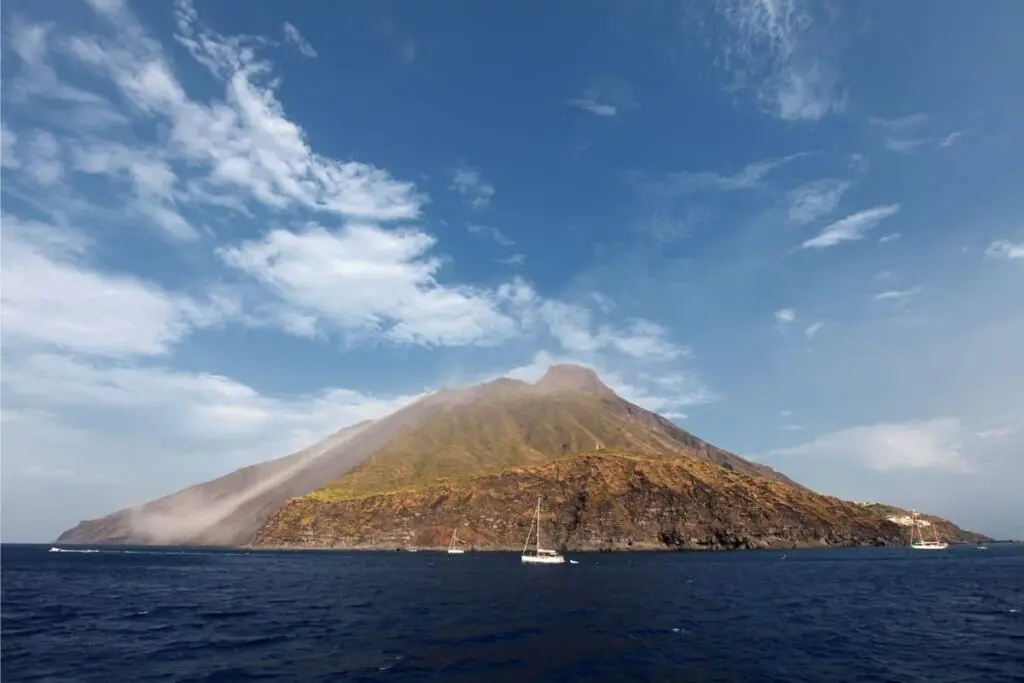 When you think of Stromboli you may be thinking of the food, but it's also a place in Sicily. Or more specifically, a small volcanic island off the northern tip of Sicily.
Because o this, it's harder to reach than other places in Sicily. If you're only on the island for a few days, unless you're desperate to visit, it might be worth skipping Stromboli. However, if you're eager to visit, you'll be rewarded with one of the most interesting places in Italy.
The volcano on the island is almost always active with smoke coming off the cone constantly. If you're on a boat off the island around sunset, the spectacle of the volcano erupting or smoking is a sight to behold!
If you're adventurous you can hike to the crater at night. At 924 m, the volcano isn't the highest, but it is a steep climb. If climbing isn't your thing, you can relax at the black lava beaches on the coast or explore the island's narrow streets and quirky houses.
Trapani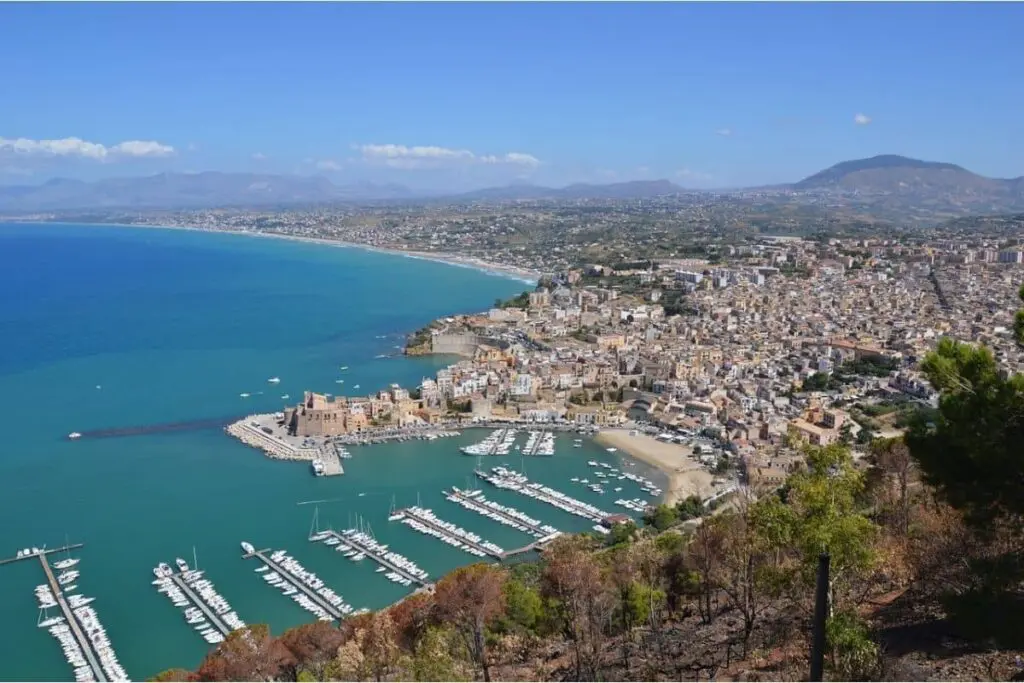 Trapani is located on the far west of Sicily, not far from Palermo. Due to its proximity to Northern Africa, Trapani has a distinctly Arabian influence that can be found in the white buildings in the city centre.
A walk around the city will uncover many similar buildings such as the Church of Sant'Agostino and Ligny Tower which houses an archaeological museum.
One of the best things about Trapani is that it has a few beaches which you can visit. Lido San Giuliano is a twenty-minute walk from the city centre, while you can swim along the waterfront and a few small beaches nearby.
With its stunning architecture and great beaches, Trapani is one of the best places to visit in Sicily. One you should endeavour to check out while you're there.
San Vito Lo Capo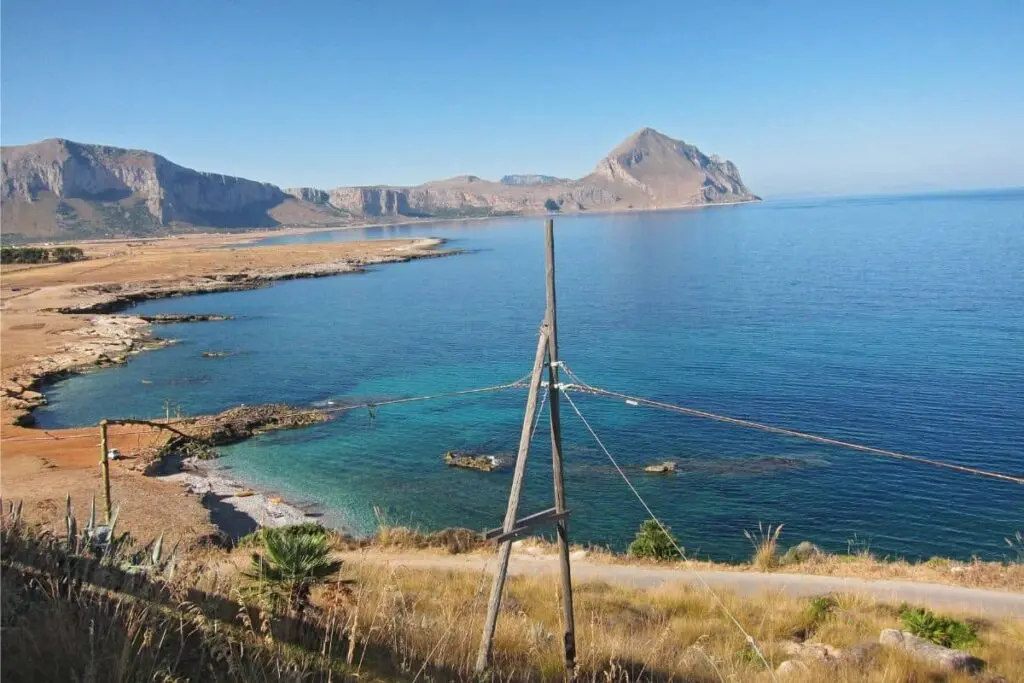 San Vito Lo Capo is located on the Western end of Sicily, not far from Palermo. The town is renowned for its beaches with its crescent-shaped beach being one of the best in Sicily.
If you're in Palermo, then heading over to San Vito Lo Capo is a good idea. You can spend the day at the beach and swim in the turquoise waters. There aren't many betters ways to spend a day in Sicily!
It's not just about the beaches in San Vito Lo Capo, the town has some interesting sights too. The Santuario di San Vito is one such example. It's a 15th-century church made of stone which resembles a prison rather than a church.
Due to its amazing shoreline and wealth of intriguing cultural sights, San Vito Lo Capo is without a doubt one of the best places to visit in Sicily.
Ragusa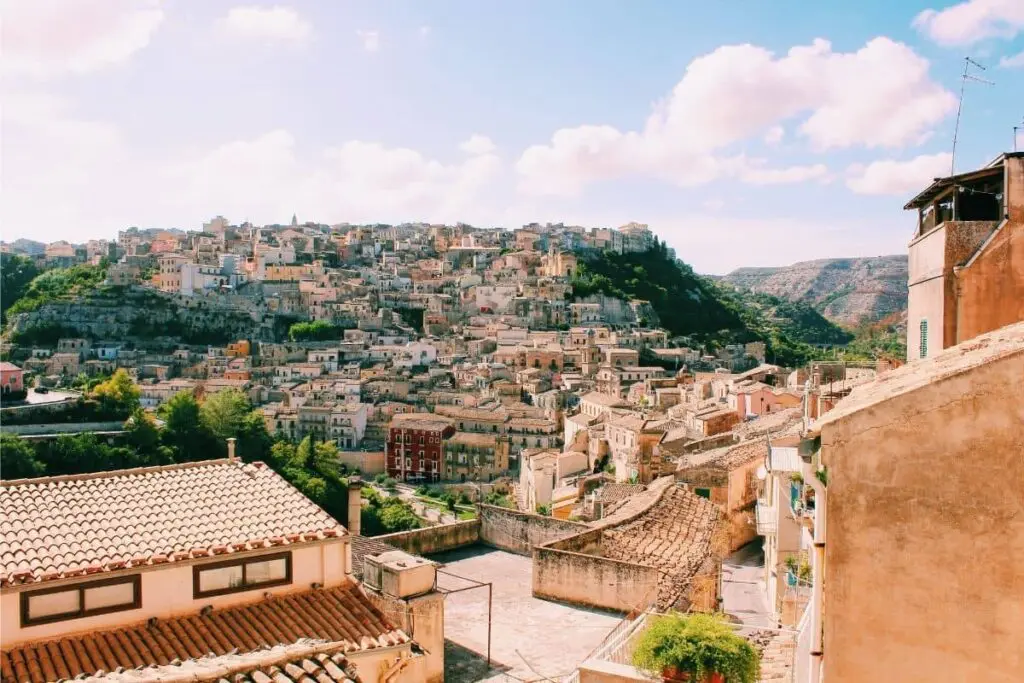 Ragusa is a city located in the south of Sicily. The city has two distinct areas, Ragusa Ibia and Ragusa Superiore, the upper town. A deep ravine separates the two areas which can be crossed on four bridges.
In the upper town, you'll find Ragusa Cathedral which is dedicated to John the Baptist. It's an impressive building which has been rebuilt a few times after earthquakes. You can also check out the Hyblean Archaeological Museum, which has a range of artefacts from prehistory to the Late Roman era.
In Ragusa Ibia, there are numerous places you can check out. Another cathedral can be found in the district, this one dedicated to San Giorgio. You'll also find numerous churches including the Church of Santa Maria dell' Itria, which was built by the Knights of Malta.
If you're a history geek, there are plenty of things to do in Ragusa that will be right up your street. It's why it's one of the best places in Sicily to check out!
Messina
Messina is the third-largest city in Sicily and is the closest one to the mainland. You can drive over the bridge to Reggio Calabria in a matter of minutes! Due to its size and importance in ancient times, you'll find a lot of things to do in Messina.
One of these is the towering Duomo. The cathedral, like many in Sicily, is impressive. It's also a unique selling point as it possesses the world's largest and most complex astronomical clock.
You'll find many other churches in the city too, as well as numerous fountains throughout the city. Including one opposite the Duomo. Another aspect of Messina that you should check out is its waterfront.
Messina has the largest natural harbour in the Mediterranean. It's worth taking time to admire the view and the large statue of the Madonna that adorns the edge of the peninsula.
How to Get Around Sicily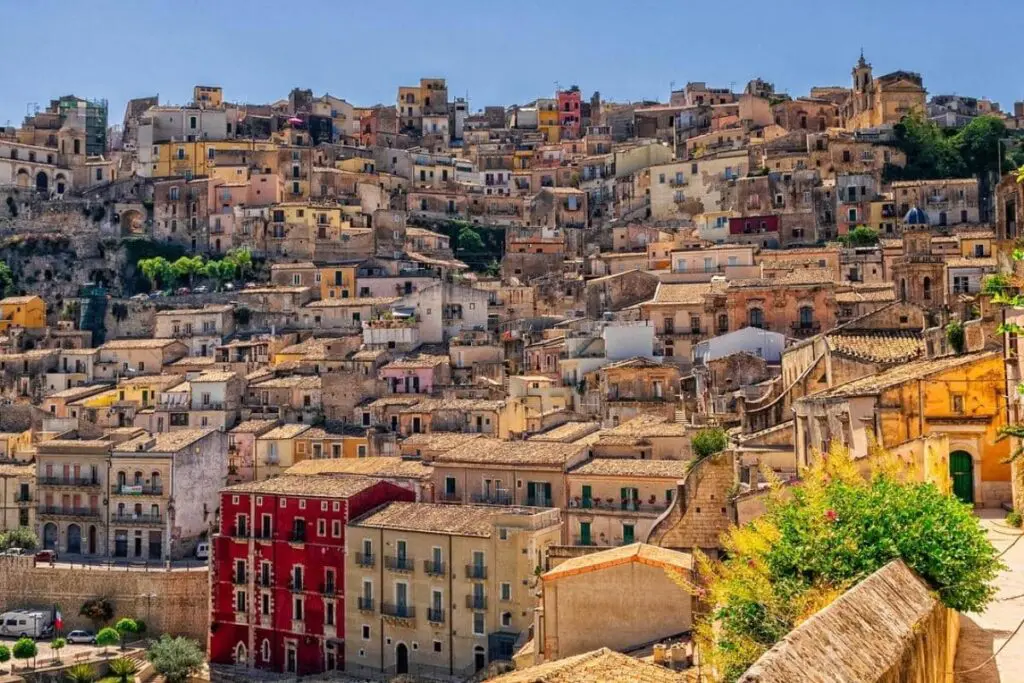 Sicily isn't the biggest island, which makes the task of getting around easier. However, unless you rent a car, you will be left at the mercy of public transport.
There is an extensive bus network in Sicily you can use to get around the island. While it's not the most efficient system, it does work. Going from big cities such as Catania and Palermo to places such as Cefalù and Syracuse isn't difficult. It's when you want to visit smaller towns that you run into trouble.
You can use the train in Sicily and they are great for certain routes, such as going from Messina to Taormina. But if you want to get to smaller towns, the bus might be the better bet.
During my trip, I decided to walk from Palermo to Mondello Beach instead of using the bus. While I like walking, this pushed it to the limit. It was a long walk which resulted in a 4-hour round trip when I could have gone by bus instead.
If you can public transport while you're in Sicily, do it. Your life will be much easier for it and you won't wear yourself out walking nearly 20 miles in one day!
Best Time to Visit Sicily
It's widely agreed that the best time to visit Italy is during the summer. This is when you're guaranteed to get fantastic weather so you can enjoy everything in the country.
While this is true, there is another side to this. The temperatures during the summer can reach well in advance of 30 degrees. This was the case when I spent 3 days in Rome in 2019. It was so hot we had to retreat inside or find shade at times.
Sicily is no different during the summer. It can get very hot and then you have the added fact that summer is the main tourist season in Italy. You'll have to contend with warm weather and a lot of tourists.
Another option is to visit Sicily from March to April or September. to October. The weather won't be as good early on in the year, but it will if you go in the first months of Autumn.
Then you have the added bonus that there will be fewer tourists to contend with. If you don't like blistering heat, this is a good option. Visiting during December isn't a bad idea if you want to visit one of Europe's best winter destinations.
The weather won't be too cold, although you'll have shorter daylight hours o explore this beautiful island. All in all, anytime from March to October is the best time to visit Sicily.
Need Travel Insurance?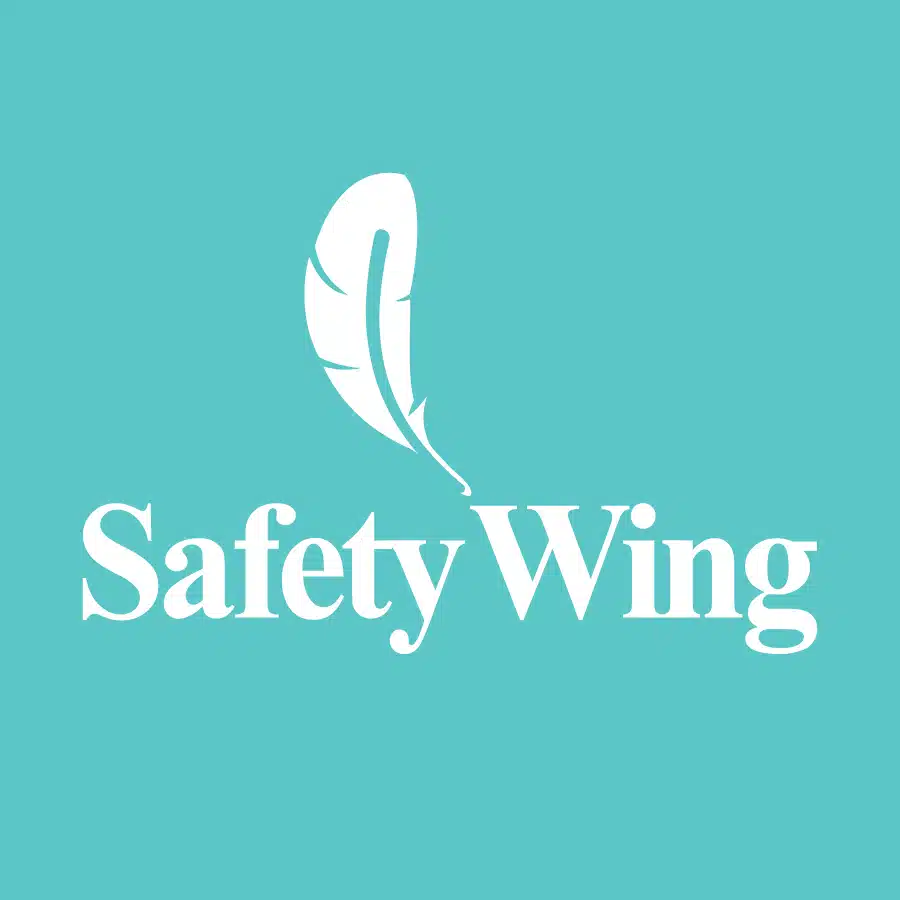 SafetyWing offers coverage that will give you peace of mind while you're on the road. If you want to protect yourself while you're on the road, then click the image to take a look at the options available to you.
Pin For Later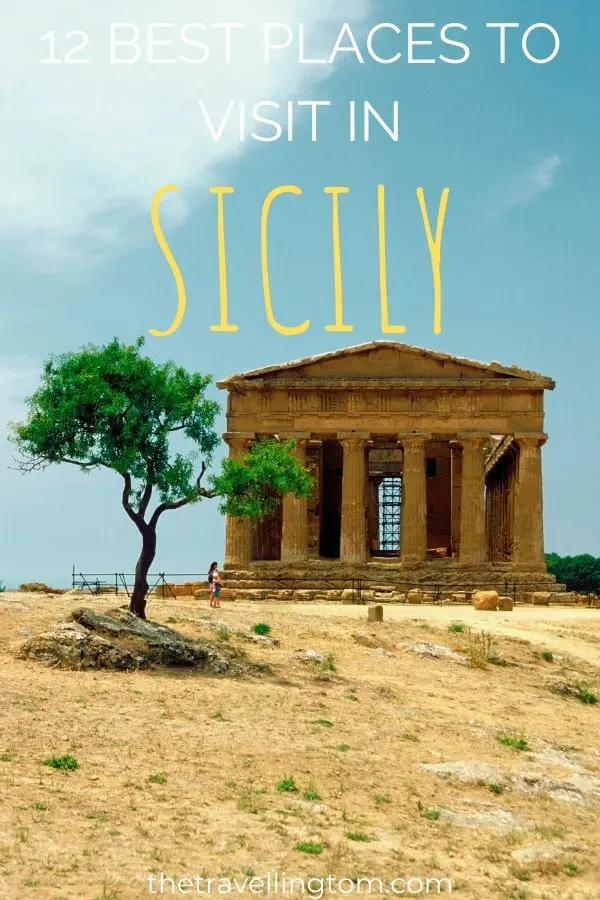 Tom is a travel addict who first left England to spend a year Down Under. Not satisfied with this, he then went to New Zealand, about as far away from home as he could get. He is now planning his next adventures in Europe and Canada while maintaining this blog. Check out the about me page to learn more!