If you're looking for Vienna quotes, you've come to the right place! I've compiled a list of quotes about Austria's beautiful capital that will have you eager to visit.
These quotes about Vienna will inspire you to check out the numerous sights in the city such as Prater, Museums Quartier and the incredible Schönbrunn Palace.
Vienna is just an incredible city and you won't run out of things to do while you're in the city. You'll also understand why the city played a key role in Europe's culture during the 19th and early 20th centuries as you stroll around the gorgeous streets.
I had a great time during my visit to Vienna and my only regret was that I didn't have more time there.
I hope this collection of Vienna quotes provides you with the inspiration you need to check out one of Europe's most cultured cities!
Best Vienna Quotes
Vienna is one of the most beautiful cities in Europe. Walking around its streets you're assaulted by sights of gorgeous buildings and fragrant greenery. It really is a joy to visit!
Whether you spend 3 days in Vienna or longer, you'll enjoy your time in this cosmopolitan city. Here are some of the best Vienna quotes to get you in the mood for your trip!
"Vienna is a handsome, lively city, and pleases me exceedingly." – Frederic Chopin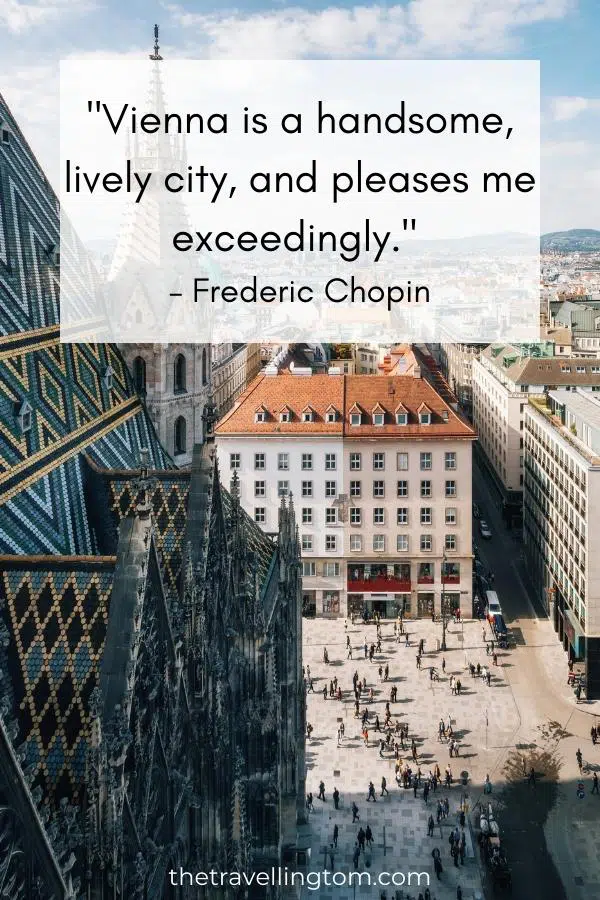 "For almost thirty years I repeatedly saw one and the same dream: I would arrive in Vienna at long last. I would feel really happy, for I was returning to my serene childhood." – Alfred Schnittke
"Vienna is the gate to Eastern Europe." – Niki Lauda
"Vienna is considered by many to be one of the centers, if not the center, of Western culture." – Gary Funk
"I was born an only child in Vienna, Austria. My father found hours to sit by me by the library fire and tell fairy stories." – Hedy Lamarr
"But yes, I really feel great in Austria, I love my home and Vienna is just the best place to be." – Conchita Wurst
"I'm an immigrant – I've got to be in the city: London, Vienna, or Rome, but always a city." – Paul Bettany
"My parents genuinely loved Vienna, and in later years I learned from them why the city exerted a powerful hold on them and other Jews. My parents loved the dialect of Vienna, its cultural sophistication, and artistic values." – Eric Kandel
"If I speak of Vienna it must be in the past tense, as a man speaks of a woman he has loved and who is dead." – Erich von Stroheim
"My parents came a long time ago to Vienna, met in Vienna. Of course they had to go through a lot also, but we're very happy to have our home in Vienna." – David Alaba
"My small experience on 'Dancing with the Stars' allowed me to slowly appreciate the Waltz and Viennese Waltz, but to see it in Vienna is something much different." – Apolo Ohno
"I love throwing myself into a place or a period or a point of view. In 'Fledermaus,' I loved throwing myself into the world of Vienna at the turn of the century. It was a lot of fun." – Douglas Carter Beane
"Dream on, but don't imagine they'll all come true. When will you realize… Vienna waits for you." – Billy Joel
"And I'll dance with you in Vienna, I'll be wearing a river's disguise. The hyacinth wild on my shoulder my mouth on the dew of your thighs. And I'll bury my soul in a scrapbook, with the photographs there and the moss. And I'll yield to the flood of your beauty, my cheap violin, and my cross." – Leonard Cohen
"When you set out to take Vienna, take Vienna." – Napoleon Bonaparte
"Lord, if there is a heartache Vienna cannot cure I hope never to feel it. I came home cured of everything except Vienna." – Storm Jameson
"Vienna, to me it was the tuning fork for the entire world. Saying the word Vienna was like striking a tuning fork and then listening to find what tone it called forth in the person I was talking to. It was how I tested people. If there was no response, this was not the kind of person I liked. Vienna wasn't just a city, it was a tone that either one carries forever in one's soul or one does not. It was the most beautiful thing in my life. I was poor, but I was not alone, because I had a friend." – Sándor Márai
Vienna Travel Quotes
"The best coffee in Europe is Vienna coffee, compared to which all other coffee is fluid poverty." – Mark Twain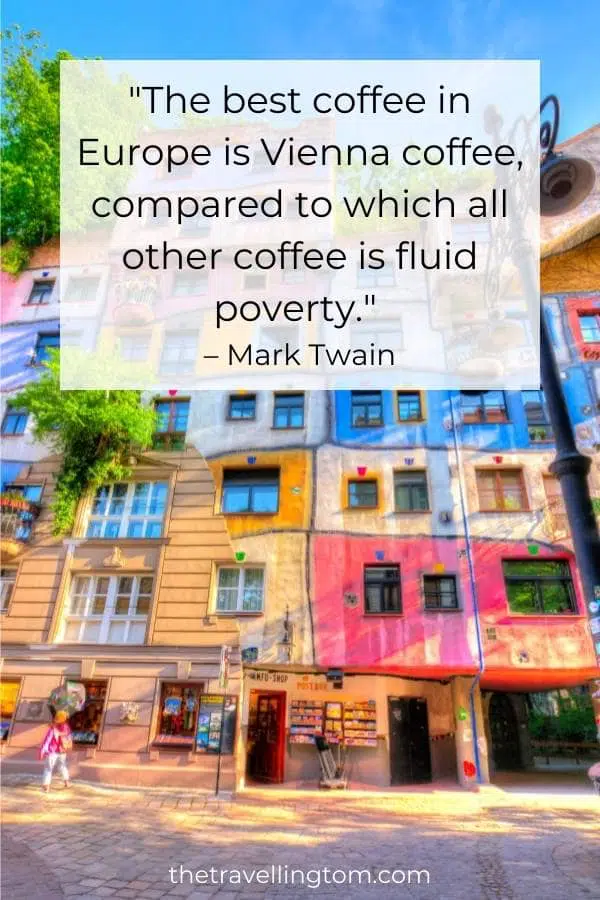 You might also like: Budapest quotes
"You don't need to go to Rome, Prague or Vienna to find wonderful architecture, amazing stories and suprising, hidden gems." – Alice Roberts
"Like all young reporters – brilliant or hopelessly incompetent – I dreamed of the glamorous life of the foreign correspondent: prowling Vienna in a Burberry trench coat, speaking a dozen languages to dangerous women, narrowly escaping Sardinian bandits – the usual stuff that newspaper dreams are made of." – Russell Baker
"I was born in Romania and later lived in Vienna, Austria, for a few years, and I eventually made my way over to New York in '95." – Sebastian Stan
"My family had to live in Vienna for three months, then in Italy for another nine, while we waited for refugee status." – Milana Vayntrub
"I had been a student in Vienna, and one of the neat little things I had found out was about that zoo. It was a good debut novel for me to have published. I was 26 or 27 when it was published. I already had a kid and would soon have a second." – John Irving
"Well I live in Vienna with my wife and son, and I teach in Hamburg, there will be no changes in that respect." – Gyorgy Ligeti
"I actually speak fluent German. And I live in Vienna, and I'm married to a Viennese woman." – Peter Morgan
"I've been to Bali twice and Marrakech twice. I thought Vienna was great. I will take girlfriends to places they've never been before." – Eion Bailey
"Once I accidentally left my passport in Nice, France, when I was on my way to Prague. Upon arriving in Vienna, after taking an overnight, and being asked to present my travel documents and realizing I forgot them at the hotel, they kicked me off the train and sent me back!" – Megalyn Echikunwoke
"In Europe, happiness stops at Vienna. Beyond, misery upon misery, since the beginning." – Emil Cioran
"You need some reason why Beethoven, Mozart, and Haydn in the 18th century all flocked to Vienna. What was it about Vienna? They must have known on some level that that is where they would flourish. It's what biologists call selective migration." – Eric Weiner
"My dream writing room would be the Imperial Library in Vienna." – Fran Lebowitz
"A representational photograph says, 'This is what Vienna looked like.' An interpretational photograph goes one better and says, 'This is what Vienna was like. This is how I felt about it." – David DuChemin
"In Vienna, when I was a year-and-a-half or two-years-old. I remember it because I remember the little blue raincoat I used to wear, and how the buttons felt. I liked to walk on the street in front of our house when it was raining, and jump into all the puddles. That's weird, but that's my earliest memory." – Boris Kodjoe
Vienna Instagram Captions
No doubt you're going to take plenty of photos during your visit to Vienna. If you're looking for Instagram captions about Vienna, then check out some of the ones below.
They should come in handy when you come to upload your snaps onto the gram!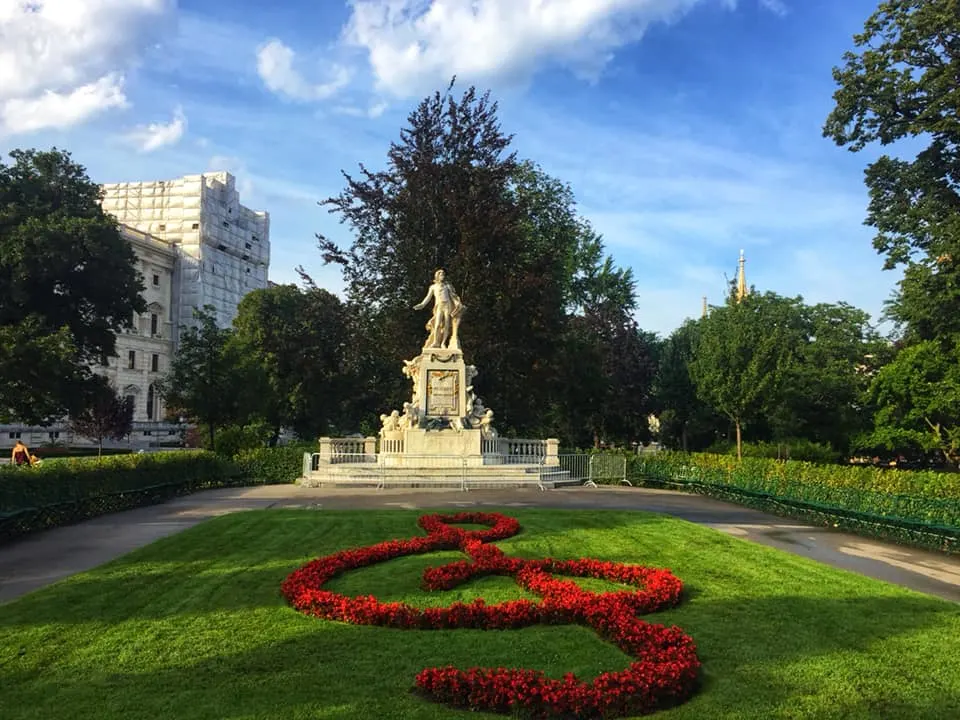 "My heart is in Vienna."
"And so the adventure begins in Vienna!"
"When will you realize Vienna waits for you?"
"Get lost in Vienna."
"I'm gonna kiss you Wien I see you again."
"It's time to take Vienna."
"Danube believe how beautiful this place is?"
"Apfel down."
"I'm gonna kiss you Wien I see you again"
Funny Vienna Quotes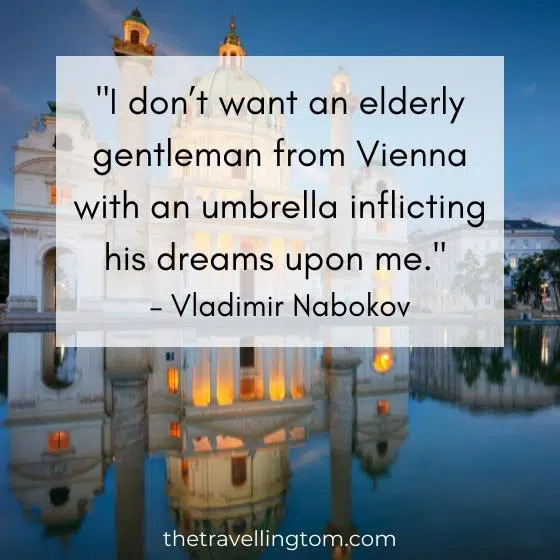 "I don't want an elderly gentleman from Vienna with an umbrella inflicting his dreams upon me." – Vladimir Nabokov
"At Vienna, one of the audience affirmed publicly that my performance was not surprising, for he had distinctly seen, while I was playing my variations, the devil at my elbow, directing my arm and guiding my bow. My resemblance to the devil was a proof of my origin." – Niccolo Paganini
"I have the feeling that I was born in Vienna in order to live in Paris." – Romy Schneider
"My mother was one of the first women admitted to Vienna University and her word was law." – Prince Michael of Kent
"From time to time, the Vienna Philharmonic could play without a conductor because they are so good." – Bernard Arnault
"But you must remember that they are Viennese and nobody is good enough for the Viennese." ― Daisy Goodwin
"When I was a young actor in Vienna, already my hair was falling out at a rapid rate. I went to a doctor, who said hair was like grass: if you mow it, then it grows back stronger. So I went to Brittany, where nobody knew me, and I shaved my head. When it grew back – only the fringes!" – Otto Preminger
"The Grammy snuck up on me. I was on tour. It just hit me. I skipped down the street in Vienna. I kept saying, 'I won. I won.'" – Estelle
"Emily Dickinson was wrong: hope is not the thing with feathers. The thing with feathers is my cousin. We're sending him to a specialist in Vienna." – Woody Allen
"Everywhere I went, Rapid Vienna or Austria Vienna, there was always a problem. I just wanted a coach who said: 'Just go out and win us the game.'" – Marko Arnautovic
"Friends from Vienna visit me a lot, and when the weather's bad we usually end up playing 'FIFA.'" – David Alaba
"In Vienna, it's impossible to be overlooked. You can only be ignored." – Alexander Lowen
"This the established custom in Vienna for every lady to have two husbands, one that bears the name, and another that performs the duties." – Mary Wortley Montagu
Quotes About Vienna's Culture and History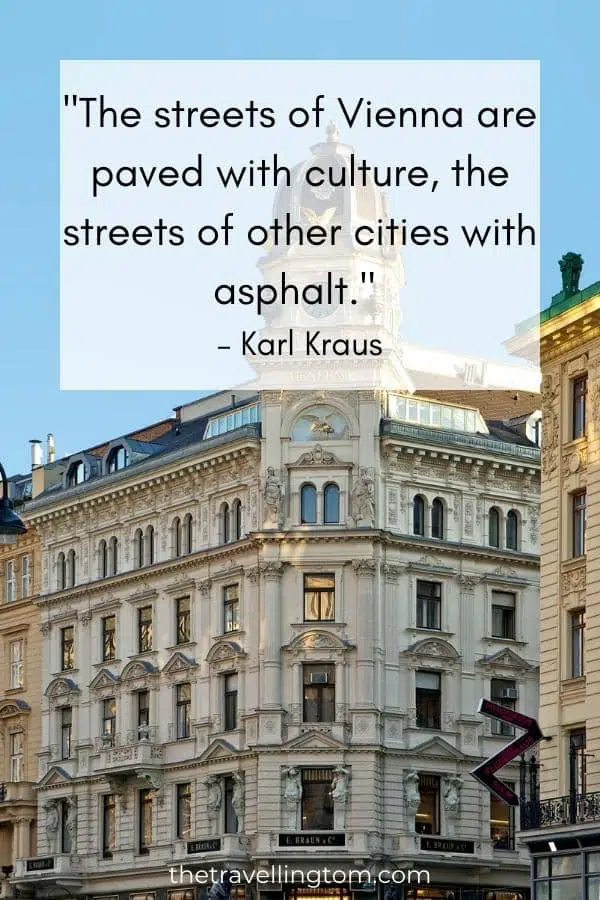 "The streets of Vienna are paved with culture, the streets of other cities with asphalt." – Karl Kraus
"The Potemkin city of which I wish to speak here is none other than our dear Vienna herself." – Adolf Loos
"Gold is a great thing to sew into your garments if you're a Jewish family in Vienna in 1939, but I think civilized people don't buy gold, they invest in productive businesses." – Charlie Munger
"Vienna is a city where they love sports." – Eluid Kipchoge
"But since those days in Vienna, I had been aware that Austria was lost, not yet suspecting, to be sure, how much I had lost thereby." – Stefan Zweig
"When you think of the Cold War, there are various places where you imagine espionage. Espionage crossroads of the Cold War bring you to the backstreets of Berlin, or Vienna." – Paul Greengrass
"But I think what made me go into theater was seeing my mother onstage. The first thing she did was Mrs. Frank in 'The Diary of Anne Frank.' The second thing she did was a play about Freud called 'The Far Country.' She played a paralyzed woman in Vienna who goes to see Freud." – Tony Kushner
"I am a song of my times. I wasn't living in Vienna, like Mozart or Beethoven. In my circumstances, it was impossible to be indifferent." – Mikis Theodorakis
"Modernism in Vienna brought together science and culture in a new way to create an Age of Insight that emphasized a more complex view of the human mind than had ever existed before." – Eric Kandel
"I was born in 1923 into a middle class Jewish family in Vienna, a few years after the end of World War I, which was disastrous from the Austrian point of view." – Walter Kohn
"For my Vienna is as different from what they call Vienna now as the quick is different from the dead." – Erich von Stroheim
"My idea was to go to Vienna to study conducting and perhaps play in an orchestra first, so I thought before I got to Vienna I could do with a little training in Paris." – Harry Mathews
"What impressed me particularly in Vienna was the strict order everywhere. No mob disturbances of any kind, in spite of the greatly increased liberty and relaxation of police regulations." – Fritz Kreisler
"Genetically, I have tons of musical background in my life. My mother's father was a famous Weimar-era composer, Ernst Toch. My father's mother was the head of the Vienna Conservatory's piano department. It all canceled out in my case. I'm completely hopeless in music." – Lawrence Weschler
"Haydn, Beethoven, Mozart, none of them were born in Vienna. They all moved there. It became a magnet, but what made it magnetized in the first place? There has to be a seed there. In the case of Vienna of about 1780, it was this deep-seated love of music." – Eric Weiner
"My parents were not born in Vienna, but they had spent much of their lives there, having each come to the city at the beginning of World War I when they were still very young." – Eric Kandel
"In Berlin, things are serious but not hopeless. In Vienna, they are hopeless but not serious." – Karl Kraus
"If you walk into a coffee shop in 1903 Vienna, you might find at the same table the artist Gustav Klimt, Sigmund Freud, Leon Trotsky, and possibly Adolf Hitler, who lived in Vienna at the same time." – Eric Weiner
"Vienna is cold and dark, and sad. It is laid out as though for a royal parade; the streets are wide and they're flanked by monumental buildings, decorated with the faces of angry gods. And on the roof are statues of national heroes, wielding weapons of destruction." – Quentin Crisp
"In Vienna, everywhere Beethoven looked at is marked by something." – Wynton Marsalis
Frequently Asked Questions
What is a famous quote about Vienna?
"When you set out to take Vienna, take Vienna." – Napoleon Bonaparte
What is the nickname of Vienna?
The nickname of Vienna is 'The City of Dreams and The City of Music.'
---
Thanks for reading my collection of the best Vienna quotes! Hopefully, you've enjoyed reading and are now considering a trip to the fascinating capital of Austria.
Do you have any other quotes about Vienna? If you do, leave them in the comments below. Let me know if you've been to Vienna and what you think. I'm interested to see what your opinion of the city is!
Tom is a travel addict who first left England to spend a year Down Under. Not satisfied with this, he then went to New Zealand, about as far away from home as he could get. He is now planning his next adventures in Europe and Canada while maintaining this blog. Check out the about me page to learn more!