Despite, or in spite of, its reputation as a beautiful country, there are some unusual places to visit in New Zealand!
From the broken city of Christchurch to the otherworldly Moeraki Boulders, there are many strange places in New Zealand.
They're a good reason to visit the country, as they highlight the weird and wonderful parts of the country. I will never forget my first time walking around Christchurch, a city ravaged by earthquakes.
I felt like I was in a warzone such was the devastation! Seeing Hobbiton up close and personal was strange, due to seeing this place in the numerous Lord of the Rings films!
New Zealand is a country that possesses some of the most beautiful locations in the world.
However, there are also a number of weird places to visit in New Zealand, which you should include on your trip.
Unusual Places To Visit in New Zealand
Baldwin Street in Dunedin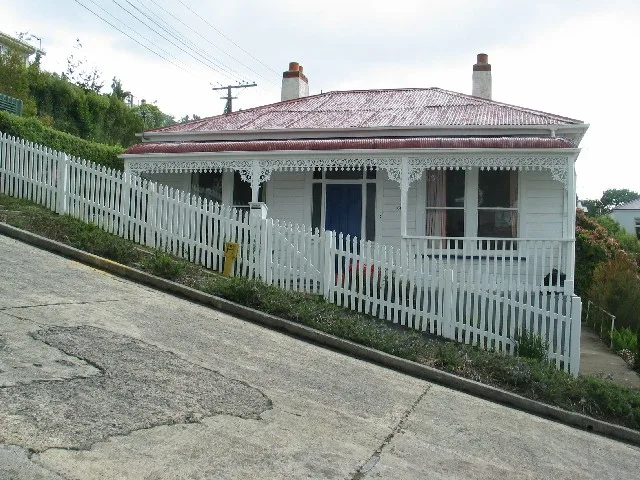 You may be wondering what a street in Dunedin is doing on a list of strange places to visit in New Zealand.
Well, this is not any ordinary street. Baldwin Street is the steepest street in the world! It has an average gradient of 25% The maximum gradient is a whopping 35%!
I didn't visit Baldwin Street, unfortunately. It would be high on my list of places to visit if I did return.
The street makes for a great photo opportunity, due to the severe slope. You can tilt the camera, so it looks as if the houses are built at an angle!
Baldwin Street is a unique place to visit in New Zealand. There are not many residential streets around the world, with such a steep slope.
Visiting here will give you a workout as a minimum if nothing else!
Christchurch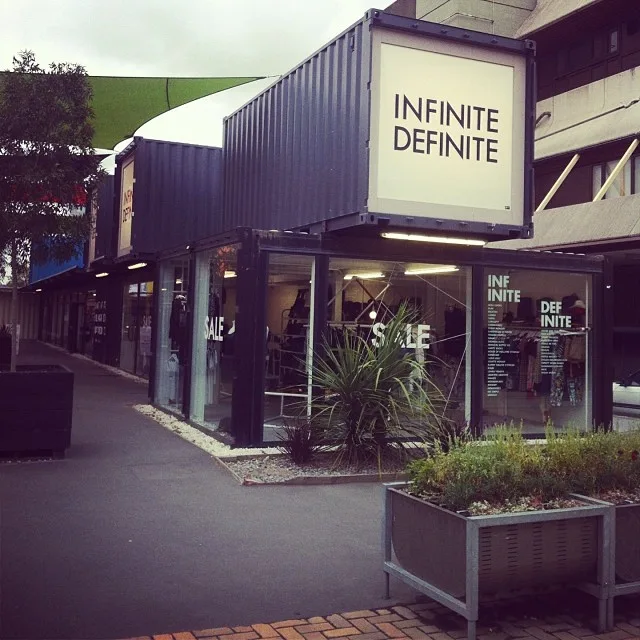 You're probably wondering why I included Christchurch on this list. Well, the city has had a rough time of it recently. A series of earthquakes devastated the city between 2010 and 2011, which Christchurch is slowly recovering from.
When I first arrived in early 2014, it was more like a war zone than an actual city, such was the devastation! However, travelling to Christchurch is a must!
Slowly, the city has got back on its feet, and a number of buildings have started to go up.
It's a slow process, as I can attest to, having worked on the rebuild for 10 months! However, progress is being made! As a result of the earthquakes, Christchurch came up with some innovative ideas.
The destroyed mall has been replaced by a mall that consists of shipping containers. While, the old cathedral, has been replaced by a temporary one that is made out of cardboard!
The city is a mix of a building site, innovative design, and the old architecture that still remains. It is certainly one of the more interesting places to visit in New Zealand!
Hobbiton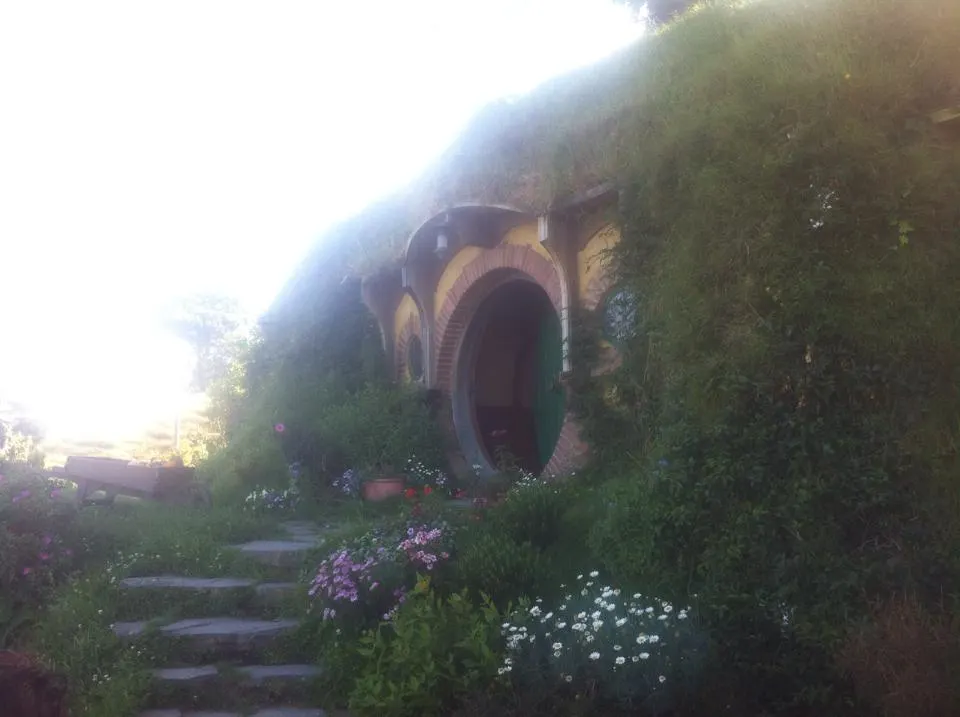 Hobbiton is one of the best places to visit in New Zealand, especially if you love the Lord of the Rings! It isn't exactly an unusual place, but it's not every day, you get to visit a perfectly preserved film set!
The set was actually rebuilt for The Hobbit films! The set was burnt to the ground in the Lord of the Rings, an event that actually happened.
This is an unusual quirk of Hobbiton, and it was almost perfectly rebuilt for The Hobbit films. You will be in heaven if you are a fan of the series, as you get close to all the houses.
Bilbo's house is the only one you are not allowed to enter. However, you do get a free pint at the end of the tour, so it's not all bad!
Hobbiton is unusual as you don't often get the chance to visit the set of films. This is incentive enough to visit, as well as the incredible views of the shire!
Hot Water Beach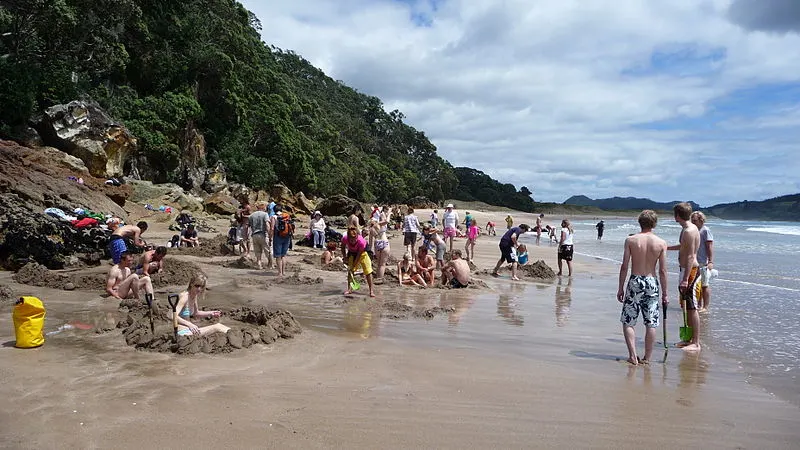 Yes, you have read that correctly! There is a place in New Zealand called Hot Water Beach, and yes the water is hot!
However, there is more to this than meets the eye. If you went into the ocean at this beach, the water definitely wouldn't be hot. So, where does the hot water come from!?
Well, it is all to do with the geothermal activity in Waikato. If you dig a hole two hours either side of low tide, hot water rushes to the surface.
It comes from underground fissures under the beach! This phenomenon occurs near the off-shore rocks on the beach.
Hot Water Beach is certainly one of the more unusual places to visit in New Zealand.
Experiencing Hot Water Beach should be high on your New Zealand backpacking itinerary!
---
You might also like:
---
Moeraki Boulders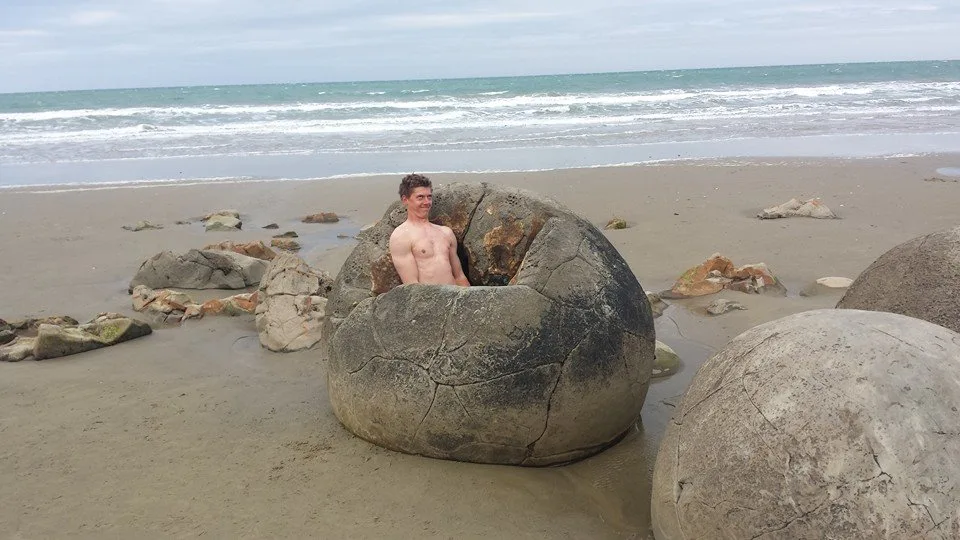 The Moeraki Boulders are certainly one of the weirder places to see in New Zealand.
Located on the Koekohe Beach between Moeraki and Hampden in the South Island, these giant boulders look otherworldly! They certainly do not look like they are the result of millions of years of erosion!
The almost perfect spherical nature of the boulders only adds to the strangeness about them.
They are scattered across the beach, many are in perfect shape, while some have holes in them. This makes them ideal for an interesting photo opportunity, as you can see below!
This is one of the weirder places I have visited, just because there are giant boulders on a beach!
They are completely out of place, and really do look like they are a practical joke by an advanced alien civilisation!
The Moeraki Boulders are definitely one of the most interesting places in New Zealand!
Pancake Rocks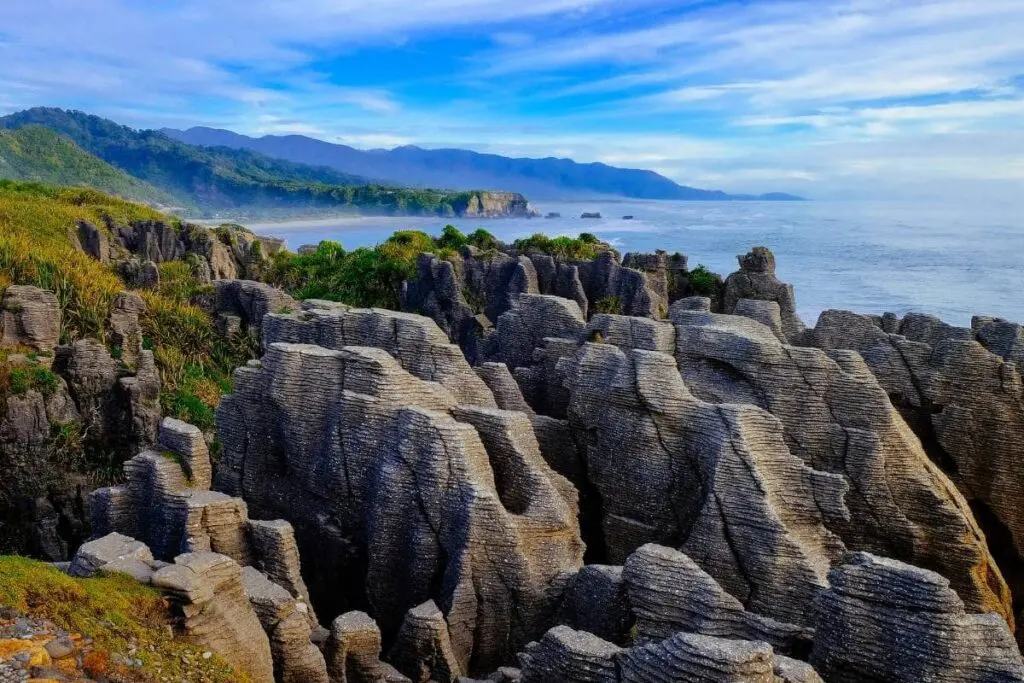 The Pancakes Rocks in the South Island are certainly one of the unusual places to visit in New Zealand. These rocks have the appearance of being layers upon layers of pancakes, due to millions of years of erosion.
The Pancake Rocks can get quite busy, as it is one of the most places to visit on the West Coast of New Zealand. This doesn't detract from the beauty of the place, though, as the rocks are an incredible sight!
I'm not sure if there's a best time to go to New Zealand, but the rocks are amazing all year round. They're probably quieter in winter too!
This is one of the most beautiful and unique spots in New Zealand, so you should definitely include it on a West Coast Road Trip. If you love weird geographical features, this is the place for you!
Puzzling World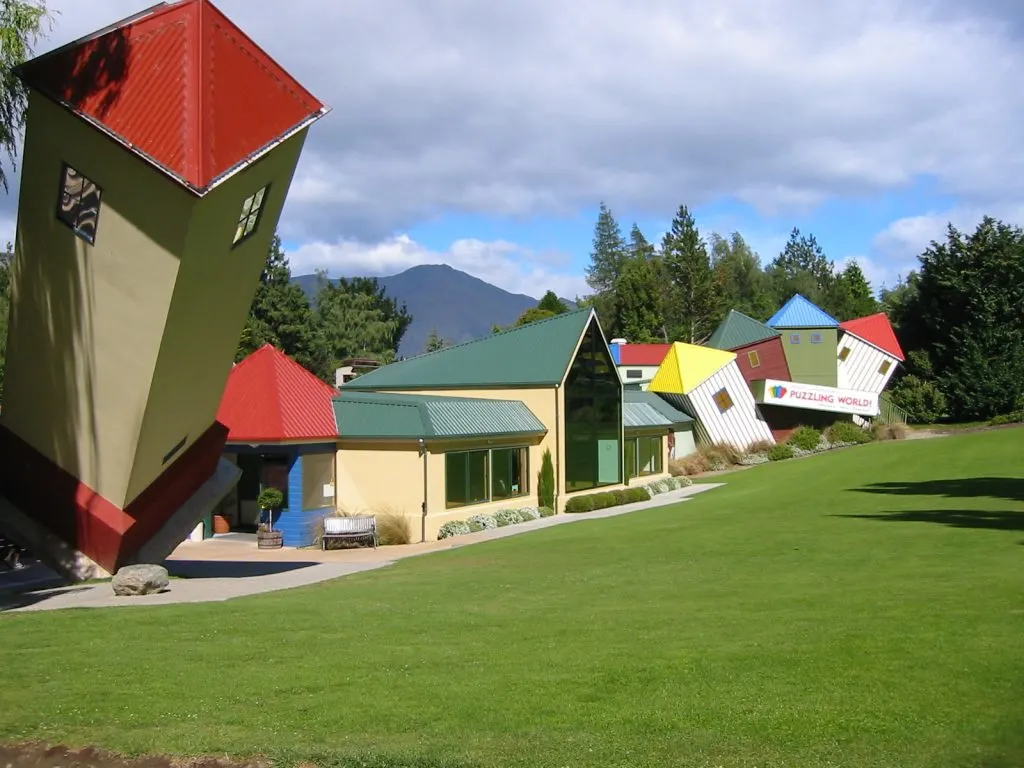 As you can probably guess from the name, Puzzling World is dedicated to puzzles and illusions! It is located in Wanaka in the South Island and is a place that has lots of strange and unusual sights inside.
A giant tap seemingly floats by itself in the sculpture room. The Leaning Tower of Wanaka, which is balanced on one corner, and to top it off there is a fiendishly difficult maze to navigate as well!
There are so many things to do at Puzzling World, you could spend hours here doing them all!
The exhibits and sights instead are very unusual, even the buildings themselves are strange. it's a great place to visit if you're spending 3 days in Queenstown as it's only a short drive to Wanaka.
Puzzling World is a unique and interesting place to visit in New Zealand. If you love illusions and puzzles, then this is definitely the place for you!
Queenstown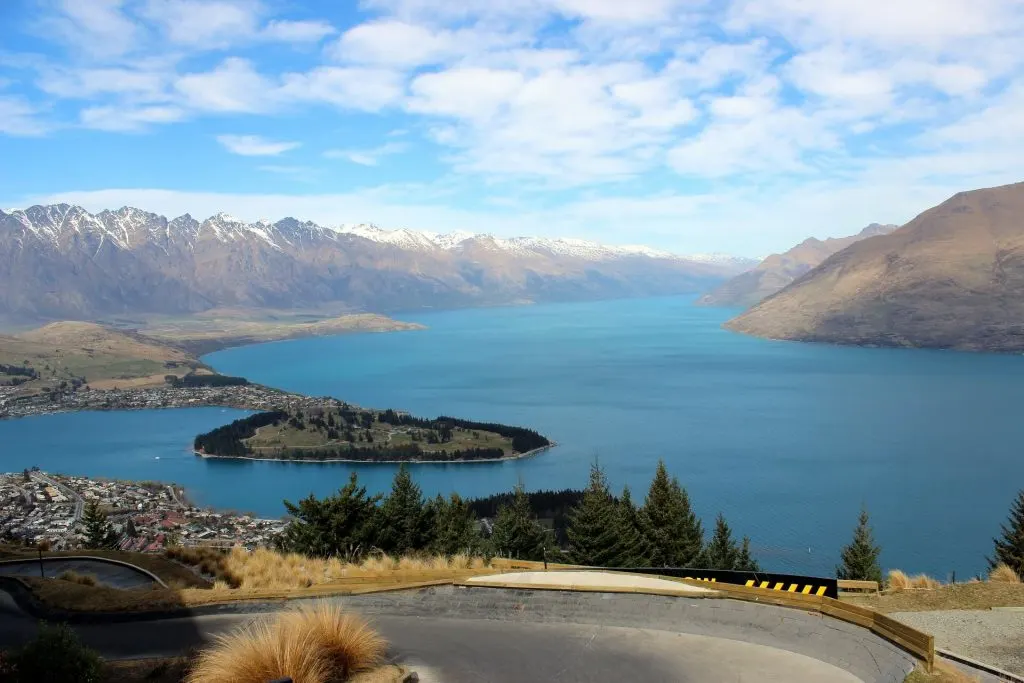 You're probably wondering what Queenstown is doing on a list of unusual places to visit in New Zealand. Well, let me explain:
Despite being one of the most famous places in New Zealand, Queenstown is unusual because you can do so many adrenaline sports in one tiny town.
Everything from bungee jumping, skydiving and jet boating are available in this crazy place.
Another thing that was unusual for me was the complete lack of kiwis. Virtually everyone I met there seemed to be a backpacker. I'm not sure if there would be anyone left if all the backpackers left!
It's also one of the most beautiful places in New Zealand if the adrenaline sports do not grab your attention!
You should definitely visit Queenstown if you want to do unusual and exciting activities, just don't expect to meet many kiwis!
Rotorua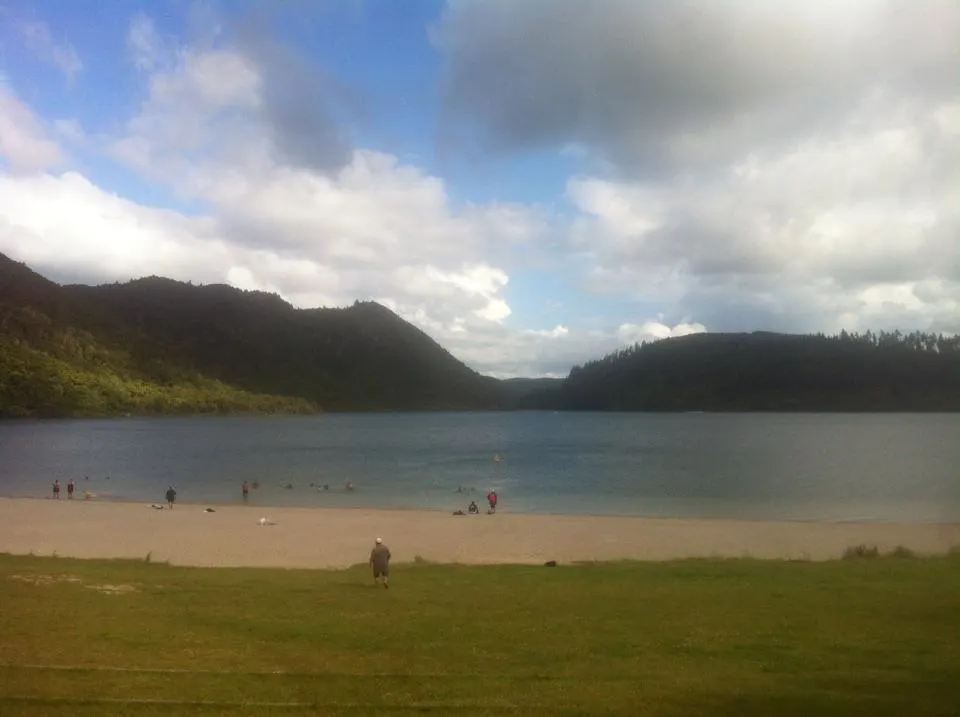 What makes Rotorua one of the most unusual places in New Zealand is the smell. You may be sitting there and thinking "What the smell!? What does he mean!? Let me explain:
The smell in Rotorua is that of sulphur, due to the hydrogen sulphide emissions.
This is because Rotorua is close to sulphur springs, so the smell of rotten eggs is prevalent. I'm not going to lie, the smell is not pleasant, but as there are many great things to do in Rotorua, you can forgive it for this!
The thing that really bothered me was what the residents thought of the smell.
Or had they become accustomed to it after living there for so long? So many questions!
Slope Point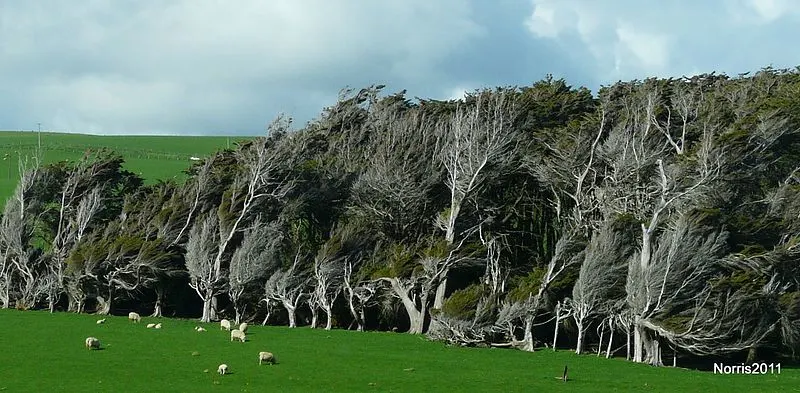 Slope Point is the southernmost point of the South Island. This was one that I really wanted to visit, but unfortunately, I was unable to do so, during my time in New Zealand.
The reason I wanted to visit so badly, was because of a post I had seen before I did my New Zealand Working Holiday.
The images of trees bent over, due to the ferocity of the wind intrigued me! As Slope Point is right at the bottom of New Zealand, the fact that I would almost be at the end of the Earth intrigued me as well!
It's a long way to reach Slope Point, but it's worth it if you want to see somewhere a bit different in New Zealand!
Twizel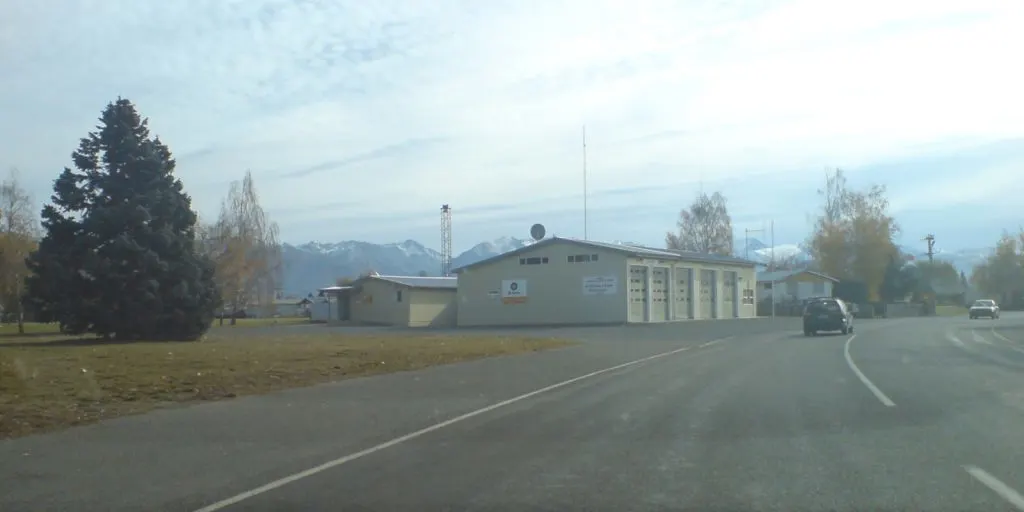 Twizel is a small town on the South Island, with unusual beginnings. It was originally built to house workers for the Upper Waitaki Hydroelectricity Scheme. The intention was for the town to be turned back to farmland once the project was finished.
To make this easier, no kerbing, channels or footpaths were built.
Most of the town's telephone lines were strung above ground to avoid digging them up during the revert. Well, Twizel was not reverted to farmland when the project was finished and still stands today!
It is a strange little town, especially as the houses are built in Scandinavian fashion. This is certainly one of the more unusual places to visit in New Zealand, just because of its history!
Concluding Thoughts
As you can see, New Zealand is not all hobbits and mountains. There are plenty of unusual places to visit in New Zealand, some stranger than others.
Do you agree with my choices? Have you been to any of these places yourself? I would love to hear from you in the comments below 🙂
Need Travel Insurance?
SafetyWing offers coverage that will give you peace of mind while you're on the road. If you want to protect yourself while you're on the road, then click the image to take a look at the options available to you.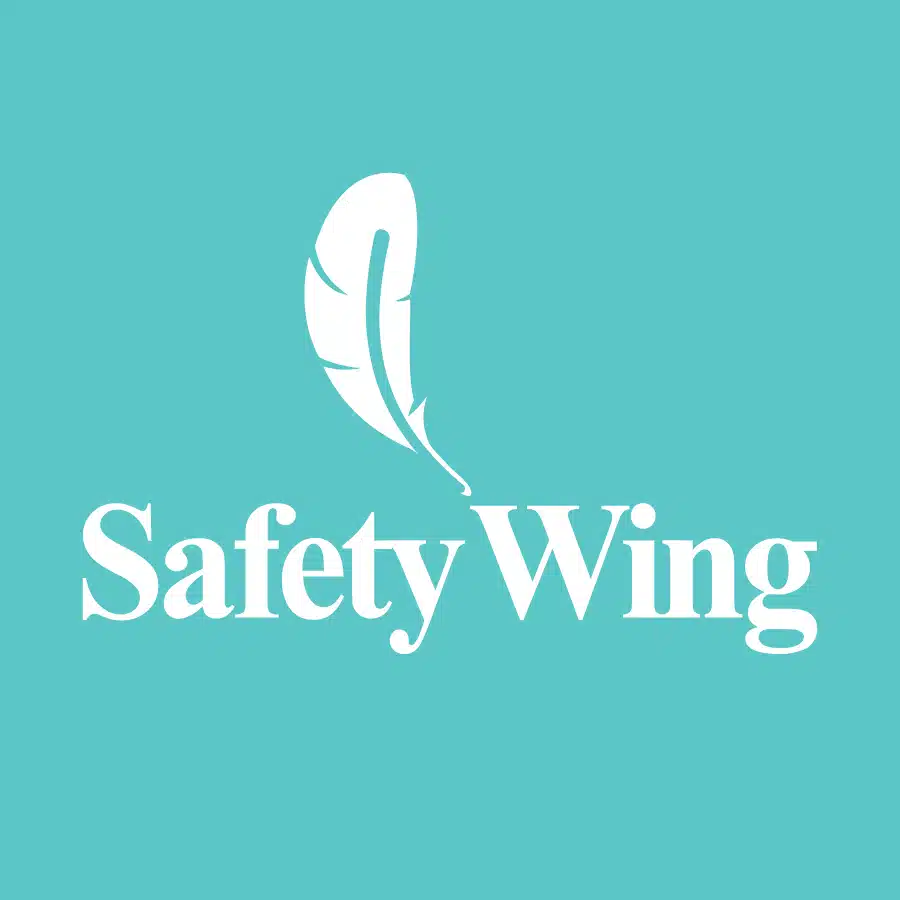 Pin for later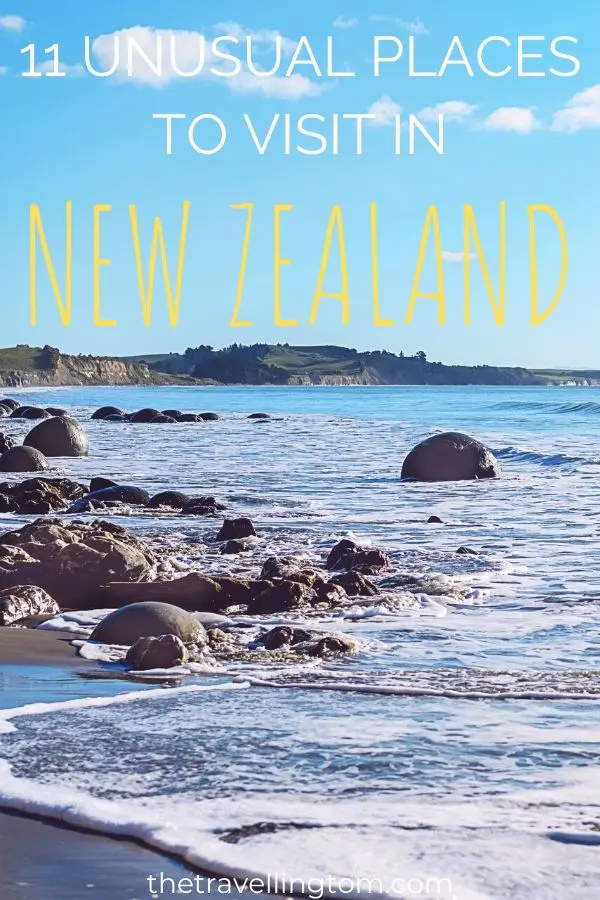 Tom is a travel addict who first left England to spend a year Down Under. Not satisfied with this, he then went to New Zealand, about as far away from home as he could get. He is now planning his next adventures in Europe and Canada while maintaining this blog. Check out the about me page to learn more!