Tirana is one of the most interesting cities I have visited in recent years. It's a mix of old and new, classical and modern, with a side of brutalism thrown in.
Because of this, there are plenty of things to do in Tirana. I spent a few days in the city, and there was always something to do and a new place to check out.
Popular spots such as Skanderbeg Square and Grand Park are must-visits while you're in the city. While you can also head further out of the city to check out places such as Durres too!
Albania is becoming a more and more popular destination with each passing year, and as Tirana is the main transport hub, it makes sense to give it a visit.
If you're wondering what to do in Tirana during your stay, this is the list for you!
Disclosure: This article may contain affiliate/compensated links. For more information, please see our full disclosure policy.
Table of Contents
Things To Do in Tirana
1. Skanderbeg Square
Price: Free | Location: Tirana Centre
---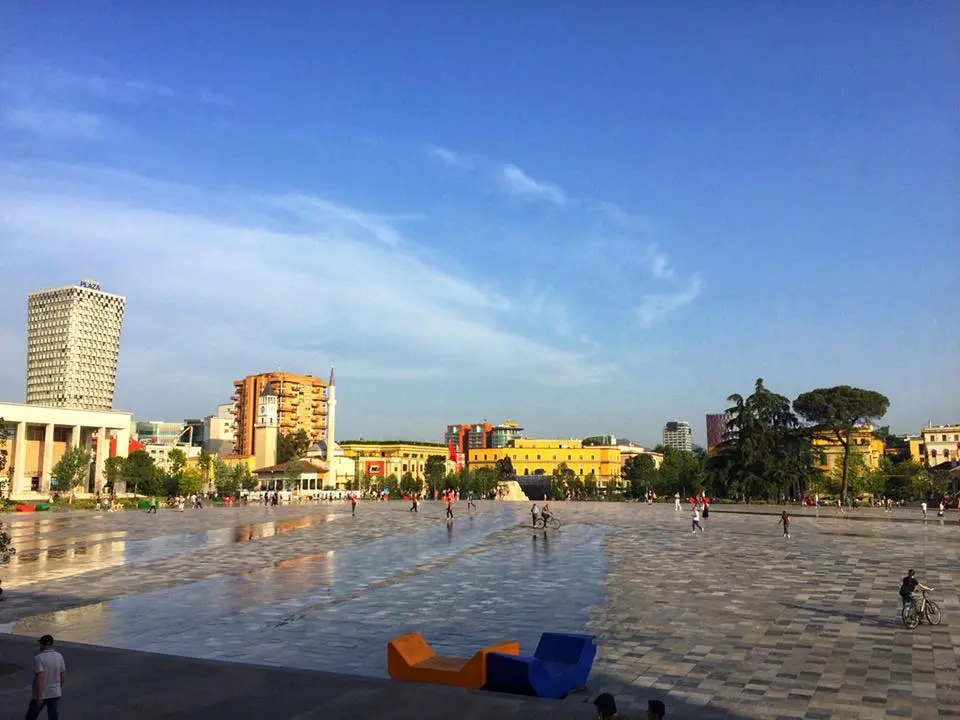 Skanderbeg Square is one place you can't fail to visit during your trip to Tirana. It is a gigantic square in the heart of the city and is one of the reasons why the capital is one of the best places to visit in Albania.
Around the edge of the square are several intriguing buildings. The National History Museum is on one side, the Opera House on the other, and on another side, there's a small park.
The square slopes upwards towards the middle. Curiously, water runs out of holes in the ground during summertime and makes its way down to the edge of the square. There is also a giant statue of a warrior on horseback as well as a huge Albanian flag.
Skanderbeg Square is a beautiful place and one you can't leave out during your Tirana itinerary!
2. National Historic Museum
Price: 200 LEK | Location: Tirana Centre
---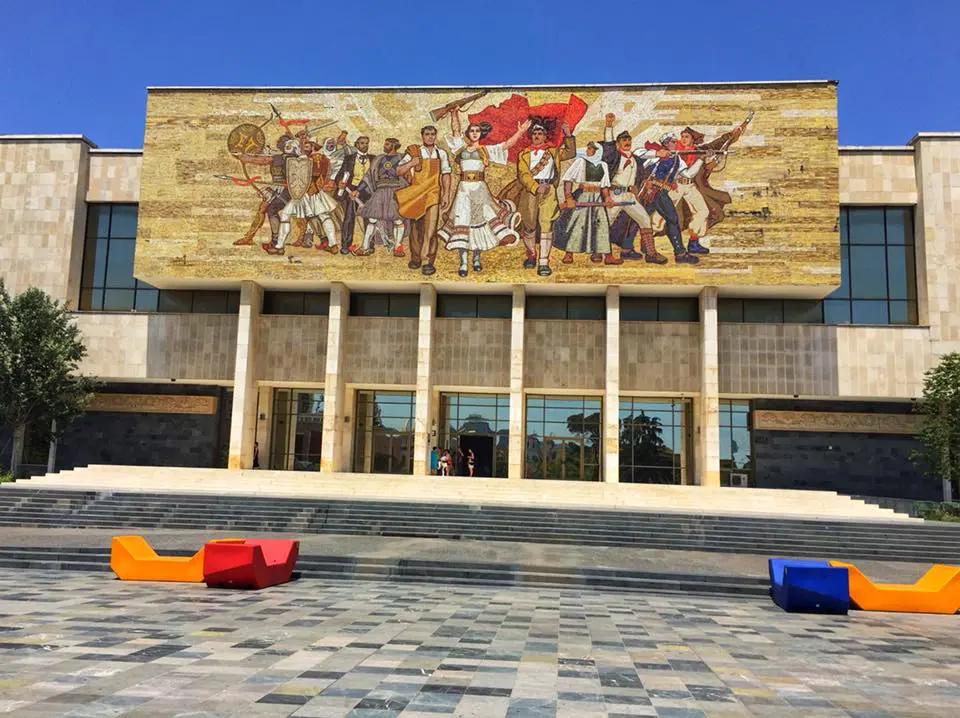 If you want to learn more about the history of Albania, the National Historic Museum in Skanderbeg Square is the place to go.
The building is impressive with a mural at the top which depicts figures from Albania's ancient and recent history.
The museum has a range of exhibits from the history of Albania in antiquity to displays about the country's recent past under communism. There is also a large section dedicated to Mother Teresa, who was an ethnic Albanian.
Entry costs 200 LEK, which is a small fee to pay to enter an insightful museum. Visiting the National Historic Museum is one of the more educational things to do in Tirana and one you shouldn't miss out on!
3. Bunkart
Price: 500 LEK | Location: Tirana Centre
---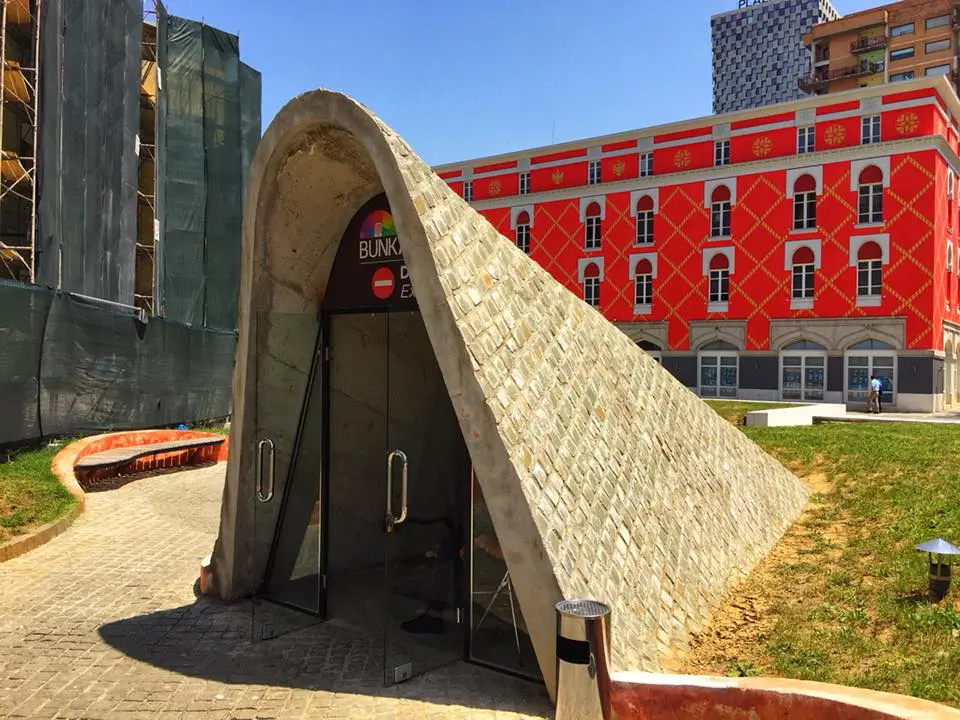 The paranoia of Albania's communist dictator, Enver Hoxha, led him to commission over 173,000 bunkers to be built in the country! Some of those are based in Tirana, and instead of being neglected, have been turned into museums.
You can check out the bunkers by Skanderbeg Square, known as Bunkart, for 500 LEK. The museum details the history of the regime and its treatment of political prisoners.
The exhibits are informative and full of detail. Plus, you get to see a replica of the offices used by the Albanian secret service as well as some of the torture methods they used.
It's only a small bunker, but if you're curious about Albania's fascinating modern history, it's somewhere you have to visit!
4. Kapllan Pasha's Tomb
Price: Free | Location: Tirana Centre
---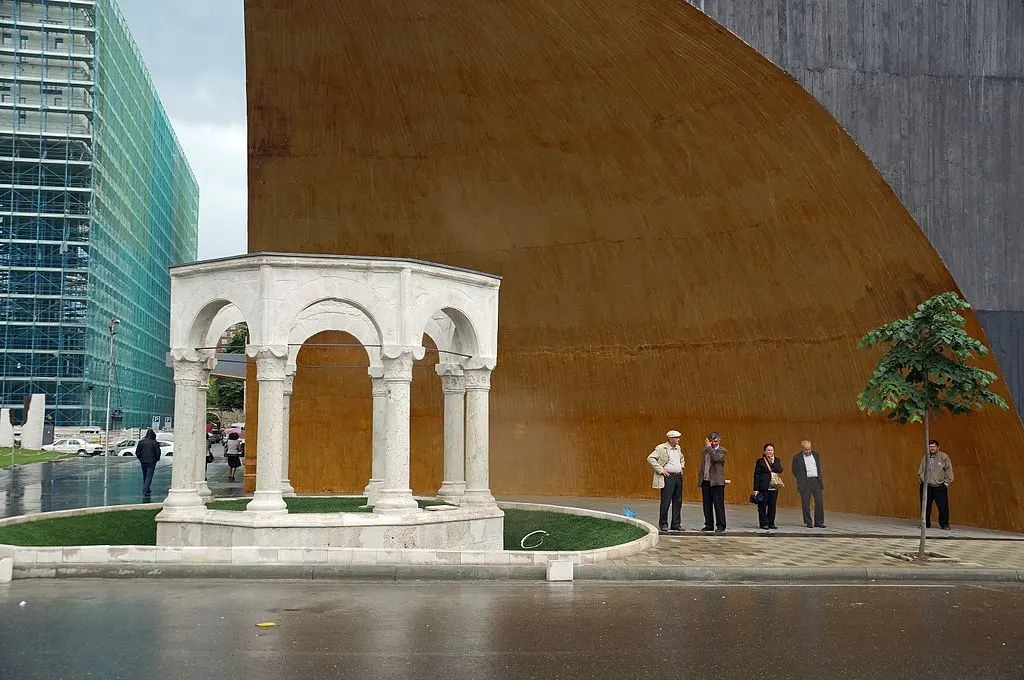 Kapllan Pasha was an Ottoman ruler of Tirana during the 19th century. The tomb was built after Pasha died in the centre of Tirana.
It was declared the first Cultural Monument in Albania in 1948 and originally stood next to the Sylejman Pasha Mosque, which was destroyed during the Second World War and not rebuilt during the Communist regime.
The tomb is currently in front of the Plaza Hotel, with the facade of the building built in a way to accommodate the tomb. The remains of Pasha are no longer underneath the tomb after they were repatriated to Istanbul after the war.
It took me a while to figure out the significance of the tomb when walking past, but it is an instantly recognisable monument in the city and one of the more fascinating places to visit in Tirana!
5. Grand Park of Tirana
Price: Free | Location: Blloku, Tirana
---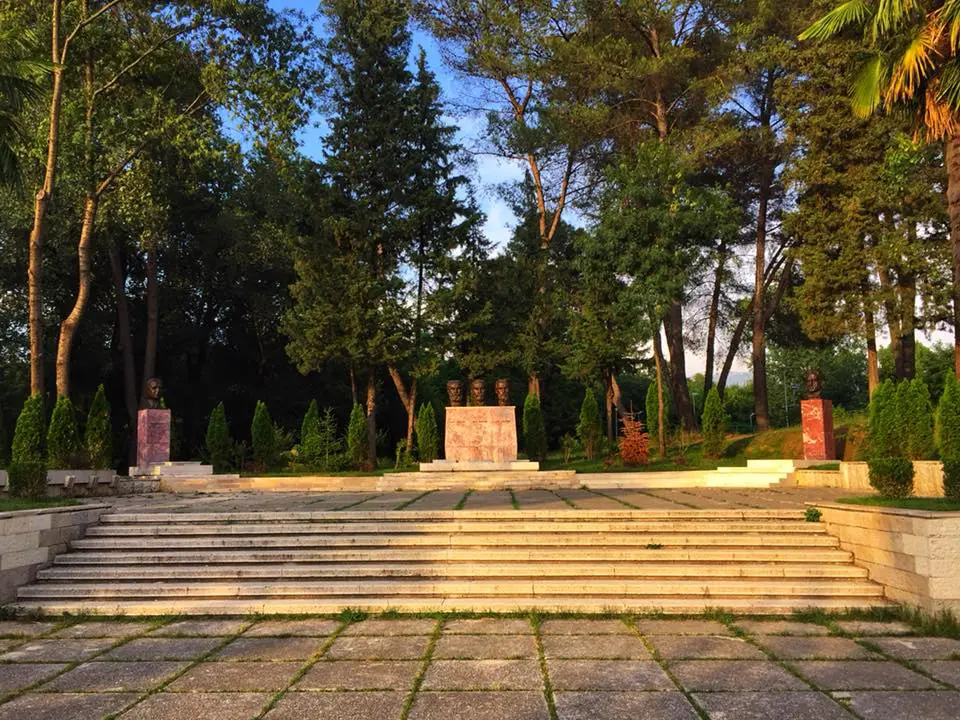 Visiting Grand Park is one of the best things to do in Tirana. The park is huge and sprawls over 289 hectares. It includes an artificial lake, botanical garden and zoo.
If you want to get away from the hustle and bustle of Tirana, then the park is a great place to go, as it's easy to forget you are in a big city when you are there!
Next to the park is the Royal Palace, which was built by Zog of Albania. Today, the building is the official residence of the President of Albania.
The park is home to around 120 species of trees, bushes and flowers, which line the paths. The park is an excellent place to spend a hot summer's day and chill!
6. Pyramid of Tirana
Price: Closed to the public | Location: Tirana Centre
---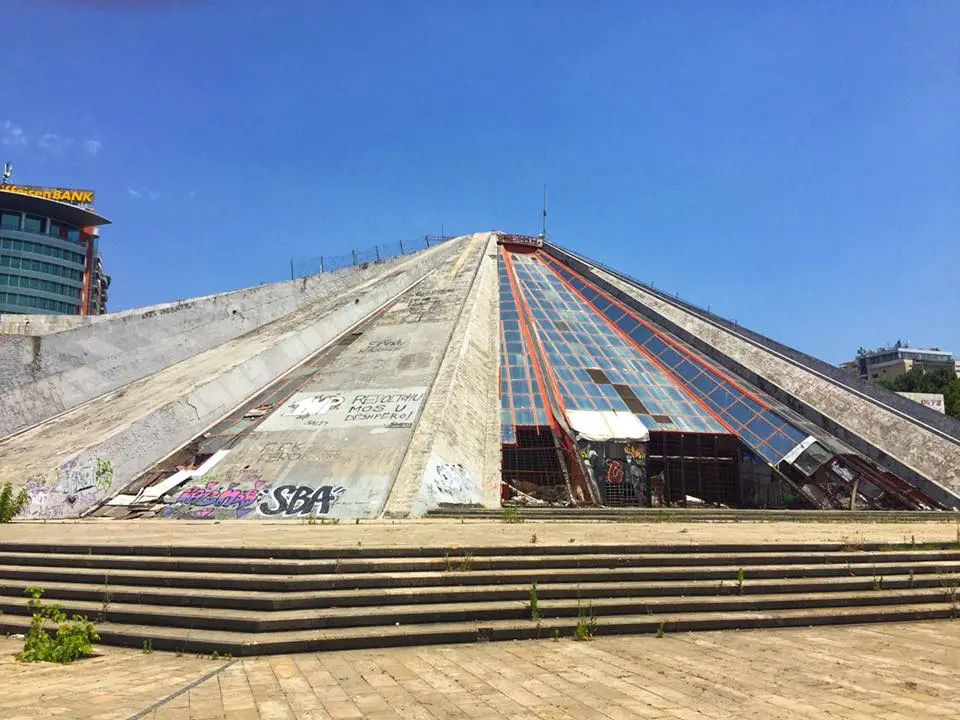 The pyramid of Tirana is one of the more interesting places to visit in the city. It was built as a museum for the communist leader Enver Hoxha and opened in October 1988.
Following the fall of communism in 1991, the pyramid ceased to be a museum and it was repurposed as a convention centre and even used by NATO during the Kosovo War in 1999.
The pyramid is currently empty and not in use. Graffiti is scrawled across the building and it is in a clear state of disrepair.
Current plans for the building involve turning it into a multi-functional centre for art, culture and technology. Staircases will be built on the current structure allowing you to walk to the top.
Hopefully, the project is successful, so the pyramid is reopened and accessible once again!
7. I love Tirana Sign
Price: Free | Location: Rinia Park, Tirana Centre
---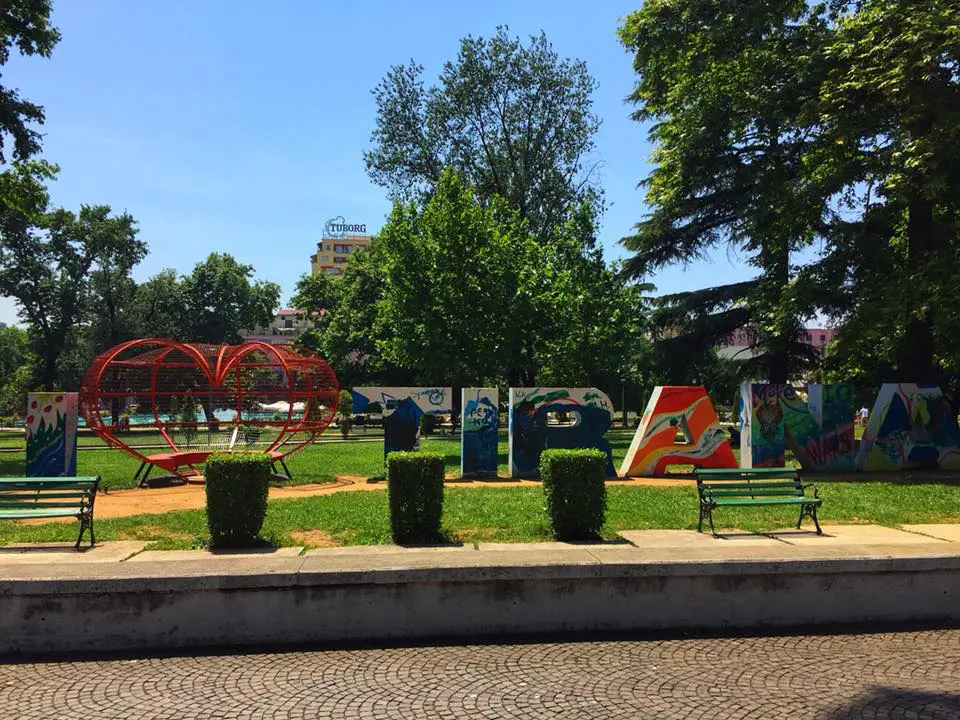 If you're big on your social media presence, one of the best things to see in Tirana is this sign. It's similar to the one in Amsterdam, but nowhere near as well known!
Owing to its brutal communist past, there are plenty of attractions in Tirana that are not great to look at, but the I Love Tirana sign is an exception.
One of the unique things about the sign is that the heart symbol is three-dimensional, which means you can sit inside and get an even more vibrant photo!
The sign is located in Rinia Park and is one of Tirana's attractions you can't miss out on!
8. Tanner's Bridge
Price: Free | Location: Tirana Centre
---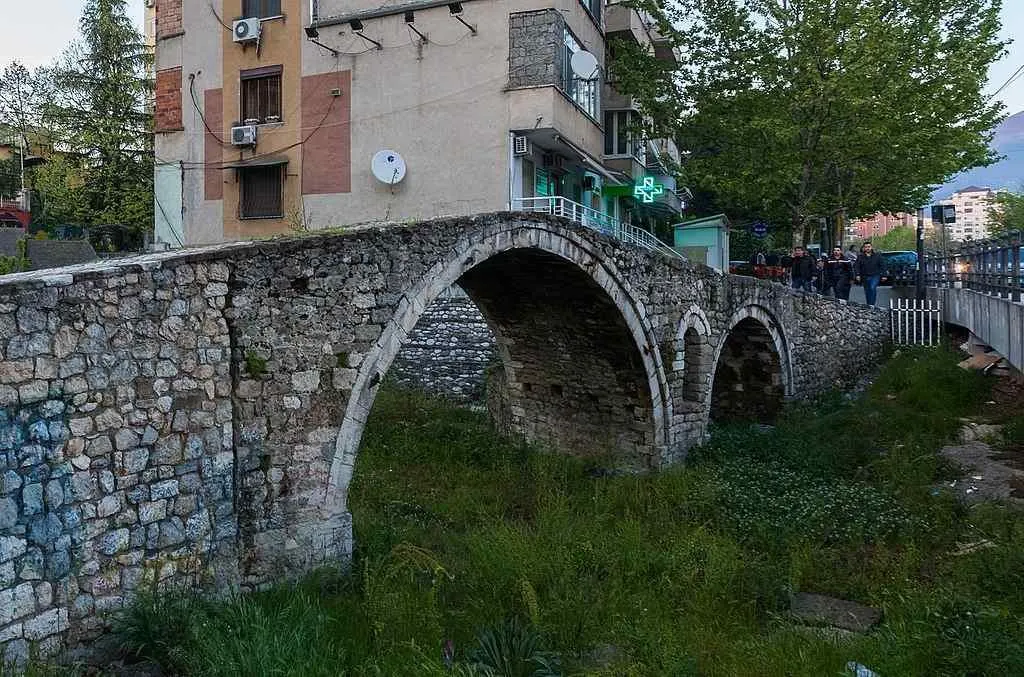 Tanner's Bridge is an 18th-century footbridge dating back to the Ottoman era in Albania. It's one of the few remaining historical monuments in a city modernising at a rapid pace.
The bridge was once part of the Saint George Road that linked Tirana with the highlands to the east.
Tanner's Bridge originally spanned the Lanë River, until it was redirected by city planners in the 20th century as they crafted Tirana as it looks today.
The bridge fell into disrepair following the redirection of the river, but it was restored in the 1990s and reopened again for pedestrian use. It is in the heart of the city and can't be missed during a trip to Tirana.
9. The Independence Memorial
Price: Free | Location: Rinia Park, Tirana Centre
---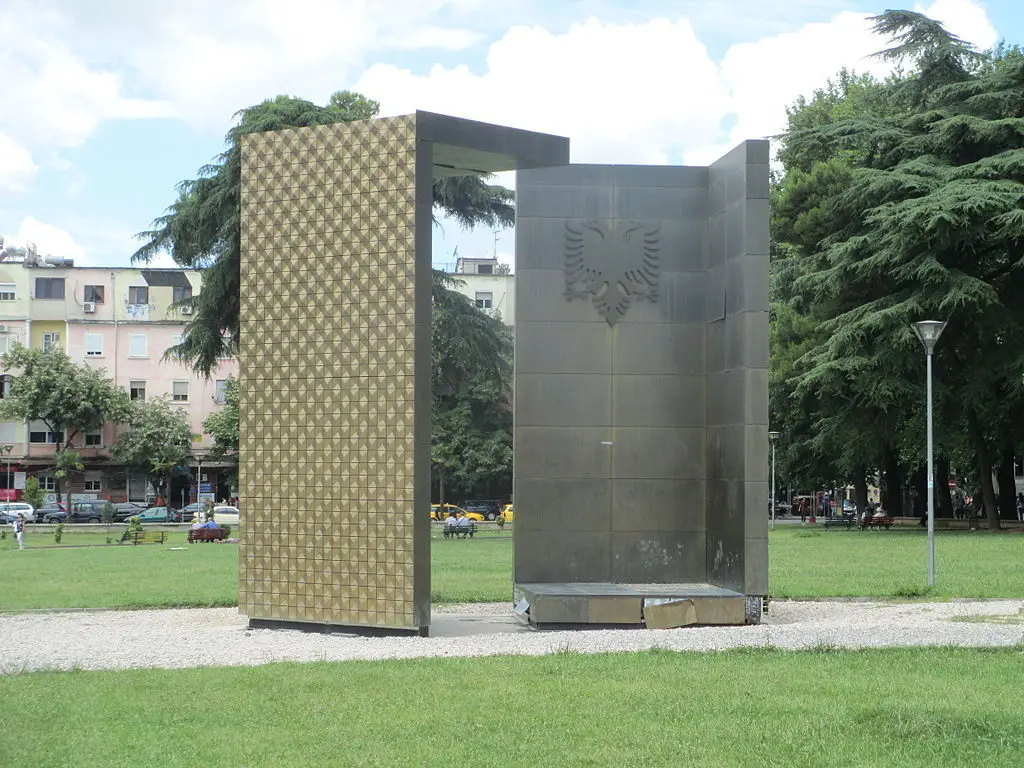 As the name suggests, this is a memorial celebrating the independence of Albania. It was inaugurated in 2014, 100 years after the country gained its freedom from the Ottoman Empire.
The memorial is in the shape of an open tower, which symbolises the opening of Albania towards independence. It consists of two golden pieces, one of which has the Albanian eagle and the other has fragments of the Declaration of Independence.
It is not the most well-marked place to visit in Tirana. I had no idea about it until I visited Rinia Park and even then I was only aware of its significance once I started reading the inscriptions on the memorial.
Still, if you love history and memorials, this is one of the best things to see in Tirana!
10. The Remains of Tirana Castle
Price: Free | Location: Tirana Centre
---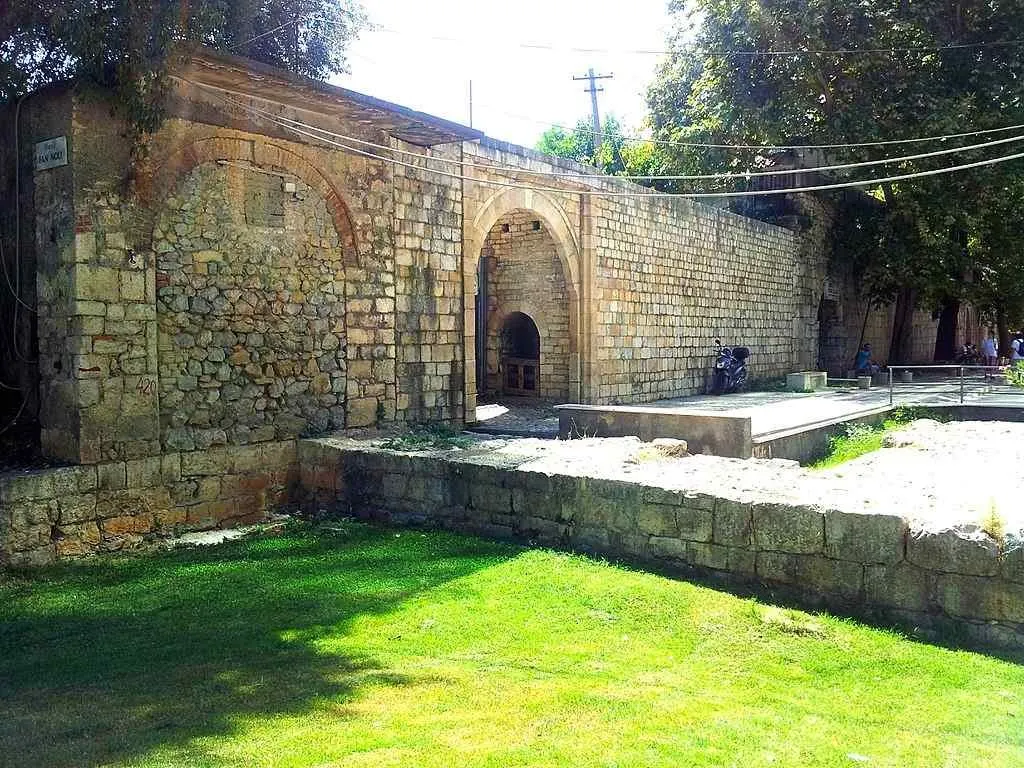 Also known as the Fortress of Justinian, the remnants of Tirana Castle lie near the pedestrianised Murat Toptani Street.
The castle dates back to the 1300s and is a remnant of the Byzantine era. Not much is left of the fortress, except for a 6-metre (20-foot) high wall, which is covered in vines.
Although the castle itself no longer remains, there are several cafes, restaurants and shops inside the walls. If you're wondering what to do in Tirana, this is a great place to check out!
11. Electric Box Street Art
Price: Free | Location: Across the city
---
Electricity boxes are often uninspiring parts of cities. They are bland to look at, almost blending into the background. Tirana has decided to do something different.
One of the reasons behind it is the current President of Albania, Edi Rama. As an artist, he decided to add some colour to the city when he was elected as mayor of Tirana in 2001. This resulted in the city moving away from its grey look to a much more colourful one.
The boxes are located across the whole city, and they are not difficult to spot. The images mainly focus on Hollywood and cultural references. The same principle has been applied to various houses and buildings in Tirana too.
Make sure to keep your eyes peeled while you are walking around Tirana. Otherwise, you may miss some beautiful street art!
12. House of Leaves
Price: 700 LEK | Location: Tirana Centre
---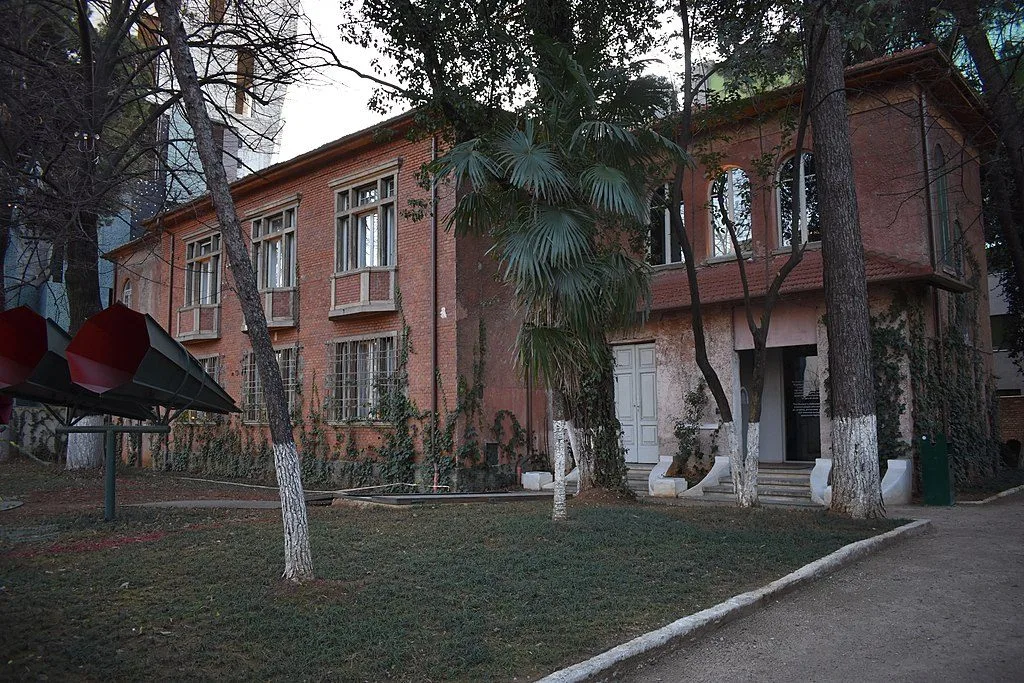 The House of Leaves is a museum dedicated to the feared Albanian secret service, the Sigurimi. The name has a double meaning. The leaves refer to things hidden in the woods, as well as a figurative reference to leaves of books and files on people.
The house was built in 1931 and was originally used as a medical clinic before it was used by the Gestapo during the German occupation in the Second World War.
Surveillance carried out in the house during the Communist rule of Albania focused on intercepting communications by phone and post, as well as keeping tabs on foreigners.
The museum shows the methods that were used by the Sigurimi to achieve this and how the people of Albania felt about the levels of surveillance they were under.
It's safe to visit Albania, but this wasn't always the case! The museum was only opened in May 2017, but checking out the House of Leaves is already one of the best things to do in Tirana!
13. Et'hem Bay Mosque
Price: Closed to the public | Location: Tirana Centre
---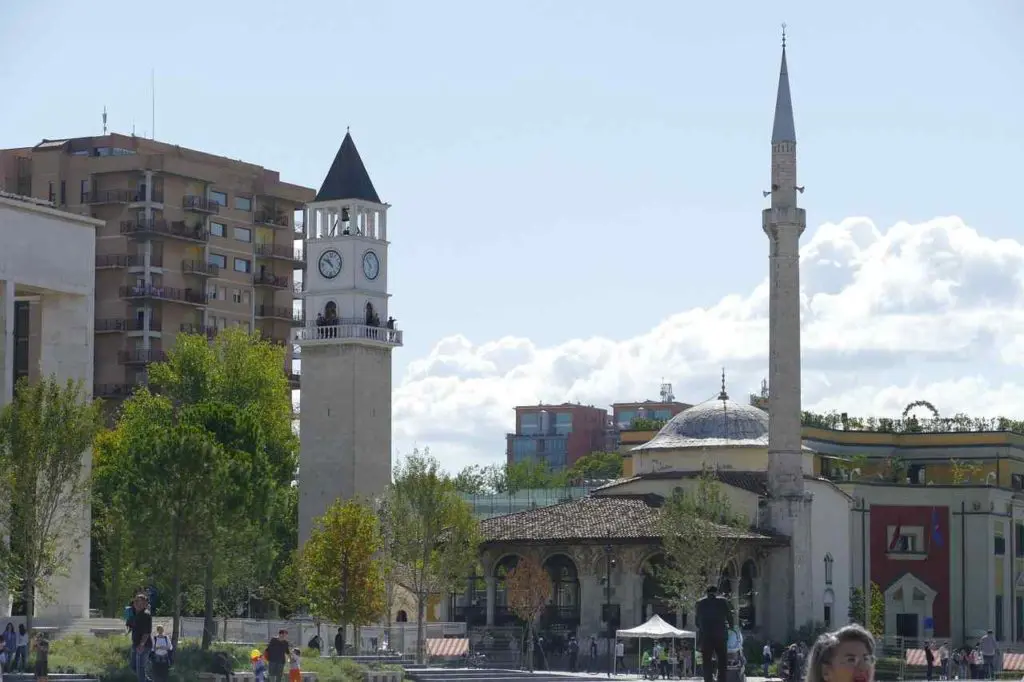 Et'hem Bay Mosque is an important building in Tirana and Albania in general. The mosque was closed under the communist regime, which oppressed religious freedom.
In 1991, 10,000 people entered the mosque carrying flags. The event happened during the onset of the fall of communism in Albania and marked the return of religious freedom to the country.
The mosque itself is a beautiful building. It was founded at the end of the 18th century by Mulla Bey. There are numerous frescoes inside and outside of the building which depict trees, waterfalls and bridges.
However, as of writing, it is currently under restoration. So you will have to admire the building from the outside while the restoration work takes place.
14. Dajti
Price: 729 LEK | Location: Dajti Mountain
---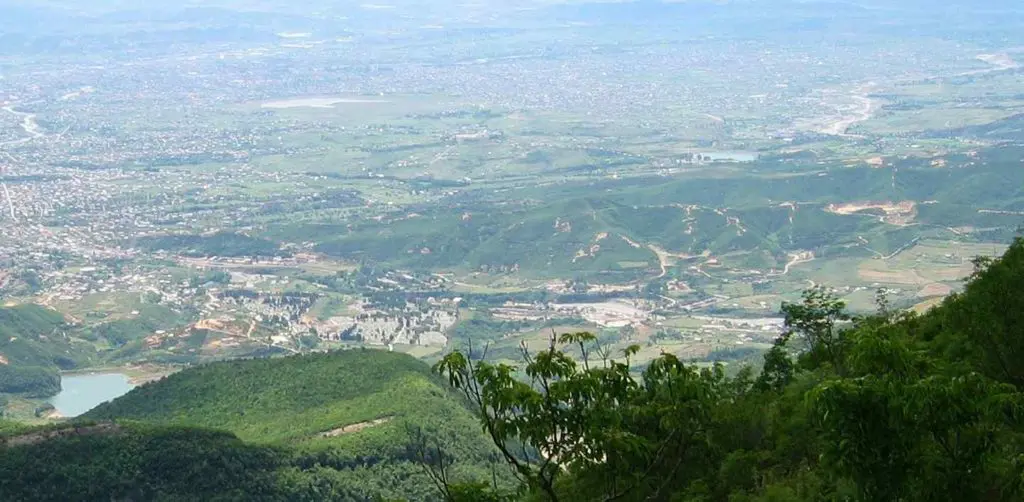 Dajti Mountain is the place to go if you want to get an epic view of Tirana from above. The mountain is about 15 minutes from the city centre and is accessible via a cable car.
The cable car takes you up to the top at 1,000 m in around 20 minutes. Once you get to the top, there are a few things you can do such as mini-golf, paragliding and enjoying a meal at the Belvedere Hotel.
One thing to bear in mind is that due to the change in altitude, it will be colder at the top. If you're visiting Tirana during the summer, this won't be too noticeable, but it will if you visit outside of these months.
The cable car doesn't operate on Tuesdays, so buy a return ticket. Otherwise, it will be a long walk down to the bottom!
Day Trips From Tirana
As the capital of Albania, Tirana is the main hub of the country and is well-connected to all parts of the country.
Albania is a beautiful country and it is certainly worth exploring as much of it as you can. If you plan on doing some day trips from Tirana, there are two ways you can go about it.
You can either book a tour, which is the easier option, or you can rent a car and do your own thing. I would rent a car as it gives you more autonomy. Despite driving in Albania not being the easiest, it is easy enough to get around the country.
Below are a few places you should consider going for a day from Tirana or more.
15. Shkodër
Distance: By car – 1 hour 33 minutes
---
Shkodër is located an hour and a half north of Tirana. It's an ideal place to go on a day trip from Tirana.
If you want to get out of the city and get among nature visiting Shkodër is where you should go. The city is close to the Albanian Alps and has amazing views as far as the eyes can see.
Shkodër offers a distinct change of pace to Tirana, it is slower and sleepier compared to the hectic vibrancy you find in the capital.
It is a beautiful city and one you should explore if you're in Tirana for an extended period. A good option is to book a tour if you're unsure how to get there by public transport.
16. Krujë
Distance: By car – 49 minutes
---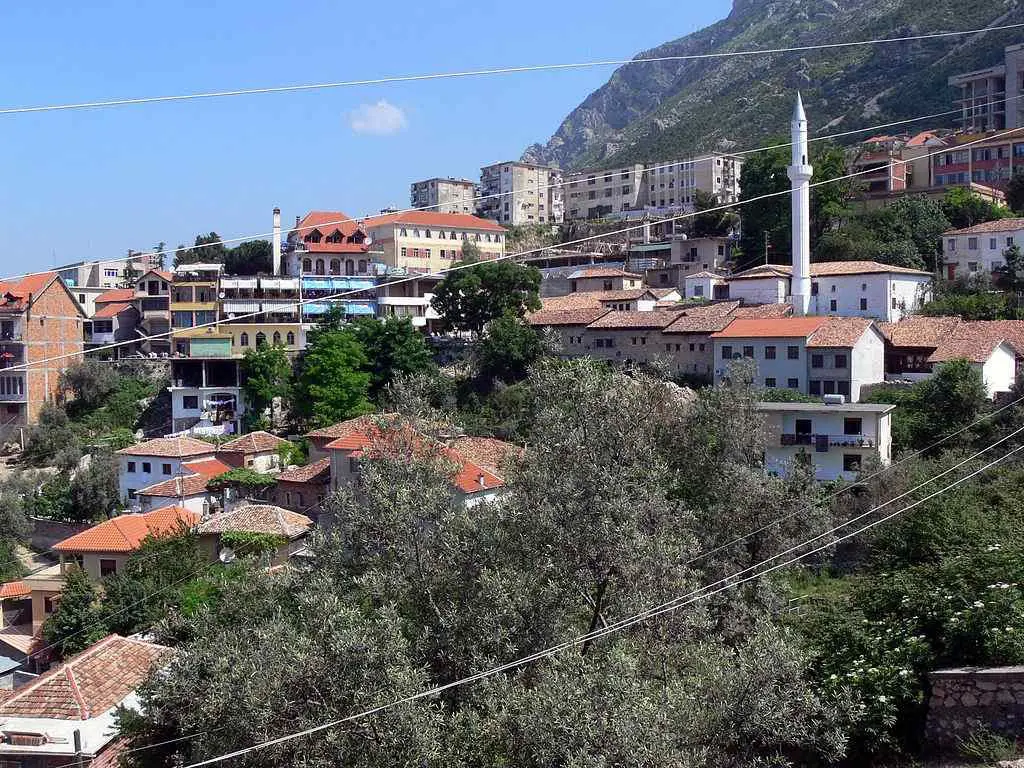 Krujë is a scenic town north of Tirana. If you have a car, it's an easy place to reach from the capital. Kruje is rich in history and has been populated since the 3rd century B.C.!
The biggest attraction in Krujë is the castle that is nestled in amongst the rocks. From the top, you can get a brilliant view of Mount Tomori in the south, and Ulcinj in the north, with some views of the Adriatic thrown in too!
There is a medieval hammam in the city too, which is a steam bath that you can visit. Unfortunately, you can't take a bath, which is a shame.
Like Shkodër, Krujë is an excellent place to visit if you're in Tirana for an extended time and want to get away from the hustle and bustle of the city.
17. Durrës
Distance: By car – 36 minutes
---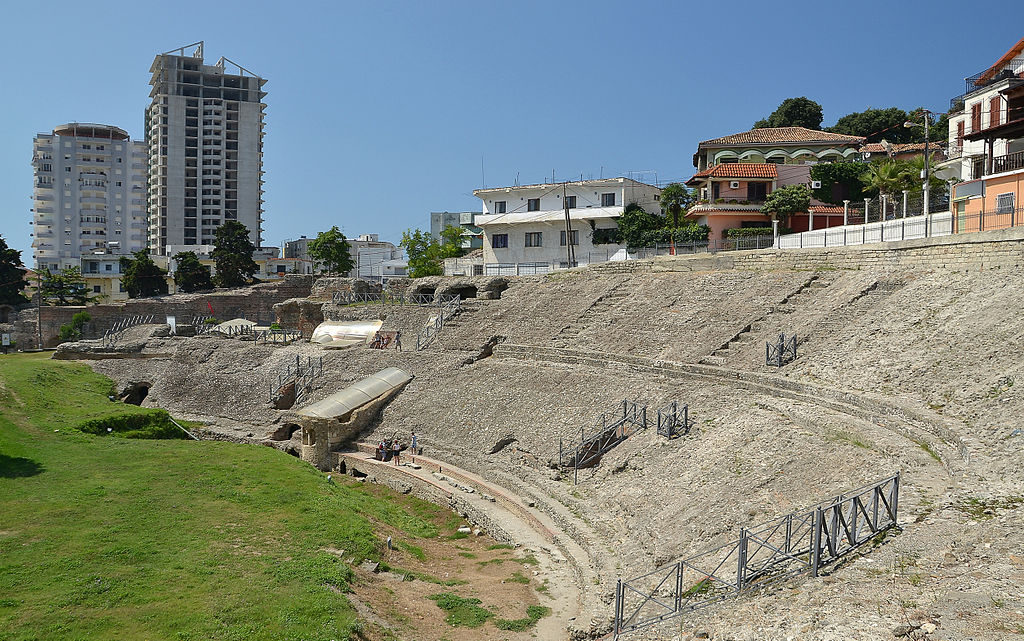 An interesting fact about Durres, which I was surprised to learn, is that it is the second-largest city in Albania. Seeing as it is only a 36-minute drive from Tirana, it's certainly worth checking out!
The city is famous for its huge Roman Amphitheatre. It's not on the scale of the Colosseum, but it's impressive nonetheless. The amphitheatre was built in 100 AD, but it was only rediscovered in 1960, which is hard to believe, considering its size.
Durres is a port city, and as it is close to the sea, that means it has a beach. It is a big beach! It is 10.5 km long and is the most visited beach in Albania. If you visit during the summertime, expect it to be very, very busy!
There are also several museums and other archaeological sites you should check out while you're there, especially if you enjoy history!
Best Time to Visit Tirana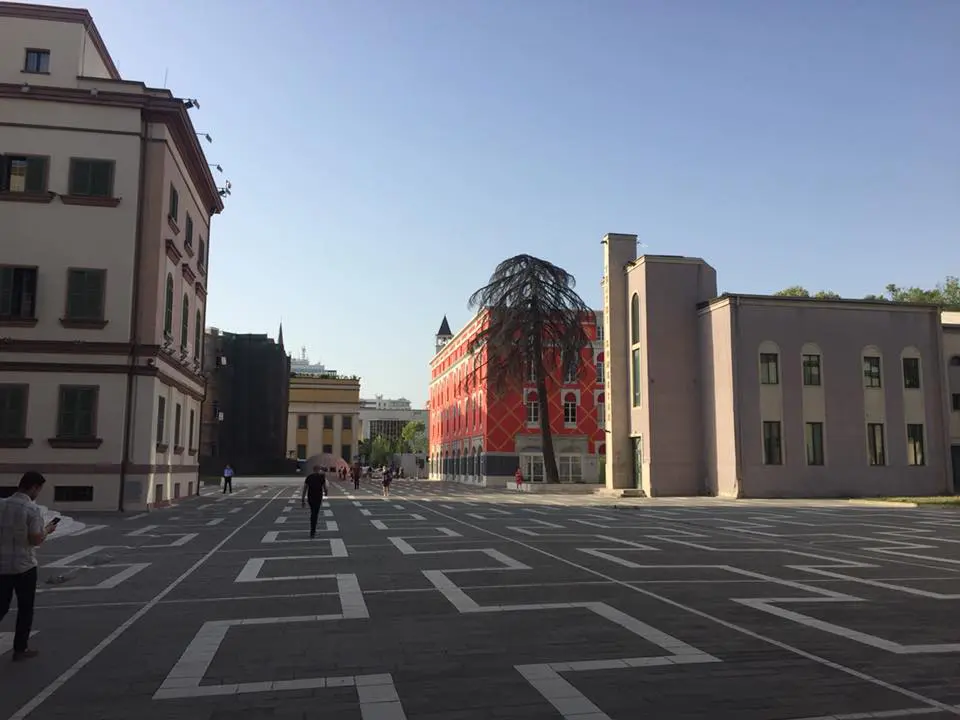 I visited Tirana during the middle of summer, and to say it was hot would be an understatement! The temperatures were intense, even the locals I spoke to said it was unusually hot for the time of the year.
The city is beautiful in the summer sun, but it's hard to explore Tirana when the heat is so intense. Temperatures are regularly above 30 degrees during the summer months, so unless you like the heat, it may be best to avoid visiting Tirana during this time.
Temperatures are cooler during Spring and Autumn, so these months are the ones you want to look at when it comes to visiting Tirana! This is generally the best time to visit Albania too!
Winter sees much cooler temperatures between 5 and 10 degrees. Unless you're a big fan of cool weather, or you like visiting cities during winter, it may be best to avoid travelling to Tirana during these months.
However, Tirana is one of the best European winter destinations for the simple fact that it is a quiet and inexpensive place to visit compared to the rest of the continent.
Tirana hasn't caught on as a popular tourist destination yet. Albania is still overlooked when it comes to places to visit in Europe. This means you won't have to deal with lots of other tourists in the city, and you can enjoy it at your own pace.
Where to Stay in Tirana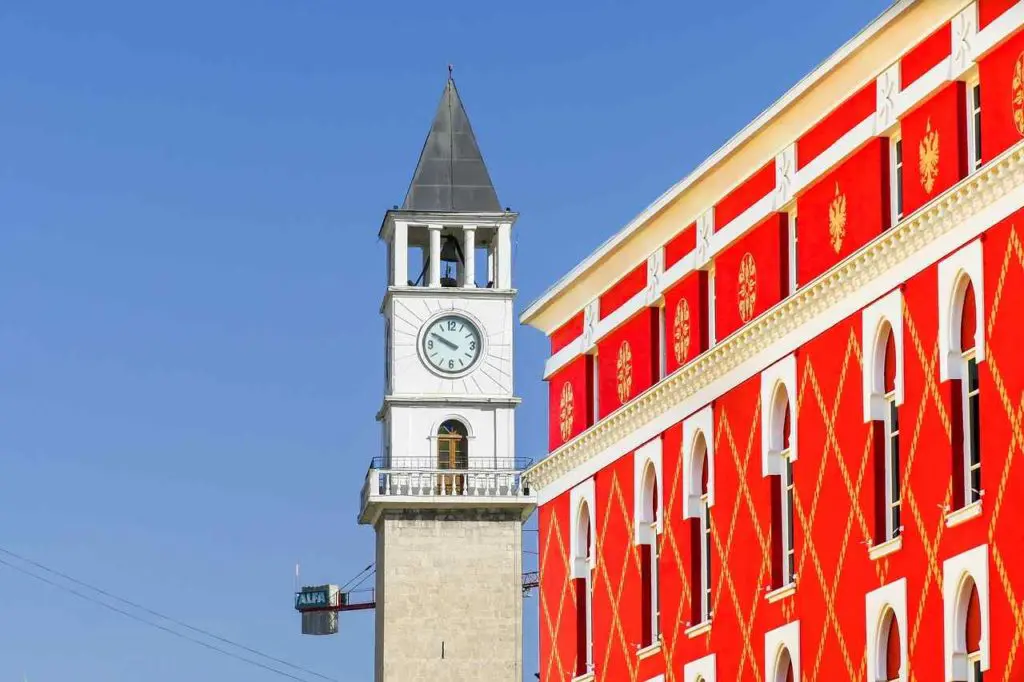 As the capital city of Albania, you are not short of places to stay in Tirana! Whether you want to stay in a hotel, hostel or super-duper fancy five-star luxury hotel, you can find it here.
During my stay in the city, I stayed at Hotel Oresti and highly recommend staying there, if you don't want to stay in a hostel and you're looking for a hotel that isn't too pricey.
The rooms are spacious and comfortable, while the location close to the centre is perfect. They also offer a free breakfast, which sweetened the deal for me.
If you're looking for somewhere a bit cheaper, Tirana Backpacker Hostel is a good shout. It's one of the best hostels in Tirana, which offers several tours in the city and surrounding area. Plus, they have an excellent outdoor courtyard, which is great for meeting other travellers!
If you're still wondering where to stay in Tirana, check out my list of recommendations in the table below.
Places to Eat in Tirana
There are plenty of places to get a bite to eat in Tirana. If you want to try traditional Albanian cuisine, which typically consists of dishes containing lamb and veal, you won't be disappointed.
There are plenty of restaurants in the city to choose from. You also have a range of other places to choose from. There are many Italian restaurants in Tirana owing to the historical links with Italy and the number of Albanians that have worked there.
One of the many curious quirks about Albania is that there are no McDonald's in the country. Although, if you want some fast food, you can visit Kolonat, which has a logo and menu that is suspiciously similar to a certain fast-food establishment!
However, there are much better places to eat in Tirana. Below are a few restaurants that I enjoyed during my time in Tirana!
La Gioia – This restaurant is located inside the remains of Tirana castle. It mainly serves seafood and a range of Italian dishes too. The staff here were very friendly and the food was really good too!
Vena – This is a great little place that has Albanian cuisine and many Italian and Mediterranean offerings too!
Mullixhiu – If you want to try some local cuisine, Mullixhiu is a good place to go. It's located close to the lake in Grand Park and it is a little pricey, but the food is very good!
Concluding Thoughts
Albania may not be somewhere that is on everyone's bucket list, but it should be! There are plenty of things to do in Tirana, and you can use it as a base to explore the wider area.
For a country that was under the grip of communism until 1991, Albania has been modernising at a rapid rate, and that is reflected in Tirana. The city is coming to grips with its past and looking forward to the future.
It's an exciting and fascinating place to visit and is somewhere off the beaten track!
Have you been to Tirana? Did you do most of the things on my list? Leave me a comment below and let me know, I'd love to know your thoughts!
Need Travel Insurance?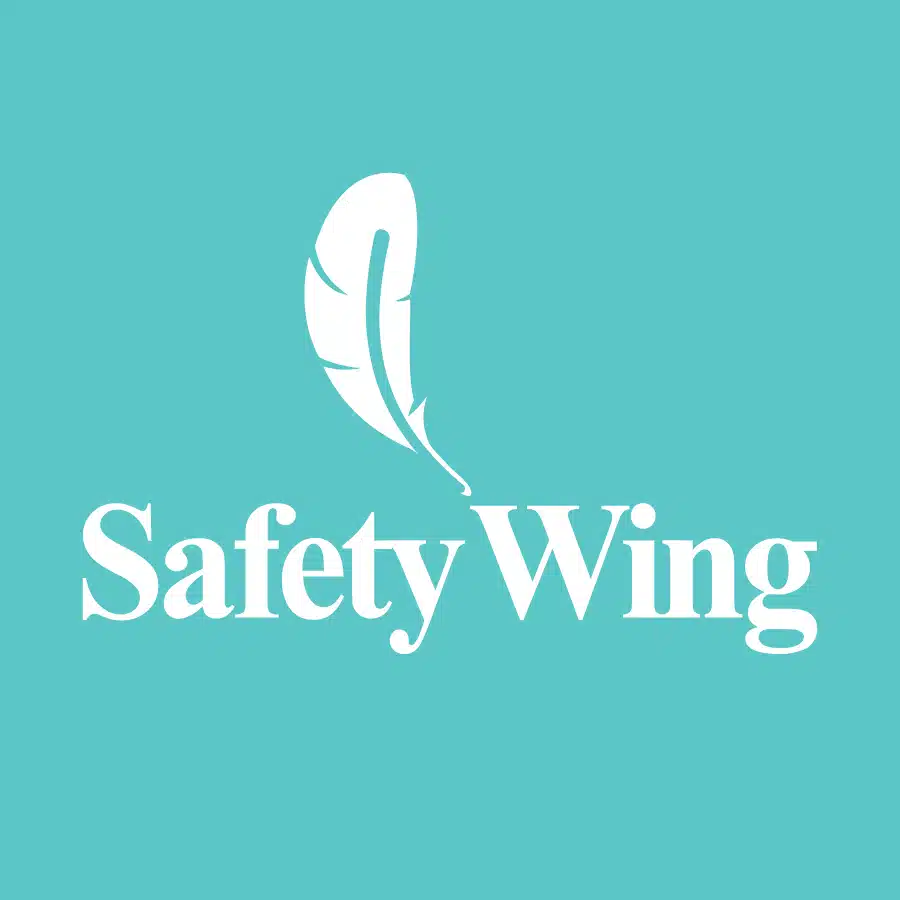 SafetyWing offers coverage that will give you peace of mind while you're on the road. If you want to protect yourself while you're on the road, then click the image to take a look at the options available to you.
Pin For Later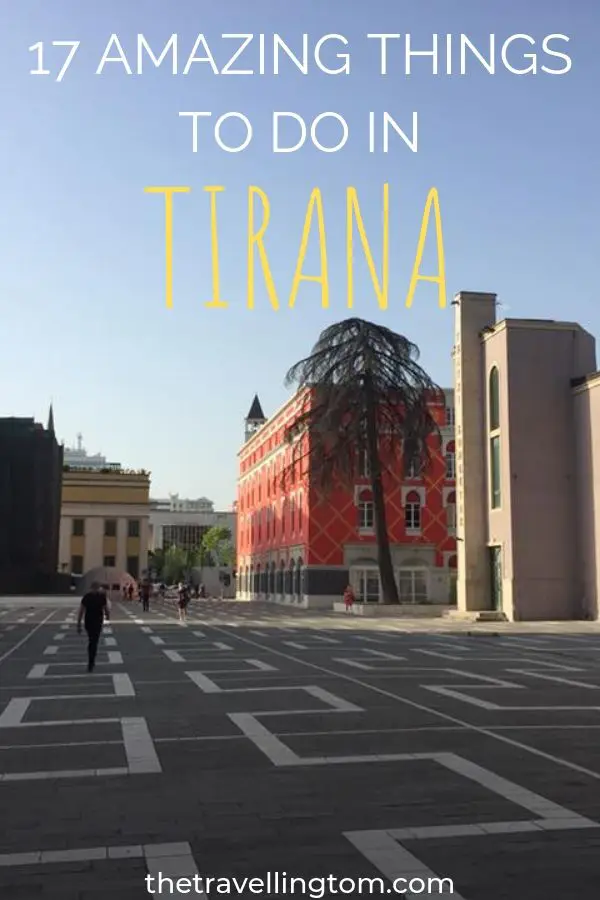 Tom is a travel addict who first left England to spend a year Down Under. Not satisfied with this, he then went to New Zealand, about as far away from home as he could get. He is now planning his next adventures in Europe and Canada while maintaining this blog. Check out the about me page to learn more!