If you're looking for Sydney quotes, you've come to the right place! I've put together a list of the best quotes about the biggest city in Australia that will have you booking your trip there within minutes.
These quotes about Sydney reflect the beauty of the city and a lot of them focus on its two iconic landmarks: the Sydney Harbour Bridge and Sydney Opera House.
Both of these landmarks are incredible and it's only when you see them up close that you realise how incredible they truly are. But there's more to Sydney than just a bridge and the Opera House.
You have world-class beaches such as Bondi, while the outer suburbs are home to fantastic trails and views too.
What I hope these Sydney quotes do is relay just how amazing this city is and convince one of the best destinations on the planet!
Table of Contents
Best Sydney Quotes
Sydney is an incredible city. It's the biggest city and whether you think it's better than Melbourne is down to your own views, but there's no denying it's an incredible place!
Whether you spend 3 days in Sydney or you're there for longer, you'll have an amazing time. There are just so many things to do here, it's impossible to get bored no matter how long you're there.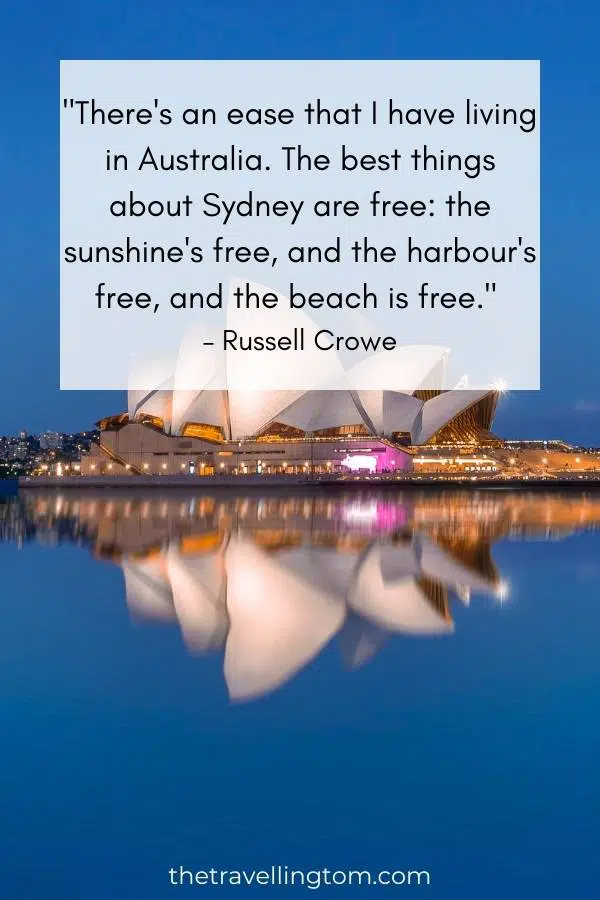 "There's an ease that I have living in Australia. The best things about Sydney are free: the sunshine's free, and the harbour's free, and the beach is free." – Russell Crowe
"I think Sydney has so much natural beauty; it's just a beautiful city." – Flume
"If Paris is a city of lights, Sydney is the city of fireworks." – Baz Luhrmann
"Sydney is the most amazing city. The food and the beautiful beaches are fantastic, and all that surf and sunshine make you feel unbelievably relaxed." – Ronan Keating
"I kind of assumed all of Australia was like the Gold Coast – so I was telling people Australians just work out and go to the beach. Like, Australia has it figured out! But then I went to Sydney, and it was nothing like the Gold Coast – but I still loved it." – Yahya Abdul-Mateen II
"Sydney's most famous beach is Bondi. At its southern end is Bondi Baths, an eight-lane, 50-meter saltwater pool built into the cliffs." – Raymond Bonner
"When I have a bad day, I dream about opening up a gelato stand on the streets of Sydney, Australia. Doesn't everyone have a random escape fantasy?" – Nancy Lublin
"Sydney in general is eclectic. You can be on that brilliant blue ocean walk in the morning and then within 20 minutes you can be in a completely vast suburban sprawl or an Italian or Asian suburb, and it's that mix of people, it's that melting pot of people that give it its vital personality." – Baz Luhrmann
"If you put 20 cents in me and ask me to talk about South Sydney, I'll play all night." – Russell Crowe
"Sydney's a beautiful city. It was a great experience." – Barbara Hershey
"Living in Sydney, I've taken the chance to start surfing again. One of my best memories of growing up is catching my first proper wave and surfing across it and my brother cheering at me from the shore." – Markus Zusak
"Sydney's beautiful, the weather's great, and the air's fresh and clean, but it doesn't have the scene and the amount of likeminded people. At home, things are very comfortable, but I feel like putting myself out there a bit." – Flume
"Almost everything I operated was in Melbourne and Perth, but in the end, I just couldn't bear the thought of leaving. Sydney is my home." – James Packer
"If I'm going to live in Sydney, I want to live on Bondi Beach." – Leigh Whannell
Sydney Travel Quotes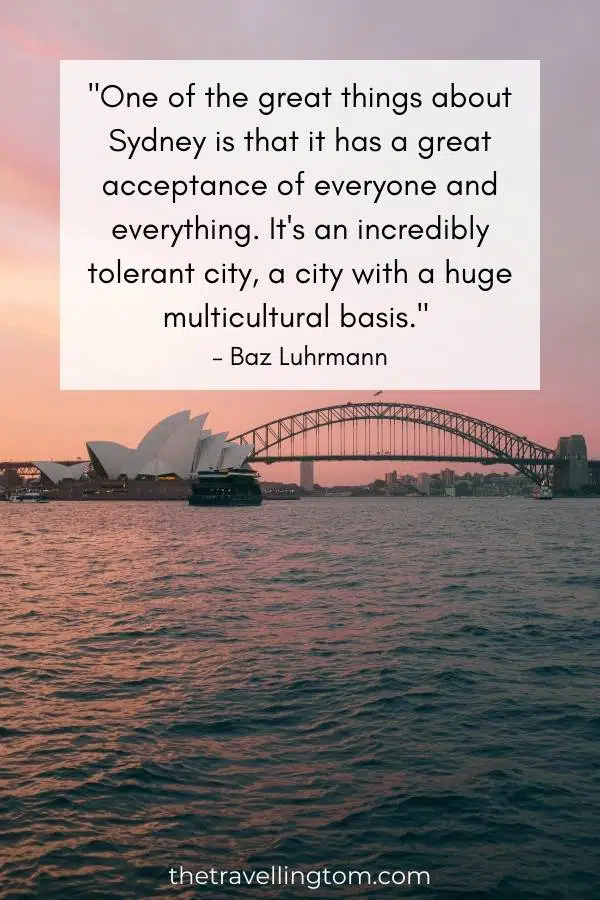 "One of the great things about Sydney is that it has a great acceptance of everyone and everything. It's an incredibly tolerant city, a city with a huge multicultural basis." – Baz Luhrmann
"I'd love to come to Australia. I'd love to walk about the Sydney Opera House." – Nik Wallenda
"I love cities. New York, Montreal, London, Amsterdam, Tokyo, Hong Kong, Singapore, Sydney, Melbourne, Toronto, L.A… but, I do choose to live in Vancouver. It's home." – Stewart Butterfield
"I was born in Cairns, Queensland. Then my parents and I moved to Sydney. We moved to New Wales. We moved around Australia. I was just really close to my parents, and actually, we moved around a lot when I was very young. I think it played a big part in making me the shy teenager that I was." – Catriona Gray
"When I came out of drama school, I was in a shared house in Sydney." – Cate Blanchett
"I have visited Australia several times, and I always try to make a point of going to Melbourne because it's almost my favorite city there, Melbourne and Sydney. But I shouldn't say that because I haven't been everywhere-and I'm very fond of Perth too!" – Jackie Collins
"I'm living in Sydney now – but you know when you've grown up in a certain place and you end up living in another, you never really quite feel like it's home. You feel like a bit of an impostor. I feel like I'm in a place that's moving faster than I can swim." – Guy Sebastian
"Sydney has the world's best swimming pool. Walk through the Botanical Gardens and you come to the Andrew 'Boy' Charlton Pool on Mrs Macquaries Road, with incredible views of Finger Wharf and the Harbour." – John Torode
"When I was 17, I moved to Sydney to study set design at NIDA." – Justin Kurzel
"I think people care. If not, why do so many people spend money going on vacations to see architecture? They go to the Parthenon, to Chartres, to the Sydney Opera House. They go to Bilbao… Something compels them, and yet we live surrounded by everything but great architecture." – Frank Gehry
"Sydney has taken my money, Melbourne has my respect, but Adelaide has taken my heart; I shall return." – Miriam Margoyles
"The party is a true art form in Sydney and people practise it a great deal. You can really get quite lost in it." – Baz Luhrmann
"I was first in Sydney in 1993, and have been a few times since then. For someone who didn't know Australia, it came as a shock how intelligent, interesting and funny the people were. If I lived there I might see it differently, but as a visitor it was a lot of fun." – Colm Toibin
"I'm a gypsy at heart. I have a little triangle where I tend to go, which is between Sydney, Los Angeles, and London, and I'm happy with that at the moment." –Elizabeth Debicki
"There's parts of Sydney totally indistinguishable from West London. It's exactly the same – the sense of capitulation, discouraging assimilation." – Gavin McInnes
"People sometimes forget that Sydney is a harbour and it's the ferries that make it unique." – John Torode
"The Opera House is a splendid edifice, and I wish to take nothing away from it, but my heart belongs to the Harbour Bridge. It's not as festive, but it is far more dominant – you can see it from every corner of the city, creeping into frame from the oddest angles, like an uncle who wants to get into every snapshot. From a distance it has a kind of gallant restraint, majestic but not assertive, but up close it is all might. It soars above you, so high that you could pass a ten-storey building beneath it, and looks like the heaviest thing on earth. Everything that is in it – the stone blocks in its four towers, the latticework of girders, the metal plates, the six-million rivets (with heads like halved apples) – is the biggest of its type you have ever seen. This is a bridge built by people who have had an Industrial Revolution, people with mountains of coal and ovens in which you could melt down a battleship. The arch alone weighs 30,000 tons. This is a great bridge." – Bill Bryson
Sydney Instagram Captions
No doubt you're going to take plenty of photos during your visit to Sydney.
The city is a photographer's dream!
If you're looking for Instagram captions about Sydney, then check out some of the ones below. They should come in handy when you come to upload your snaps onto the gram!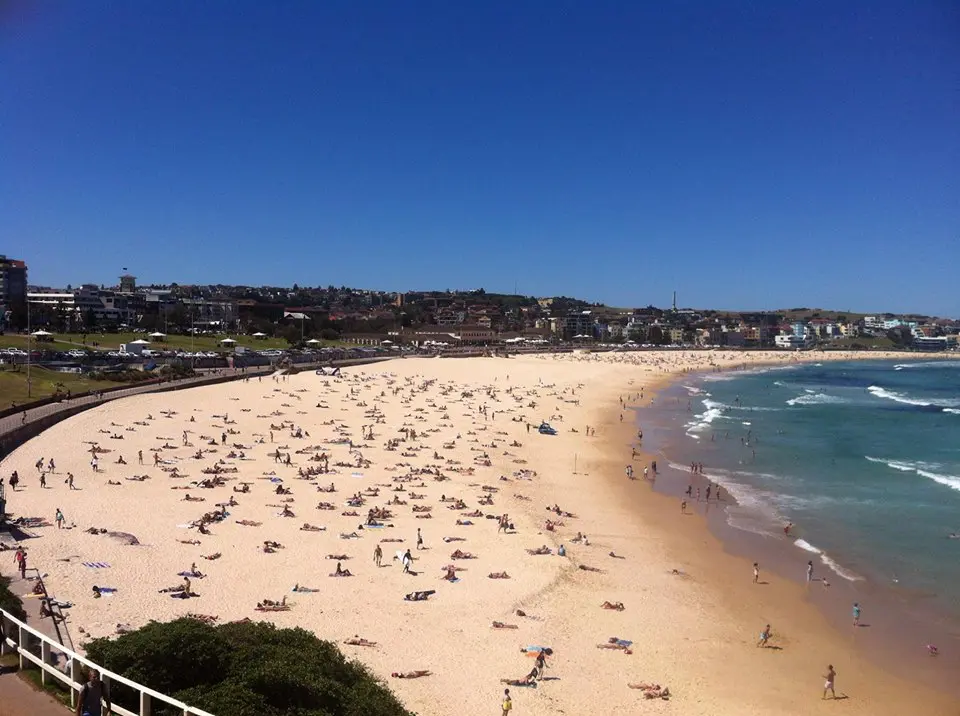 Oh! Darling Harbour, please, believe me, I'll never do you no harm
I'm now a Koalafied Sydney expert!
Sunsets and sweet views of Sydney.
Incredible Sydney
Sydney, you've got star Koala-T.
Where there's a will, there's a wave.
Beautiful Bondi
Funny Sydney Quotes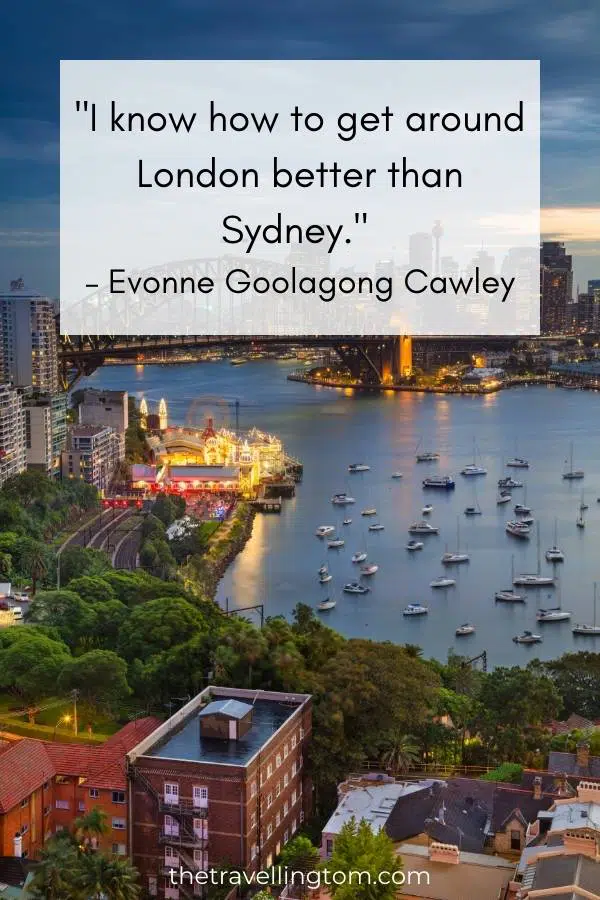 "I know how to get around London better than Sydney." – Evonne Goolagong Cawley
"You cannot treat Sydney the same as the rest of the state." – Gladys Berejiklian
"I got expelled from every school I went to in Sydney." – Poppy Montgomery
"L.A. is cool because its still got the beaches and stuff like Sydney. But I can't get Tim Tams. They're, like, these chocolate biscuits with chocolate on the inside and on the outside, and they are the best." – Keiynan Lonsdale
"In Sydney, it's not sustainable to have 41 council entities." – Gladys Berejiklian
"I wanted to have a peaceful married life with my wife, so we both moved to Sydney in Australia." – Rahul Roy
"To get on in Australia, you must make two observations. Say, 'You have the most beautiful bridge in the world' and 'They tell me you trounced England again in the cricket.' The first statement will be a lie. Sydney Bridge [sic] is big, utilitarian and the symbol of Australia, like the Statue of Liberty or the Eiffel Tower. But it is very ugly. No Australian will admit this." – James Michener
Quotes About Sydney's Culture and History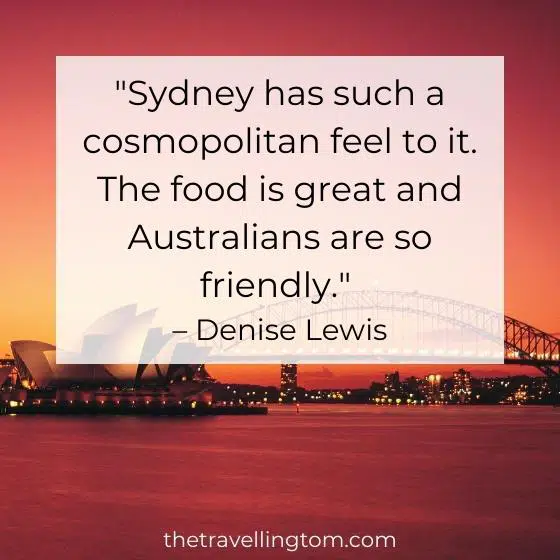 "Sydney has such a cosmopolitan feel to it. The food is great and Australians are so friendly." – Denise Lewis
"One of the most wonderful memories in my life was when I sang at the Opera House in Sydney. I will never forget that. It is one of the most beautiful Houses I have ever sung in my life." – Nana Mouskouri
"Sydney is rather like an arrogant lover. When it rains it can deny you its love and you can find it hard to relate to. It's not a place that's built to be rainy or cold. But when the sun comes out, it bats its eyelids, it's glamorous, beautiful, attractive, smart, and it's very hard to get away from its magnetic pull." – Baz Luhrmann
"I didn't really like my Sydney accent – nobody likes the sound of their own voice – and when I was a little younger tried to change my accent gradually. But I've only ever really lived in Sydney and Los Angeles, so I haven't been influenced by the accents of some far-off land." – Callan McAuliffe
"I'm the son of an everyman. My father is a teacher. He teaches physics at a boys' school in Sydney." – Alex O'Loughlin
"I grew up in Sydney in a very political household, where we were all for the underdog." – John Pilger
"If 30 Australians drowned in Sydney Harbour, it would be a national tragedy. But when 30 or more refugees drown off the Australian coast, it is a political question." – Richard Flanagan
"I performed in Sydney some years ago for the Sydney Festival and I am just so pleased to be returning to the wonderful Sydney Opera House and also performing in Melbourne for the first time." – Lesley Garrett
"Fifty years ago people were talking about Sydney's sprawl, but nobody does anything about it." – Harry Seidler
"I'm a Sydney suburban boy shaped entirely by the western suburbs." – Bryan Brown
"The food in Sydney is an Asian Pacific cuisine. It's eclectic but above all it's fresh, inventive and creative and that's what I love about it." – Baz Luhrmann
"Sydney in the 1960s wasn't the exuberant multicultural metropolis it is today. Out in the city's western reaches, days passed in a sun-struck stupor. In the evenings, families gathered on their verandas waiting for the 'southerly buster' – the thunderstorm that would break the heat and leave the air cool enough to allow sleep." – Geraldine Brooks
"South Sydney is a very complicated and wonderful place. You have some of the most expensive bits of real estate in the country and a large percentage of government housing." – Russell Crowe
---
Thanks for reading my collection of the best Sydney quotes! Hopefully, you've enjoyed reading and are now considering a trip to this incredible Australian city.
Do you have any other quotes about Sydney? If you do, leave them in the comments below. Let me know if you've been to Sydney and what you think. I'm interested to see what your opinion of the city is!
Tom is a travel addict who first left England to spend a year Down Under. Not satisfied with this, he then went to New Zealand, about as far away from home as he could get. He is now planning his next adventures in Europe and Canada while maintaining this blog. Check out the about me page to learn more!