These quotes about Yorkshire will inspire you to visit one of England's most fascinating and beautiful counties.
Yorkshire is a fascinating county with a lot to see and do. You can explore the Yorkshire Dales, check out fascinating cities such as Leeds and York and head to the coast at Whitby. This collection of Yorkshire quotes reflects the breadth of things to do and the culture of the county too.
If you're planning on visiting England, then a trip to Yorkshire is a must. We hope the quotes listed here provide you with some inspiration to visit and check out what is one of the nicest parts of England and the UK!
Table of Contents
Best Quotes About Yorkshire
"I love to be with my kid in Yorkshire. I love it there." – Sean Bean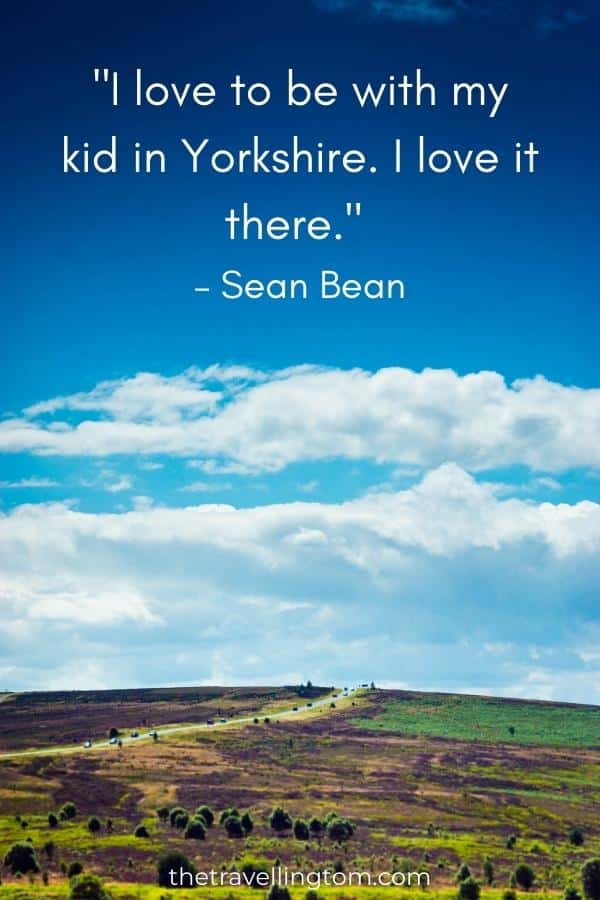 "Anyone who has been born in Yorkshire is very proud of it. It's something that's embedded in your character." – Jonny Bairstow
"I come from Beverley in East Yorkshire, and no one there would step outside their front door, or even their back door, on a Saturday night – or any other time, for that matter – unless they were dressed to the nines." – Anna Maxwell Martin
"Yorkshire is so much part of me." – Susan Hill
"I couldn't really take a girl from Berlin to live in Leeds. I love it here. I miss the Yorkshire sense of humor and things like bitter and Yorkshire puddings, but I can still get my hands on salt 'n' vinegar crisps." – Sam Riley
"I still live in the same town in Yorkshire where I've always lived." – Jane McDonald
"I come from Yorkshire in England where we like to eat chip sandwiches – white bread, butter, tomato ketchup and big fat french fries cooked in beef dripping." – Helen Fielding
"You have to have a bag of Yorkshire Tea bags. It is the best tea that England has to offer, and that comes with me everywhere I go." – Felicity Jones
"My mother was originally from Yorkshire and I spent a lot of my childhood there." – Prunella Scales
Yorkshire Travel Quotes
"West Yorkshire is quite dramatic and beautiful, the crags and things." – David Hockney
"I was born in London 1947, after the war. A real wartime baby. I went to school in Brixton, and then I moved up to Yorkshire, which is in the north of England. I lived on the farms up there." – David Bowie
"I grew up in Yorkshire, and once or twice a year, we'd travel over the Pennines to see my cousins in Cheshire." – Anthony Browne
"The whole of Yorkshire has been known throughout the world for various reasons, not least because of Wuthering Heights, but it was James Herriot I think that put Yorkshire on the international map and we are part of that, which is a great honor really." – Christopher Timothy
"I am never at my best in the early morning, especially a cold morning in the Yorkshire spring with a piercing March wind sweeping down from the fells, finding its way inside my clothing, nipping at my nose and ears." – James Herriot
"I spent lockdown back in Yorkshire with my parents, which was… tricky! But it did remind me how beautiful my hometown of Bridlington is, with its beautiful beaches, wildlife, and lovely locals." – Rosie Jones
"I grew up in Yorkshire, which is like the Texas of Britain. It's a proud free state and not always liked by the other counties in Britain." – Joanna Coles
"I went through a stage of writing my cramped hand in tiny books. My two sisters and I did have our Bronte period. My mum is from Yorkshire, and we would go up to the Moors. It tapped into our romantic visions of ourselves." – Rachel Joyce
"Staying in luxury hotels still gives me a kick, especially Oulton Hall in Yorkshire. I'd stay in a hotel for the breakfast and room service." – Jimmy Carr
"I'm never going to stop making theatre, but I don't think I'll make it as much, because I don't need to. There are other things I want to do with my life. I want to sit by the sea in Yorkshire and eat Eccles cakes and spend time with my family." – John Tiffany
"East Yorkshire, to the uninitiated, just looks like a lot of little hills. But it does have these marvellous valleys that were caused by glaciers, not rivers. So it is unusual." – David Hockney
"Yorkshire people are first and foremost friendly and we do things without much fanfare. We are understated and love the countryside here. One of the special things about Yorkshire is that a lot has not changed. You can go to the Dales and, apart from the fact there are now more cars, they've not changed for 20 years and you go back after another 20 and there's still no change." – Alistair Brownlee
"My maternal grandfather was born in Yorkshire in England but was contracted to work for a company who had a base in Colombia. So they moved across to Santa Martre, and they liked it very much. It was a sunny place with beaches and a seafront, so they never went back to England and preferred to stay in Colombia." – Radamel Falcao
---
You might also like:
---
Funny Yorkshire Quotes
"Yorkshire is a hard place to ride a bike." – Mark Cavendish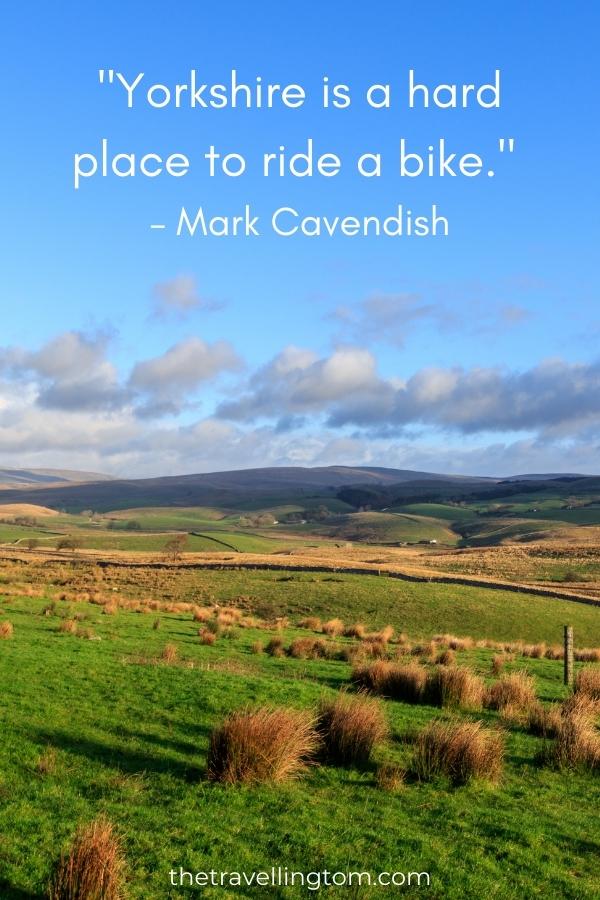 "During the time I didn't play for England, they were losing Test matches, and the Yorkshire committee were telling me that I should be batting for my country. Then, when I decided to make myself available to play for England again in 1977, and Yorkshire lost a couple of matches in my absence, they criticised me for not being there." – Geoffrey Boycott
"I have had an amazingly fortunate life. I'm a child from Yorkshire, which is sort of like Cleveland without the pretty bits." – Jeremy Clarkson
"They do not eat Yorkshire pudding on Sunday in Iowa." – Nick Nurse
Quotes About Yorkshire's Culture and History
"The musical heritage of Yorkshire is deep and wide." – Lesley Garrett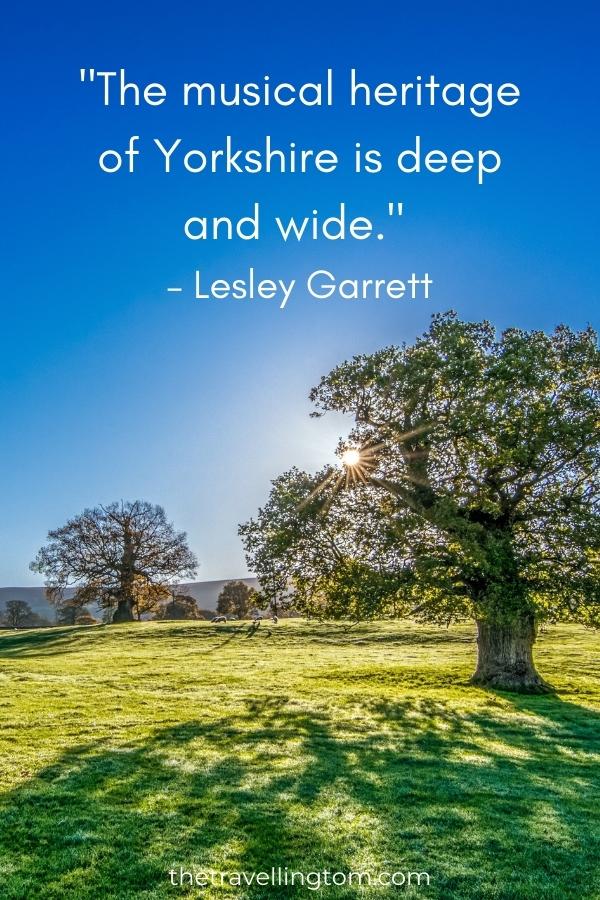 "The only place I considered home was the boarding school, in Yorkshire, my parents sent me to." – Joe Strummer
"I love a Yorkshire pudding. It's basically pancake batter that's fried in beef fat and puffs up; it's like you can't go wrong." – Samin Nosrat
"Whenever I go abroad, I never return home craving roast beef and Yorkshire pudding or fish and chips. Instead, all I really want is a particularly good lamb dopiaza." – Chris Tarrant
"I was painfully shy, so my aunt suggested to my mum that me and my brother go to Stage 84, a performing arts school in Yorkshire. I've probably romanticised it in my head, but I seem to remember that in the space of an hour's drama workshop, I was transformed. I went in really shy, and I came out full of confidence." – Christain Cooke
"I was in Yorkshire. We were a family of five and I used to be sent sometimes to get the rations for the week and I was easily able to carry them back. It was like one egg and a tiny bit of tea." – Judi Dench
"Yorkshire folk are not fools: talk about devolving power to cities and regions, while simultaneously stripping them of the resources to deliver and subjecting northern councils such as Kirklees to the harshest of cuts, is not compatible with a worthy commitment to building a northern powerhouse to drive growth and prosperity." – Jo Cox
"My father was a coal hewer from Goldthorpe, a coal-mining village in South Yorkshire. He played for the Yorkshire second team as an opening fast bowler – to me he was a gorgeously heroic man. He helped form a union and closed down the Barnsley seam because it was seeping gas, and saved many, many lives." – Brian Blessed
"A lot of wasted energy in my life has been spent on sorting out problems and issues at Yorkshire cricket. Of course, I know I made mistakes along the way, but I care passionately about the club – I always have done and always will." – Geoffrey Boycott
"A residence of many years in Yorkshire, and an inveterate habit of collecting all kinds of odd and out-of-the-way information concerning men and matters, furnished me, when I left Yorkshire in 1872, with a large amount of material, collected in that county, relating to its eccentric children." – Sabine Baring-Gould
"The school in the Yorkshire mining village in which my father grew up in the 1920s and 1930s allowed only a few children to go to high school, and my father was not one of them. He spent much of his time as a young man repairing this deprivation, mostly at night school." – Angus Deaton
"People from Yorkshire are very proud of their underachievement. You see these old fellas in the pub going: 'I've had a great life, me. Gone nowhere. Done fuck all. Aye." – Paul Tonkinson
"Yorkshire weather can turn quickly. At one Auld Lang Syne race, it dropped to -16C. The frost turned everybody's hair grey. I couldn't take my shoes off, as my laces had frozen solid." – Jonathan Brownlee