The Preikestolen hike is one of the best in Norway for people of all ages and abilities.
No matter how old or young, fit or unfit you are, this hike isn't too challenging. You'll be able to get up and down without too much trouble!
The best part of hiking Preikestolen, or Pulpit Rock as it's also known, is the spectacular views once you get to the top.
The hike is set in a scenic setting near the city of Stavanger and the hour or two it will take to get to the top are well worth it. If you're backpacking Norway, it's one of the best things you can do while you're there!
This guide will let you know how to get to Preikestolen, what to take with you, and much more!
Disclosure: This article may contain affiliate/compensated links. For full information, please see our full disclosure policy.
Preikestolen hike
Basics
Best time to hike Preikestolen? April to September
How hard is the Preikestolen hike? It is considered to be an easy hike.
How long is the Preikestolen hike? It is 3.8 kilometres (2.4 mi) long to the top and a 7 kilometre (5 mi) round trip, which should be between three to four hours from top to bottom depending on your fitness.
How high is the Pulpit Rock? 604 metres (1981. 63 feet)
How do I get to Preikestolen? By car or public transport. There is a pay car park at the base of the climb if you're driving there. Parking costs 100 NOK and is payable by cash or credit card when you exit.
Is Preikestolen dangerous? The hike itself is safe, but there are no barriers on the clearing at the top. There have been a few deaths at the top, so take care when you are near the edge posing for photos.
Preikestolen is a steep cliff overlooking the Lysefjorden. The cliff is located in the municipality of Forsand in Rogaland County. Along with Kjeragbolten and Trolltunga, it's one of the most popular hikes in Norway and has some amazing views from the top!
What is the best time to hike Preikestolen?
Without a doubt, the best time to hike Preikestolen is from April to September. The weather during this period is better for hiking than during the winter.
However, if you go during these months you will also be sharing the hike with a lot of other people. Preikestolen is one of the best places to visit in Norway, and it's very popular during the summer months!
If you decide to hike Preikestolen during the winter, the hike will be much quieter. We did the hike in the middle of December and there were only a handful of people doing the hike.
The downside was that the weather wasn't the best. When we got to the top it was freezing due to the bitter wind. It would certainly be easier to hike during the summer, but the hike will be busier.
This will also impact your ability to get decent photos at the top because there will be so many people wanting to do the same thing.
However, you will be better able to explore the area at the top during the summer than you would during the winter due to the lack of snow and ice.
Maybe the best time to hike Preikestolen would during the spring or autumn when it won't be as busy as the summer, but it will be warmer than winter.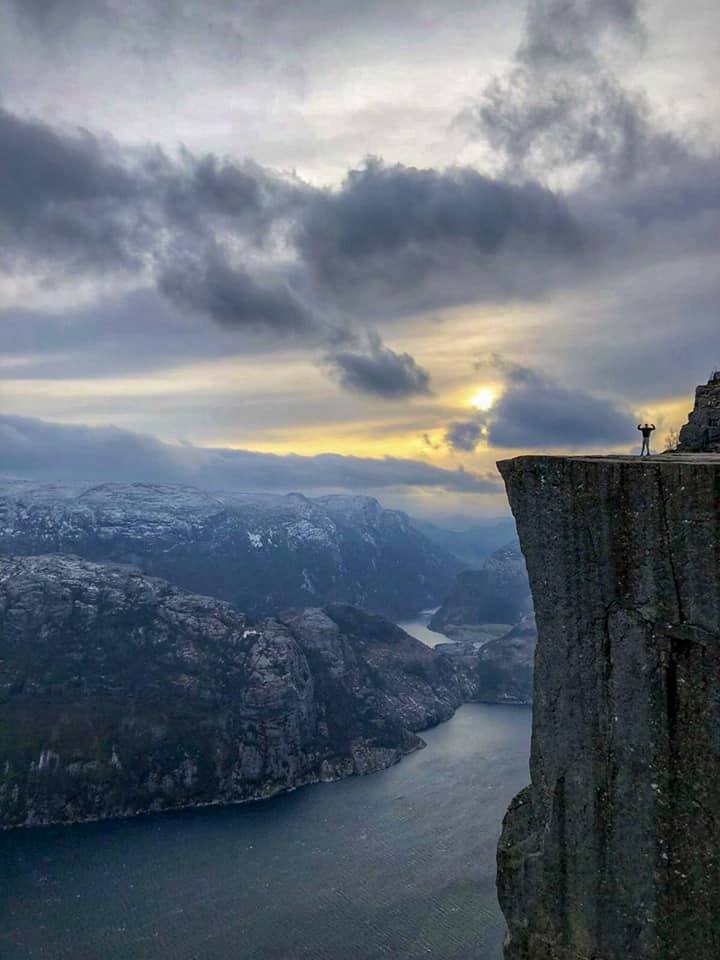 Hiking Preikestolen
The hike up Preikestolen is a 7 kilometre (5 miles) round trip. It isn't the most difficult hike and people of all ages and fitness levels should be fine with getting to the top and back down again.
It took us about an hour and a half to get to the top and less than that to get back down again. This was in the middle of December with only a handful of other people on the hike.
It may take longer to get up and down during the summer due to the number of people who will be on the hike.
The Hike Up
The hike to the top of Preikestolen isn't too difficult. There aren't sections where it's overly steep and most of the way up it's a comfortable incline.
The route is a bit steep at the start and then levels out in sections, which vary in their gradient.
Following your way to the top is easy enough. Along the route, there are red T's that mark the way to the top.
All you have to do is follow them and you will have no issues. This will be easier in the summer when the hike is busier, but even in winter, we didn't have any issues finding our way up.
If you are doing the hike during the winter, you want to make sure you're wearing adequate clothes. Thick layers and a jacket are a must. It can get cold, and it's even colder at the top!
I would also recommend wearing crampons if it's snowy and icy. You can get up about half the way without them, but you will need them the closer you get to the top.
While you can get to the top in about an hour if you're in good shape, I wouldn't be in a rush to get up there, unless you have time constraints.
The views along the hike are spectacular and it would be a shame not to stop every once in a while to take them in.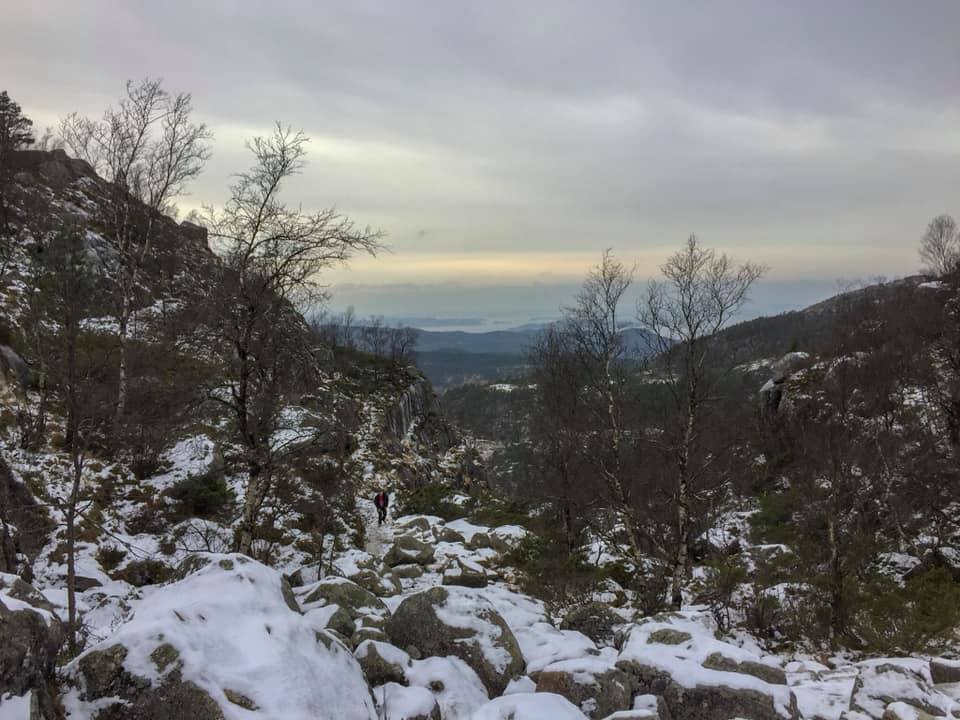 The Top
Once you get to the top, you will be presented with breathtaking views.
On a clear day, you get an amazing view of the fjord beneath you as it snakes into the distance.
The downside of doing the hike during the summer is that the top will be full of people. If you want to get that epic Instagram shot, it will be tough with crowds of people in your way.
This is one of the advantages of going in the winter. Fewer people means it's easier to get incredible photos. There is a downside, however.
Let me explain:
It will be bitterly cold at the top! We did the hike in the middle of December and it was freezing. The wind at the top was freezing and very powerful. As amazing as it was up there, it was bitterly cold!
If you go when it's warmer, I would recommend spending some time at the top taking in the views and exploring the area.
You can climb up behind the plateau and get another perspective. It's a bit difficult in freezing and windy conditions, but during the summer it shouldn't be an issue.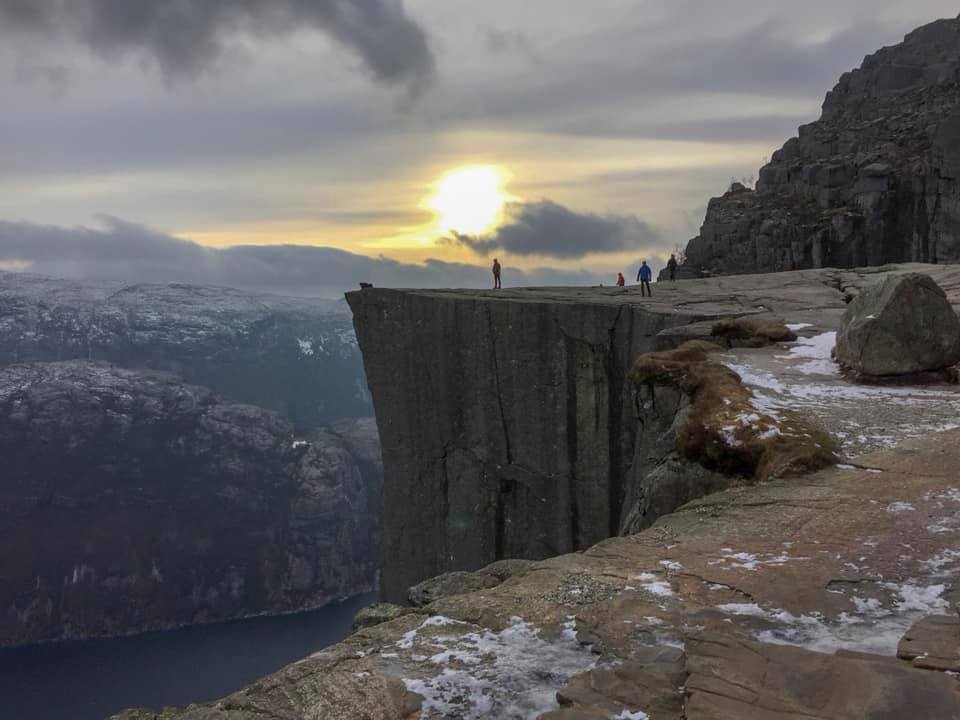 The Hike Back Down
Once you decide it's time to make your way back down, there are two ways you can go.
You can follow the cliffside route back down, which is likely the way you came up, or you can take the hill route back down.
You probably didn't realise there are two ways up Preikestolen on the way up, as the hill route isn't well signposted. Or if it is, we just missed it.
Once you're at the top you will see a red T in an area behind the plateau, follow it up and you will come to a clearing, which you can follow back down, which merges with the other route.
You get a different perspective of the hike this way and it's about the same distance, so it doesn't take long.
Going back down is easy enough. There are no challenging sections. Even in snowy and icy conditions, we had no issue making our way back down.
Again, I would recommend stopping at intervals to take in your surroundings. Preikestolen is an incredible place and there aren't many places with scenery like it in the world.
To go up and down in a rush would be a big mistake!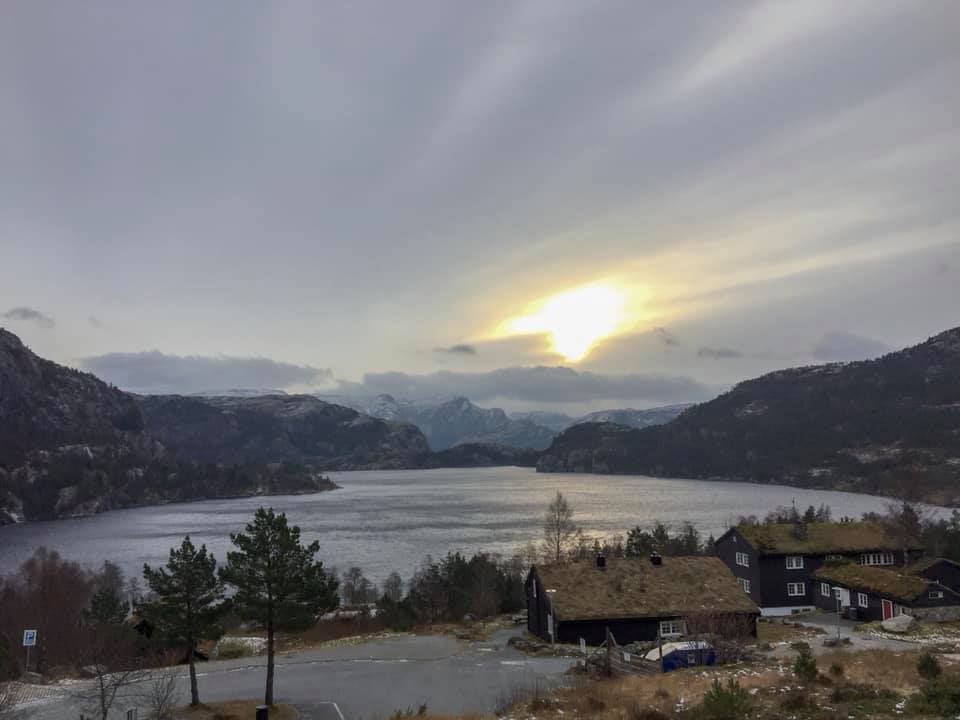 Where to stay to climb Preikestolen
Ideally, you would want to stay in Stavanger if you are planning on climbing Preikestolen.
Stavanger is the ideal place to base yourself for the hike. You can drive to Preikestolen quickly and it allows you to check this cool city out too.
There aren't any hostels in Stavanger unfortunately, so you will need to stay in a hotel. There are a number of budget ones available, so you won't be paying over the odds for your stay in the city.
If you visit during the summer, you can stay at the hotel which is at the starting point of the climb. It is a scenic area, if isolated, and would make a lovely place to stay.
I would recommend you stay in Stavanger and drive in, but that's just my preference. If you want to stay at the Preikestolen, go for it!
Below are a few places I recommend staying at around Stavanger and Preikestolen.
What you will need for the Preikestolen hike
Due to the number of great hikes in Norway, I would advise bringing along a number of items that are related to hiking.
Including these when packing for Norway will make your life easier and ensure you have all the gear you need to get to the top and back down again safely.
What items you will need to climb Pulpit Rock does depend on the time of year you go.
If you do the hike during the summer, you won't need crampons, but if you do the hike in winter they will be a good item to have with you.
Below are a few items I would recommend taking with you if you plan on doing this beautiful hike.
Crampons
If you plan on hiking Preikestolen during the winter, a pair of crampons will come in handy.
The hike has snow and ice along the trail and without crampons, it can be difficult to make your way up and down in certain parts.
Crampons give you more grip and allow you to move across the ice and snow without fear of falling over.
If you're doing the hike during the summer, you won't need a pair, but I would definitely take a pair with you if you're doing the hike from October onwards.
Jacket
A jacket is another item you will need for climbing Preikestolen in the winter.
We hiked the route in December and it was freezing. It would have been madness to go up there without a jacket!
A thick winter jacket is essential if you want to make it anywhere near the top during winter.
If you're going up during warmer months, I would take a thin waterproof jacket in case of a downpour.
Hiking shoes
While you would be able to do climb Preikestolen in running shoes, I wouldn't advise it.
Hiking shoes are a better bet. They will offer you better grip and they are specifically designed for hiking, whereas running shoes are not.
If you're doing the hike during winter, you will need a pair of hiking shoes. Doing the hike in running shoes would be a big mistake and too dangerous.
The good thing about hiking shoes is that they last a long time. They will serve you well during this hike and many more to come.
Day pack
Preikiestolen is only a one and a half hour to two-hour hike, but you still need to take some food and water with you.
It can be annoying taking a day pack with you, but they are very useful.
As well as your food and water, you store a waterproof jacket, suncream and any other bits and bobs you may need.
You'll certainly regret it if you don't take a day pack with you on the hike!
Suncream
Suncream is a vital item you should pack if you're hiking Pulpit rock during the summer.
You will be exposed for large parts of the hike and if you don't apply suncream you will burn quickly.
Even if you're doing the hike during winter, I would still take some suncream with you to protect your skin from the elements.
It will moisturise your skin and keep it hydrated. But most of all, it will stop you from getting sunburnt and allow you to enjoy the hike!
How to get to Preikestolen
To reach Preikestolen, you will either need to drive there or you will need to use public transport.
It is approximately an hour to an hour and a half drive from the city of Stavanger, which is where you want to base yourself if you plan on doing the hike. You can come from further afield, but it is a 9-hour drive from Oslo to Stavanger, so it may not be practical if you're not based in the Stavanger area.
There are two ways you can go to get to Preikestolen and both involve a ferry.
You can drive to Stavanger harbour and take the ferry to the town of Tau. From there it's about a 30 to 45-minute drive to the starting point of the hike. Tickets for the ferry are bought onboard.
The other way is to drive to Høle and take the ferry from there. This will require you to drive out of Stavanger, but you will be presented with some nice views along the way.
The ferry is shorter than the one from Tau and you are closer to Pulpit Rock once you leave the ferry.
It doesn't matter which route you take, there isn't much difference in the time. A good idea would be to take one route one way and the other route coming back.
This way you will get to see both routes and take in the amazing views offered by both!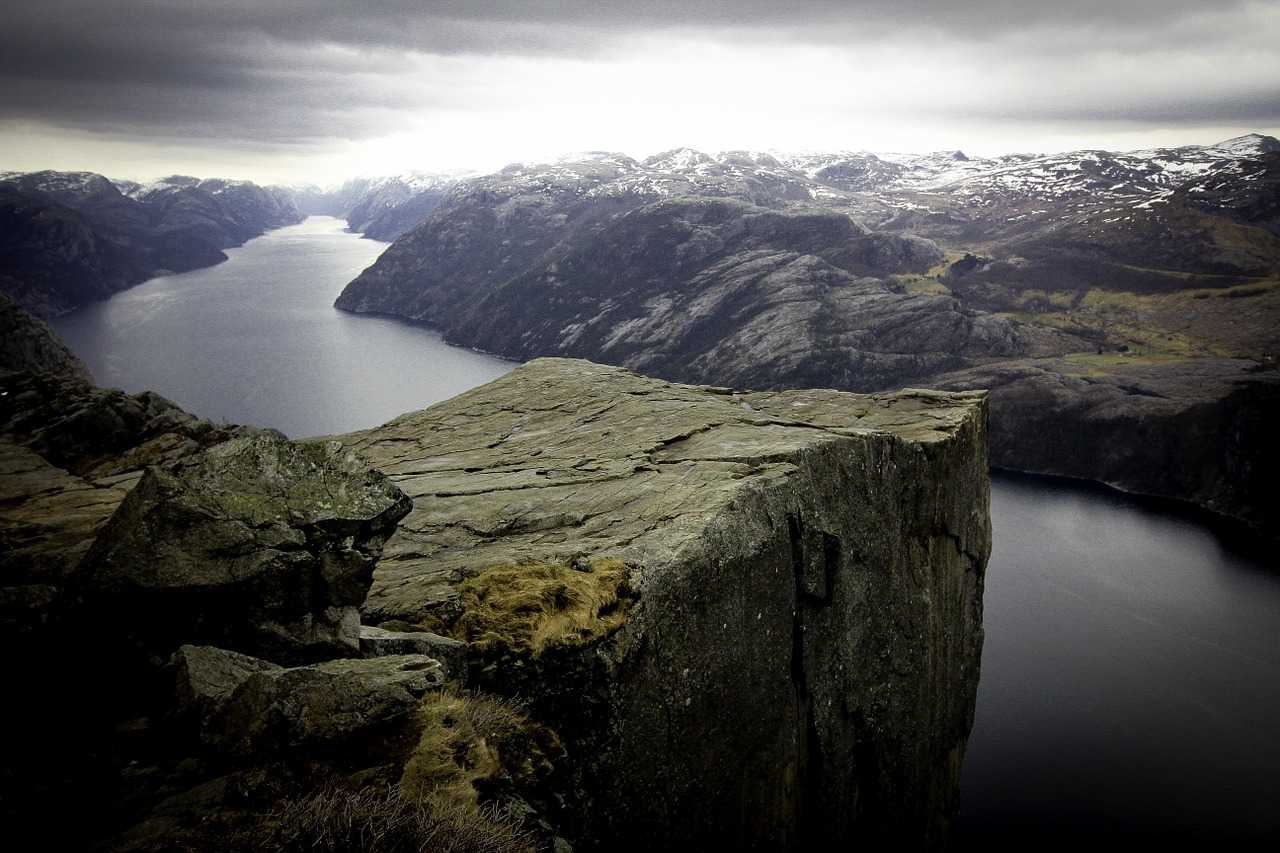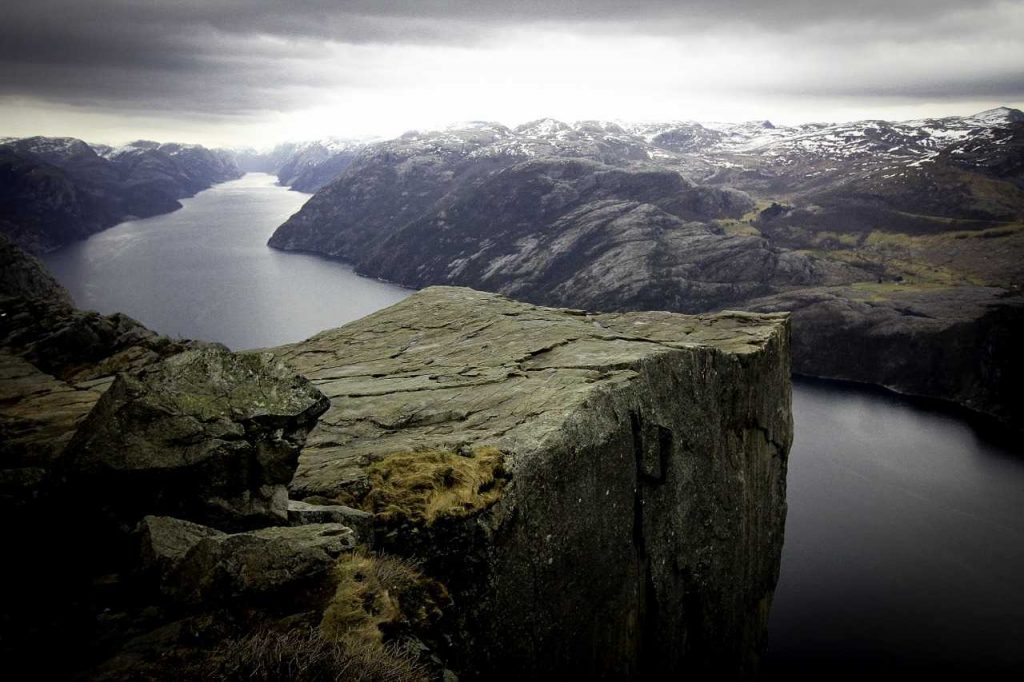 Concluding thoughts
There are plenty of amazing hikes in Norway such as Kjeragbolten and Trolltunga, but Preikestolen is high on that list as well.
The scenery on the way up and the views from the top are incredible! It was freezing in December when we hiked up, but it was worth it for the scenery.
If you're going to Norway and will be in the Stavanger region, this is a hike you shouldn't miss out on. Preikestolen is unlike anywhere I have been before!
Have you hiked Preikestolen? What were your thoughts on the hike? Leave me a comment below, I'd love to hear your thoughts!
Need Travel Insurance?
You can buy and claim online, even after you've left home. Travel insurance from WorldNomads.com is available to people from 140 countries. It's designed for adventurous travellers with cover for overseas medical, evacuation, baggage and a range of adventure sports and activities.

Disclaimer: The Travelling Tom is a participant in the Amazon Services LLC Associates Program, an affiliate advertising program designed to provide a means for sites to earn advertising fees by advertising and linking to amazon.com and its partners. Amazon and the Amazon logo are trademarks of Amazon.com, Inc. or its affiliates.
Pin for later