A Perth to Broome road trip is one of the best ways to see Australia's lesser-explored West Coast. This part of Australia might not be as popular as the East Coast, but it's just as good.
Western Australia has an untouched feel to it. Fewer tourists mean you're better able to savour the sights here. This also means the environment is more pristine and visually appealing.
This road trip takes you from Perth to Broome, the two biggest places in Western Australia. They're amazing spots and what you can see along the way is just as appealing.
National parks such as Karijini and Nambung and beautiful beachside towns like Exmouth and Coral Bay. There's plenty to see and do on this Perth to Broome itinerary!
This Perth to Broome drive will take you through Western Australia to some of the lesser heralded places in the country!
Let's get into it!
Disclosure: This article may contain affiliate/compensated links. For full information, please see our full disclosure policy.
Table of Contents
Perth to Broome Road Trip
Quick Perth to Broome Drive Itinerary
Distance – 2,346 km (1,457.7 mi)
Time – 7 days
Day 1 – Perth to Jurien Bay 219km (136 miles)
Day 2 – Jurien Bay to Kalbarri 351 km (218.1 miles)
Day 3 – Kalbarri to Carnarvon 444 km (275.8 miles)
Day 4 – Carnarvon to Exmouth 364 km (226.1 miles)
Day 5 – Exmouth to Karijini 658 km (408.8 miles)
Day 6 – Karijini to Eighty Mile Beach 563 km (349.8 miles)
Day 7 – Eight Mile Beach to Perth 376 km (233.6 miles)
The distance from Perth to Broome is 2,346 km (1,457.7 mi). If you were to do this drive in one go, it would take you just under 24 hours to complete!
It's one of the longest road trips in Australia which is compounded by the fact the west coast of Australia is less populated than the east coast. You'll be driving through areas where there are fewer places to stop, especially the closer you get to Broome.
The best route to take on this trip is along the coast. Though, you can deviate inland to visit the Karijini National Park, which is a good idea if you have time.
A Perth to Broome drive is a serious undertaking and shouldn't be taken lightly. But it's also a trip which will allow you to explore a lesser-seen part of Australia and one that's full of beauty.
Before setting off
Before you do any road trip in Australia it is important to have everything in order. You need to have a vehicle before you start. Without one, there simply won't be a road trip! Depending on your numbers and where you plan on sleeping, you have two options.
Depending on how many of you are doing the trip, you can either rent a car or a campervan. If you want to stay in hostels, a car is a better option. Otherwise, a campervan is the better bet, particularly if there are 4 to 6 of you.
Important info
Driving in Australia can be tricky due to the distances involved. This is exacerbated when the journeys involve covering large areas where there is little sign of civilisation. Running out of fuel in the middle of nowhere is something that you always have to consider.
If your tank is nearly half-full, you should stop at the next petrol station. The next one could be a lot further than you think. You don't want to run out of fuel, especially in Australia!
Australia's large size makes this more apparent than driving in other countries. Distances between places are so large, it is essential you ensure you have all the tools and safety equipment you need before you set off.
If you break down in the wrong place, you could be there for a while waiting for assistance!
One tip that I picked up during the Australian road trips I did was to take note of signs. When you are in the outback and unpopulated areas, there are little green signs every 5km to let you know how far you are from the next town.
It's important to look out for these signs. They will help you to gauge how far the next town is and when you can stop to eat and refuel.
If you feel tired while driving, take a break! It's tempting to try and smash out the miles as much as you can, but this is a recipe for disaster. You're more likely to have an accident if you're tired.
A good rule of thumb is to stop every 4 hours or so. This will give you a chance to refresh and stops you from developing fatigue. Picking out places you can stop and take a look around along the way is another good way to break up the drive.
Before doing any road trip in Australia, ensure that you have proper travel insurance! I use SafetyWing to keep me safe on the road, it's designed for backpackers and adventurous travellers.
You never know what can happen on the road. Keep yourself protected against all eventualities! Click here to get a quote!
Essential items to pack for a Perth to Broome Road Trip
Before setting off, you want to have everything you need for your trip. Check out my road trip packing list before you set off to see what you should take with you.
If you have certain items in the car, it will make your life on the road easier. Driving long distances isn't easy and it can be a lot harder if you don't have the right items with you.
This is especially true when driving in Australia as the distances involved make road trips more challenging than in other countries. You must have everything you need in case you break down in the middle of nowhere.
As this is a long drive, it may be worth considering subscribing to Audible so that you have something to listen to on the drive. This helps to make the trip more enjoyable and stops you from getting bored as you drive across Western Australia!
Below are a few items I recommend you take on your Perth to Broome drive, to make the trip that little bit easier!
Why you should go on a Perth to Broome Road Trip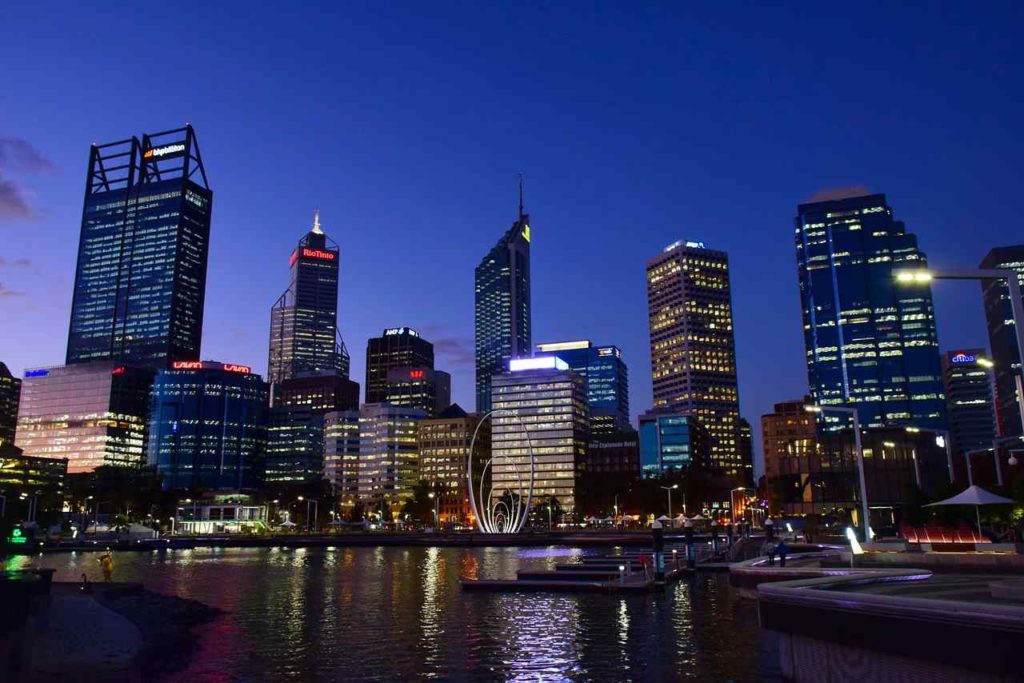 In a country as big as Australia, if you want to appreciate its beauty you have to travel by car. It's hard to understand how big Australia is until you visit.
It looks big on the map, but that doesn't do justice to how big it is. It's gigantic.
Western Australia is the biggest state in the country. With one major city in Perth, if you don't drive you're not going to see the rest of the state.
This is a shame because Western Australia is one of the most beautiful parts of Australia. It's home to some of the least heralded parts of the country.
Exmouth, Shark and Coral Bay are among some of the best beaches in Australia. While Lancelin, Karijini National Park and the Pinnacles are unique and intriguing places to visit.
The reason this trip is so good is due to the variety of scenery. An Adelaide to Darwin road trip is similar, but the beauty of travelling from Perth to Broome is you're on one of the most pristine coasts in the world.
This trip is worth it for what you see along the way alone. It's as good as any road trip in Australia and one you have to do if you visit the West Coast.
Where to stay between Perth and Broome
Even though the West Coast isn't as well-visited as its eastern counterpart, you'll have plenty of places to choose from when it comes to accommodation.
This is still a core part of backpacking in Australia, and there's no shortage of hostels dotted along the coast from Perth to Broome.
Towns such as Exmouth, Monkey Mia and more have lots of accommodation. If you want hostels or hotels, you'll be well-covered.
If you're doing this trip in a campervan, then you don't need to worry. Accommodation is taken care of and you'll find more than enough spaces where you can park up for the night.
Below are some hostels which are ideal to stay at during your journey.
Places to visit on a Perth to Broome Road Trip
Perhaps the best part of this is just how much you can see along the way. There are plenty of brilliant places to visit in Western Australia.
Although you won't see the whole of the state on this trip, you can still see a large portion of it.
I can't list every place you should visit, but here are five you have to include in your Perth to Broome itinerary
Karijini National Park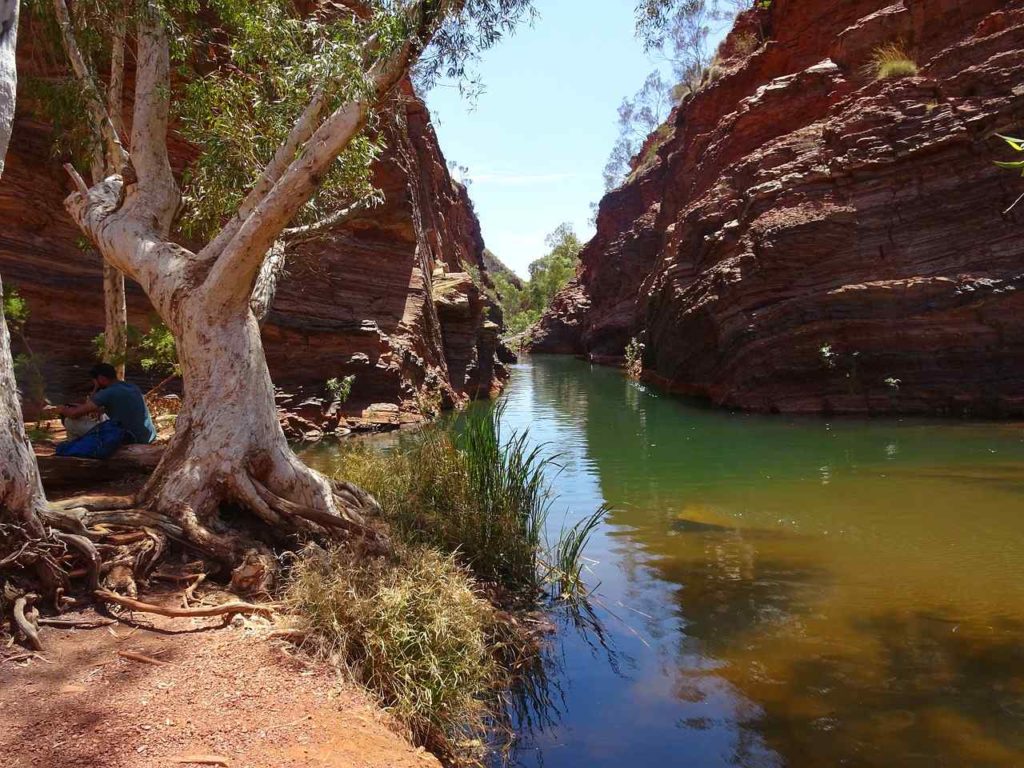 I've included Karijini National Park on this list as it's an incredible place and you should visit if you're in the area.
But there is a caveat:
Visiting Karijini requires a detour if you're driving down the coast. It's inland and a good seven-hour drive from Coral Bay. If you take the inland route from Perth to Broome, you'll pass by Karijini, but this means you'll miss the coast, which is the best part of the trip.
If you decide to visit, you'll be blessed with some of the best scenery in Australia. You'll find numerous freshwater pools you can swim in and check out gorges which are two billion years old!
If you plan on extending your trip into a Perth to Darwin drive, adding Karijini to your itinerary is a good idea. If not, you should still visit if you can!
Coral Bay
If you're looking for unheralded places to visit on this road trip, Coral Bay is one of them. It's a place that should be better known than it is. But if it was, that would ruin the mystique.
The bay is located on the Indian Ocean on the Ningaloo Reef. Its location means it's protected from the ocean and is the only fringing reef in Australia. So unique that the coral starts right by the beach!
For a small place, there's a lot to do here. You can go snorkelling and scuba in the bay, while you can go on a kayak tour too. If that sounds like too much effort, you can lie by the beach and catch some rays.
If you visit from March to June, you'll be looking enough to spot whale sharks. While from June to October, humpback whales migrate to the area.
Exmouth
The Ningaloo Reef is one of the top attractions while driving from Perth to Broome and Exmouth is the place to go if you want to check it out.
Everyone knows about the Great Barrier Reef, but the Ningaloo Reef is just as good. There's so much you can do here, you'd be crazy not to visit.
You can go on a whale shark tour if you visit at the right time of the year. They're expensive but worth it to see these amazing creatures. You can also check out Cape Range National Park, which has some excellent trails and see the spectacular view from the Vlamingh Head Lighthouse.
With so much to do in Exmouth and the surrounding area, it has to be included on your West Coast Australia road trip!
The Pinnacles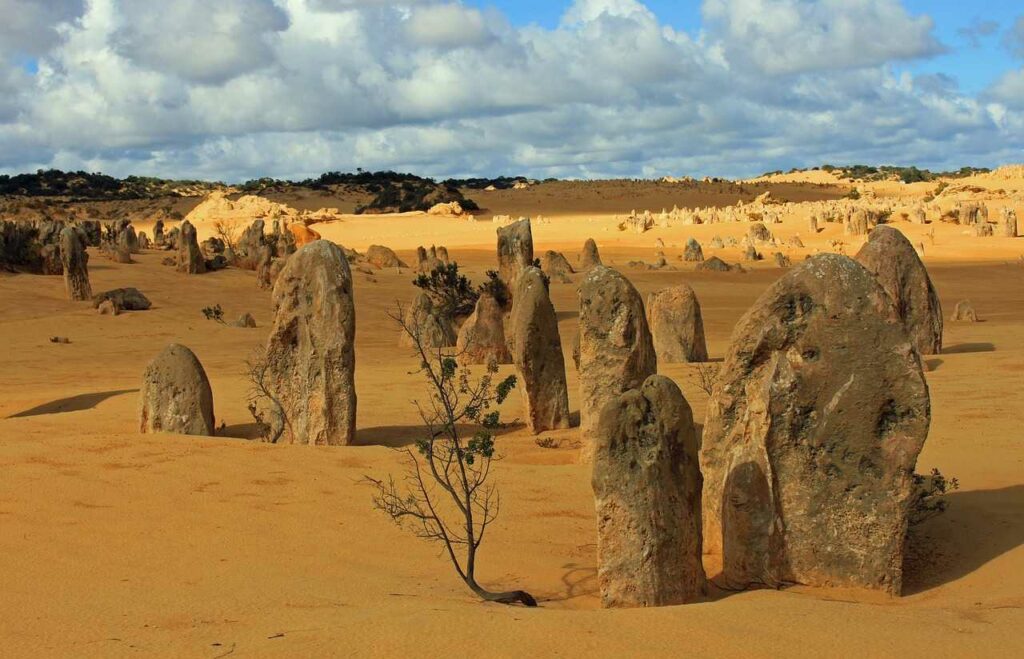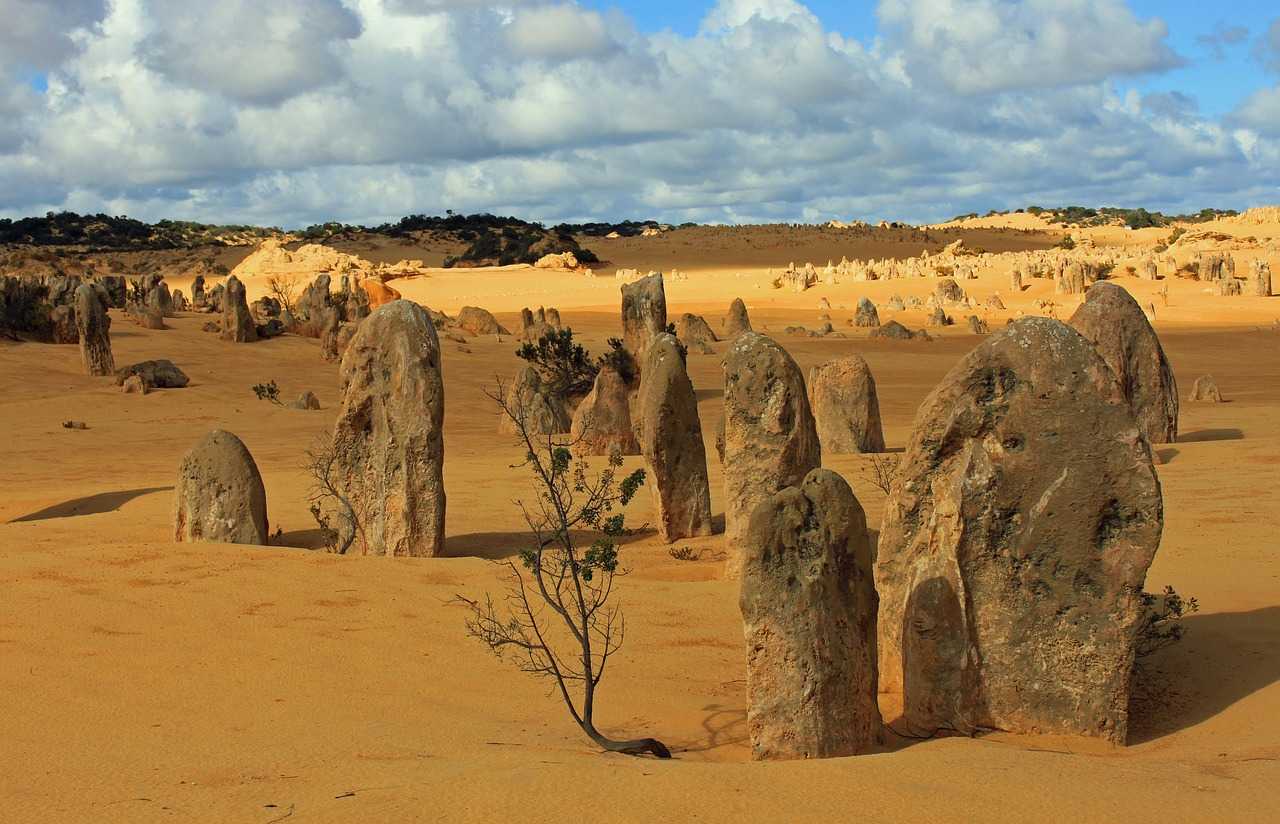 The Pinnacles is one of the most unusual places to visit in Australia. When you first set your eyes upon these limestone structures you'll be blown away.
They're located in the Nambung National Park which is a two-hour drive north of Perth. The Pinnacles were formed 25,000 to 30,000 years ago when the sea receded and left deposits of seashells.
Coastal winds have removed the surrounding sand, leaving the limestone pillars exposed to the elements. Leading to the dramatic Pinnacles you see today.
It's a great place to stop and marvel at the power of nature and check out this otherworldly landscape!
Lancelin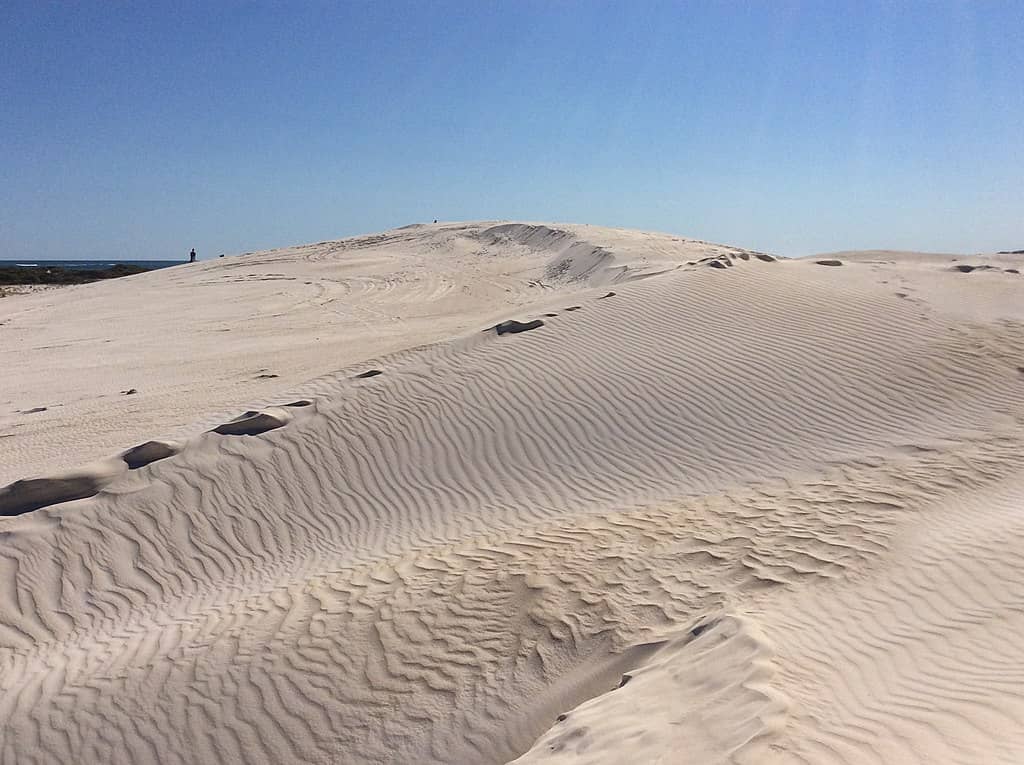 Lancelin might not be the first place people think of when they envision doing this trip, but it's one you should have marked down on your itinerary.
It's a small town north of Perth and home to some of the most amazing sand dunes you'll ever come across!
These dunes are huge ad it's no easy task to get to the top of one. Once you do you'll be treated to an excellent view of the Indian Ocean.
You can go sandboarding, or just relax at the beach and admire the view.
Things to do on a Perth to Broome Road Trip
The good thing about driving from Perth to Broome is there are plenty of things to do along the way.
Western Australia is an excellent place to do a wide variety of activities. You can go scuba diving, snorkelling, hiking or just relax at the beach!
Here are three things I think you should do while you're on this trip.
Hiking
Australia is an excellent place to go hiking and the west coast is no different. You'll find plenty of places to get out and explore.
The Pinnacles and Karijini are two such places. The sights are incredible and Karijini, in particular, has some fantastic trails you should do.
You can also go on a hike around the coastline of Exmouth and other such areas too.
Relax at the beach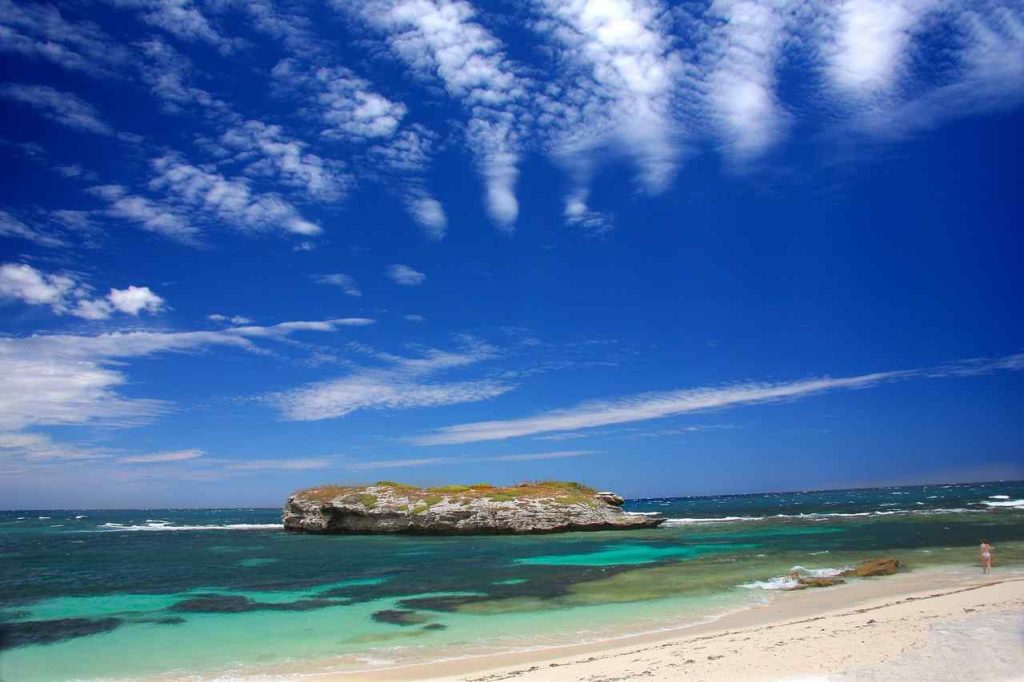 Australia has a lot of beaches. It doesn't matter what part of the country you're in, there are plenty to choose from.
Western Australia is blessed with some incredible beaches. The thing that makes them so great is they're quieter than the beaches on the east coast, as fewer people pass through the area.
This means you can enjoy places such as Coral Bay, Shark Bay and Exmouth without the hoards of crowds you'll find at Bondi or St Kilda!
Whale shark tour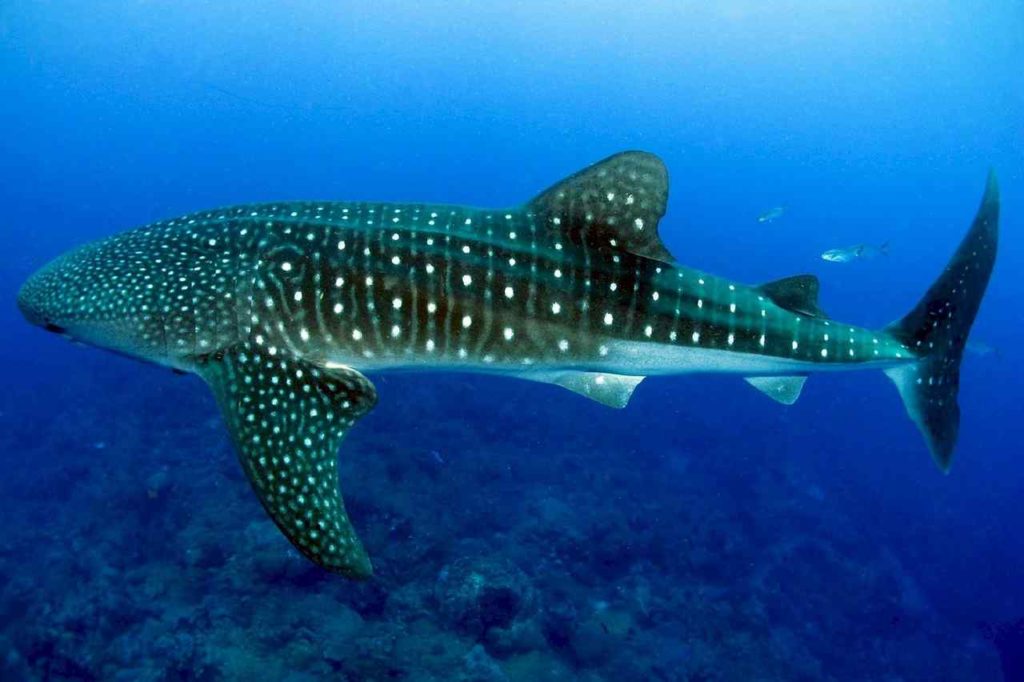 One of the best things you can do on this road trip is to go on a whale shark tour.
The Ningaloo Reef is the place to go to jump on one of these tours. Monkey Mia is a good spot, as is Exmouth.
You also want to make sure your trip coincides with the whaling season. The season typically starts in March and lasts until July, but this can vary.
If you're not travelling during these months don't despair. The Ningaloo Reef is the only place in Australia you can see whale sharks, manta rays and humpback whales in one spot. At some point during the year, you'll be able to see at least one of these incredible creatures!
Example Perth to Broome Road Trip Itinerary
This is an example itinerary and by no means the only route you should take, It is just a recommendation if you want to skip some places or take a quicker route, then you can!
Day 1 – Perth to Jurien Bay

Distance
219 km (136 miles)

Time without stops
2 hours 16 minutes
The first leg of the road trip is a simple drive from Perth up the coast to Jurien Bay. The drive takes just over two hours and can be broken with a variety of stops if you wish.
If you wake up early, you can visit Rottnest Islan before you go, where you can see lots of wildlife such as the cute little quokka!
Two more places you should stop along the way are Lancelin and Nambung National Park.
At Lancelin, you'll find huge sand dunes which are fun to explore and you can chill at the beach too. Nambung National Park is where you'll find the Pinnacles, limestone structures which resemble an otherworldly landscape.
It's an interesting place and one you won't forget in a hurry! After that, it's a short drive to Jurien Bay. It's not the biggest place, but it makes up for that in beauty.
The beach here is incredible and the colour of the water takes your breath away. Spend the evening, relaxing at the beach or checking out the small town before you head off in the morning.
Day 2 – Jurien Bay to Kalbarri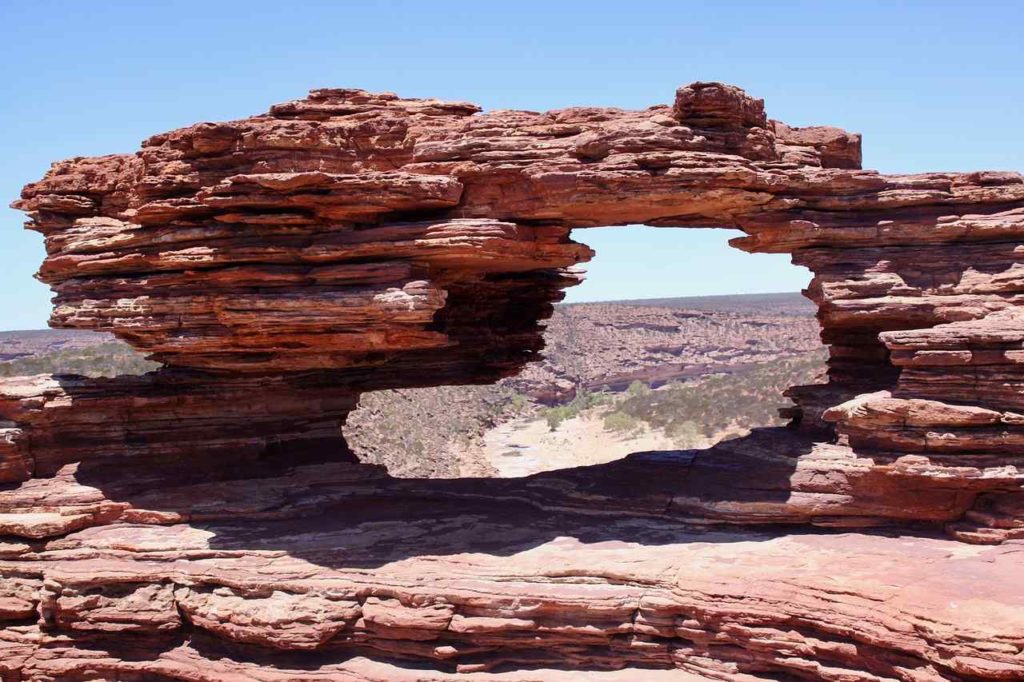 Distance
351 km (218.1 miles)

Time without stops
3 hours 44 minutes
The second leg of the road trip is a longer drive. At just under four hours, the route takes up further up Australia's west coast.
There are fewer places to stop on this part of the trip, but there are one or two you should check out. Dongara is one. You can check out the Illegal Tender Rum distillery if you're looking for something to do and tour the premises.
Geraldton is another place to stop. The esplanade is a good spot to walk along and if you want something a little less demanding, you can relax at one of the many beaches in the town.
If you're keen to get to Kalbarri though, you can skip all that and head straight there. Kalbarri is one of the most underrated national parks in Australia and is home to some stunning scenery.
You'll find sprawling gorges and numerous trails you can explore. The park is split between the coast section and the inland section. The coastal section features soaring cliffs and lookout areas, while gorges and wildflowers can be found inland.
You can also check out the Pink Lake at Port Gregory, which is a sight to behold. It does cost $12 per vehicle to enter Kalbarri but it's worth it and the money pays for itself in no time!
Day 3 – Kalbarri to Carnavon

Distance
444 km (275.8 miles)

Time without stops
4 hours 29 minutes
The next part of the road trip sees you drive from Kalbarri to Carnavon. This is another solid day's worth of driving with the journey taking around four and a half hours.
You have a decision to make on this part of the trip. You can either drive straight to Carnavon and spend most of the day there, or you can take a slight detour and visit Monkey Mia and Shark Bay before.
Monkey Mia ad Shark Bay are some of the best spots in Western Australia, so it would be a shame to drive past them. You can swim with dolphins here, relax on stunning beaches such as Shell Beach and admire some of the best views in the country.
If you're desperate to visit, you can even spend the night here and drive to Carnavon afterwards. This is a good idea if you want to eke out as much time as you can in these spots.
If not, the drive from Monkey Mia takes up most of this leg of the trip, so it's best to leave Monkey Mia with enough time to avoid driving through the dark.
Day 4 – Carnarvon to Exmouth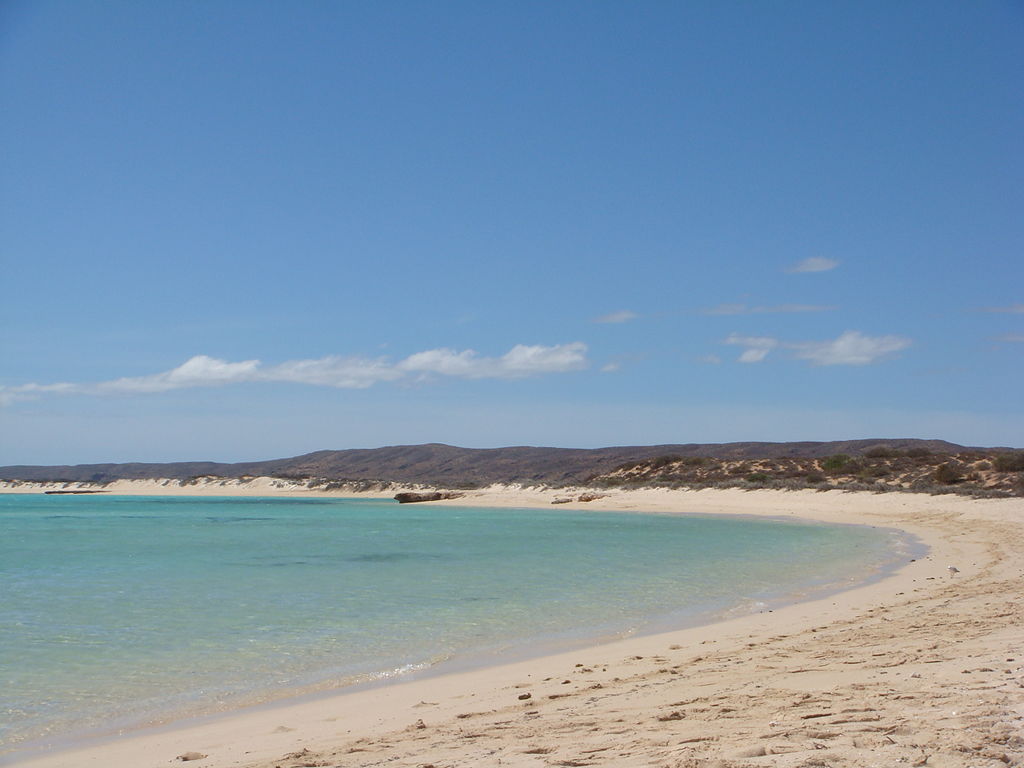 Distance
364 km (226.1 miles)

Time without stops
3 hours 47 minutes
The fourth part of the Perth to Broome road trip sees you venture from Carnarvon to Exmouth. This is another solid day of driving, clocking in at just under four hours.
This part of Western Australia doesn't have many places to stop at, but one place you should check out is Coral Bay.
As I mentioned before, it's a beautiful place and one you won't want to move away from. Checking out the coral reef which gives the bay its name and the beach is a must.
After Coral Bay, it's a straight drive to Exmouth where you can explore more of the Ningaloo Reef. Scuba-diving, snorkelling and boat tours are all available to do here as is relaxing at the beach!
You can also check out the view from Vlamingh Head Lighthouse which is incredible!
Exmouth is an amazing place and if you have a bit more time on your hands, it's worth extending your stay to make the most out of your visit.
Day 5 – Exmouth to Karijini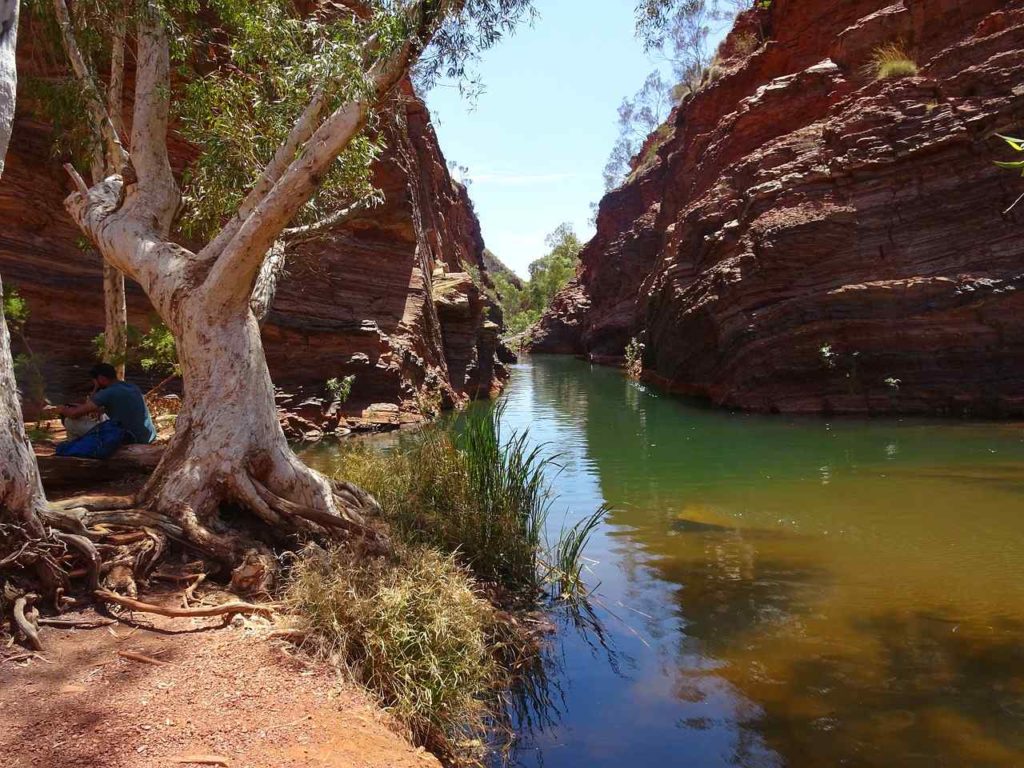 Distance
658 km (408.8 miles)

Time without stops
7 hours 52 minutes
The fifth leg of the trip is one you can change if you wish. My itinerary takes you inland to Karijini, but you can stick to the coastal route if you want.
This is a long drive at just under eight hours and if you don't want to do that you can head to Port Hedland instead which takes a similar amount of time. The downside is there's not an awful lot to see on this route.
Granted, this is true of the inland route too, but the final destination is one you should check out if you can. Karijini National Park is a stunning part of the country with plenty to see and do.
You'll find red rocks, clear pools of water and gorges which are over two billion years old. The park is similar to Uluru Kata-Tjuta National Park, but without the giant rock formations, you find in the Northern Territory.
As the drive takes so long, it might be spending an extra day here to get the most out of your trip. Otherwise, you can get up early to make the most of your time there.
Day 6 – Karijini to Eighty Mile Beach

Distance
563 km (349.8 miles)

Time without stops
6 hours
The penultimate part of the road trip sees you make your way back to the coast from Karjini to Eighty Mile Beach.
This is another long drive but it's worth it when you reach your destination. As the name suggests, Eighty Mile Beach, is, well, an eighty-mile beach!
There's not much to see on this trip. The drive back to the coast passes by the Mungaroona Range Nature Reserve which is worth stopping at for a break. After that, there's not much to see until you reach Port Hedland.
I'd advise you to stop for another break there, recharge your batteries and relax by the coast for a bit. Then, you can make the final stretch of the drive to Eighty Mile Beach and enjoy the stunning surroundings and golden sand.
Day 7 – Eighty Mile Beach to Broome

Distance
376 km (233.6 miles)

Time without stops
3 hours 52 minutes
The final part of this road sees you drive from Eight Mile beach to your final destination of Broome. This drive is shorter than the previous two at just under four hours.
For a long drive, there aren't many places to stop along the way. So you have two choices. You can spend most of the day at Eighty Mile Beach and relax for a bit, or you can head straight to Broome and spend the majority of the day there.
What you do is up to you. Either choice is a good one and in the end, the decision might come down to whether you want to do the drive in the morning or in the afternoon.
One factor could be how much time you plan to spend in Broome after the trip is finished. If you have a few days there, it might be a better idea to spend more time at Eighty Mile Beach instead.
Either way, the last leg of the Perth to Broome won't disappoint and nor will Broome, which will provide you with plenty of things to see and do!
How much does a Perth to Broome Road Trip cost?
Most road trips in Australia cost a fair amount of money. This is unavoidable due to the size of the country. Getting from place to place requires you to drive long distances.
When you consider all the things you have to pay for such as fuel, food and drink and accommodation the bill starts to add up. If you're doing the trip in a group, this will bring the cost down per person.
A trip with four of you will be much cheaper than a trip with two people. However, the larger the group, the more sense it makes to do the trip in a campervan. But, renting one will cost more than a car.
These are the things you have to consider before you start your trip.
Here's a link to a fuel cost calculator, which should come in handy for your trip. Using the fuel price data from a Google search for "petrol prices Australia", input the figure into the calculator and you're set.
I received a figure of $1.38 per litre, driving the distance in a campervan led to a quote of $184.53 If there are four of you in the vehicle that will come to $46.13, which is a fair amount of money!
Bear in mind this price may be cheaper if you do the trip in a normal car. It won't need as much petrol to fill it up and with the reduced weight, it should be more fuel-efficient than a campervan!
However, if there is only two or three of you, the costs will be a lot more expensive. Factor in the cost of renting a campervan per day, which comes to around $49, food and drink and any tours you decide to do and you're looking at a bill over $150 per person!
This isn't bad for a trip of this length. Remember, this is a rough estimate and the price could be more or less than what I've quoted here. Still, if it's anywhere in this ballpark, you're getting a great deal to see one of the most beautiful parts of Australia!
How much the trip costs comes down to how much you're willing to spend to enjoy yourself and see some amazing places. Yes, the trip will be expensive, but if you're doing a working holiday in Australia or simply travelling around, it will be expensive regardless of what you do!
Need a rental car?
I use Rentalcars.com whenever I need to rent a car. They offer the most comprehensive listings of rental cars on the web. Plus, their deals are often cheaper than if you went straight to the supplier!
Concluding thoughts
A Perth to Broome road trip is a great way to see some of the best spots in Western Australia. This part of the country is home to some gems and driving is the only way to see all of them!
Have you done a Perth to Broome drive? Did you do an itinerary similar to mine?
Leave me a comment below, I'd love to hear your thoughts!
Looking For More Road Trips?
Adelaide to Melbourne Road Trip – Check out some of the most scenic spots in Australia on this drive that takes you along the Great Ocean Road!
Adelaide to Perth Road Trip – If you're in Australia for a while, why not try this drive to Perth before you set off on this trip?
Brisbane to Cairns Road Trip – A stunning drive up Australia's East Coast!
Melbourne to Sydney Road Trip – See some of the beautiful sights in between the two biggest cities in Australia!
Sydney to Brisbane Road Trip – A scenic drive up that will take you along some of Australia's best coastline!
Pin for later