These Iceland quotes will ignite your wanderlust and have you booking your trip there in no time.
Iceland is one of the most beautiful countries in Europe with some of the most spectacular scenery. These quotes about Iceland reflect that and reference the stunning glaciers, waterfalls and mountains you'll see when you visit.
We've included some Iceland captions for Instagram that you can use to accompany all the amazing photos of this beautiful country you're bound to take.
If you're looking for inspiration for your trip, and a good reason to see the northern lights and much more, then our beautiful Iceland sayings will have you excited for your Icelandic adventure!
Table of Contents
Best Iceland Quotes
"There's this feeling of creativity in Iceland." – Hilary Hahn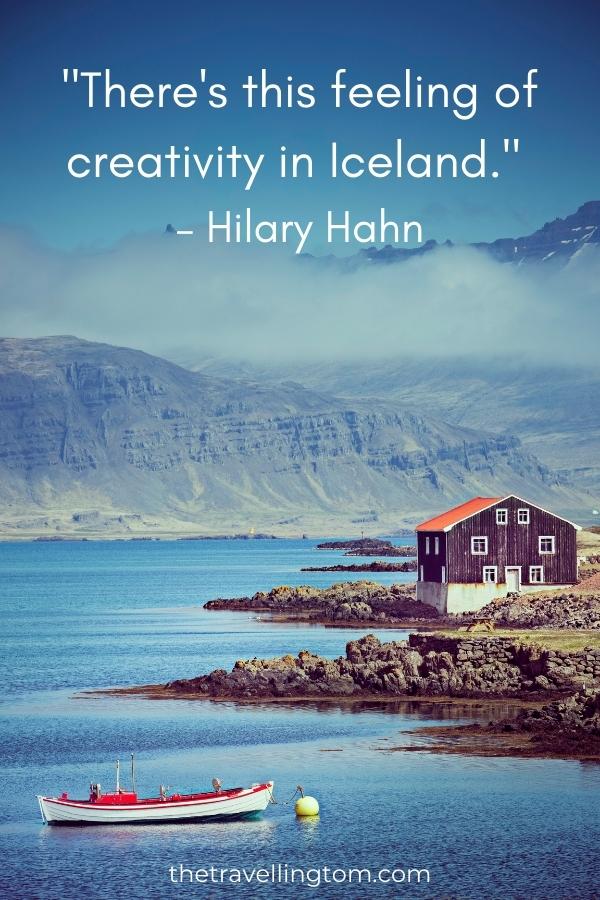 "I have a deep and ongoing love of Iceland, particular the landscape, and when writing 'Burial Rites,' I was constantly trying to see whether I could distil its extraordinary and ineffable qualities into a kind of poetry." – Hannah Kent
"I think you are always influenced by your surroundings and where you grow up. Your environment is always one of the things that shape you, and the music scene in Iceland was a very important factor in shaping me." – Johann Johannsson
"I was so fortunate; in the years that I was in 'Thrones,' we were able to shoot in Iceland. I think some of my favourite memories would have to be isolated out there, surrounded by nothing but snow and ice." – Rose Leslie
"I still don't know why, exactly, but I do think people can have a spiritual connection to landscape, and I certainly did in Iceland." – Hannah Kent
"When I was a little kid growing up in Iceland, I always dreamed about creating something that could have an impact on the whole world, and even as a young boy I was passionate about fitness and sports." – Magnus Scheving
"If I wasn't bound to Brooklyn, due to my own personal reasons like taking care of my mother and the fact that this is where the band is based, I would probably move to Iceland." – Peter Steele
"When you live in Iceland so very far away from everything else, you have no concept that anything you do will be heard outside of Reykjavik. I still don't know how we managed it." – Jon Thor Birgisson
"Most visitors to Iceland tend to spend just a few hours in Reykjavik before moving on to the geological wonders beyond. I think they are missing out." – Fiona Bruce
"Maybe it's just a personal thing, but I get so much grounding from Iceland because I know it's always going to be there. I have a very happy, healthy relationship with the country, so it's really easy to go everywhere because I always have Iceland to go back to." – Bjork
"There's a reason why Jules Verne chose the place where the glacier was, where we start to descend into the center of the earth. That area specifically has magical powers and people come to this place from all over the world. I actually think that's true of all Iceland. I think it's so special, apart from the water and air being so clean." – Anita Briem
"The winters are too long, and there's only one airline, so it's difficult to escape when you feel frustrated or claustrophobic. The audience for our films isn't very large, so it's difficult to support an industry. But, Iceland is beautiful. Sometimes it's hard to imagine living anywhere else." – Baltasar Kormakur
"We have very good fish in Iceland." – Hafthor Bjornsson
Iceland Travel Quotes
"I would like to go to Iceland to see the northern lights." – Art Malik
"When I prepare, I am not messing around. I find the right places, the right people, and the right environment. Iceland is one of those places." – Conor McGregor
"I've walked a lot in the mountains in Iceland. And as you come to a new valley, as you come to a new landscape, you have a certain view. If you stand still, the landscape doesn't necessarily tell you how big it is. It doesn't really tell you what you're looking at. The moment you start to move the mountain starts to move." – Olafur Eliasson
"I'm still blown away by how desolate Iceland can be, how deserted it is. It's very often like living on the moon." – Olafur Darri Olafsson
"In Reykjavik, Iceland, where I was born, you are in the middle of nature surrounded by mountains and ocean. But you are still in a capital in Europe. So I have never understood why I have to choose between nature or urban." – Bjork
"Having grown up in Iceland and Los Angeles, gone to school in Europe and America, and lived and worked in London and New York, my insatiable appetite for travel has informed many of my life decisions." – Aslaug Magnusdottir
"The problem with driving around Iceland is that you're basically confronted by a new soul-enriching, breath-taking, life-affirming natural sight every five goddam minutes. It's totally exhausting." –Stephen Markley
"After filming the first season of 'Poldark,' I went with the cast on a trip to Iceland. We started off in Reykjavik and then went into the mountains and swam in naturally heated pools." – Eleanor Tomlinson
"I do like to write, but I also like to get and out and play. I am losing track of all the Cooper versions that I do. I have one for Iceland, different one over here." –Michael Bruce
"I am drawn to cold, desolate places rather than Hawaii. I actually love Hawaii too, but I tend to go to Iceland or Norway or Northern Japan – northern places for whatever reason. Which aren't necessarily the best places to tour." – Phil Elverum
---
You might also like:
---
Funny Iceland Quotes
"People are always asking me about Eskimos, but there are no Eskimos in Iceland." – Bjork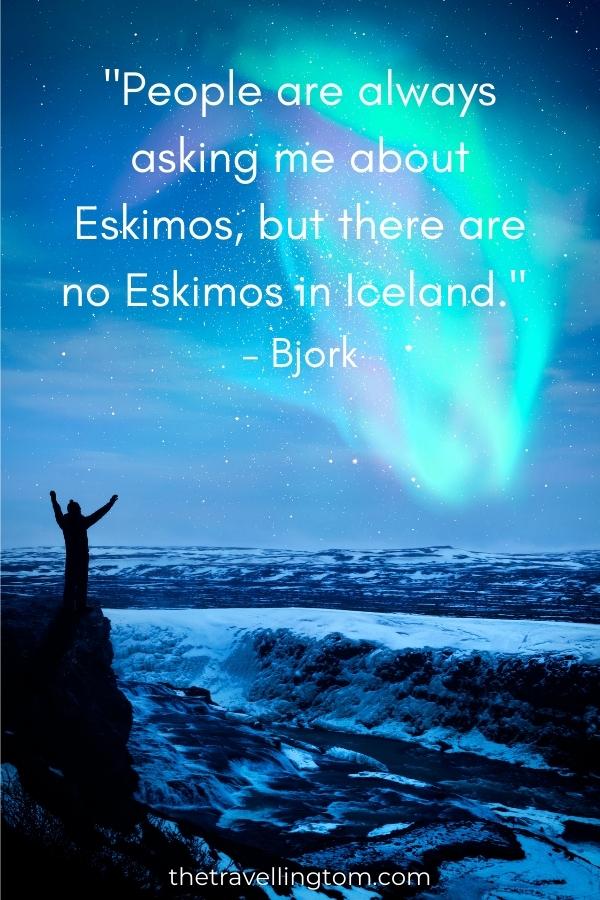 "We shot 'Oblivion' in Iceland; that was amazing. It's so, so beautiful. They didn't have any Waldorf Hotels there, though; we stayed in the middle of nowhere!" – Olga Kurylenko
"Most people in Iceland are blonde and blue-eyed. I was nicknamed 'China girl' in school 'cos they thought I looked Asian." – Bjork
"I like to think that I can run, but I remember once running up and down through different terrains while on set in Iceland, and I face planted." – Rose Leslie
Iceland Captions for Instagram
Iceland is a different version of paradise
I've got a crush on Iceland
Iceland, I Skatafell for you
Wanderlust and waterfalls
I followed my heart and it led me to Iceland
Find me where the waterfalls are
Iceland is the perfect place to blow off steam
BRB, exploring Iceland for a while
Dear, Iceland. You're the coolest
Iceland, Iceland, baby
Falling in love with Iceland, one waterfall at a time
Quotes About Iceland's Culture and History
"In Iceland, book lives matter in every sense of that phrase: The shelf-life of the book, the lives in the book, the life of the writer, and the life of the reader." – Hallgrímur Helgason
"There is a glacier in Iceland, Solheimar, which has retreated a great deal, and every time I go back there and see what's not there anymore, it does something to the heart. It makes you realise it's possible for a gigantic natural element to just disappear." – James Balog
"Did you know there's probably more golf played in Iceland than most places in the world? They play 24 hours a day in the summertime and the northern part is warmer than the southern part." – Jack Nicklaus
"The communities and countries best at using energy to optimize a microclimate for human life are also the ones whose people have the longest average lifespans. Canada, Sweden, and Iceland – places with inhospitable winter weather – are frontrunners in sustaining human health and life." – Chris Hadfield
"Genetic studies in Iceland have found that many of the women who were the founding stock of Iceland came from England and what is now France. Some were probably captured and carried off in Viking raids only 40 generations ago." – Keith Henson
"Olafur Eliasson is also one of the most visionary artists I've ever met. He is from Denmark and Iceland, and his focus is nothing less than the entire universe." – Victor Pinchuk
"Iceland is a rich country, but in the early 21st century, this prosperity got to our heads, and in 2008, it collapsed." – Hallgrímur Helgason
"I feel like the people from Iceland have a different relationship with their country than other places. Most Icelandic people are really proud to be from there, and we don't have embarrassments like World War II where we were cruel to other people." – Bjork
"The original settlers in Iceland were the nobles of Norway who left their native land to avoid the tyranny of Harold Fairhair, who tried to crush their power so as to make himself a despotic king in the land." – Sabine Baring-Gould
"The New Yorker asked me to shoot a story on climate change in 2005, and I wound up going to Iceland to shoot a glacier. The real story wasn't the beautiful white top. It ended up being at the terminus of the glacier where it's dying." – James Balog
"Throughout the history of Iceland, men have been lost at sea; every family in Iceland is connected to that kind of story." – Baltasar Kormakur
"I'm trying to write about serious issues, about Iceland's journey into modernity, about the soul of Iceland – on how people react when they get too much money too quickly and how it affects our culture." – Hallgrímur Helgason
"I don't know whether it's a Nordic thing, but men in Iceland are very locked-up, very quiet. They hardly ever express emotion." – Olafur Darri Olafsson