With so many famous landmarks in Barcelona, it can be hard to know which ones to visit first!
The majority of the most renowned Barcelona landmarks are ones that are familiar to almost everyone. Sagrada Família, Casa Milà and Nou Camp are some of the most famous places that everyone wants to visit while they're in Barcelona.
There are lots of famous buildings in Barcelona you might not be aware of such as Casa Batlló designed by the famous architect, Gaudí and the beautiful Casa de les Punxes by Josep Puig i Cadafalch. There are so many landmarks in Barcelona, you won't have trouble with things to see during your stay!
Barcelona is one of the most beautiful cities in Europe and this list of prominent landmarks will help you when it comes to organising your itinerary for your trip!
Disclosure: This article may contain affiliate/compensated links. For more information, please see our full disclosure policy.
Table of Contents
Famous Landmarks in Barcelona
Sagrada Família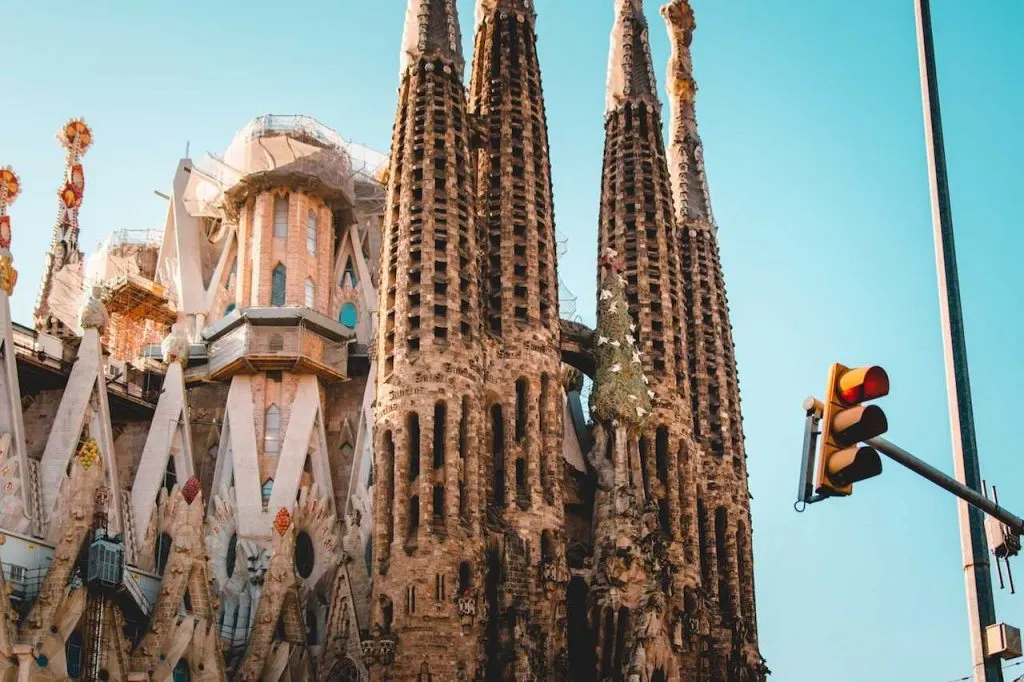 Arguably the most famous landmark in Barcelona is Sagrada Família. The building is known by almost anyone who's visited Barcelona or wishes to visit the city.
During my second year in the city, I lived close to Sagrada Família and would see it almost every day when I was walking to and from my classes. It was an impressive sight, and no matter how much I saw it I didn't become desensitized to it.
The sheer scale of the building is hard to convey unless you've visited, it's gigantic. It takes at least five minutes to walk around the whole building and take it all in. This is before you go inside and see the even more ornate decorations inside.
What's remarkable about Sagrada Família is that it's still being built and isn't likely to be finished until 2030. Construction first started in 1882, which is insane! I suggest you book a ticket before you visit as you're unlikely to get one on the day and if you're only spending 3 days in Barcelona then this is even more important!
Sagrada Família is one of the busiest tourist areas in the city, so be prepared for a lot of people, even during winter. If you want to get some pictures, get up early or visit later on at night, when there are fewer people around.
Parc Güell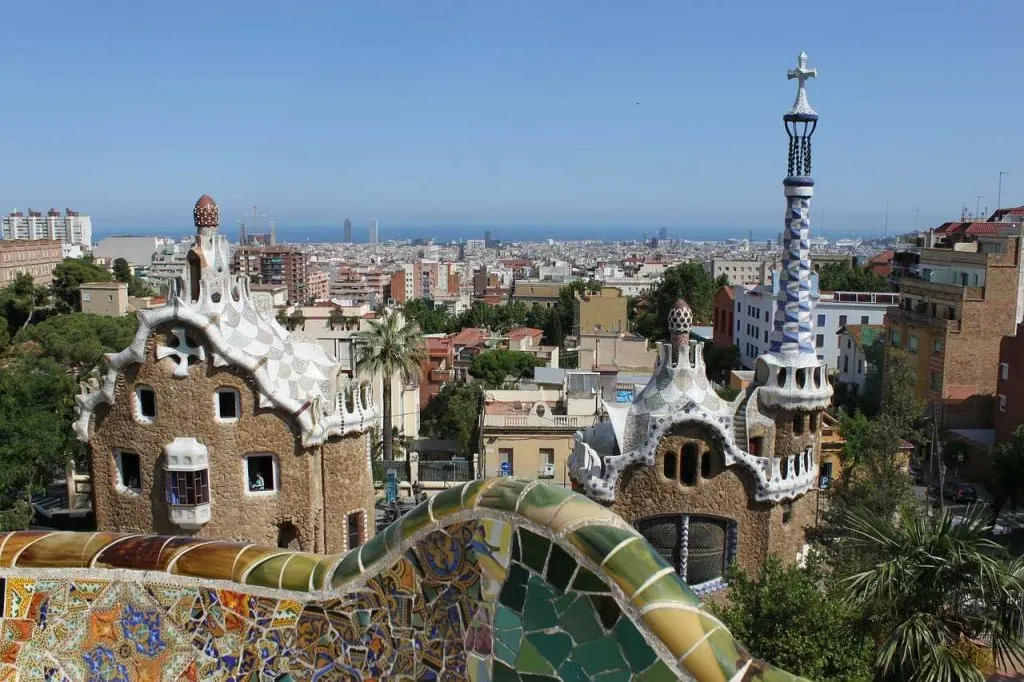 One of my favourite things to do in Barcelona was to visit Parc Güell, which is situated on Carmel Hill above the city.
The park is another of Antoni Gaudí's masterpieces and displays all of his artistic wonder. From the magnificent buildings, beautiful mosaics and quirk sculptures, it's all here in Parc Güell.
To see everything, you'll need to buy a ticket as there are some parts of the park that are ticket-only. If you're on a budget, you can walk around parts of the park, and you'll still be able to get an excellent view of the city too.
But, it's definitely worth paying for, as this is a park unlike any other you'll come across. Its beauty comes from the fact it was intended as a garden city but budget constraints meant only four of sixty houses were built.
Still, what's lost to the original plans is to our benefit as we get to explore this beautiful Barcelona landmark.
Barcelona Cathedral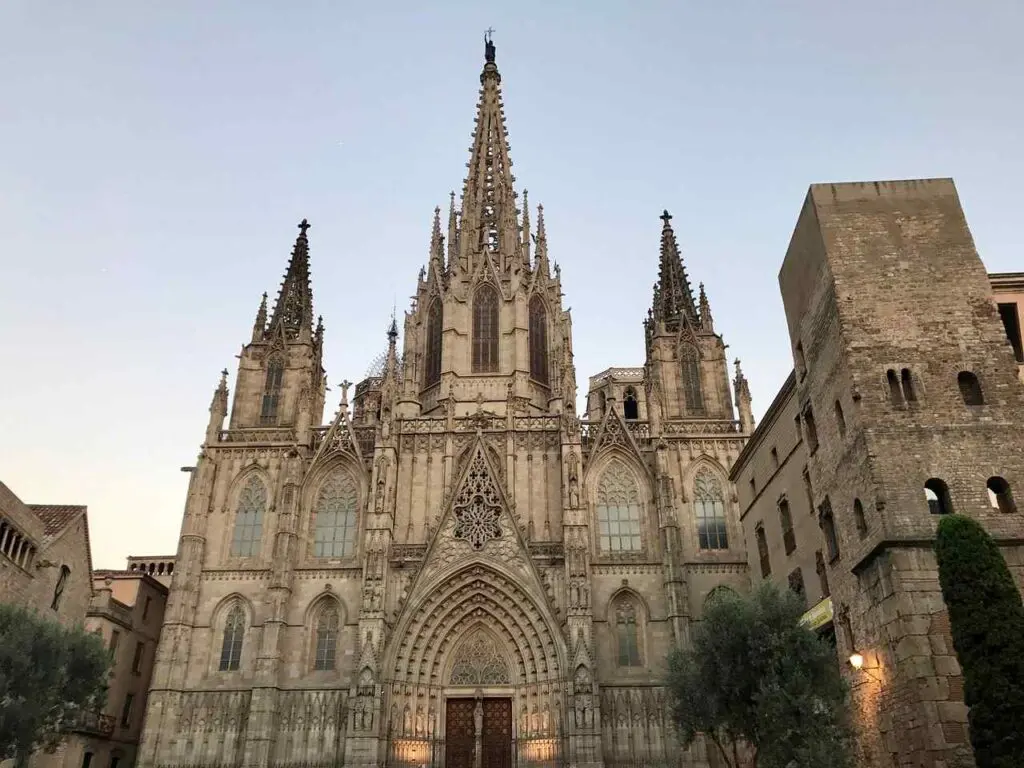 One of the most impressive sights in Barcelona is the cathedral which bears the city's name.
It's located in the Gothic Quarter and almost appears out of nowhere as you make your way to it. This is especially true if you walk there from Plaça de Catalunya, with the cathedral emerging from the labyrinth of buildings.
The cathedral was consecrated in 1058, with groundbreaking started in 1298 and construction completed in 1420. It's a magnificent building and one you could marvel at for a very long time.
Walking inside and admiring the architecture is a must and so is a moment of quiet contemplation if you're religious. If you have eagle eyes, you might be able to spot the gargoyles and numerous other animals that decorate the outside of the cathedral!
La Boqueria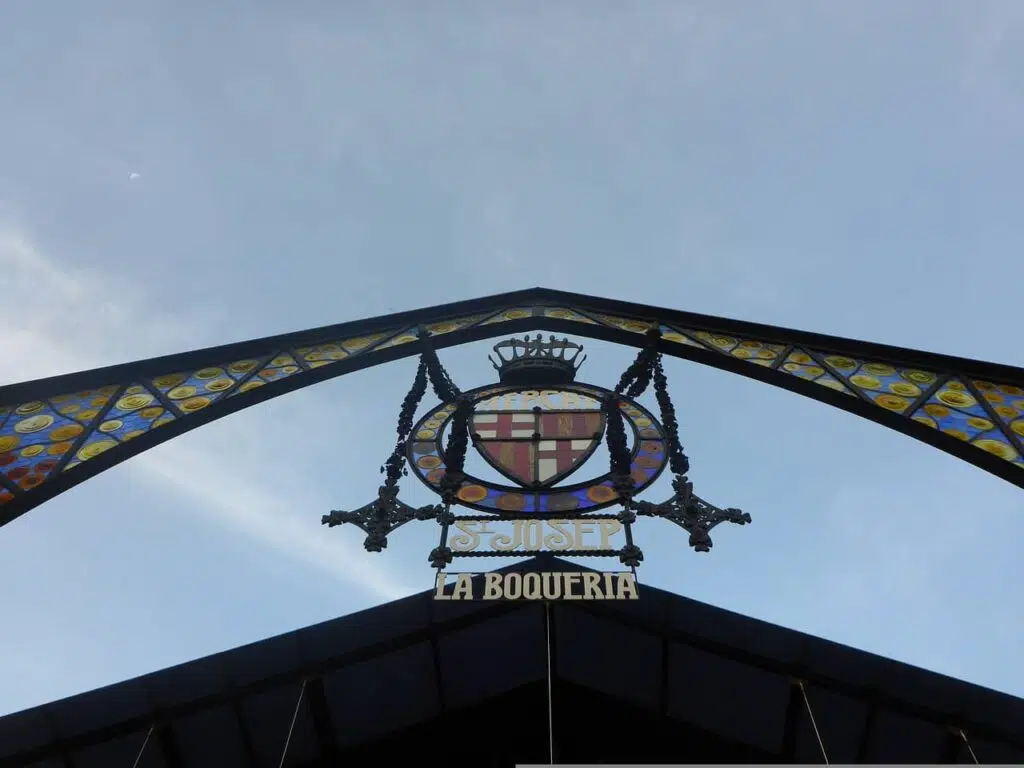 La Boqueria is one of the biggest and most famous markets in Barcelona.
It's in the Ciutat Vella area and can be accessed from La Rambla, with an entrance near to Liceu theatre and metro station.
La Boqueria is one of the oldest markets in the city, with mention of it dating as far back as 1217. Walking around the market is an experience and you'll be blown away by the produce and numerous stalls. There's lots of great food and drink to be had, such as some amazing Spanish Gin and Tonic and delicacies such as patatas bravas!
What's great about La Boqueria and most of the markets in the city is that there are plenty of places where you can eat here too. This adds another layer to the experience as far as I'm concerned as you get a real feel for the city and its culture.
You can also book a tour, which will take you to a variety of stalls and bars so you can sample more than one thing if eating from one place just isn't enough!
Picasso Museum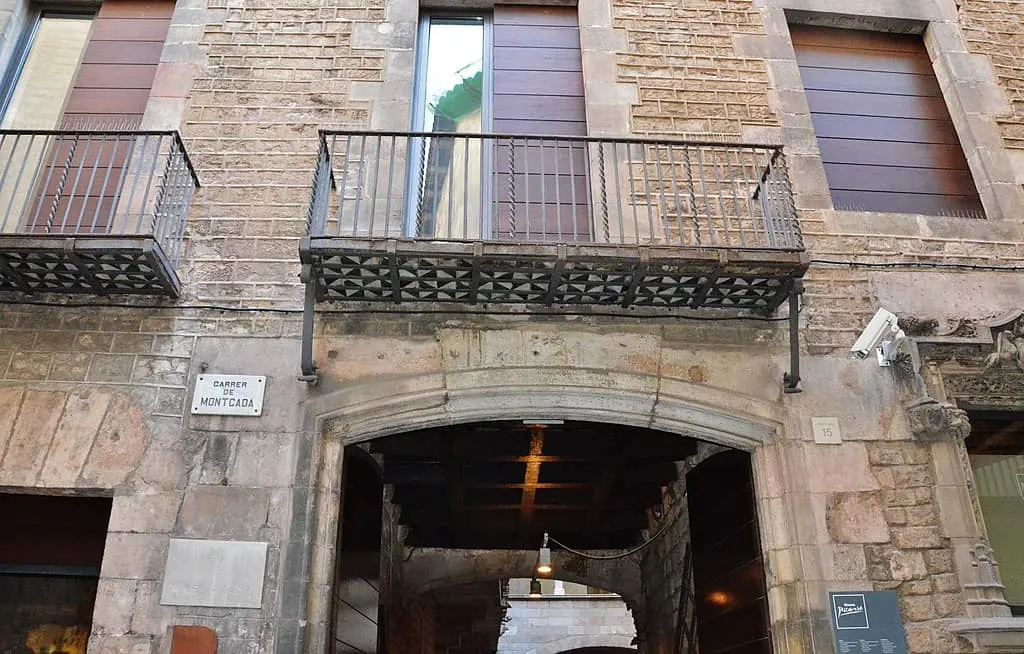 Picasso might have been born in Malaga, but he spent some of his life in Barcelona.
If you've been to the Picasso Museum in Malaga, which I have, or the one in Paris, which I haven't, then it's still worth visiting this one. The reason is that there are lots of paintings here that you won't see elsewhere, 4,251 to be precise!
The museum is in the La Ribera neighbourhood in the old city of Barcelona and is home to two of Picasso's most famous earliest works, The First Communion and Science and Charity.
As well as the numerous paintings, it's also worth visiting the museum for the architecture. It's a beautiful building and you can't help walking in wonder at both Picasso's art and the elegance of the buildings they're housed in.
Museu Nacional d'Art de Catalunya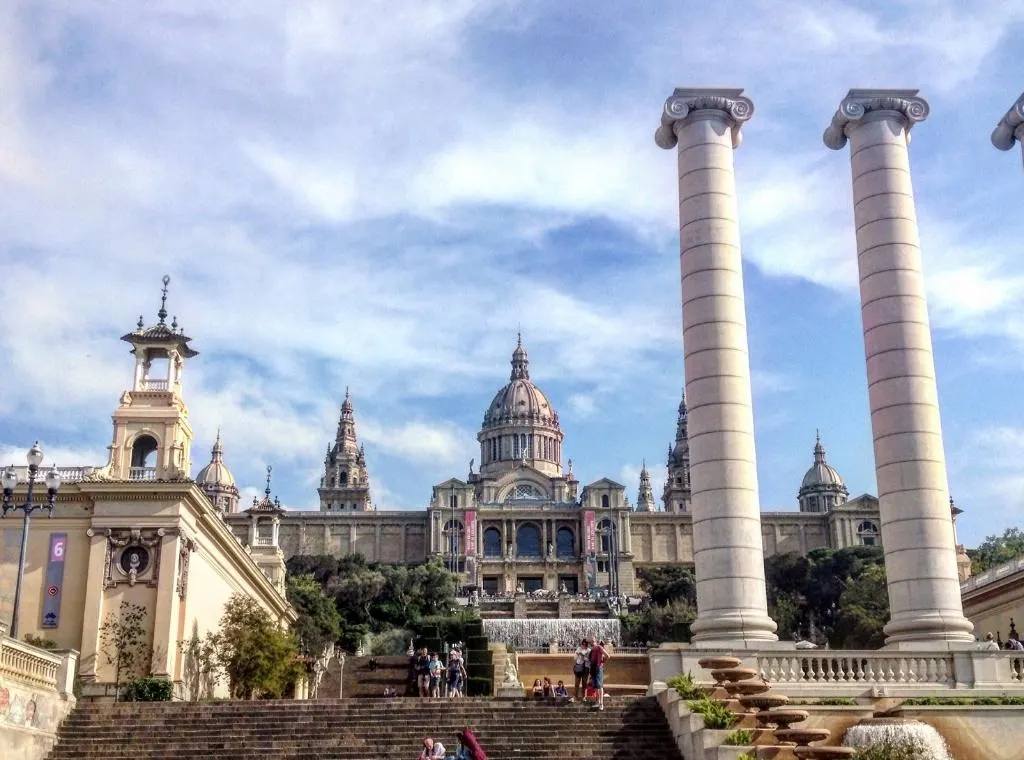 One of the most interesting landmarks in Barcelona is the Museu Nacional d'Art de Catalunya, which is the National Art Museum of Catalunya.
It's interesting not just because of what you'll find inside but because of its location. It's located off Plaça d'Espanya and in front of the magic fountain which is one of the most popular spots in the city.
You also get a fantastic view from the steps of the museum before you enter. Once you're inside, you'll find one of the best museums in Barcelona. There's a wide range of collections from the Spanish Civil War to the Renaissance.
You'll need to buy a ticket before you enter, but you can visit for free if you visit after 3 pm on Saturdays and on the first Sunday of every month. It's still best to reserve a spot online as these days get busy as you might imagine!
Parc del Laberint d'Horta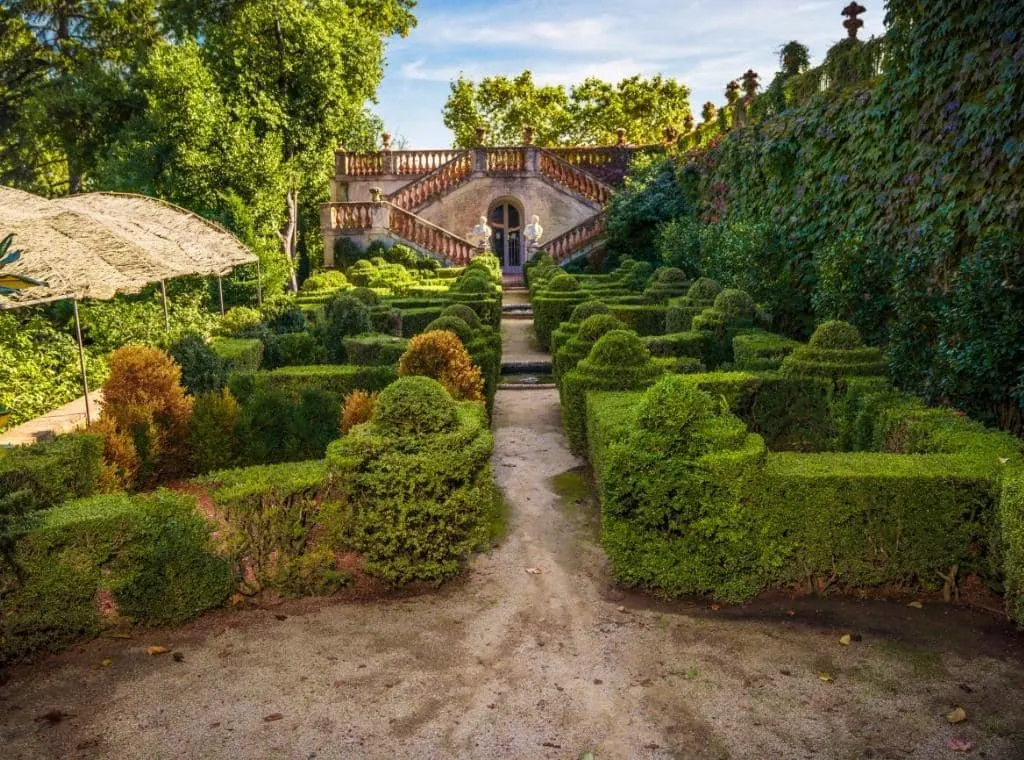 If you want to check out one of Barcelona's landmarks that's a little different, then a visit to Parc del Laberint d'Horta is a must.
It's the oldest conserved garden in the city and as the name suggests, is home to a maze as well as extensive gardens. The maze is worth visiting by itself, but there's plenty more to see too.
The park is located in the Horta-Guinardó district and is next to the Collserola ridge. The park is divided into two parts: a neoclassical garden and a romantic garden. The maze can be found on the lower terrace, while there are statues and sculptures on the upper terraces.
Parc del Laberint d'Horta is a great place to go if you want to get away from the hustle and bustle of the city for a day and explore some of the nicest parts of Barcelona!
Tibidabo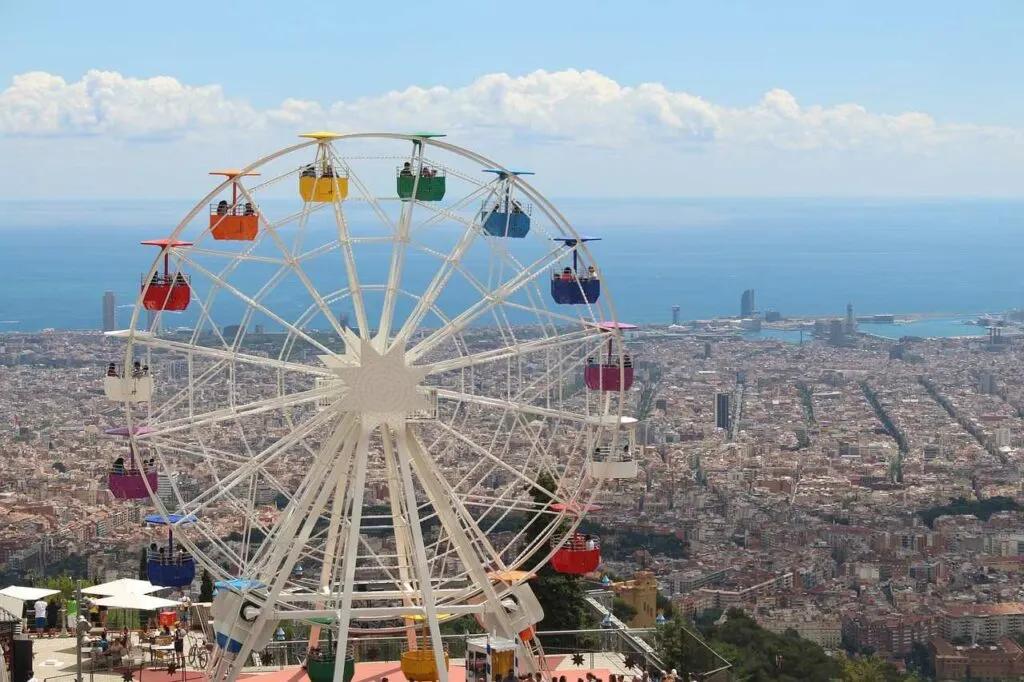 If you're walking around Barcelona and wondering what that big building on the hill overlooking the city is, then you'll want to visit Tibidabo.
The building is Sagrat Cor, a church on the summit of Mount Tibidabo. The church itself is impressive and you'll want to go in take a look and to go the top where you can get a spectacular view of the city below.
It's not just the church you'll find in Tibidabo, it's also home to an amusement park that was built in 1899. You can make a day or a half day of your visit up to Tibidabo as a result.
It's a bit of a trek to get there, requiring the metro and then a funicular to the top but it's worth it for the views and what you'll find when you get there.
Parc de la Ciutadella
One of the best Barcelona landmarks, if you're looking for somewhere to relax on a hot day, is Parc de la Ciutadella.
It's located in the Ciutat Vella area, which isn't far from Barceloneta and spans 280,000 m2 (70 acres) making it one of the biggest green spaces in the city. I loved coming here to relax on the weekend or after a stressful day.
The grounds are beautiful and worth exploring. The most prominent feature is a gigantic fountain that's an artistic delight. The park is also home to the city zoo, which is a good place to visit if you're in Barcelona with your family.
The Museum of Natural Sciences of Barcelona is also in Ciutadella comprising material on zoology and geology. With so much to do in Parc de la Ciutadella, it's somewhere you have to check our while you're in Barcelona.
La Rambla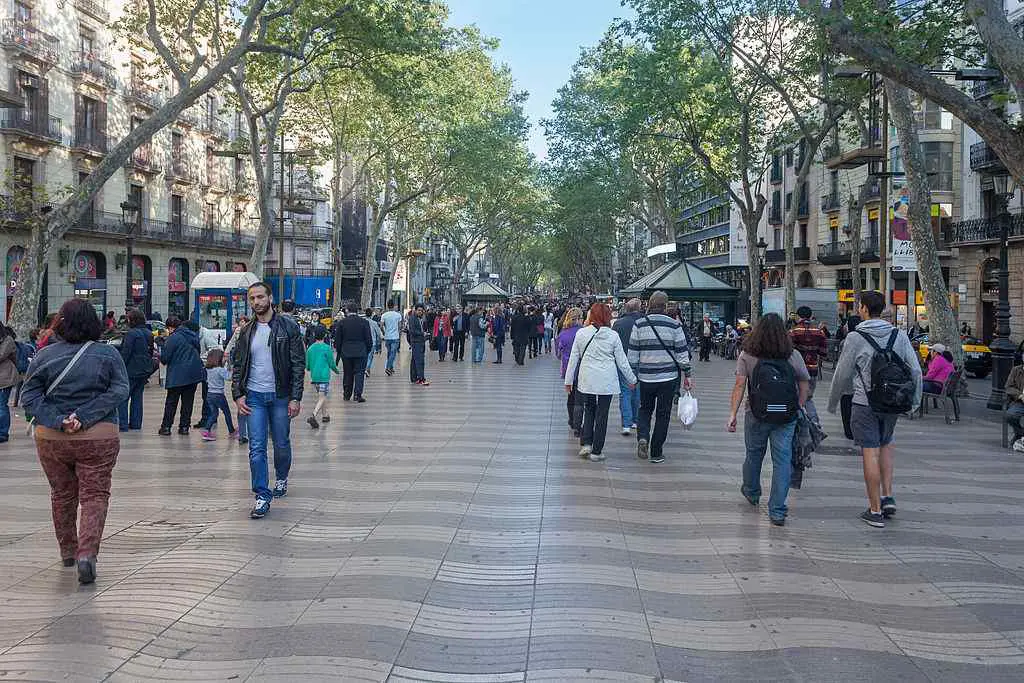 There's no doubt La Rambla is one of the most famous landmarks in Barcelona.
The 1.2 km long street is one of the principal attractions when it comes to the city. It's an interesting street with a lot going on and there are plenty of places to check out along the way such as Liceu Theatre and Virreina Palace.
One thing to note is that La Rambla is very touristy. If you plan on eating here, you're going to pay a lot more than you would in other places. While the area is notorious for pickpockets too, so you'll need to make sure your belongings are safe.
That said, it's a fascinating and bustling street, with some of the best things in the many off-streets along the way, such as Plaça Reial and the Gotic area.
Camp Nou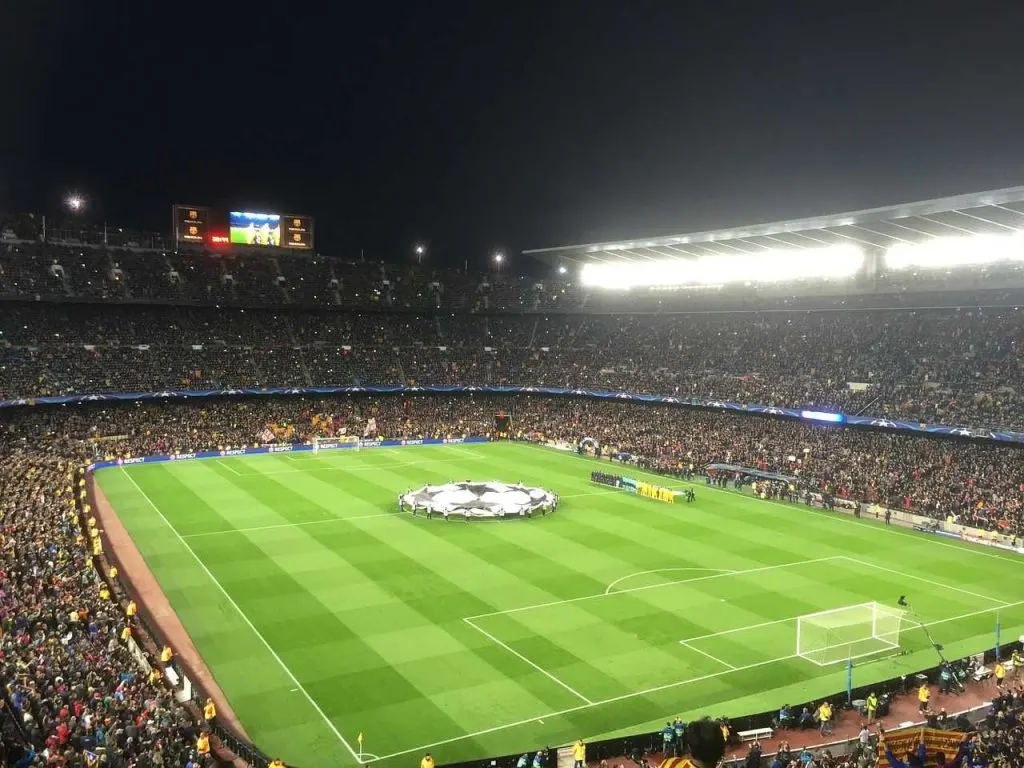 If you love football as much as I do, then you have to visit the Camp Nou while you're in Barcelona.
The stadium is the biggest in Europe and despite it not being as new as its name suggests, it's still an impressive building. Barcelona are one of the most famous teams in the world and the chance to watch a match at the Camp Nou is one you shouldn't pass up.
I managed to watch several matches while I was living in the city and it was always a fantastic experience. The stadium has a real Colosseum feel to it, which becomes more evident when you're watching a match.
If you can't make it to a match, then book a stadium tour. You'll be able to visit the club museum, and get pitchside to take in this impressive and iconic venue!
Montjuïc Castle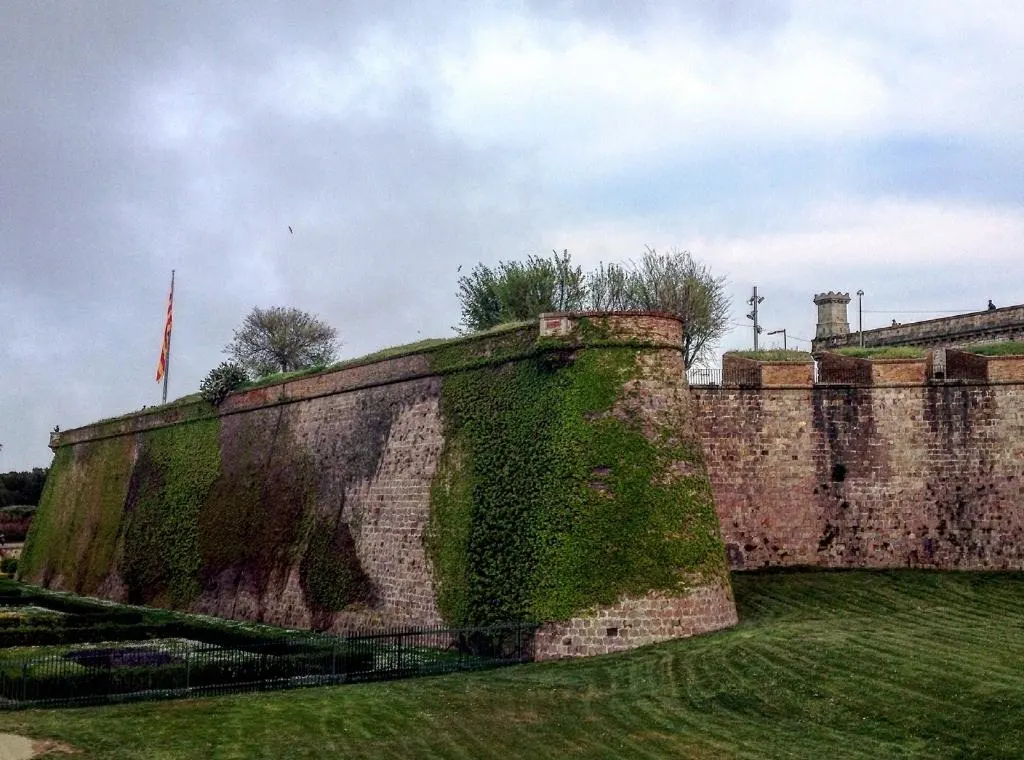 Back when I put together my initial Barcelona travel guide when I was living in the city, one of my favourite spots was Montjuïc Castle.
I lived about a 20-minute walk from the castle, so if I wanted to have a quick walk on the weekend, this is the spot I normally head to. The reason being, that it's perched on a hill above the city and much quieter than the hustle and bustle you'll find elsewhere.
The castle was originally built as a military fortress and has played a large role in Catalan history. One of the most infamous events occurred during the Spanish civil war when political prisoners, including Lluís Companys, leader of the Generalitat de Catalunya were imprisoned, tortured and shot there.
Today, the castle is open to visitors and you can walk around inside and learn about its past. You can take some time to take in the spectacular views of the city from this incredible vantage point, which are some of the best in Barcelona.
Abbey of Montserrat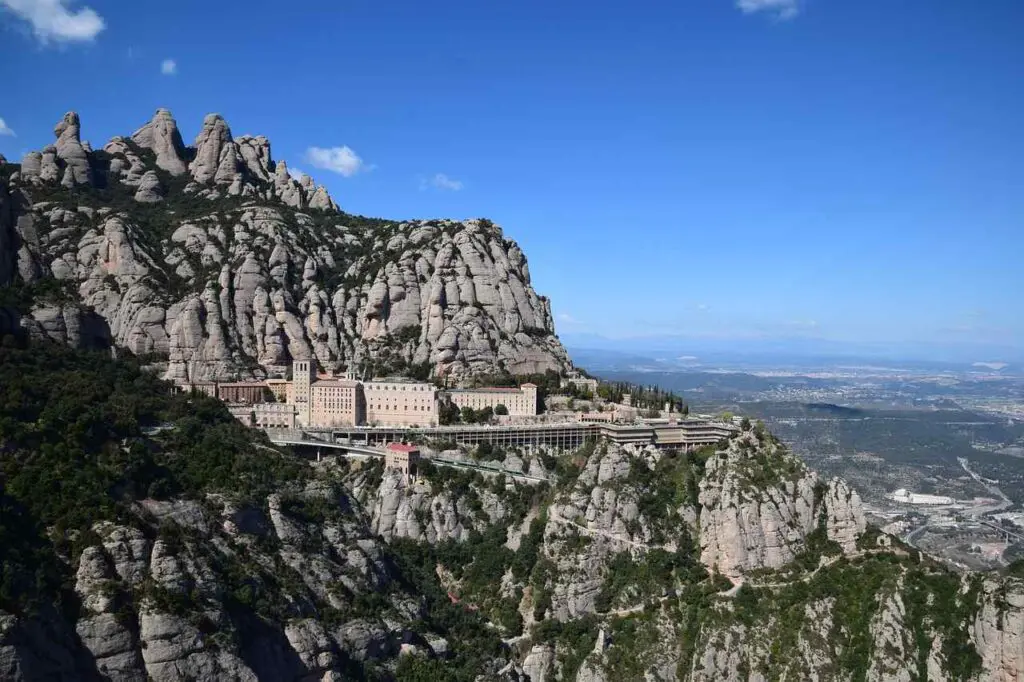 While not strictly in Barcelona, the Abbey of Montserrat can be reached from the city centre without too much difficulty.
It's one of the most interesting places to visit in Catalonia due to its location and history. It's a Benedictine abbey built into the side of a mountain which houses the Virgin of Montserrat statue that's regarded as the Patron Saint of Catalunya.
Visiting the abbey is an experience as it does feel like you've wandered off to some obscure religious site, such is the feeling of remoteness. It's also worth exploring the mountain range while you're there if you have time.
Montserrat is a stunning place and easily accessible from the city centre, with trains leaving regularly from Plaça d'Espanya station.
Estadi Olímpic Lluís Companys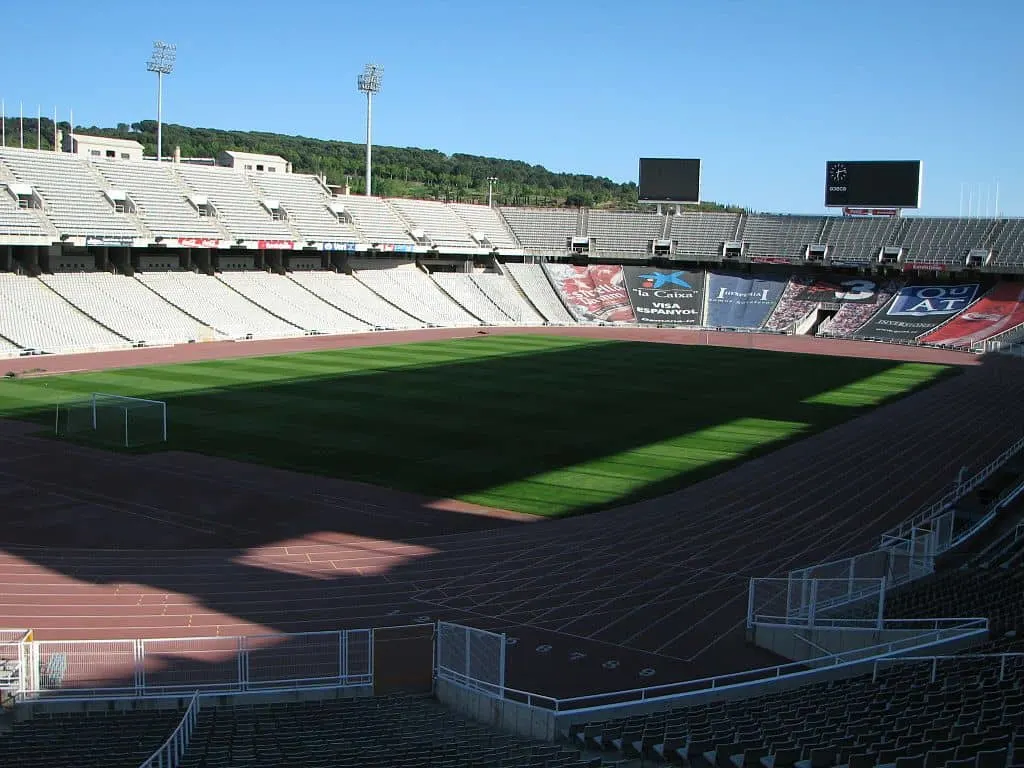 The Estadi Olímpic Lluís Companys is the stadium that was used for the 1992 Olympics which were held in Barcelona.
It's located in the Montjuïc neighbourhood and is worth checking out before you head up to the castle. When I visited, you could walk into part of the stadium allowing you to see inside of it for free.
Today, the stadium is used for concerts and athletic events. You'll also find the Olympic Museum next door, which is a good place to visit if you like sport and want to learn more about the Olympics and the one held in Barcelona, in particular.
The stadium is part of the Olympic Park, which is worth exploring in its own sight, as it's one of the most underrated parts of the city. You can see the huge Torre Calatrava, Palau Sant Jordi and swimming pools which are open to the public during the summer.
Temple of Augustus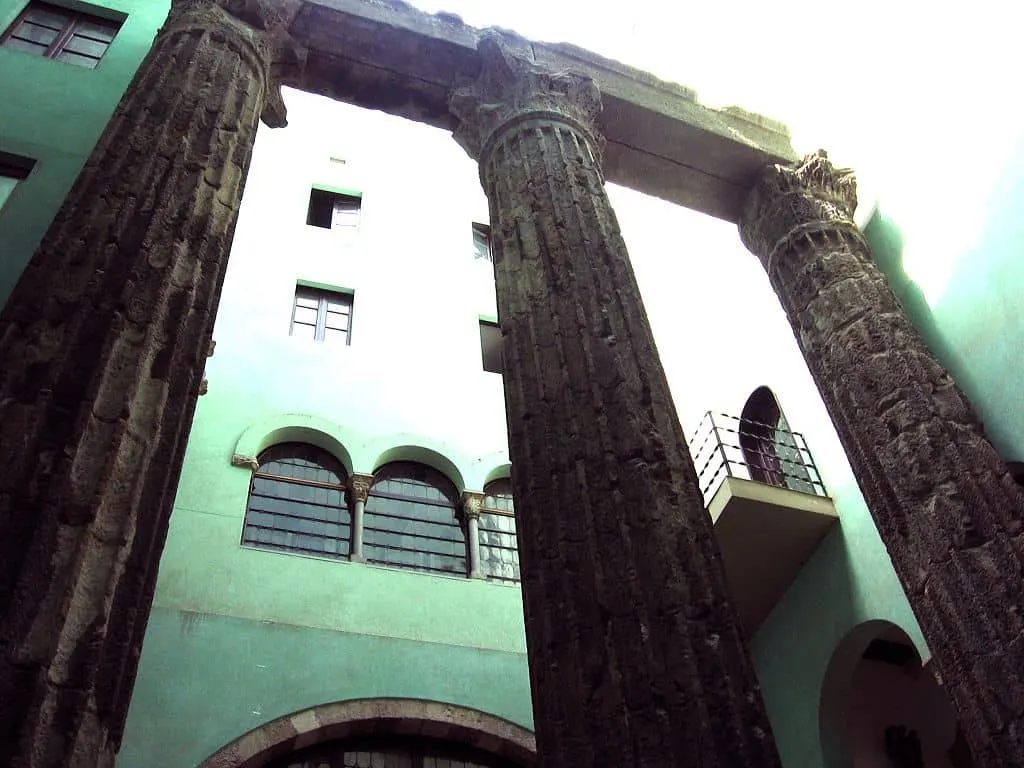 One of the oldest monuments in Barcelona is the Temple of Augustus which dates back to the 1st Century BC during the Roman period.
The temple can be found in the Gothic Quarter on Carrer del Paradís. While it's traditionally believed the temple is dedicated to Augustus, it's never been proven.
I wasn't aware there was a temple in the Gothic Quarter for a long time, as it's well hidden in a medieval courtyard. But if you're willing to explore and find it, you'll be rewarded with an incredible sight!
Famous Buildings in Barcelona
Casa Milà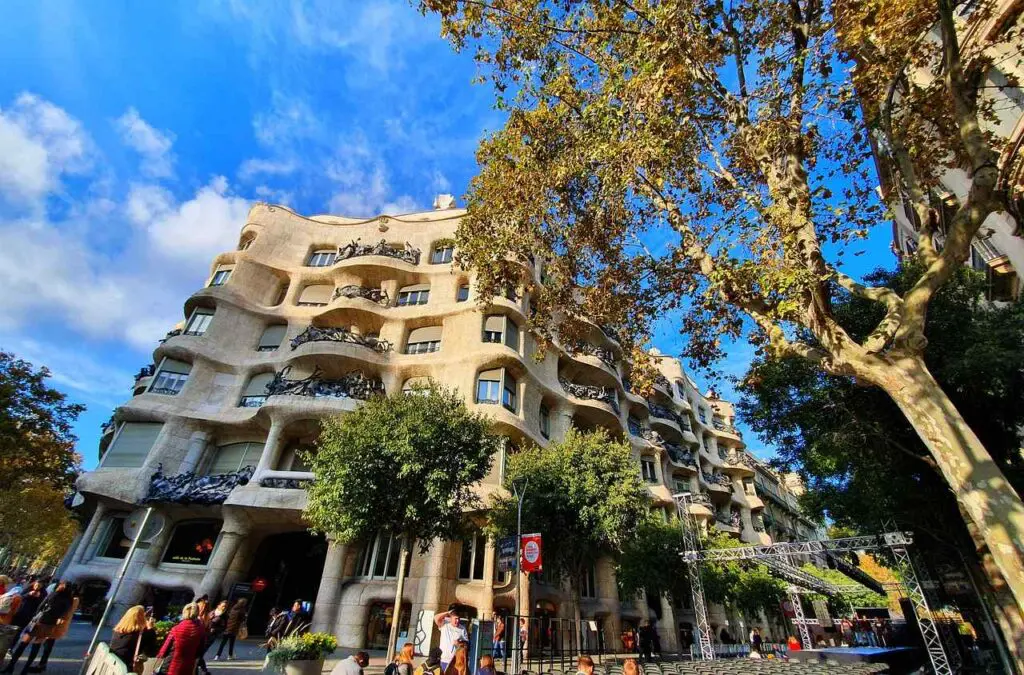 Casa Milà is, without a doubt, one of the most famous buildings in Barcelona.
Also known as La Pedrera, it's one of Gaudí's most recognisable masterpieces and is simply incredible. It's no exaggeration to say there aren't many buildings like it anywhere in the world!
It's located right in the heart of the city on Passeig de Gràcia and was a building I regularly walked past when I was going to the gym or to and from my work. I did become used to it over time, but I was still amazed by how incredible it is.
To visit, you will need to buy tickets, which is best done in advance of your trip. This will allow you to see inside the building, which is just as impressive as the outside and the roof area which is spectacular too.
Casa Batlló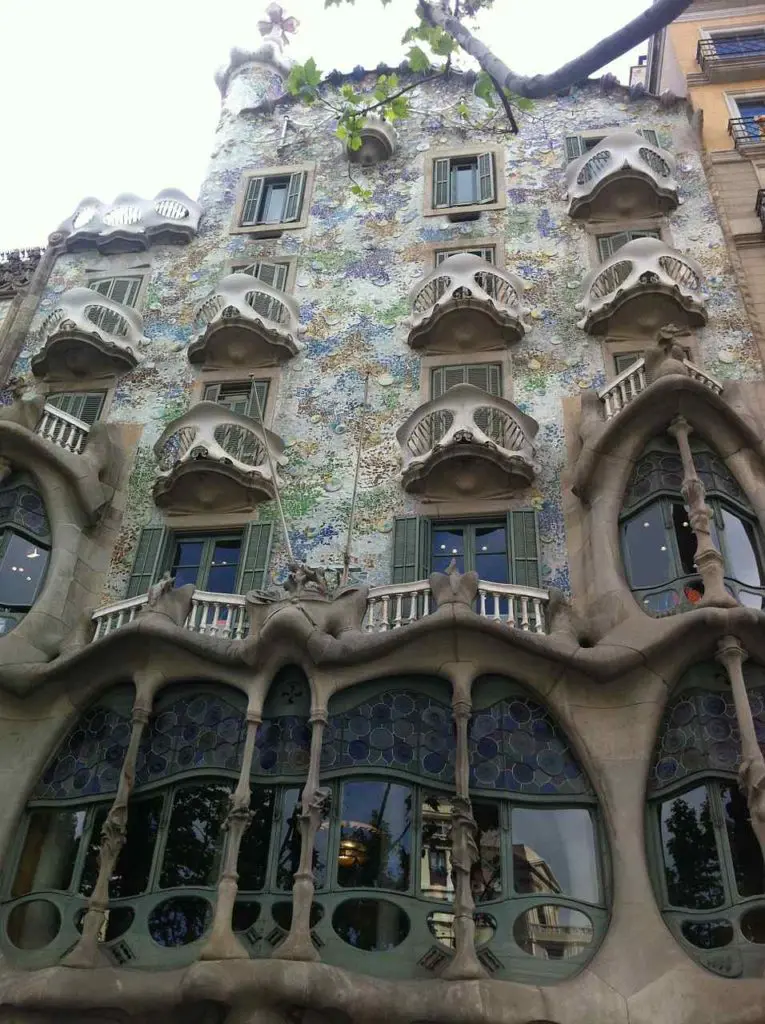 Casa Batlló is another one of Gaudí's buildings that you have to check out while you're in Barcelona, as it's another of Gaudí's buildings that have inspired many Barcelona quotes down the years!
Like Casa Milà, it's also located on Passeig de Gràcia right outside one of the metro stops. It's another example of modernisme and Gaudí's brilliance as an architect.
It's a beautiful building and the level of detail will blow you away. You could easily spend ten minutes staring at the facade taking everything in, such is the beauty of Casa Batlló.
Again, you'll need to buy a ticket to enter the building, which is best done in advance. The ticket will allow you to look inside for around an hour, giving you time to see all the various rooms such as the Gaudí dome and noble floor.
Torre Glòries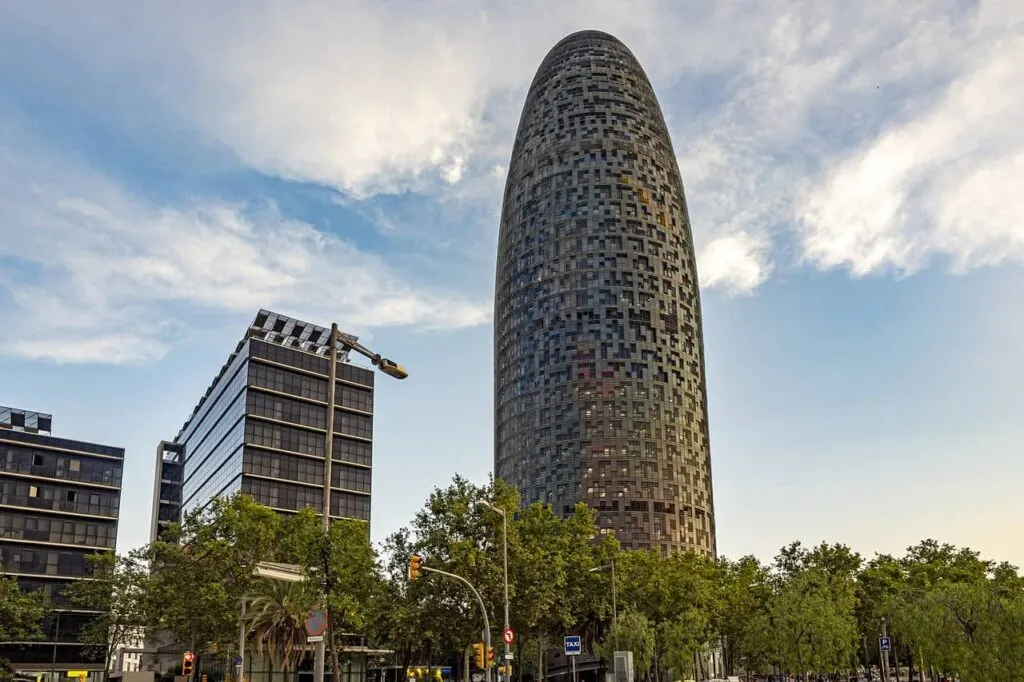 Torre Glòries, also known as Torre Agbar, is a huge tower that can be found near Plaça de les Glòries close to Avinguda Diagonal.
It's one of the most recognisable sights in the Barcelona skyline and is a towering presence when you get close to it. It's also a distinctive shape and was always a funny talking point with friends as we all thought it looked phallic in nature!
The tower lights up at night, which makes it a striking sight if you're nearby or you're able to see it from a distance. It's one of the newest buildings in Barcelona and one of the most striking, not without controversies due to its modern style.
However, it's now more accepted in the city and has come to be seen as a symbol of the city. You can buy a ticket to go inside where you'll find Hyperview Barcelona in the basement which aims to get you to feel the pulse of the city. Then, you make the trip to the 30th floor to the Mirador, which offers a 360° view of the city!
Casa Amatller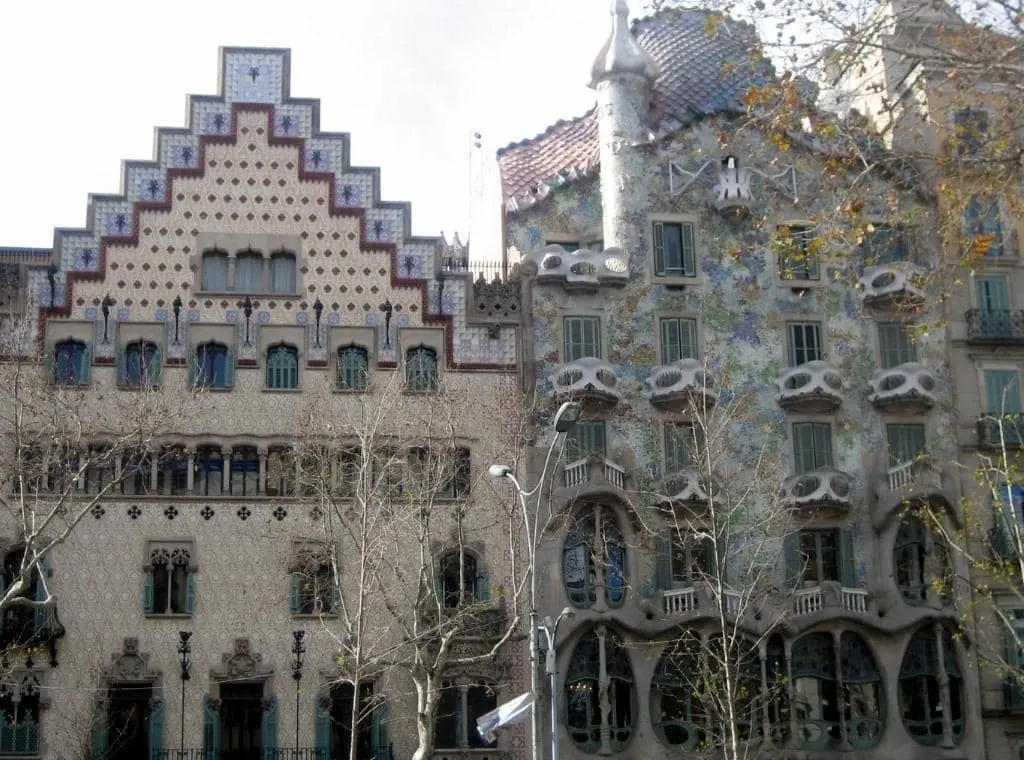 Casa Amatller is another one of the impressive buildings in Barcelona that can be found on Passeig de Gràcia.
It was designed by the Catalan architect, Josep Puig i Cadafalch and forms part of the Illa de la Discòrdia (Block of Discord) that features buildings designed by some of the most prominent Catalan architects of modernisme.
Ironically, the term Block of Discord refers to the local press at the turn of the twentieth century who satirized the modernisme style of architecture. It's amazing how trends and opinions change with time!
As with the other buildings on this block, which includes Casa Batlló mentioned above, Casa Amatller is visually impressive. It's worth taking a few minutes to appreciate the buildings while you're here, as they are incredible with so many intricate details.
Originally designed as a residence for a wealthy chocolatier, today Casa Amatller is a museum, cafe and houses the Amatller Institute for Hispanic Art. You need to buy tickets to enter and it's worth booking them in advance to make sure you don't miss out!
Casa de les Punxes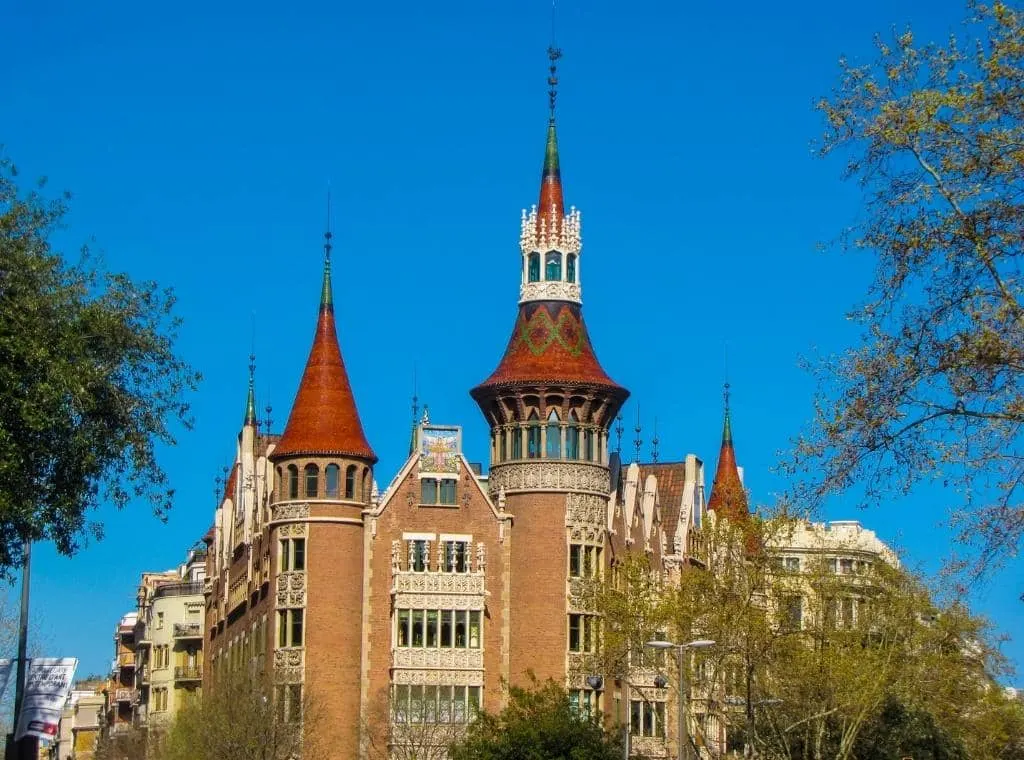 Casa de les Punxes is another of Josep Puig i Cadafalch's buildings you have to check out while you're in Barcelona.
It's located on Avinguda Diagonal at the intersection of Rosselló and Bruc. This is another building I regularly walked past and was always fond of when I was in the city.
It's not hard to miss because it stands out compared to the other buildings on Diagonal. The building is reminiscent of medieval buildings with its pointed towers and spikes that give the building its name.
You need to buy a ticket to enter the building, where you'll find an intriguing interior that includes stained glass windows and decorative ceilings.
Arc de Triomf
Yes, there is an Arc de Triomf in Barcelona believe it or not. It's not as impressive as the one in Paris, but it's still an imposing sight.
The Arc is located just before Parc de la Ciutadella on Passeig de Lluís Companys. It was built as the main access gate for the 1888 Barcelona World Fair with the inscription, Barcelona rep les nacions (Barcelona welcomes the nations) on the front frieze.
I was shocked the first time I saw the arc, as I wasn't aware there was one in Barcelona. It's one of the lesser-known monuments in Barcelona, but one you should check out while you're there!
Hospital de Sant Pau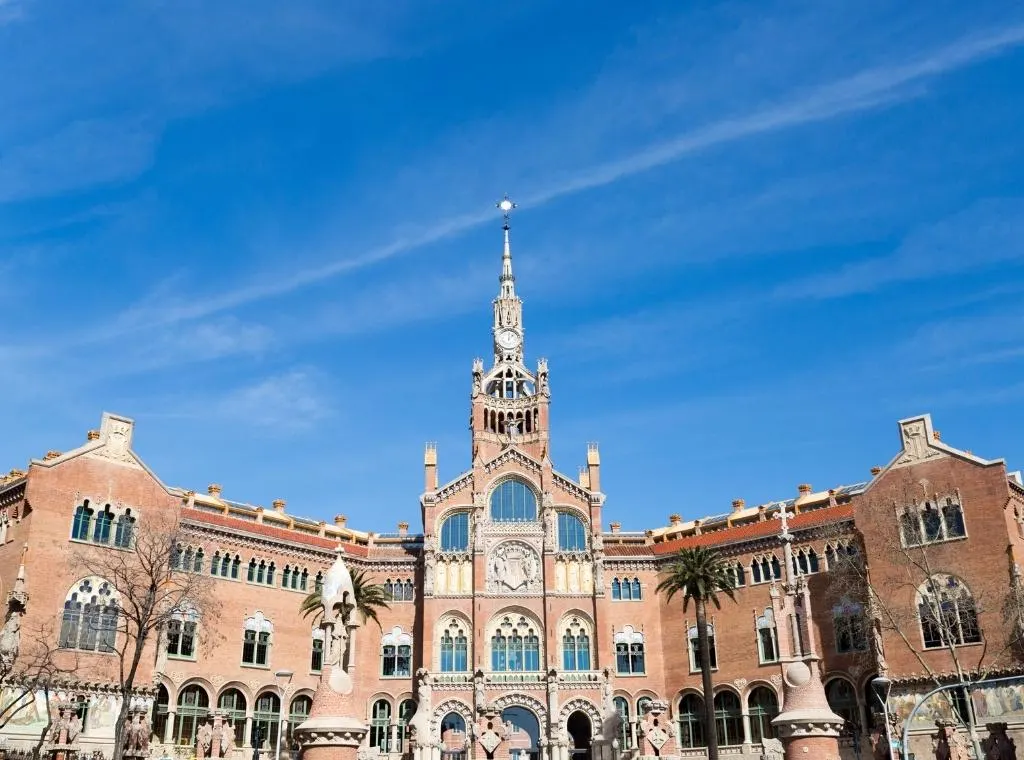 Hospital de Sant Pau is another of the numerous examples of modernisme architecture in Barcelona.
Designed by the architect Lluís Domènech i Montaner, it can be found in the El Guinardó neighbourhood which is north of the city centre and can be included as part of a Catalonia road trip before you start or before you finish.
The 26 buildings which make up the hospital are modern, but the former buildings date back to the 15the century and are now an art school. Today, the hospital has moved to a new site and the building Montaner designed is now a museum.
This allows you to buy a ticket and explore what is a beautiful and fascinating building. Hospital de Sant Pau is one of the most famous buildings in Barcelona, so visiting is highly recommended as it's an incredible place!
Casa Vicens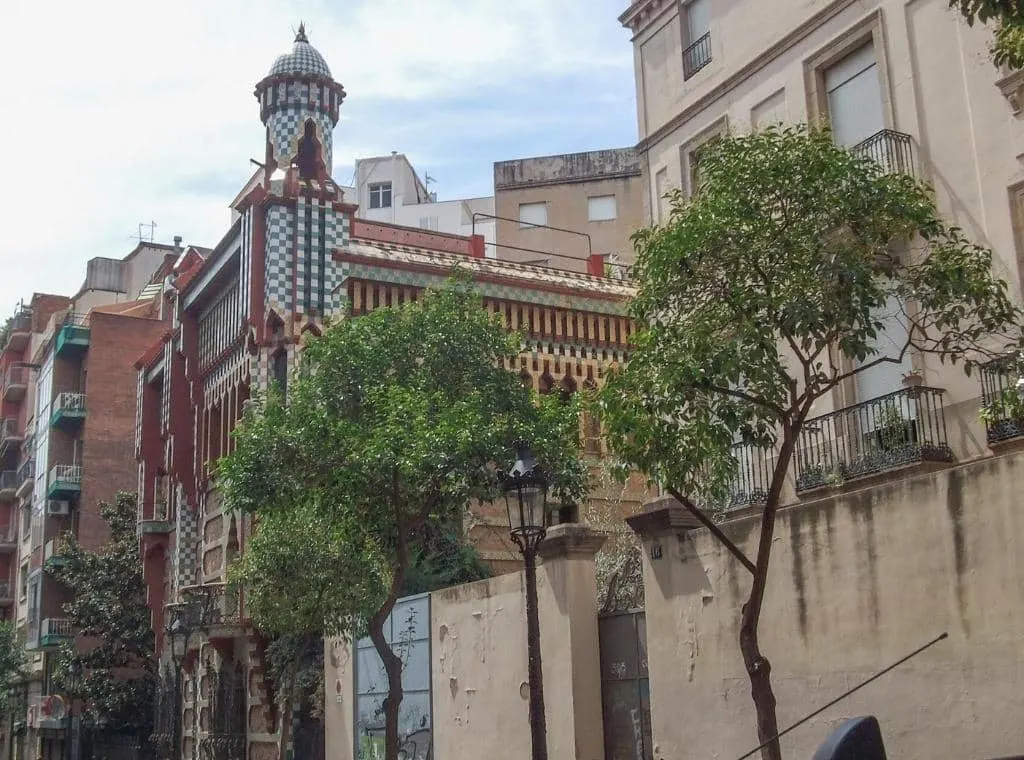 Casa Vicens is a modernist building that was designed by Gaudí and is considered to be his first major project.
The building is located in the Gràcia neighbourhood on Carrer de les Carolines and was designed as a summer house for the Vicens family.
Casa Vicens differs slightly in style from Gaudí's other buildings, but you can see how his style originated and would develop into his most famous works, Casa Milà and Batlló.
Again, you'll need to buy a ticket to enter which is best done in advance to the popularity of visiting Gaudí's buildings in particular. You'll be able to explore inside the house, the basement and the magnificent gardens too!
Arenas de Barcelona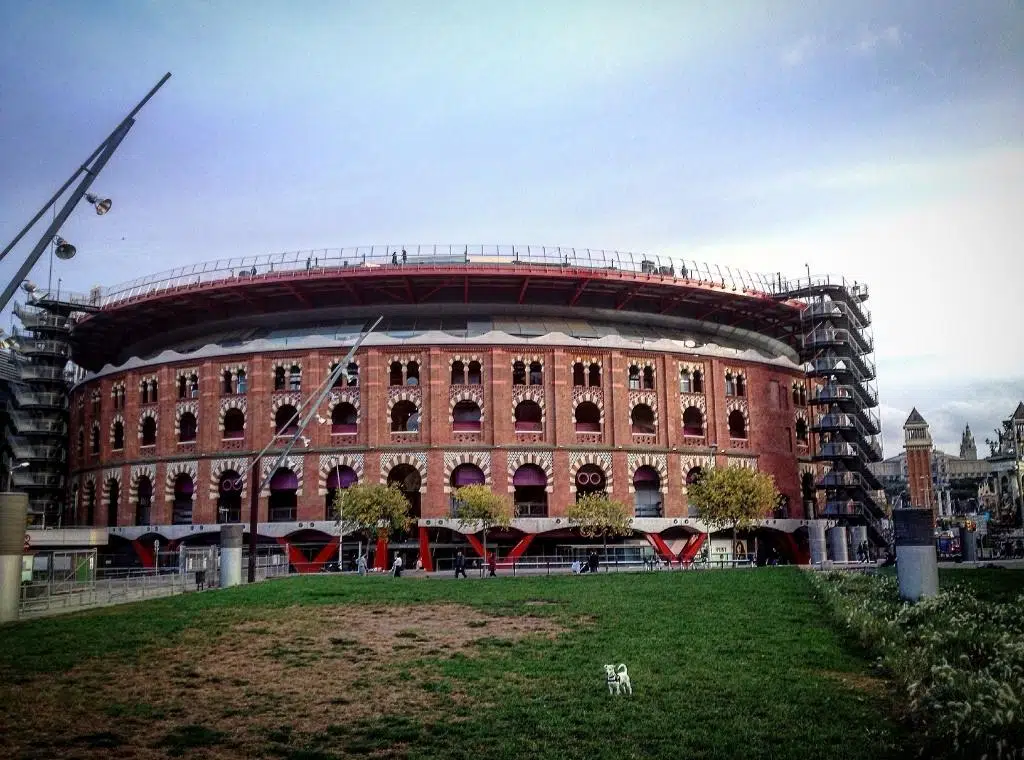 The Arenas de Barcelona is a former bullring that's been converted into a shopping mall.
During my first year in Barcelona and the end of the second year, I lived 5 minutes away from here and visited regularly. One reason was that I loved the building. It's beautiful and makes for a great picture.
There's also a nice park nearby that's great to relax in too. If you like shopping, then there are some places you can browse inside, while there's a cinema and some good restaurants too.
Perhaps the best thing about Arenas de Barcelona is how well it's been converted and one of those things is the public walkway at the top of the building. The walkway allows a 360-degree view of the city and offers some great views of the hills in the distance and nearby Plaça d'Espanya.
Need Travel Insurance?
World Nomads travel insurance has been designed by travelers for travelers. If you leave home without travel insurance or your policy runs out, you can buy or extend while on the road.
Tom is a travel addict who first left England to spend a year Down Under. Not satisfied with this, he then went to New Zealand, about as far away from home as he could get. He is now planning his next adventures in Europe and Canada while maintaining this blog. Check out the about me page to learn more!