These Budapest quotes are guaranteed to get you to reach for your phone to book flights to explore this incredible Eastern European city.
Our list of quotes about Budapest will give you a flavour of this city. Budapest is one of the most fascinating cities in Europe and there's so much to do here you won't get bored anytime soon.
The thermal baths are one of the top attractions, as are the ruin bars throughout the city. While you can also find out about Budapest's fascinating history from Nazi occupation to living under a Soviet satellite state.
I've included some Budapest puns and Instagram captions that you can use on your social media posts!
Best Budapest Quotes
Whether you spend 3 days in Budapest or longer, you'll discover one of the most interesting cities in Europe. I've visited a few times and loved every minute of it.
These are some of the best quotes about Budapest and will give you an idea of what the city is like.
"We started filming in 1993 which was only four years after the fall of communism. The difference in Budapest over the last five years has been remarkable." – Derek Jacobi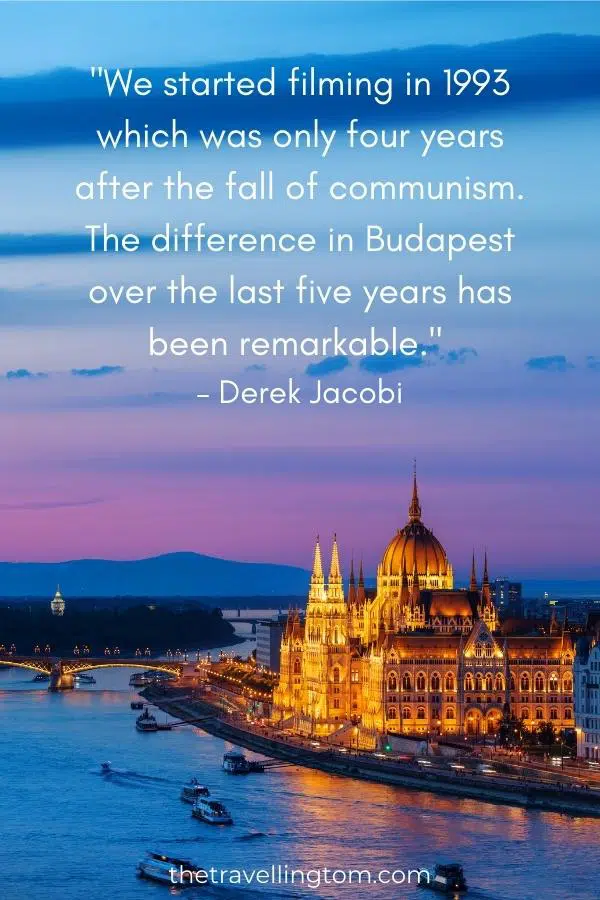 "I live in Budapest and saw how the football helped the Hungarian people to be happy." – Lothar Matthaus
"Two years ago, I shot 'Pillars of the Earth' in Budapest – it was a big part, but I had a lot of time to sit around and visit cafes." – Eddie Redmayne
"I was born in Budapest, Hungary, and moved to the United States in 1956. It was during the Hungarian Revolution when Russian tanks rolled into Budapest, and my family – me, my brother, and my parents – escaped over the border to Austria. We just took whatever we could carry. It was perilous, but we made it across." – Tommy Ramone
"Cooking is like fashion. Always, I like to try to change. If I'm traveling in a different country – to Australia, the Bahamas, Budapest, Moscow – and I see a new ingredient, I like to try it in a new dish." – Nobu Matsuhisa
"In Budapest, I always had questions. What is your signature dish? They, of course, said goulash. I loved it so much and now have to figure out a way to make it at home." – Tia Mowry
"When I was filming in Budapest for ITV's 'Titanic,' I realised I'd never been to the ballet before so decided to see a production of 'Giselle.' I went on my own. As it was my first ballet, it was a very bizarre and interesting experience but very enjoyable." – Ruth Bradley
"And living in Budapest for eight months was incredible." – Anya Chalotra
"Budapest is a prime site for dreams: the East's exuberant vision of the West, the West's uneasy hallucination of the East. It is a dreamed-up city; a city almost completely faked; a city invented out of other cities, out of Paris by way of Vienna — the imitation, as Claudio Magris has it, of an imitation." – M. John Harrison
"There is no such place as Budapest. Perhaps you are thinking of Bucharest, and there is no such place as Bucharest, either." – Robert Benchley
"My house in Budapest, My, my hidden treasure chest, Golden grand piano, My beautiful Castillo." – George Ezra
Budapest Travel Quotes
"Europe's most underrated big city, Budapest can be as challenging as it is enchanting." – Rick Steves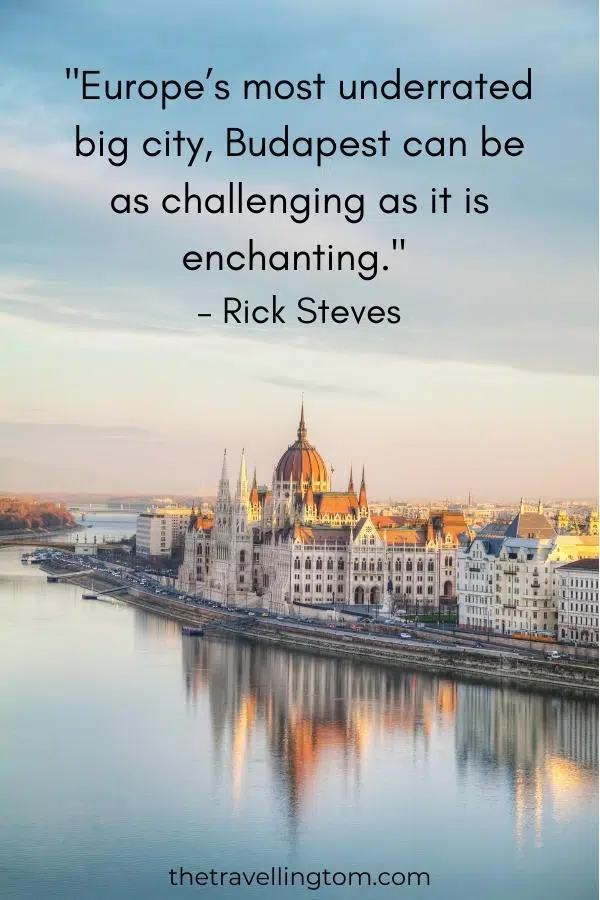 "If you come from Paris to Budapest you think you are in Moscow." – Gyorgy Ligeti
"But if you go from Moscow to Budapest you think you are in Paris." – Gyorgy Ligeti
"I went from a very structured life in Oxford going to school every day to suddenly a week later I was living in Budapest for eight months. It's a big change so I feel I've changed so much from that experience as a person." – Anya Chalotra
"Now, actors get so familiarized with Eastern Europe. I never imagined I'd get as familiar with Budapest and Prague and places like that in my life." – Paul Giamatti
"I recently had a few days off while shooting a movie in Budapest, so I took a cab from the set to the airport, looked at the departure board, and decided where I wanted to go right then and there. I spent four days in Rome and didn't tell anyone I was going." – Cory Montieth
"I've done drives through Budapest and Oslo and used to drive to Sardinia, too, which is quite a journey. Drives are an adventure because I don't plan them too carefully. I take detours depending on how I feel and usually stop and stay at places I like the look of." – Rick Astley
"With *NSYNC, we shopped our deal for a year in America, sang a capella in everybody's office, then moved to Germany for almost two years and became popular there. A guy representing a rock band came to our show in Budapest, saw 60,000 people get excited for a band from America that nobody in America knew, and told someone at RCA." – JC Chasez
"I've been lucky enough to travel widely. When you're based in Europe, it's very easy to go to Madrid or Budapest for the weekend. I also lived in Italy for ten years and now live in Ireland." – Laurie Graham
"Budapest in late May is a city of lilacs. The sweet, languid, rather sleepy smell of lilacs wafts everywhere. And it is a city of lovers, many of them quite middle-aged. Walking with their arms around each other, embracing and kissing on park benches. A sensuousness very much bound up (it seems to me) with the heady ubiquitous smell of lilacs." – Joyce Carol Oates
"I got an iced out crucifix, Fans means Budapest, I don't speak that language, but they say it means, you the best." – Future Brown
"Budapest intrigue, three hours of black and white, squinting at subtitles through a telescopic sight, Hungarian melody, repeating endlessly, is this the end I see? Approaching in front of me." – Elvis Costello
Budapest Instagram Captions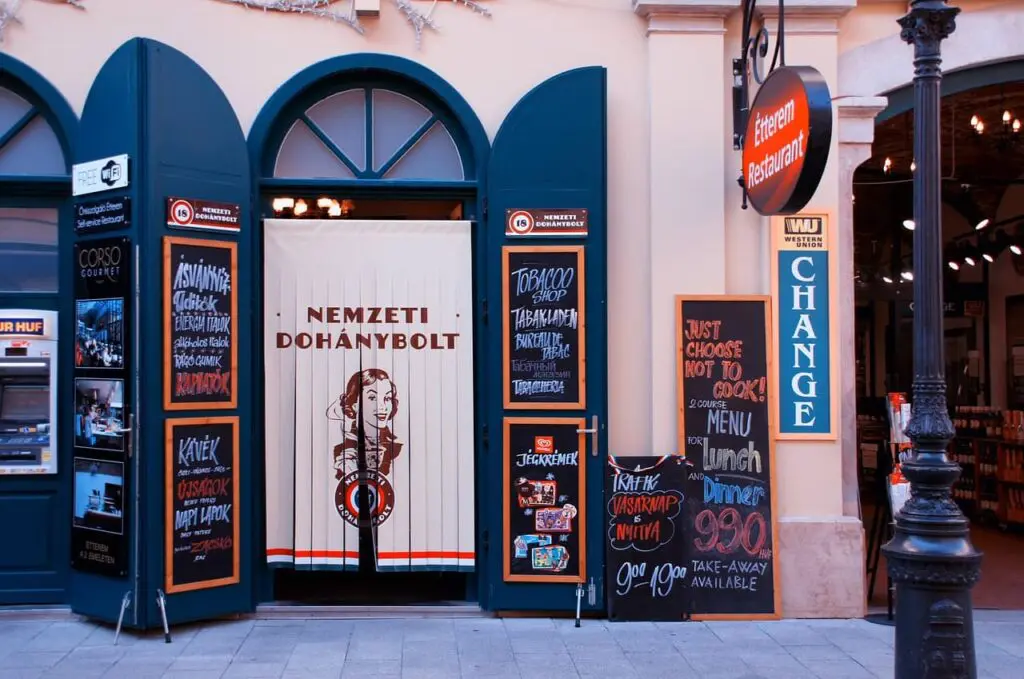 You can find me in Budapest
Budapest stole my heart
There's no time to be bored in Budapest
Here for the views and thermal baths
Sorry for what I said when I wasn't cruising down the Danube river in Budapest
It's bad manners to keep a vacation waiting
Money can't buy you happiness, but it can buy you a ticket to Budapest
Loving the goulash and sight-seeing in Budapest
Home is where the thermal bath is
What happens in the thermal bath stays in the thermal bath
Oh darling, why don't we just stay in Budapest
Budapest Puns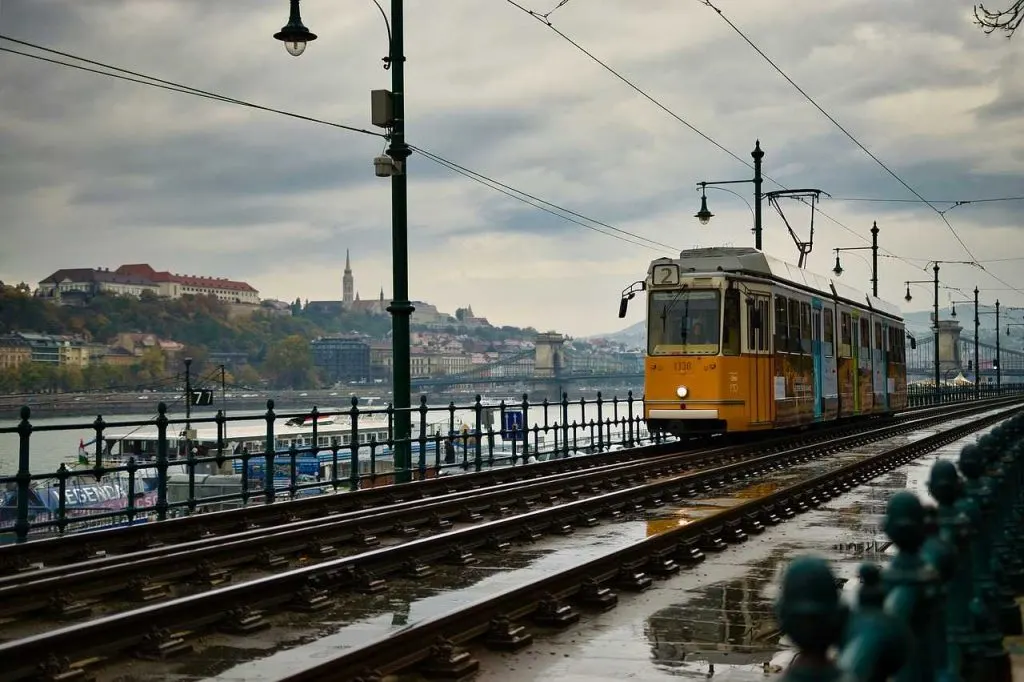 Could this city be any more Buda-ful?
Hungary for adventure
Never went hungry in Hungary
This city is the Buda-best
I was Hungary, so I went on a dinner cruise to check out the Buda-ful view
This River Cruise is very relaxing. I'm just going with the flow
Hungarians love Halloween because it's so goulash
Too Hungary to think of a pun
Had the pest time in Budapest
Let me Liszt all the things I love about this city
Quotes About Budapest's History and Culture
"As a boy I stood at the doorway of our hiding place in Budapest and watched Russian troops fight house by house to liberate the city and therefore rescue us from certain death." – Frank Lowy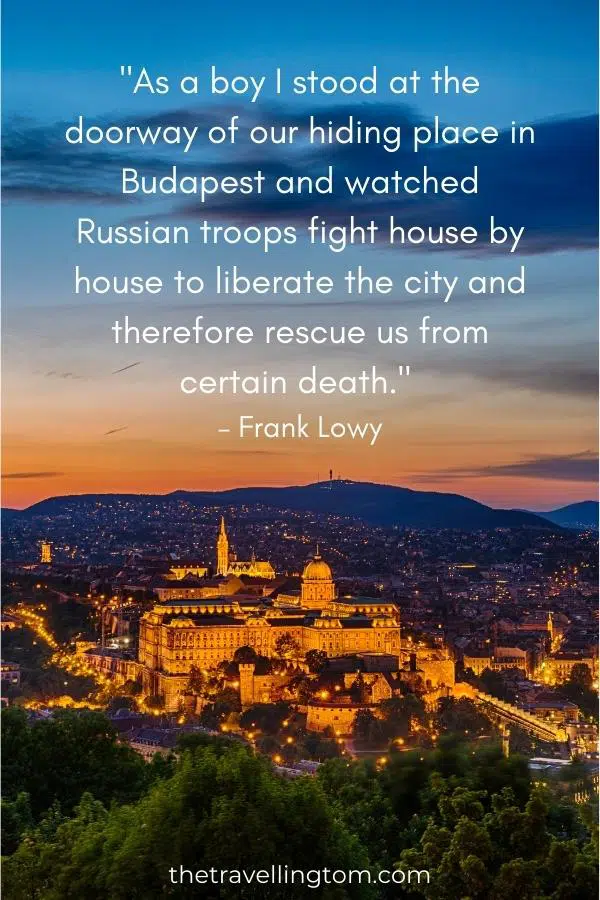 "The Grand Budapest Hotel is not really my thing, but I kind of loved it." – Quentin Tarantino
"My parents owned a pharmacy in Budapest, which gave us a comfortable living. As I was their only child, they wanted me to become a pharmacist. But my own preference would have been to study philosophy and mathematics." – John Harsanyi
"When I was younger I was completely without money – when I was studying in Budapest, when I was a refugee." – Gyorgy Ligeti
"There is no better training for chess than swimming. On a Friday evening, I like to put in a good long session of breaststroke at the pool near where I live in Budapest with my husband, Gusztav, and my two children." – Judit Polgar
"Where would you like to go, what would you really like to do with your life? See Istanbul, Port Said, Nairobi, Budapest. Write a book. Smoke too many cigarettes. Fall off a cliff but get caught in a tree halfway down. Get shot at a few times in a dark alley on Morrocan midnight. Love a beautiful woman." – Ray Bradbury
"Things have gotten openly more extreme in the last few years. I was lecturing in Hungary, whose prime minister, Victor Orban, is an example of this trend. All over Budapest, statues have been replaced, museum exhibits have been redone, to turn ethnic Hungarians, not Jews, into the prime victims of the Germans during World War II. Five years ago, who would have thought this possible?" – Adam Hochschild
"When I went traveling around Europe there was the Eurovision song contest on, and I got a bit drunk and we missed our train to Budapest the next day. Anyway, when I got back I kind of realized how many songs there were about people giving up things for somebody, so I thought I'd make a song about giving up things I don't have. These elaborate things that I don't have that I could give up to somebody, and I kind of thought there was kind of some sweet sentiment in that." – George Ezra
"The younger generation forms a country of its own. It has no geographical boundaries. I've talked with young Hungarians in Budapest, with young Italians in Rome, with young Frenchmen in Paris, and with young people all over. … These young people are going to do things. They are going to change things." – Edna St. Vincent Millay
---
Thanks for reading my collection of the best Budapest quotes! Hopefully, you've enjoyed reading and are now considering a trip to this incredible city in Hungary.
Do you have any other quotes about Budapest? If you do, leave them in the comments below. Let me know if you've been to Budapest and what you think. I'm interested to see what your opinion of the city is!
Tom is a travel addict who first left England to spend a year Down Under. Not satisfied with this, he then went to New Zealand, about as far away from home as he could get. He is now planning his next adventures in Europe and Canada while maintaining this blog. Check out the about me page to learn more!