Albania is a beautiful country that is becoming more and more popular as a tourist destination. Beautiful beaches, towering mountains and intriguing cities make it a fascinating place to visit.
The country is lesser known in the wider world and this lack of awareness of the country makes it an exciting place to visit.
So, with this in mind, you're probably wondering what is the best time to visit Albania?
It's a good question. Due to the lack of knowledge about Albania, it can be hard to figure out. However, the climate is similar to most European countries and the lack of widespread tourism means it's quieter too.
This article will detail several factors which determine the best time to travel to Albania. The answers will be subjective, but they should serve as a guide and not a declaration of when you should and shouldn't visit!
Table of Contents
Best Time to Visit Albania
Climate in Albania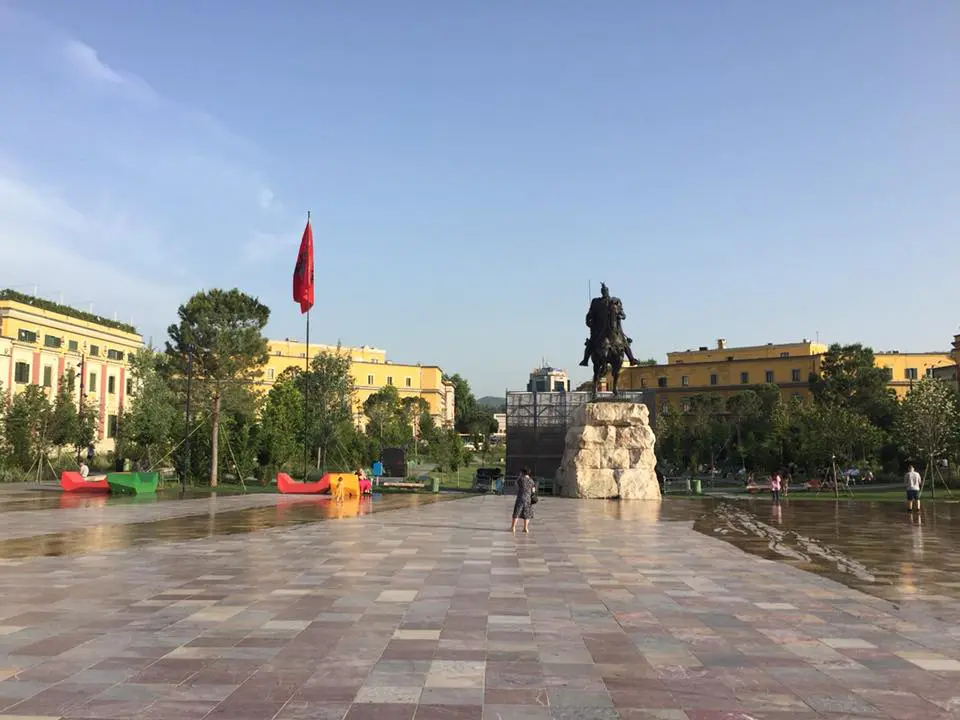 The climate in Albania is variable which is due to the differences in latitude, longitude and altitude in the country. The weather can often be markedly different inland than it is on the coast.
The country experiences a predominantly Mediterranean and continental climate, with four distinct seasons. Although there is some difference between the coastal and inland areas.
The coastal areas experience a Mediterranean climate, while the inland and highland area have a continental climate with colder temperatures.
This results in Albania having warm, dry summers and mild, wet winters, which is similar to other countries with a Mediterranean climate.
Spring – March to May
Average Temperature: 23-31°C (74-87°F) | Rainfall: 51-147 mm
---
If you want good weather without it being too hot, March to May is a great time to visit Albania. During this part of the year, the cold of winter has ebbed away, while the heat of summer has not yet hit.
The weather is lovely in the coastal areas, making it an ideal time to check out some of the best places to visit in Albania along the beautiful Albanian Riviera. While the weather is not as hot inland, it is still pleasant.
A good place to visit during these months is Saranda on the coast. The weather and the stunning location make it an ideal beachside getaway.
As it's shoulder season, there will be fewer tourists to contend with and you will have pristine beaches with minimal people!
These months may be the best time to travel to Albania. You will have lovely weather, fewer tourists and cheap prices!
Summer – June to August
Average Temperature: 34°C (93°F) | Rainfall: 31-32 mm
---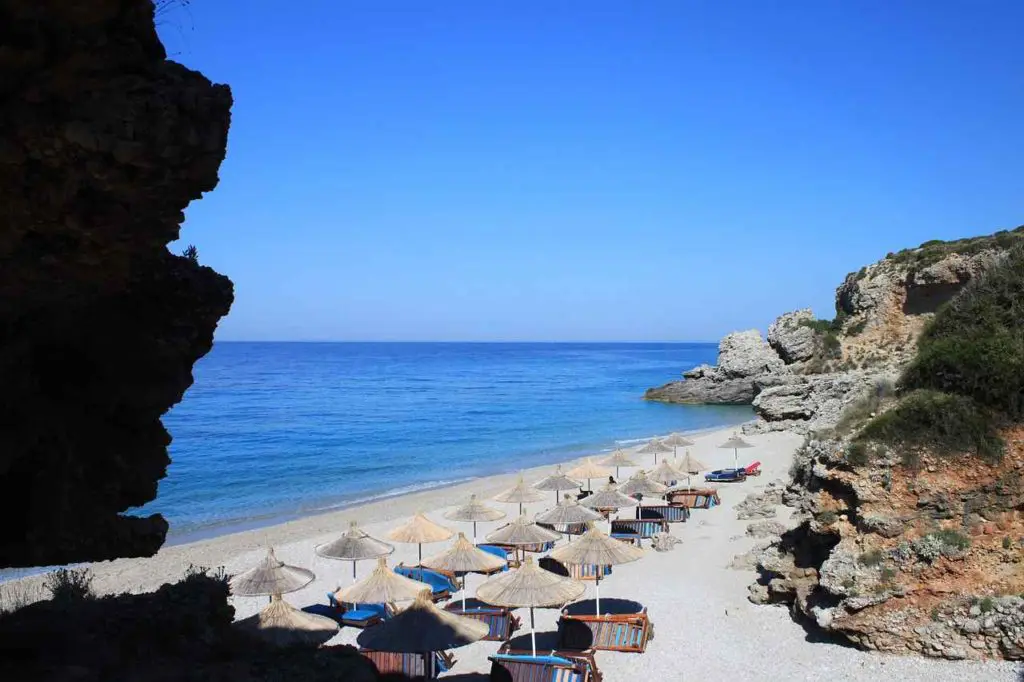 This is the best time of the year to visit Albania if you want warm weather. The majority of Albania is bathed in sunshine from June to August. It's a brilliant time to visit the Albanian Riviera and coastal towns such as Sarande.
However, it can be too hot! I visited Albania in July and the temperatures were hot, very hot! Some days, it was so hot, I had to stay inside from 11 am to 5 pm, as it was uncomfortable walking around in the heat!
Summer is the prime season for tourism in Albania. 90% of tourists come to the country during the summer months. You will find places are much busier during these months than they would be during the rest of the year.
This has the problem of pushing prices up in hotels and even in restaurants and bars, many of which only open during the tourist season. This is often the case in the coastal areas
However, there is some good news:
Tourist season in Albania is nowhere near as busy as in the rest of Europe. You will still be able to get around with ease and won't face the crowds you may experience in places like Barcelona!
Autumn – September to November
Average Temperature: 23-28°C (73-83°F) | Rainfall: 100-157 mm
---
Autumn is one of the best times to travel to Albania. Temperatures are a lot cooler than during the summer, but they are still warm enough to enjoy the beautiful scenery the country has to offer.
Temperatures do start to get cooler as the months wear on, but it's only in November that they start to noticeably drop off.
Due to the cooler temperatures, it's an excellent time to get outdoors and see some of the most beautiful places in Albania.
Kruje is lovely at this time of the year, while a trip to Berat, the city with a thousand Ottoman windows is another great idea!
You will notice there are fewer tourists during these months. It's a shoulder season, so tourism starts to die down after the busy summer period.
This makes autumn an ideal time to explore the country. You will have fewer people to contend with and prices will be cheaper than during the summer months.
Winter – December to February
Average Temperature: 11-17°C (52-63°F) | Rainfall: 1-328 mm
---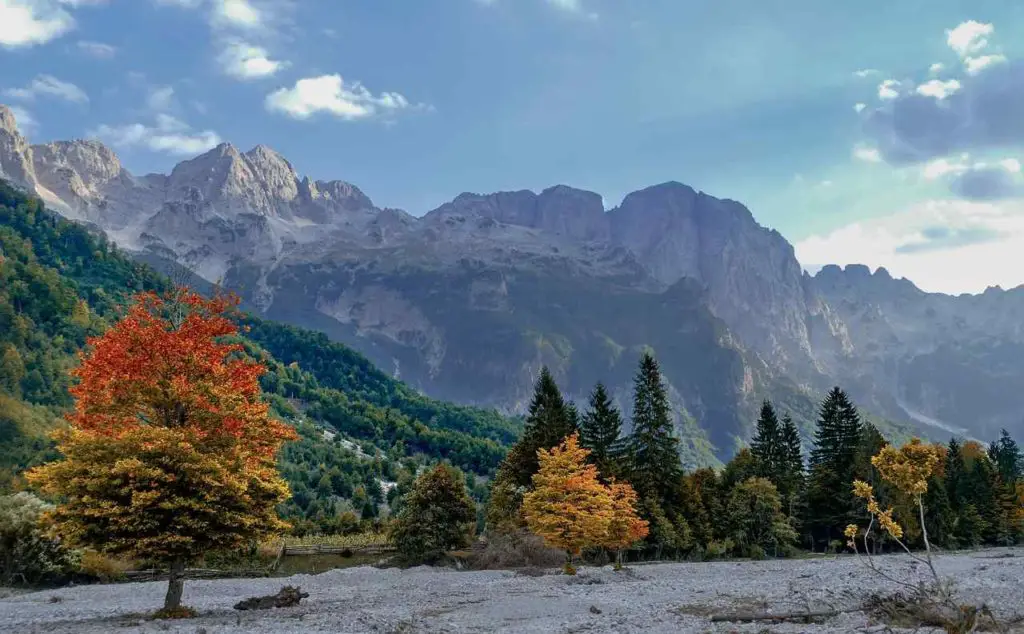 Winter is not necessarily the best time to go to Albania. The weather is a lot colder than the other months, with temperatures plummeting. Even on the Albanian Riviera, it's too cold to lounge on the beaches.
It's much colder inland too, with temperatures in some places dropping below freezing! However, if you like hiking in winter, it's a perfect time to explore the mountains, particularly Mt Korab, the highest point in the country.
Despite the cold weather, Tirana is one of the best European winter destinations. Little to no tourists will be in the city and you can still enjoy it despite the cold weather.
One good thing about visiting Albania during the winter months is that it's not as cold as other countries in Europe.
It's easy to forget that Albania shares a border with Greece. Winters in Greece aren't the worst and Albania is fortunate in this regard too. It will be cold, but not as cold as somewhere like Munich.
If you're a culture vulture, it's the perfect time to immerse yourself in the history and tradition of Albania. But be aware that a lot of places, on the Albanian Riviera, in particular, will be closed for winter.
Festivals and events in Albania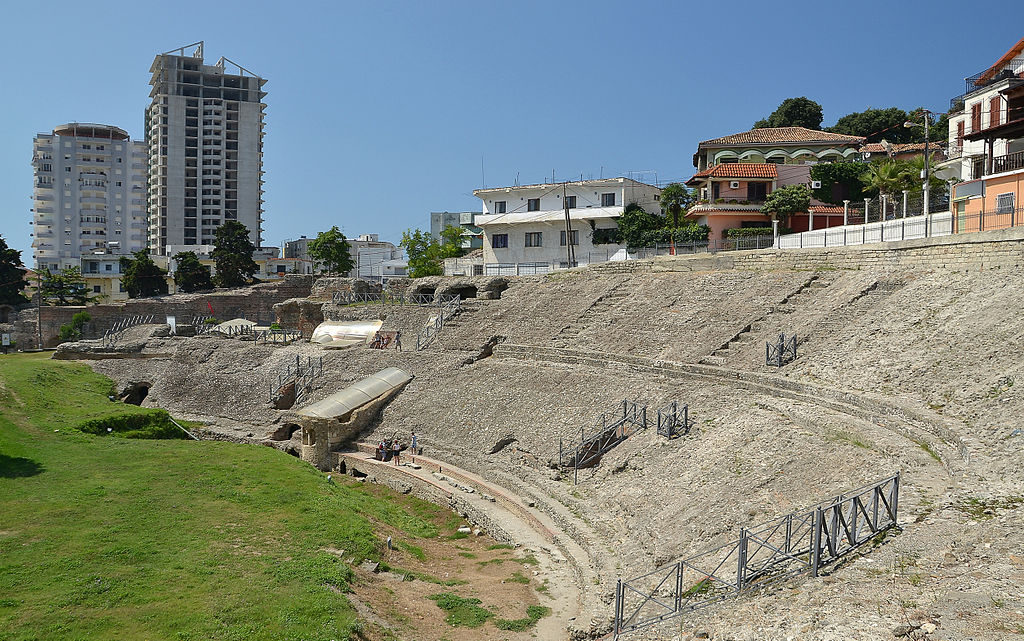 Many events and festivals are held throughout the year in Albania. From the National Festival of Urban Folk Songs to the Tirana International Film Festival, there are a variety of events you can plan your trip to Albania around.
Below are a few you should check out!
National Festival of Urban Folk Songs
This festival is held every March, and as you may have guessed by its title, revolves around folk songs. Events are held in towns and villages across Albania.
If you want to immerse yourself in the culture of Albania, then this festival is a fantastic way of doing so. The style is different from what you might expect from traditional folk music, as it has been revised over many hundreds of years.
The first day of Spring each year sees celebrations in the town of Elbasan, which welcomes performers from across the country.
Kala Festival
The Kala festival is one of the newest events on the Albanian calendar. It takes place in the village of Dhërmi and its surroundings every June.
The location on the Albanian Riviera means it is a popular festival with stunning beaches nearby.
Launched in 2018, it was the first international music festival in Albania. Held over a week, the event sees many top DJs and artists perform their hits in a stunning setting!
Korça Beer Festival
The Korça Beer Festival is the place to go if you love beer. Every year the festival in August serves over 14,000 pints in four nights of riotous celebrations.
Korça is the most popular beer in Albania, and it is held in the town where the beer originates and gets its name. The festival is thought to be the largest public celebration in Albania!
You will find traditional food, live music and lots of dancing as well as copious amounts of alcohol! Plus, there are plenty of things to do in Korca while you're there too.
South Outdoor Festival
The South Outdoor Festival is a great event to visit if you want to take part in outdoor activities and learn more about Albania.
It is held towards the end of April and the start of May and takes place in different locations in the south of Albania each year.
The event lasts over three to four days and gives you the chance to engage in a multitude of activities such as paragliding, bike tours and hiking.
The festivities continue into the night with local bands on stage and stands selling traditional Albanian food.
Tirana International Film Festival
The Tirana Film Festival was the first of its kind to happen in the country when it was started in 2003. If you're a film buff, this is a great event to plan your trip around.
The festival features many different types of films. Ranging from short films to full-length features, there is a lot to see!
It has held every year in November and sees films shown across Tirana and neighbouring cities.
Frequently Asked Questions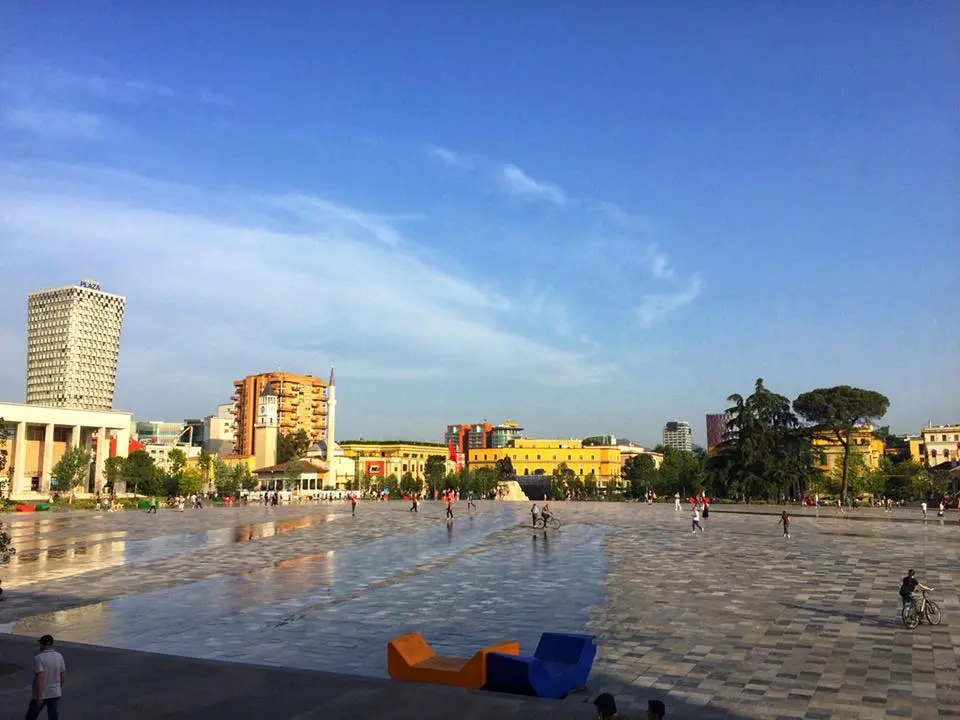 As Albania isn't the most frequented and well-known country, a lot of people have questions about it, which is understandable.
Below are some of the most common questions which I have answered to help you better understand organising a trip to Albania.
Is Albania Worth Visiting?
Yes! Albania is a beautiful country and one that is geographically diverse. If you want to relax on the beach you can! The Albanian Riviera is beautiful and rivals many of the destinations in the Mediterranean.
The inland area is stunning with many mountain ranges and small villages nestled away. While there are plenty of fun things to do in Tirana, the capital and the other big cities!
Albania should be on everyone's radar, it's a great place to visit and one I can't recommend enough!
Is Albania Warm?
Yes, Albania is warm. The Mediterranean climate in the country means summers are hot, with temperatures regularly exceeding 30 degrees.
Temperatures vary between the coasts and inland areas, but most parts of Albania are pleasant all year round.
Do You Need a Visa To Go To Albania?
Whether you need a visa to enter Albania depends on what country you are from. If you hold a passport from an EU country, you can enter Albania visa-free for up to 90 days. This applies to up to 85 countries in total.
To see whether this policy applies to your country, click this link.
If your country is not on this list, you should consult the immigration website of your country for further information.
How Safe is Albania For Tourists?
It's a legitimate question, is Albania safe? Well, I think it is.
Let me explain:
Despite the scare stories you may hear about Albanian gangsters roaming the streets, Albania is a safe country. I didn't see anything untoward during my time in the country and I never felt unsafe at any time.
Albania is ranked 55th on the Global Peace Index, which ranks the safety of countries around the world. This is ahead of countries such as Argentina, South Korea and the United Arab Emirates.
Albania is a safe destination and one you shouldn't worry about visiting at all!
What is The Average Temperature in Albania?
This will depend on what part of the country you visit. Temperatures can be different on the coast than in the more mountainous inland areas.
However, a rough guide for the average temperature in lowland areas is 7°C (44.6°F) during winter and 24°C (75°F) during summer. The average in the highland areas is -1°C (30°F) during winter and over 20°C(mid 70°F) during summer.
Concluding Thoughts
If I had to go out on a limb and recommend the best time to visit Albania, the months from March to May would be my suggestion.
You could visit during summer, but the heat can be intolerable at times, whereas depending on where you visit during the winter, temperatures will be cold.
The autumn months of September to November are a good second option if visiting in Spring does not appeal to you.
Have you been to Albania? What time of the year did you visit? What did you think of the country? Let me know in the comments below, I'd love to hear your thoughts!
Pin For Later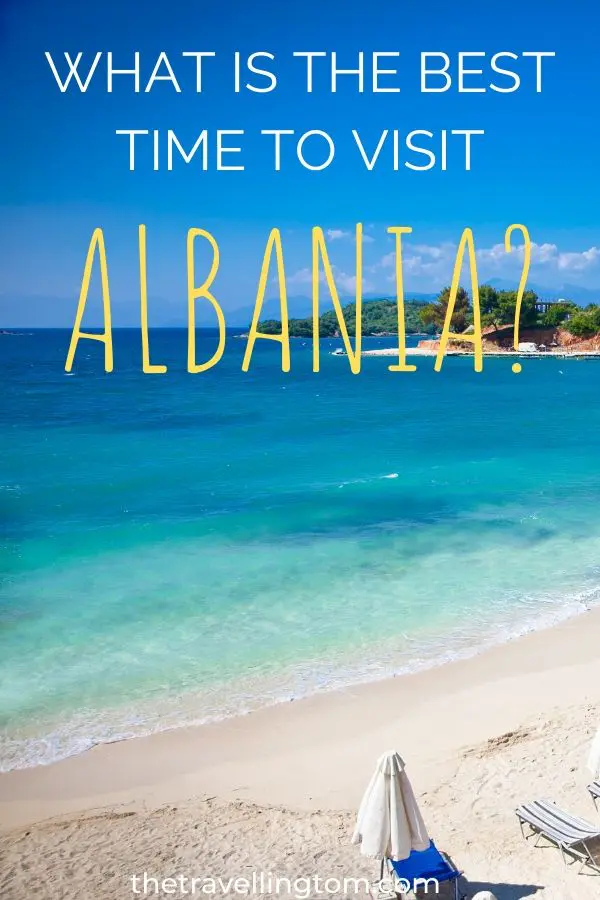 Tom is a travel addict who first left England to spend a year Down Under. Not satisfied with this, he then went to New Zealand, about as far away from home as he could get. He is now planning his next adventures in Europe and Canada while maintaining this blog. Check out the about me page to learn more!