Choosing the best Isle of Skye hostels isn't an easy task. Despite the island being small, there are plenty of places to stay there, owing to its increasing popularity as a tourist destination.
If you're backpacking in the UK, the Isle of Skye is somewhere you have to stay. It's a beautiful place with a lot to see and do. It's good to know that there are some good places to stay too!
There's a range of hostels in the Isle of Skye from flashpackers to cheaper options. They are also spread out around the island. If you're doing a road trip on the Isle of Skye, it may be a good idea to stay somewhere close to the main attractions.
If you're wondering where to stay on the Isle of Skye, then this is the guide for you!
Disclosure: This article may contain affiliate/compensated links. For full information, please see our full disclosure policy.
Table of Contents
Best Isle of Skye Hostels
What to Consider When Booking a Hostel on the Isle of Skye
Whenever you look at staying in a hostel, there are a number of factors you need to consider.
The main thing to consider when staying on the Isle of Skye is location. If you have a car, this isn't that much of an issue as you can easily get around and most hostels have free parking.
However, if you're using public transport, it may be better to stay in a hostel that is close to one of the big towns such as Broadford or Portree, so it's easier to get around the island.
There are also a number of other factors which you need to take into consideration, which I have listed below. These not only apply to Skye hostels but any hostel you stay at.
Check out time – Most of the hostels on Skye operate a 10:00 am checkout policy. This can vary, so it's best to check beforehand what time you need to be out the door.
Free breakfast – Most of the hostels in Skye do not offer a free breakfast, although they will offer a paid breakfast. All of the hostels on the island have a kitchen, so you can cook your own breakfast, or eat cereal instead.
Free wifi – More and more hostels are offering free wifi to their guests. While every hostel will have wifi, there are some remote ones on the island that don't. If you're a digital nomad and need to use the internet, this will have a big factor in where you stay.
Laundry services – If you're staying in Sky for a few days, this will be an important factor to consider. There are many hikes, trails and glorious sights to see on the island. Due to the nature of the weather in this part of the world and the ever-changing conditions, chances are you will get wet at some point. Being able to wash your clothes will be very handy while you're on the island!
Kitchen – This is the number one best way to save money while you're travelling. Most Isle of Skye accommodation offers a kitchen. I recommend staying at a hostel with a kitchen, as you will save so much money compared to eating out every day.
The Cowshed
The Cowshed is one of the best hostels I have ever stayed in! It is an incredible place that is easily the best hostel on the Isle of Skye for me. It's located on a hill overlooking Uig Bay which offers fantastic views, the likes of which have inspired many Scotland quotes.
The hostel is modern and has all the facilities you would expect from a hostel, such as a well-stocked kitchen, chilled living area and comfortable dorms. The beds also have curtains on them so you can block out light and get a better night's sleep!
There is also an abundance of board games in the common room for you to play, which makes socialising with the other guests easier!
One of the quirkier aspects of The Cowshed is that they have cabins you can stay in too. These are separate from the main hostel and are a perfect place to stay if you are travelling in a couple!
Skyewalker Hostel

The good news is that the best thing about Skyewalker Hostel is not just the name! It is a lovely place to stay and definitely one of the top hostels on the Isle of Skye!
The hostel is located on the Minginish peninsula which is close to the Cuillin mountain range. There is also a beach within walking distance, where you can see whales, dolphins, basking sharks and eagles!
Skyewalker Hostel has all the amenities you would expect with a big kitchen, an outdoor area to relax and have a barbecue. They also have a glass dome where guests can sit back, relax and enjoy the beautiful surroundings!
If you want a quirky place to stay on the Isle of Skye, with a Star Wars feel to it, Skyewalker Hostel is the place for you!
Broadford Backpackers Hostel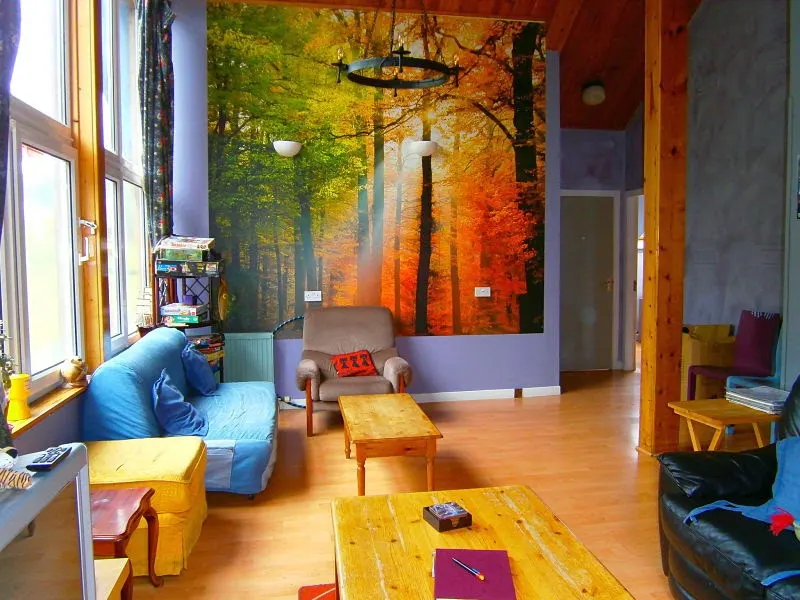 This hostel is located in Broadford, which is an ideal place to base yourself if you want to explore Skye by car. Broadford is close to the bridge to get onto Skye, so it's a good spot to be!
Broadford Backpackers Hostel has most of the facilities you would expect from accommodation on the Isle of Skye. There is a fully-equipped kitchen so you can whip some culinary treats, while there are indoor and outdoor communal areas too.
The hostel also has laundry facilities, which is handy considering the weather can be volatile on the island at times. While your clothes are drying you can relax in the common area by watching TV or playing board games with your fellow travellers!
This is one of the cheapest hostels on the Isle of Skye and its location in the town of Broadford means it's close to numerous cafes and restaurants. It may be cheap, but you won't be skimping on the location!
Skye Basecamp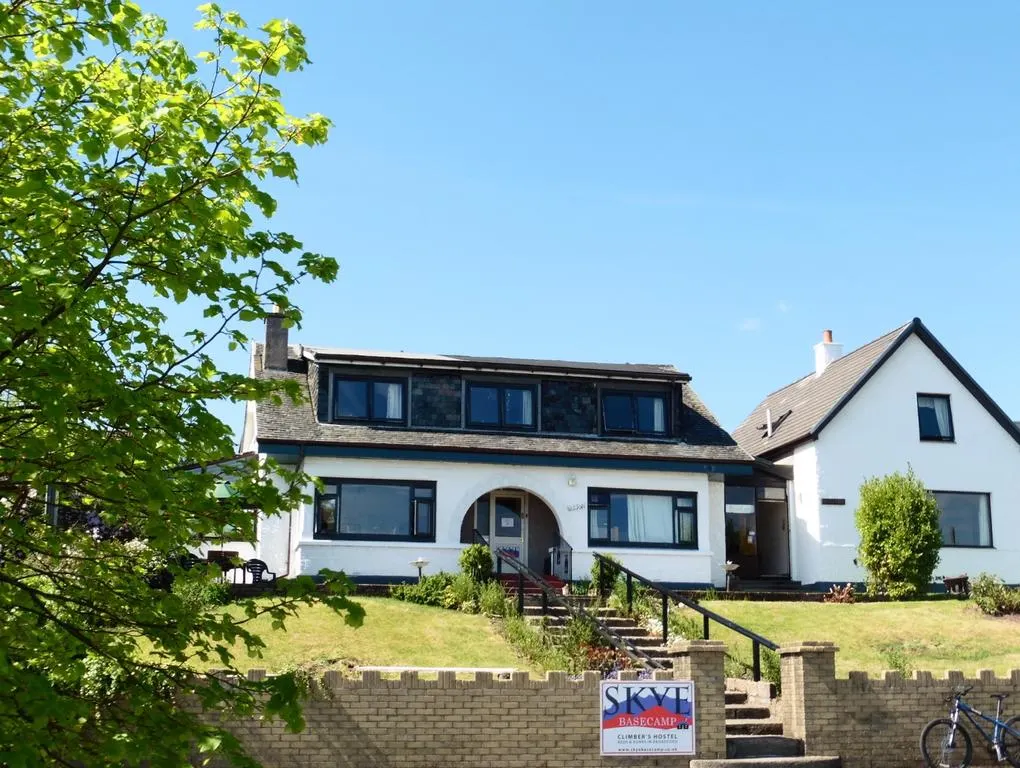 Another hostel with an interesting name, Skye Basecamp is located in Broadford with views overlooking the bay. The hostel is owned and run by Skye Guides, which is the island's biggest mountain guiding company. This makes it an ideal place to stay if you want info on hiking etc.
The hostel has a large kitchen/diner where you can cook up a storm. There are also power showers, which are great after a long day hiking outdoors! A pool table is also in the hostel should you want to socialise with fellow travellers during your stay!
Skye Basecamp is the best hostel for solo travellers in Skye due to the large common areas and kitchen. You can easily strike up conversations with fellow travellers here. Plus, the fact the hostel is run by guides means you can rely on them for info!
Skye Basecamp is a good option if you're looking for somewhere to stay in Skye that's cheap and if you're travelling alone!
Flora MacDonald Hostel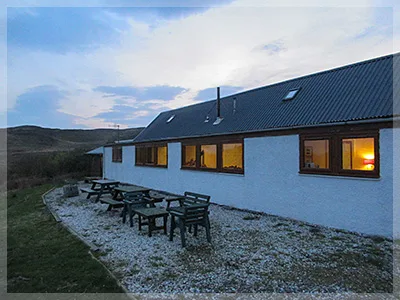 Flora MacDonald Hostel is located on the Sleat Peninsula, which is to the south of Skye. From the hostel, you have excellent views of the Sound of Sleat and the mountains of Knoydart on mainland Scotland are visible too.
The hostel is also close to the Point of Sleat lighthouse, while the peninsula has its own distillery too! The downside of staying here is that it is an hour away from Portree the capital of Skye.
There is a big kitchen here for guests to use. There is also a range of rooms for guests to stay at. If you want to stay in a private room you can, with rooms housing two to three people. The hostel also has a number of dorms if you want to save some cash on your trip.
Skye Backpackers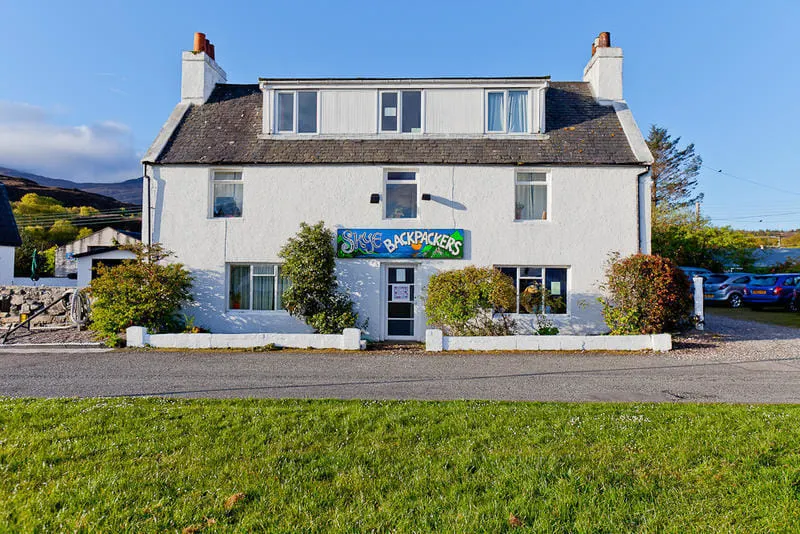 Skye Backpackers is located in the town of Kyleakin, which is close to the Skye Bridge. It's a handy place to base yourself if you want access to mainland Scotland while you're in Skye.
The hostel has all the facilities you would expect. There is a big kitchen, which has free tea, coffee and hot chocolate throughout the day. Skye Backpackers also has a well-sized common room which has a log fire too.
A unique aspect of the hostel is that offers accommodation in converted caravans! This option is cheaper than the other rooms, so if you're looking at an Isle of Skye backpackers hostel that is cheap, this may be the place for you!
Bear in mind though, if you're planning on staying in the caravan it will get cold at night!
Portree Youth Hostel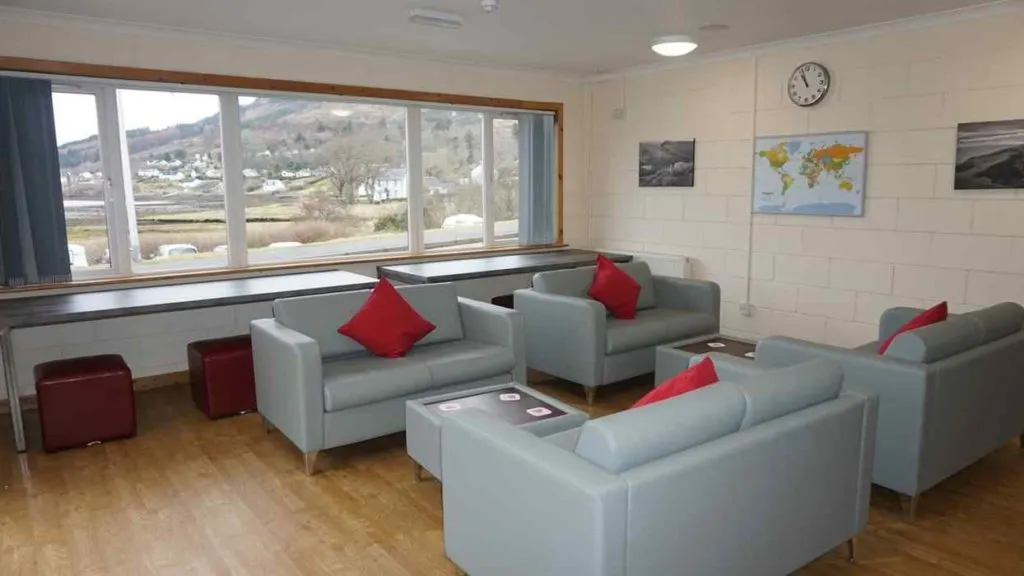 Portree Youth Hostel is located in the capital of Skye. Portree is an ideal location to base yourself as all of the best spots on the island are within easy reach.
Out of all the Isle of Skye accommodation, Portree Youth Hostel has excellent links transportation links to the rest of the island. If you don't have your own car, it's a good place to stay.
There's a range of rooms at the hostel from shared dorms to private accommodation. The hostel has a kitchen for you to cook your own food, there is also a lounge for you to relax and a laundry room to dry your clothes after a day of hiking.
This is probably the best hostel in the Isle of Skye with a private room apart from The Cowshed. The rooms are very close to hotel quality. If you don't want to stay in a cabin, then these private rooms are for you!
Saucy Mary's Lodge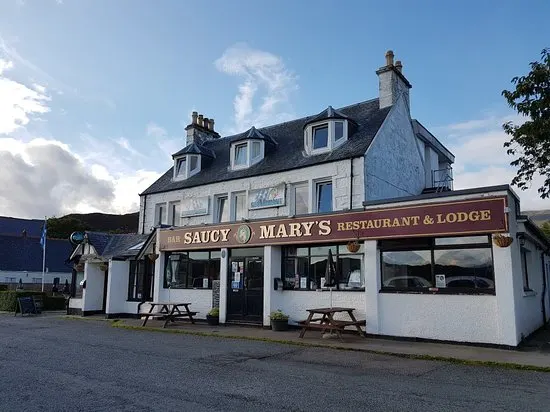 As well as the interesting name, Saucy Mary's Lodge is one of the best places to stay on the Isle of Skye. The hostel is located in Kyleakin, which is right by Skye Bridge giving the hostel excellent links to the mainland and the rest of Skye.
The hostel has a range of facilities available to guests. There is a kitchen in the hostel as well as a bar, and there is a Satellite TV too. There's a range of rooms from 4 and 6 beds to private rooms in over 16 rooms.
Saucy Mary's offers breakfast and dinners that guests can purchase. This is a good option if you've come back from a day of exploring and you can't be bothered to cook. The bar is a great place to meet fellow travellers and there are regular events held there throughout the week.
Glenbrittle Youth Hostel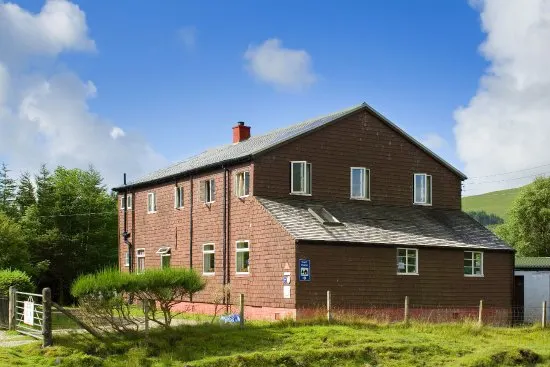 Glenbrittle Youth Hostel is located at the base of the rugged Cuillin Ridge. This puts the hostel in one of the best spots on Skye, with the Fairy Pools and Talisker Distillery on its doorstep.
If you plan on doing a lot of walks in the area, basing yourself at the hostel is a good idea. You won't have to trek far to get back to your hostel, or have a long drive back either!
It is worth bearing in mind that the hostel is somewhat isolated, so there is no wifi there and the facilities are quite limited. However, there is a large laundry room, bike storage, there is a kitchen and the hostel has a big lounge you can relax in after a long day's walk.
Due to its isolated location, I would only stay here if you plan on doing walks in the area, or if you want to experience life in a beautiful part of Skye!
Broadford Youth Hostel
Broadford Youth Hostel is located close to the town of Broadford, which is a useful spot to base yourself on Skye. It's a short walk from the hostel to Irishman's Point, which offers excellent views of Rassay and Scalpay.
The hostel's location close to Broadford means it is easy to stock yourself with supplies and take advantage of the kitchen to whip up some delicious food. There are also laundry facilities and bike storage, as well as free wifi too!
There is a range of rooms available at the hostel from 6-bed dorms to private accommodation. Depending on your circumstances, you can choose the right room for you.
Its location and facilities make Broadford Youth Hostel one of the Isle of Skye's best hostels!
Concluding Thoughts
There is a wide range of hostels on Skye considering the size of the island. Hopefully, my guide has shed some light on what places you should stay depending on your needs.
As far as I'm concerned, The Cowshed is the best hostel on the Isle of Skye. It's a very modern hostel, comfortable with excellent facilities. The option to stay in a pod outside as well makes it a great place to stay for couples!
Have you been to Skye? Did you stay at any of the above hostels? Leave me a comment below, I'd love to hear your thoughts!
Need Travel Insurance?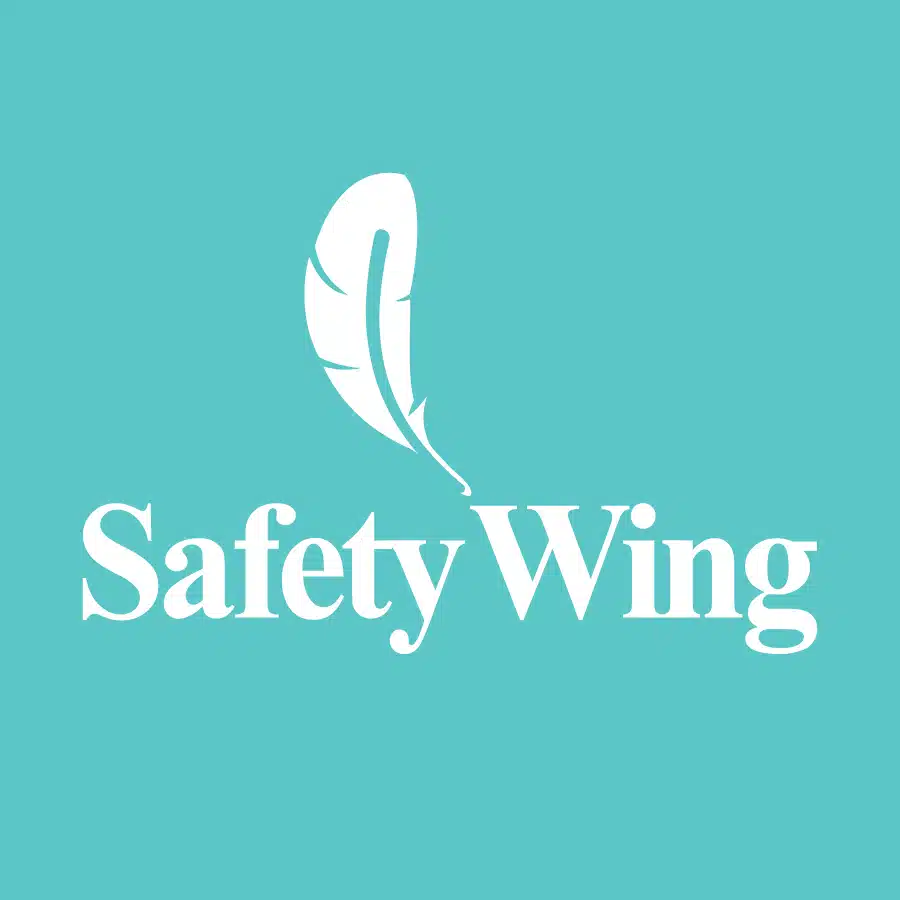 SafetyWing offers coverage that will give you peace of mind while you're on the road. If you want to protect yourself while you're on the road, then click the image to take a look at the options available to you.
Pin For Later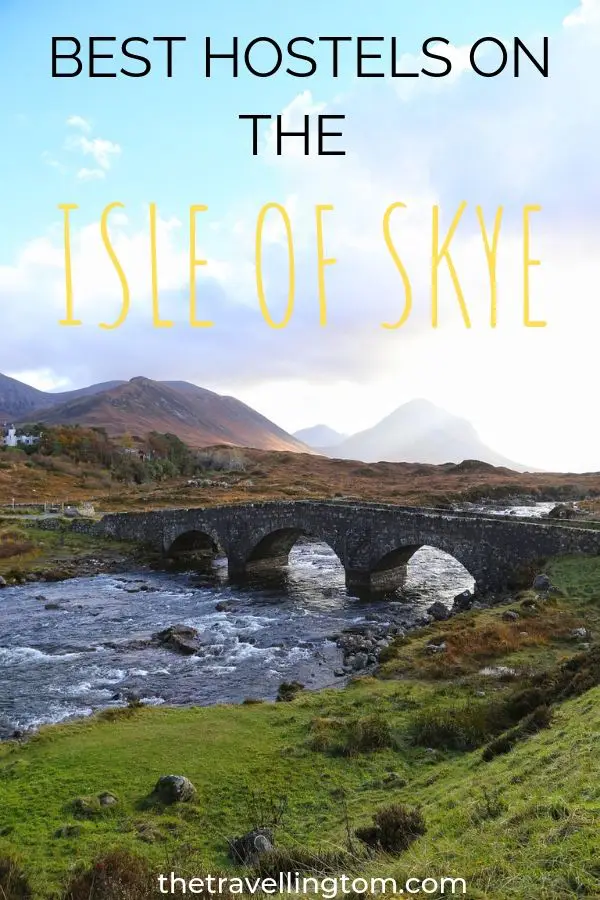 Tom is a travel addict who first left England to spend a year Down Under. Not satisfied with this, he then went to New Zealand, about as far away from home as he could get. He is now planning his next adventures in Europe and Canada while maintaining this blog. Check out the about me page to learn more!