Choosing the best beaches in New Zealand is tough, let me tell you why: as there is a lot to choose from. A lot of people think of the spectacular scenery when New Zealand is mentioned, but the beaches are of a high calibre as well!
Firstly, there is a lot to choose from, so narrowing the list down is difficult! Secondly, this list is obviously arbitrary. It is my choice, so not everyone will agree with me. What I think everyone can agree on is that New Zealand beaches are great and one of the best reasons to visit New Zealand!
Most people go travelling to New Zealand for the spectacular scenery, and that should include beaches in New Zealand too! Some of these beaches are the best I have been to.
This is by no means an exhaustive list, just a few of the beaches in New Zealand that I enjoyed while I was in the country!
7 Best Beaches in New Zealand
Cathedral Cove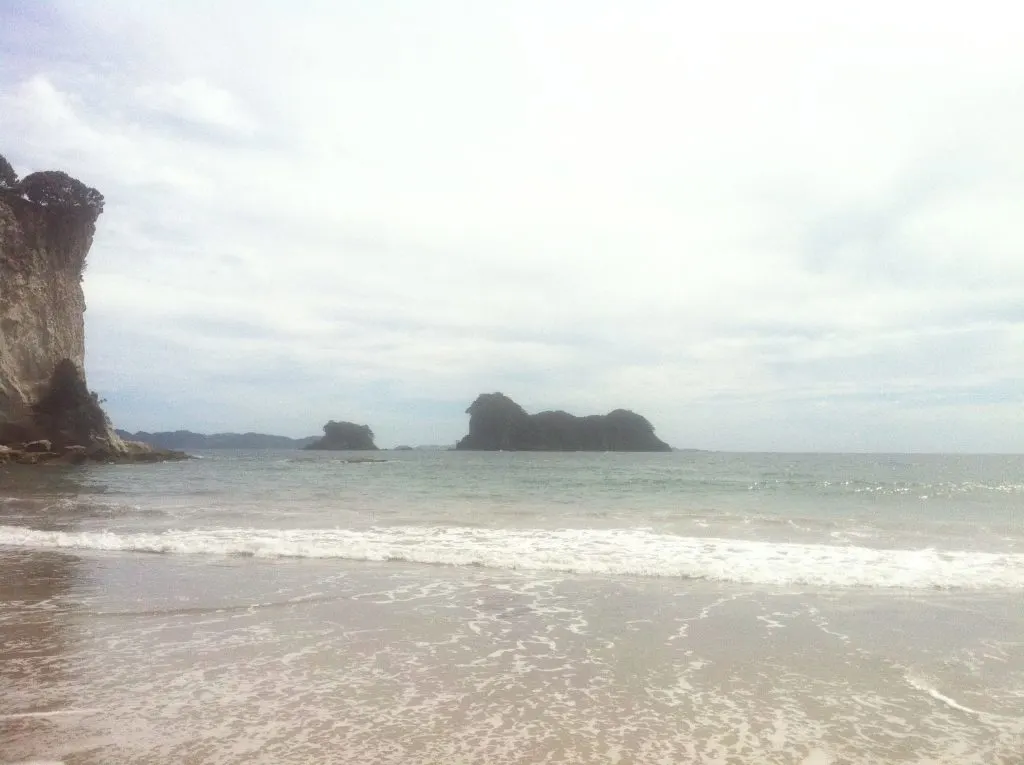 Cathedral Cove is without a doubt one of the most beautiful beaches in New Zealand! It's called Cathedral Cove because the cave on the beach resembles an arch you would find in a cathedral.
It is one of the most popular places to visit on the North Island, mainly due to the great views!
There are lots of things to do at Cathedral Cove. You can kayak there from Whitianga in the North and Hahei in the south. The area around Cathedral Cove is great for snorkelling and there is plenty of marine life around!
In keeping with New Zealand's reputation for stunning scenery, Cathedral Cove doesn't disappoint. It's definitely a beach you have to visit in New Zealand!
Taylor's Mistake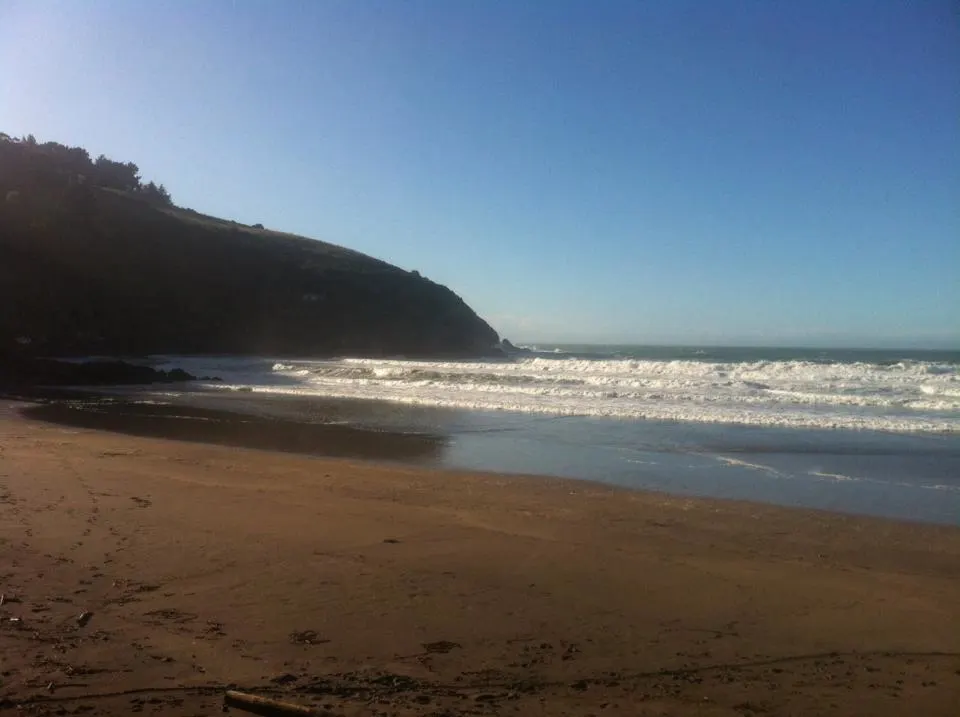 If you are travelling to Christchurch, Taylor's Mistake Beach near the town of Sumner is one you have to visit!
It's a windy and uphill road to get here and you will almost certainly need a car to do so (though you could cycle or get a bus close by and walk the remainder), but you won't regret it!
If you are into surfing there is a decent swell here most of the time. Compared to nearby New Brighton Beach, you will probably have it all to yourself, as it's a lot less busy.
Godley Head, an old battery station during the Second World War, is located close to the beach. There is a lot of scope for exploring the surroundings up there and seeing the old schoolhouses and battery installations!
With the lovely town of Sumner close by, it is best to make a day of a visit here. If you are travelling to the South Island, Taylor's Mistake is a must-visit.
Mission Bay
Mission Bay is one of the best beaches in Auckland and one of the closest to the city centre! It is a fair walk from the centre of the city, so it's best to either get a bus or drive there unless you enjoy walking that is!
There are great views of Rangitoto Island from Mission Bay, which make for great photos. This alone makes it one of the best beaches in New Zealand, as you get to appreciate the beauty that is everywhere in New Zealand.
The beach is a bit small and can get busy, especially in the summer. However, this is the only downside, as it's a great place to spend the day lazing in the sun!
I brought a book and read it for a few hours in the sun, and listened to some music as well. There aren't many better places to relax if you're spending 3 days in Auckland!
The promenade is home to a number of great cafes, my advice would be to spend as much time as possible here. You might as well make at least half a day of it and enjoy what the area has to offer.
Moeraki Beach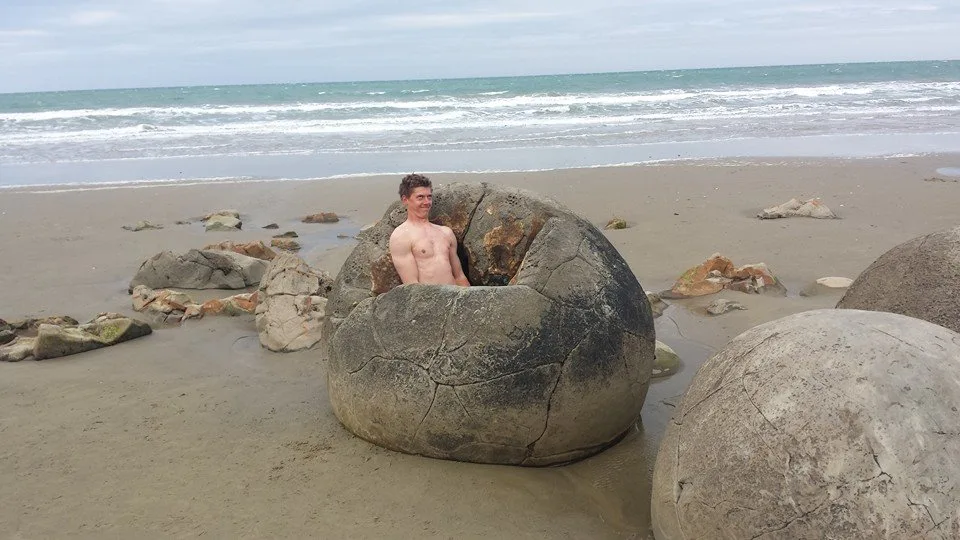 Moeraki Beach is a little different to the other beaches on this list. Let me tell you why:
The beach is home to the Moeraki boulders, which are dotted about the beach as if they have been planted there. They're actually a result of millions of years of erosion and are a strange sight, to say the least.
Moeraki Beach is one of the more unusual places to visit in New Zealand. It does feel like these boulders have no place on the beach. It's one of those naturally occurring phenomena that have to be seen to be believed!
They also make for a great photo opportunity, as you can see below!
Farewell Spit
Technically, not a beach, as you might have guessed by the name, it is a spit. However, given how spectacular this 26km stretch of sand is, I had to include it!
Farewell Spit is part of Golden Bay, which is at the top of the Northwest of the South Island near Nelson. The whole area is spectacular in itself, but there is nothing quite like seeing the expanse of sand here.
To get to the 'beach', you have to walk across the massive dunes that have been created on the spit. It can feel like you are crossing a desert at times.
It's worth it for the views and to see the length of the beach. There is a lot to see and explore, and you could spend the majority of the day here! It's easily one of the best places to visit on the South Island due to the scenery!
Golden Bay should definitely be on your list when you are in New Zealand, but it would be a crime not to visit Farewell Spit while you are there, to see the power of nature!
Ocean Beach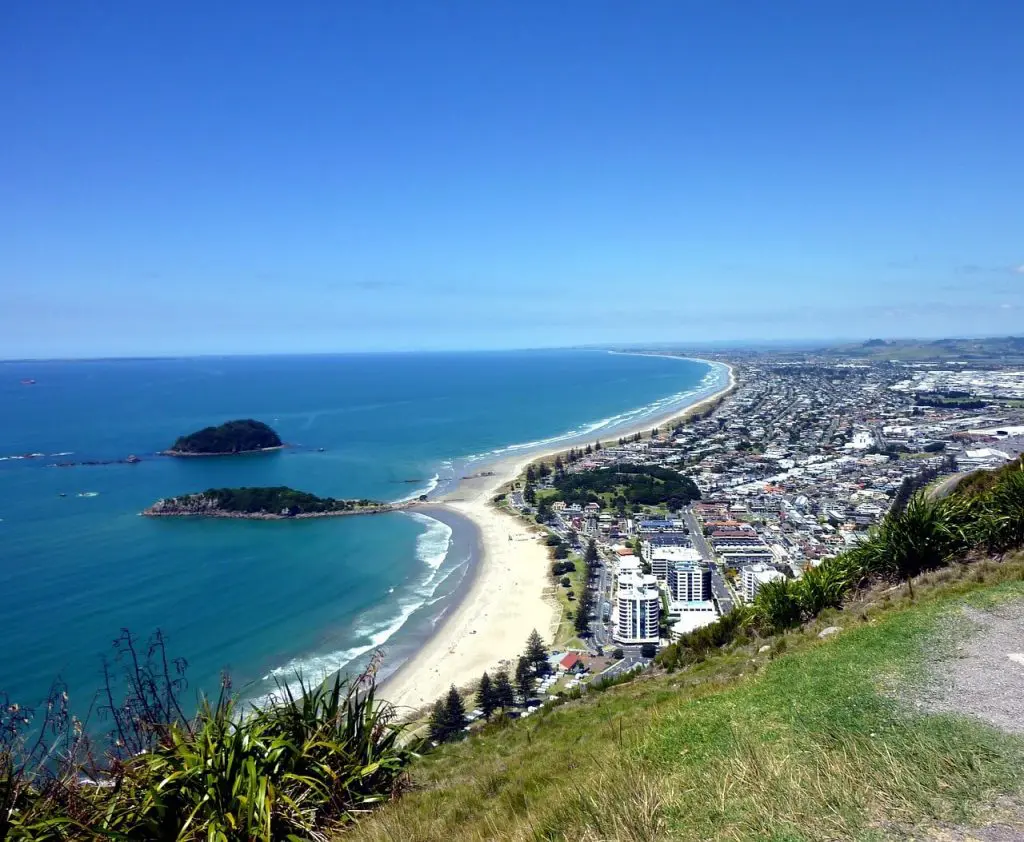 Ocean Beach is definitely one of the best beaches in New Zealand and certainly one of the most spectacular! Here's why:
This beach at Mount Maunganui in the Bay of Plenty is picture-postcard perfect. Golden sand, blue water, and lush surroundings make it a must-visit!
There is plentiful surf here and with dozens of cafes dotted around the area, there is a lot to do. That includes climbing up the 'Mount', which as you can see, offers spectacular views of the surrounding area.
The Mount is home to a huge beach party on New Year's Eve and is certainly worth a visit if you are in the area at the time, it is a great location for a New Year's Eve party and the fireworks aren't bad either!
Hot Water Beach
As the name suggests this is a beach where the water is hot, but that doesn't tell the full story. It's not the water from the sea that's hot, it's the water underneath the sand!
This beach on the Coromandel Peninsula is unique in this sense. There aren't many places in the world where you can dig a hole in the sand and have your own hot tub! This is why I feel it is one of the best beaches in New Zealand!
I remember coming here and seeing everyone walking around with their shovels. At first, I was confused as to the reason why everyone had shovels, but once I got to the beach it made sense.
This beach is a must-visit just for the novelty of the hot water, and for its beauty. The Coromandel Peninsula has some of the best scenery in New Zealand and what better way to enjoy it than relaxing in your own custom-made 'hot tub' on the beach!?
Concluding Thoughts
This is just a rough guide and certainly not a definitive one as there are many great beaches in New Zealand aside from these seven. All I can say is, that if you don't visit any then you have certainly missed out on some of the best beaches in New Zealand!
Need Travel Insurance?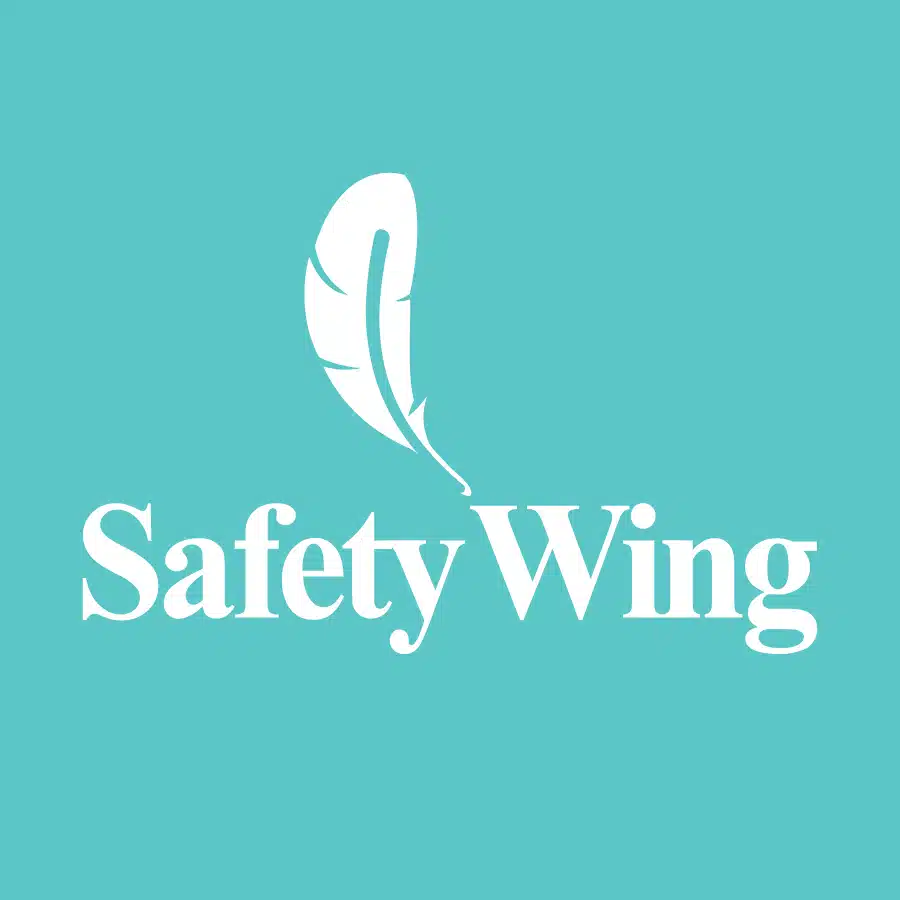 SafetyWing offers coverage that will give you peace of mind while you're on the road. If you want to protect yourself while you're on the road, then click the image to take a look at the options available to you.
Tom is a travel addict who first left England to spend a year Down Under. Not satisfied with this, he then went to New Zealand, about as far away from home as he could get. He is now planning his next adventures in Europe and Canada while maintaining this blog. Check out the about me page to learn more!