If you're looking for Berlin quotes, you've come to the right place. I've compiled a range of quotes about Germany's capital city, which will inspire you to visit this remarkable place.
These quotes about Berlin will have you pondering your visit to the Berlin Wall, the Reichstag and many of the sites in East Berlin.
For good reason, Berlin is one of the main tourist destinations in Germany. As well as the places listed above, there are plenty of other sights to check out and the history of Berlin makes it a compelling place to visit.
I loved my time in Berlin and would happily go back. Such is the size of the city, it's hard to do it justice in one trip.
What I hope this collection of Berlin quotes does is provide you with the inspiration you need to check out one of Europe's most intriguing cities!
The Best Berlin Quotes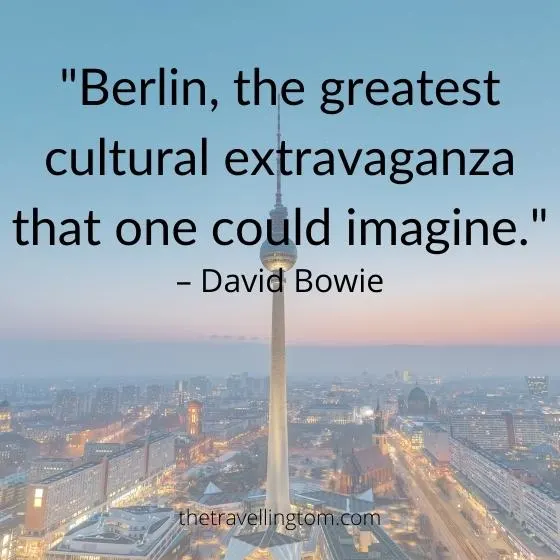 Berlin is one of the most popular places to visit in Europe, and for good reason. There's so much to see and do in this vibrant and historical city.
Whether you spend 3 days in Berlin or longer, you'll enjoy your time in this cosmopolitan city. Here are some of the best Berlin quotes to get you in the mood for your trip!
"Berlin, the greatest cultural extravaganza that one could imagine." – David Bowie
"I still keep a suitcase in Berlin." – Marlene Dietrich
"All free men, wherever they may live, are citizens of Berlin. And therefore, as a free man, I take pride in the words, 'Ich bin ein Berliner!'" [I am a Berliner (citizen of Berlin)!] – John F. Kennedy
"Paris is always Paris and Berlin is never Berlin!" – Jack Lang
"Berlin is poor, but sexy!" – Klaus Wowereit
"Berlin is the newest city I have come across. Even Chicago would appear old and gray in comparison." – Mark Twain
"Berlin would be a great place to have no cell phone, I think. Especially if you were able to live in a central location." – Alex Ebert
"It's always the small people who change things. It's never the politicians or the big guys. I mean, who pulled down the Berlin Wall? It was all the people in the streets. The specialists didn't have a clue the day before." – Luc Besson
"My dad was a journalist. He was in Rwanda right after the genocide. In Berlin when the wall came down. He was always disappearing and coming back with amazing stories. So telling stories for a living made sense to me." – Patrick J. Adams
"The Berlin Wall go down, that was the most wonderful thing that could happen, absolutely. I celebrated with everybody in Berlin that day when the Wall was down." – Nana Mouskouri
"My time in Weimar Berlin was the most elegant in my life. I would have parties for a hundred people – writers, scientists, artists." – Eva Zeisel
"I remember Berlin. Berlin to me was the star of the film. I loved for six months that we filmed there." – Martin Csokas
"With the Berlin I was able to set up a fortress that he could come near but not breach." – Vladimir Kramnik
"Berlin is all about volatility. Its identity is based not on stability but on change." – Rory MacLean
"In the past Berlin was much more radical and extreme and now it's becoming much more of a conventional European city." – Olafur Eliasson
"I like museums in Berlin a lot, especially in the eastern part. They're extraordinarily good." – Elliott Erwitt
"Berlin is my favourite city." – Logan Lerman
"I went to Berlin to study psychology but decided that I was more interested in music and started an R and B band." – Gary Wright
"Bricks and mortar Berlin has become a kind of network across which visitors and residents interact as if on some sort of comfortable global platform." – Rory MacLean
"There is something about the name Berlin that evokes an image of men in hats and long coats standing under streetlamps on rainy nights." – Erik Larson
Berlin Travel Quotes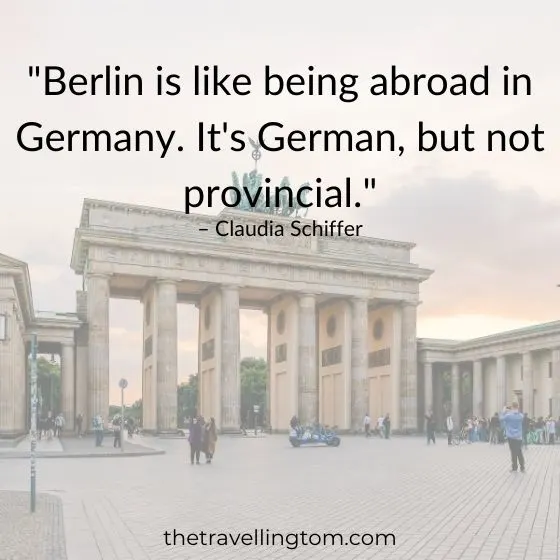 With so many things to do in Berlin, it's no wonder it's on many people's list when they think of visiting Europe.
The German capital is an amazing destination and if you're looking to be inspired by what you might find while you're there, check out some of these Berlin travel quotes.
"Berlin is like being abroad in Germany. It's German, but not provincial." – Claudia Schiffer
"The most interesting legal philosophy is German, so naturally I went to Germany, particularly to Berlin, quite a bit." – Philip Kerr
"The Berliners are unfriendly and reckless, gruff, and bossy. Berlin is odious, noisy, dirty, and grey; roadworks and congested streets wherever you go – but I'm sorry for everyone who does not stay here." – Anneliese Bödecker
"Berlin is a city condemned forever to becoming and never to being." –Karl Scheffler
"Taking trains and trams in Berlin, I noticed people reading. Books, I mean – not pocket-size devices that bleep as if censorious, on which even Shakespeare scans like a spreadsheet." – Joshua Cohen
"Some people go to Berlin to get more cutting edge; I went and started wearing lederhosen and going to visit baroque palaces." – Rufus Wainwright
"Love the sight and love the sound, I wish that I could stick around Berlin." – Kirsty MacColl
"Berlin is a city of leafy boulevards, grand Neoclassical buildings, world-class art, glitzy shopping arcades, and funky graffitied neighbourhoods with gourmet street food. It's big and bombastic – the showcase city of kings and kaisers, of the Fuhrer and 21st-century commerce." – Rick Steves
"I feel very fragile cycling in London, whereas in Berlin there are proper cycle paths everywhere." – Gavin Esler
"I live between Barcelona and Berlin. Staying in Spain over the winter and Berlin for spring and summer is an ideal combination." – Daniel Bruhl
"I think Berlin is always inspiring. I love being in Berlin. It feels like such a cool city, with so much culture and art and independence everywhere." – Kate Nash
Funny Quotes About Berlin
"I studied German at school. I lived in Berlin for two years and had a German girlfriend for five years, so I don't find speaking German particularly difficult. Singing was slightly more difficult." – Martin Gore
"I don't believe there is anything in the whole earth that you can't learn in Berlin except the German language." – Mark Twain
"Berlin is the testicle of the West. When I want the West to scream, I squeeze on Berlin." —Nikita Khrushchev
"Whereas the slums in Hamburg are the slums of its sailors, Berlin is a big slum." ― Kathy Acker
"I find it a bit sad that there is no photo of me hanging on the walls in the Berlin Museum at Checkpoint Charlie." – David Hasselhoff
"You are crazy, my child. You must go to Berlin." – Franz von Suppé
"Whoever lives in Berlin note, and doesn't die of Liberalism, will never die of vexation!" – Ferdinand Lasselle
"It's financially advantageous to make a picture in Berlin, Germany. They have a very effective rebate system." – Joel Silver
"I went to Berlin to study psychology but decided that I was more interested in music and started an R and B band." – Gary Wright
"I had first come to Berlin in 1990, on a search for someplace to live besides the United States." – Alexander Chee
Berlin Instagram Captions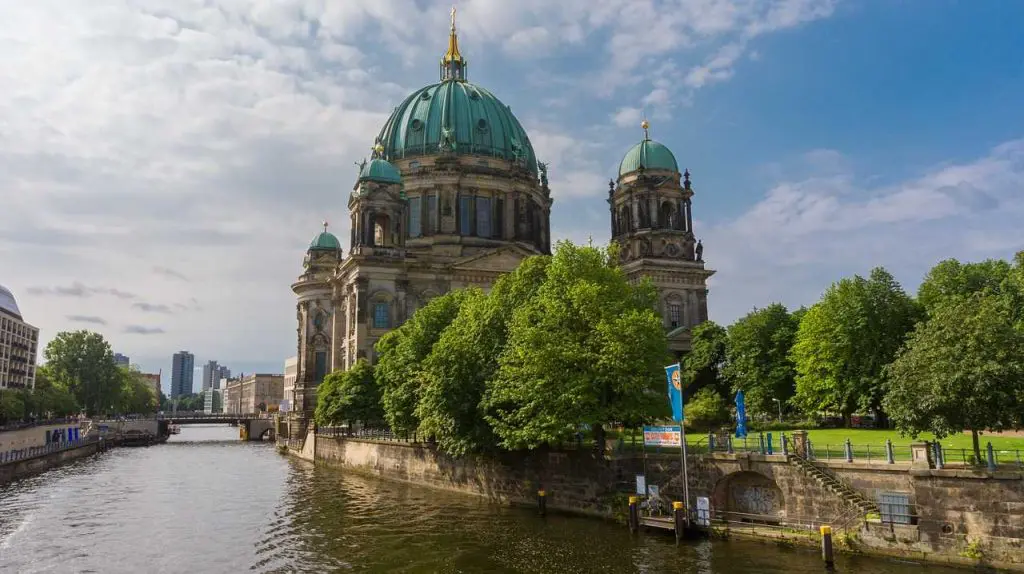 No doubt you're going to take plenty of photos during your visit to Berlin. If you're looking for Instagram captions about Berlin, then some of the ones below should come in handy when you come to upload your snaps onto the gram!
Hallo Berlin!
Can't bear to leave Berlin
Wunderlust
Berlin ist wunderbar
Checking in on Checkpoint Charlie
"Men build too many walls and not enough bridges" – Joseph Fort Newton (East Side Gallery)
Keep calm and go to Berlin
Auf wiedersehn Berlin
Berlin, meine Liebe
"Berlin is more part of the world than a city." – Jean Paul
Berlin Puns and Sayings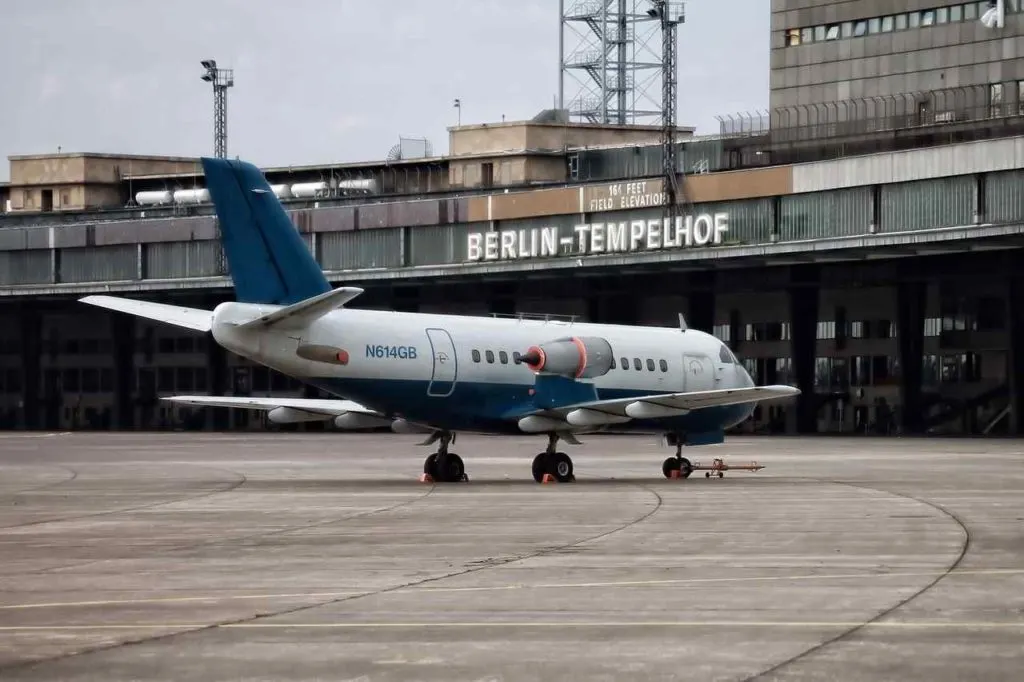 Everyone loves a good pun! Here I've listed a range of fantastic puns about Berlin you can use with your friends or family while you're in the city.
I've also included some sayings you might hear in Berlin while you're out and about. If you speak German, you can add them to your vocabulary, if not, you can use them as a starting point to get a grasp on the language.
Ich bin ein Berliner
To speak German, just add bier
Not the wurst day
Did you hear about the cat that died in Berlin? It had nein lives.
No brat days in Berlin
"Leben ist kein Ponyhof" – Life is no pony farm
This may sound like a funny saying, but the meaning of it is quite simple. Life is tough, and it's not all sunshine and rainbows or farms full of ponies.
"Jetzt haben wir den Salat" – Now we have the salad
This is a phrase you'll hear if something is messed up. Why this means we know have a salad, I'm not sure. But perhaps it refers to the mess resembling the makeup of a salad? Either way, it's a phrase you should look out for while you're in Berlin.
"Das Blaue vom Himmel versprechen" – The blue promise from the sky
An English equivalent of this phrase is 'promise the earth.' You'll hear this when something has been exaggerated far beyond the truth.
"Leben wie Gott in Frankreich" – Live like God in France
This phrase refers to living in luxury and has its origins in the relatively luxurious conditions clergyman experienced in France during the Middle Ages.
"Klappe zu, Affe tot" – Close the lid, the monkey is dead
This is the equivalent of 'that's all' or 'that's it' in English. I think the German saying is much more expressive and fun if a little mystifying as to how it came about!
Berlin Wall Quotes
The Berlin Wall is arguably the most famous part of the city. It inspired numerous protests when it went up and its fall was a watershed moment in world history. Many of the most profound quotes about Germany relate to the wall.
Almost all of it has been dismantled today, but there is still a section standing on the East Side Gallery. Visiting here is a must while you're in Berlin and here are a few quotes about the Berlin Wall to give you an idea of its past and the sentiment around it.
"The fall of the Berlin Wall makes for nice pictures. But it all started in the shipyards." – Lech Walesa
"The fall of the Berlin Wall was the fall of the madness!" ― Mehmet Murat ildan
"Mr Gorbachev, open this gate! Mr Gorbachev, tear down this wall!" – Ronald Reagan
"The Berlin Wall wasn't the only barrier to fall after the collapse of the Soviet Union and the end of the Cold War. Traditional barriers to the flow of money, trade, people and ideas also fell." – Fareed Zakaria
"If the purpose of the wall was to destroy Berlin, Herr Ulbricht and his cohorts have erred sadly. Berlin is not only going to continue to exist – it's going to grow and grow and grow. Its ties to West Germany will not be severed." – Robert Kennedy
"You can't stop demographics. And show me a fence that ever worked. It didn't work at Hadrian's Wall. The Great Wall of China didn't work. The Berlin Wall." – James Turrell
"I remember when the Berlin Wall fell and suddenly intractable problems get solved." – Lucy Walker
"When the Berlin Wall came down the Americans cried, 'Victory,' and walked off the field." – Paul Keating
"More people die on a yearly basis crossing the Florida Straits than ever died trying to cross the Berlin Wall." – Joe Garcia
"I can understand the Chinese Wall: it was built as a defense against marauders. But a wall such as that in Berlin, built to prevent people from seeking freedom, is almost beyond comprehension." – Robert Kennedy
"I was born in 1988, one year before the fall of the Berlin Wall, and people of my generation were taught that utopian dreams are dangerous." – Rutger Bregman
Frequently Asked Questions
What is a famous Berlin quote?
The most famous Berlin quote is 'Ich bin in Berliner' by American President John F. Kennedy
What was the famous Berlin Wall Quote?
"Mr Gorbachev, open this gate! Mr Gorbachev, tear down this wall!" – Ronald Reagan
---
Thanks for reading my collection of the best Berlin quotes! Hopefully, they have sparked your curiosity and inspired you to visit the city.
Do you have any other quotes about Berlin? If you do, leave them in the comments below. Let me know if you've been to Berlin and what you think. I'm interested to see what your opinion of the city is!
Tom is a travel addict who first left England to spend a year Down Under. Not satisfied with this, he then went to New Zealand, about as far away from home as he could get. He is now planning his next adventures in Europe and Canada while maintaining this blog. Check out the about me page to learn more!