Looking for Barcelona quotes? Then this is the post for you! I've scoured the internet to compile the best list of quotes about Barcelona you'll find anywhere.
If you're looking for inspiration for a trip to Barcelona, this collection of quotes will provide you with bucketloads of it.
Barcelona is one of the most popular destinations for travellers in Spain and it's not hard to see why. From the beauty of Gaudi's buildings to the beaches and the history of Barcelona, it all adds up to an incredible place to visit.
I spent two years living in Barcelona and while it wasn't always perfect, there's no doubt it's a great place to visit.
This collection of Barcelona quotes should give you the inspiration and wider understanding of the city needed to book your trip to this Catalan paradise!
Table of Contents
Best Barcelona Quotes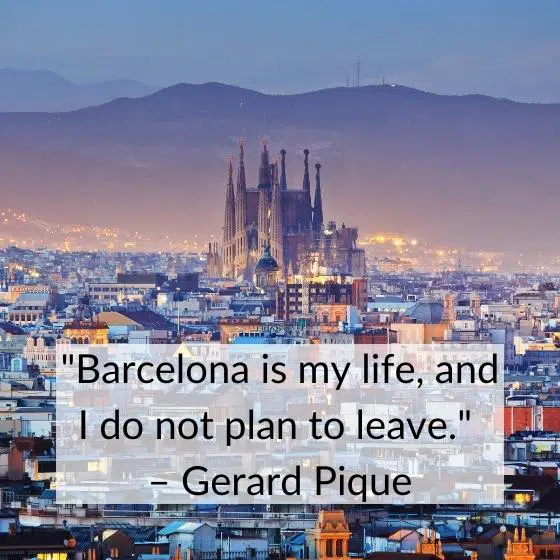 Barcelona is one of the most popular places to visit in Europe and it's not hard to see why when you visit. There's just so much to do in the city!
3 days in Barcelona isn't a long time to see the city but you can still do a lot in that time. Whether you stay for three days or longer, here are some of the best quotes about Barcelona to get you in the mood for your trip.
"Barcelona is my life, and I do not plan to leave." – Gerard Pique
"Allow me to state here how much I love Barcelona, an admirable city, a city full of life, intense, a port open to the past and future." – Le Corbusier
"Barcelona – the centre of the wise, model of purity, quarry of Kings." – Baltasar Gracian
"Living in Barcelona, I have my own little ghetto utopia. There are 3,000 ghost towns in Spain, and I've used the images of them a lot in my backdrops for my solo spoken-word stuff. The ghost towns could be from two buildings to 40 – things died out, or there were plagues, the roads don't lead there, whatever." – Lydia Lunch
"Barcelona is an open and multicultural city. It's brimming with a very special creative energy. If you pay attention, you may be easily inspired by the places and people living there." – Rosalia
"Barcelona is a beautiful city. I love the buildings and the architecture and always enjoy being close to that. It makes sense as an art person to work in places like that, it always feels nice and creative." – Kim Bodnia
"Italy has great food and Barcelona has great energy." – Stefon Harris
"I love Barcelona. Barcelona is a very, very nice city." – Kristaps Porzingis
"Barcelona is one of the best cities in the world. I love it there." – Meghan Markle
"Gaudí's primordial soup, Langdon thought, again startled by how perfectly the city of Barcelona dovetailed with Edmond's curiosity about the beginnings of life." —Dan Brown
"But if there was no Barcelona why would you get out of bed in the morning?" – Ray Hudson
"Even the moon was embarrassed by the beauty of Barcelona." – Andrew Barger
"Barcelona is a woman's town, women everywhere Barcelona is a woman's eyes, raven gipsy hair I got drunk in Barcelona and then she walked away from." – Tom Russell Band
"Barcelona is a great city and Spain is a great country to live in." – Shakira
Barcelona Travel Quotes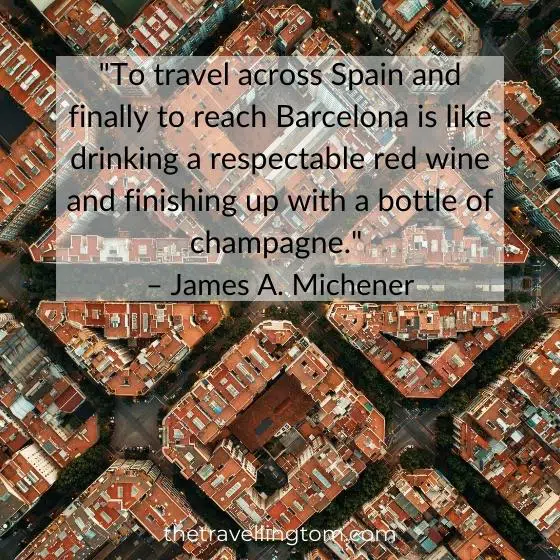 As there are so many things to do in Barcelona, it's not a surprise it's such a popular place to visit.
Gaudi's famous buildings including Sagrada Familia, the beautiful beaches and the streets of Eixample are among the numerous reasons to visit.
For more inspiration, check out our collection of Barcelona travel quotes below.
"To travel across Spain and finally to reach Barcelona is like drinking a respectable red wine and finishing up with a bottle of champagne." – James A. Michener
"We come from Spain, from Barcelona. We could perform in many places around the world, and it's been amazing to bring our music to so many people in so many different places. That's been amazing." – Rosalia
"I always try to start my weekend by running on the beach, which is great fun here in Barcelona." – Daniel Bruhl
"I went to live in Barcelona in 1975, when I was twenty. Even before I went there, I knew more about the Spanish Civil War than I did about the Irish Civil War. I liked Barcelona, and then I grew to like a place in the Catalan Pyrenees called the Pillars, especially an area between the village of Flavors and the high mountains around it." – Colm Toibin
"I love Spanish cities, particularly Barcelona, Madrid and Palma, which has the most amazing cathedral that I once went to for a wedding." – Louise Nurding
"People travel north from Barcelona, not south." – Jose Andres
"I don't understand people who travel purely gastronomically, who book a Michelin-starred restaurant three months in advance and suddenly find themselves in Copenhagen or Barcelona with a zeitgeist plate of snail porridge." – Sue Perkins
"As hard as I try I cannot get myself to three museums in any one city. The only museum I've ever really enjoyed was the Picasso Museum in Barcelona and I think that's because it's small and you can touch things." – Carole Radziwill
"We crossed spacious streets, with building resembling palaces, in La Rambla promenade; the shops were well illuminated and there were movement and life. I did not decide to go to sleep, even though I wished to, so I could rise early and contemplate, in daylight, this city, unknown to me: Barcelona, capital of Catalonia." – Hans Christian Andersen
"I went to have a look at the cathedral, a modern cathedral, and one of the most hideous buildings in the world." – George Orwell
"Just close your eyes and let's pretend we're dancing in the street in Barcelona." – Ed Sheeran
"Barcelona, archives of courtesy, shelter of the foreigners, hospital of the poor, father-land of the brave, vengeance of the offended and pleasant correspondence of firm friendship, and in site, and in beauty, unique." – Miguel de Cervantes
---
You might also like:
---
Funny Barcelona Quotes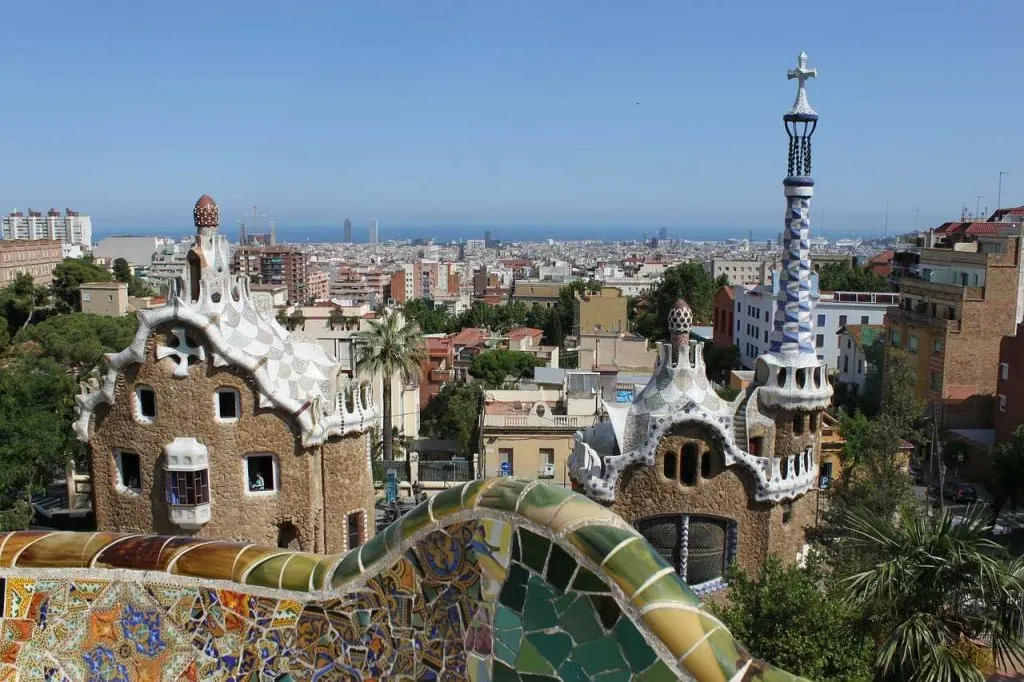 "I'd love to be popular in Barcelona. That sounds like a fun job." – Bobby Heenan
"Barcelona Boner, – he was a Spanish chap and boned everything he could lay his hands on." – Carolyn Sigler
"Barcelona is a haunted house, Vargas. What happens is that you tourists never think of looking behind the curtain." – Carlos Ruiz Zafón
"Barcelona is Gaudi's." – Kamand Kojouri
Barcelona Quotes About Culture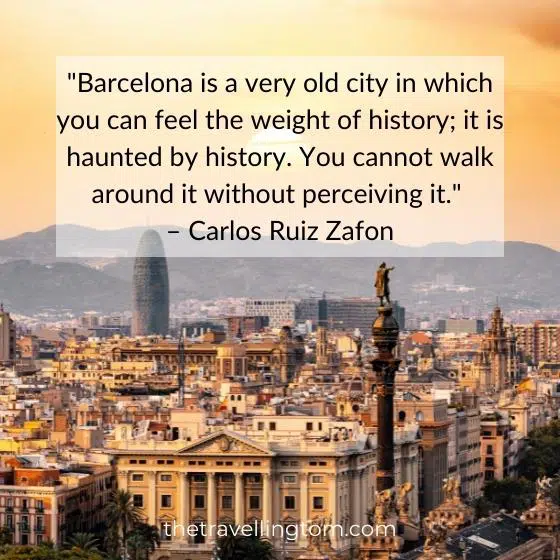 "Barcelona is a very old city in which you can feel the weight of history; it is haunted by history. You cannot walk around it without perceiving it." – Carlos Ruiz Zafon
"You'd have a hard time finding anything better than Barcelona for food, as far as being a hub. Given a choice between Barcelona and San Sebastian to die in, I'd probably want to die in San Sebastian." – Anthony Bourdain
"While studying at Barcelona, Ignatius was in doubt whether, after completing his studies, he should enter some Religious Order, or go from place to place, according to his custom. He decided to enter upon the religious life." – Saint Ignatius
"Barcelona is one of my favourite cities in the world. The fashion and people are just so effortlessly cool." – Leigh Lezark
"I first went to Barcelona in 1975 after university, and I stayed for three years. I learnt Catalan because that's what everyone speaks in the mountains. They speak English to foreigners, but what people say to each other is much more important than what they say to you." – Colm Toibin
"The Christmas market at the Barcelona Cathedral sells all kinds of things for your Nativity scene. It will also give you a good idea of Catalan culture." – Jose Andres
"I just saw the movie 'Vicky Cristina Barcelona' and fell in love with that city." – Cheryl Burke
"Barcelona was a most illustrious city for its princes and most noble – its knights; its richness and great prosperities were known all over the world for being marvellous and vigorous, and therefore, exposed to envy." – Lucio Marineo Suculo
"I have big dreams, but if God would've told me that I had to sing in a local bar in Barcelona, and that that would be my life, that would be my life, I would've done it with the same passion." – Rosalia
"At Barcelona, we had the pleasure of seeing the Fandango danced. It exceeds in wantonness all the dances I ever beheld. A good Fandango lady will stand five minutes in one spot, wriggling like a worm that has just been cut in two.' – Henry Swinburne
"I like what Barcelona is doing. This city almost perfectly combines its natural advantages with cultural attractions, IT parks and first-rate educational opportunities. The same applies to Dublin, which manages to achieve a blend of complexity, tolerance and artistry and makes a point of not devoting every part of the city to the tourism industry. Sometimes creativity also means forgoing short-term profits and simply saying no." – Charles Landry
"It appeared that even in Barcelona there were hardly any bullfights nowadays; for some reason, all the best matadors were Fascists." – George Orwell
"With her enchanting songs, her rare beauty, and clever tricks, this wild 'wanderess' ensnared my soul like a gipsy-thief and led me foolish and blind to where you find me now. The first time I saw her, fires were alight. It was a spicy night in Barcelona. The air was fragrant and free." — Roman Payne
Barcelona Captions for Instagram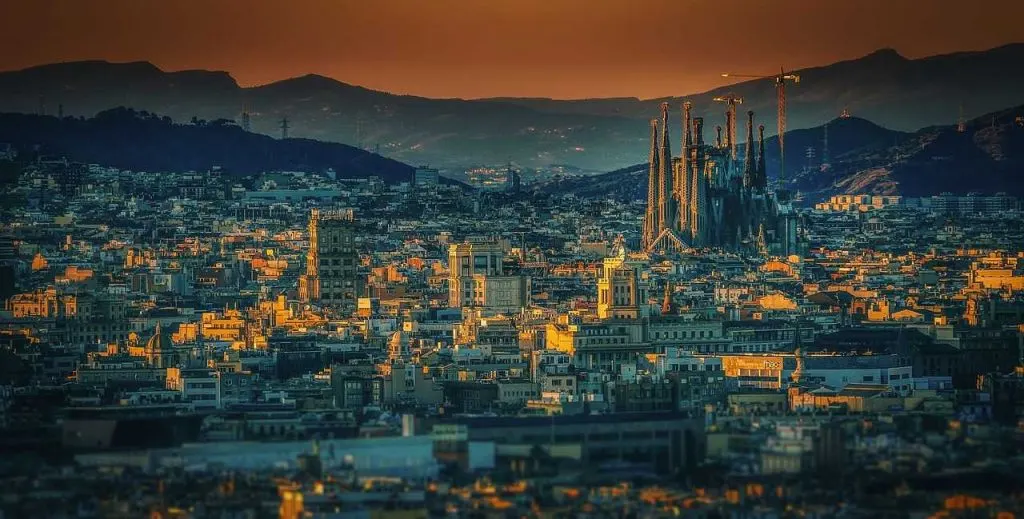 One of the things you're guaranteed to do when you visit Barcelona is to take a lot of photos. If you're looking for Instagram captions about Barcelona, then the ones below will be a fine addition to your photos!
"I'll be back, going off to play in the Barcelona sun."
"So much sightseeing has my dog Barca-ing."
"We're cava-ing a great time in Barcelona!"
"Let's give 'em something to tapas-bout."
"I don't want to leave Barcelona, but unfortunately, I Gaudi."
"I hate to Rambla on about Barcelona, but this place is amazing!"
"My Gaudi, isn't Barcelona amazing?"
"Gaudi, I could use another Sangria."
"Feeling on tapas the world here in Barcelona."
"Getting to the top of Tibidabo is a Spain in the butt!"
FC Barcelona Quotes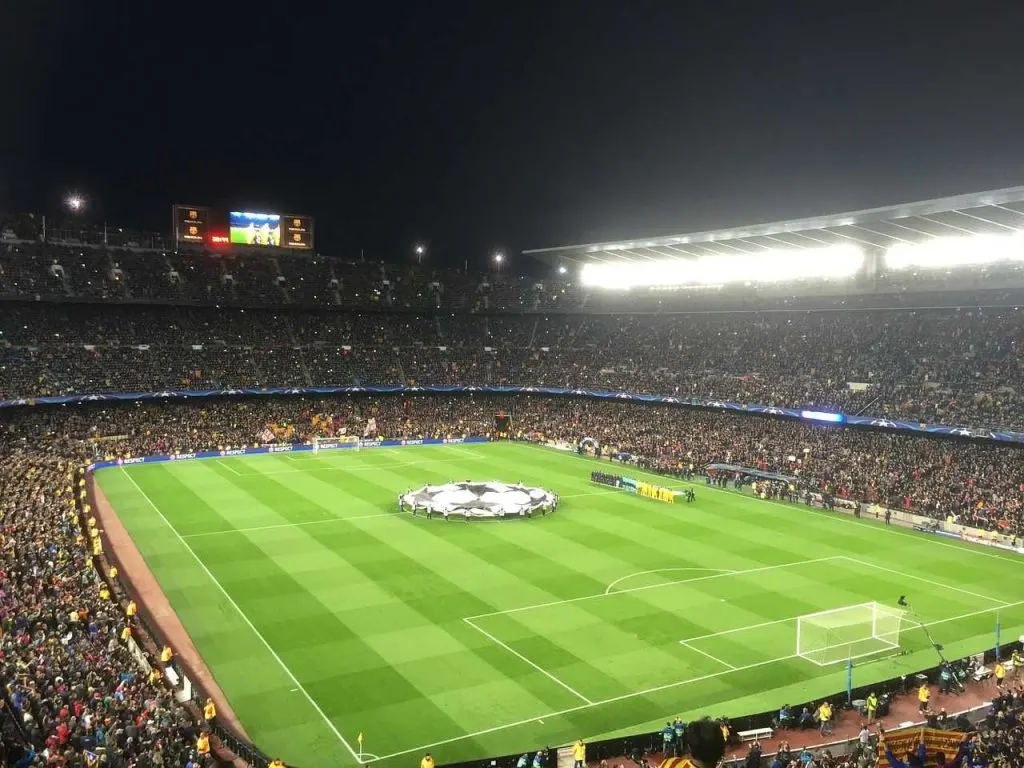 FC Barcelona are one of the biggest football clubs in the world and a major part of life in the city. The club represents Catalan identity and are so popular they almost represent the region of Catalunya never mind Barcelona.
Here are some of the best quotes about FC Barcelona that will have you itching to watch a match at Camp Nou!
"The rivalry between Real Madrid and Barcelona is very big." – Gerard Pique
"At Barcelona, it wasn't about winning all the time; it was first about how to win." – Dani Alves
"Everybody could use the money, but you don't play for it – you play with your heart – and that's a big difference you see in Barcelona. Everybody wants to play there; everybody wants to enjoy themselves. It's maybe a small percentage, but maybe it's the difference." – Johan Cruyff
"When I arrived at Barcelona and saw Messi's face, and later Luis Suarez, I felt like it was a videogame." – Neymar
"Who does not want to coach Barcelona?" – Ronald Koeman
"Barcelona are special in the way they play. They're a machine." – Pep Guardiola
"I think, for Catalonia, FC Barcelona means a lot because it is one of the top clubs in the world, and that means that it's a way to show what Catalonia is in the world." – Gerard Pique
"I've always been a great lover of Barcelona and the structure of the club." – Brendan Rodgers
"Obviously, I grew up in Barcelona, and when I watch them play I want them to win. The team are always going to be in my heart." – Hector Bellerin
"Barcelona is the best club in the world, there's no other place like this." – Pedro
Barcelona Puns and Sayings
Everyone loves a good pun! Here I've listed some excellent puns about Barcelona you can use with your friends or family while you're in the city.
"I hate to Rambla on about Barcelona, but this place is amazing!"
"Feeling on tapas the world here in Barcelona."
"Might as Guell head to Barcelona for the weekend!"
"Don't know siesta, but I do fiesta."
"Might as Guell head to Barcelona for the weekend!"
"Got Gaudi?"
"I heard there's a lot of cool architecture in Barcelona. But I thought it was pretty Gaudí."
---
Thanks for reading my collection of the best Barcelona quotes! Hopefully, they have sparked your curiosity and inspired you to visit the city.
Do you have any other quotes about Barcelona? If you do, leave them in the comments below. Let me know if you've been to Barcelona and what you think. I'm interested to see what your opinion of the city is!
Tom is a travel addict who first left England to spend a year Down Under. Not satisfied with this, he then went to New Zealand, about as far away from home as he could get. He is now planning his next adventures in Europe and Canada while maintaining this blog. Check out the about me page to learn more!