3 days in Miami is a good amount of time to see this fascinating Floridian city.
Miami is one of the most popular places to visit in America for good reason. There's so much to see and do here. You can relax by the beach and enjoy the glorious sunshine. While you can also do some lesser-known activities such as visiting the Vizcaya Museum and Gardens and Coral Gables.
Despite its reputation as a hedonistic outpost, there's much more to Miami than meets the eye. With three days in Miami, you can check out some of the best things to do in the city such as the cultural side and the more famous areas such as nightlife and the city's beaches.
This long weekend in Miami itinerary will let you know the places you should visit and where to stay, during a visit to the city.
So without further ado, let's get into it!
Disclosure: This article may contain affiliate/compensated links. For more information, please see our full disclosure policy.
How to Spend 3 Days in Miami
Quick 3 Days in Miami Itinerary
Day 1 – Walk around Miami, Miami Beach, Española Way
Day 2 – Wynwood Arts District, Little Havana, Vizcaya Museum and Gardens
Day 3 – One of, the Everglades, Key West or Coral Gables
Some of The Best Things To Do in Miami
As one of the largest cities in America, there's no shortage of things to do in Miami. You could easily stay longer than 3 days if you wanted, but you can still see a lot in this time.
Miami is a prime stop on any Florida road trip, and you'll see why once you start exploring the city. There's just so much to see here, it's no wonder it's one of the most popular places to visit in the US.
If you're wondering what to include on your Miami itinerary, I have listed three of the best places to see to ease some of the pressure on the decision-making front. All there of these places should be part of any Miami trip planner you might put together.
One thing you should do before you go is to purchase a Miami Sightseeing Day Pass. This pass gives you a discount on numerous activities in the city and you'll also get money off at select restaurants, entertainment venues, and shops.
It's a useful thing to have with you, and will allow you to save an extra bit of money on your trip!
South Beach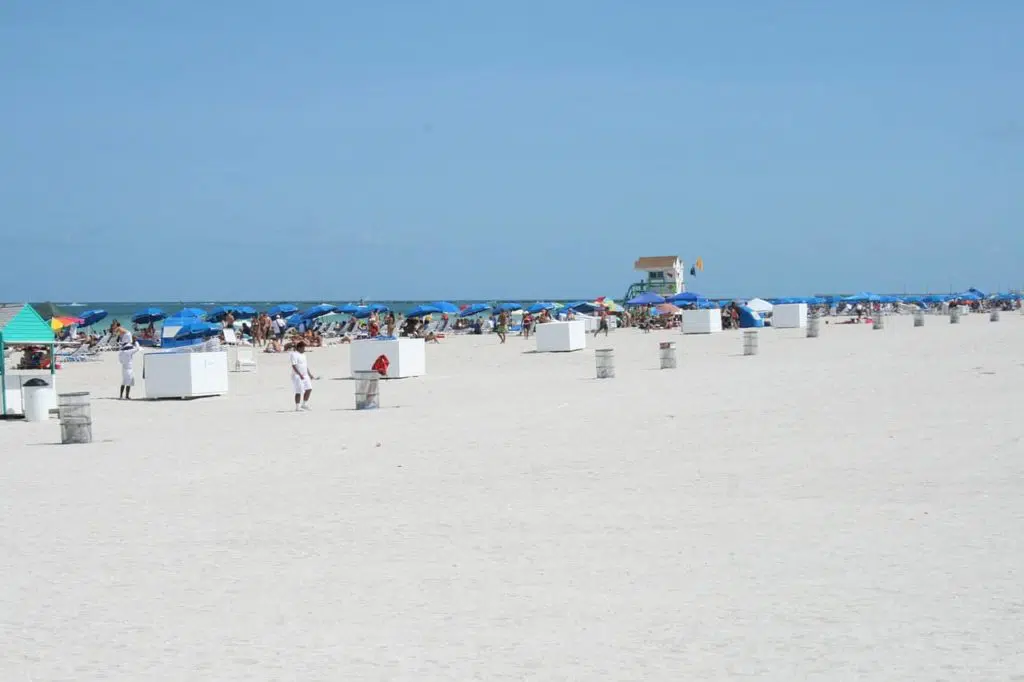 There's a reason Miami is one of the best places to visit in Florida and it's because of its amazing beaches. You have to visit Miami Beach when you're in the city and arguably the best beach on this spit of land is South Beach.
It's a spectacular location, with beautiful sand, turquoise waters and high-rise buildings in the background. It's a quintessential image of Miami! As well as its aesthetic charms, there are lots of reasons to check out South Beach.
This is where the majority of the entertainment happens in Miami. You'll find a wide variety of nightclubs, entertainment hotspots and restaurants to choose from. It may not be everyone's cup of tea, but South Beach is somewhere you have to check out while you're in Miami.
Little Havana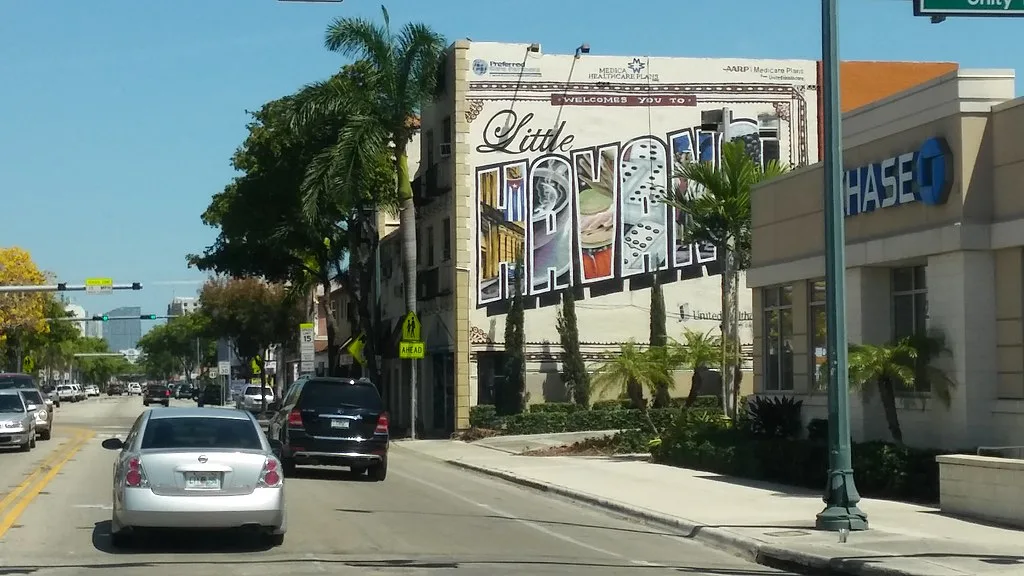 As the name suggests, Little Havana is a part of Miami with a heavy Cuban influence. This is because the area is home to many Cuban exiles who've given the area its unique character. Some of the best quotes about Miami reflect this.
If you want to get away from South Beach and see a different side of Miami, then a trip to Little Havana is a must. The area is a cultural melting pot and you could easily spend all day here taking in the sights, the smells and the food.
The Bay of Pigs Museum is one place you should check out in Little Havana if you want to learn more about the history of Cuba and why so many exiles now reside in Miami. A trip to Calle Ocho and Domino Park, in particular, are musts while you're in the area too.
Miami Itinerary – Day 1
Walk Around Miami (Beach)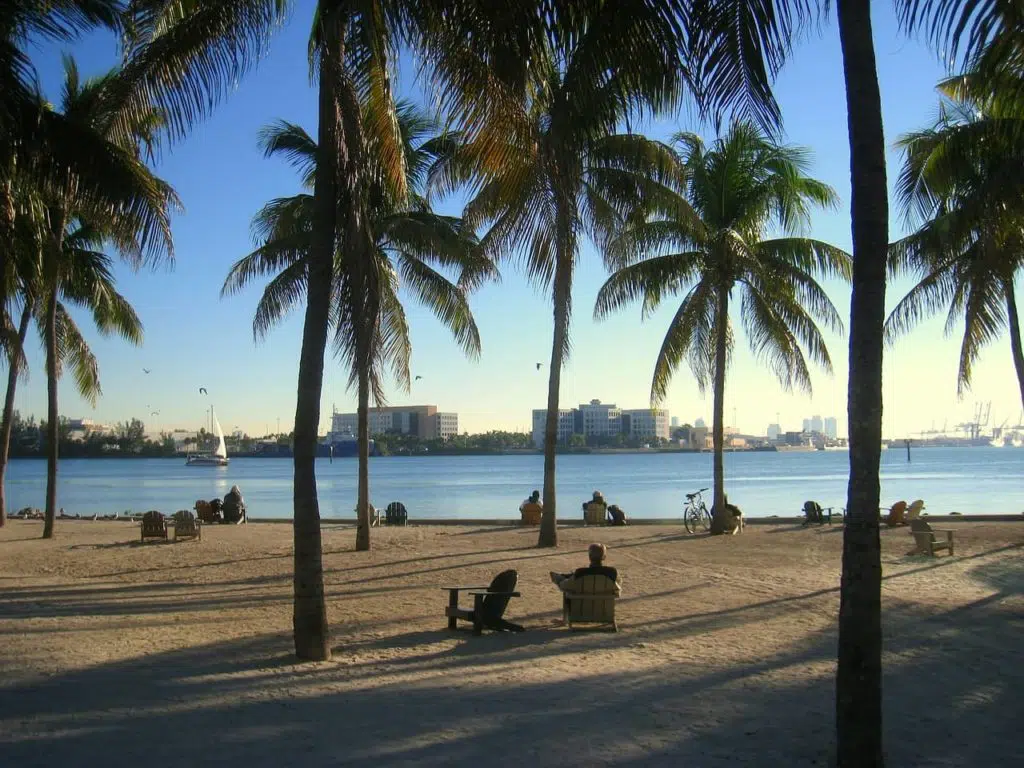 Whenever I visit a new city, I check into my accommodation, drop off my belongings, and head out to walk around and get a feel for the place. This is easier in a city such as Barcelona in Spain, which is geared towards walking, but it's not as easy in Miami.
Cars are king in Miami, as opposed to walking. If you've driven here as part of a New York to Miami road trip, then you'll be able to get around. Otherwise, while you can explore your immediate area, if you want to see the rest of the city it's much harder to get there on foot.
You can get around this by buying a pass for the bus, or you could rent a car, but you'll struggle to get around just by the power of your own two feet.
A good idea for your first few hours in Miami is to explore the area around where you're staying. Whether it's Miami or South Beach or even Little Havana, take a walk around and get a bearing on your surroundings. It will help you get acquainted with the city and you might find something you hadn't banked on seeing!
Miami Beach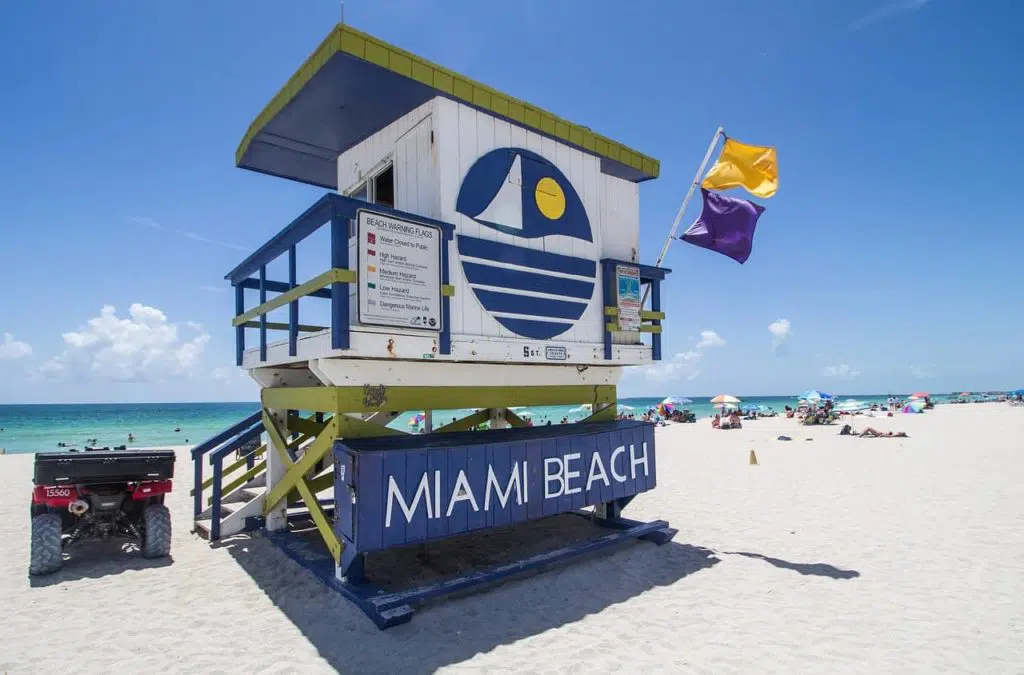 When most people think of Miami, the first thing that comes to mind is the beach. You can't spend 3 days in Miami without visiting the beach, and Miami Beach is one of the most popular in the city.
Miami Beach is a spit of land connected to the mainland by bridges. It's here you'll find world-class beaches such as South Beach, Mid Beach and North Beach. You could spend the whole day a the beach if you wanted, moving up and down and experiencing the different areas.
If you love the beach, you'll be set, as it's incredible here. You can relax on the sand, play volleyball, or go for a swim. There are even some Russian and Turkish Baths at the north end of Miami Beach, should you want to pamper yourself.
You can also check out the Miami Beach Botanical Garden should you want a change of scenery.
Española Way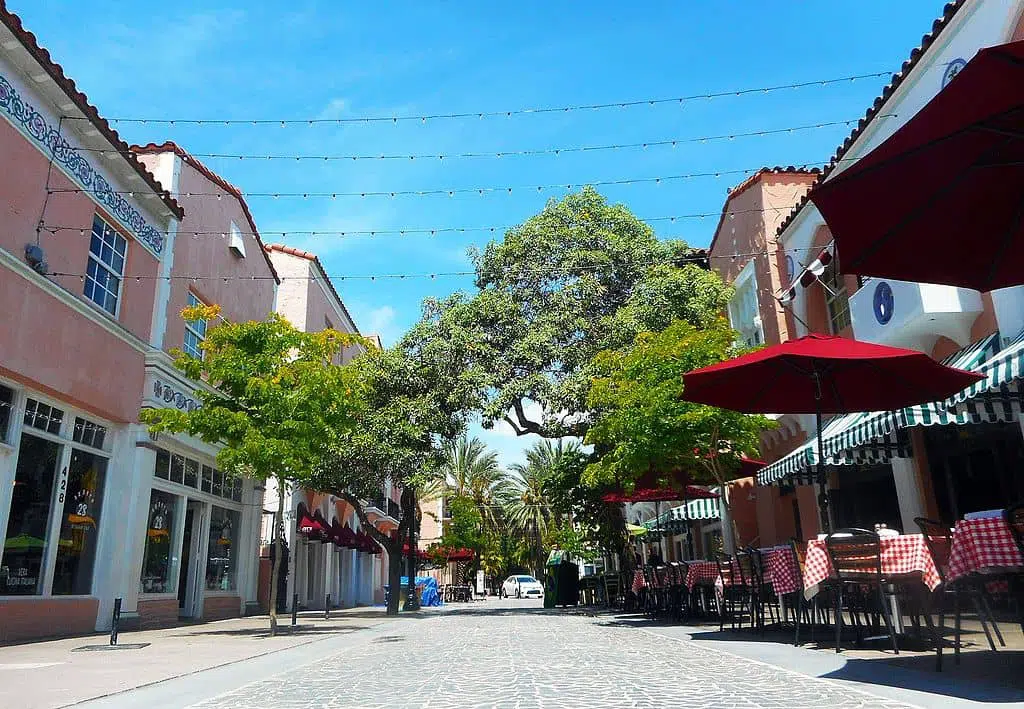 Española Way is a street built in the style of traditional buildings, a clue which is given away by its name.
Walking along the street, you might forget you're in Miami and instead have been transported to the Mediterranean. Such is the character and aesthetic of Española Way.
If you're looking for somewhere to eat in Miami Beach, this is the place to go. The pedestrian-only street is lined with cafes, all with alfresco dining. You'll be able to find something to your liking and bask in the sunshine as you eat your meal.
Even if you're not peckish, it's worth ambling down the street to check out the beautiful buildings.
Miami Itinerary – Day 2
Wynwood Arts District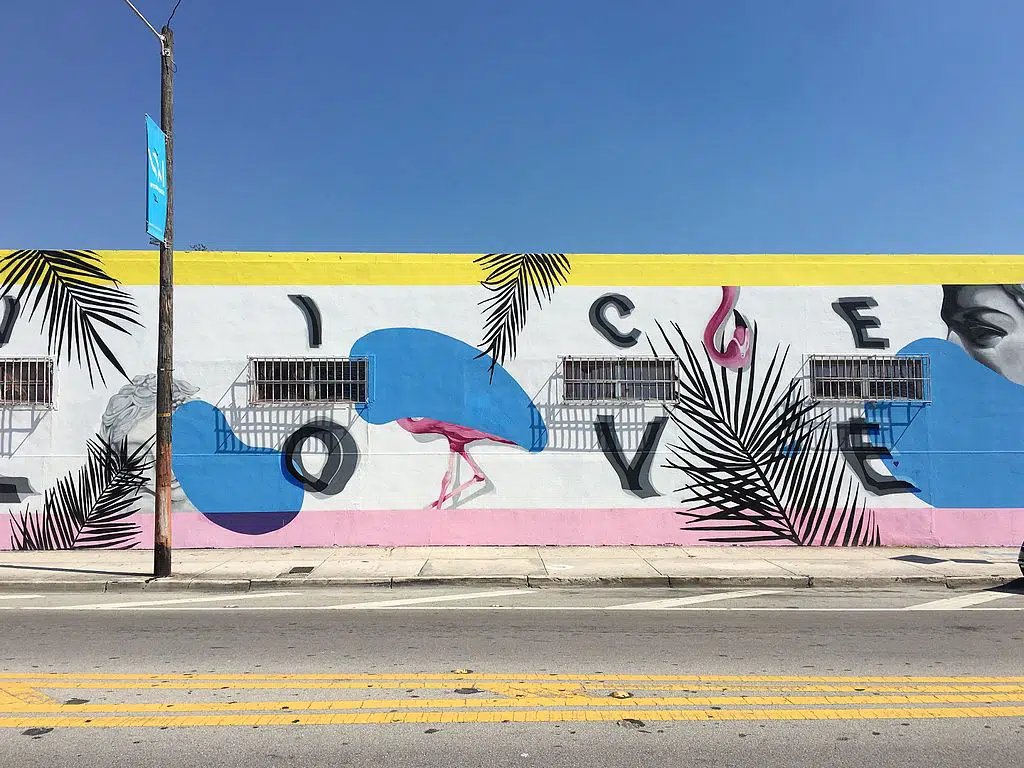 The second day in Miami starts with some cultural activities. Instead of spending the day at the beach, you're heading to the Wynwood Arts District.
What used to be an industrial district has since been turned into one of the trendiest neighbourhoods in Miami. You'll find an array of street art, boutiques and much more in this bustling part of the city.
One area you have to check out is Wynwood Walls, which is a collection of street art that has made the area famous. Set in a park, some of these commissioned pieces are incredible! You could spend hours here appreciating all the different works.
If you to see the area from a different perspective, learn about its history and the murals, then you can book a tour that will tell you all of this and more.
Little Havana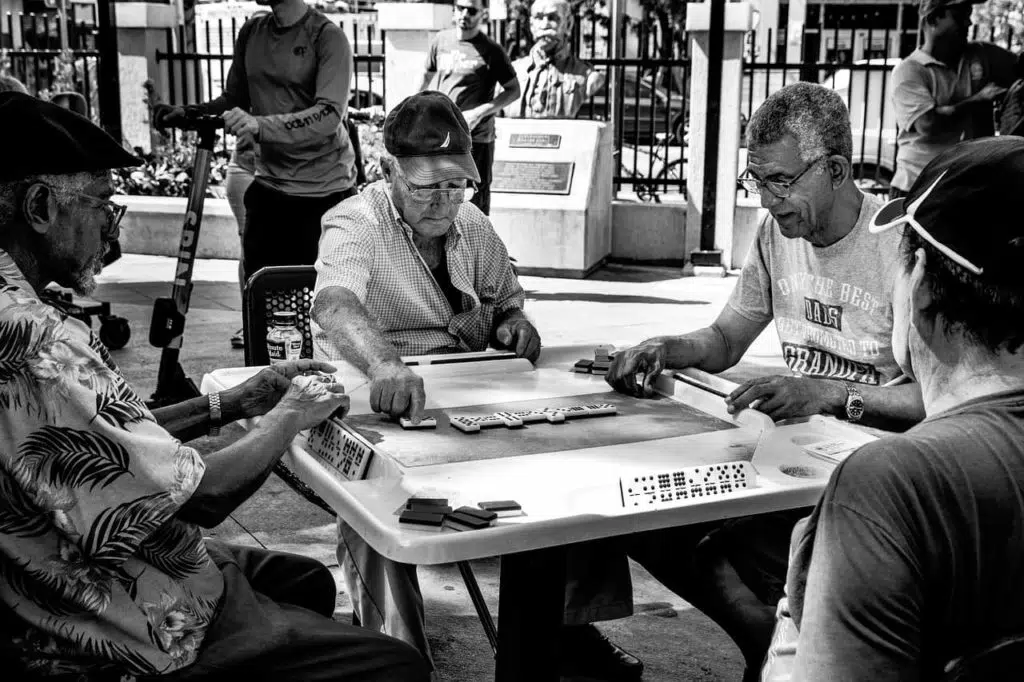 The next stop is Little Havana, which has a heavy Cuban influence as you may have guessed from the name.
Calle Ocho is the main hub of Little Havana and it's here that you'll find all sorts of things going on. From music to food and drink, this street is the life and soul of the area. When you visit, you'll realise why some of the best Florida quotes originate from spending time in Miami!
Maximo Gomez Park (aka. Domino Park) is another part of Little Havana you have to check out. It's tradition for the older residents of the area to come here and play dominoes with each other, often with a cigar in hand.
Visiting is a cultural experience you won't forget and a positive example of travelling changing your perspectives by appreciating different cultures!
If you want to see all of Little Havana and understand more of its history and underlying culture, booking a tour is a good idea. This way, you'll be taken to all the spots in the area and the tour guides can fill in any gaps in your knowledge as you explore the area.
Vizcaya Museum and Gardens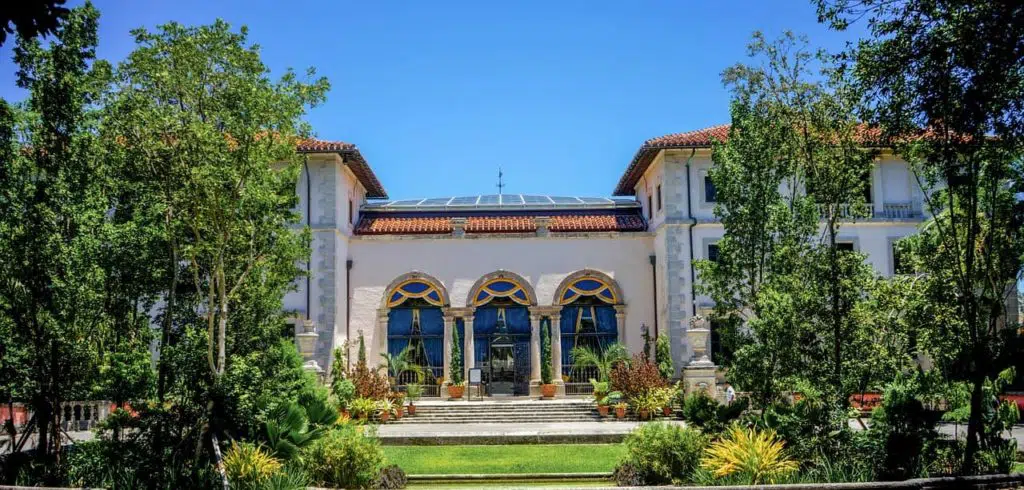 The Vizcaya Museum and Gardens is only a short walk from Little Havana and is a great place to finish off your second day in Miami.
The museum was formerly the estate of businessman James Deering. The estate was acquired by the Miami-Dade Council in 1952 and has been a museum ever since. On the 50-acre estate, you'll find the museum, gardens and what remains of the native forest.
Inside the museum, you'll find more than seventy rooms that have distinctive architectural features. Many of the rooms feature pieces of 19th-century European art and numerous antiques. The garden is spectacular and well worth walking around to see all the different flowers, plants and decorations.
Vizcaya Museum and Gardens is open to the public from Thursday to Monday from 9:30 am to 4:30 pm. It's closed on Tuesdays, Wednesdays, Thanksgiving and Christmas Day. You'll need a ticket to enter which costs $22 for those aged 13 and over, $10 for children aged 6 to 12, and free for children younger than 5.
Miami Itinerary – Day 3
The third day in Miami sees you do something different. You can stay in the city if you wish, but with some top-class attractions nearby such as the Everglades and Key West.
If you're planning a trip to Miami, I've listed two places you can visit on a day trip and one place you can visit before or after that you shouldn't miss!
Everglades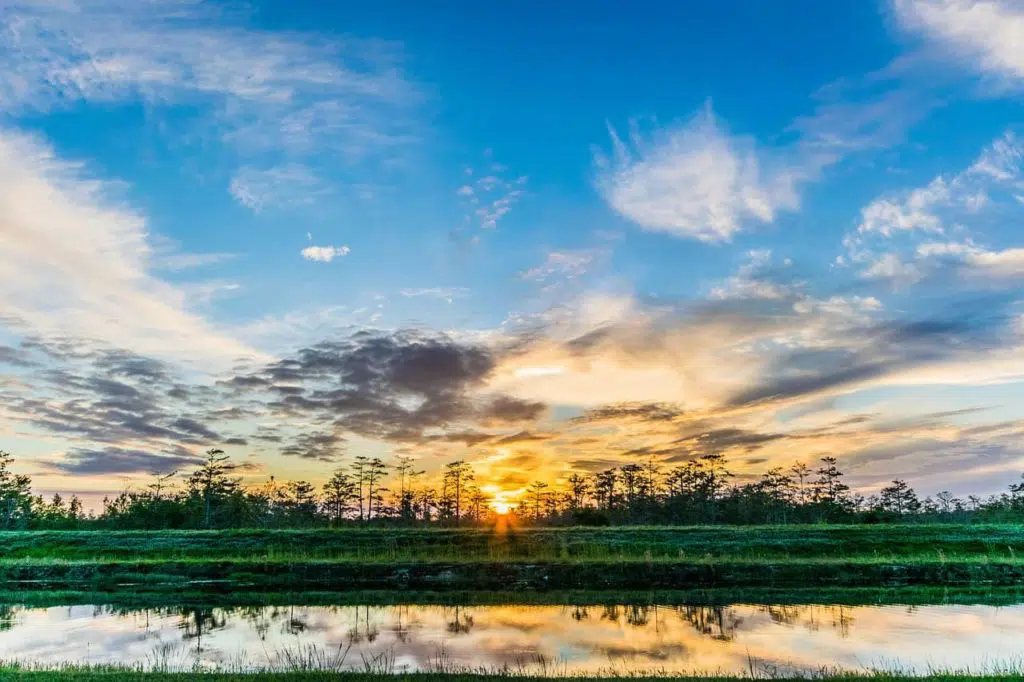 The Everglades National Park is one of the most well-recognised places in Florida and perhaps the whole of America. What's great is that it's only a short drive from Miami, so you can easily visit while you're there.
It takes just over an hour to get to the Everglades from Miami, but you can make this easier by booking a half-day tour. You get picked up and dropped off in Miami ad get to spend 2 hours on an airboat gliding around the Everglades.
This is the best way to see the Everglades, as you'll get to see a wide variety of wildlife such as alligators, turtles, manatees and more in their natural habitat.
You also get to experience a wildlife show where you can see some of these animals up close. Although in the case of the alligators I wouldn't get too close!
Key Biscayne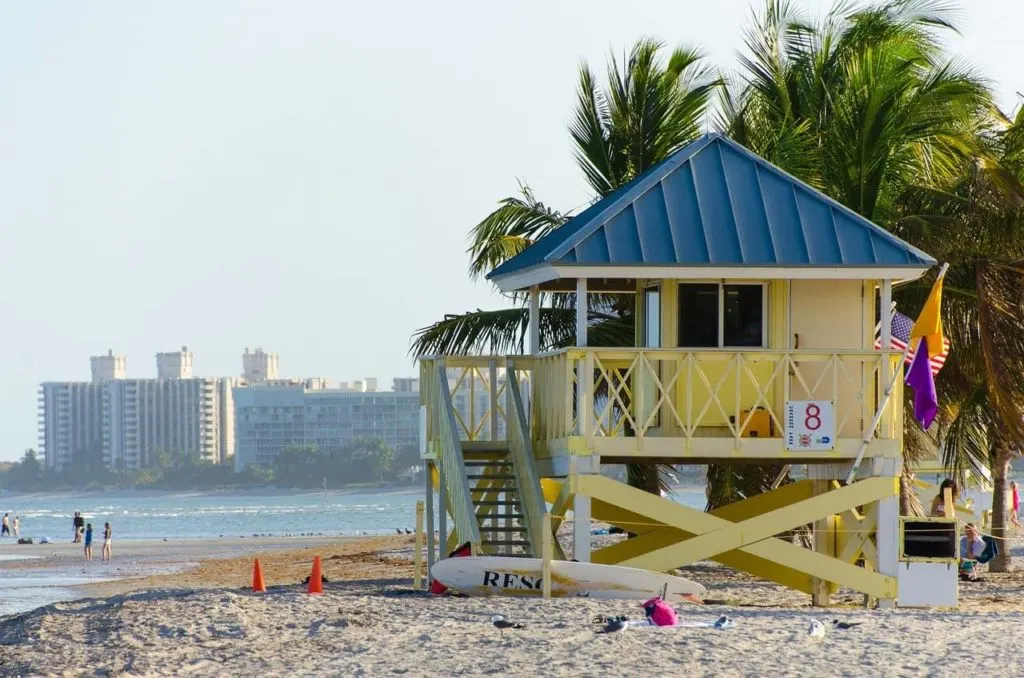 This option isn't as far as travelling to the Everglades, but it's just as impressive in its own regard.
Key Biscayne is an island just off the mainland from Miami. If you have a car you can get there via the Rickenbacker Causeway from Downtown Miami. Otherwise, you'll need to take a taxi or hop on the 102 bus.
Once you're there, you'll be able to explore this beautiful island which used to be a coconut plantation. It's a really beautiful spot and the range of activities you can do such as cycling, kayaking and swimming make it a great destination.
If you can't get to the Everglades, then cycling around the incredible Bill Baggs Cape Florida State Park is a good alternative.
Coral Gables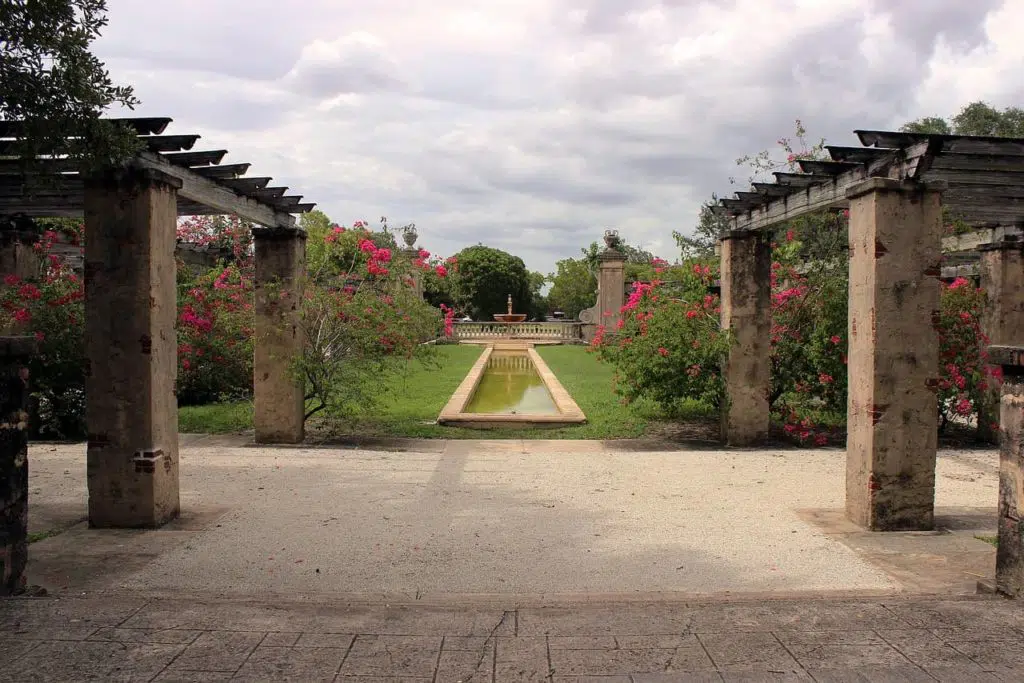 The third option is to visit one of the most beautiful parts of America, Coral Gables. The buildings in the area were inspired by the Mediterranean and you'll find terracotta houses, tree-lined avenues and beautiful homes in this part of the city.
This is a really chill part of the city and is a stark contrast to the more hedonistic South Beach. If you want to spend the last of your 3 days in Miami in relative calm, Coral Gables may be the place to visit.
If you do decide to visit the area, one place you should check out is the Venetian Pool. It's a natural public swimming pool dating back to the 1920s. Incredibly, it used to be a rock quarry, which is hard to square with how stunning it is today. Visiting as a non-resident will cost you $13 per adult and $8 per child.
Another place to visit is Matheson Hammock Park, which has a fantastic beach. It's a manmade beach but you can go kayaking, paddleboarding and hiking along the trails in the nearby woodlands.
Other Places to Visit in Miami
Jet ski city tour – If you want to see Miami from a different point of view and have some fun while doing so, this jet ski tour is a great activity to do. You'll get to whizz along the coastline and see the city from the water while having lots of fun at the same time. Click here to book your tour!
Miami Skyviews Observation Wheel – If you want to get a view of Miami from up on high, then going on the observation wheel is one of the best ways to do that. You'll get some fantastic views of the city and the coastline from the wheel! Click here to book your ticket!
Key West Day Trip – If you want to go further afield from Miami, then a trip to Key West is a good idea. This full-day trip will take you to one of the most beautiful parts of Florida where you can do a range of activities such as snorkelling or parasailing. Click here to book your day trip!
Check out some more great activities you can do during your trip to Miami!
Miami Travel Tips
Where to stay in Miami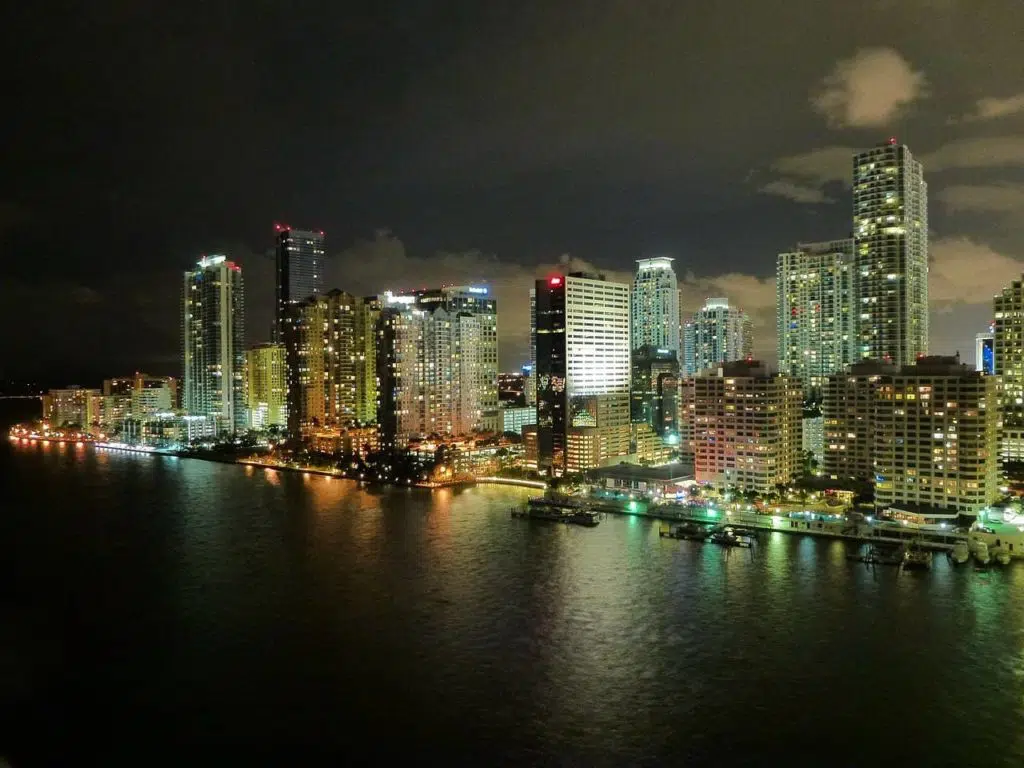 The good thing about visiting Miami is that you'll have a wealth of places to stay. Whether you're looking for a cheap hostel, a luxury hotel or a rental apartment, you'll be able to find somewhere to meet your needs.
One of the most popular places to stay in Miami is by the beach, which is understandable. But you might have to pay extra if you do, as opposed to somewhere not as close to the shore.
This is what you should consider when planning your 3-day itinerary of Miami. Do you want to be close to the action and pay more, or are you happy to be further away and save some money?
The answer will come down to your budget in the end. But, it's certainly more fun to stay close to the beach if you can.
Below are a few of my recommendations about where to stay in Miami.
| Accommodation | Description | Link |
| --- | --- | --- |
| Selina Miami River | A hostel in East Little Havana set in 1920 bungalows. Weekly events are held here such as yoga and BBQs. | Book Now |
| Viajero Miami | A boutique hostel located in the Art Deco part of South Beach. Clean and comfortable rooms and a good social vibe at the hostel. | Book Now |
| Generator Miami | Generator has a pool, bar and its own restaurant. Located in the heart of Miami Beach, the rooms are modern, clean and comfortable. | Book Now |
Safety in Miami
On the whole, it is. Crime is an issue in the city but you're unlikely to experience it in tourist areas. If you do, it's likely to be a form of petty crime such as pickpocketing.
Where you might get into trouble in Miami is if you venture off the beaten track. Some areas such as Brickell can be troublesome, so avoid them. While you should stick to well-lit areas and avoid the beach at night.
If you follow this advice and apply most of the precautions you'd use in any other destination, you'll be fine.
Cost of travel in Miami
As one of the most popular destinations in the USA, it's no surprise that Miami isn't the cheapest place to visit. Even if you only spend 3 days in Miami, you should be prepared for high prices on most things.
You're going to pay a lot if you're eating out and even more if you sample Miami's nightlife. Then, you have to add in the costs of activities you end up doing and transportation to get around the city.
If you don't set a budget, you could find yourself out of pocket quickly. My advice is to have a limit on what you want to spend unless you have enough money to spend freely. Set aside an amount to splurge on activities or goodies, but stick to your budget for food and drink etc.
This way you end up with a big bill at the end of your trip to Miami! If you're wondering how much money you'll need per day in Miami, it's around $165 a day.
Below is a rough guide to prices for accommodation, eating out and transport in Miami.
They don't include prices for extras such as nights out at a bar/pub, club entry fees, souvenirs/clothing purchases, or tours. etc. You will have to budget extra for these purchases as they are 'non-essential!'

Accommodation
Hostel: Dorm – $25-40; Private – $60-80
Hotels: $80-150
Rental Apartment: $60-90

Food and Drink
Breakfast: $5-9
Dinner: $50-75
Takeaway meal: $8-10
Beer at a bar: $6-8

Transport
City Metro / Bus: $2.25
Day card: €5.65
Bike rental at Miami Beach: $8 (per hour)
Taxi from airport to Miami Beach: $32-43
Best Time to Visit Miami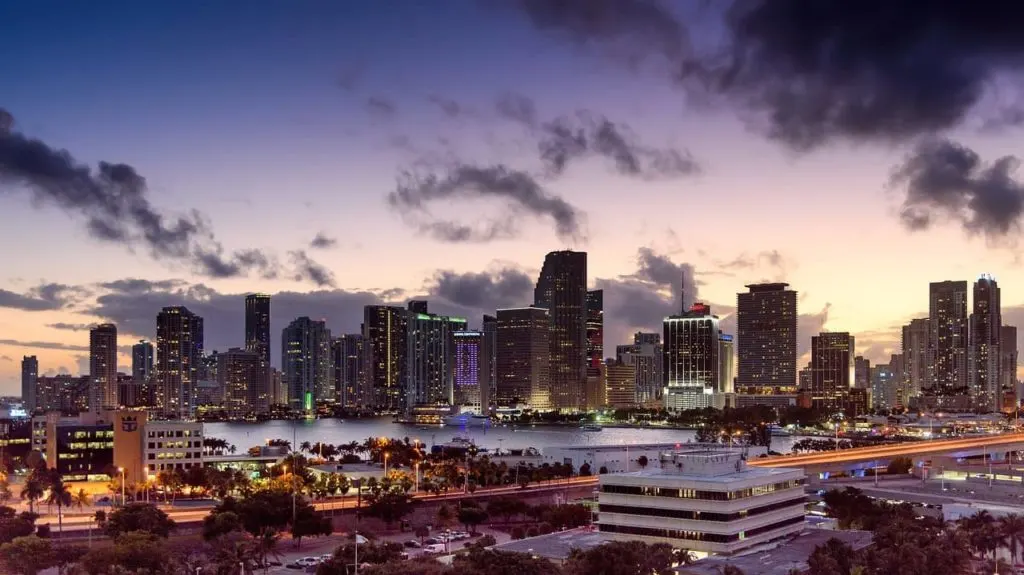 The best time to visit Miami is in the spring from mid-February to May. This is when the weather is nice but not too hot like in the summer. Nor has hurricane season started, which is usually from June through to the end of November.
You can visit during winter too, but the weather will be colder. It won't be freezing cold because this is Florida, but it will be noticeably colder than the rest of the year.
While you might think Miami would be quieter during winter, that's not the case. This is high season. While the city might ramp up towards Christmas and New Year, you'll still need to plan ahead before you visit as this time of the year is busy.
Miami in Spring
Spring is the best time to visit Miami. You don't have the humidity you get in the summer and the temperatures aren't as warm either. The one downside to visiting during this time of the year is spring break. But if you plan your trip to avoid this, Miami in spring is amazing!
Average temperatures from low to high: 18.7° – 30.4° C / 65.6° – 86.7° F
Miami in Summer
Miami in summer is hot, very hot. Temperatures regularly go over the 90s and humidity levels are much higher than at any point during the year. Still, this is a great time to visit the beaches in Miami. But ensure you pack sunscreen and mosquito repellent. You'll need both!
Average temperatures from low to high: 24.6° – 32.6.7° C / 76.3° – 90.7° F
Miami in Fall
If you can't visit Miami during spring or summer, fall is still a good time to visit Miami. The temperatures hover around the mid-80s, while the humidity levels are back at more manageable levels. The only downside is hurricane season, which can have a huge impact on the quality of your trip.
Average temperatures from low to high: 20.2° – 31.7° C / 68.3° – 89° F
Miami in Winter
Winter is the high season in Miami. With the majority of America experiencing freezing weather, Miami is a great place to escape the harsh weather. Temperatures are colder than the rest of the year in the 70s, but this is much warmer than the majority of the country.
Average temperatures from low to high: 16.1° – 25.7° C / 61° – 78.2° F
How to Get Around Miami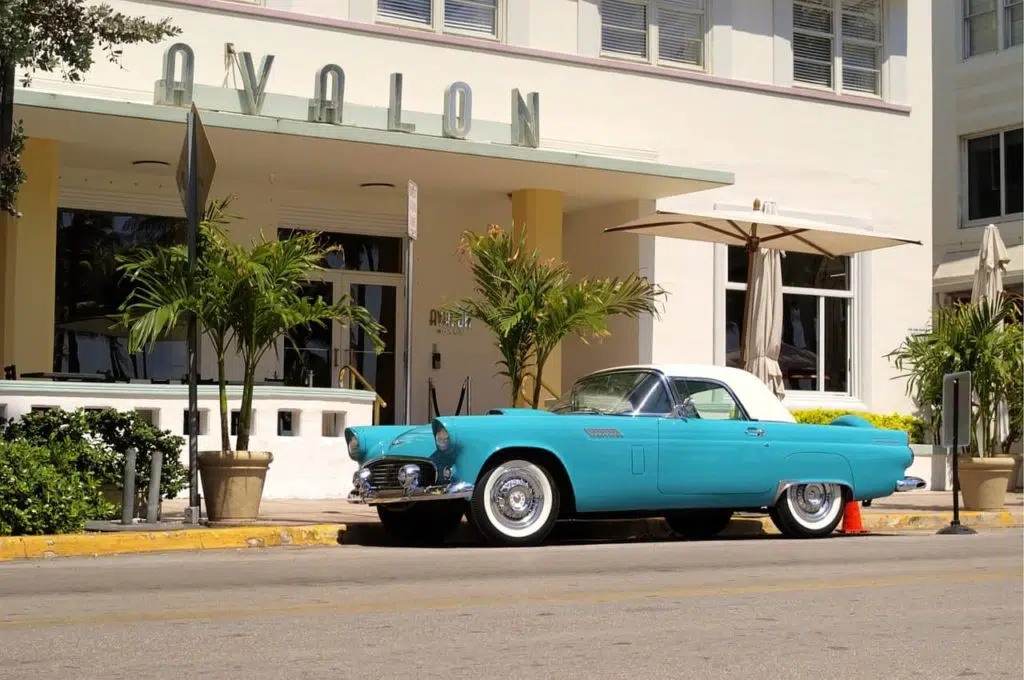 Getting around Miami without a car isn't the easiest thing to do. This is a feature of American cities, where the car is King as opposed to the pedestrian. while you can walk around the city, it will take you a long time if you do.
As the 7th largest city in the US, this shouldn't come as a surprise. However, its size is also a plus as that means there are multiple options on how to get around. Renting a car is probably the best option.
My advice is to rent a car from Rentalcars.com, as they go through all the suppliers and find the cheapest prices. If you're flying into Miami, you can pick your car up at the airport and you're good to go!
A free option is to make use of the hop-on hop-off trolley. While they only operate in the downtown area and Miami Beach, they're the best way to get to and from places in these areas.
You can use public transport, but it's not the best system in Miami. You can purchase a day ticket, or a 3 to 5-day ticket when you arrive and use the bus to get from place to place. This will save you money, but you're reliant on the efficiency of the network which can be lacking at times.
Another option is to use a taxi or an Uber to get around. This is a good option if you don't have a car and you want to get to areas outside of Miami Beach and downtown. But it can be costly. I'd only use them if absolutely necessary. If you plan on using them a lot, it will be much more cost-effective to rent a car instead.
If you're still wondering how to get around Miami or to and from the city, then you can use Wanderu to help you. It's a travel search platform that helps you find the best prices on bus and train tickets in Miami and across North America.
Is 3 Days in Miami Enough?
3 days in Miami is long enough to enjoy this fascinating city. It gives you enough time to check out the beaches, the downtown area and cultural sights such as Vizcaya Museum.
If you can stay for longer, you'll be able to see more, but you won't miss out if you stay for 3 days.
Have you visited Miami? Did you some of the things on my itinerary? What's your favourite place in the city? Leave me a comment below, I'd love to hear your thoughts!
Need Travel Insurance?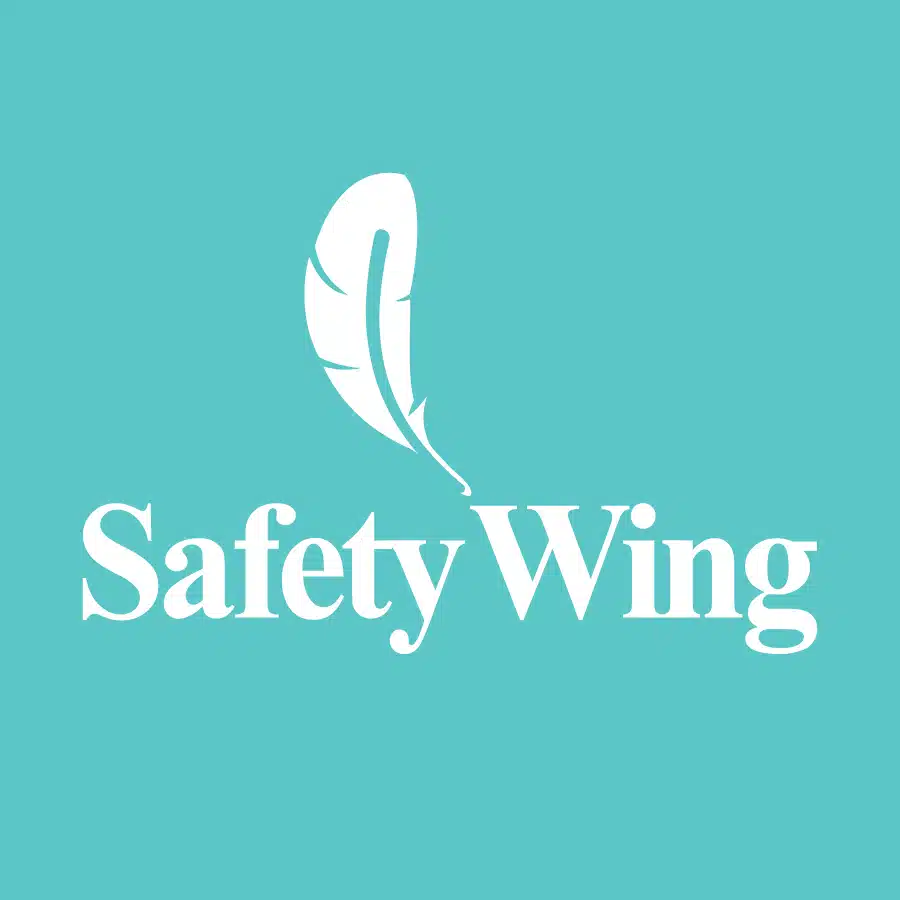 SafetyWing offers coverage that will give you peace of mind while you're on the road. If you want to protect yourself while you're on the road, then click the image to take a look at the options available to you.
Tom is a travel addict who first left England to spend a year Down Under. Not satisfied with this, he then went to New Zealand, about as far away from home as he could get. He is now planning his next adventures in Europe and Canada while maintaining this blog. Check out the about me page to learn more!