3 days in Hamburg is a good amount of time to see this interesting city in the north of Germany. It's a fascinating place to visit and you won't be short of things to do while you're there.
You can check out the cool Reeperbahn, where The Beatles played on an almost nightly basis before they made it big! Head to Speicherstadt to check out the famous red-brick warehouses and canals. Plus, you can check out the amazing Elbphilarmonie at the waterside.
This Hamburg itinerary will let you know the best places to visit in the city, where you should stay, the best places to eat and much more!
Hamburg is somewhere you have to visit while backpacking in Germany, and whether you're there for 3 days or more, you'll have a great time!
Disclosure: This article may contain affiliate/compensated links. For full information, please see our full disclosure policy.
How to Spend 3 Days in Hamburg
Quick 3 Days in Hamburg Itinerary
Day 1 – Walk around Hamburg, Speicherstadt, Elbphilharmonie
Day 2 – Planten un Blomen, Reeperbahn, FC St Pauli
Day 3 – Church of St Nicholas, Hamburger Dom, Hamburg Port Tour
My Experience in Hamburg
Hamburg is a city that has interested me for some time. I've wanted to visit to learn more about The Beatles' time there and to see the red brick warehouses near the waterfront.
It was great to get a chance to visit the city and have a look around. What struck me the most about Hamburg is that it's a mixture of places.
You have the centre which is pleasant and full of nice buildings, while the waterfront is very different as is St Pauli, which is home to the Reeperbahn.
Hamburg is a big city, but there is a lot rolled into it. You won't be able to do justice to the city over a day or two, you need three to get a feel for the place.
It's a very lively city, even more so if you head to the Pauli district. This is great if you like nightlife because there is a lot of it here. You'll also find some of the best cafes in Hamburg, so it's a good place to go if you're looking for lunch.
However, if you want a more cultural trip you can do that too. The remains of the old cathedral, which was a victim of Allied bombings in the Second World War are in the centre of the city, while you can check out the impressive Elbphilharmonie by the waterfront.
Hamburg is an interesting city and is a great place to visit if you're looking to get away for a few days in Europe! You will have a lot of fun and see some great sights in Germany's second-largest city!
Some of The Best Things To Do in Hamburg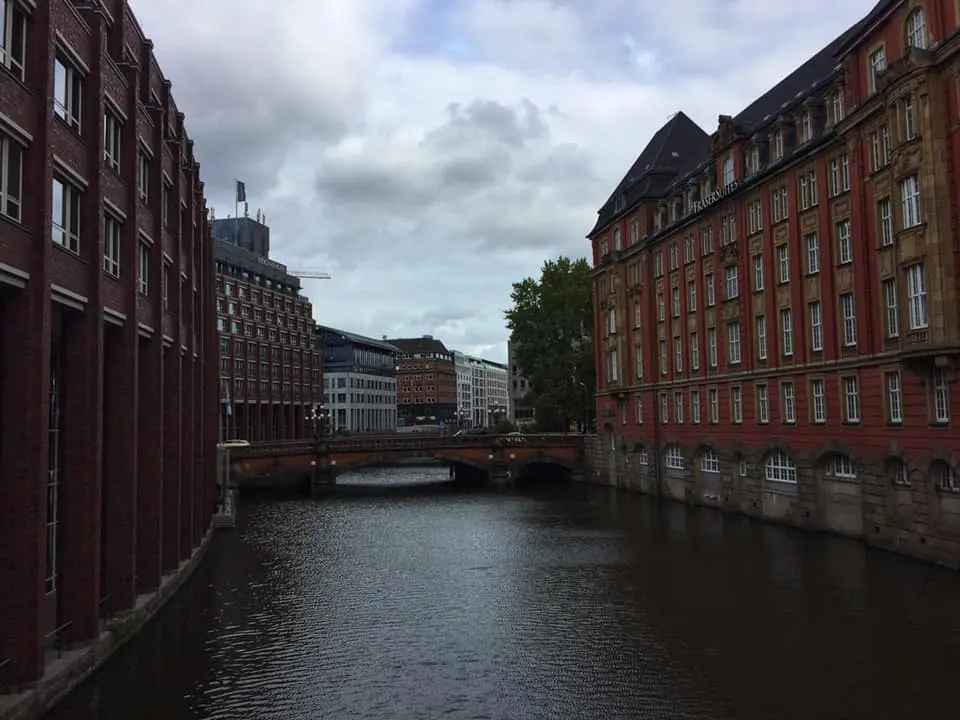 3 days in Hamburg should give you enough time to see everything the city has to offer. If you can stay an extra day then do it. Otherwise, 3 days should suffice.
One of the things I would recommend getting is a Hamburg Card.
The card gives you free access to a number of the top attractions in Hamburg. It also provides you with free public transport for the entire inner-city area.
The pass will make your time in Hamburg easier and cheaper!
Below are some of the best things to see in Hamburg in 3 days that you should do during your visit.
Elbphilarmonie
If you love stunning architecture, then the Elbphilharmonie is a place you want to check out.
As the name suggests, it's a concert hall and is one of the newest buildings in Hamburg, only opening in 2017. At over 100 metres high, it's an impressive building and one you have to visit!
If you're a fan of concerts, then the Elbphilharmonie will be high on your list of places to visit in Hamburg anyway. Even if you don't like concerts, it's worth booking a tour to take a peek inside.
It's an interesting building with 26 floors and three concert venues. Taking a tour around the building will allow you to learn more about it. You can head to the Plaza on the 8th floor and check out the observation deck which gives you great views of Hamburg and the Elbe below.
Reeperbahn
Reeperbahn can be found in the St Pauli district of Hamburg which is one of the main entertainment and nightlife districts in Hamburg.
This area of the city is edgy and lively. Graffiti and neon lights are common and it's also home to Hamburg's red-light district. You can find some of the best street art in Hamburg too if you wander off into the rest of the St. Pauli district!
This part of the city is also where The Beatles used to play before they made it big. Three of the clubs they used to perform in are still open, Kaiserkeller/Große Freiheit 36, Indra and Moondoo.
Even if you're not a fan of the fab four, you should still check these places and Repperbahn out.
Speicherstadt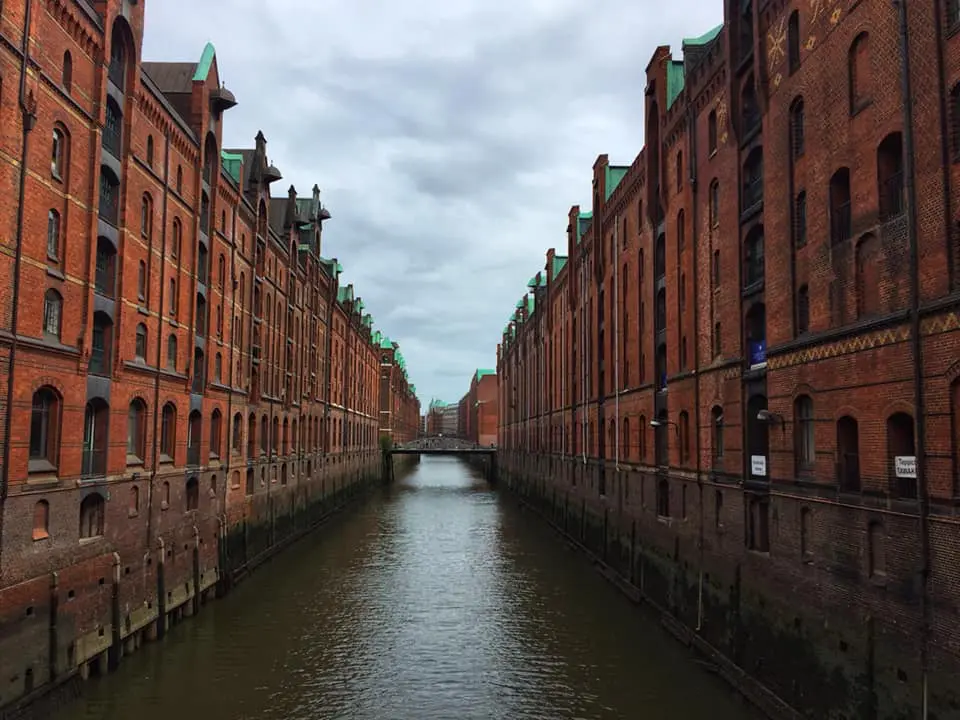 Speicherstadt is one of the most photographed places in Hamburg and the whole of Germany. It is here that you will find the famous red-brick warehouses along the canal in the port of Hamburg.
This is one of the main places to visit in Hamburg. It's somewhere you can't leave Hamburg without seeing. The buildings are beautiful and make for amazing Instagrammable photos.
Speicherstadt is now part of HafenCity, a new waterside quarter built on reclaimed land in the Elbe. The old free port that was a powerhouse of the city back in the 19th century is slowly being regenerated.
It's here that you will find the Elbphilarmonie and much more too!
Hamburg Itinerary – Day 1
Free walking tour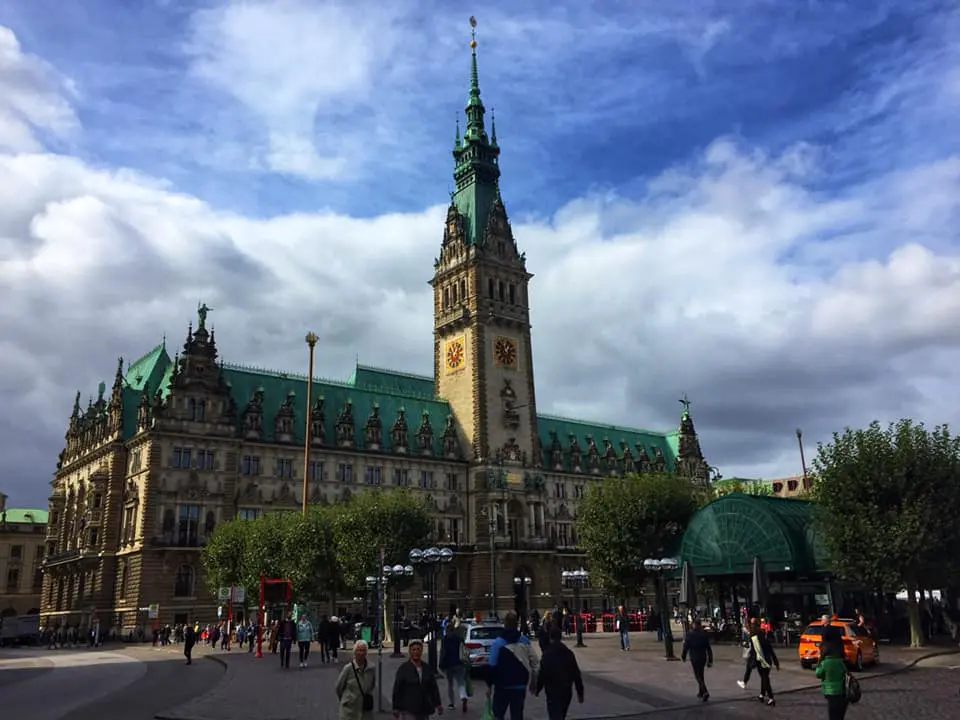 Whenever I get to a new city the first thing I do is go for a walk around. After I've checked in and dropped my bags off of course!
I like to do this because I get a feel for the city and I tend to come across places I wouldn't otherwise find if I stuck to the tourist hotspots.
I realise this method of exploring a city is for everyone, so I recommend you go on a walking tour. This way you get to see the city but learn about it as well.
Speicherstadt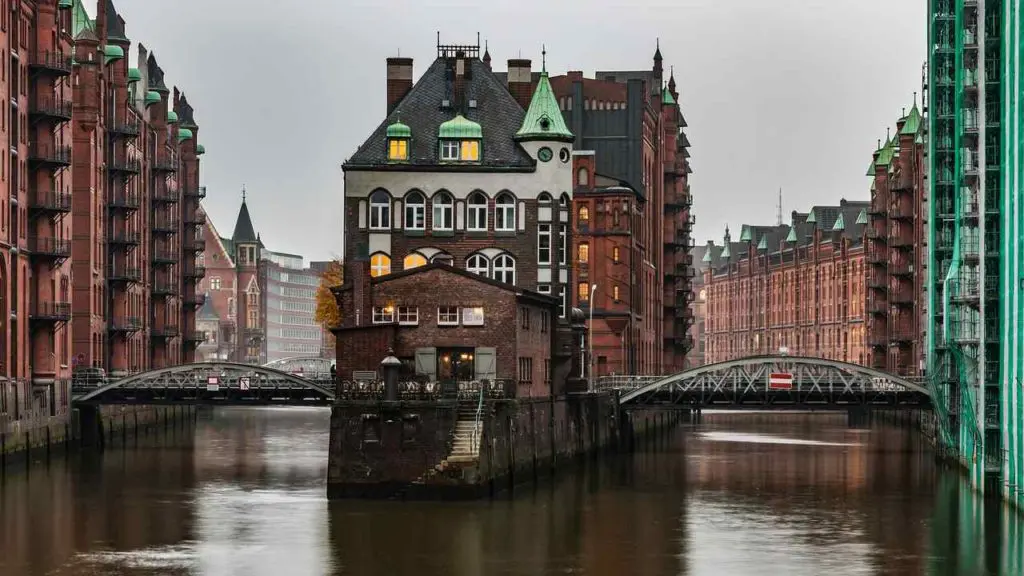 As I mentioned above, Speicherstadt is one of the most interesting and unique places to visit in Hamburg.
The red-brick warehouses are a beautiful sight. They are also unusual pieces of architecture considering the canals that flow below them.
The area is a world heritage site and just walking around and admiring the buildings is one of the best things to do in Hamburg. Even if you're not a huge fan of architecture, you can still appreciate these buildings for their beauty.
Speicherstadt is home to the International Maritime Museum, which is worth checking out to get a better understanding of Hamburg's history and the area itself. You will also find numerous cafes and shops to wander around too!
Elbphilharmonie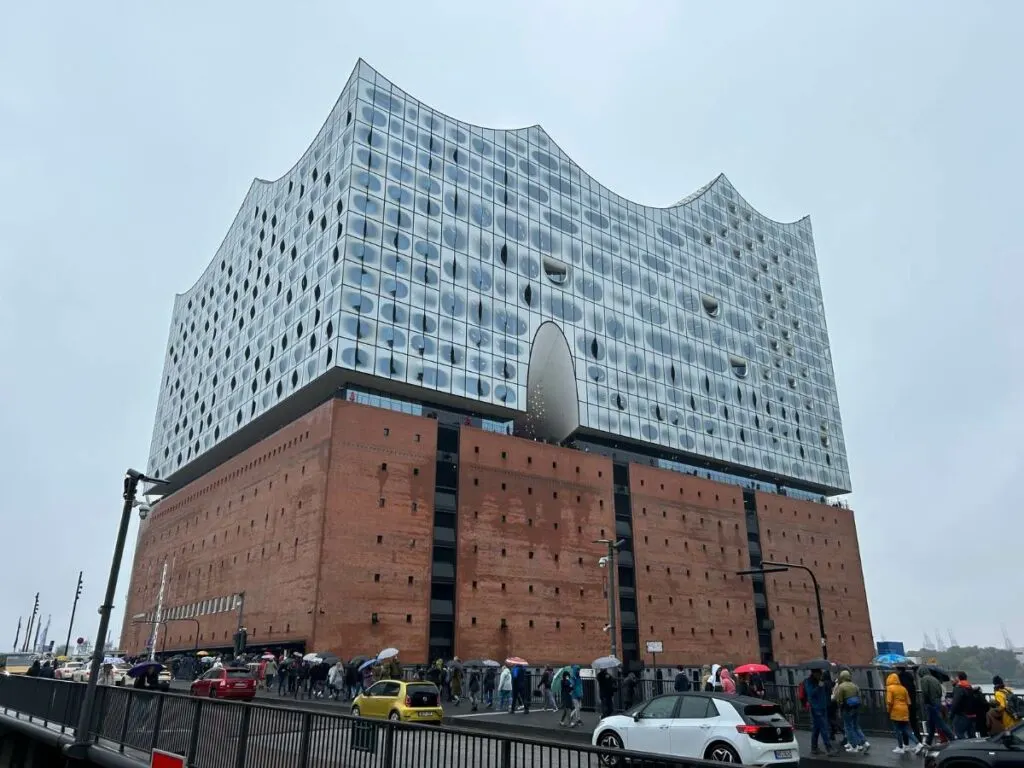 The Elbphilharmonie is located in Speicherstadt and is a natural place to visit once you wandered around the numerous red-brick buildings and canals that make up the area.
The building itself is impressive. It's a beautiful piece of modern architecture. However, there is a lot to do inside as well as admire the outside.
Inside you will find one of the most advanced acoustic buildings in the world. If you're a fan of classical music, then you'll want to hear the Elbphilharmonie orchestra play.
If not, you can still enjoy the building. It's well worth booking a tour to explore and learn more about the building. While you can head to the observation deck on the 8th floor to get a magnificent view of Hamburg!
Hamburg Itinerary – Day 2
Planten un Blomen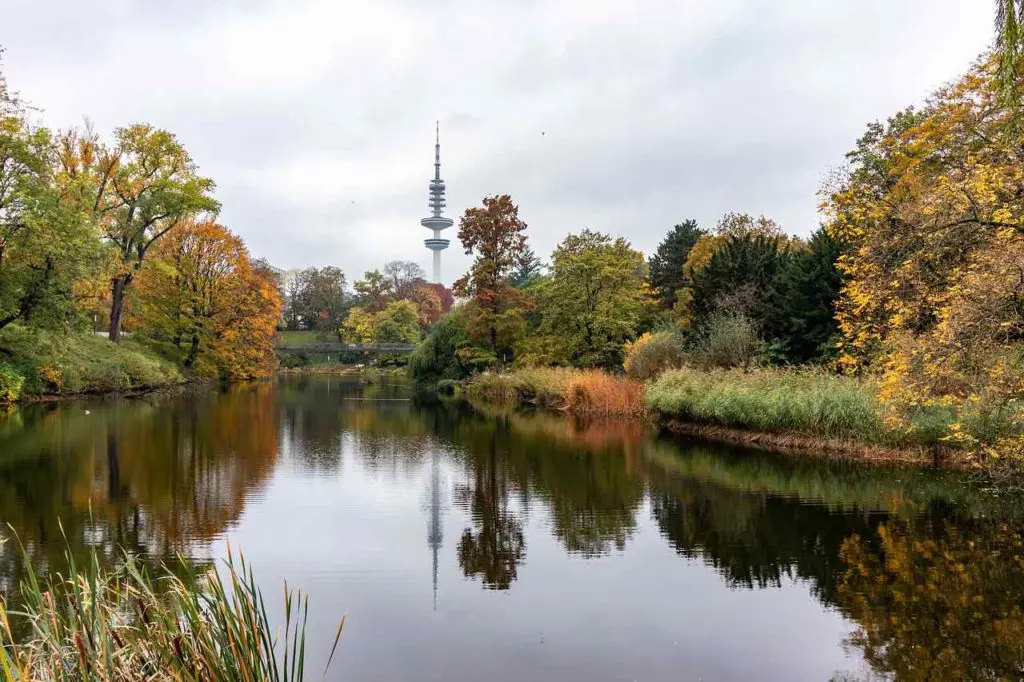 Planten un Blomen is a huge urban park close to the centre of Hamburg. It's the perfect place to visit on a warm day to cool off and relax.
During the summer you will usually find several concerts and performances in the park which you should check out.
You will also find the Old Botanical Gardens which were first planted in 1821. It's a big area and one part of it contains five inter-connected greenhouses that contain a variety of plant life.
Planten un Blomen is a beautiful part of Hamburg and one you shouldn't miss whatever time of the year you visit!
Reeperbahn
Located in the St Pauli district of Hamburg, the Reeperbahn is one of the most diverse and interesting parts of Hamburg. It's home to the city's red-light district and multiple bars and clubs.
As you can imagine, this is one of the liveliest places in Hamburg. If you're looking to go on a night out or have some fun while you're in Hamburg for 3 days, this is the place to go!
It was here that The Beatles played night after night before they became famous, while Mike Tyson and the Klitschko brothers have trained at locations in the district too.
If you want to learn more about the history of the district, my advice is to book a tour which will take you to all the main spots and tell you about the fascinating history of the St Pauli district.
FC St Pauli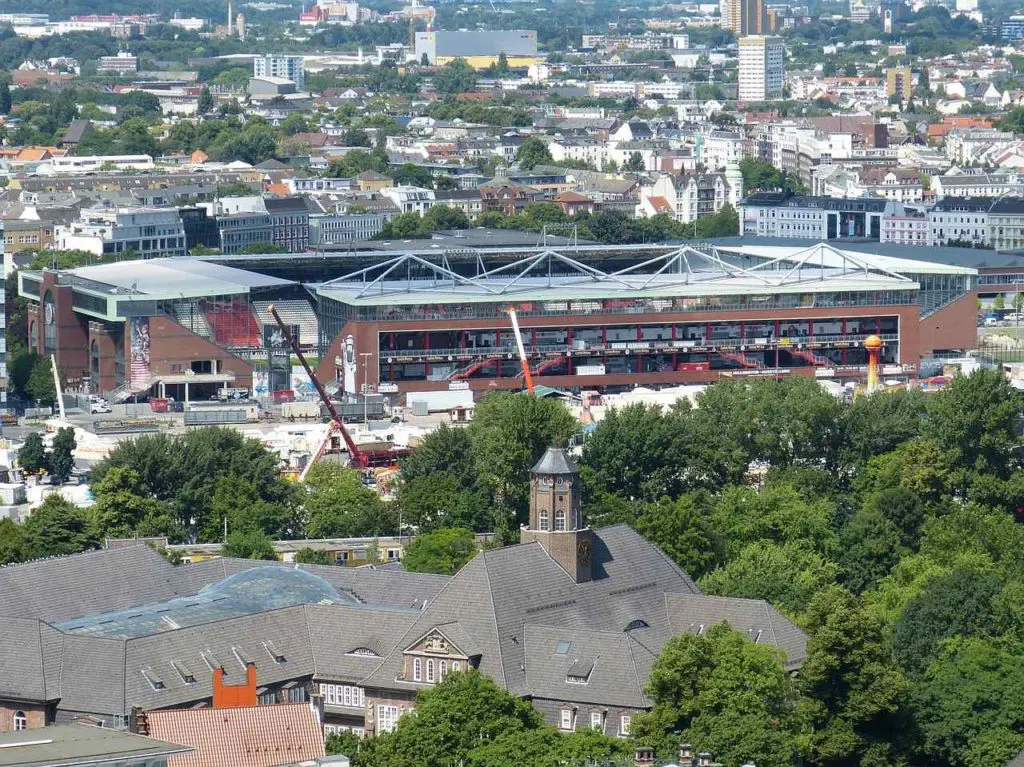 Moving on from the Reeperbahn, a trip to FC St Pauli should be your next port of call. while they are not the biggest club in the city, that honour goes to Hamburg SV, they are a unique football club.
One of the primary logos of the club is a skull and crossbones, which gives you a clue about the mentality of the club!
Even if you don't like football, I recommend you visit the stadium. The club encapsulates the mood of the St Pauli district and is a worldwide symbol for punk culture and its derivatives.
If you're a football fan, try and book your trip so that it coincides with a home game. The experience will be one you won't forget in a hurry!
Hamburg Itinerary – Day 3
Church of St Nicholas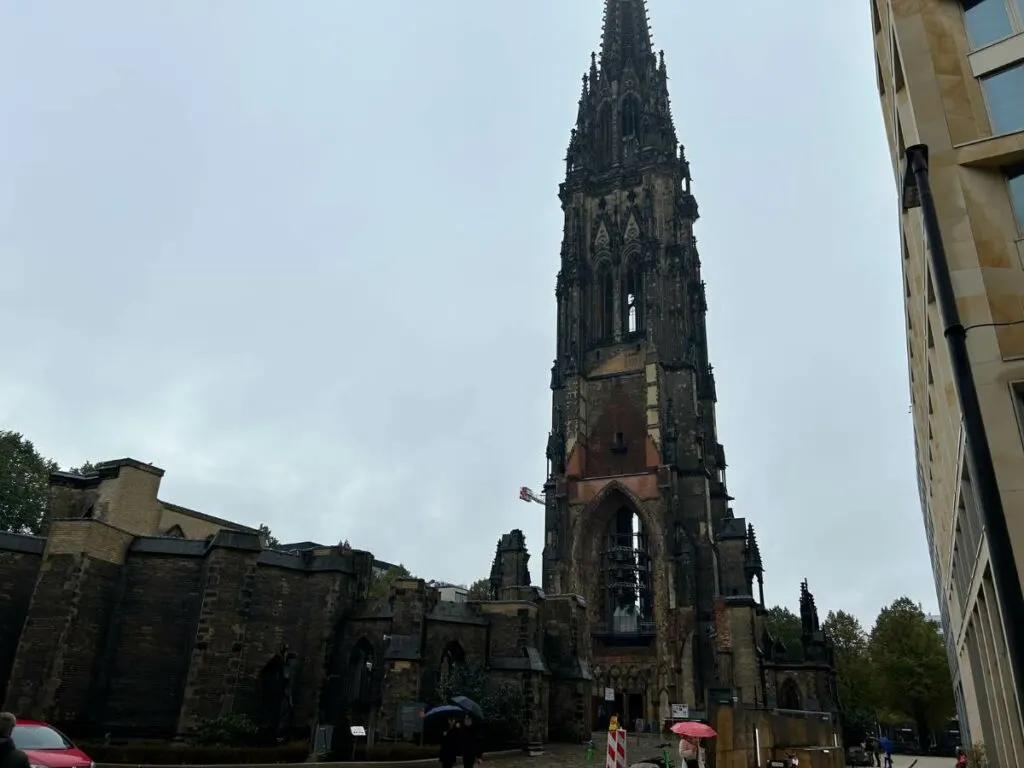 The Church of St Nicholas sits in the centre of Hamburg, but there is one thing that is different about this church. It is in ruins.
The church was destroyed by a fire in 1842 and rebuilt by 1874 and was the tallest building in the world from 1874 to 1876.
The cathedral was destroyed once again during the bombing of Hamburg in the Second World War and has not been rebuilt. All that remains of the church is the crypt, the site and the huge tower that remained standing.
It's an interesting place to visit as you can observe the damage that was done by the bombings.
The tower is very impressive and you can go up an elevator to get to the top of a 75.3-metre-high (247 ft) platform for a great view of the city.
Hamburger Dom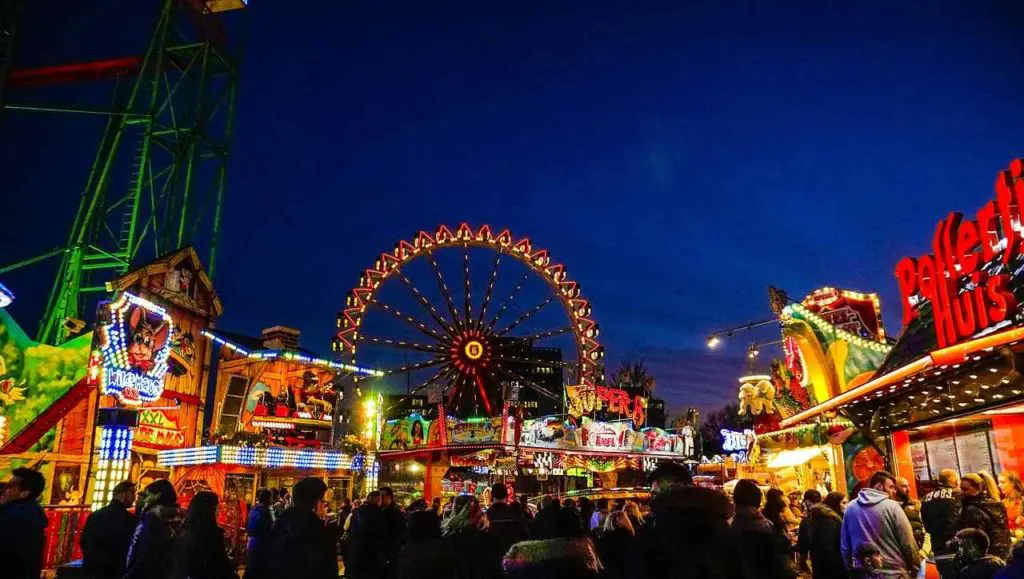 Hamburger Dom is a large fair that is held three times a year in central Hamburg. It is the biggest fair held in Germany and attracts millions of visitors every year.
Visiting the fair is dependent on you being in Hamburg when it is held. The three events are held during the spring, summer and winter.
The fair is a lot of fun and it may be worth scheduling your trip to Hamburg to coincide with it. The Germans know how to throw a party, so fun is guaranteed!
If the fair is not your thing, then there are plenty of other things to do in Hamburg, just check the list in the section below!
Hamburg Port Tour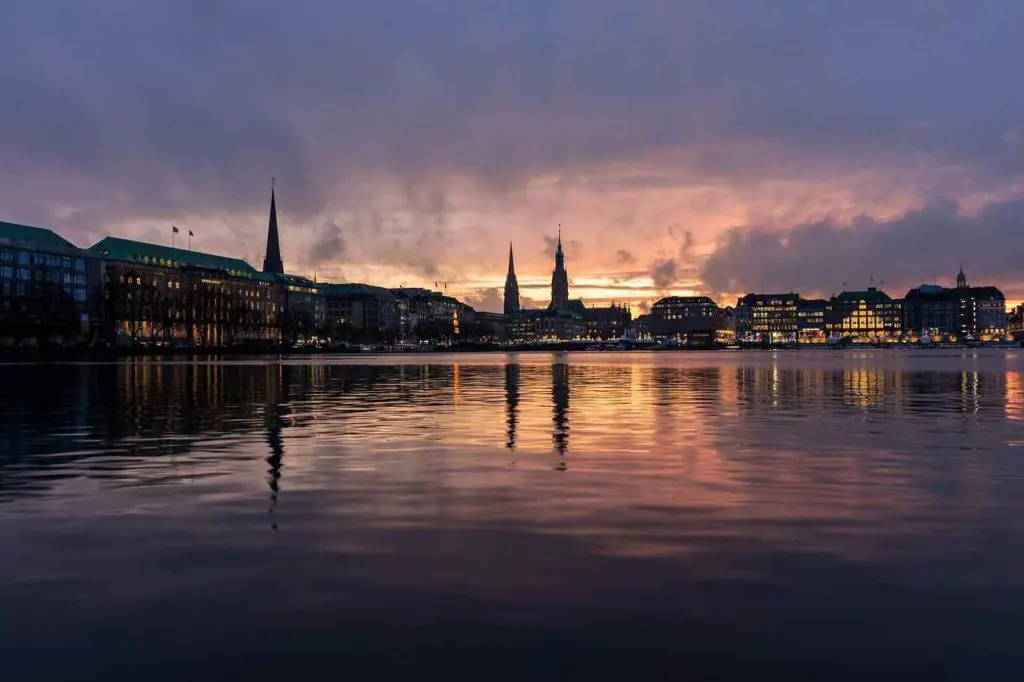 Hamburg is famous for its port, so why not hop on a boat and go for a tour around the city's waterfront?
It's a great way to see the city and it will give you a different perspective from the water. The Elbphilharmonie, in particular, looks impressive from the water.
The amazing thing about the Port of Hamburg is that it is the size of Cologne! If you have had the chance to visit Cologne, you will know that Cologne is a large city so this tells you how big the port is!
Booking a tour is the best way to experience the port and find out the history of Hamburg and how it is tied to the sea.
Other Places to Visit in Hamburg
Beatles Tour – The Beatles spent a lot of time in Hamburg before they became famous. This is where they honed their sound along with many other famous artists such as Eric Clapton, Jimi Hendrix and Ray Charles. If you're a fan of The Beatles, this is the tour for you to learn more about their time in Hamburg. Click here to book your tour!
Miniatur Wonderland – If you're visiting Hamburg with your family or want to see a unique tourist attraction, Miniatur Wonderland is the place to go. Inside you will find the world's largest model railway in a variety of landscapes such as Switzerland and the Las Vegas strip!
Click below to discover all the tours and activities you can do during your trip to Hamburg:
Hamburg Travel Tips
Where to Stay in Hamburg
As one of the biggest cities in Germany, there is no shortage of places to stay in Hamburg. From budget accommodation to expensive hotels, there is a range of accommodation to suit every type of traveller.
A decision you'll have to make before you arrive is whether you want to stay in the middle of the city or further out. If you're further out, you will need to use public transport to get into the city. Whereas, if you're in the city, you won't need to, but you will pay more to stay there.
I've included it and several hostels you should consider staying at during your trip to Hamburg in the table below.
Cost of Travel in Hamburg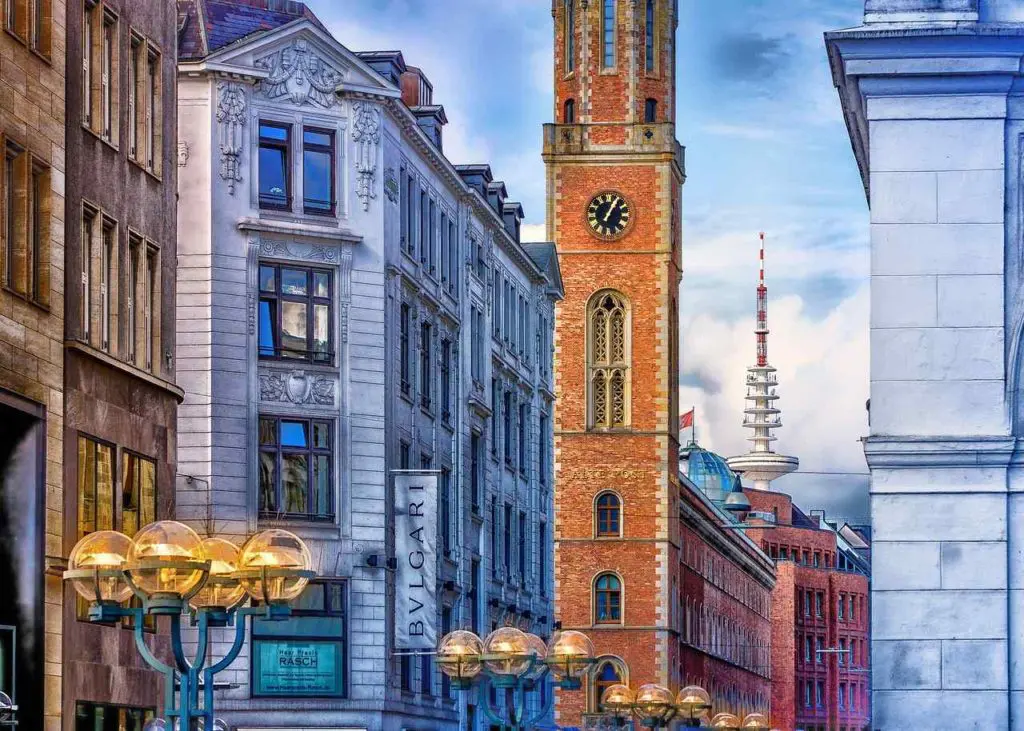 One of the best things about visiting Hamburg is that it's not the most expensive city. Compared to spending time in Berlin, it's a cheaper place to visit!
With that said, Hamburg does skew towards the expensive side, but that is the case in Germany as a whole. However, if you're smart, you can enjoy your trip and not be out of pocket at the end of it!
The following prices are for the average travel budget. That is someone who is not going to splurge, but someone who will not be travelling on an ultra-frugal budget either. Eating doesn't cost a lot in Hamburg, so you can indulge yourself if you want. You'll find plenty of different options, there are many vegan restaurants in Hamburg and the city has a range of cuisines to choose from!
They don't include prices for extras such as nights out at a bar/pub, club entry fees, souvenirs/clothing purchases, or tours. etc. You will have to budget extra for these purchases as they are 'non-essential!'
Here's a rough breakdown of essential travel costs in Hamburg:

Accommodation
Hostel: Dorm – €21-40; Private – €55-80
Hotels: €60-150
Rental Apartment: €50-90

Food and Drink
Breakfast: Free-€4
Dinner: €6-12
Takeaway meal: €2.50-4+
Pint of beer: €3-3.50

Transport
City Metro / Bus: €3.30
Day ticket: €7.70
1-week pass: €13.40
Best Time to Visit Hamburg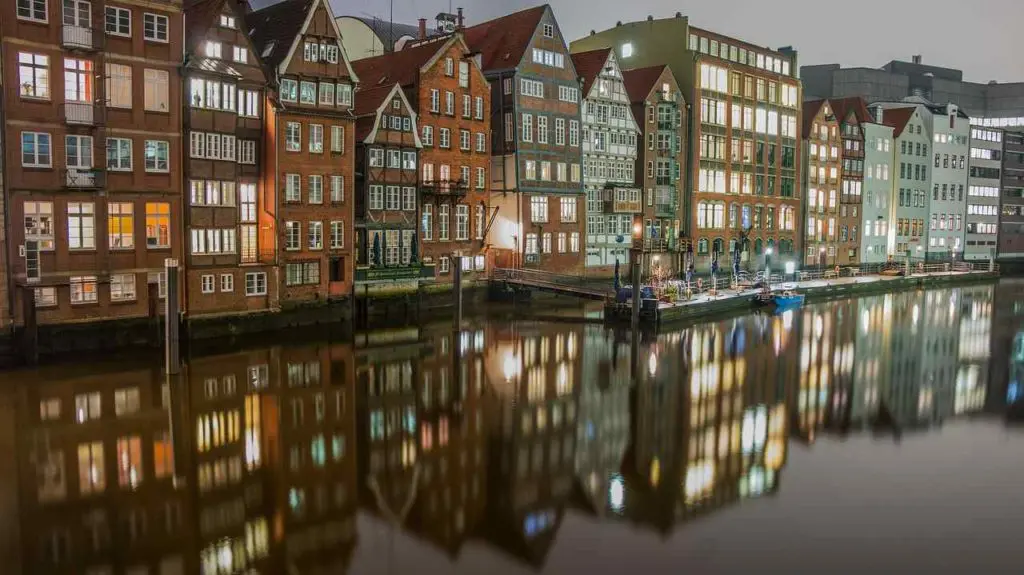 If you want to visit Hamburg when the weather is at its best, then the summer is the time to visit. Temperatures will be in the 20s most days and rain will not be as common as it is during the rest of the year.
This is the peak season so it will be busier, but if you want warmer weather it's a price you'll have to pay.
The alternative is to visit Hamburg during the remainder of the year. I visited in September and the weather was starting to turn for the worst at this time. It rained and it was windy as well.
Due to Hamburg's northerly location and proximity to Denmark, the weather can be temperamental outside of summer.
If you plan on visiting during Autumn and winter, you're playing Russian Roulette with the weather. You could get anything! It's important to know what to pack for Germany in these conditions and you'll need a waterproof jacket!
If I had to give a definitive answer for when to visit Hamburg, it would be summer. The weather is better and you'll be able to enjoy the city more as a result.
However, Hamburg is still a great city to year-round, so don't take this as gospel. It's my recommendation, you can still have fun in Hamburg outside of the summer, it will just be colder!
How to Get Around Hamburg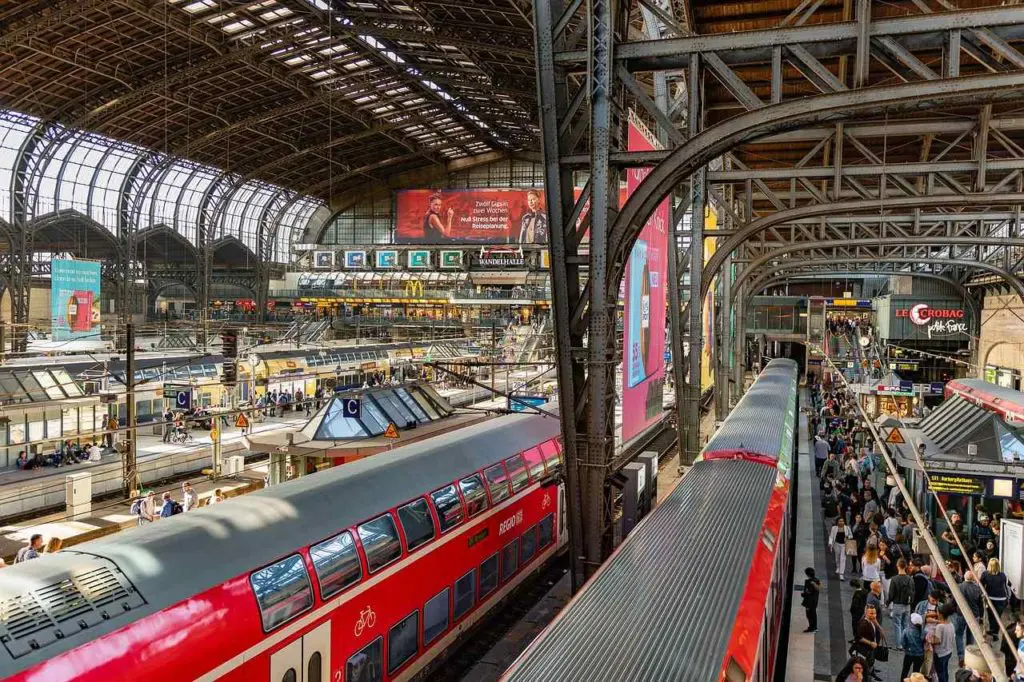 The good thing about Hamburg is that it's an easy city to get around. You can get to most places on foot without too much difficulty.
If walking isn't your thing, then you'll be pleased to know Hamburg has an extensive public transport system. You have the U-Bahn, which is the metro system and the S-Bahn, which is the suburban rail network.
If you're staying outside of the city centre, you can use either one to get in and out of the city with ease. If you purchase a Hamburg Card before you go, you'll get free access to the network, which will save you a lot of money!
Otherwise, it can cost a lot to get around. A single ticket is €3.30, while a day ticket is €6.50. This is not super expensive, but it adds up if you're doing this over three days. This is why the Hamburg card is a better option over the long term.
As Hamburg is a port city, several ferries operate in the city. They take you to various places around the harbour and are easy to spot as all the routes start with 61. This is a cool way to see Hamburg from the water and sail around the waterfront!
To get to and from Hamburg airport you want to use the S1 line. It leaves every ten minutes from 6 am to 11 pm Monday to Friday and from 8 am to 11 pm on weekends and public holidays. It takes 25 minutes and costs €3.30.
Is 3 Days in Hamburg Enough?
3 days in Hamburg should give you enough time to see this interesting and quirky city. I had a great time in Hamburg and had a lot of fun exploring the city. You won't be short of things to do and the lively nature of the place makes it a great destination for a weekend getaway in Europe!
Have you been to Hamburg? Did you do all of the things on my itinerary? Is there anything I missed? Leave a comment below and let me know your thoughts!
Need Travel Insurance?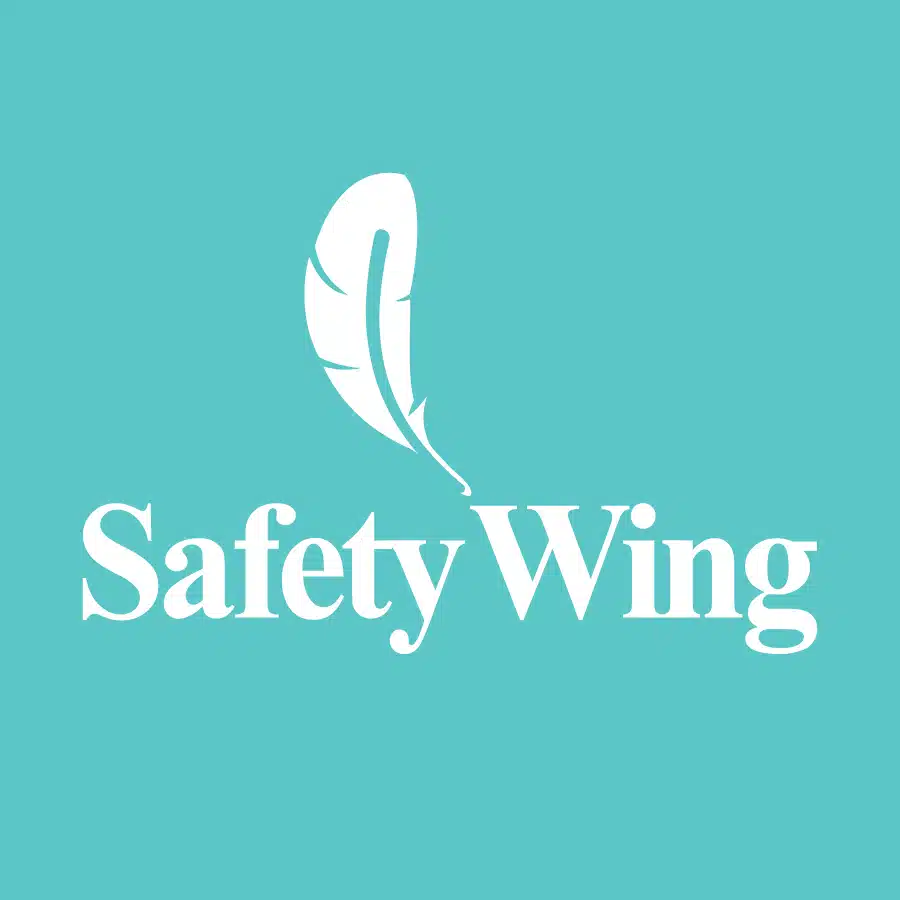 SafetyWing offers coverage that will give you peace of mind while you're on the road. If you want to protect yourself while you're on the road, then click the image to take a look at the options available to you.
Looking For More Travel Guides?
3 Days in Berlin – Why not check out the German capital after you've finished your trip in Hamburg?
3 Days in Munich – Another great place to visit in Germany is the beautiful city of Munich. Here's a great itinerary to follow.
Germany Quotes – Check out this collection of quotes about Germany you can add to the captions of your Instagram photos.
Pin For Later
Tom is a travel addict who first left England to spend a year Down Under. Not satisfied with this, he then went to New Zealand, about as far away from home as he could get. He is now planning his next adventures in Europe and Canada while maintaining this blog. Check out the about me page to learn more!