3 days in Budapest may be a short time to see all that this Hungarian great city has to offer, but you can still get a lot done during that time.
Budapest is one of the most beautiful cities I have been to, and as an added bonus, one of the cheapest too!
A 3-day Budapest itinerary will not cost you much, and you will be treated to some wonderful sights!
If you only visit Budapest for a short period of time, there are a few things I recommend you do.
Disclosure: This article may contain affiliate/compensated links. For full information, please see our full disclosure policy.
How to Spend 3 Days in Budapest
Quick 3 Days in Budapest Itinerary
Day 1 – Free walking tour, Parliament Building, Budapest nightlife
Day 2 – Castle Hill, Margaret Island, Heroes Square
Day 3 – Gellért Hill, Széchenyi Thermal Baths, Andrássy Avenue
Some of The Best Things to do in Budapest
3 days in Budapest is not enough to enjoy the majesty of this beautiful city, but you can still see a lot in that time.
One of the things I would recommend getting when you visit Budapest is a Budapest card.
This allows you to use public transport for free and will offer discounted prices at most of the main attractions too! It makes your time in the city that bit cheaper and easier! Get your Budapest Card Now!
Below are some of the best things to see in Budapest in 3 days that you should include during your visit.
Heroes Square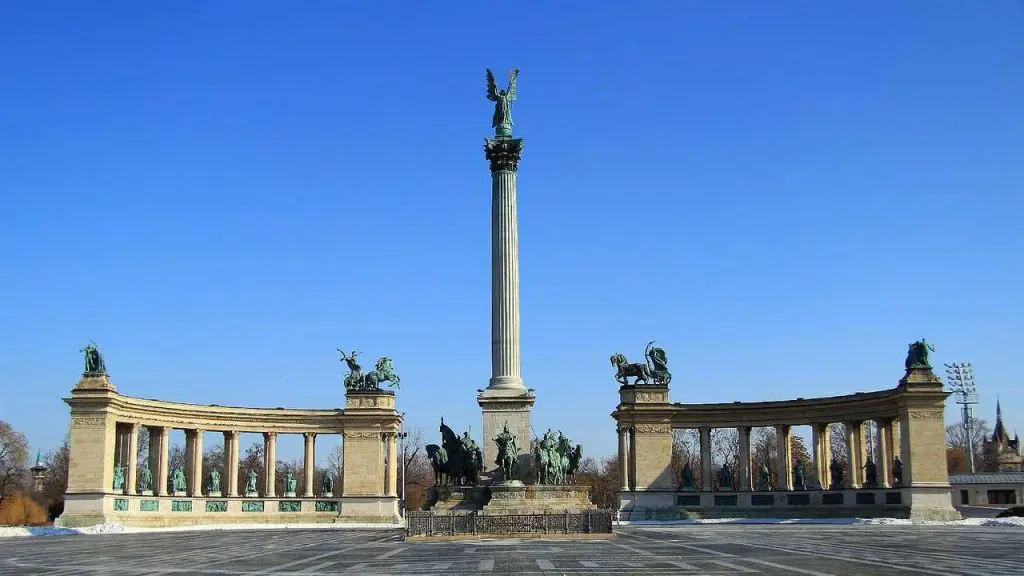 Heroes Square, known as Hősök tere in Hungarian, is one of the main squares in Budapest. It's a beautiful and scenic square that's well worth checking out.
It's famous for its iconic statue of the Seven Chieftains of the Magyars, other important Hungarian leaders and the tomb of an unknown leader.
The square is flanked by two, important, and impressive buildings, the Museum of Fine Arts and the Palace of Art. Both are worth visiting after you have taken in the sights of the square!
Margaret Island
Margaret Island is a 2.5 km long island in the middle of the Danube between the areas of Buda and Pest.
What makes Margaret Island a great place to visit is that there are quite a few things to do given its small size.
The island has a beautiful park, which is well worth exploring. It even has its own baths, Palatinus, that come with slides and wave pools as well as the standard thermal baths!
Not far from Palatinus, you can find the ruins of a Franciscan church. It's a great place to go if you want to learn more about the island's intriguing history!
Széchenyi Thermal Baths
Going to the Széchenyi Thermal Baths was my favourite thing I did while I was in Budapest!
If you're visiting Budapest during the summer, you have to visit the baths. They are incredible. I would still recommend going during winter, but it would be harder to enjoy yourself, while it's cold outside.
There isn't much to do apart from relaxing in the water and drinking some beer, but it's well worth it! The hot pools and ice baths are fantastic and will perk you up in no time!
This is one activity you should definitely include on a European bucket list!
Parliament Building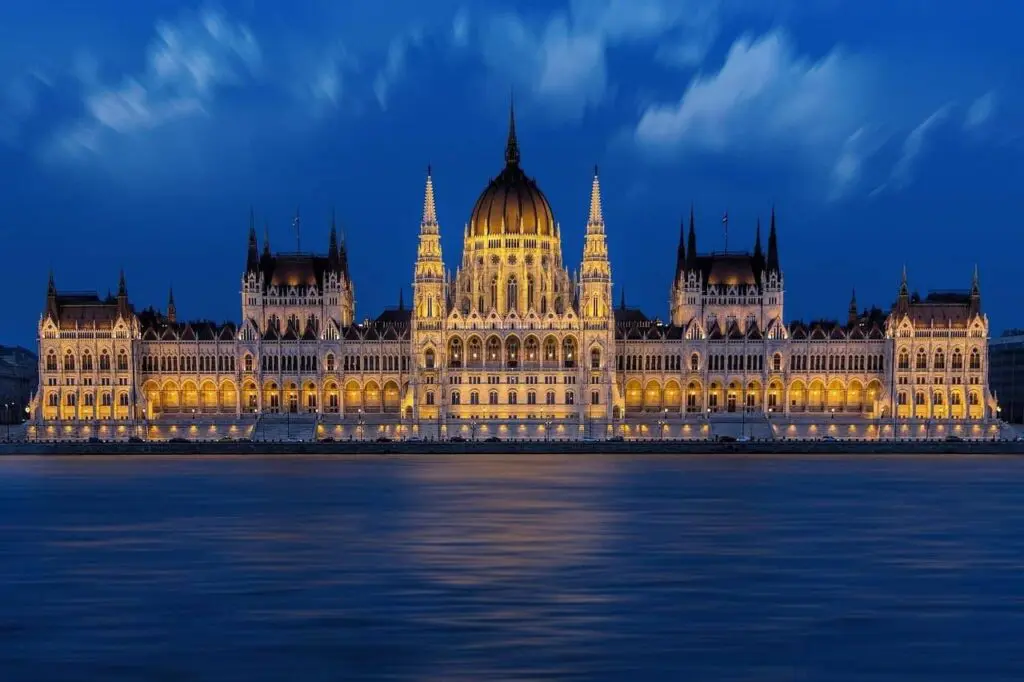 The Parliament Building dominates the Budapest skyline and is a beautiful sight, whether it's during the day or night.
Its location on the banks of the Danube, close to the Buda Bridge, makes it an unmissable sight in the city.
You can do a tour of the building if you're desperate to get inside and have a look around. It's worth doing if you want to learn more about the history of the building and of Hungary itself.
Budapest Itinerary – Day 1
This Budapest in 3 days itinerary is by no means definitive. What works for one person, won't work for every person.
However, I believe it's a good starting point for your trip and will give you some great ideas on how to plan your trip to Budapest!
Free Walking Tour
One of the first things I tend to do whenever I arrive in a new city is to have a wander. By this, I mean, I chose one direction to go in and see where it takes me.
I feel it's good to get lost in a city and see what you might stumble across. I realise this approach doesn't work for everyone, so going on a free walking tour is a good alternative!
They are a useful way to gain a feeling for a city and its surroundings. Plus, the tours are usually highly informative and are a great way to learn about the culture and history of a city.
Most hostels organise a free walking tour, and if they don't they will be able to point you in the right direction!
Parliament Building
A good place to visit after you have been on your free walking tour is the Parliament Building. It's a place you have to visit during your 3 days in Budapest!
The building is absolutely beautiful and is one of the iconic sights of the city and gives you an idea of why there are so many Budapest quotes detailing the beauty of the city. It's worth observing it from across the Danube before you go in to take in its incredible beauty.
You can do a tour of the building, and it's definitely worth it, to learn more about the building and Hungarian history.
Budapest nightlife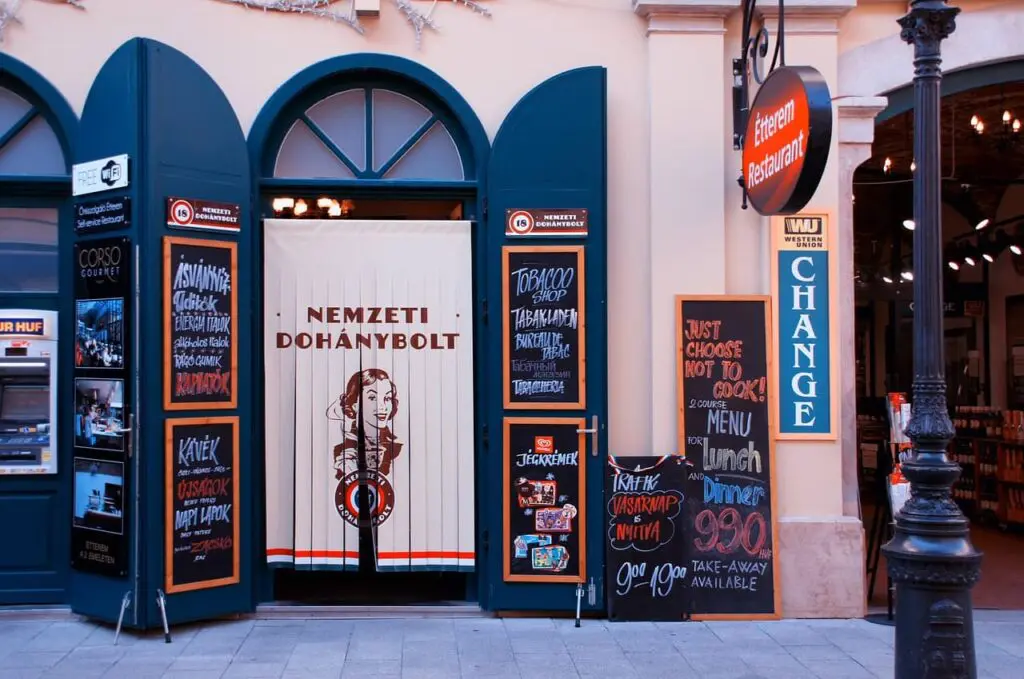 As well as being a beautiful city, Budapest has a lively nightlife scene. Drinks are cheap in the city, so it's a good place to go partying, as you won't be hit in the pocket!
There are a number of bars that have popped up in old buildings, known as ruin bars. There are also a number of parties held at the various spas around the city at night.
They are a different kind of party, and more relaxed than the various clubs and ruin bars that are around!
Budapest Itinerary – Day 2
Castle Hill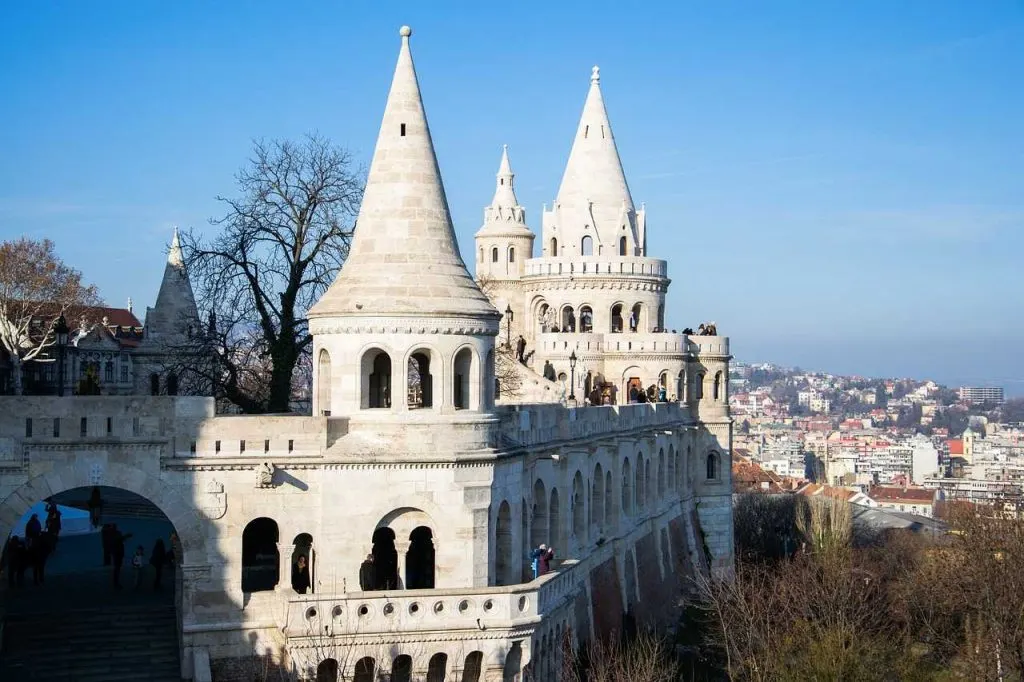 Castle Hill is one of the best spots in Budapest. You could easily spend the whole day wandering around the area and taking in its own beauty.
While I don't recommend you do that, you can still see a lot in a few hours. One place you should definitely check out is Fisherman's Bastion.
The Bastion is beautiful and is one of the best lookouts in the city! Trinity Square, Matthias Church is also worth checking out while you are there. The architecture at Castle Hill will blow you away!
Margaret Island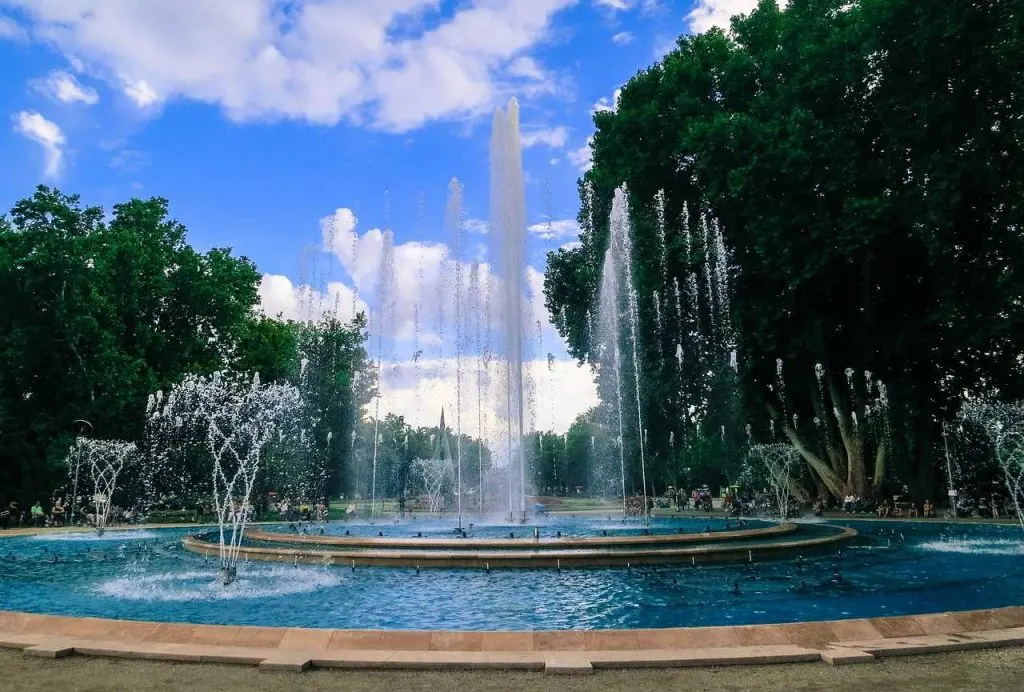 Margaret Island is without a doubt one of the best places to visit in Budapest. The island in the middle of the Danube is a paradise for those that love nature, and for anyone who wants to relax too!
I highly recommend checking out the various gardens on the island! They are all beautiful and are a joy to behold. The island also has its own baths and thermal pools, if you need a bit more adrenaline!
Visiting Margaret Island is a great idea whether you're travelling by yourself, as a couple, or with kids. There is something for everyone!
Heroes Square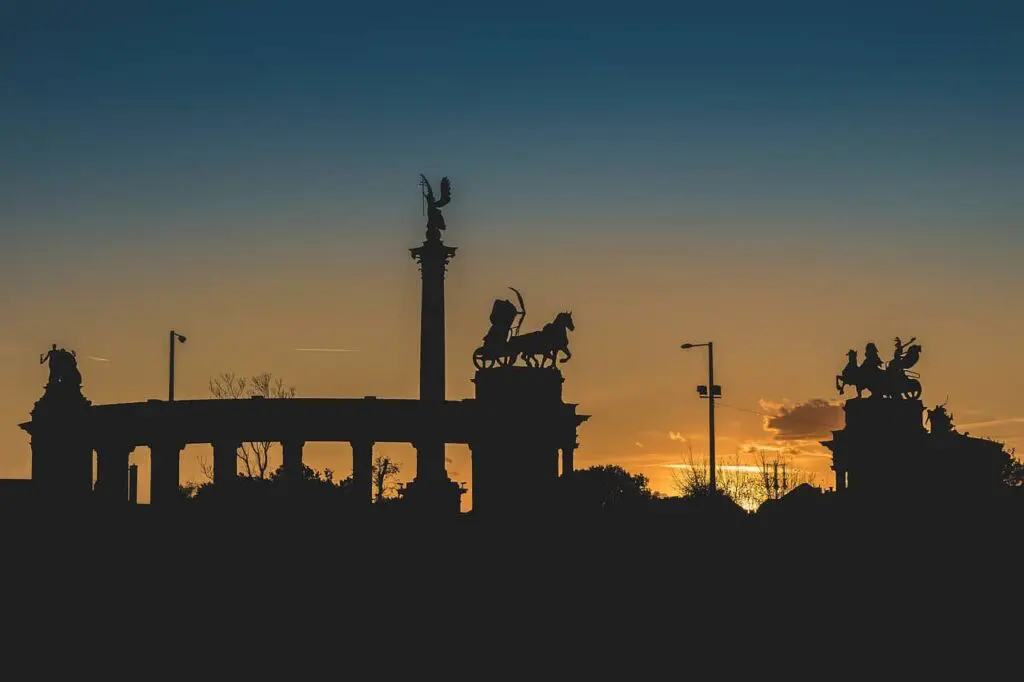 A visit to Heroes Square is a good way to end your second day in Budapest.
The square is an impressive sight, with towering statues and columns all around you. It's certainly an impressive sight.
You also have two museums on either side of the square to check out too!
The Museum of Fine Arts and the Palace of Art are both worth checking out if you have time towards the end of the day!
Budapest Itinerary – Day 3
Gellért Hill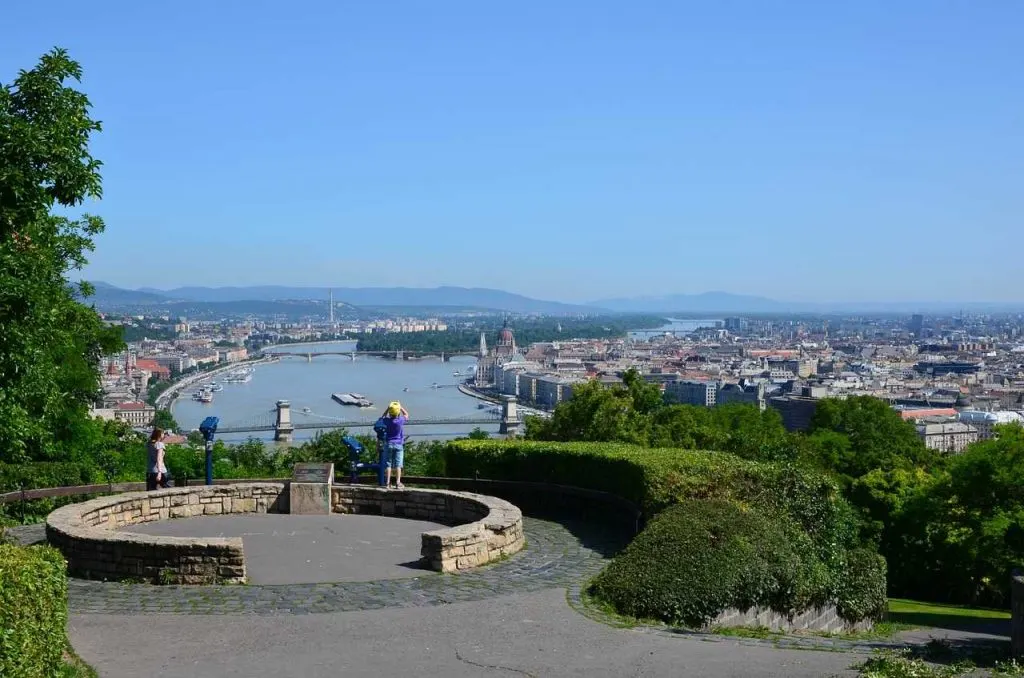 Gellért Hill is one of the best places to go if you want an amazing view of Budapest.
It is a 140 ft high Dolomite rock which rises above the Danube in Buda. The hike up the hill isn't too strenuous and you will be rewarded with excellent views of the city below!
Apart from the view, there are a few other things to see as well. There is a citadel, which was built by the Habsburgs as a strategic fortress.
There is also a statue of bishop Gellért who came to Hungary from Italy.
He was invited over by King St. Stephen to help Hungarians convert to Christianity but was rolled down the hill in a barrel into the Danube by Pagans in 1046.
Széchenyi Thermal Baths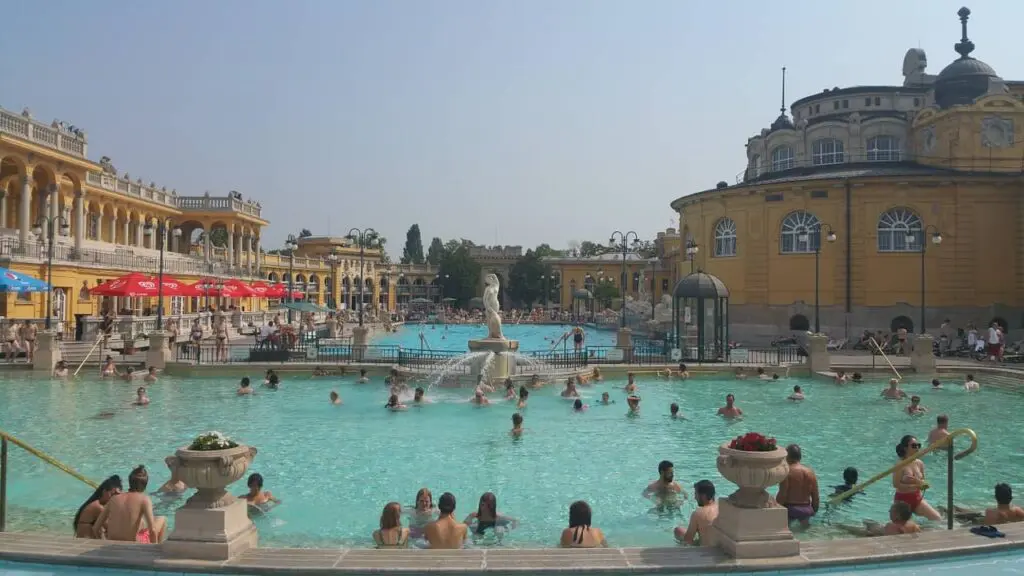 A trip to Budapest would not be complete without a visit to one of the thermal baths. One of the most interesting facts about Budapest is that, beneath the city, there are over 100 ancient springs. Of all the thermal baths in Budapest, I believe Széchenyi Thermal Baths is the best.
You can visit during the morning or the afternoon, whatever works for you. But, I feel it's better to enjoy the afternoon at the baths, as opposed to the morning. There's something about relaxing in the afternoon sun that appeals to me!
While at Széchenyi, you have to indulge yourself in the hot pools, sauna and ice baths too. There are so many pools and different rooms to check out, you could be here all day enjoying yourself!
Andrássy Avenue
A visit to Andrássy Avenue is a great way to spend the end of your 3-day itinerary of Budapest. It is one of the main shopping streets in the city and is also lined with numerous cafes and restaurants.
The Hungarian State Opera House is located along the boulevard and is worth a visit if you're into music, or just curious.
One place you definitely visit on Andrássy Avenue is the House of Terror.
It's a museum which details the history of the communist and fascist regimes that ruled Hungary in the 20th century. It also acts as a memorial for the victims of both regimes.
It's certainly worth a visit if you're a history buff, and want to learn more about Hungary's past.
Other Places to Visit in Budapest
There are plenty of other places to visit in Budapest and things to do as well as those listed above.
If you've been before, or you're staying for a bit longer, here are a few places and activities you should definitely check out.
Gellért Spa – If visiting Széchenyi thermal baths is not enough, you can visit Gellért Spa too! It's similar to Széchenyi, but is on the Buda side of town and is a bit smaller! Book your ticket now!
Budapest Evening Dinner Cruise – If you have a bit of spare cash and want to feel fancy this is for you. The cruise is majestic and you will get to see the city in all its glory at night. The food isn't bad either! Book your ticket now!
Budapest Caves Underground Tour – This is a more adrenaline-based activity, but it's a good one. I didn't know there was a network of caves underneath Budapest, but there is! There an interesting place to explore, especially as they are responsible for Budapest's thermal baths! Book your ticket now!
Click the link below to discover more tours and activities you can do during your trip to Budapest:
Budapest Travel Tips
Where to Stay in Budapest
Budapest is a popular destination in Europe and there are no shortages of places to stay in the city. There are numerous hostels in Budapest, as well as a lot of hotels too.
The city isn't too big, as such, accommodation isn't spread around as it can be in some cities. Wherever you stay in Budapest, you won't be too far from the action!
Below are some of my recommendations for places to stay in Budapest!
Cost of Travel in Budapest
Budapest is one of the best cities in Europe to visit in regard to cost. Hungary is cheaper than most other European countries, which means you can be more flexible with your budget.
The Forint is weaker than most major currencies such as the US dollar, Pound and Euro, which means your money will go further.
Below are the average prices for the essential services you will use during your three days in Budapest.
They take into account what you need to visit the city comfortably and don't include take extras such as tours, nights out, souvenirs/clothing. They are deemed as 'non-essential' extras!
Prices are in US dollars, due to Hungarian Forint (HUF) being complicated to convert on the spot. Check out XE.com for the latest exchange rates.

Accommodation
Hostel: Dorm – $10-20; Private – $40-60
Hotels: $25-70
Rental Apartment: $30-85

Food and Drink
Breakfast: Free-$5
Dinner: $2-7
Takeaway meal: $1.50-3
Pint of beer: $1-3

Transport
Single Metro/Bus ticket: $1.30
Unlimited Day Pass: $6.15
Train from airport to city centre: $1.50
Best Time to Visit Budapest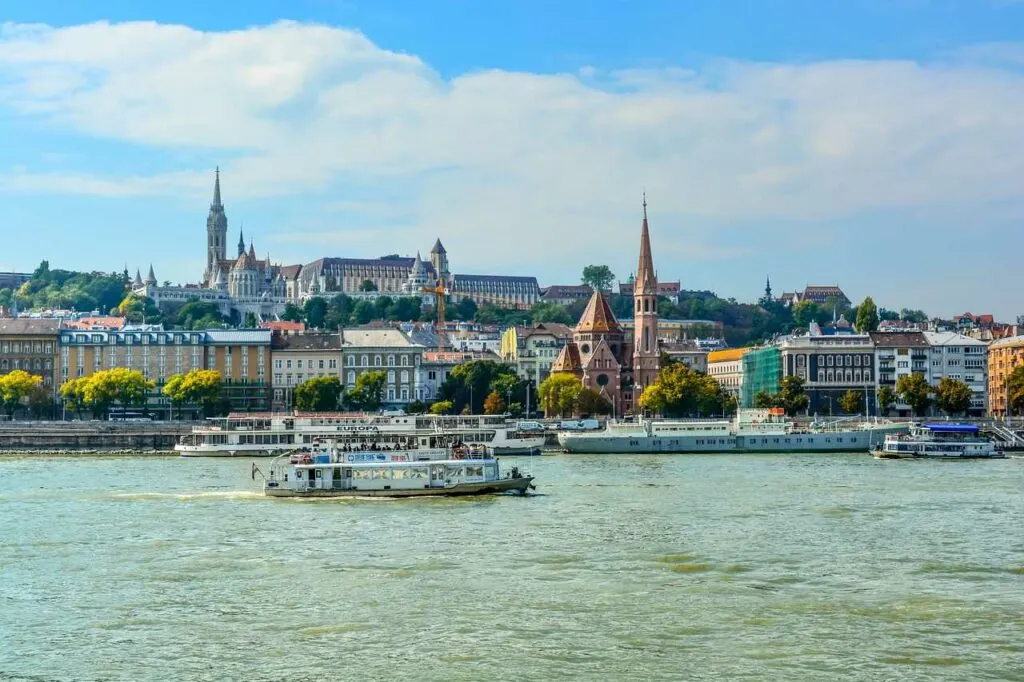 In my humble opinion, the best time to visit Budapest is during the summer. It's without a doubt, one of the best summer destinations to visit in Europe!
The weather during the winter is not the most pleasant, with sub-zero temperatures and snow not uncommon. However, it does make for a spectacular sight and a romantic destination, so Budapest is one of the best places to visit in Europe during winter for this reason!
I visited towards the end of May and the weather was fantastic. Temperatures were regularly above 30 degrees and I didn't feel it was excessively hot.
Maybe you visit during the summer months from June to August, it may be hotter, but, unless there was a heatwave, I doubt it would get much hotter.
In terms of the best time to go to Budapest in regard to prices, it may be best to visit during the shoulder seasons.
Budapest can be busy during the summer. Visiting Hungary from April to May and September to October will see you contend with fewer tourists, while still experiencing great weather.
If you're not bothered about the weather, then, by all means, visit during winter. Personally, I feel it would dampen the experience of the city, but if you want cheaper prices and reduced crowds, it's a good time to go.
How to Get Around Budapest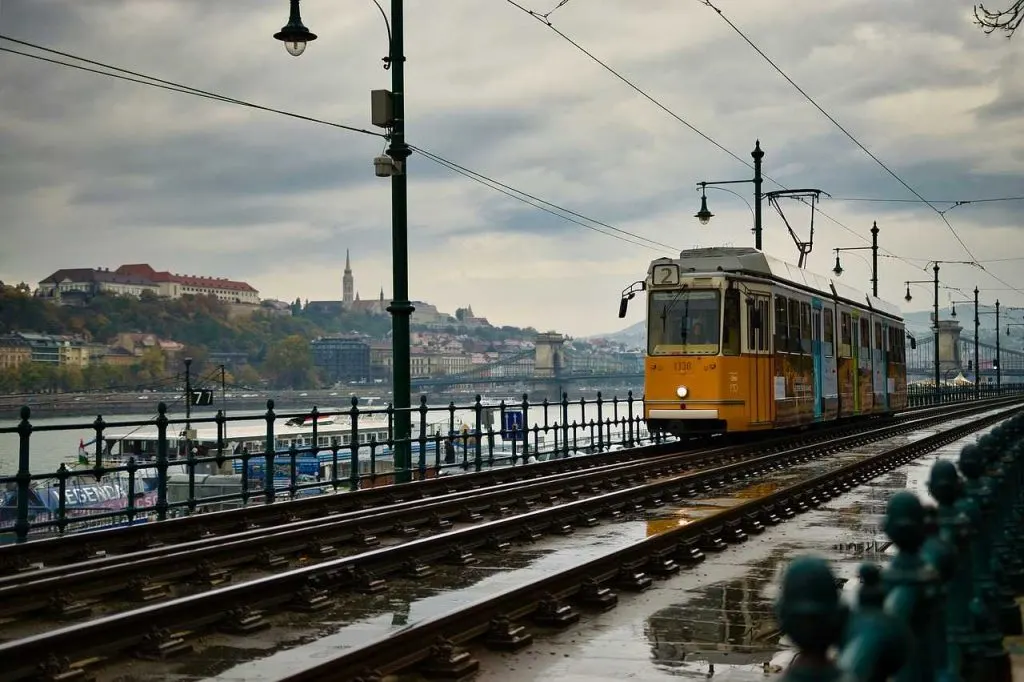 The best way to get around Budapest is on foot. Most of Budapest's city centre and historic districts are easy to get around if you're on foot.
Pedestrian precincts are present in downtown Pest, while traffic is restricted on Castle Hill. This makes walking around Budapest much easier.
If you don't want to walk around the city, Budapest has excellent public transportation you can use instead.
There is a big system of streetcars (trams) and buses, as well as an efficient subway system, which is known as the Metro.
Tickets can be purchased at any metro station and newsstands. They can be used on buses, streetcars, metro and suburban HÉV lines within the city limits.
You can get day passes, but it may be worth purchasing a Budapest card instead. This card entitles you to unlimited use of the public transportation system, which comes with a 24, 48 or 72-hour validity.
The Budapest card also comes with free entry to several museums, two free walking tours and a 10 to 50% discount at participating baths, museums, restaurants and spas.
This makes it a worthwhile investment if you want to save money and time during your 3 days in Budapest.
Is 3 Days Enough To See Budapest?
3 days in Budapest is not enough to see most of the city. However, you can still see a lot during this time, especially as Budapest is not too big, and you can easily get around on foot!
Budapest is a beautiful city and one you should definitely consider exploring while you're in Europe.
Have you been to Budapest? Did you stay for 3 days or longer? Leave me a comment below, I'd love to hear your thoughts!
Need Travel Insurance?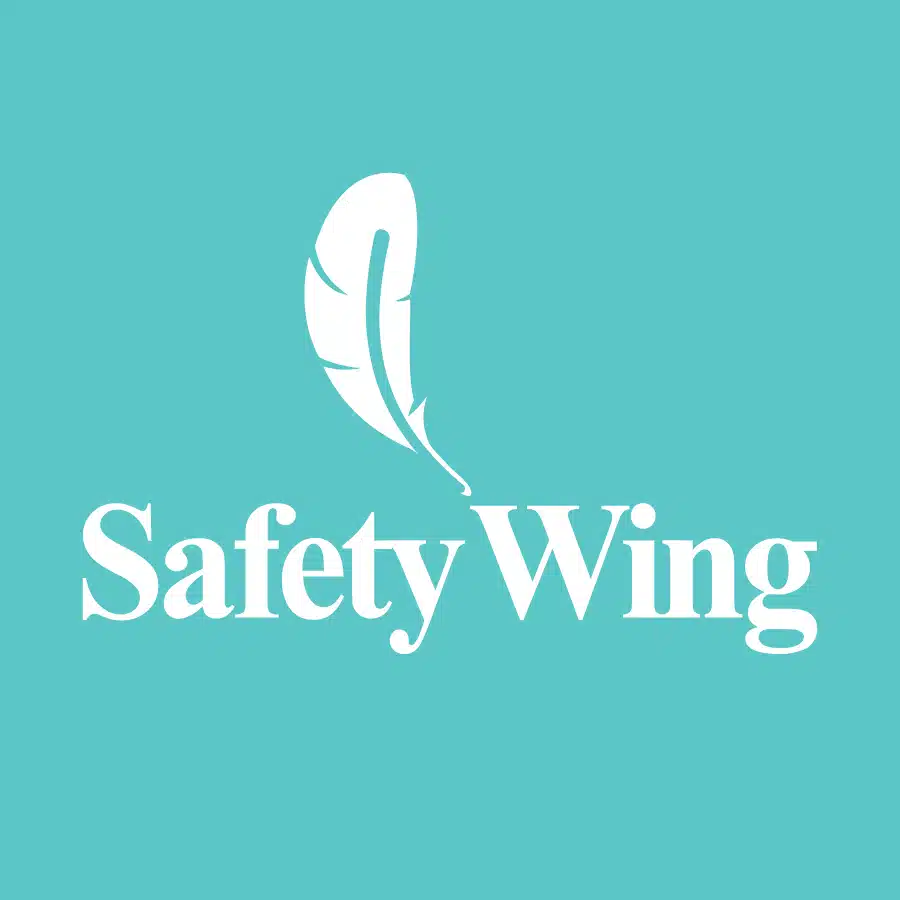 SafetyWing offers coverage that will give you peace of mind while you're on the road. If you want to protect yourself while you're on the road, then click the image to take a look at the options available to you.
Looking For More Travel Guides?
3 Days in Cologne – An interesting city in Germany that's worth checking out once you've visited Budapest.
3 Days in Munich – Another German city that has plenty of great sights to see after you've been in Hungary.
3 Days in Helsinki – You'll have to fly to Helsinki from Budapest, but it's a great city with a lot to see that's just as fun as Budapest.
Pin For Later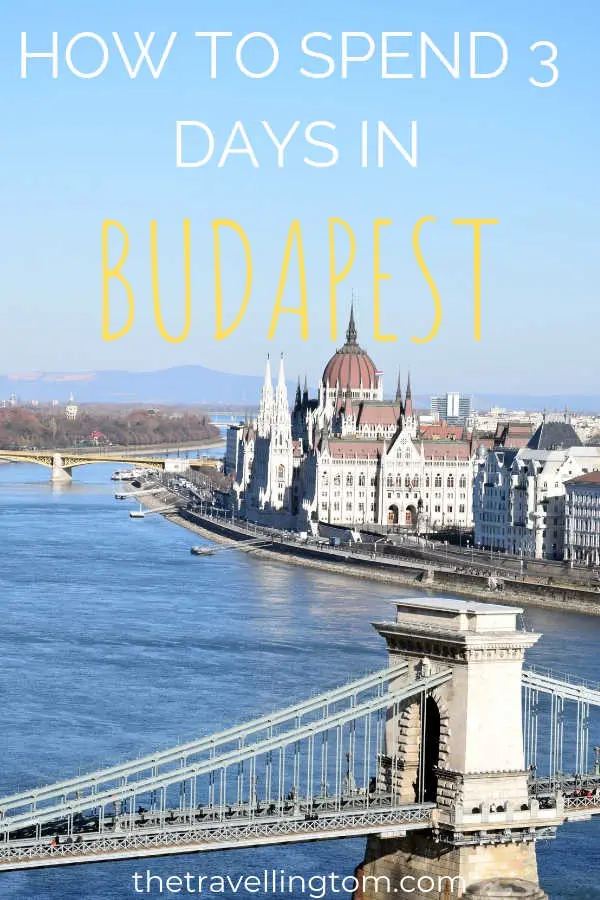 Tom is a travel addict who first left England to spend a year Down Under. Not satisfied with this, he then went to New Zealand, about as far away from home as he could get. He is now planning his next adventures in Europe and Canada while maintaining this blog. Check out the about me page to learn more!