3 days in Berlin may not be enough time to see this huge city, but you can still see a lot in that time!
Berlin is the capital city of Germany and one of the most interesting cities in the world.
The city exudes culture and history, which makes it an intriguing and engaging place to visit.
With world-famous monuments such as the Berlin Wall, the Brandenburg Gate and the Reichstag, there are plenty of things to do in Berlin!
This Berlin itinerary will let you know the places you should visit, the best hostels in Berlin and where to stay, during a visit to the city.
So without further ado, let's get into it!
Disclosure: This article may contain affiliate/compensated links. For full information, please see our full disclosure policy.
Table of Contents
3 Days in Berlin Itinerary
Quick 3 Days in Berlin Itinerary
Day 1 – Walk around Berlin, Brandenburg Gate, Reichstag
Day 2 – Berlin Wall, Holocaust Memorial, Museum Island
Day 3 – Olympiastadion, Charlottenburg Palace, Alexanderplatz
My Thoughts on Berlin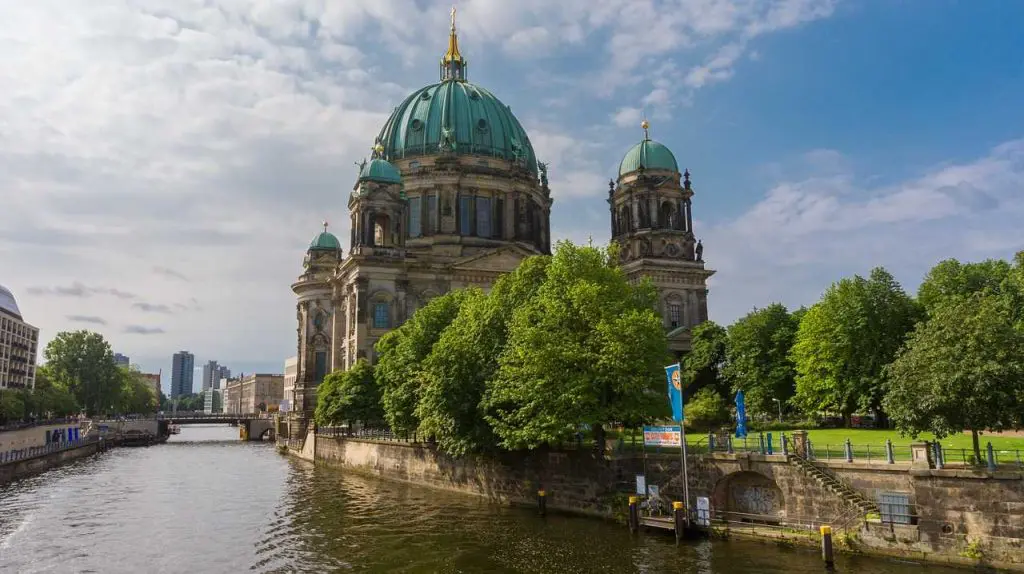 I should open this section by saying that I enjoyed my trip to Berlin. I went as part of a stag do and had a fantastic time.
There is so much to do in Berlin, that you struggle to do the city justice in three days. But, you can still accomplish a lot nonetheless.
As much as I enjoyed visiting Berlin, and I will be back for sure, it was hard to get a feel for the city for several reasons.
One of them was the short I was there. Not only were we exploring the city, but we were doing activities related to the stag do.
This made it tricky to get a true representation of what Berlin is like.
The other reason is that the city is huge. By huge, I mean gigantic. I assume this is a legacy of the Berlin Wall, but the city is spread out over a large distance.
Compared to spending 3 days in Hamburg, which is the second-biggest city in Germany, it was much harder getting around Berlin.
It was hard to know what was where, and how to get around the city. I was not expecting Berlin to be as big as it was.
This is a relic of the old West Berlin and East Berlin distinctions and threw me off somewhat when it came to exploring the city.
The question you might be asking is 3 days in Berlin enough? My answer to this would be no. There is so much history in Berlin, which is visible across the city.
While there is always something happening and a lively nightlife scene too.
In an ideal world, 5 to 7 days would be the amount of time I'd recommend you spend in the day. However, I realise that's not practical for everyone. Berlin in 3 days is a short trip, but if you do it right, you can see a lot!
Some of The Best Places to Visit in Berlin
There are many things to do in Berlin, which isn't a surprise given the size of the city and the fact it's Germany's capital.
Because of this, it can be hard to know what to do while you're there. This is simply the nature of humans, the more choice we have, the harder it is to make a decision.
If you're wondering what to do in Berlin, I have listed three of the best places to see to ease some of the pressure on the decision-making front.
I would also recommend you purchase a Berlin Welcome Card before you arrive in the city. It will give you a discount on several popular spots, and allow you to ride public transport in certain parts of the city too!
It's a useful thing to have with you, and will allow you to save an extra bit of money on your trip!
Berlin Wall
While the majority of the wall is no longer standing, there is still a large section that is standing. This is referred to as the East Side Gallery.
The wall has been subject to some of the most memorable Berlin quotes and it's not hard to understand why when you see it.
A few things struck me when I was there. One is the size and length of the wall, it is tall, and stretches on for miles. This is only a small section of the remaining original wall!
I can't begin to fathom what it was like when the city was divided between East Berlin and West Berlin, and the wall spanned the city!
The other thing is the street art that makes up the wall. There are several incredible images on the wall, and it is well worth walking past to take it all in and get some great photos along the way!
The Berlin Wall was a divine monument of the Cold War, and it's good a part of it is still standing, to remind us segregation is never the answer!
Checkpoint Charlie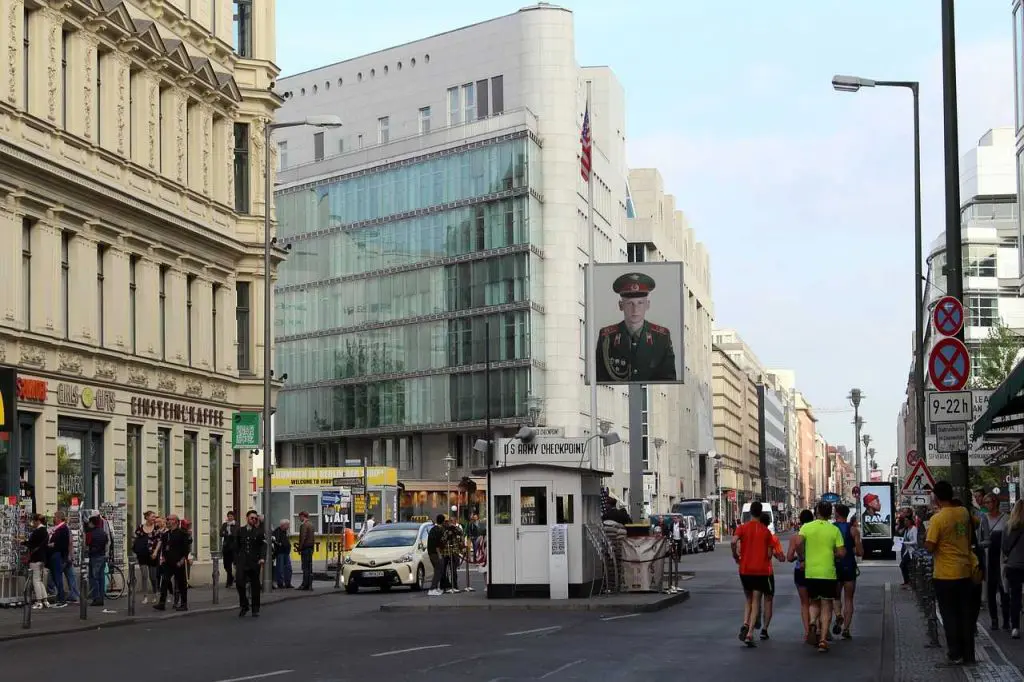 Checkpoint Charlie was the name given to a Berlin Wall crossing point between East and West Berlin.
A lot of the places to see in Berlin revolve around the effects the end of the Second World War had upon the city.
Checkpoint Charlie is no different.
There is a reproduction of the original guardhouse at the crossing.
While there are gallery walls along Friedrichstraße and Zimmerstraße which give information about escape attempts, and their significance during the Cold War.
If you want to learn more about the Cold War and its impact on Berlin, Checkpoint Charlie is somewhere you have to visit while you're in Berlin for 3 days.
Reichstag
The Reichstag building is one of the most iconic places in Berlin and one you shouldn't miss out on.
It's the home of the German parliament and an imposing building from a distance and is even more impressive when you get up close and can see the glass dome at the top.
The building is the scene of some famous historical moments, not least when it was set on fire shortly after Hitler was sworn in as Chancellor at the start of the Third Reich.
It's well worth a visit if you want to learn more about the history of Germany, and the history of the building itself.
I would recommend purchasing tickets in advance if you can. It's a popular spot, and it can get very busy at times!
Berlin Itinerary – Day 1
Walking Tour
Berlin is a gigantic city. If you're visiting for the first time, it can be disorientating trying to find your way around and know where to go.
I normally just wander around a city, the first time I get there, but in Berlin that was difficult. Although I did stumble across a few places such as Unter den Linden, I feel like I missed out on a lot.
That's why I would recommend either joining a free walking tour that numerous hostels in the city provide or pay for a walking tour.
During these tours, you will learn a lot about the city, get to check out some of the best spots in Berlin, and get a feel for the city, which is perhaps the most important thing!
Once you've become acclimatised to the city, you can then wander off and discover Berlin in 3 days at your own pace!
Brandenburg Gate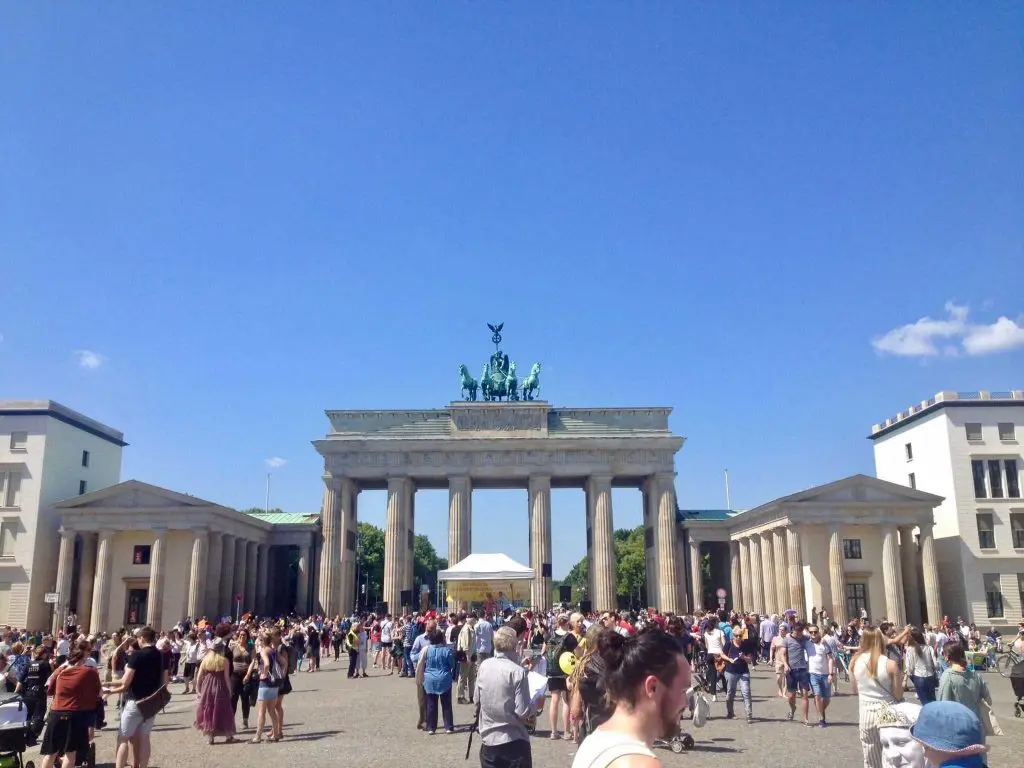 The Brandenburg Gate is one of the most popular Berlin attractions, so be prepared for large crowds!
The gate is an imposing sight, which has become a symbol of the reunification of Germany.
While there isn't a lot to do here apart from marvelling at the beautiful architecture, it is somewhere you should visit.
The Brandenburg Gate is beautifully built, and you don't realise its intricate detail until you get up close!
There are a few things to do in the area around the Brandenburg Gate too, such as shopping, and exploring museums and galleries, which make it a must-visit!
Reichstag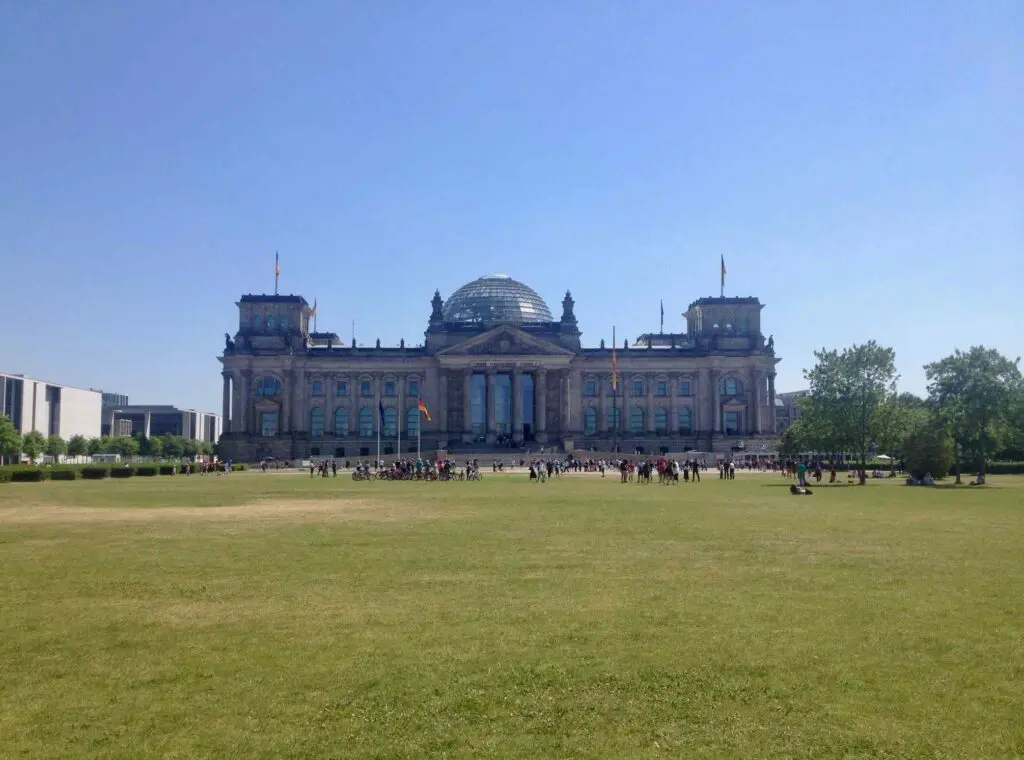 The Reichstag, or the Bundestag as it is known today, is an impressive building and the home of the German parliament.
It is a beautiful building, and with so much history around the place, you have to visit it to learn more about German history!
Originally constructed in 1894, it has been set on fire in 1933, and badly damaged after the end of World War II.
It has now been restored to its former glory, and it's well worth going inside, where you can get some amazing views of the city from the Norman Foster-designed dome which sits atop the building.
If you're a keen lover of history like me, then the Reichstag has to be included in your itinerary during your Berlin travel itinerary!
Berlin Itinerary – Day 2
Berlin Wall/East Side Gallery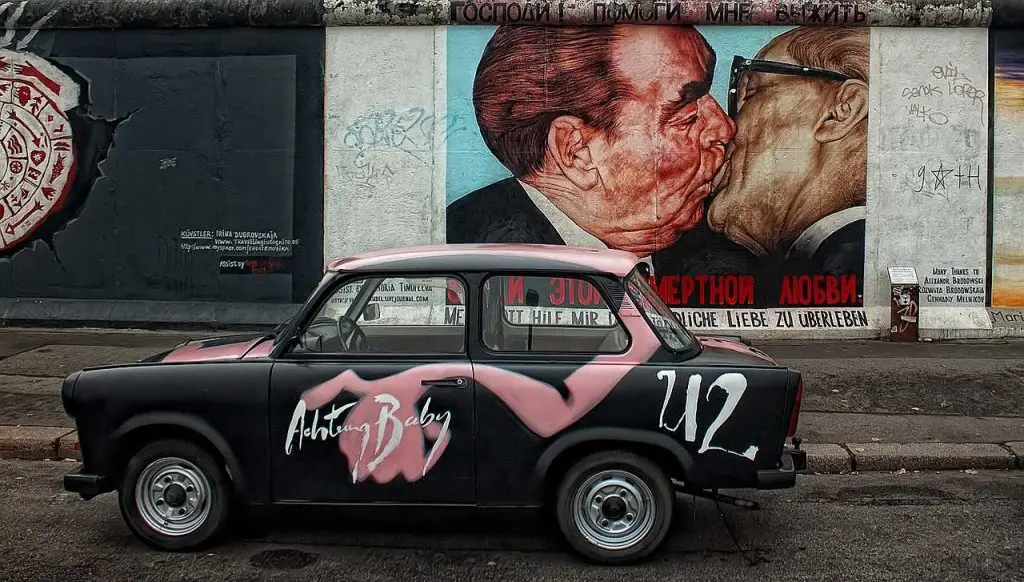 The East Side Gallery was one of my favourite places to visit in Berlin.
The Berlin Wall was a divisive structure erected by the East German government to stop their citizens from emigrating to the West.
It's an important place to visit, as it reminds us not to repeat the mistakes of the past.
I was astounded by how tall the wall is. It's huge! I can't imagine what it must have been like when it was all structurally intact!
Art lovers will be impressed by the various street art displays on the wall which are amazing.
Another good place to visit afterwards is the Berlin Wall Memorial which commemorates the division of the city between West Berlin residents and East German citizens.
If there is one place you have to visit during your 3 days in Berlin, this is it!
Holocaust Memorial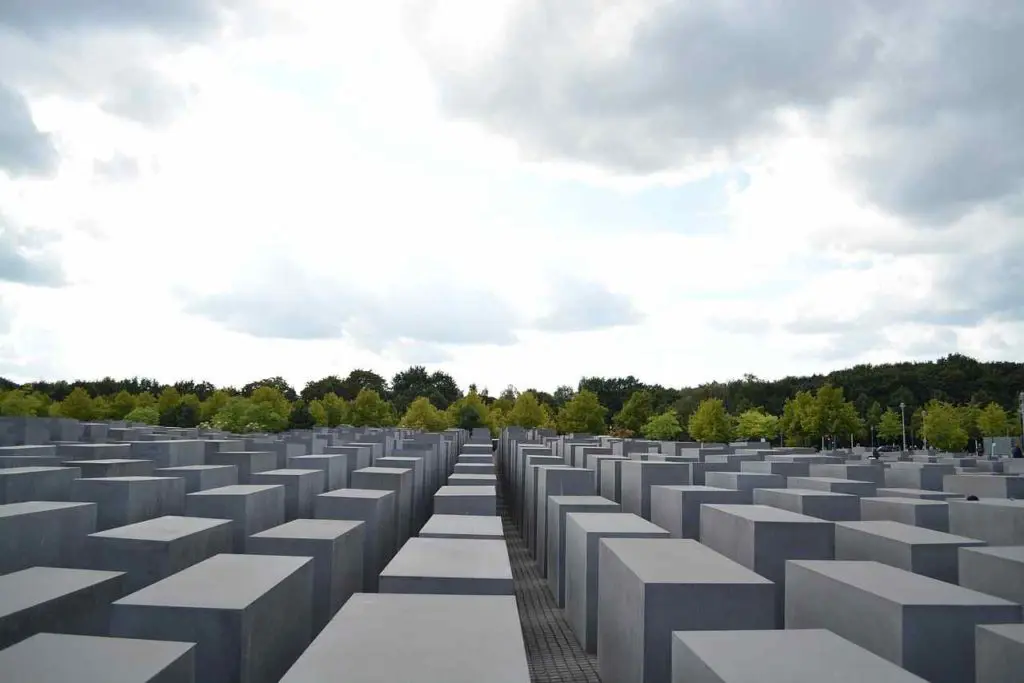 The Holocaust Memorial, also known as the Memorial to the Murdered Jews of Europe, is one of the most poignant places to go in Berlin.
The memorial is located in Central Berlin in the city's Friedrichstadt district, not far from the Brandenburg Gate and Reichstag.
2,711 concrete slabs comprise the memorial, which is a tribute to those Jews who lost their lives at the hands of the Nazi regime.
This is one of the more introspective places in Berlin, but it's an important one to visit, It's important to remember the past and reflect on what happens when power becomes unchecked.
Even if you're not a history buff, this is still a place you visit, as it's important we spend a little time considering the mistakes of the past.
Museum Island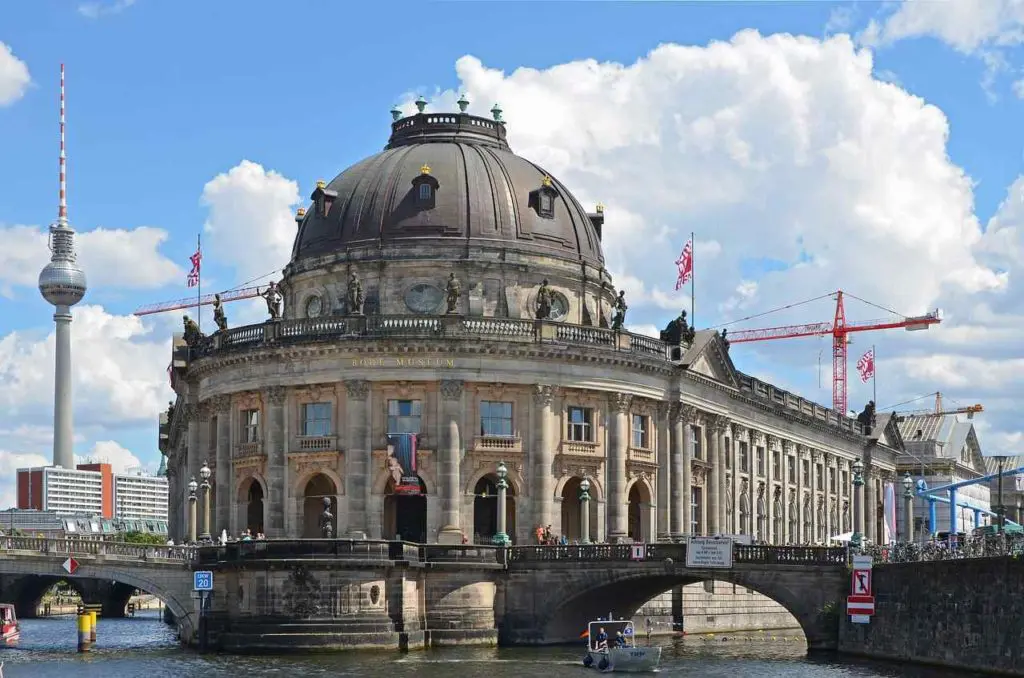 Museum Island is, as the name suggests, an island that is home to numerous museums and is a UNESCO World Heritage Site by the River Spree.
There are five museums on the island which include the Altes Museum (Old Museum), Neues Museum (New Museum), National Gallery, Bode Museum and Pergamon Museum.
The museums are fascinating and house numerous interesting early history collections and artefacts.
One such museum houses a bust of the Egyptian Queen Nefertiti, which has to be checked out if you're a history buff like me!
Five museums is a lot to take in in one day, never mind, for a short period of that day. If you want, it wouldn't be a bad idea to spend the majority of the day exploring all the museums.
The museums house amazing pieces of artwork, Egyptian, Greek and Roman history.
They are fascinating museums to visit, and they are places you shouldn't pass up on visiting when you travel to Berlin.
Berlin Itinerary – Day 3
Olympiastadion
The Olympiastadion was the stadium used to host the 1936 Olympics which were held in Berlin.
Those Olympics were notorious for promoting Nazi ideals, which were shattered by the performances of American Jesse Owens.
Today, the stadium is used for athletics and football, with it being the home of Hertha Berlin. Even if you're not a fan of sports, I would still recommend visiting the stadium.
You will learn a lot about the history of the Olympics, and the 1936 event in general.
It's a fascinating place to visit, and one you should include on your Berlin itinerary!
Charlottenburg Palace
Charlottenburg Palace is a beautiful summer palace that is one of the best lesser-known spots to visit in Berlin.
The palace was constructed as a summer palace to be used by Prussian kings such as King Frederick William and Kaiser Wilhelm. It remains a stunning location with extensive gardens and beautiful buildings that are begging to be explored.
Parts of the interior of the palace are open to visitors, while the majority of the grounds is also open to the public too.
You do have to pay an entry fee, but if you want to take a visit back in time and see some beautiful architecture and grounds, Charlottenburg Palace is the place to go!
Alexanderplatz
Alexanderplatz is the largest square in Germany and is close to many a Berlin attraction.
One of those is the 368 m high Fernsehturm Berlin TV Tower, which is a landmark, and visible across the city.
You can head to the top of the tower, which allows you 360-degree panoramic views of the city. It's also the highest building in Europe open to the general public.
Alexanderplatz is also home to the gigantic world clock, which is a continually rotating installation that shows the time across the globe.
Other Places to Visit in Berlin
Tempelhof Airport – This is an abandoned airport that is open to the general public. Anyone can explore the vast grounds if they wish. It's a great place to go on a hot summer's day and relax in the open green space. There are several abandoned spots in Berlin if you want to know more, I recommend checking out the Abandoned Berlin site, which details places like Tempelhof and more.
Computer Games Museum – If you love computer games, this is the place to go! This museum documents over 60 years of video games. You will learn about the history of the industry, while you can play a range of games too! Click here to book your ticket!
Sachsenhausen Concentration Camp – This concentration camp is located just outside of the city. You will learn about the terrible atrocities that occurred under the Nazis here during World War II and see the inner workings of the camp for yourself! Click here to book your ticket!
Click the link below to discover more activities and tours you can do during your trip when you visit Berlin:
Berlin Travel Tips
Where to Stay in Berlin
One of the good things about Berlin's huge size is that it means there are plenty of choices when it comes to accommodation.
There are many hostels in Berlin, and hotels too, and you are certainly spoilt for choice!
One thing to consider is where you plan on basing yourself in Berlin. Due to the size of the city, you could be based a long way from places you want to visit if you stay in a certain part of the city.
It's best to do a bit of research beforehand and find out where to stay in Berlin that will suit what you want to get out of your trip.
I have listed a few hostels, as well as some hotels below, for you to consider during your 3 days in Berlin.
Cost of Travel in Berlin
It's hard to suggest a daily budget for Berlin because it will depend upon what you do. However, I am going to list the following prices as an average travel budget.
That is someone who is not going to splurge, but not going to penny-pinch either.
They don't include prices for extras such as nights out at a bar/pub, club entry fees, souvenirs/clothing purchases, tours. etc. You will have to budget extra for these purchases as they are 'non-essential!'
Here's a rough breakdown of essential travel costs in Berlin:

Accommodation
Hostel: Dorm – €16-30; Private – €50-70
Hotels: €40-100
Rental Apartment: €65-100

Food and Drink
Breakfast: Free-€10
Dinner: €5-20
Takeaway meal: €3-5+
Pint of beer: €3-5

Transport
City Metro / Bus: €3.40
Day card: €7
Bike rental: €8-12
Taxi from airport to city centre: €40
Best Time to Visit Berlin
The climate in Berlin can vary wildly depending on the time of the year. If you want good weather, the best time to visit Berlin is during the summer.
If you plan your visit between April and September, you will get much better weather than you would for the remainder of the year.
There is a caveat though, better weather invariably means more tourists. This was the case when I went.
Although some places weren't too busy, around popular spots such as the East Side Gallery, there was a plethora of tourists!
This is something you have to take into consideration when deciding the best time to go to Berlin. If you want good weather, it may be worth visiting during the shoulder season months of April and September.
There will be fewer tourists, but you will still have good weather.
Berlin can get cold during the winter months. It's not uncommon for there to be snowfall in the city during these months.
If you do go during this time, it's worth taking a jacket and some gloves. They are important items to include when considering what to pack for Germany and will keep you warm in the cold weather!
While you will get colder temperatures, you will have fewer people to consider, and potentially lower prices for accommodation. This is something to consider when planning your trip to Berlin.
How to Get to Berlin
As the capital of Germany, Berlin isn't the most difficult city to get to, if you're flying from Europe. Most of the budget airlines that operate in the region, fly into and out of Berlin Tegel Airport.
You should be able to get a direct flight from most major locations in Europe. If you're coming from further afield, Berlin is still easy to get to.
It will just take longer and you may have to take a few connecting flights before you get to Berlin.
Due to the fantastic rail network in Europe, Berlin is accessible by rail from around Europe, especially those majorities that are close by.
If you're travelling to Berlin from within Germany, the rail connections to Berlin are great, and you will have no issue getting there.
Likewise, with travelling by road, Berlin is well connected with the autobahn network in Germany, and you will have no issue getting there.
Frequently Asked Questions
Are 3 Days Enough For Berlin?
3 days in Berlin may not seem like a long amount of time to spend in the city, but if you spend it well, you can see a lot!
You can see a lot of this vibrant city in that time such as Potsdamer Platz, Berlin Aquarium and all of the main sights such as the Reichstag and Brandenburg Gate.
Berlin is an interesting city and one that has been shaped by the events of the recent past. This gives it a unique character, and makes it a fantastic place to visit, even if it's only for a short time!
How Many Days is Good in Berlin?
A 3 day Berlin itinerary should be the absolute minimum time you spend in the city. Berlin is much bigger than people realise and it's hard to pinpoint where the city centre is because of this, for example.
If you have more than 3 days, this is ideal as it will give you more time to explore the city and maybe do some day trips too!
How much money do you need for 3 days in Berlin?
You'll need a minimum of 100 euros a day. This will include accommodation, food and drink and a few activities such as walking tours.
Of course, how much you need depends on how much you spend. Berlin can be expensive, but you can stick to a budget and still enjoy yourself!
Need Travel Insurance?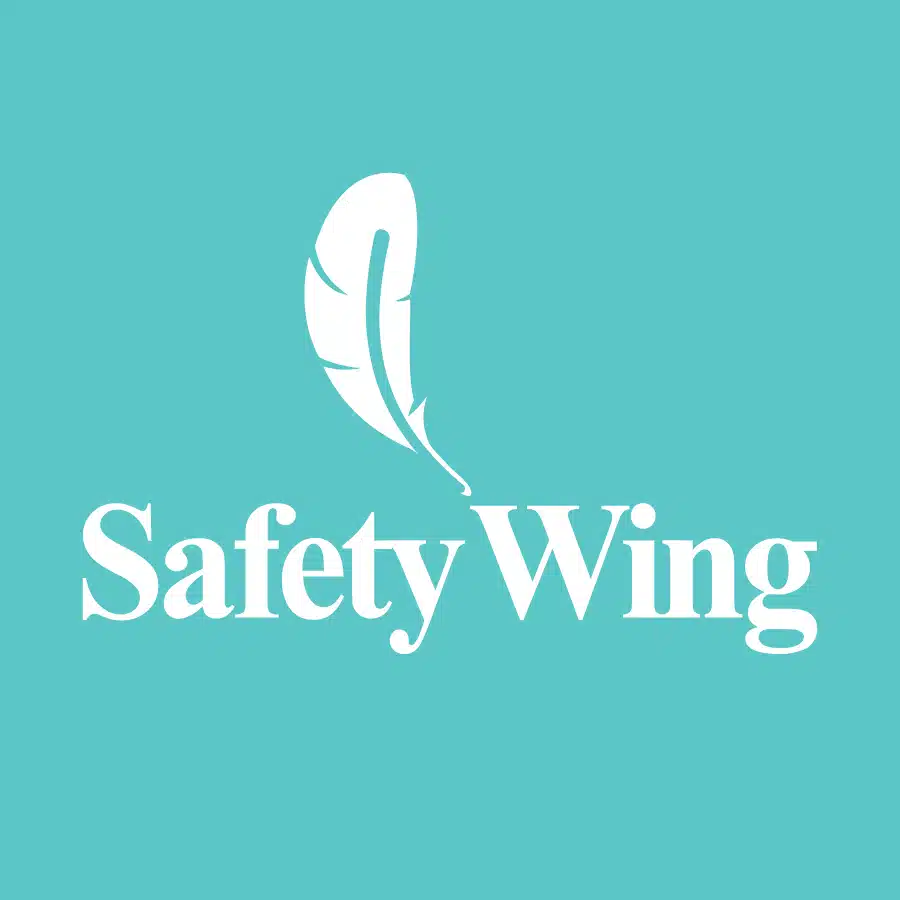 SafetyWing offers coverage that will give you peace of mind while you're on the road. If you want to protect yourself while you're on the road, then click the image to take a look at the options available to you.
Looking For More Travel Guides?
3 Days in Munich – Why not check out one of the best German cities once you've spent a few days in Berlin?
3 Days in Cologne – Cologne is another major city in Germany and an underrated one in the northeast that should be on any wider itinerary of the country.
Germany Quotes – Check out some of the best quotes about Germany you can use on your Instagram captions or to inspire you to visit more parts of the country!
Pin For Later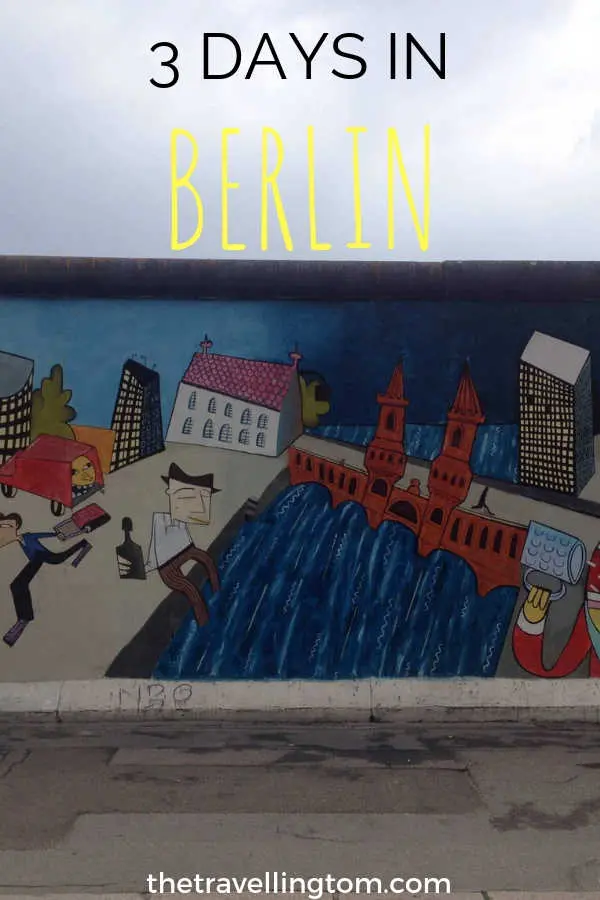 Tom is a travel addict who first left England to spend a year Down Under. Not satisfied with this, he then went to New Zealand, about as far away from home as he could get. He is now planning his next adventures in Europe and Canada while maintaining this blog. Check out the about me page to learn more!